What is your favorite thing to see on a road trip? Do you love big cities? Museums? Diners, drive ins, and dives? Record stores? Antique shops? Gas station snack aisles? Hotels with a big pool and room service? For me, above else, there's one thing I love looking for and will pull over for every time: the best roadside attractions in each state.
What is a roadside attraction? A roadside attraction something created with the sole purpose of driving in tourists. Usually they are located right on the side of the road (hence the roadside in the name) but they can also be located in the middle of a city or further into town. They usually aren't your main destination but make for fun road trip stops along the way! And often… they are big and weird!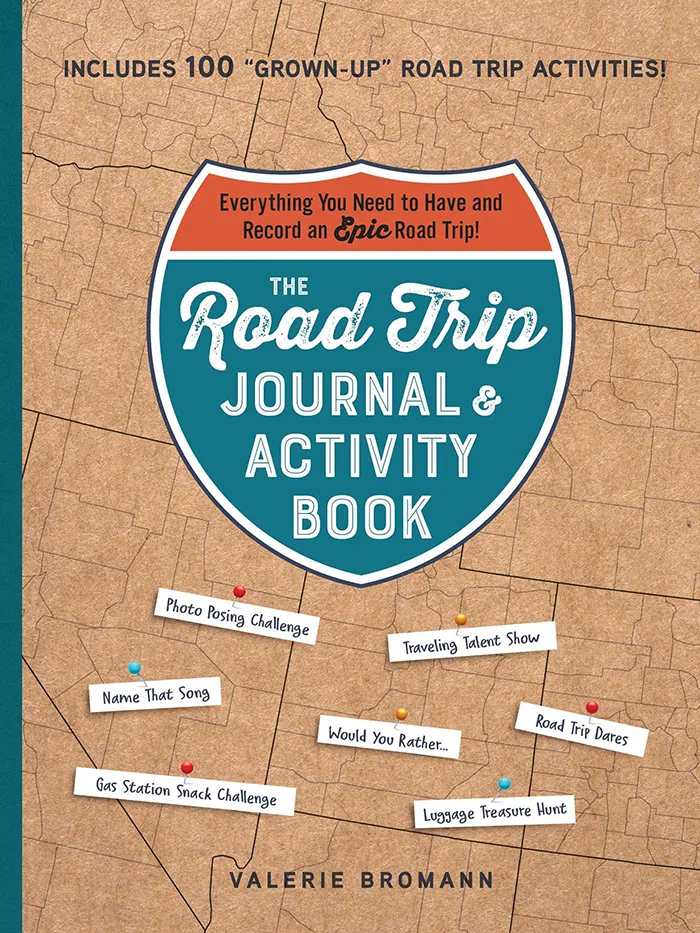 The Road Trip Journal & Activity Book
Everything You Need to Have and Record an Epic Road Trip!
Enjoy fun games and challenges to pass the time on your next road trip and have a keepsake to look back on for years to come with this entertaining must-have for your next vacation.
While your mind might go straight to something like the world's largest ball of twine (don't worry – that's on the list!) roadside attractions encompass so many more types of stops.
The best roadside attractions can be giant, world's largest things, unique places to visit, weird tourist attractions, quirky sites, odd museums, and all kinds of other unusual stops. They could even be the world's SMALLEST things!
Below is a list of the weirdest tourist attractions in all 50 states. They range from towering dinosaurs to Stonehenge replicas made from a variety of kooky materials to over-the-top fruits and nuts to some treasures of Route 66.
From Alabama to Wyoming, here are all the must see road trip stops you won't want to miss. Check them out below then click through to see lists of all the best roadside attractions in each state.
Ready to hit the road? You'll soon see why my bumper sticker says "I BRAKE FOR ROADSIDE ATTRACTIONS."
Best Roadside Attractions in Each State:
Alabama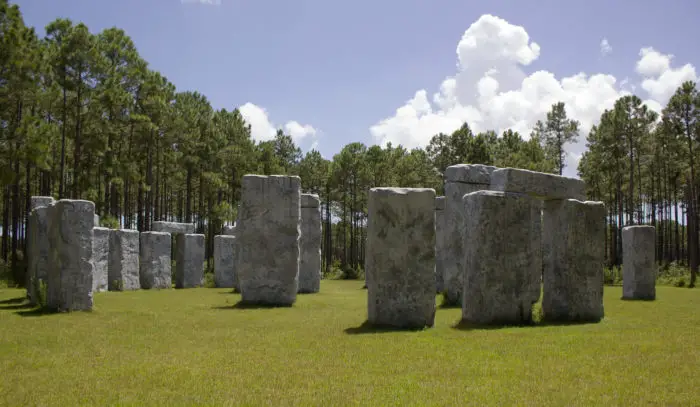 Lady in the Lake & Bamahenge at Barber Marina
26986 Fish trap Rd., Elberta, AL
George W. Barber's marina is located on 800 acres on a peninsula between Wolf Bay and Ingram Bayou. You might just expect to just find a fleet of boats on a marina, but Barber's Marina is different: it's covered in kooky, weird, and giant works of art. Two of the best finds here are Lady in the Lake (a fiberglass 50-foot woman whose head and knees can be seen floating in the bay) and Bamahenge (a 21-foot tall by 104-foot wide fiberglass Stonehenge replica). Both of these were created by fiberglass artist Mark Cline of Enchanted Castle Studios (who might best be known for creating Foamhenge in Virginia).
Alaska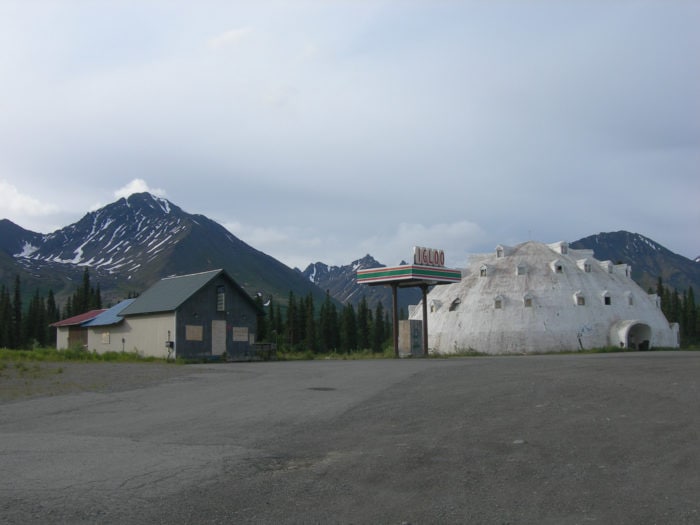 Igloo City
George Parks Hwy, Cantwell, AK (mile post 188.5)
In 1972 Leon Smith set out to build a three-story tall igloo-shaped hotel called Igloo Lodge. While the outside facade, an 80-foot tall by 105-foot wide dome, was completed, he never quite finished the interior and it never opened as planned. Decades later the abandoned igloo still stands on a plot of land between Anchorage and Denali. While you can't stay in Igloo City, it makes for some fun Instagram photo ops and an eerie stop on an Alaskan road trip.
Arizona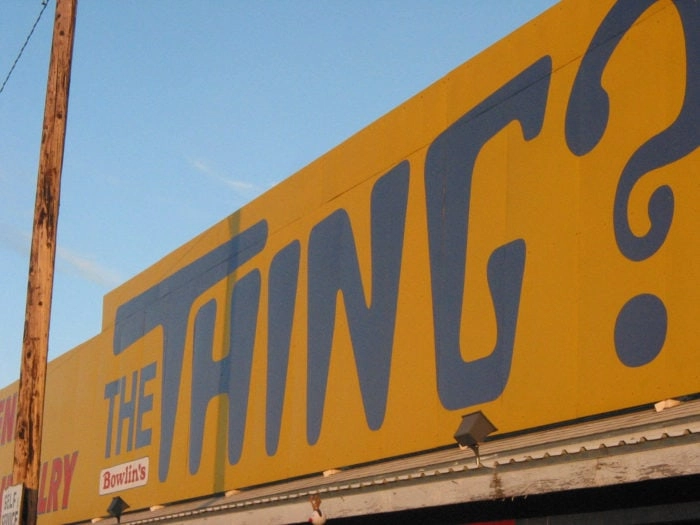 The Thing
2631 N Johnson Rd, Benson, AZ 85602
There are more than 200 signs for "The Thing" next to the road between El Paso, Texas, and Tucson, Arizona. And my theory if that many sign beg for you to stop, you stop. While The Thing was once a sleepy Arizona roadside attraction, it was remodeled in 2018 to take its kook up a notch. Enter The Thing and be prepared for an exhibit of dinosaurs, aliens, pharaohs, and conspiracy theories. All of this leads to The Thing itself. What is The Thing? You'll have to follow the road signs and see for yourself.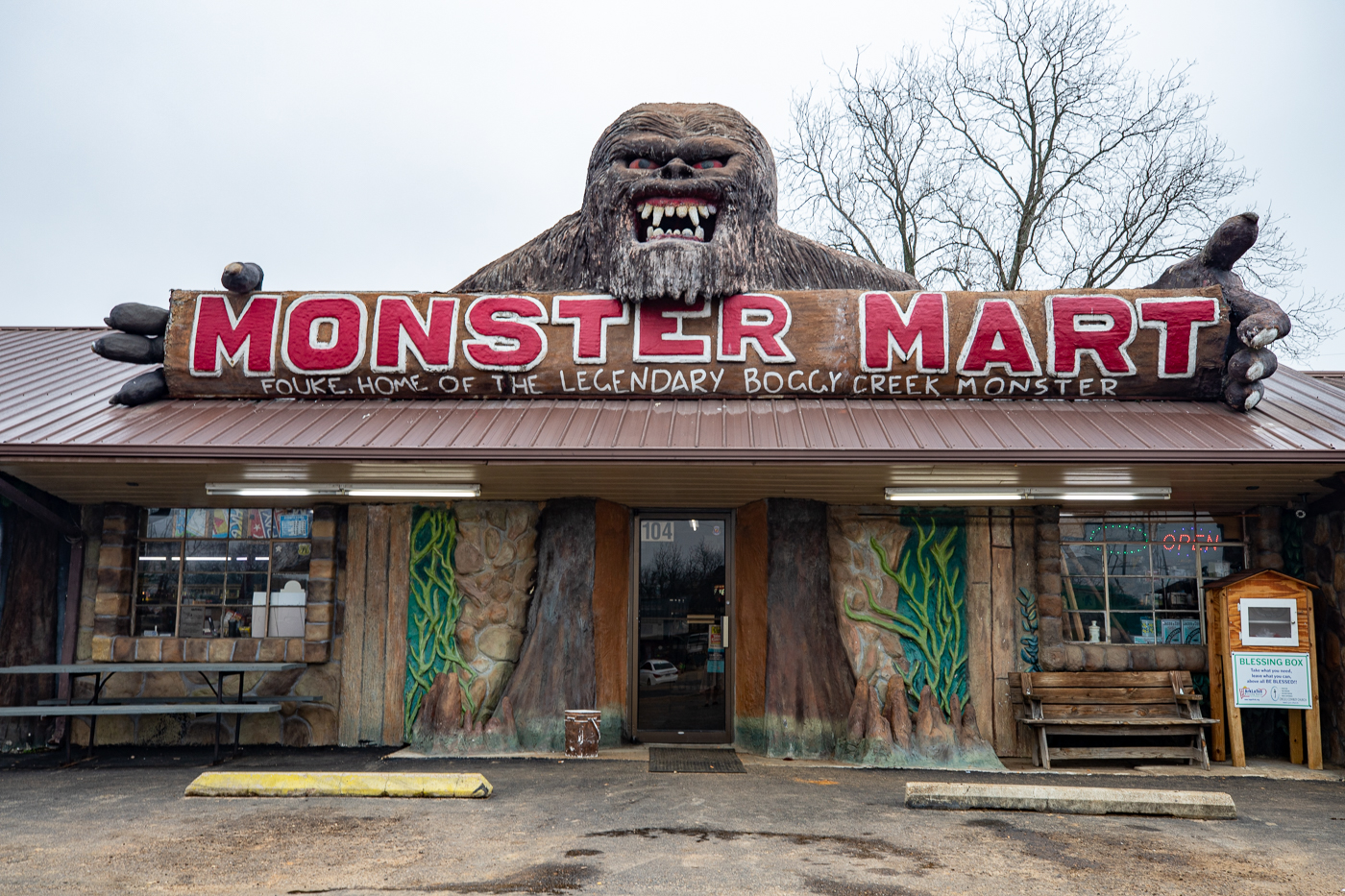 Arkansas
Fouke Monster Mart: Home of the Legendary Boggy Creek Monster
104 US-71, Fouke, AR
The Boggy Creek Monster is Fouke's answer to bigfoot. The 8-foot-tall, 300-pound, hairy monster has been stalking the area since at least 1834 and had even inspired a series of horror films. Stop at Fouke Monster Mart (formerly Peavy's) on an Arkansas road trip to learn more about this local legend, pick up some souvenirs, and snap your picture with a Boggy Creek Monster photo op.
California
Cabazon Dinosaurs
50770 Seminole Dr, Cabazon, CA
The Cabazon Dinosaurs (formerly Claude Bell's Dinosaurs) feature two giant dinosaurs (a 150-foot-long Brontosaurus and a 65-foot-tall Tyrannosaurus Rex) that are visible from Interstate 10. They were constructed in 1964 to bring in business to the adjacent Wheel Inn. The restaurant has since closed but the giant dinosaurs live on as one of the most popular roadside attractions in California. These big dinos just might be best known for their starring roles in the 1985 film Pee-wee's Big Adventure, so when you stop at the Cabazon Dinosaurs, "tell 'em Large Marge sent ya'!"
Colorado
Herkimer, the World's Largest Beetle
9080 CO-115, Colorado Springs, CO
Herkimer is the World's Largest Beetle (the world's largest West Indian Hercules Beetle to be exact). This Colorado roadside attraction was built in the mid-1950s to attract visitors to the May Museum of the Tropics. Through the years this giant bug has been vandalized, has been broken, and even spent some to in Florida. Today he has been restored…but now sits behind a barbed-wire fence.
Connecticut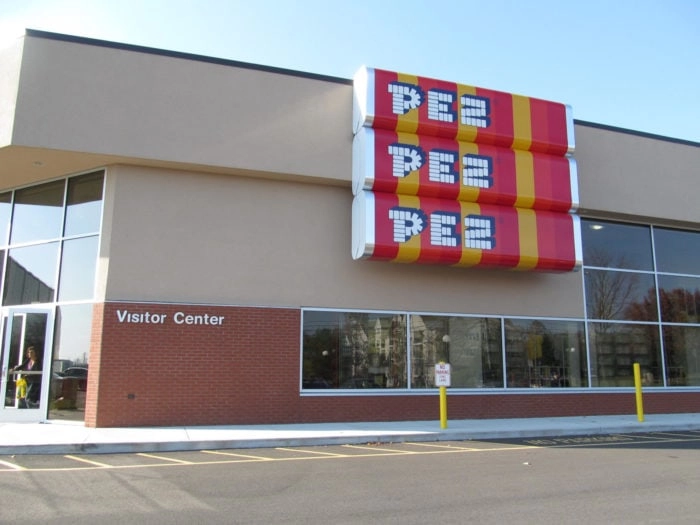 PEZ Visitor Center
35 Prindle Hill Rd, Orange, CT
We all know PEZ, the delicious mini-candies that are best eaten from a cartoon-headed dispenser. But did you know that you can visit their visitor center in Connecticut? At the PEZ Visitor Center you can learn the history of the popular candy, explore a huge selection of memorabilia and new, vintage, and rare dispensers, and watch the packing factory in action. Be sure to check out the world's largest PEZ dispenser and stop at the gift shop for some treats to take home!
Delaware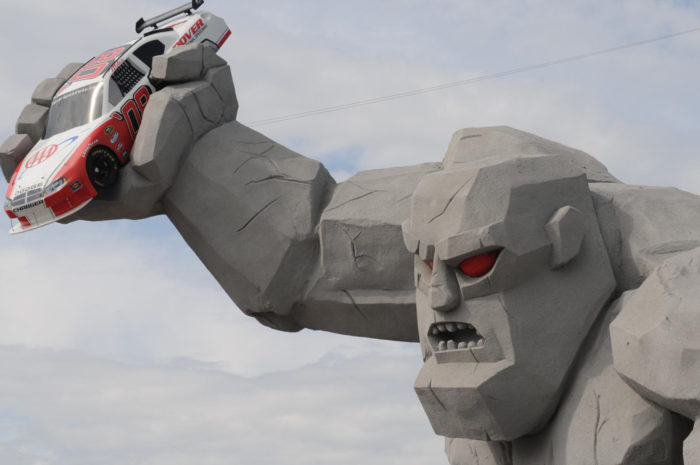 Miles the Monster
Dover International Speedway, 1131 N Dupont Hwy, Dover, DE
Miles the Monster has served as the mascot for the Dover International Speedway (known as "The Monster Mile") since 2000. In 2008, a giant, 46-foot tall, 20-ton Miles the Monster was erected outside the complex, bursting from the roof. The world's largest monster has glowing red eyes can be seen from half a mile away and clutches a real racing car in his hands.
Florida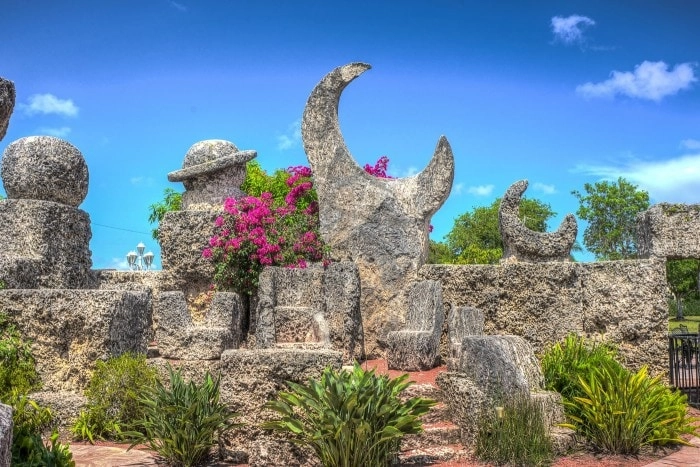 Coral Castle
28655 S Dixie Hwy, Homestead, FL
Most men, if left at the alter, would go on a drinking binge, go out with their buddies, maybe take a vacation. Ed Leedskalnin built a castle. After his 16-year-old bride-to-be left him the day before his wedding he moved to Florida from his home in Latvia and began building what is known as the Rock Gate Park by Leedskalnin AKA The Coral Castle. Made of giant blocks of Oolitic Limestone (fossilized coral), some weighing over 30 tons, a big mystery surrounds the coral castle: how did Leedskalnin, who worked in secret in the middle of the night, manage to move those giant stones? It's a question we might never know the answer to.
Georgia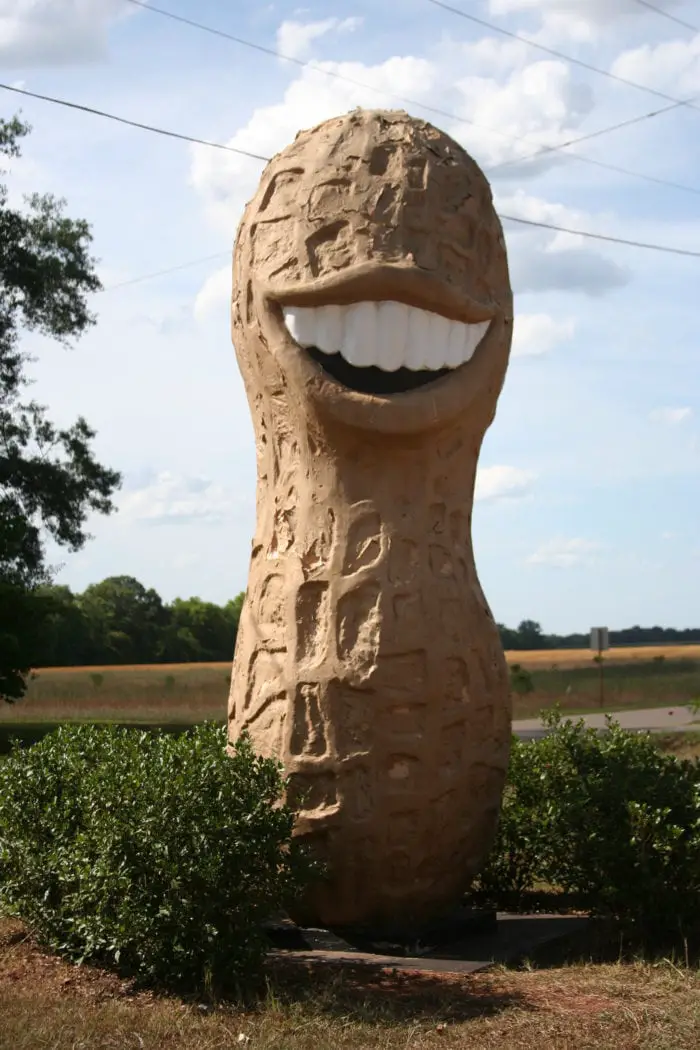 Jimmy Carter Peanut of Plains Statue
148 GA-45, Plains, GA
Jimmy Carter, the 39th president of the United States, was known for his big smile and his peanut farm. A thirteen-foot tall toothy peanut was constructed in 1976 to celebrate Carter's political visit to Evansville, Indiana. Afterwards, the Jimmy Carter Peanut of Plains Statue moved to Plains, Georgia: Carter's hometown. Today the giant peanut-shaped presidential monument can be found at Davis E-Z Shop, not-too-far from the president's boyhood home.
Hawaii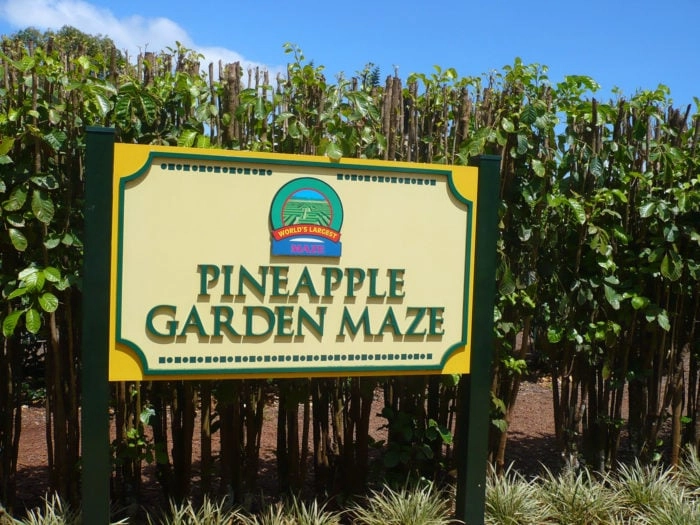 Dole Pineapple Garden Maze
Dole Plantation, 64-1550 Kamehameha Hwy, Wahiawa, HI
In 1950 Dole Plantation opened as a fruit stand. It 1989 it opened to the public as the "Pineapple Experience." And today it is one of the most popular attractions in Oahu. At Dole Plantation you can take a train tour, a garden tour, eat some DoleWhip, and shop for souvenirs and fresh pineapples. The biggest draw is the Pineapple Garden Maze, a 3-acre, 2.5 miles hedge maze made up of 14,000 Hawaiian plants. It was declared the world's largest maze by Guinness Book of World Records in 2008.
Idaho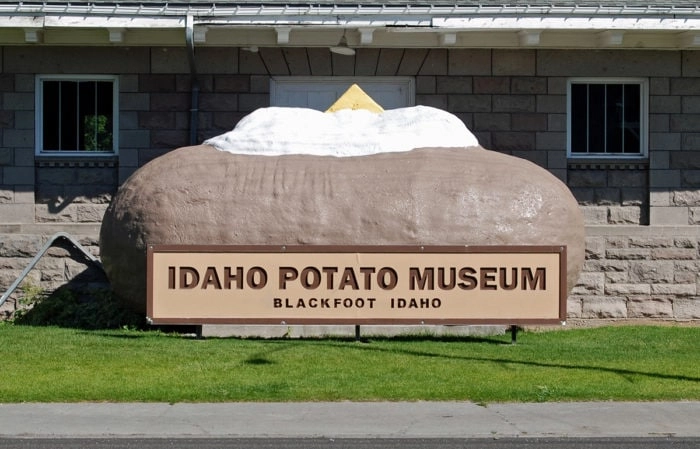 Idaho Potato Museum's Giant Potato
130 NW Main St, Blackfoot, ID
You can't have a list of Idaho roadside attractions and not include a couple of giant potatoes. The Idaho Potato Museum in Blackfoot is a spud-tacular attraction devoted to the king of tubers. Here you can take photos with the world's largest styrofoam potato, learn about the history and agricultural importance of the potato, and find some unique and fun displays like a burlap rodeo queen outfit and the world's largest potato chip. Be sure to stop at the cafe for a baked potato or potato cupcake before you leave!
Illinois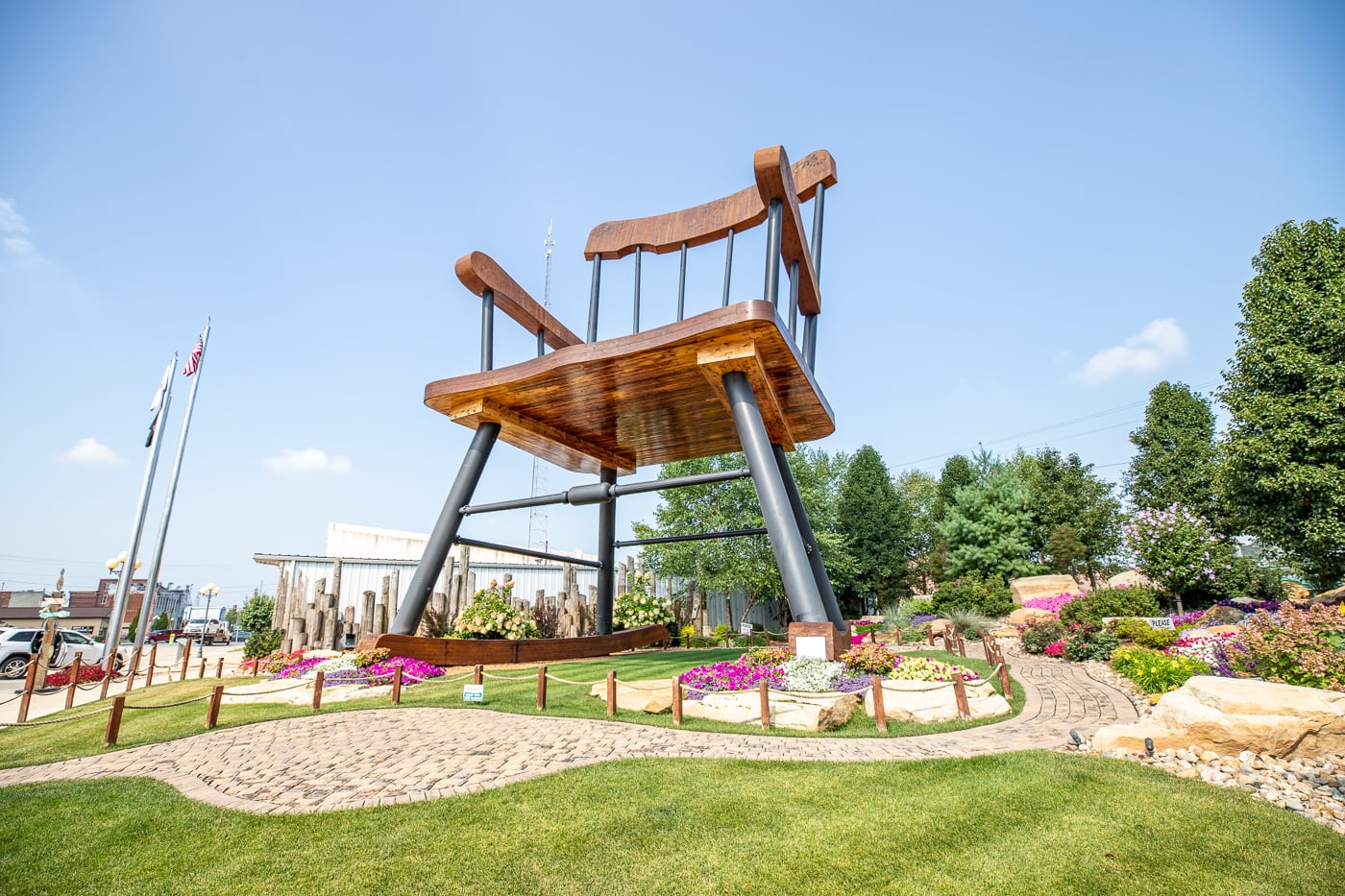 Big Things in a Small Town: Casey, Illinois
Casey, IL
Casey, Illinois is the definition of "go big or go home." Known for their "big things in a small town," Casey features many Guinness World Record certified world's largest things. It's the home to the giant and world's largest rocking chair, wind chime, knitting needles, pitchfork, golf tee, yardstick, Dutch wooden shoes, mailbox, pencil, birdcage, key, teeter-totter, gavel, golf club, swizzle spoon, barber's pole, and more. It's impossible to pick just one roadside attraction to make the list of best Illinois roadside attractions, so the entire town makes the list! If you're going to visit Illinois, this is a point of interest you can't miss.
Indiana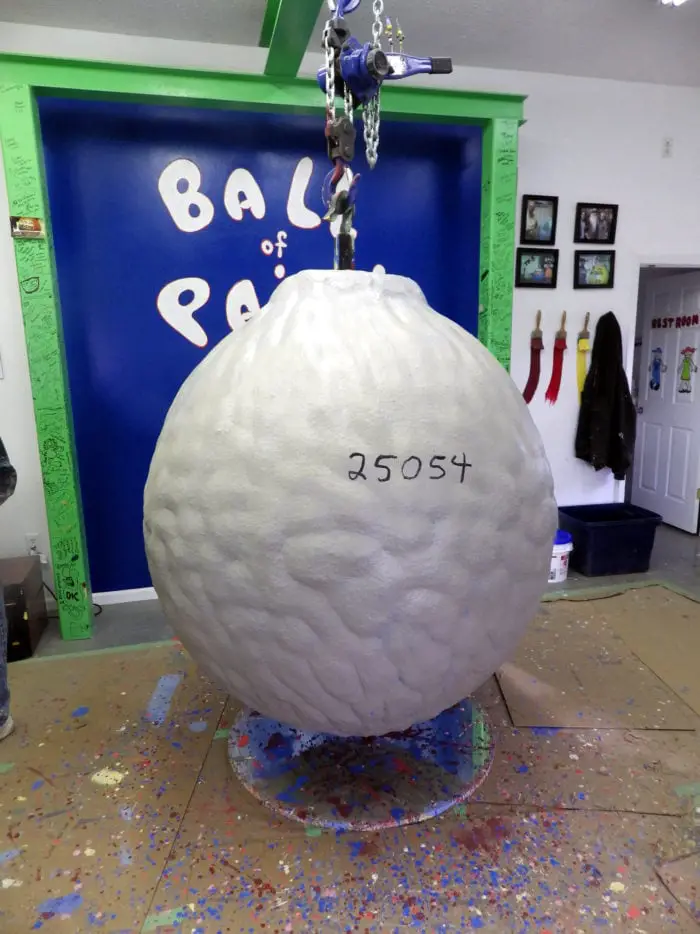 World's Largest Ball of Paint
10696 N 200 W, Alexandria, IN
The world's largest ball of paint has been continually growing since 1977. It was then that Mike Carmichael and his son dropped a baseball into a can of paint and decided to just keep going. Now, over 40 years later it's gathered over 24,000 coats of paint and weighs more than 3,000 pounds. Visit the world's largest ball of paint to admire its vastness and contribute to the Indiana roadside attraction for yourself. Visitors are encouraged to paint on their own layer (just be sure to email or call ahead – this roadside oddity is by appointment only).
Iowa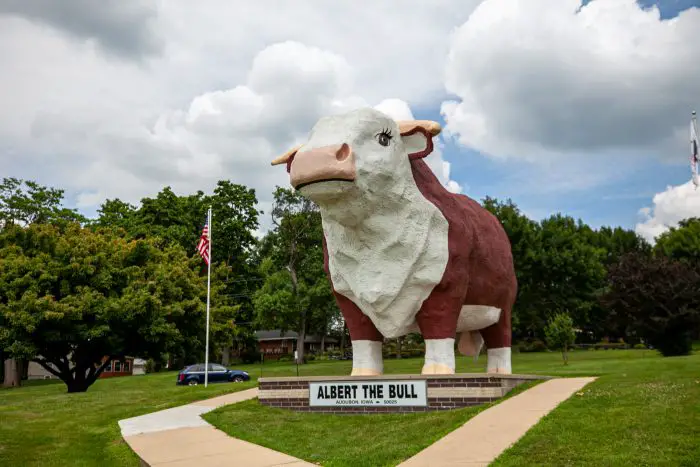 Albert the Bull – the World's Largest Bull 
115 Circle Dr, Audubon, IA
Albert the Bull, the world's largest bull, has been an icon of the Iowa town of Audubon since he was dedicated on October 21, 1964. He was conceptualized to represent the booming local beef industry and to be a tourist attraction to draw passersby from the highway. Nowadays over 20,000 visitors visit the Iowa roadside attraction every year. Albert weighs 45 tons and stands at 30 feet tall and 33 feet long.
Kansas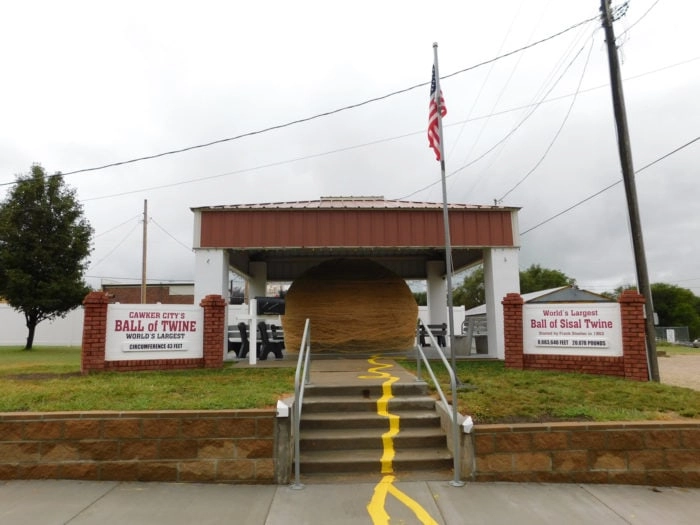 World's Largest Ball of Twine
719 Wisconsin St, Cawker City, KS
In 1953 Frank Stoeber started the innocent task of rolling spare bits of sisal twine he found in his barn into a ball. Eight years later that ball grew to 11-feet in diameter and contained over 1,600,000 feet of twine. This was an impressive accomplishment for any one man, but when another man in Darwin, Minnesota out twined his ball, the locals got to work. They organized an annual Twine-A-Thon and the ball has continued growing ever since. As of 2018, the world's largest ball of twine contained over 8 million feet of twine and weighed over 10 tons.
Kentucky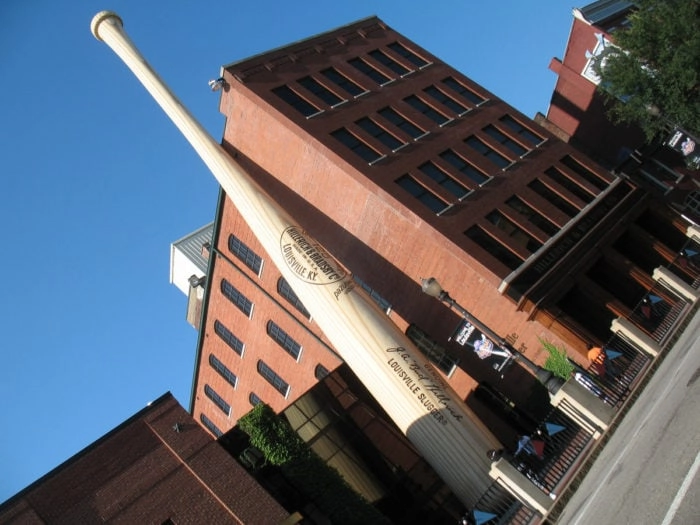 World's Largest Bat
Louisville Slugger Museum, 800 W Main St, Louisville, KY
With probably one of the best known roadside attractions in Kentucky, the Louisville Slugger Museum is home to what else but a giant Louisville Slugger baseball bat. The 120-foot-tall, 34 ton, world's largest baseball bat leans against the front of building and is an exact to-scale replica of Babe Ruth's legendary 34-inch Louisville Slugger bat. Head inside to learn more about the history of baseball, explore interactive displays, see some fantastic memorabilia, and visit another oversized sculpture, this one of a giant baseball mitt and glove.
Louisiana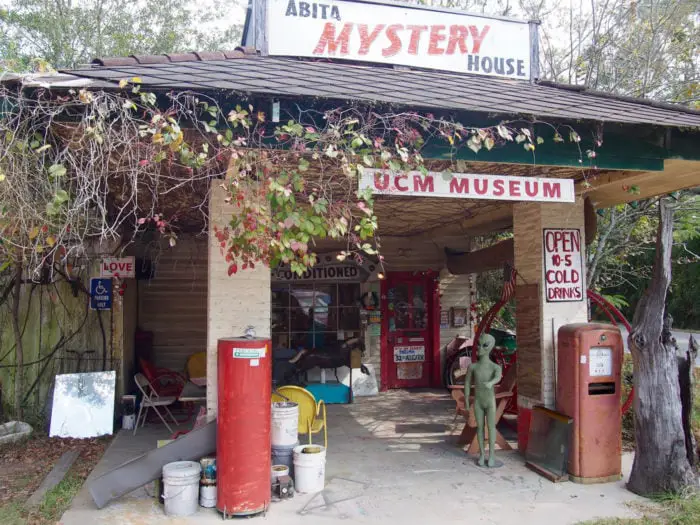 Abita Mystery House
22275 LA-36, Abita Springs, LA
Abita Mystery House (also known as the UCM Museum) might just be the most popular roadside attraction in Louisiana. At this quirky museum you'll find thousands of found objects, folk art, odd collections of memorabilia, and homemade inventions. Everywhere you look is something different, and weird. Look for Darrell (the half-alligator half-dog creature), the flying saucer, and the miniature towns with animated displays.
Maine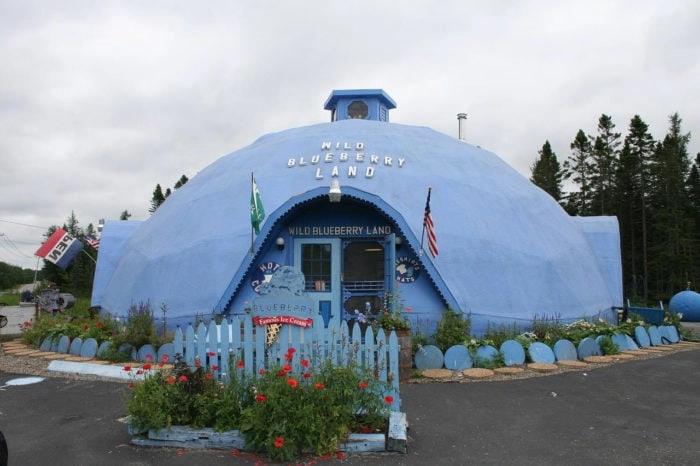 Wild Blueberry Land & The Giant Blueberry
1067 US-1, Columbia Falls, ME
The giant blueberry is the centerpiece of Wild Blueberry Land in Columbia Falls. Since 2001 the blue domed building has served as a coffee shop and gift shop serving up homemade blueberry jam, pastries, and other sweets. Come to grab a slice of blueberry pie and stay to admire the giant blueberry-shaped building, the pie-holding fiberglass chef out front, and all the other blueberry-themed decor around the grounds.
Maryland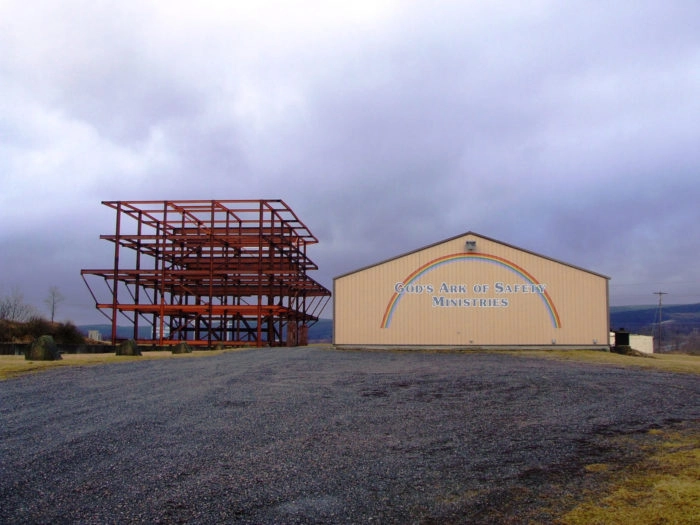 Unfinished Noah's Ark
18606 Cherry Ln SW, Frostburg, MD
In 1974 Pastor Richard Greene heard from Jesus, and Jesus told him to build an ark. The ark was to be built next to the interstate and stretch 450-feet long and 75-feet wide and stand at 45-feet tall. There were drawings done and plans built that Greene proudly showed off. But construction stalled and all that was ever built was a wooden frame (reinforced with steel beams in 1999). A sign in front of the unfinished Noah's Ark (God's Ark of Safety) proclaims "Noah's Ark Being Rebuilt Here," though further progress hasn't been made.
Massachusetts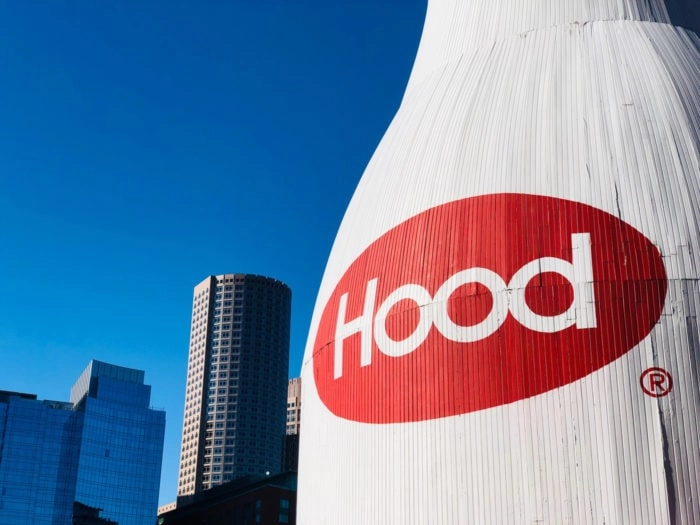 Hood Milk Bottle Building
300 Congress St, Boston, MA
This giant milk bottle was one of the first examples of novelty architecture in the United States. Built in 1930, ice cream maker Arthur Gagner had it built next to his shop to entice customers in to buy a sweet treat. The bottle was sold in 1943 and, eventually, abandoned. But, in 1977, dairy company H.P. Hood and Sons, Inc. bought the old structure and gave it to the Boston Children's Museum. The 40-foot tall milk bottle is stamped with the name "Hood" and still stands on the Boston pier, where it fulfills its original purpose as an ice cream stand.
Michigan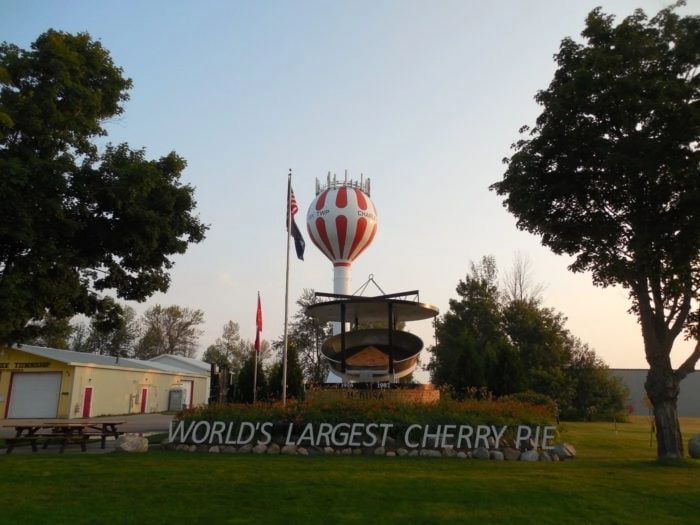 World's Largest Cherry Pie(s)
6549-6717 US-31, Charlevoix, MI
3424 Cass Rd, Traverse City, MI
Two towns in Michigan claim to have the world's largest cherry pie: Charlevoix and Traverse City. Charlevoix's was built 1976, when the town baked the World's Largest Cherry Pie as part of the their annual cherry festival. In order to bake it, they needed to make a pan big enough to hold it. The pie ended up weighing 17,420 pounds and today the original pan is displayed proudly in the town, complete with a slice of replica pie. In 1987, Traverse City stepped up to the pie plate to outdo their neighbor. At their local cherry festival they made a 28,350 pound cherry pie. The pan is still on display in front of the former Chef Pierre Bakeries plant, complete with a faded certificate from Guinness World Records.
Minnesota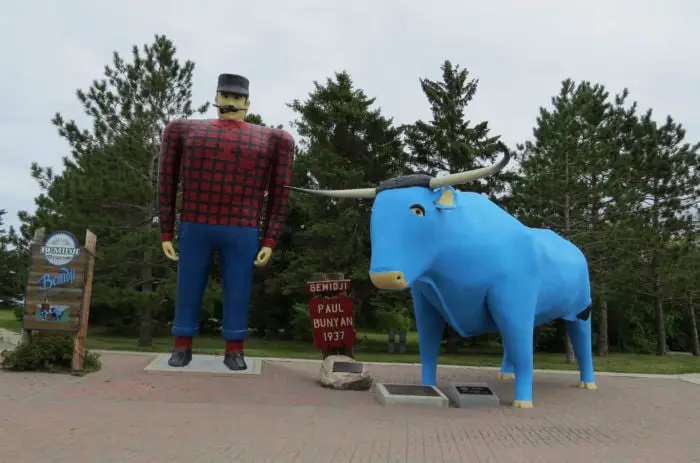 Paul Bunyan & Babe the Blue Ox Statues
300 Bemidji Ave N, Bemidji, MN 56601
Minnesota legend says that it's 10,000 lakes were formed when Paul Bunyan's footprints were filled with water. So it's not wonder that Minnesota' best roadside attraction revolve around this folklore giant. The Paul Bunyan & Babe the Blue Ox Statues in Bemidji are said to be the "second most photographed statues in the United States" (behind Mount Rushmore). The 18-foot tall lumberjack wearing a red plaid shirt and blue pants was created in 1937 for a local winter carnival, and the 10-foot Babe the Blue Ox was added beside him in 1939. This pair isn't just one of the best roadside attractions in America, they are also some of the earliest! In 1988 the duo was listed on the National Register of Historic Places.
Mississippi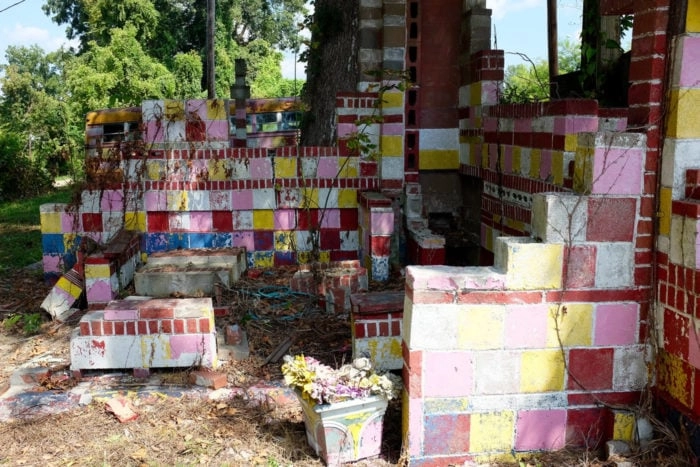 Margaret's Grocery
4535 N Washington St, Vicksburg, MS
Folk art meets Byzantine Empire at this Mississippi roadside attraction. Margaret's Grocery was a popular stop on Highway 61 for many years. Reverend and Margaret Dennis kept the store and decorated it in bricks colored in reds, yellows, pinks, and whites, bringing groceries, and God, to the people via their folk art ministry. Unfortunately, since the Reverend's death in 2012, the building has fallen into disrepair. The Mississippi Folk Art Foundation now owns the site and plans on restoring it and a fundraising effort is underway.
Missouri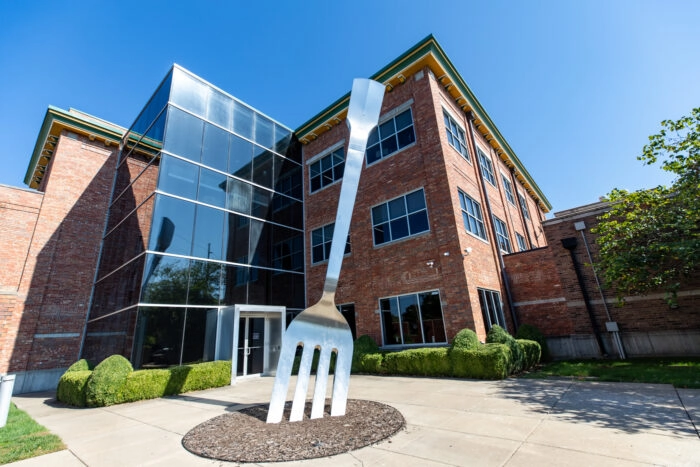 World's Largest Fork
2215 W Chesterfield St, Springfield, MO
Located in the parking lot of Springfield's Noble & Associates marketing agency this 35-foot tall, 11-ton utensil is the biggest fork in the world! It used to reside outside of a restaurant, but relocated to the current position when that location closed.
Montana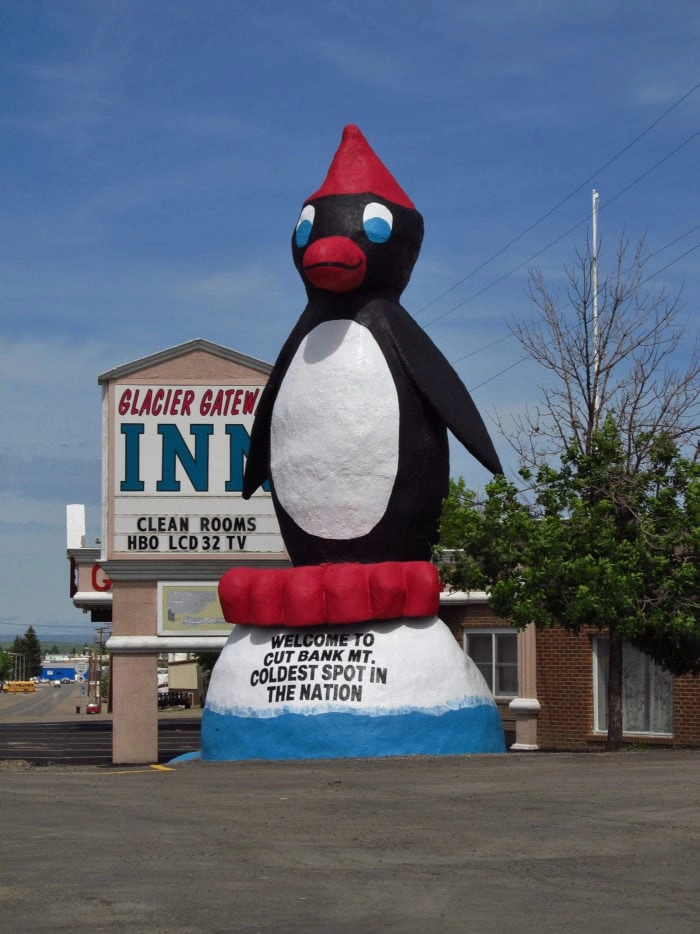 Talking Penguin Statue
Glacier Gateway Plaza, 1130 E Main St, Cut Bank, MT
Near Glacier National Park, Cut Bank, Montana claims to be the "Coldest Spot in the Nation" (or at least in the lower 48). The town celebrates their moniker with 27-foot tall, 10,000 pound giant penguin statue. The friendly penguin was constructed by Ron Gustafson in 1989 and (at least in theory) talks!
Nebraska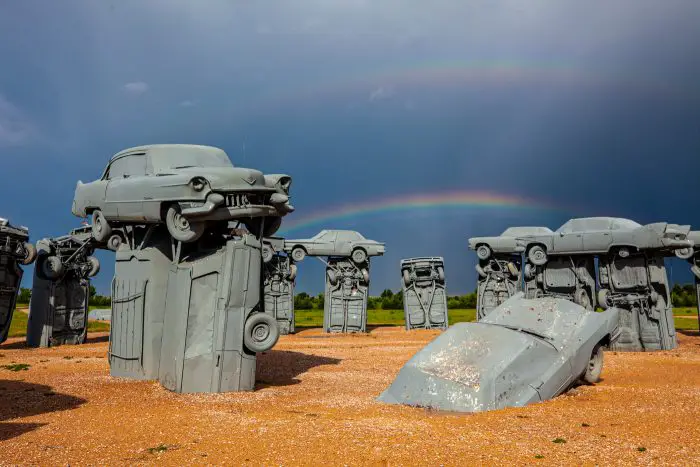 Carhenge
2151 Co Rd 59, Alliance, NE
Perhaps Nebraska's most famous roadside attraction, Carhenge is a replica of England's Stonehenge… but made from cars. Standing at 96 feet in diameter and made up of thirty eight gray-painted cars, the roadside attraction was created in 1987 by experimental artist Jim Reinders. This is a must-stop item to add to any Nebraska road trip itinerary and it the perfect start or end to a Sandhills Journey road trip.
Nevada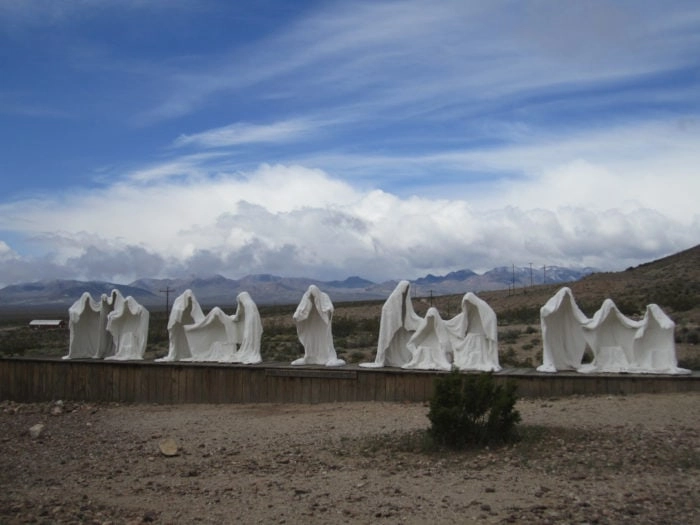 The Goldwell Open Air Museum
1 Golden St, Beatty, NV
Just outside of the ghost town of Rhyolite you'll find a 15-acre sculpture park containing some of the best roadside attractions in Nevada. The Goldwell Open Air Museum opened in 1984 and features oversized, haunting, and perplexing sculptures from Belgian and American artists. Two of the most sought out are The Last Supper" (Belgian-Polish sculptor Albert Szukalski's recreation of Leonardo da Vinci's painting with white, shrouded, ghost-like figures) and "Lady Desert: The Venus of Nevada" (Belgian artist Dr. Hugo Heyrman's giant pink pixelated building block woman).
New Hampshire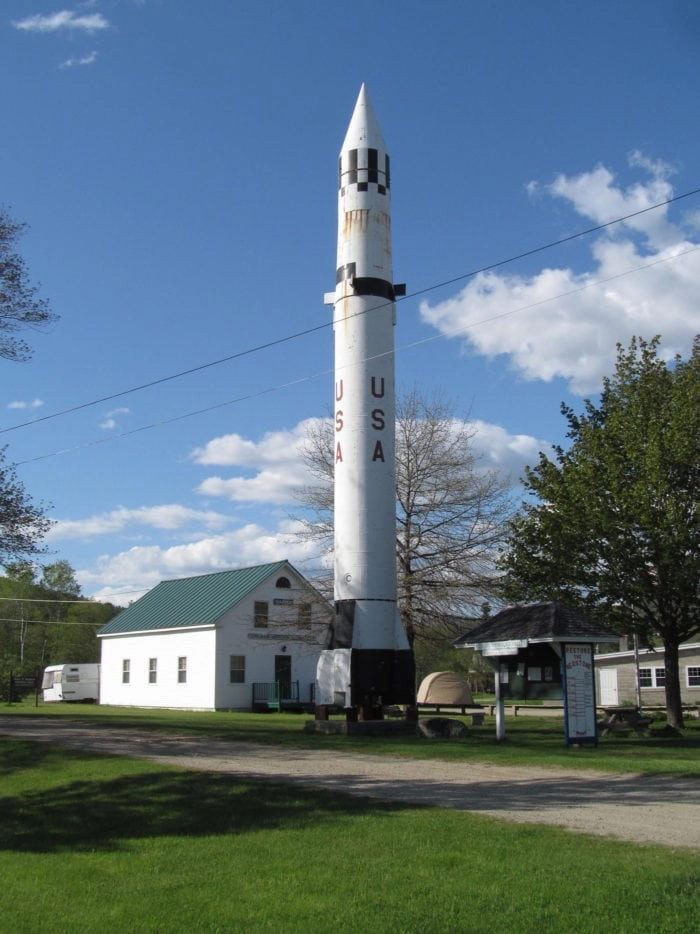 Redstone Rocket
112 Water St., Warren, NH
Warren is home to a particularly peculiar New Hampshire roadside attraction: the Redstone Rocket, what may be the only missile in a public park. The decommissioned missile is a relic from the Cold War, where the model was used to carry the first live nuclear warhead and send American astronaut Alan Shepard on a brief sub-orbital trip. The rocket was installed in a Warren park in 1971 in honor of Shepard, who was born in Derry. Want to see more? You can also find a 92-foot-tall Redstone rocket replica 60 miles away in Concord.
New Jersey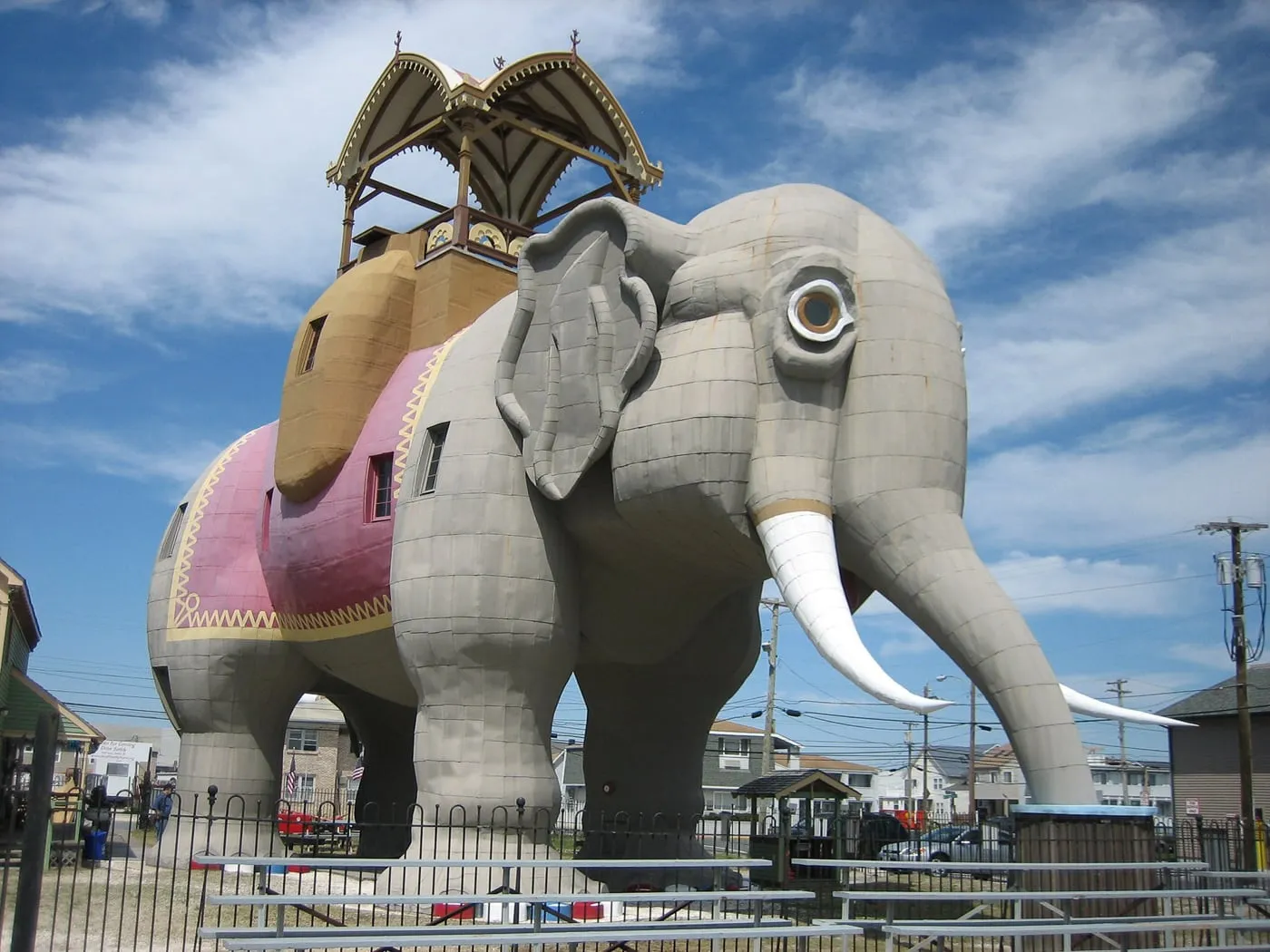 Lucy The Elephant
9200 Atlantic Ave, Margate City, NJ
Standing at six-stories tall and weighing over 90 tons, Lucy the Elephant in Margate City, New Jersey is the world's largest elephant. Lucy was built in 1881 by real estate developer James V. Lafferty. The giant elephant originally functioned as a real estate office and then for various other businesses through the years, from a summer home to a tavern. By the 1960s the poor elephant had seen better days, laying abandoned and dilapidated. Luckily for tourists to come, the citizens of Margate raised money to restore her to her former glory and she is now the pride of Margate City and a a National Historic Landmark.
New Mexico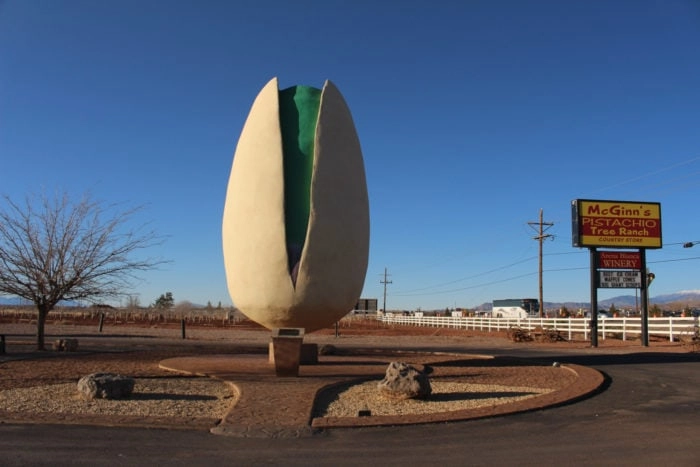 World's Largest Pistachio Nut
McGinn's Pistachio Tree Ranch, 7320 US-54, Alamogordo, NM
Stop by McGinn's Pistachio Tree Ranch to admire the World's Largest Pistachio Nut. The giant nut stands at 30-feet tall and is made of concrete. It was installed in 2008 to both lure travelers off the road and onto the pistachio farm (tours are also available and the gift shop is stocked with pistachios, pistachio products, and other local fare) and honor Tom McGinn, the farm's founder who had passed away the year before. A bronze plaque at the base of this New Mexico roadside attraction reads, "Tom dreamed big, expected big, and accomplished big things. He would have said the monument is not big enough!"
New York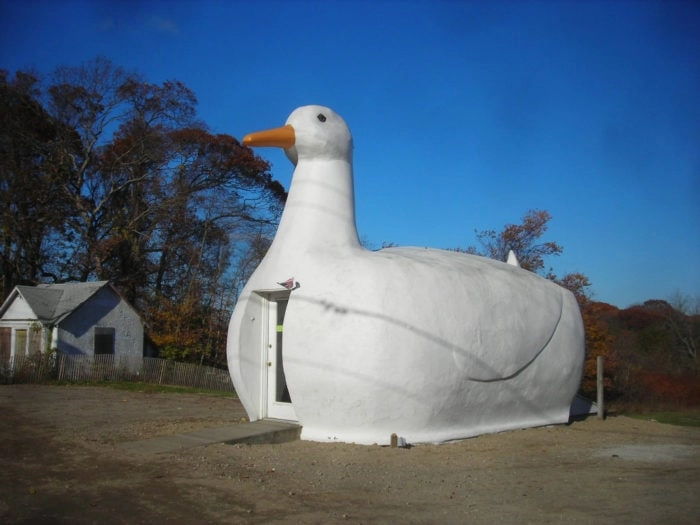 The Big Duck
1012 NY-24, Flanders, NY
The Big Duck is a classic Long Island New York roadside attraction. The giant fowl was originally built in 1931 to serve as a duck-shaped poultry store. Farmer Martin Maurer commissioned the mimetic building as a way to entice people to buy his ducks and duck eggs. The 10-ton, 20-foot tall, 30-foot long, 18-foot wide bird is made of concrete and has the headlights of a Model T Ford for eyes. The Flanders landmark is still a popular site today where is now lives in a park and serves as a souvenir gift shop.
North Carolina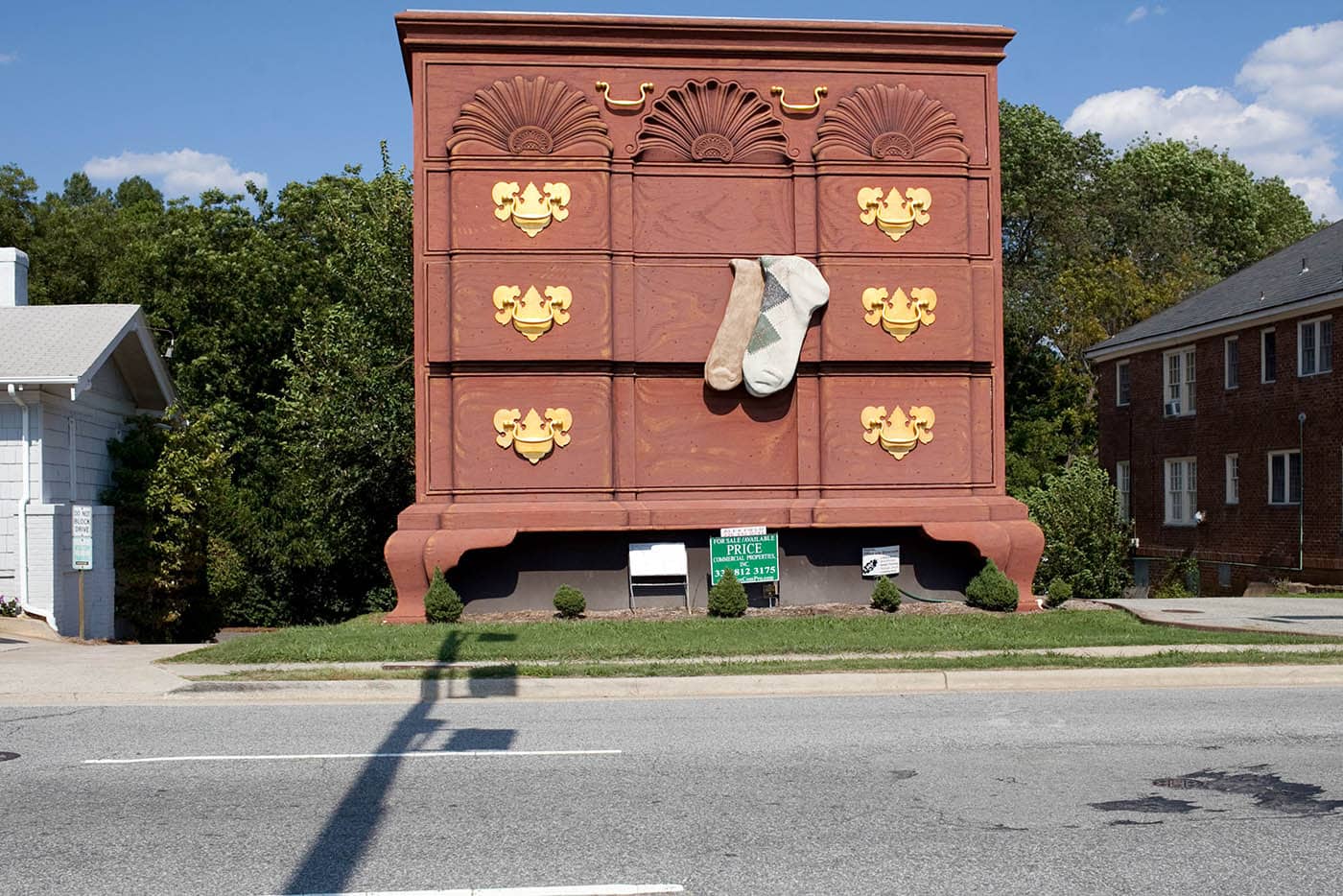 World's Largest Chest of Drawers
508 North Hamilton St., High Point, NC
First built in the 1920s by the High Point Chamber of Commerce, the World's Largest Chest of Drawers pays homage to the town's status as the "Home Furnishing Capital of the World." The first incarnation of this huge chest of drawers was just twenty feet tall, but in a 1996 renovation, more levels were added, creating the 38-foot tall dresser that stands there today. The huge cartoon-like structure, complete with oversized drawers, golden pulls and a pair of mismatched socks, towers over tourists, the traffic lights, and the nearby buildings.
North Dakota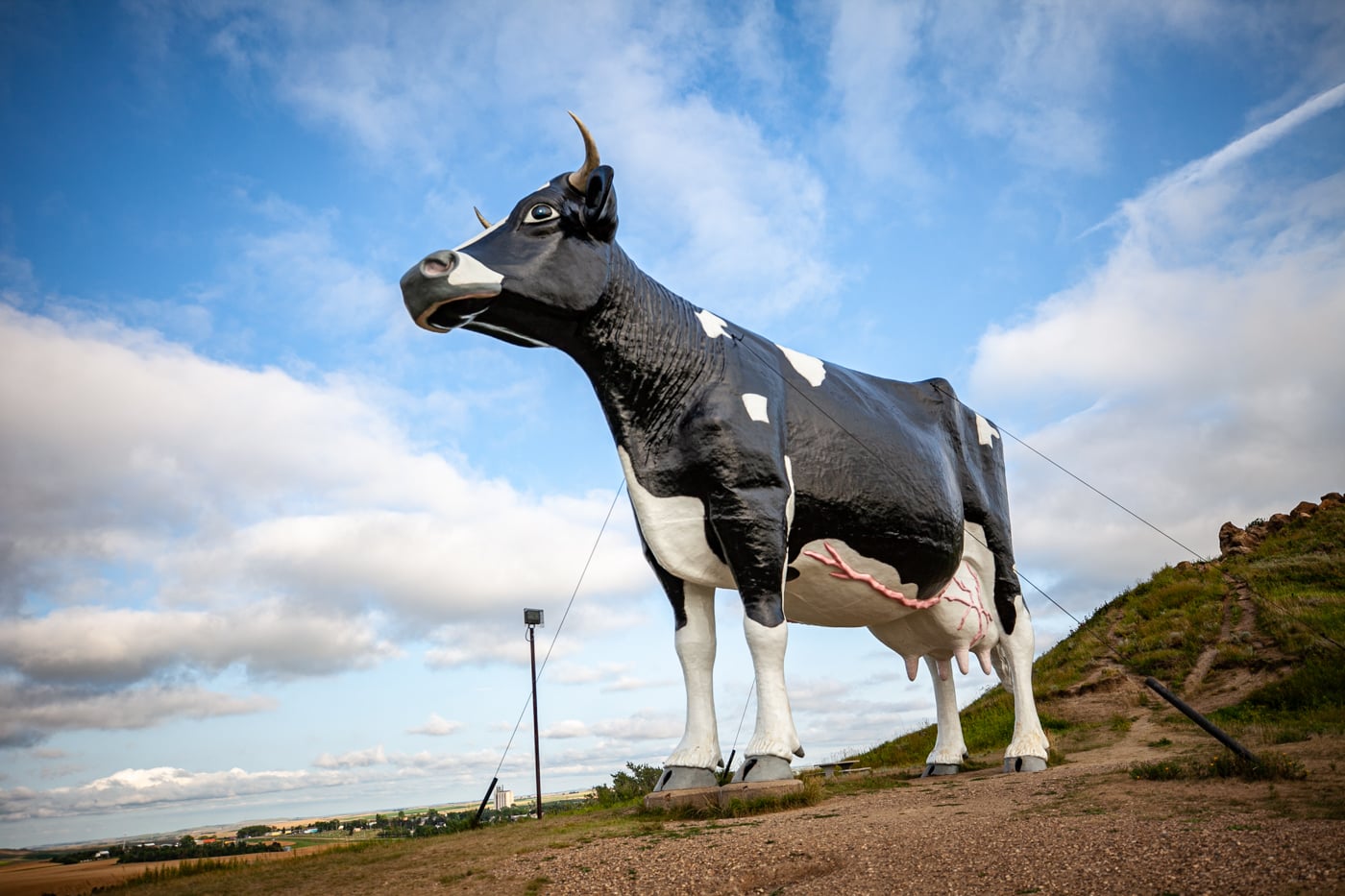 Salem Sue, The World's Largest Holstein Cow
8th Ave. N, New Salem, ND
You can't miss seeing Salem Sue, the World's Largest Holstein Cow when traveling through New Salem on a North Dakota road trip. And I mean that in two ways. One, she is absolutely one of the best and biggest world's largest things, so it would be a travesty to drive by without at least taking a peek. And two, she's just so big that she is IMPOSSIBLE to miss! This giant fiberglass cow stands at 38 feet tall and 50 feet wide and weighs in at an impressive 12,000 pounds (6 tons). Perched on a hill overlooking New Salem, you can spot her from up to five miles away!
Ohio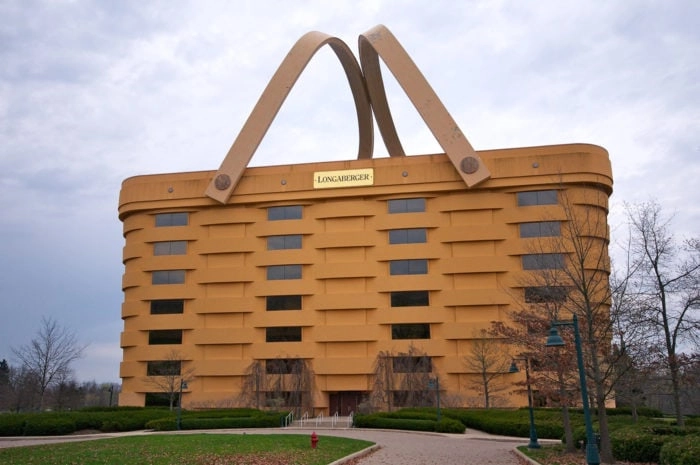 Longaberger's World's Largest Picnic Basket
1500 E Main St, Newark, OH
The World's Largest Picnic Basket was once the corporate headquarters to the Longaberger Basket Company. The giant basket was constructed to be an over-the-top replica of Longaberger's Medium Market Basket, only standing at 160 times larger than it's normal-sized counterpart. At seven-stories tall, it is 192 feet long and 126 feet wide at the base and 208 feet long and 142 feet wide at the roof, this Ohio roadside attraction is certainly the world's largest basket. Alas, the business has since closed and the big basket laid vacant for many years. But there is hope for its future: a developer bought the property in 2017 and announced in 2019 that it would be turned into a hotel.
Oklahoma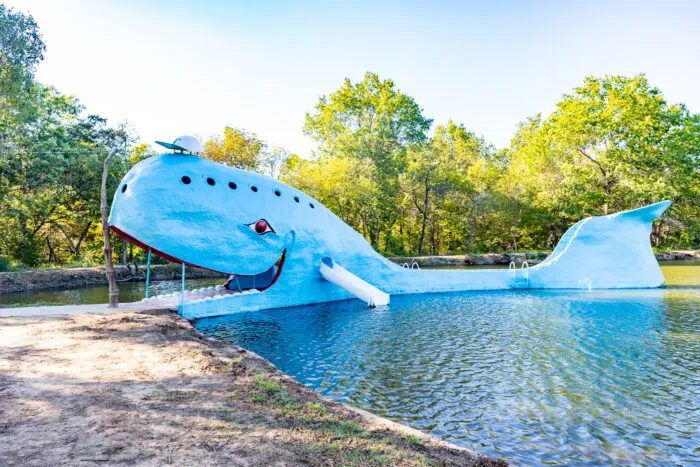 Blue Whale of Catoosa
2600 Rte 66, Catoosa, OK
The Blue Whale of Catoosa has been a Route 66 icon since 1972. Hugh Davis originally built the giant 80-foot-long blue sperm whale adjacent to their alligator farm as an anniversary present for his wife Zelta and their kids. It soon became the centerpiece of their Route 66 attraction, Nature's Acres, and a much beloved roadside attractions for travelers on the Mother Road and beyond. After the park closed in 1988, the giant whale fell into disrepair, but today it is maintained by a local group, preserving this piece of nostalgia for modern road trippers.
Oregon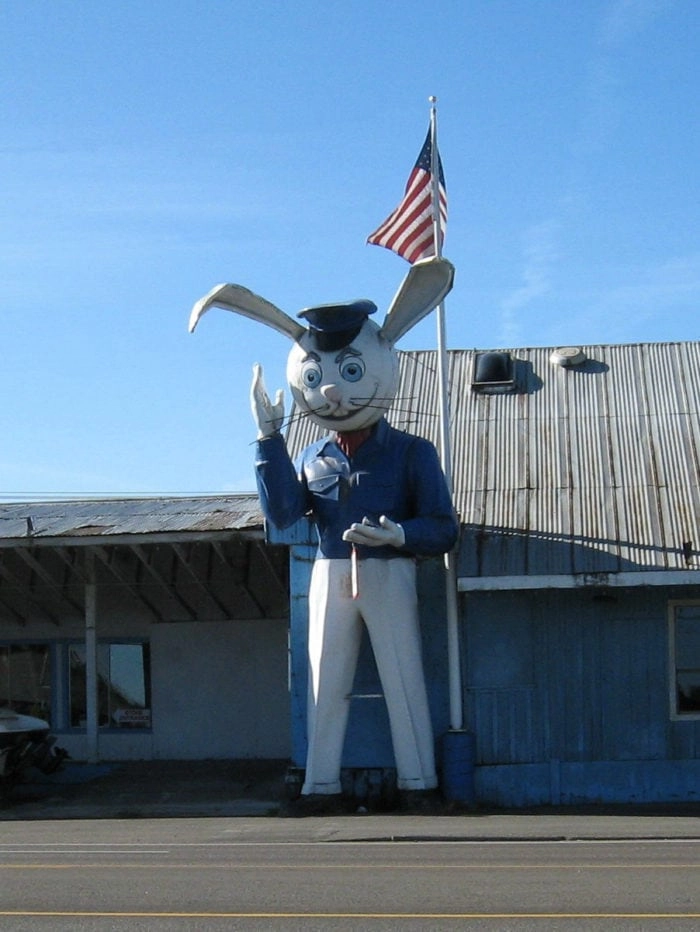 Harvey the Rabbit
21250 SW Tualatin Valley Hwy, Aloha, OR
Harvey the Rabbit started his life as an abandoned Texaco Big Friend statue. When Ed Harvey (1928-2017) of Harvey Marine in Aloha, Oregon got his hands on the 20-foot-tall statue he turned it from a he to a hare. This 26-foot tall half man half rabbit has become a fixture in the town, revered by both locals and tourists alike. Ed passed away in 2017, and Harvey Marine closed, but the giant rabbit still stands with no plans of hopping away.
Pennsylvania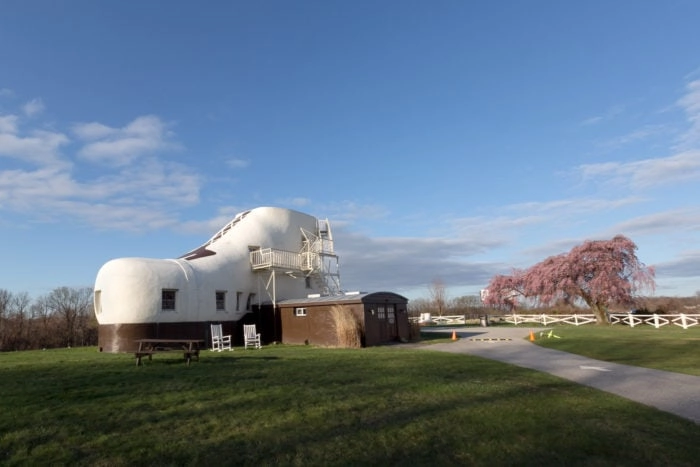 Haines Shoe House
197 Shoe House Rd, York, PA
In the late 1940s "Shoe Wizard" Colonel Mahlon Nathaniel Haines had a 5-story, 25-foot tall, 48-foot long boot constructed off the highway to advertise his booming shoe store empire. The Haines Shoe House is still an incredible example of mimetic architecture and popular Pennsylvania roadside attraction. Stop by for a tour, a scoop of ice cream, and a shoe-venir!
Rhode Island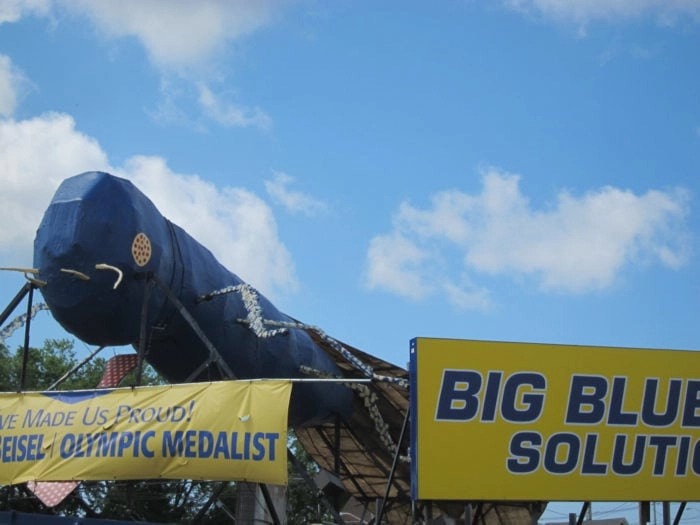 Big Blue Bug
Big Blue Bug Solutions, 161 O'Connell St, Providence, RI
The "Big Blue Bug" AKA "the world's largest bug" AKA Nibbles Woodaway, is a Rhode Island icon. The 58-foot long giant termite lives on top of Big Blue Bug Solutions in Providence. The business was originally called New England Pest Control but they renamed themselves in 2012 to honor their ever-popular mascot. The big bug was originally painted purple but when the color started to fade all the locals started calling him the Big Blue Bug. When you visit this Rhode Island roadside attraction you never know what you'll get, he's often dressed up for the holidays including an Uncle Sam hat for the Fourth of July and a red nose, antlers, and lights for Christmas.
South Carolina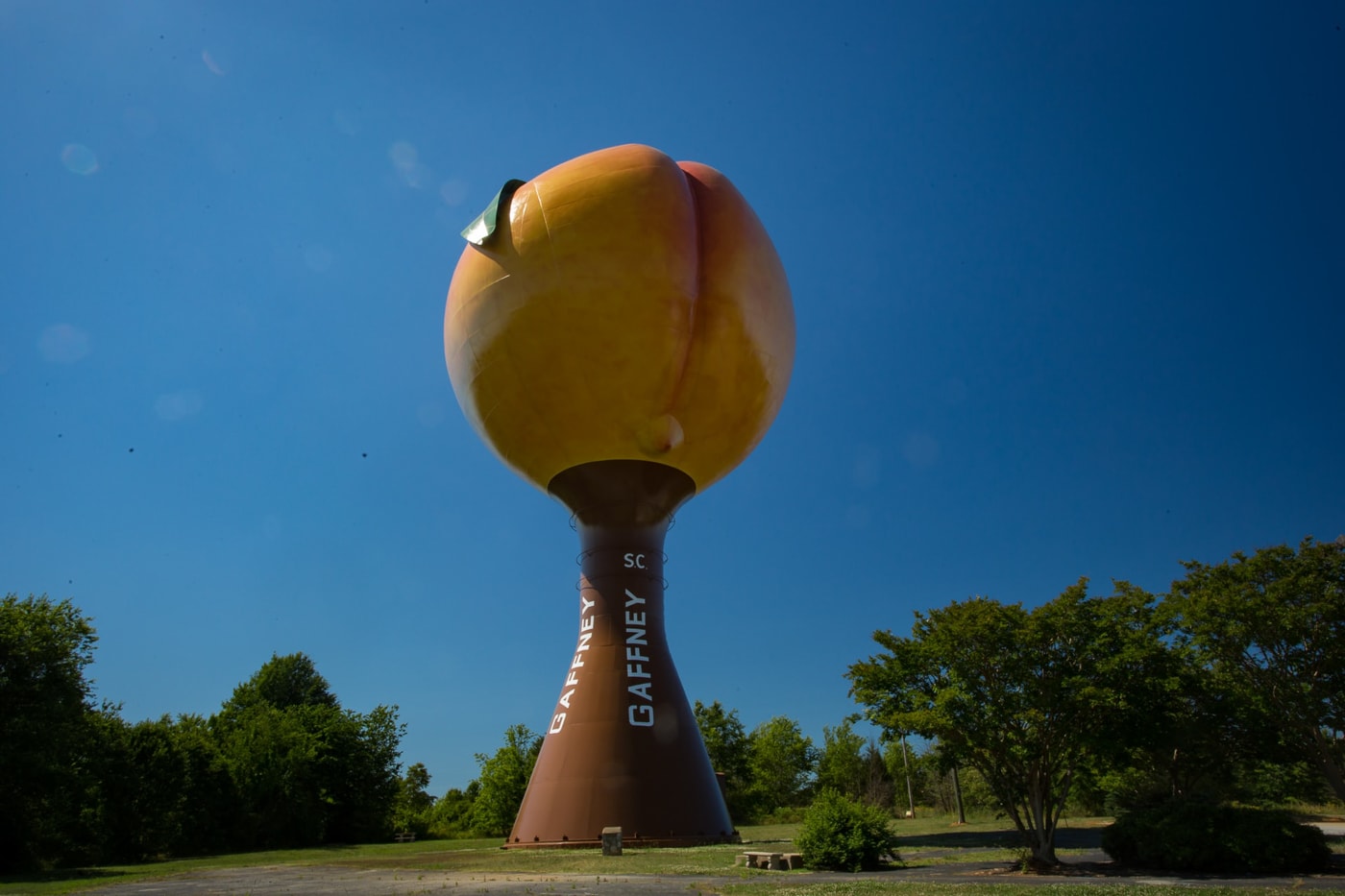 Gaffney Peachoid
Peachoid Rd, Gaffney, SC
If you're looking for a giant peach you might have Georgia on your mind. But this giant peach is found in South Carolina. Gaffney is known as the "Peach Capital of South Carolina" and they celebrate their nickname with the world's largest peach. The giant peach is 135 feet tall and is garnished with a7-ton, 60-foot long leaf. It functions as the town's water tower and hold one million gallons of water inside!
South Dakota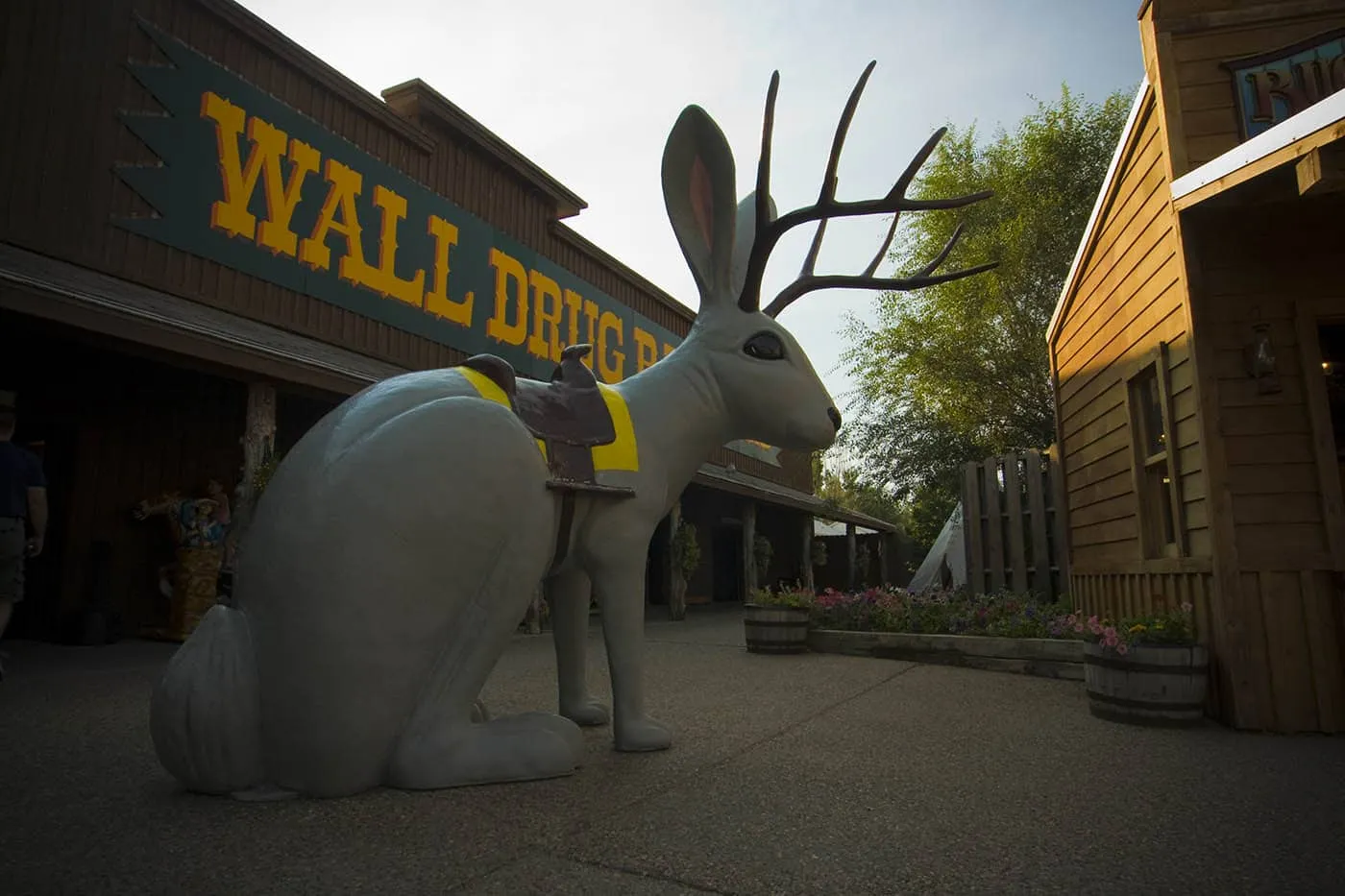 Wall Drug
510 Main St, Wall, SD
Follow the barrage of road signs to Wall Drug Store, a popular South Dakota roadside attraction and tourist trap in Wall, SD. The Western-themed shopping mall features a drug store, gift shop, restaurants, travelers church, taxidermy, a giant Jackalope, an 80-foot brontosaurus, and free ice water for all.
Tennessee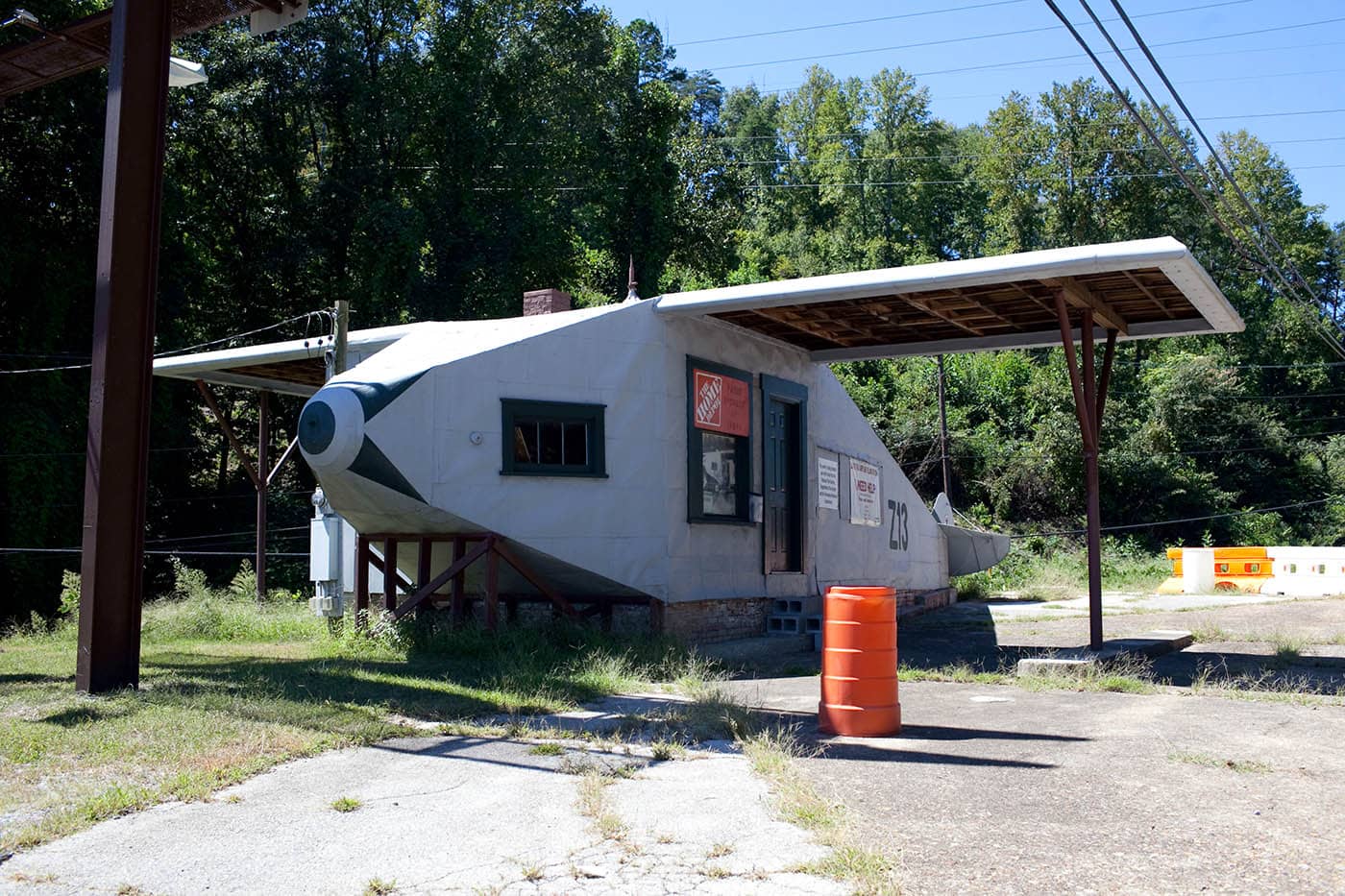 Airplane Service Station
6829 Clinton Hwy, Powell, TN
Built by two brothers, Powell's Airplane Filling Station, an airplane-shaped building has been standing since the 1930s and has even been placed on the National Register of Historic Places. First used as a gas station, it was built with the same intent of many other roadside icons of the time: build something unique to draw in the customers. Unfortunately, after the gas station dried up, it fell into disrepair and was named one of the 10 Most Endangered Roadside Places by The Society for Commercial Archeology. Today, it has been fully restored and operates as a barber shop in Powell.
Texas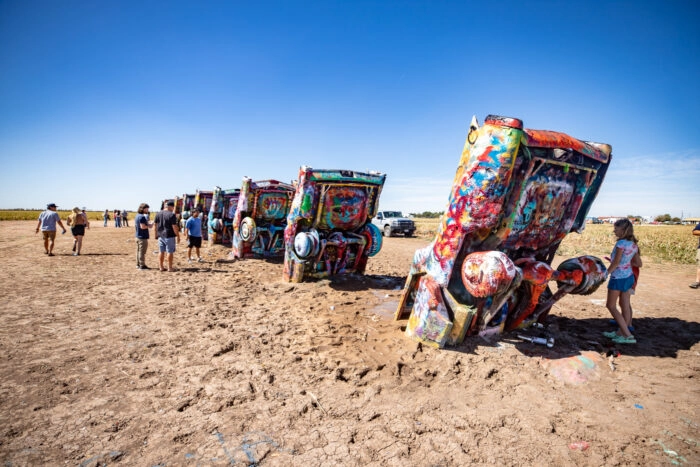 Cadillac Ranch
13651 I-40 Frontage Rd, Amarillo, TX
Cadillac Ranch might just be the most recognizable pit stop on Route 66. Installed by a group of San Francisco hippies dubbed "The Ant Farm" in 1974, this Texas roadside attraction has been attracting crowds ever since. In a field you'll find ten Cadillac cars (1949-1963 models) buried nose-first in the ground and covered in colorful graffiti. Visitors are encouraged to leave their mark with a can of spray paint so no two views will ever be the same.
Utah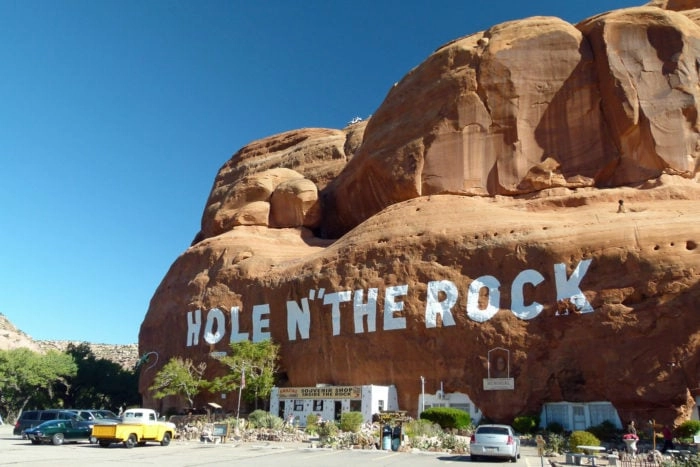 Hole N" The Rock
11037 US-191, Moab, UT
Hole N" The Rock is probably the most famous roadside attraction in Utah. It is a unique, 5,000 square-foot home carved out of a huge rock in Utah's Canyonlands Country. Albert Christensen created the home in the 1940s, where he lived with his family and continually build until his death in 1957. Here you can take a guided tour of the home, visiting 14 rooms carved out of rock (including a bathroom dubbed "a toilet in a tomb") and admiring the original furnishings, Albert's paintings, and his wife Gladys's doll collection. You can also visit a trading post for locally made fare and shop for one-of-a-kind souvenirs.
Vermont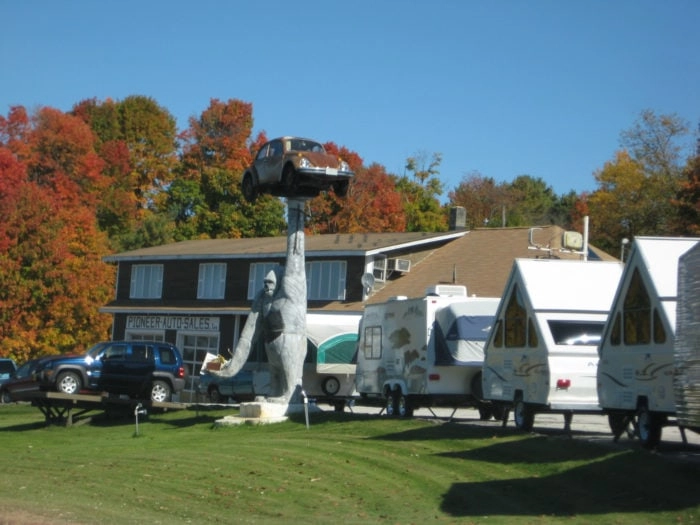 Gorilla Holding a VW Beetle
2829 US-7, Salisbury, VT
"Queen Connie" is a giant King Kong of a gorilla holding up a real Volkswagen Beetle in his up-stretched left hand. Artist T.J. Neil created the Vermont roadside attraction in 1987 out of steel-reinforced concrete for Pioneer Auto Sales. The owners of the business wanted a big and memorable advertising icon to place outside and draw people into the car dealership. While one of the gorilla's arms stretches above her head to hold the car, the other is stretched down, palm up, so visitors can climb in for photos with this local legend.
Virginia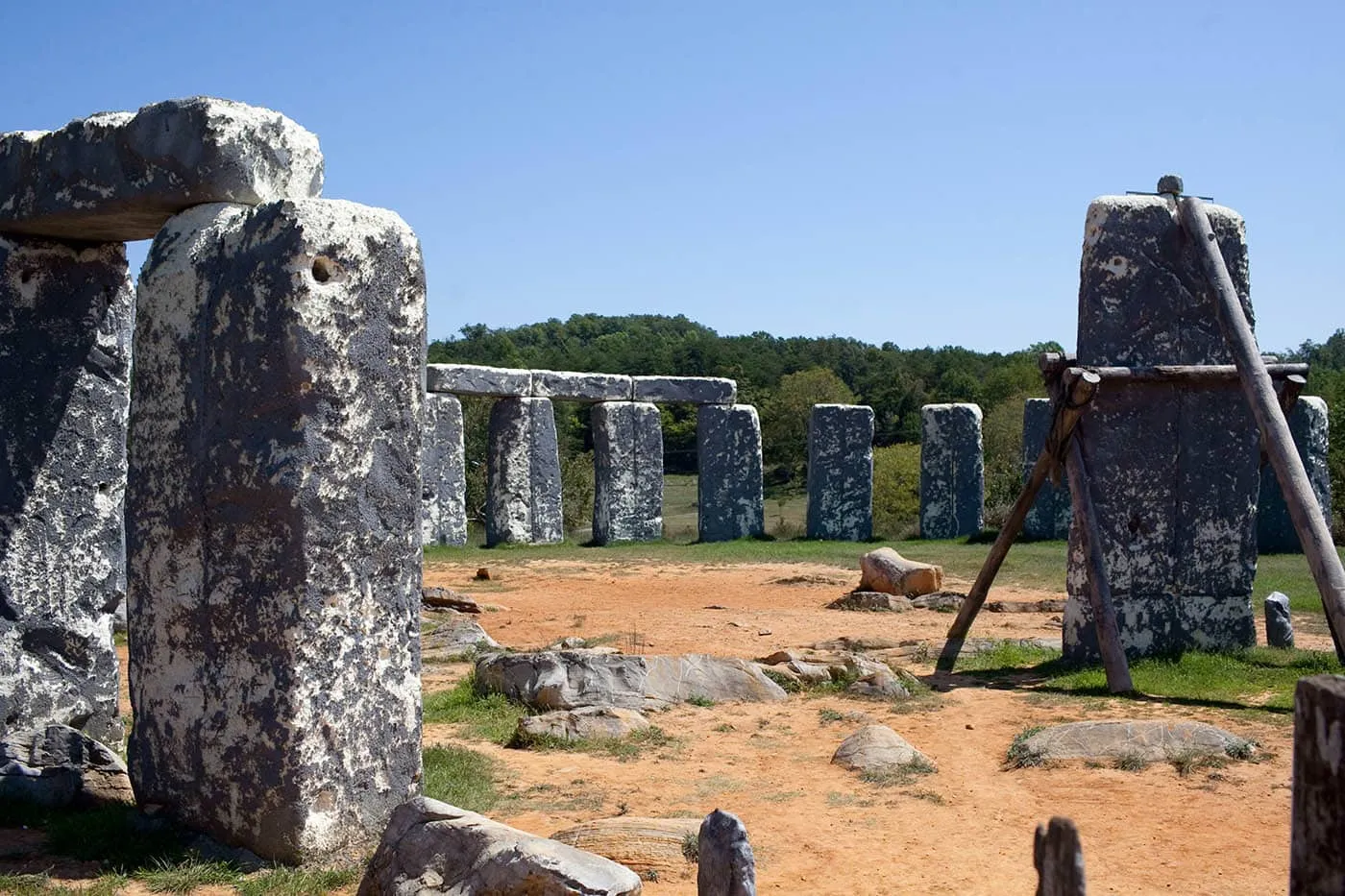 Foamhenge
Cox Farms, 15621 Braddock Rd, Centreville, VA
Can't make it to England to cross Stonehenge off your bucket list? No worries, you can see the next best thing right here in the United States: Foamhenge, Virginia's Stonehenge made of foam. Artist and fiberglass sculptor Mark Cline of Enchanted Castle Studio made this full-scale styrofoam replica of the iconic English tourist attraction and unveiled it in 2004. This Virginia roadside attraction spent many years in Natural Bridge before moving to its new home at Cox Farms in Centreville.
Washington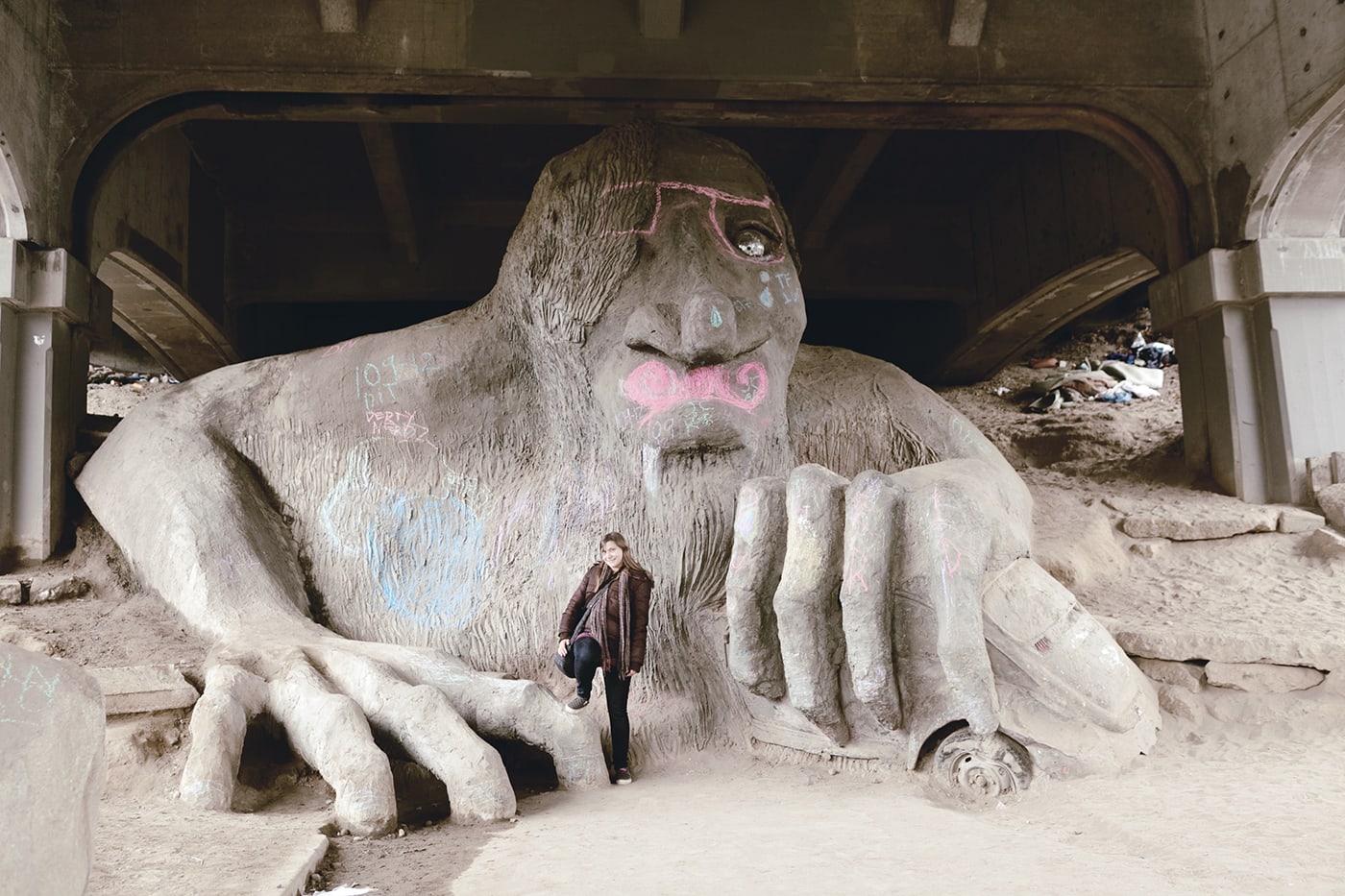 The Fremont Troll
N 36th St, Fremont, Seattle, WA
In 1989 the Fremont Arts Council in Seattle, Washington, held a contest to select an idea for an art project to occupy the space under the Aurora Bridge. Disillusioned by the idea of the space becoming a waste dump, they wanted to do something different and more imaginative. After five projects were picked, the community voted and the Fremont bridge troll received overwhelming support. The Fremont Troll was a collaboration by artists Steve Badanes, Will Martin, Donna Walter, and Ross Whitehead and is an amazing 2-ton, 18-foot creature made from rebar steel, wire and 2 tons of ferroconcrete. One shining eye of the Seattle troll watches for visitors and billy goats alike and in one hand he clutches an actual Volkswagen Beetle.
West Virginia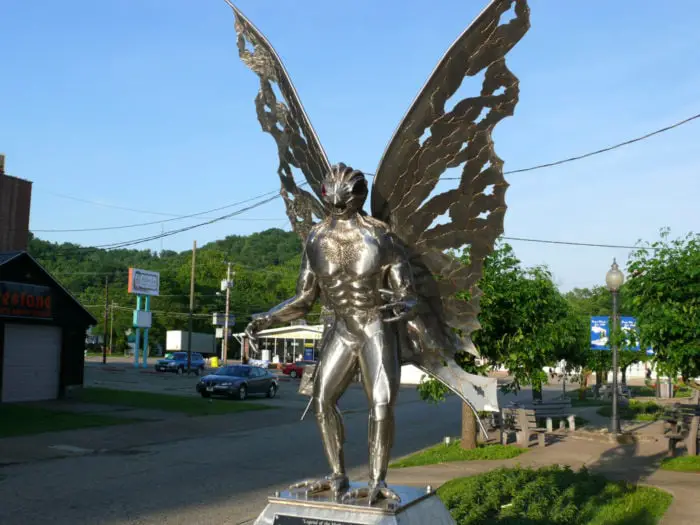 Mothman Statue
201 4th St, Point Pleasant, WV
The legend of Mothman has been popular in the Point Pleasant area since 1966 when locals started reporting sightings of a strange flying humanoid monster with red eyes, a 10-foot wingspan, and the face of an insect. While the creature has been around for many years, his popularity surged after the release of the movie The Mothman Prophesies in 2002. On the day of the film's premiere, West Virginia's secretary of state announced that they would build a monument dedicated to this local urban legend. A 12-foot tall polished steel Mothman statue was erected in downtown Point Pleasant and, in 2006, the Mothman Museum and Research Center opened across the street with history, film props, and souvenirs.
Wisconsin
The World's Largest Fish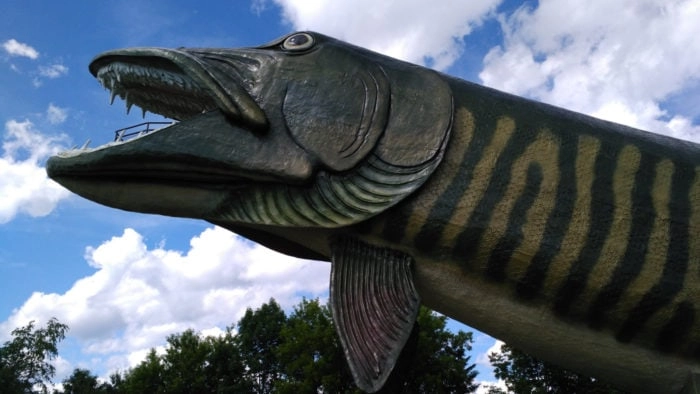 10360 Hall of Fame Dr, Hayward, WI
Over 100,000 people visit the National Freshwater Fishing Hall of Fame in Hayward, Wisconsin every year. While they might be there to explore the world record fish archives or peruse the collection of lures and artifacts, the highlight is "Shrine to Anglers." The world's largest fish (which is also the world's largest fiberglass sculpture, period) portrays a leaping muskellunge (muskie) that stretches one-half city block long and four and a half stories tall.
Wyoming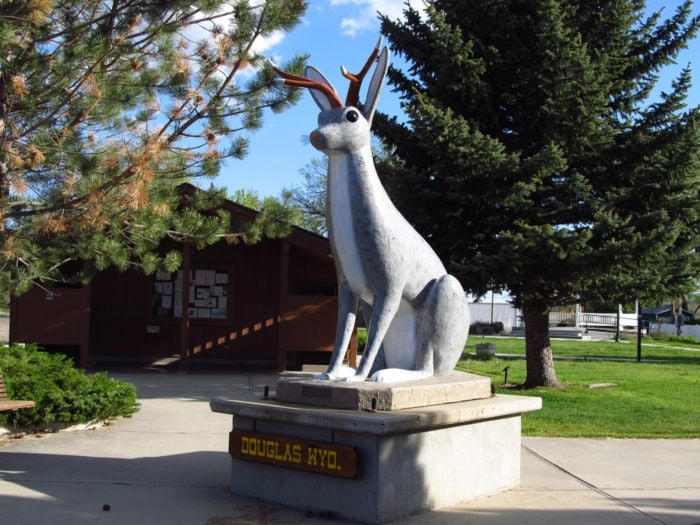 Former World's Largest Jackalope
100-198 S 3rd St, Douglas, WY
Douglas, Wyoming is the self-proclaimed "Jackalope Capital of the World," and they don't take that title lightly. In the middle of town that celebrates the mythical jackrabbit antelope hybrid, you'll find Jackalope Square, anchored by an eight-foot tall jackalope sculpture. The town has since erected multiple other jackalope monuments: the new World's Largest Jackalope at the Douglas Railroad Interpretive Center and a 13-foot tall metal silhouette on top of a hill. All of the statues are worth a detour on a Wyoming road trip, but the OG in the square is the most beloved.
Pin this list of the best roadside attractions in each State: