Are you planning a Maine road trip and want to find all the best Maine roadside attractions along your route? Whether you're driving Coastal Route One, the Golden Road, or the Rangeley Lakes Byway, you won't want to miss these fifteen must-see places to go in Maine. They're fun road trip stops and great additions to your travel itinerary or route.
Below are the 15 best roadside attractions in Maine: from a big blueberry to a chocolate moose, from a giant globe to a sign that will point you around the globe, from a desert to a planet! You won't want to miss any of these bucket list worthy tourist traps and road trips stops on your Maine vacation.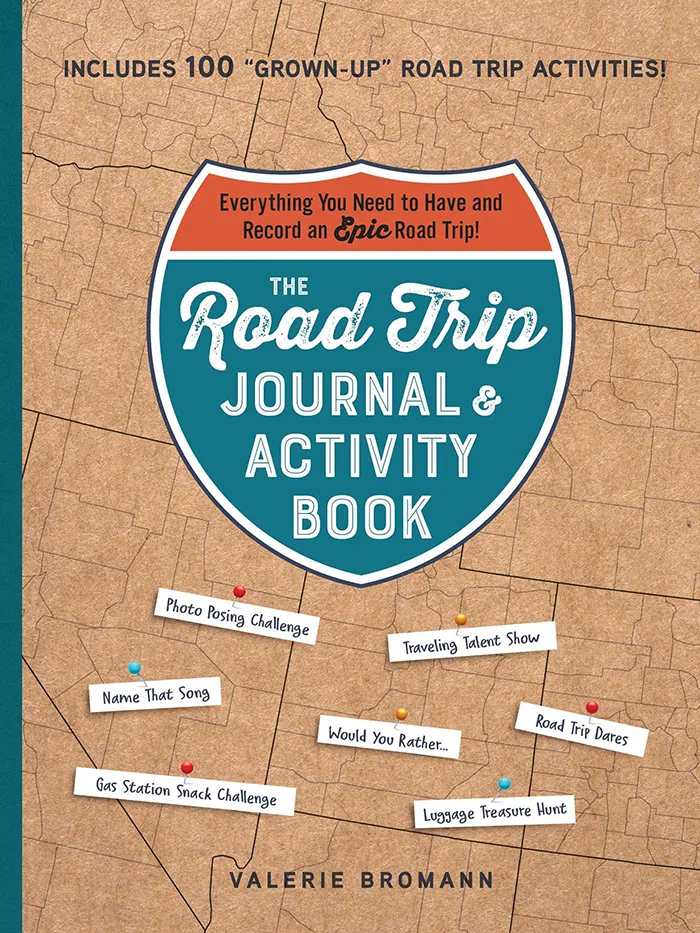 The Road Trip Journal & Activity Book
Everything You Need to Have and Record an Epic Road Trip!
Enjoy fun games and challenges to pass the time on your next road trip and have a keepsake to look back on for years to come with this entertaining must-have for your next vacation.
Ready to hit the road? Let's go! I call shotgun!
The 15 best Maine roadside attractions (in no particular order):
1. 31-Foot Tall Paul Bunyan Statue, Bangor
Bass Park, 519 Main St, Bangor, ME
Tall, dark, and handsome, the 31-foot tall Paul Bunyan statue is on one of the most popular roadside attractions in Maine. Bangor, Maine claims to be birthplace of the lumbar industry and the birthplace of Paul Bunyan (so does Minnesota, but whatever) so it's only right that they would pay tribute to this giant man with a giant statue. The sign next to this Bunyan declares him to be the "largest statue of Paul Bunyan in the world," and, at 31-feet tall and 3,700 pounds, it's hard to argue. This Paul is a local favorite and a celebrity: author Stephen King brought him to life in his 1986 novel, IT.
2. Eartha: The World's Largest Rotating Globe
2 DeLorme Drive, Yarmouth, ME
At 41 feet in diameter, "Eartha" is the World's Largest Rotating Globe and is built completely to scale. The three-story globe is housed in a weatherproof glass atrium at the former DeLorme Maps Headquarters and was verified as the world's largest by the Guinness Book of World Records in 1999. The giant globe rotates, mimicking the earth's movements, and an entire cycle takes about 18 minutes to complete.
3. World Traveler Signpost
1439-1435, ME-35, Bethel, ME
Travel the world without ever leaving Maine! While international signposts declaring the distance to foreign cities are roadside mainstays, this one has a twist: all of these "foreign" cities can be found close by in Maine. Stand in front of this guide on Valley Road in Lynchville and find that Normal is a mere 14 miles away, Mexico 37, and China only 94! "Maine's Famous Signpost" was erected in the 1930s to promote state tourism (all of the cities listed are actually small towns in Maine) and was featured prominently on postcards for years to come.
4. Lenny the Chocolate Moose
Len Libby Candies, 419 US-1, Scarborough, ME
Lenny the Moose is a pretty sweet roadside attraction — literally! This eight-foot tall by nine-foot wide sculpture is more than meets the eye, the big moose is made out of 1,700 pounds of milk chocolate! Since 1997 Lenny has been the star attraction of Len Libby Candies in Scarborough. Stop by to see the world's largest chocolate animal sculpture and stay for some sweet treats!
5. Giant L.L. Bean Boot
95 Main St, Freeport, ME 04032
L.L. Bean is a retail company known for its clothing and outdoors gear. Outside of their flagship store in Freeport you can find a 16-foot tall version of their signature rubber-bottom boot. Stop inside to shop for normal-sized pair or see the taxidermied moose.
6. The Desert of Maine
95 Desert Rd, Freeport, ME
When you think of Maine you probably don't think of the desert, but tucked away against farmland in Freeport is the Desert of Maine. This 40-acre plot of land began as a farm itself, but after being mismanaged the land turned to unfarmable glacial silt. The land was abandoned but turned into a tourist attraction in 1925, complete with a campground and a couple of fiberglass camels.
7. Captain Brown: Giant Old Salt Fisherman
Browns Wharf Motel and Restaurant, 121 Atlantic Ave, Boothbay Harbor, ME
In 1968 the family who owned Browns Wharf Motel and Restaurant in Boothbay Harbor placed a 25-foot, fiberglass, rebar and cement giant statue of an old salt fisherman in front of their business. Nicknamed Captain Brown, this Maine roadside attraction is a local favorite!
8. Wild Blueberry Land & The Giant Blueberry
1067 US-1, Columbia Falls, ME
The giant blueberry is the centerpiece of Wild Blueberry Land in Columbia Falls. Since 2001 the blue domed building has served as a coffee shop and gift shop serving up homemade blueberry jam, pastries, and other sweets. Come to grab a slice of blueberry pie and stay to admire the giant blueberry-shaped building, the pie-holding fiberglass chef out front, and all the other blueberry-themed decor around the grounds.
9. The Big F Indian
117 US Rte 1, Freeport, ME
The 40-foot-tall Big F Indian AKA BFI AKA Chief Passamaquoddy was commissioned to stand outside the Casco Bay Trading Company in 1969. The "F" in the name is said to stand for Freeport (the town it lives in), Friendly (thoughhe doesn't look that friendly), or…well…another word that often comes between big and whatever it is that's big.
10. The World's Largest Telephone
1 N Main St, Bryant Pond, ME
Bryant Pond, Maine was the last place in the U.S. to hold out and still use hand cranked telephones when the town finally switched to direct dial in 1983. To commemorate their history and remember their past, the town installed a 14-foot tall candlestick phone at Remembrance Park.
11. America's First Mile
341 W Main St, Fort Kent, ME
U.S. Route 1 runs for 2,369 miles from Fort Kent, Maine all the way to Key West, Florida. Created in 1926, it is the longest north/south oriented road in the United States. The America's First Mile monument can be found at the start of the route in Fort Kent , where it was erected in 2010.
12. Mainer C. Lobster Sculpture
Taste of Maine Restaurant, 161 Main St, Woolwich, ME
I don't think you can write about Maine without including lobster. And so I can't write about Maine roadside attractions without including a giant lobster. This giant red lobster with wide bug eyes and a gap-toothed goofy smile is the mascot for Taste of Maine restaurant. Visit this guy, check out the giant inflatable lobster on the roof, and stay for a bit of the world's largest lobster roll.
13. Small Town X Fisherman Statue
44 Water St, Eastport, ME
The 12-foot-tall fisherman statue in Eastport, Maine was originally built as a prop for the short-lived 2001 Fox reality game show Murder in Small Town X. The sculpture has odd proportions, a "regionally inaccurate fish" (he holds a Pacific salmon instead of a local Atlantic salmon), and a weirdly-cartoonish disposition, but has become an icon of local pride and a tourist draw. The fiberglass fisherman also has a plaque dedicated to Murder in Small Town X winner Ángel Juarbe, Jr. who was killed in the World Trade Center collapse on September 11, shortly after filming the show.
14. The Maine Solar System Model
10 locations, Aroostook County, Presque Isle, ME to Houlton, ME
Over the span of 40 miles from Presque Isle to Houlton you can visit the entire solar system. The Maine Solar System Model was built by the University of Maine at Presque Isle and includes 1:93,000,000 scale-scale models of the sun and every planet from Mercury to Pluto in various locations throughout Aroostook County.
15. Moxie Bottle House
1 Fairgrounds Ln, Union, ME
Moxie is a sweet meets bitter soda popular in New England. The drink debuted in 1876 and, in 1906, a giant Moxie Bottle-shaped house was constructed for the New England Food Fair. The giant soda bottle moved around the east coast, from Coney Island to New Hampshire, for many years looking for a permanent home. Today it lives in Union, Maine at the Matthews Museum of Maine Heritage, among a broad collection of Moxie memorabilia. (Open July and August.)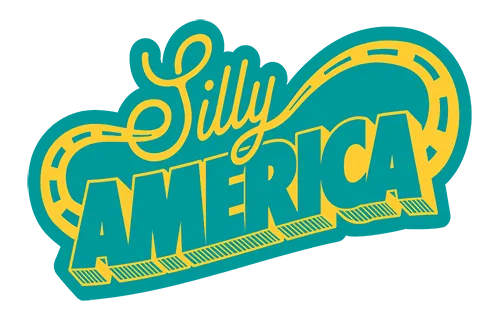 Pin this list of the 15 Best Maine Roadside Attractions: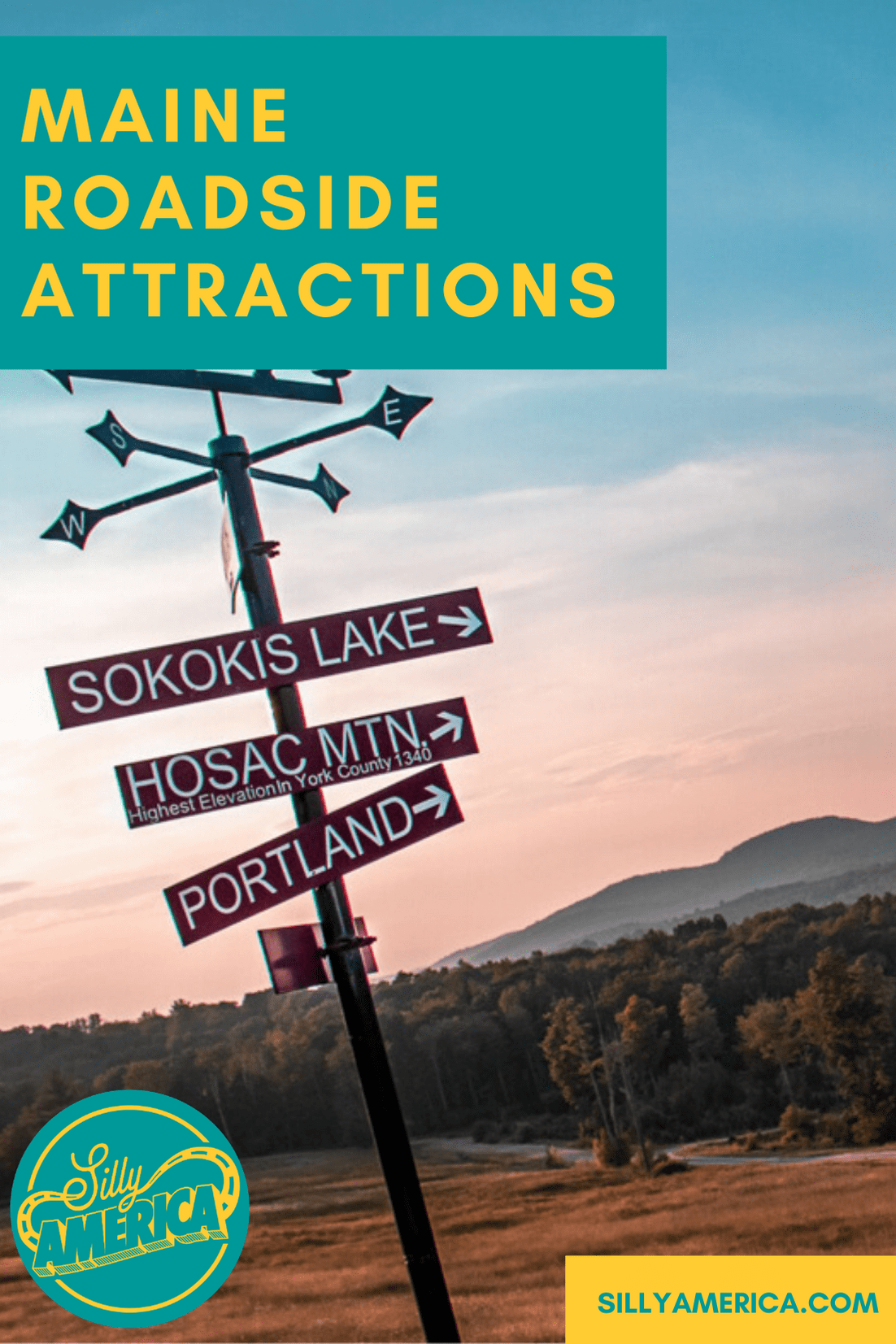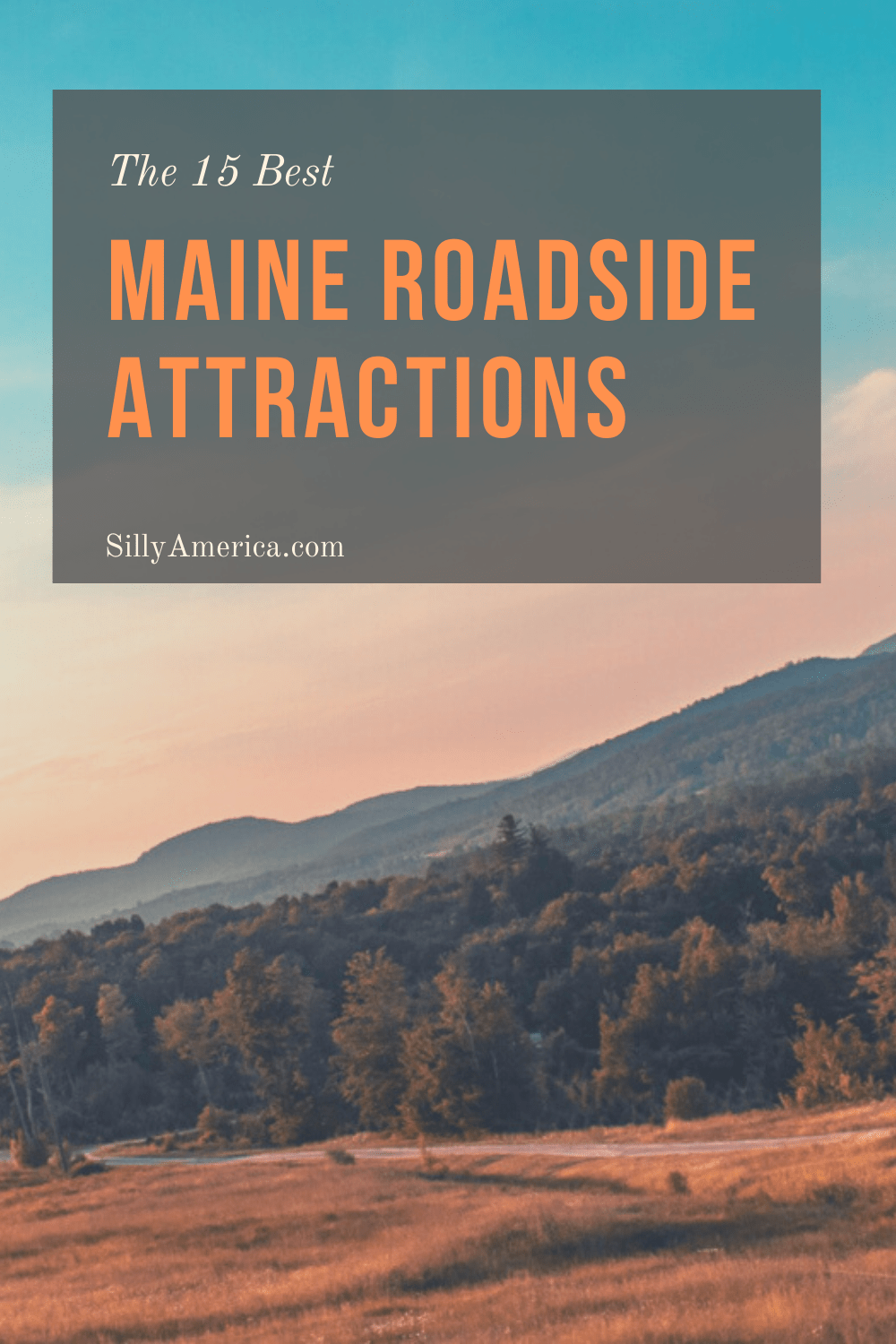 Photo by Amanda Murphy on Unsplash