Are you planning an Oklahoma road trip and want to find all the best Oklahoma roadside attractions along your route? Whether you're driving the length of Route 66, exploring the Talimena National Scenic Byway, or are heading to the Oklahoma State Fair in Oklahoma City, you won't want to miss these fifteen must-see places to go in Oklahoma. They're fun road trip stops and great additions to your travel itinerary or route.
Below are the 15 best roadside attractions in Oklahoma: from a giant blue whale to a giant yellow oil driller, from a big space cowboy muffler man to a small girl scout selling cookies, from a totem pole to a tall bottle of soda! You won't want to miss any of these bucket list worthy tourist traps and road trips stops on your Oklahoma vacation.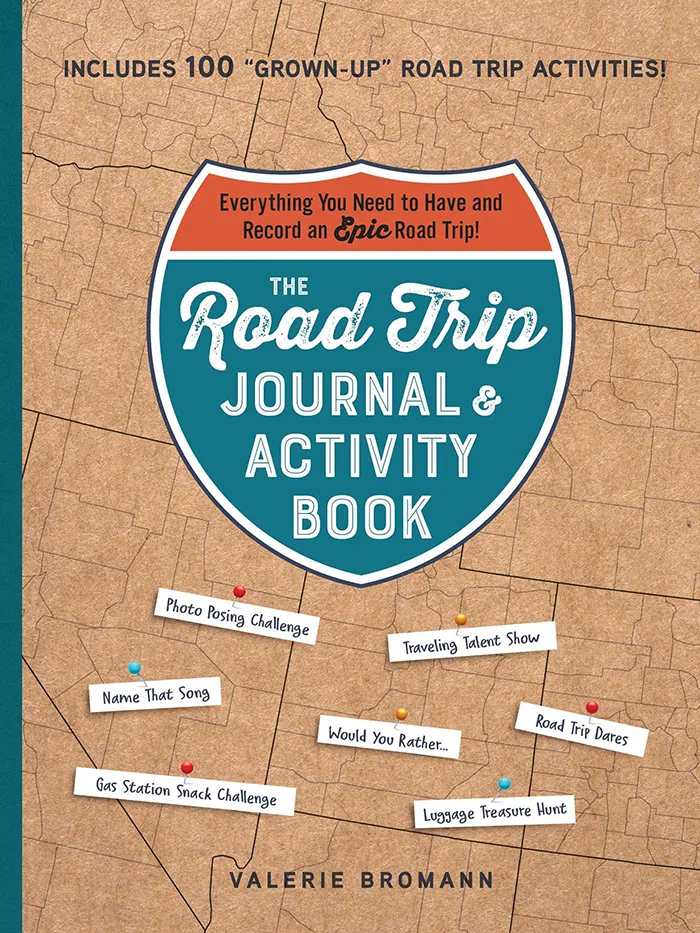 The Road Trip Journal & Activity Book
Everything You Need to Have and Record an Epic Road Trip!
Enjoy fun games and challenges to pass the time on your next road trip and have a keepsake to look back on for years to come with this entertaining must-have for your next vacation.
Ready to hit the road? Let's go! I call shotgun!
The 15 best Oklahoma roadside attractions (in no particular order):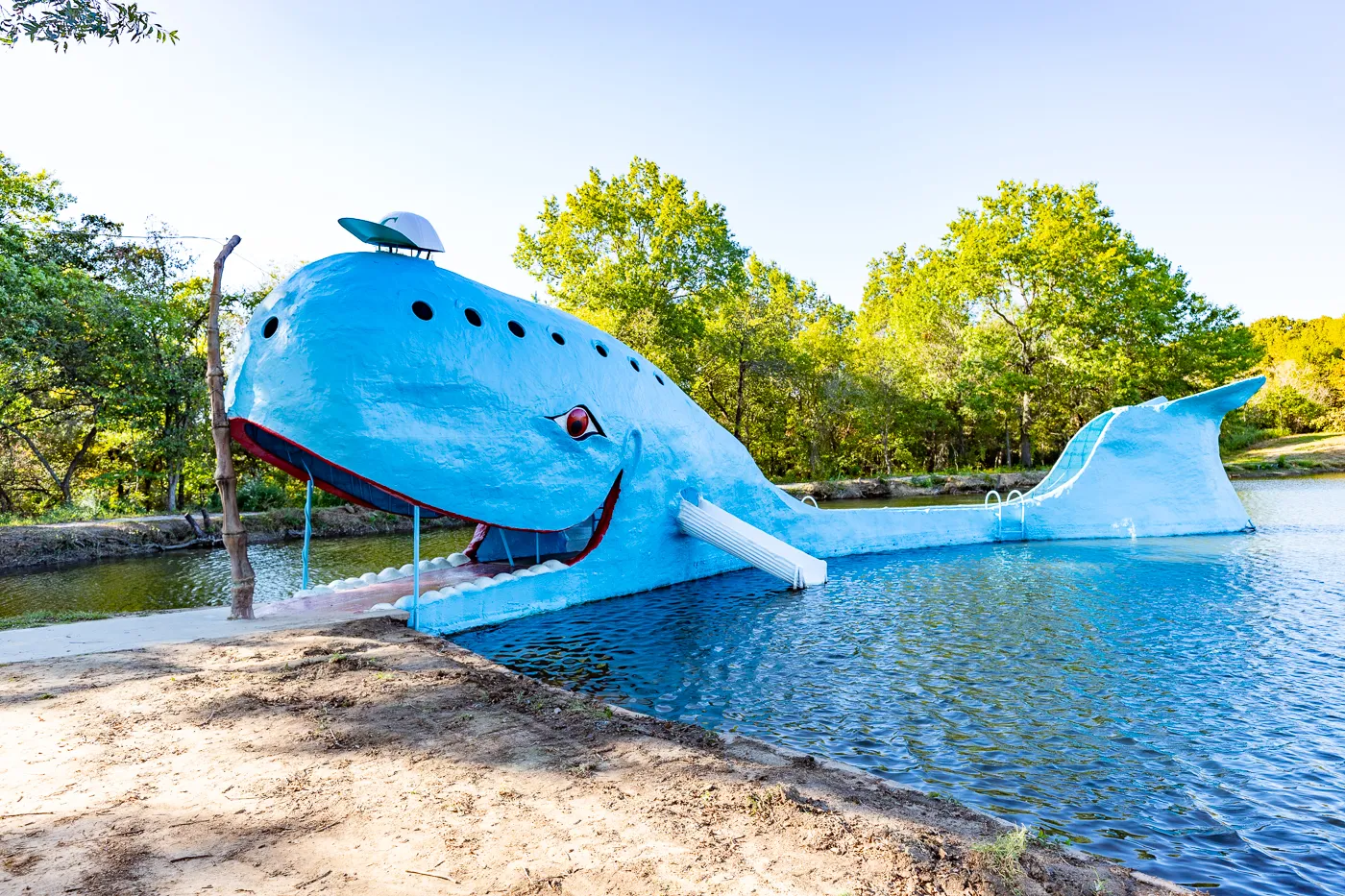 1. Blue Whale of Catoosa
2600 Rte 66, Catoosa, OK
The Blue Whale of Catoosa has been a Route 66 icon since 1972. Hugh Davis originally built the giant 80-foot-long blue sperm whale adjacent to their alligator farm as an anniversary present for his wife Zelta and their kids. It soon became the centerpiece of their Route 66 attraction, Nature's Acres, and a much beloved roadside attractions for travelers on the Mother Road and beyond. After the park closed in 1988, the giant whale fell into disrepair, but today it is maintained by a local group, preserving this piece of nostalgia for modern road trippers.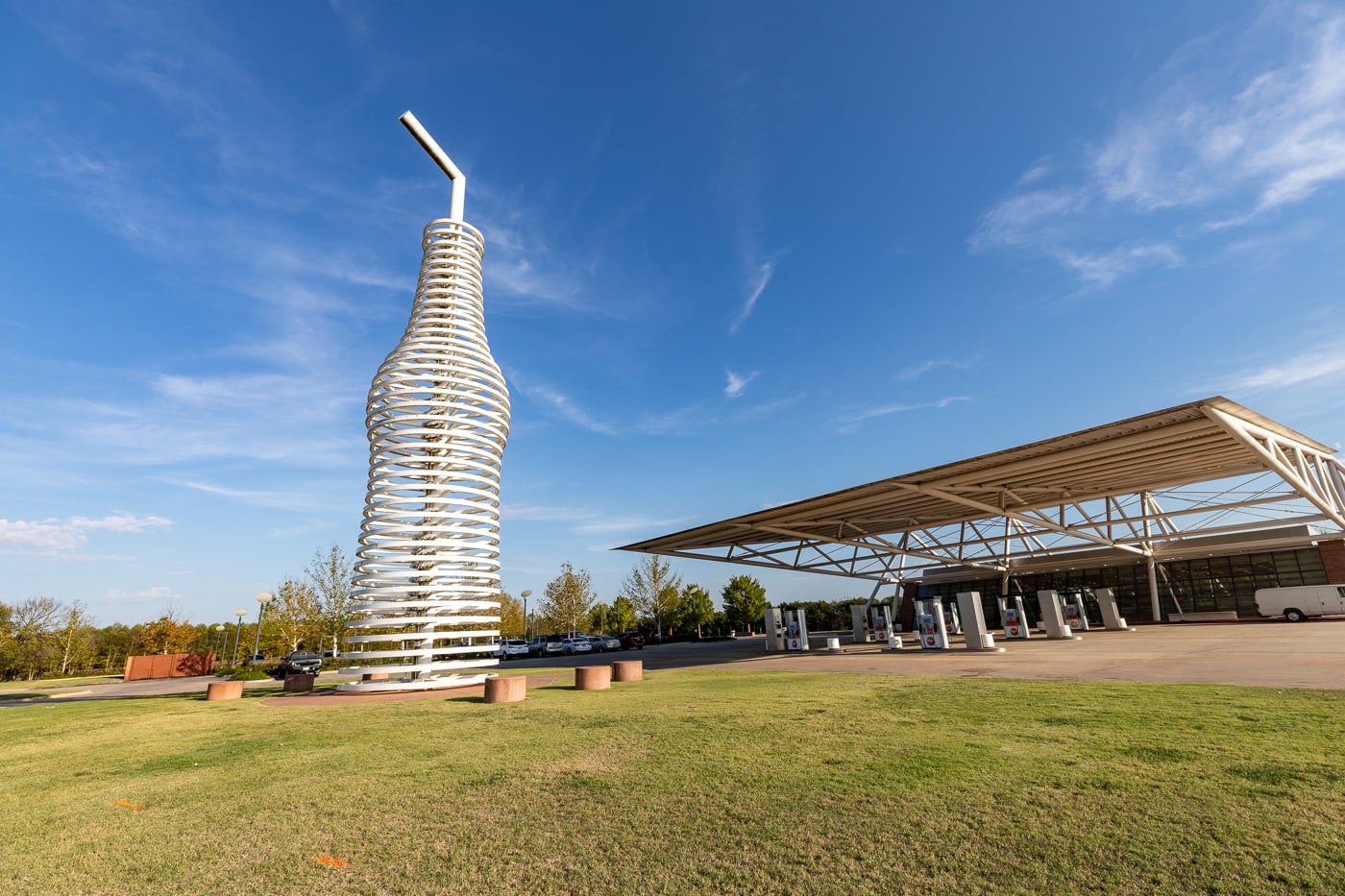 2. Pops 66 Soda Ranch: World's Largest Pop Bottle
660 OK-66, Arcadia, OK
A relatively new Route 66 roadside attraction, the giant pop bottle in Arcadia quickly became a must-see when it was installed in 2007. The 66-foot-tall soda bottle, appropriately called "Bubbles," is made of stacked steel hoops and thousands LED lights that can be illuminated with different colors. Next door you can stop into Pops 66 for a hamburger steak or peruse the 700 plus sodas on display for purchase.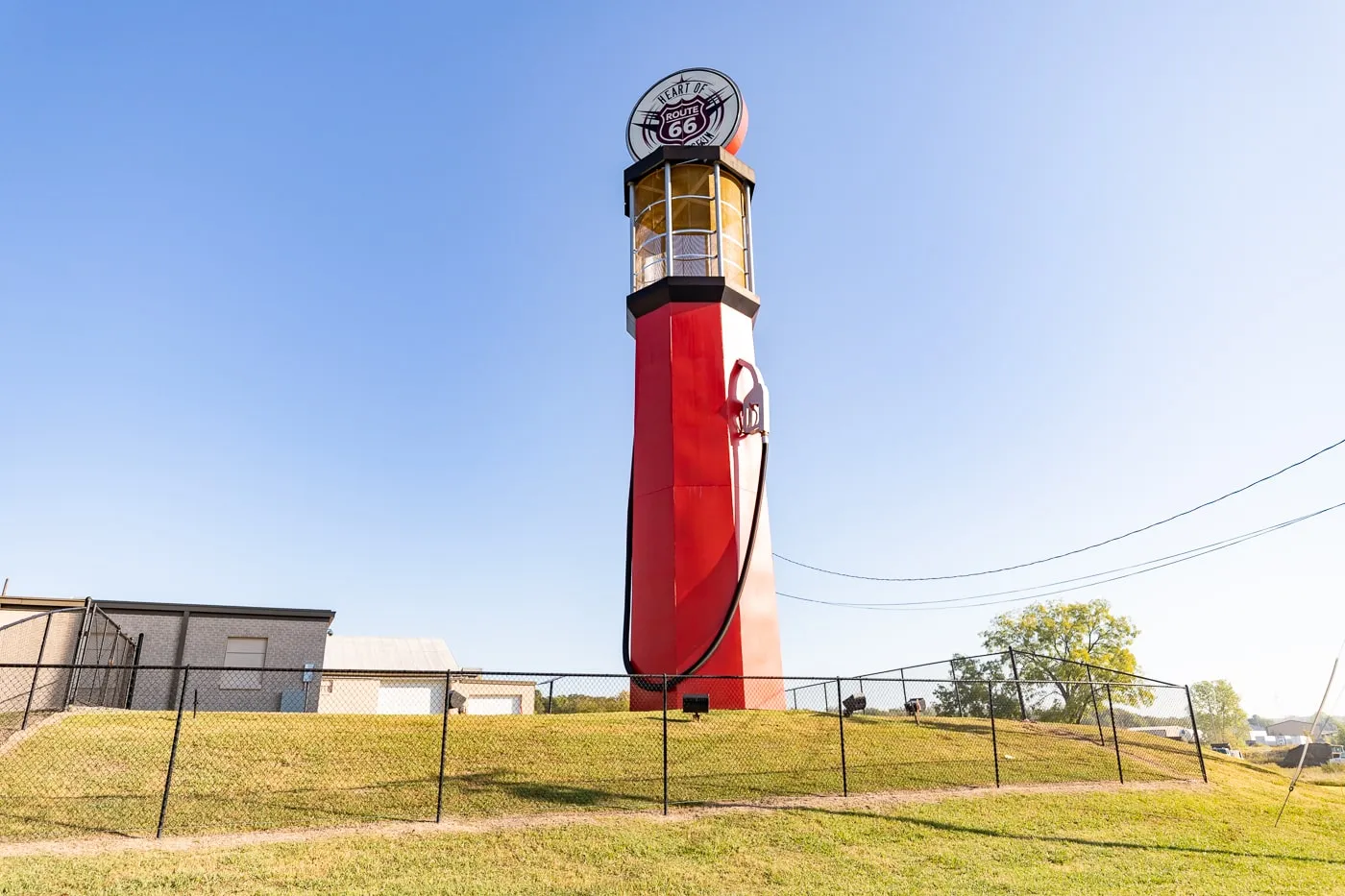 3. World's Tallest Gas Pump
Heart of Route 66 Auto Museum, 13 Sahoma Lake Rd, Sapulpa, OK
Outside of the Heart of Route 66 Auto Museum in Sapulpa is the World's Tallest Gas Pump. Completed in 2018, this Oklahoma roadside attraction was modeled after vintage pumps common on the route when it opened in 1926. The non-functioning pump was meant to stand at 66 feet tall, but ended up being even taller.
4. Cow Chip Throwing Capital of the World
Douglas Ave., Beaver, OK
Beaver, Oklahoma is the "Cow Chip Throwing Capital of the World." Every year since 1969 they have hosted the World Championship Cow Chip Throw and a star attraction for the town is a giant beaver holding, what else, a cow chip!
5. Cimmy The Dinosaur
U1300 N Cimarron Ave, Boise City, OK
Cimmy The Dinosaur is a local legend. The 65-foot by 35-foot metal brontosaurus was made to represent a dino that was extracted from the county in the 1930s, he was named "Cimarronasaurus," a name that was eventually shortened to "Cimmy."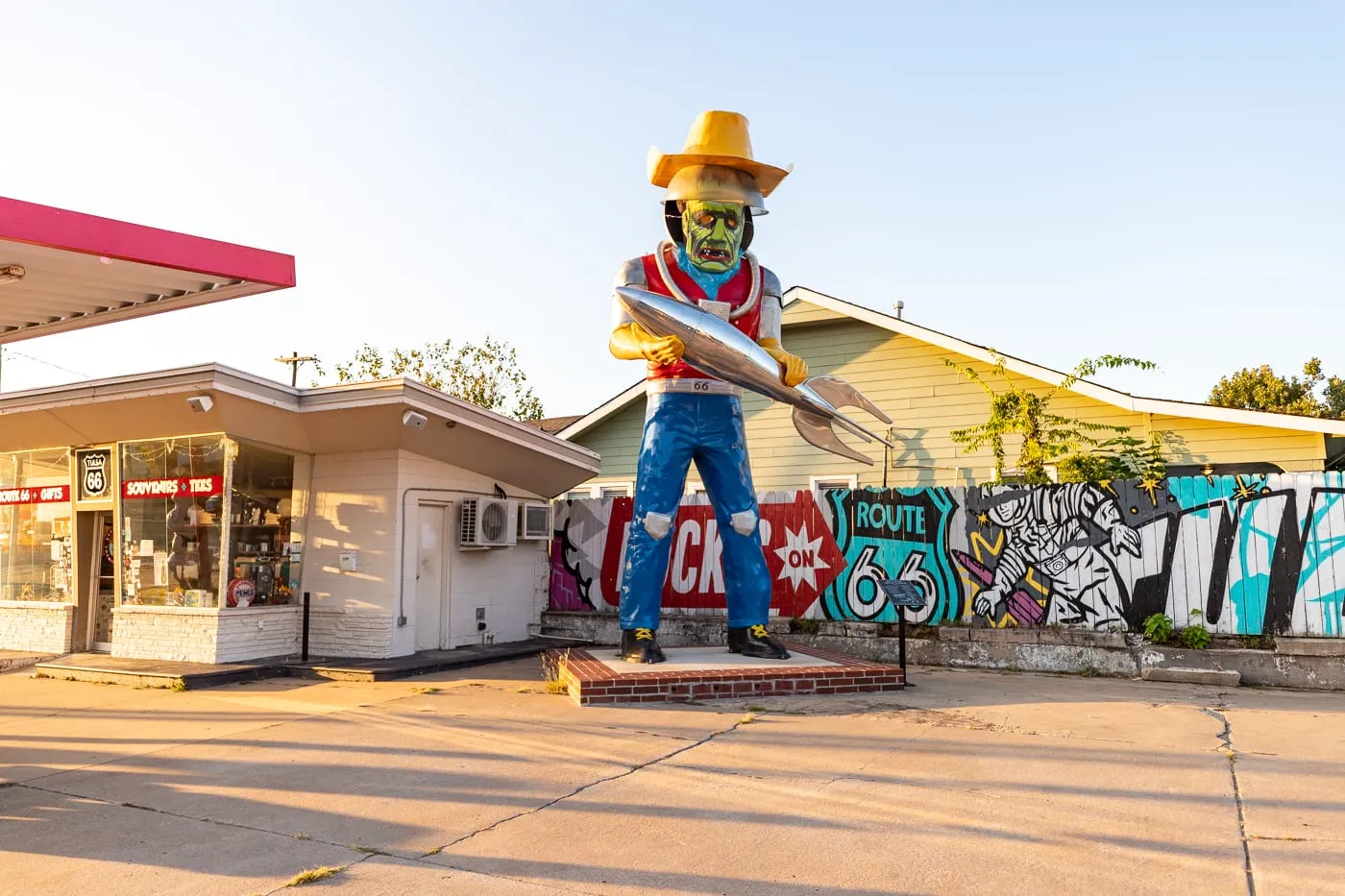 6. Buck Atom: Space Cowboy Muffler Man
Buck Atom's Cosmic Curios on 66, 1347 E 11th St, Tulsa, OK
Past meets present at Buck Atom's Cosmic Curios on 66. In 2019 they unveiled their very own larger-than-life fiberglass mascot: Buck Atom. This Space Cowboy Muffler Man was a brand-new muffler man crafted from a mold and modeled after the retro roadside attractions. Wearing a space suit, kerchief, a cowboy hat with a space visor, and carrying a bright silver rocket ship, Buck is part muffler man, part cowboy, part spaceman, and all fun.
7. World's Largest Praying Hands
7777 S. Lewis Ave., Tulsa, OK
Standing at 60-feet tall and weighing 30 tons, this statue, called "The Healing Hands," depicts the world's largest praying hands. Created by Oklahoma artist Leonard McMurry, these giant hands have been on campus at Oral Roberts since 1980.
8. McCubbin's Transformers
G&M Body Shop, 2207 E 6th Ave, Stillwater, OK
G&M Body Shop, 5104 W 6th Ave, Stillwater, OK
Mike McCubbin and his sons ordered two larger-than-life Transformer replicas from Thailand to display in front of their auto body shops in Stillwater. But when the giants arrived, the family wasn't impressed. So they spent months rebuilding them with parts from their shop before placing them outside. But it was worth all the time and money: the Optimus Prime and Bumblebee statues are now favorite attractions for locals and tourists alike.
9. Girl Scout Statue
Three Rivers Museum, 220 Elgin St, Muskogee, OK
Titled "A Promise to Keep," this girl scout statue in Muskogee commemorates the very first sale of girl scout cookies, which were sold right there in town in 1917. Baked by the local Mistletoe Troop, the cookies were sold to benefit doughboys fighting World War I. This tiny bronze statue depicts a girl scout decked in a merit-badge covered sash with her hand up in a pledge of commitment, and several boxes of cookies at her feet.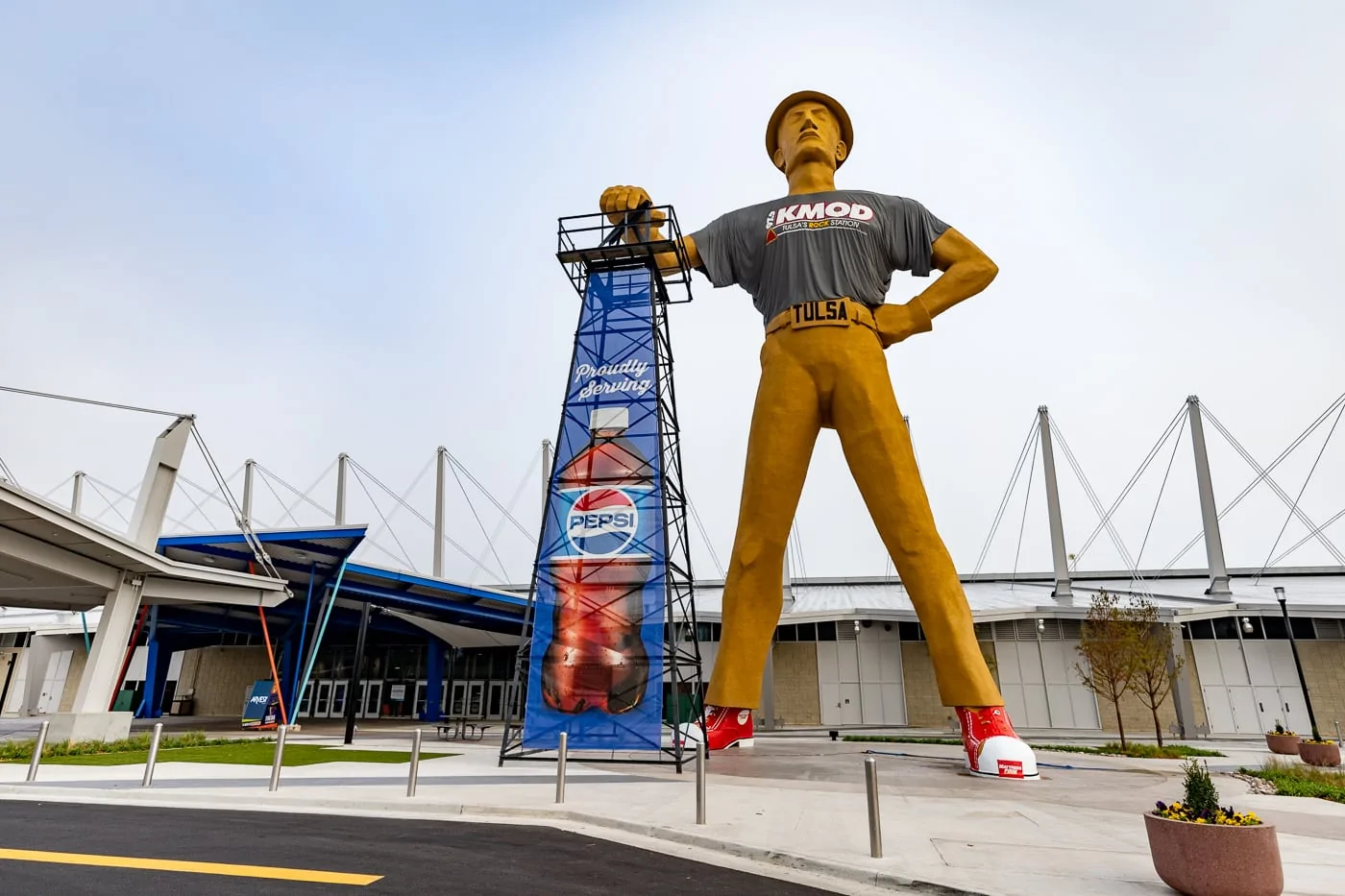 10. Golden Driller Statue
Tulsa Expo Center, 4145 E 21st St, Tulsa, OK
The Golden Driller was first brought to Tulsa (then known as the "oil capital of the world") from a Texas oilfield supplier for a trade show at the Tulsa State Fairgrounds. Two smaller versions were brought over in years previously but, this one, the largest at 76 feet tall, was installed permanently in 1966. In 1979, the Texas company abandoned the statue, the city adopted it, and Oklahoma named it their official state monument. The Golden Driller stands at 75-feet tall, weighs 43,500 pounds, and is made from a steel frame covered in concrete and plaster. Glowing with mustard-yellow paint, this giant sculpture is a must-see Oklahoma roadside attraction to visit on a road trip or Tulsa vacation.
11. World's Largest Peanut
300 W. Evergreen St., Durant, OK
The World's Largest Peanut in Durant might not actually be the largest peanut in the world, but it is still a fun Oklahoma road trip stop. The big nut was erected in 1974 and was dedicated to the Bryan County Peanut Growers and Processors.
12. Winganon Cement Mixer Space Capsule
E 300 Rd, Talala, OK
In 1959 a construction vehicle transporting cement got into a wreck in Talala and the mixer rolled off, landing on the side of the road. The cement hardened, the mixer was too heavy to move, and so the mixer stayed put. Over the years it became a local landmark and, in 2011, some local artists painted it to resemble a crashed NASA space capsule.
13. Miss America Statues
Oklahoma City University, N. Blackwelder Ave., Oklahoma City, OK
Oklahoma City University had produced three Miss Americas through the years. The college celebrates this status with a statue at the entrance to the campus in the likeness of the three winners: Miss Americas Jane Jayroe (1967), Susan Powell (1981), and Shawntel Smith (1996). While there you can also visit the Hall of Queens at the University's Fine Arts Center to see photos of all of the students and alumni who have competed in the pageant.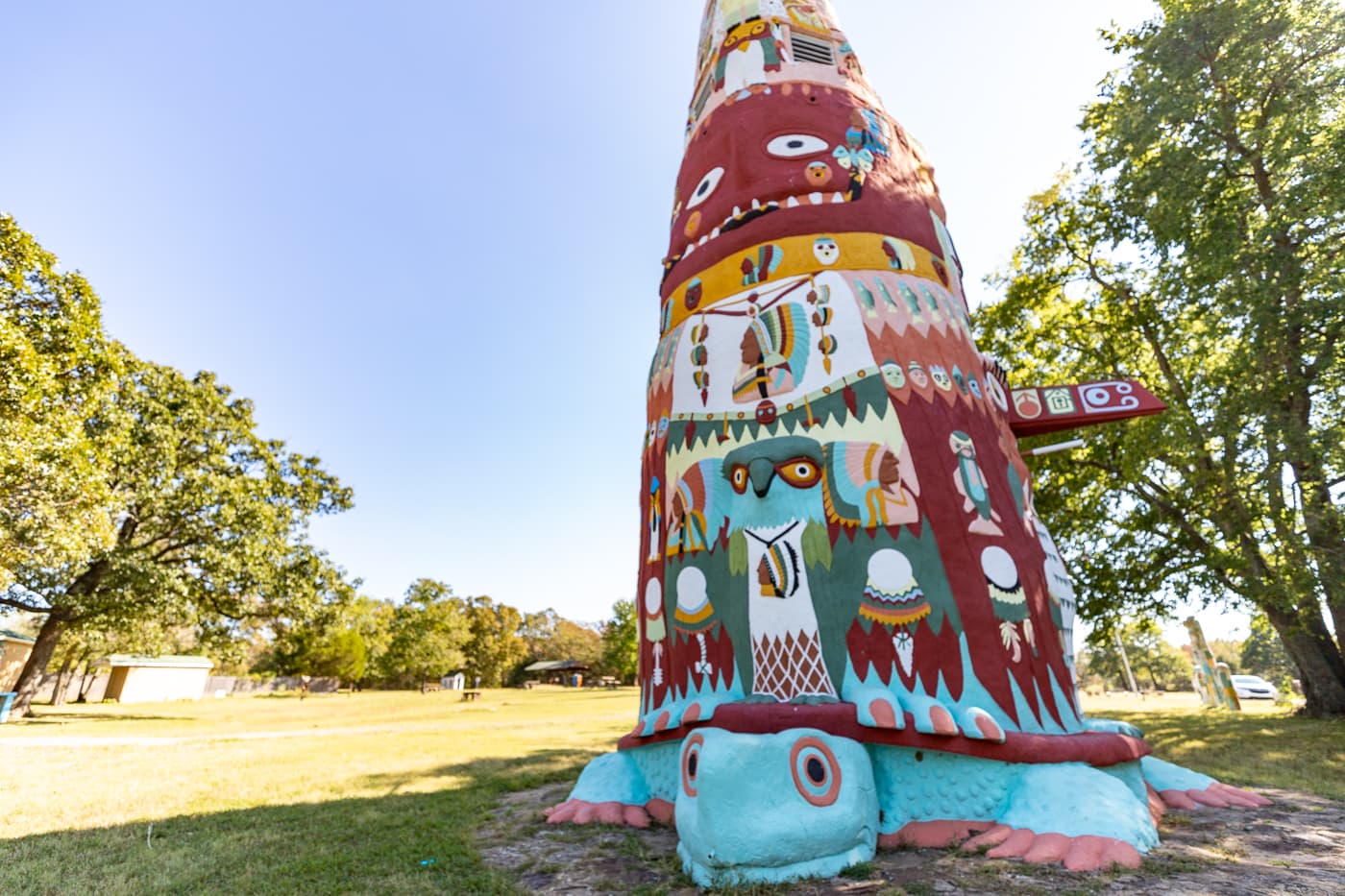 14. Ed Galloway's World's Largest Concrete Totem Pole
Ed Galloway's Totem Pole Park, 21300 OK-28 A, Chelsea, OK
Ed Galloway (1880-1962) began work on his totem pole in 1937 and completed it in 1948. Now dubbed the "World's Largest Concrete Totem Pole" the colorful sculpture stands at 60-feet tall with a circumference of 30 feet and a variety of vibrant images carved into it. It's a popular Oklahoma tourist attraction and the centerpiece of Ed Galloway's Totem Pole Park where it is surrounded by 11 other objects and buildings to explore.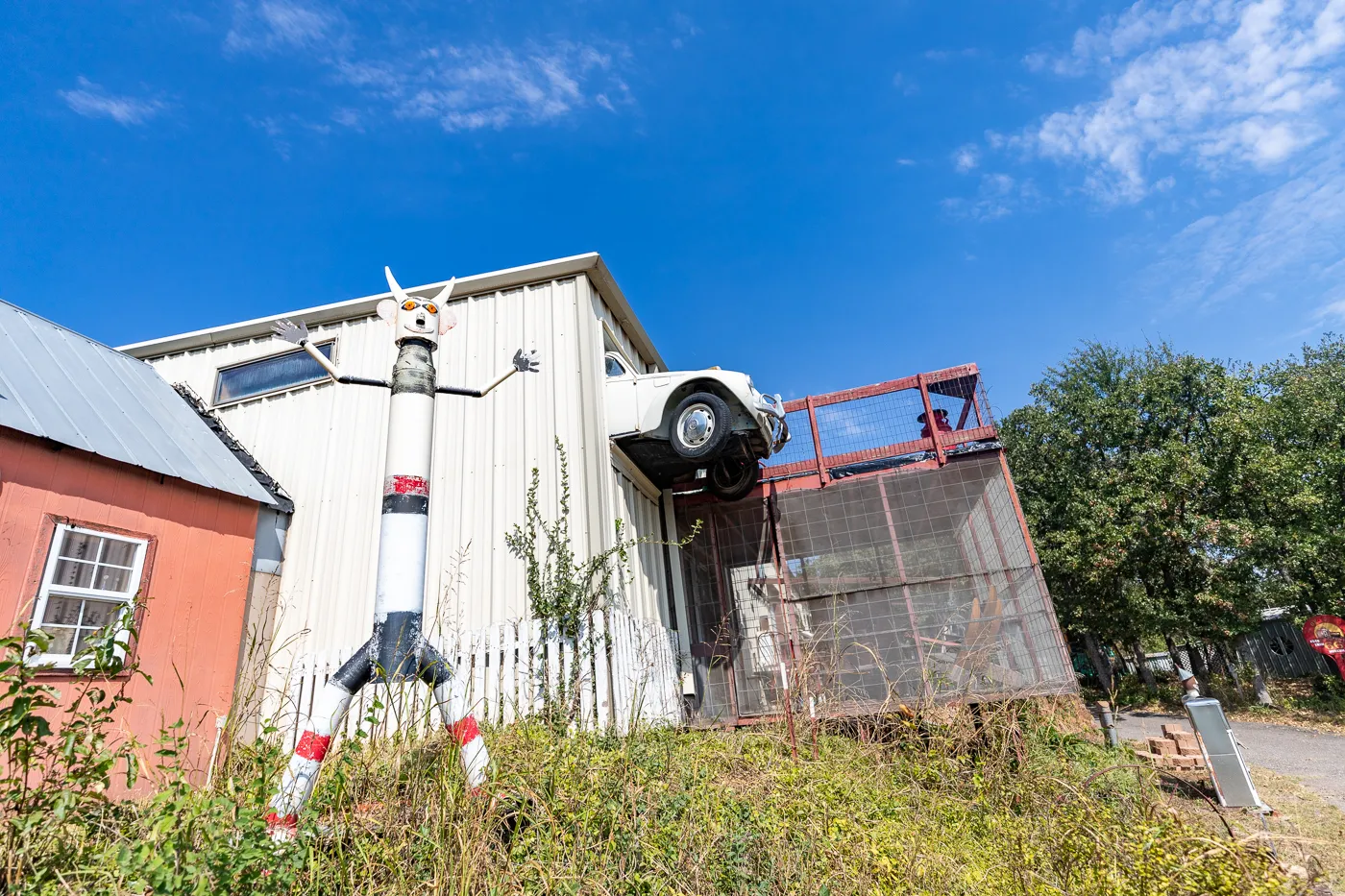 15. OK County 66 – John's Place
3441 E Old Hwy 66, Arcadia, OK
Want to see the best of Route 66 in one place? At OK County 66 you can visit small-scale recreations of all the major iconic Route 66 roadside attractions. John Hargrove built this museum and all the replicas within it. You can see the giant Twin Arrows, the Gemini Giant, Wigwam Motel, the Blue Whale, and a buried Volkswagen Beetle that represents Cadillac Ranch.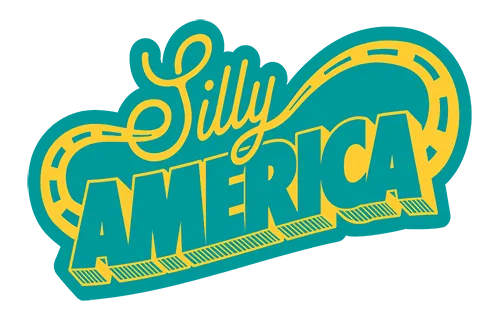 Pin this list of the 15 Best Oklahoma Roadside Attractions: