Are you planning a Washington road trip and want to find all the best Washington roadside attractions along your route? Whether you're driving I-90 from Washington to Spokane, exploring the Cascade Loop or Chinook Pass, or taking Interstate 5 to Olympia, you won't want to miss these fifteen must-see places to go in Washington. They're fun road trip stops and great additions to your travel itinerary or route.
Below are the 15 best roadside attractions in Washington state: from a giant bridge troll to an offbeat totem pole, from a world's largest egg to a world's largest oyster, from a building shaped like a coffee pot to a building shaped like a milk bottle! You won't want to miss any of these bucket list worthy tourist traps and road trips stops on your Washington vacation.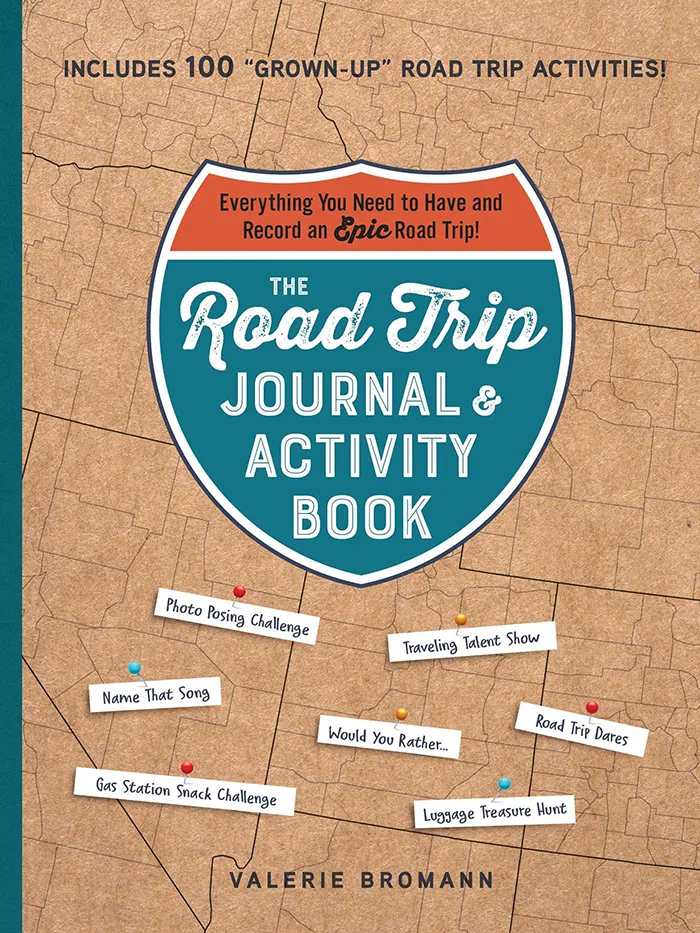 The Road Trip Journal & Activity Book
Everything You Need to Have and Record an Epic Road Trip!
Enjoy fun games and challenges to pass the time on your next road trip and have a keepsake to look back on for years to come with this entertaining must-have for your next vacation.
Ready to hit the road? Let's go! I call shotgun!
The 15 best Washington roadside attractions (in no particular order):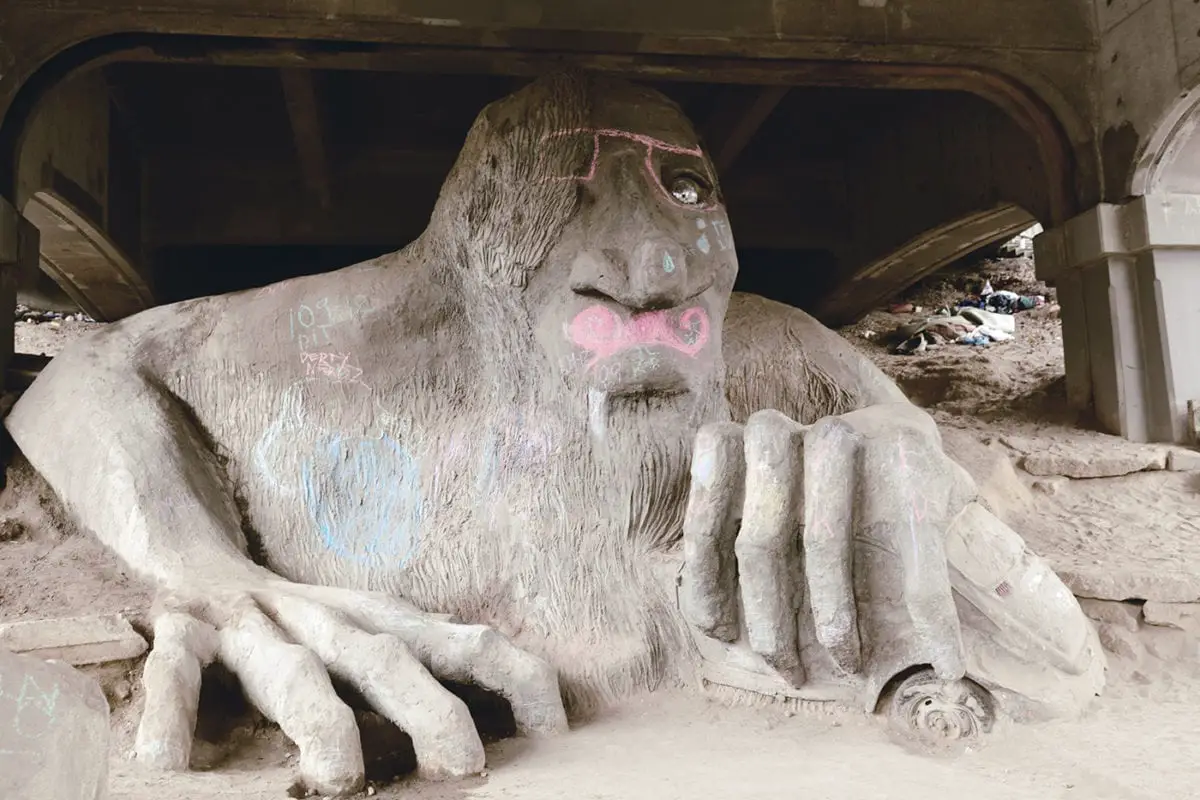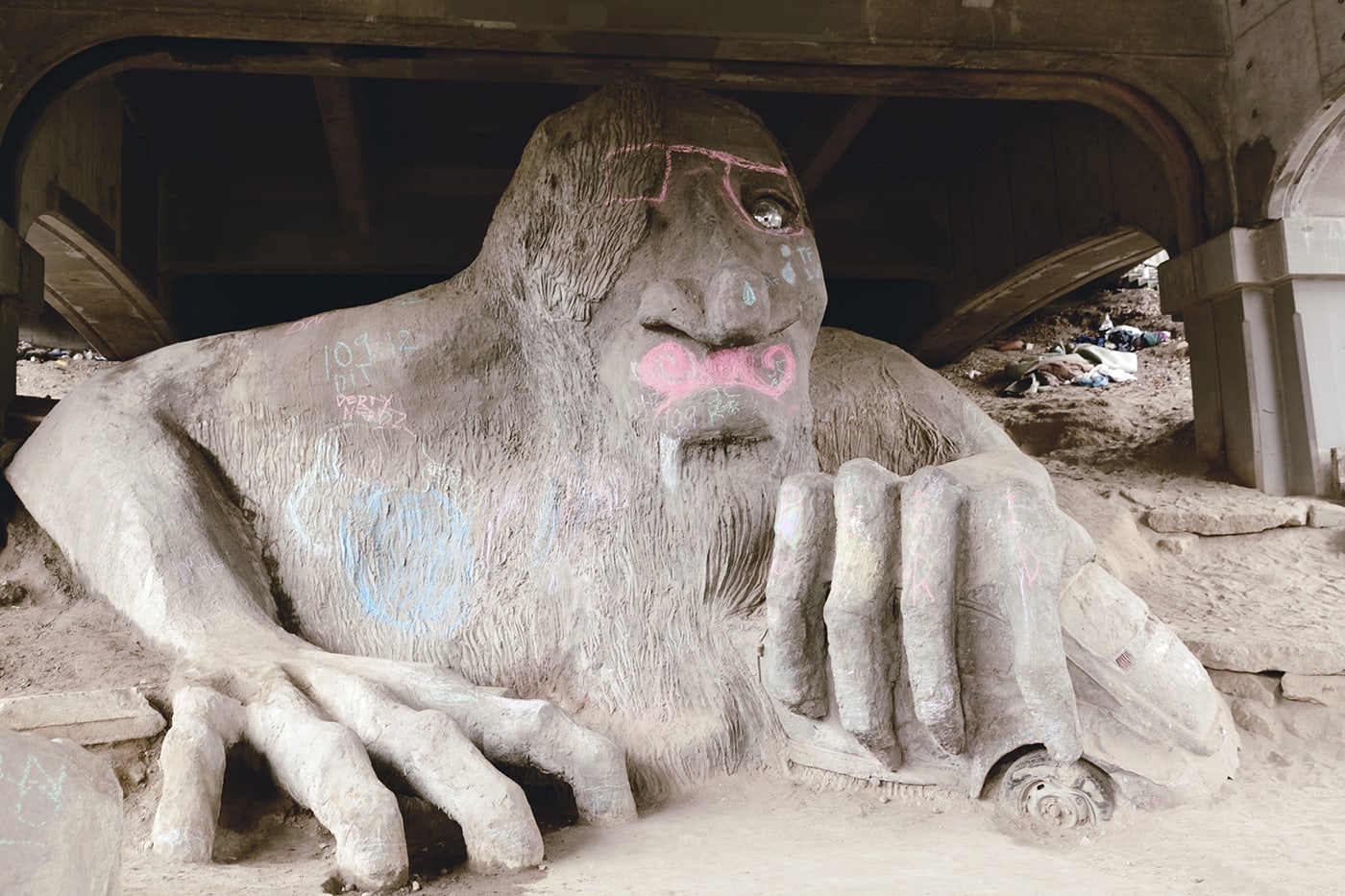 1. The Fremont Troll
N 36th St, Fremont, Seattle, WA
In 1989 the Fremont Arts Council in Seattle, Washington, held a contest to select an idea for an art project to occupy the space under the Aurora Bridge. Disillusioned by the idea of the space becoming a waste dump, they wanted to do something different and more imaginative. After five projects were picked, the community voted and the Fremont bridge troll received overwhelming support. The Fremont Troll was a collaboration by artists Steve Badanes, Will Martin, Donna Walter, and Ross Whitehead and is an amazing 2-ton, 18-foot creature made from rebar steel, wire and 2 tons of ferroconcrete. One shining eye of the Seattle troll watches for visitors and billy goats alike and in one hand he clutches an actual Volkswagen Beetle.
2. Yard Bird Statues
Yard Birds Mall, 2100 N National Ave, Chehalis, WA
Yard Birds was a popular home improvement chain in western Washington in the 1950s. The business went out of business in the 1990s, but its mascot lives on. That mascot was a giant cartoon-like black bird with wide eyes and a bright yellow beak and statues for it used to stand outside all of the chain's locations. Today a few remain on display at the flagship site, now named Yard Birds Mall, including an over-the-top-large sitting bird that flanks the entrance.
3. Nutty Narrows – Squirrel Bridges
1815 Olympia Way, Longview, WA
Amos Peters grew tired of seeing all the poor squirrels outside of his office meet a tragic fate while trying to cross the street to collect food. So he constructed what came to be named "Nutty Narrows," a tiny rodent-scale bridge that spans 60-feet and hovers above Olympia Way. The bridge was designated the "World's Narrowest Bridge" and the "World's Narrowest Animal Crossing." While checking out this Washington roadside attraction be sure to also look for the squirrel statue in front of the library that was dedicated the man who built the famous bridge.
4. Bob's Java Jive
2102 S Tacoma Way, Tacoma, WA
Coffee Pot Restaurant was built in 1927. The building itself was a programmatic building, a 25-foot tall by 30-foot diameter coffee pot. Originally this giant coffee pot served as a restaurant and, later a speakeasy, and then, in the 1950s, it was rebranded as The Java Jive and turned into a music club. Today it serves as a karaoke bar or a fun stop for photos on a Washington road trip.
5. The Childhood Express "RED Wagon" (Giant Radio Flyer Wagon)
Riverfront Park, Centennial Trail, Spokane, WA
This giant radio flyer wagon isn't just a roadside attraction, it's a larger-than-life toy. At 27-feet long and 12-feet high, the big red wagon (actually called "Childhood Express") was built by artist Ken Spiering for the "Centennial Celebration of Children" in 1989. Children and adults are encouraged to take a ride on the big wagon: the handle doubles as a slide!
6. Rosie: the Sekiu Fish Girl
Front St, Sekiu, Washington
You can find Rosie the Salmon hanging out next to the "Sekiu Welcomes You" sign on the east end of town. This gorgeous fish dons a pink bikini top, a pink skirt, and pink tennis shoes. She's served as the mascot for this coastal town since 2005. (You can also find her male counterpart, Gil the Running Fish, in town.)
7. Winlock Egg: The World's Largest Egg
Winlock, WA
The Winlock Egg has seen many incarnations over the years, but the love for this giant egg has never cracked. It was first built in the 1920s to celebrate the local egg industry. Then it was made from canvas over a wood frame, but over the years it's been updated in concrete, plastic, fiberglass, and, finally, cement. Ripley's Believe It or Not bestowed this Washing state roadside attraction with the title "World's Largest Egg" in 1989.
8. Maryhill Stonehenge
Stonehenge Dr, Maryhill, WA
Maryhill Stonehenge is one of many replicas of England's Stonehenge in the United States. But this one was the first one. Railroad Magnate Sam Hill constructed the full-size, astronomically-aligned monument from 1918 to 1929 on his land in Maryhill. He dedicated it to the people who died in World War I and visitors still flock to see this strange site.
9. Dinosaur Town With Volcano
219 Main St, Granger, WA
In the 1990s the town of Granger put up their first dinosaur statue and now over 30 cement dinos roam the parks. Why? Because everyone loves dinosaurs, that's why! You can stop on a Washington road trip to find all the dinosaurs in Hisey Park, outside the espresso huts, and around. Also look for the now closed public toilets that were encased in a volcano!
10. World's Largest Oyster
1101 Robert Bush Drive West, South Bend, WA
South Bend, Washington is the "Oyster Capital of the World" so it's only appropriate for the coastal town to have a giant oyster on display to celebrate their moniker. The world's largest oyster is a giant, concrete, halved oyster shell erected in Robert Bush Memorial Park. While in town be sure to dig in to some fresh BBQ oysters next door!
11. Bigfoot and the Buried A-Frame
North Fork Survivors Gift Shop, 9745 Spirit Lake Hwy, Toutle, WA
At North Fork Survivors Gift Shop you can visit the "Buried A-Frame": a newly-built A-frame house that was buried in 200 tons of mud , ash, silt, and water after Mount St. Helens erupted on May 18, 1980. You can also check out the 28-foot tall Mount St. Helens Bigfoot. Legend has it that Bigfoot was also killed in the volcanic blast so the gift shop chose to honor his memory with this probably true-to-size monument.
12. Washington's Largest Frying Pan
105 5th St SE, Long Beach, Washington
Many towns claim to have the "World's Largest Frying Pan, " and this one in Long Beach, Washington, is certainly a contender for the title! This Washington tourist attraction is made of fiberglass and is a reproduction of the original giant cast iron pan used to cook at the town's 1941 Razor Clam Festival. It measures nine feet and six inches across and 15 feet from the tip of the handle to the end of the rim. I can't even imagine how many clams you could cook up in this giant skillet!
13. The Codger Pole
398 S Main St, Colfax, WA
At first glance you might think this 65-foot-tall chainsaw-carved sculpture is just a standard totem pole. But look closer and you'll notice some interesting faces. The Codger Pole commemorates a 1988 high school football rematch, played fifty years after the first match, with the same players. In 1938 Colfax lost to St. John, but in this rematch they came out on top. The pole is carved with the faces of all the players in that crucial game.
14. Hat & Boots Park
Oxbow Park, 6427 Carleton Ave S, Seattle, WA
The giant hat and boots in Oxbow Park began their life in 1954 as part of "Premium Tex,"a Western-themed gas station. In 2003, after the business closed, they moved to their current location in the Georgetown neighborhood and a restoration project was finally completed in 2010.
15. Mary Lou's Milk Bottle
802 W Garland Ave, Spokane, WA
This milk bottle shaped building was originally home to Benewah Dairy Company in the 1930s. The mimetic architecture building was destroyed in a fire in 2011 but has since been rebuilt and is now home to Mary Lou's Milk Bottle, a classic American diner serving hamburgers, ice cream, and milkshakes. There's also another milk bottle building in Spokane to visit on your Washington road trip (319 S. Cedar St., Spokane, WA).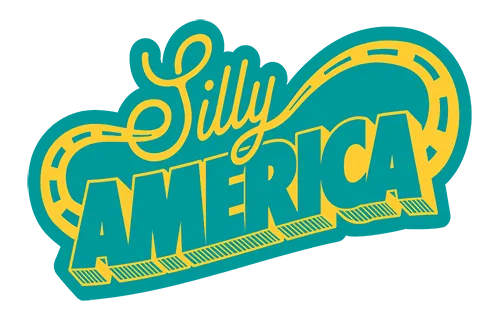 Pin this list of the 15 best Washington roadside attractions: