Are you planning a California road trip and want to find all the best California roadside attractions along your route? Whether you're driving Interstate 5 from Sacramento to Los Angeles, driving the Pacific Coast Highway, taking Highway 101 from Malibu to Lompoc, traversing the Rim of the World Scenic Byway, or finishing that last stretch of Route 66, you won't want to miss these fifteen must-see places to go in California. They're fun road trip stops and great additions to your travel itinerary or route.
Below are the 20 best roadside attractions in California: from some giant dinosaurs to a giant thermometer, from some drive through trees to some trees of mystery, from a museum devoted to bananas to a museum devoted to crochet, from a giant lemon to a giant artichoke, and all the chicken boys and giant doughnuts in between! You won't want to miss any of these bucket list worthy tourist traps and road trips stops on your California vacation.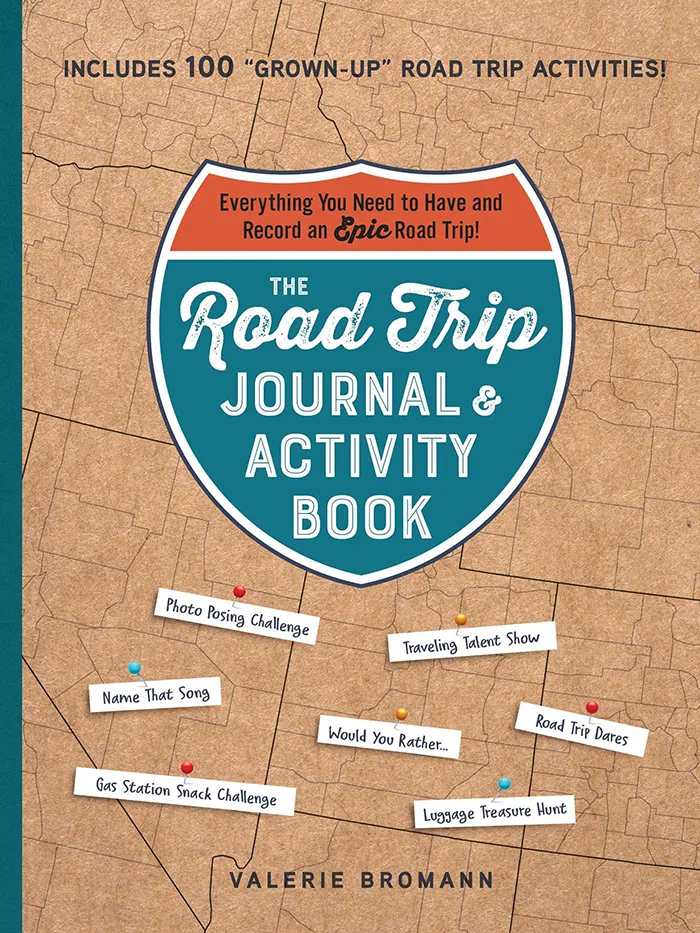 The Road Trip Journal & Activity Book
Everything You Need to Have and Record an Epic Road Trip!
Enjoy fun games and challenges to pass the time on your next road trip and have a keepsake to look back on for years to come with this entertaining must-have for your next vacation.
Ready to hit the road? Let's go! I call shotgun!
The 20 best California roadside attractions (in no particular order):
1. Cabazon Dinosaurs
50770 Seminole Dr, Cabazon, CA
The Cabazon Dinosaurs (formerly Claude Bell's Dinosaurs) feature two giant dinosaurs (a 150-foot-long Brontosaurus and a 65-foot-tall Tyrannosaurus Rex) that are visible from Interstate 10. They were constructed in 1964 to bring in business to the adjacent Wheel Inn. The restaurant has since closed but the giant dinosaurs live on as one of the most popular roadside attractions in California. These big dinos just might be best known for their starring roles in the 1985 film Pee-wee's Big Adventure, so when you stop at the Cabazon Dinosaurs, "tell 'em Large Marge sent ya'!"
2. Winchester Mystery House
525 S Winchester Blvd, San Jose, CA
Sarah Winchester, was an eccentric millionaire whose family was behind the Winchester Rifle (known as "the gun that won the west"). It is believed that she believed that her San Jose home was haunted by the victims of her family's rifles, and, in turn, believed that the only way to appease those spirits was to continuously build her home. She worked on the property until her death, leaving behind a bizarre mansion that still stands today. The Winchester Mystery House has staircases that lead to nowhere, doors that don't open to anything, windows in the ceiling, more fireplaces than chimneys. It's open for tours and has to be seen to be believed, as very inch of this haunted house will leave you perplexed.
3. Chicken Boy
5558 N Figueroa St, Los Angeles, CA
Chicken Boy was originally installed on the roof of L.A.'s Chicken Boy restaurant in 1969. The customized International Fiberglass muffler man was all man below the neck and all chicken from the neck up. When the restaurant closed in the 1980s and the building was set for demolition, artist Amy Inouye, a great admirer of the fiberglass bird boy, rescued it from demise. She kept this iconic California roadside attraction safe in storage until 2007 when she found "The Statue of Liberty of Los Angeles" a new home, on top of a building she owns right on Route 66.
4. The World's Largest Lemon
3365-3599 Main St, Lemon Grove, CA
Lemon Grove, California is home to the world's largest lemon. At 10 feet by 6 feet and 3,000 pounds, this lemon would surely make gallons of lemonade. It was a originally used as a parade float in 1928 and has stood as a source of civic pride ever since.
5. Randy's Donuts Giant Donut
805 W Manchester Blvd, Inglewood, CA
When you think of a giant doughnut, you probably picture Randy's Donuts. Randy's Donuts is a 24-hour doughnut shop located just a few miles north of LAX Airport. The famed big donut that graces their roof is a California icon and has been featured in plenty of TV shows and movies, like Arrested Development, Californication, and Iron Man 2. There are other locations of this chain bakery, with doughnut roadside attractions of various sizes, but this is the original.
6. Wigwam Village Motel
2728 Foothill Blvd, San Bernardino, CA
The Wigwam Motel franchises were constructed in the 1930s and 40s. Wigwam Village Motel No. 7, the last one ever built, started as a Route 66 destination and still beckons Mother Road travelers today. While the tee-pee-shaped motel went through a transitional period where it was outfitted with waterbeds, rented by the hour, and advertised "Do it in a Wigwam," these days, it's been restored to its former glory and is a family friendly Route 66 attraction.
7. Elmer's Bottle Tree Ranch
24266 National Trails Hwy, Oro Grande, CA
Elmer Long (1946-2019) was a scrap metal artist who began filling his property with trees made from metal pipes and recycled glass bottles in 2000. By 2019, he had created over 200 ethereal glass trees, filling his lawn with a forest worth of brilliant glass sculptures. His glass tree ranch has become a must-stop for Route 66 travelers following the Mother Road.
8. Giant Artichoke
Giant Artichoke Restaurant, 11261 Merritt St, Castroville, CA
Castroville, California is known as the "Artichoke Center of the World" and is home to an annual Artichoke Festival. So, as you can expect, it's also home to a giant artichoke. Stop for a photo op with the giant vegetable and stay for a meal at the adjacent Giant Artichoke Restaurant, where you can order fire roasted artichokes, steamed artichokes, fried artichokes, artichoke bread, artichoke nachos, artichoke cupcakes, or an artichoke burger.
9. Big Josh: Bearded Cowboy Muffler Man
The Station Joshua Tree, 61943 Twentynine Palms Highway, Joshua Tree, CA
This cowboy muffler man used to live in Mecca, California, but moved to Joshua Tree in 2018. There he lives at The Station Joshua Tree, a converted gas station turned local shop with souvenirs and local wares. Named Big Josh, this muffler man looks over the property and is often dressed up or carrying something seasonally appropriate like a vampire mask for Halloween or a string of colorful bulbs for Christmas.
10. Drive Through a Redwood Tree
13078 Avenue of the Giants, Myers Flat, CA
67402 Drive Thru Tree Rd., Leggett, CA
430 CA Route 169, Klamath, CA
While usually road trippers try to avoid driving into a tree on a road trip, there are three opportunities in the California Redwoods where it's encouraged. The drive thru trees are giant redwoods with holes big enough was motorists to drive through. Shrine Tree in Myers Flat, Chandelier Tree in Leggett, and Klamath Tree in Klamath all offer the opportunity to take your car where it's never been before (just remember to fold in your side view mirrors).
11. International Banana Museum
98775 CA-111, Mecca, CA
This California roadside attraction is bananas! The Banana Museum houses over 25,000 banana-related items. They even once set a Guinness World Record as the largest museum devoted to a single fruit. While you're there stop at the banana bar for banana ice cream and don a banana suit for a photo in front of a giant banana. Go bananas!
12. Salvation Mountain
Beal Rd, Calipatria, CA
Salvation Mountain is a giant piece of artwork and visionary environment that attracts visitors from all around the world to the desert to marvel at the Imperial County attraction. Made from adobe, straw, and paint, the colorful hill is decorated with Christian sayings and bible verses alongsize flowers, trees, suns, and messages of love. It was created by Leonard Knight (1931–2014) who began the work in 1985 and called it a tribute to God.
13. Trees Of Mystery
5500 US-101, Klamath, CA
Trees of Mystery opened in 1931 and is one of California's oldest roadside attractions. The mountainside park offers panoramic scenic views of California redwoods with a side of kitsch. There are sky ride gondolas to take you to the tree tops. There's an Indian museum. There are chainsaw sculptures along the paths. And, there's the pièce de résistance, the main draw to the Trees of Mystery forest hike: a 49-foot tall Paul Bunyan statue and 35-foot companion Babe the Blue Ox.
14. First Original McDonald's Museum
1398 N E St, San Bernardino, CA
The first McDonald's restaurant opened on December 12, 1948, in San Bernardino, California. In 1971, that building was bulldozed. Many years later Albert Okura purchased the property and turned it into a shrine to the birthplace of the chain. The unofficial McDonald's museum features artifacts including the original sign and cookware, a giant Hamburglar, and old-school Happy Meal toys.
15. Confusion Hill
75001 US-101, Leggett, CA
California's Confusion Hill has everything you're looking for in roadside entertainment: a world famous Gravity House built on a mysterious vortex where gravity seems to be confused, Ripley's Believe It or Not "World's Tallest Free Standing Redwood Chainsaw Carving," a mountain train ride, and a strange Chipalope (a chipmunk and antelope hybrid) hiding nearby a mutant .
16. The Donut Hole Drive-Thru Donut
15300 Amar Rd, La Puente, CA
If you can't get enough giant doughnuts in California, here's another one. In a stunning piece of programmatic architecture, to order doughnuts at this shop, you have to drive through two giant doughnuts. Built in 1968 this bakery is one of the most photographed donut shops in the United States and has soe pretty tasty treats as well!
17. Roy's Motel & Cafe Route 66 Sign
87520 National Trails Hwy, Amboy, CA
Roy's Motel & Cafe is a Route 66 institution and one of the most photographed sites on the Mother Road. While it has fallen into disrepair over the years, the property is slowly being restored, with the giant neon sign brought back to life in 2019.
18. Official Center of the World Pyramid Monument
1 Center of the World Dr, Felicity, CA
Did you know that the center of the entire world is in Southern California? Jacques-Andre Istel established the Center of the World in the Sonoran Desert and you can visit this weird roadside attraction on a California road trip. A giant 21-foot-tall pyramid makes the exact spot at the center of the world and, if you place your toe on the bronze disc inlaid into the floor, you can recieve a certificate marking the ceremonious occasion.
19. World Famous Crochet Museum
61855 CA-62, Joshua Tree, CA
Shari Elf displays her love for crochet in Joshua Tree's World Famous Crochet Museum. In her converted drive-thru photo stand she displays a fun assortment of crocheted animals and other wonders that she has been collecting since the early 1990s.
20. World's Tallest Thermometer
72157 Baker Blvd, Baker, CA
The World's Tallest Thermometer in Baker (the "Gateway to Death Valley") commemorates the record heat of 134 degrees Fahrenheit (the highest official temperature on the planet) that was recorded in nearby Death Valley on July 10, 1913. The 134-foot tall steel and electric sign weighs 76,812 pounds.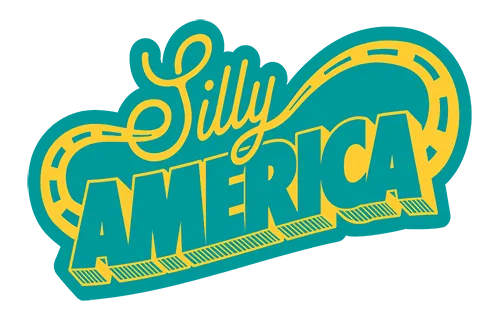 Pin this list of the Best California Roadside Attractions: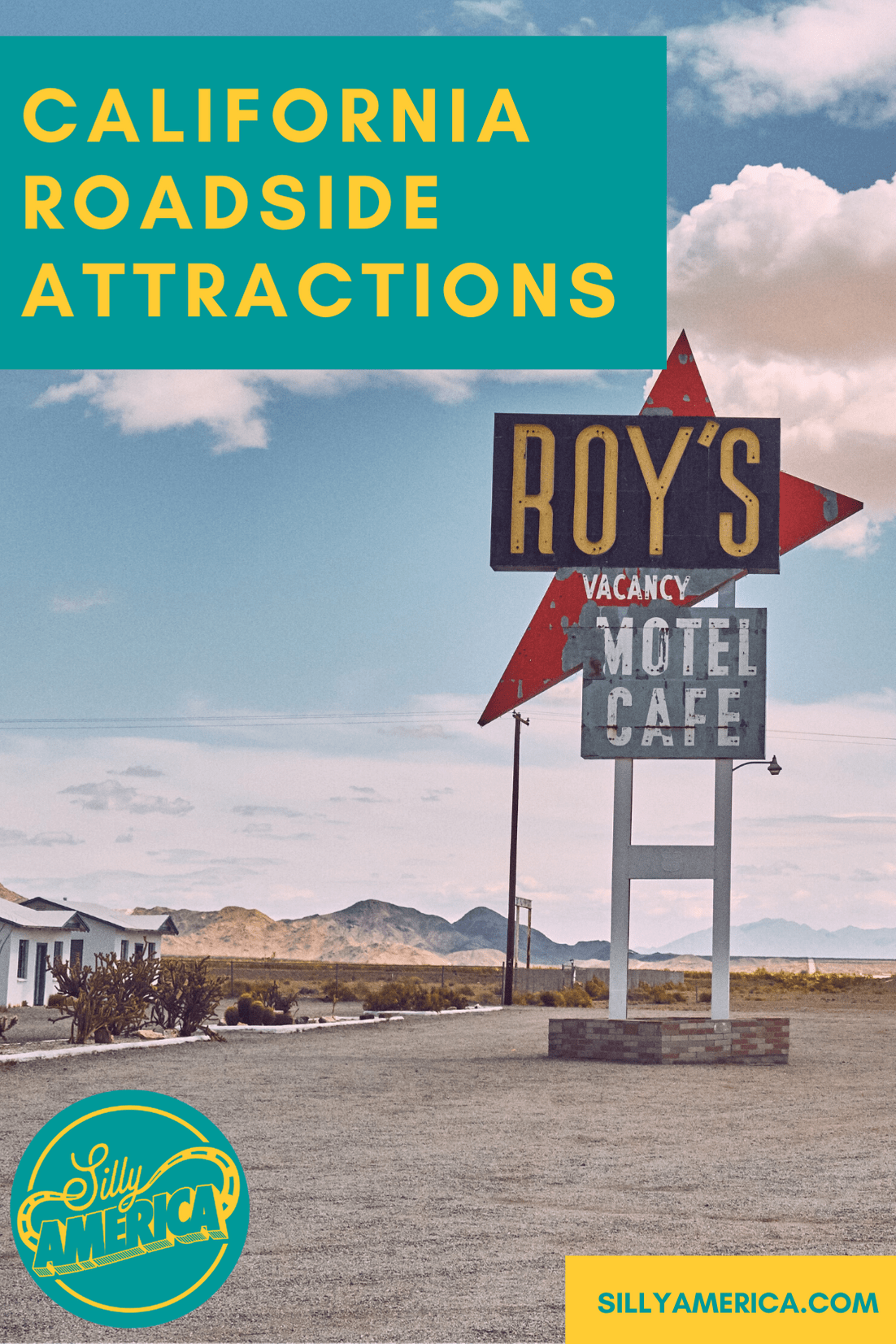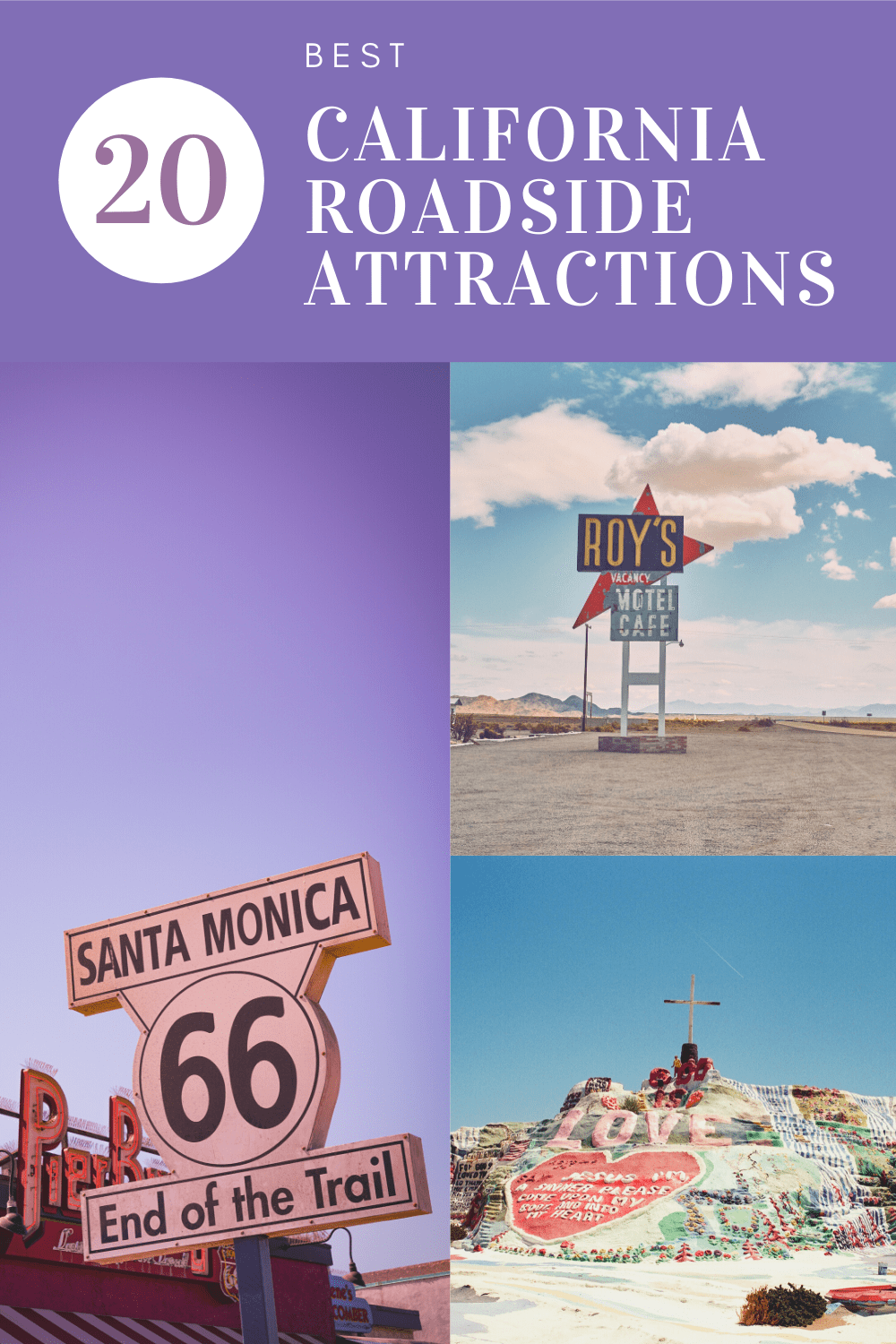 Roy's Motel & Cafe photo by Suzanne Emily O'Connor on Unsplash
Route 66 End of Trail photo by madeleine ragsdale on Unsplash
Salvation Mountain photo by Randy Laybourne on Unsplash