Are you planning a South Dakota road trip and want to find all the best South Dakota roadside attractions along your route? Whether you're driving across the state on I-90, taking a trip to Mount Rushmore, or traversing one of the state's many scenic byways, you won't want to miss these fifteen must-see places to go in South Dakota. They're fun road trip stops and great additions to your travel itinerary or route.
Below are the 15 best roadside attractions in South Dakota: from a giant prairie dog to a giant pheasant, from a dinosaur park to a corn palace, from a city full of presidents to an iconic stop offering jackalopes and free ice water! You won't want to miss any of these bucket list worthy tourist traps and road trips stops on your South Dakota vacation.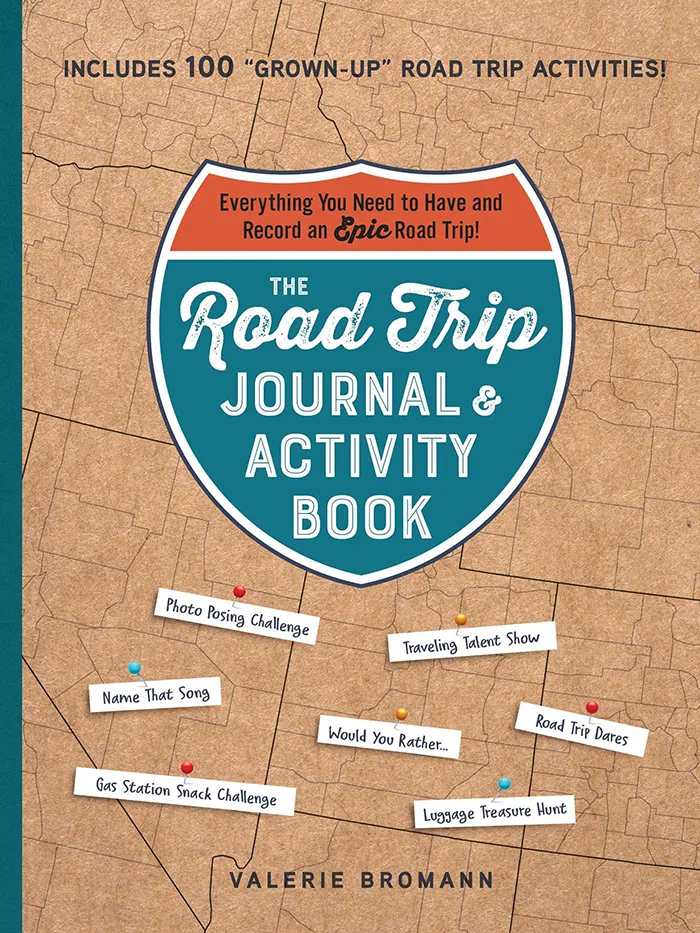 The Road Trip Journal & Activity Book
Everything You Need to Have and Record an Epic Road Trip!
Enjoy fun games and challenges to pass the time on your next road trip and have a keepsake to look back on for years to come with this entertaining must-have for your next vacation.
Ready to hit the road? Let's go! I call shotgun!
The 15 best South Dakota roadside attractions (in no particular order):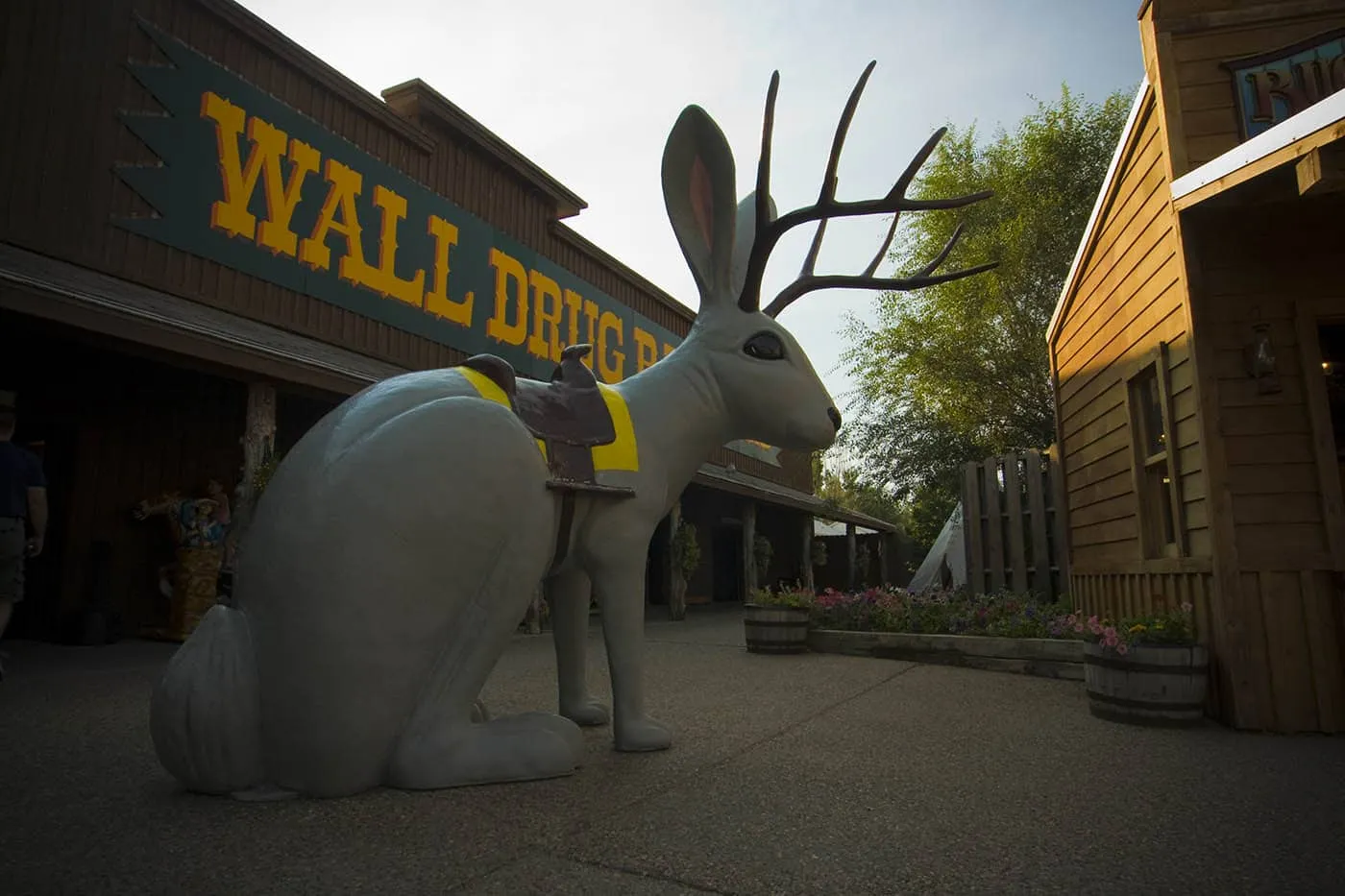 1. Wall Drug
510 Main St, Wall, SD
Follow the barrage of road signs to Wall Drug Store, a popular South Dakota roadside attraction and tourist trap in Wall, SD. The Western-themed shopping mall features a drug store, gift shop, restaurants, travelers church, taxidermy, a giant Jackalope, an 80-foot brontosaurus, and free ice water for all.
2. Skeleton Man Walking Skeleton Dinosaur
I-90, Midland, SD (westbound side of I-90, just before exit 170)
Off the side of the highway you'll find a skeleton of a man with an ax leading an even bigger skeleton of a dinosaur down the road by a leash. There's no where to pull over so it's a drive-by only South Dakota roadside attraction but you can get a closer look by visiting the nearby Original 1880 Town.
3. Al's Oasis: Big Buffalo
1000 E South Dakota, W Hwy 16, Oacoma, SD
Al's Oasis is is a premier rest stop for travelers along Interstate 90 offering food, shopping, lodging, 5¢ coffee, and famous pies. One of the star attractions at Al's Oasis is the three giant buffalo statues: the perfect prop for silly road trip selfies.
4. World's Largest Log Chair
Cousins Pub and Pizza at the Big Chair, 22493 US-385, Deadwood, SD
The giant chair behind Cousins Pub and Pizza might not be the world's largest chair, but it is probably the World's Largest Log Chair. Nicknamed the "Easy Glider" this roadside attraction is a Deadwood mainstay, having survived behind a running list of restaurants. The 33 foot, 8-inch tall rocking chair is so big the seat holds picnic benches to eat on!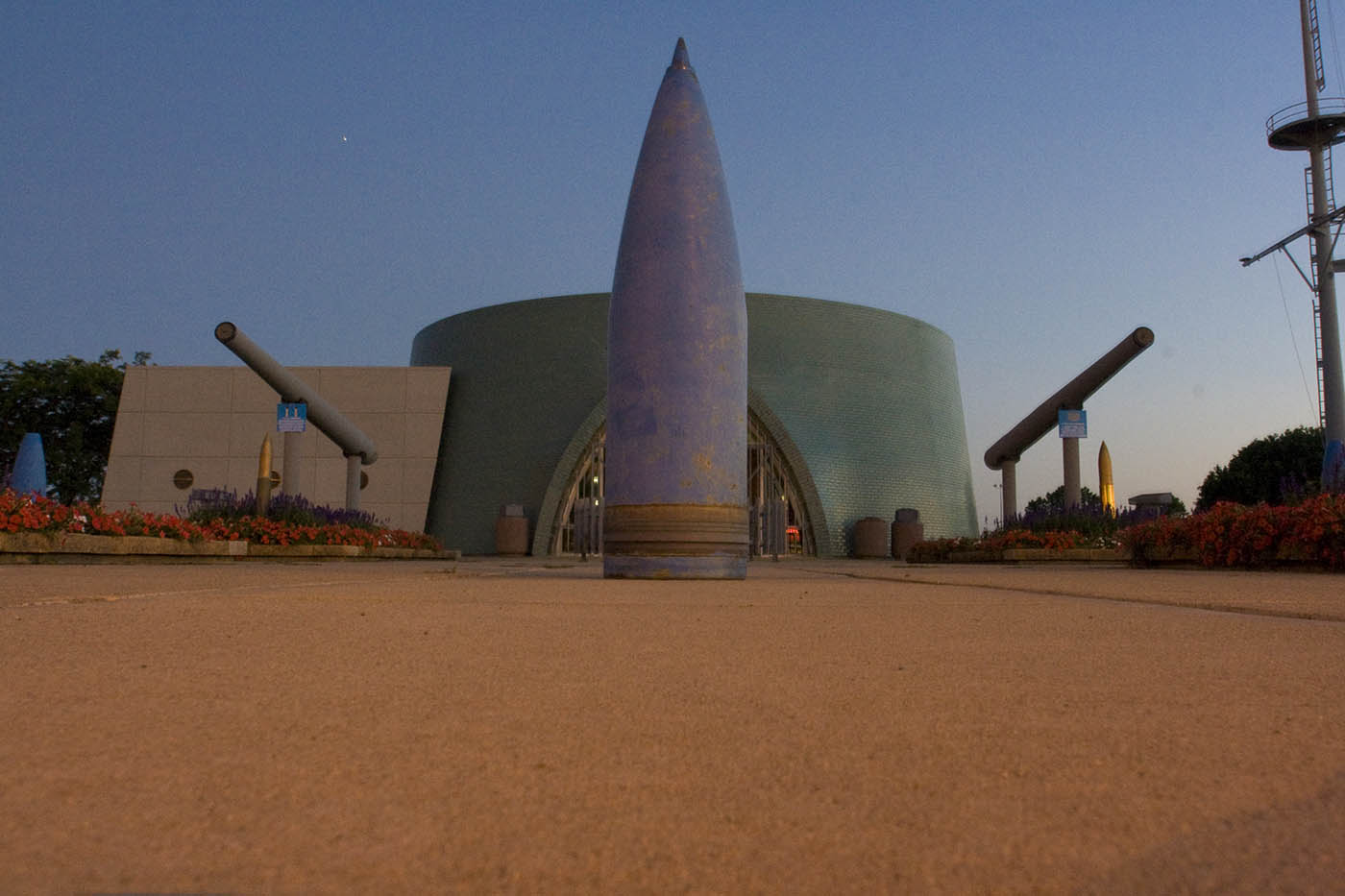 5. USS South Dakota Battleship Memorial 
Sherman Park, 2705 W 12th St., Sioux Falls, SD
The USS South Dakota (BB-57) was a battleship built for the United States Navy in the 1930s. After it was struck down in 1962, the salvaged parts were shipped to Sioux Falls. There, a concrete outline was poured in a park with the salvaged remnants arranged in place, including the anchor, a propeller, and the ship's bell.
6. The Giant Prairie Dog
Badlands Ranch Store, 21190 SD-240, Philip, SD
The giant prairie dog outside of Badlands Ranch Store has been a popular roadside attraction in South Dakota since 1959. The mascot stands at 12-feet tall and weighs six tons, much larger than its real life counterparts. If you want to see for yourself you can visit the adjacent prairie dog town to find and feed the funny wild rodents.
7. City of Presidents
631 SD-79, Rapid City, SD
In the late 90s a life-sized bronze statue of Abraham Lincoln was erected in a Rapid City hotel lobby, and people started to take notice. Sparked by inspiration, the city then decided to run with it and has since installed 44 life-sized bronze president sculptures, one for each of the 45 former US presidents (Grover Cleveland served two non-consecutive terms, but did not get two statues). For a fun selfie spot if you want to pose with George W. Bush and his dog, wave back at Barack Obama, or pretend to listen to Franklin D. Roosevelt's "day which will live in infamy" speech.
8. Petrified Wood Park & Museum
500 Main Ave, Lemmon, SD
Petrified wood is solidified wood made from old trees that have mineralized and turned into rock like substances. Lemmon's Petrified Wood Park features hundreds of these fossilized trees (along with round rock "cannonballs" from North Dakota's Cannonball River, dinosaur bones, and mammoth bones)arranged throughout the forest. Among the works you'll find cones reaching up to 20 feet tall, a castle, a wishing well, and even a museum.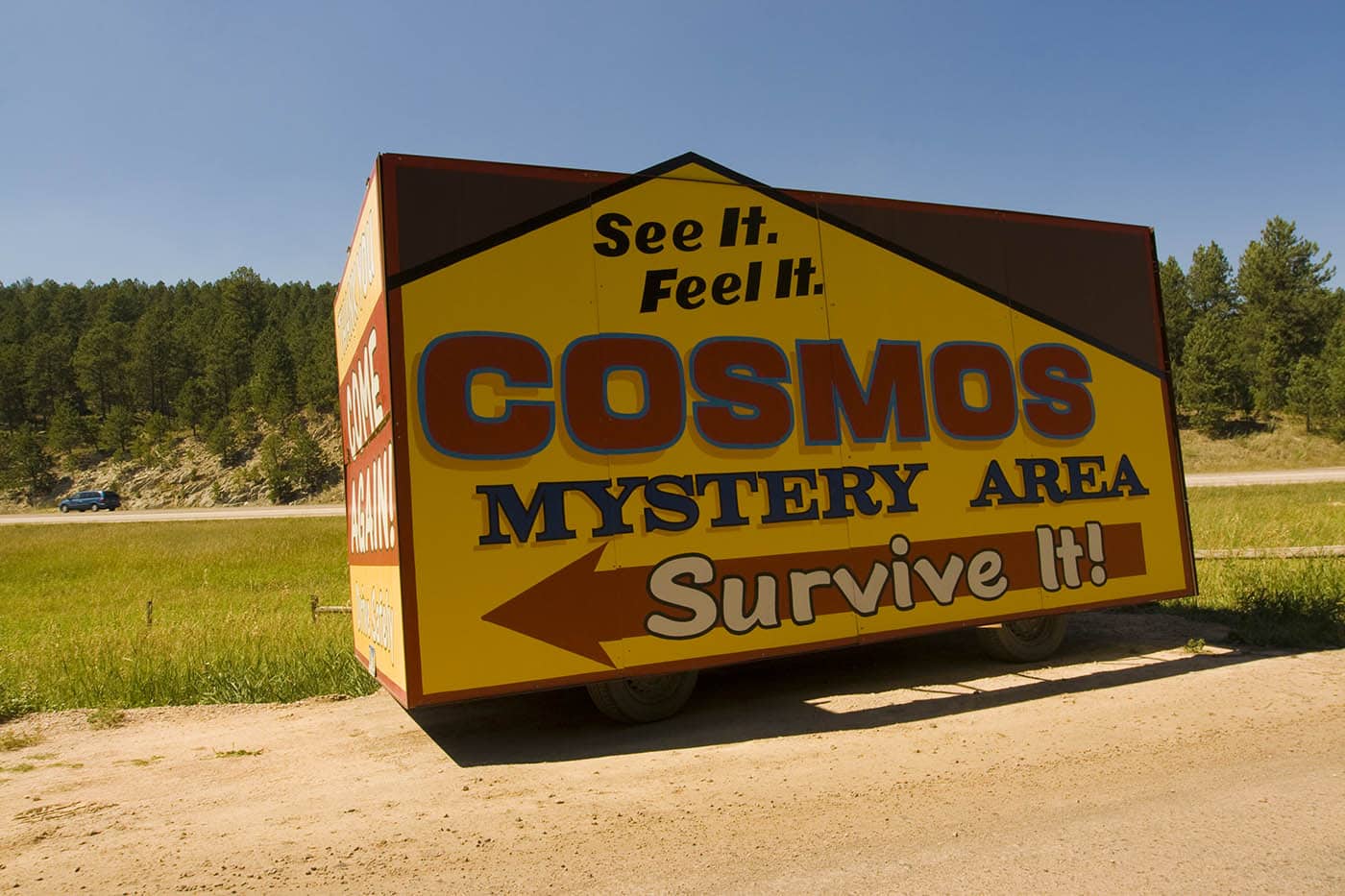 9. Cosmos Mystery Area
24040 Cosmos Rd, Rapid City, SD
Mystery areas can be found around the country: strange vortexes where gravity stops, chairs float, water runs upward, and visitors shrink and grow before your eyes. At Cosmos Mystery Area in Rapid City you can find all of those things and experience the paranormal in their twisted hillside shack.
10. Dignity of Earth and Sky
Chamberlain, SD
Dignity of Earth and Sky (or, just Dignity) is an 11-ton, 50-foot-tall statue of a young Native American woman that overlooks the Missouri River in South Dakota. The young woman wears a giant stainless steel star quilt constructed to blow in the wind without blowing over. Sculpted by Black Hills artist Dale Lamphere, the sculpture was erected on September 17, 2016. It was commissioned to celebrate the 125 year anniversary of South Dakota's statehood and is a tribute to the courage and perseverance of the women of the Lakota and Dakota Nations.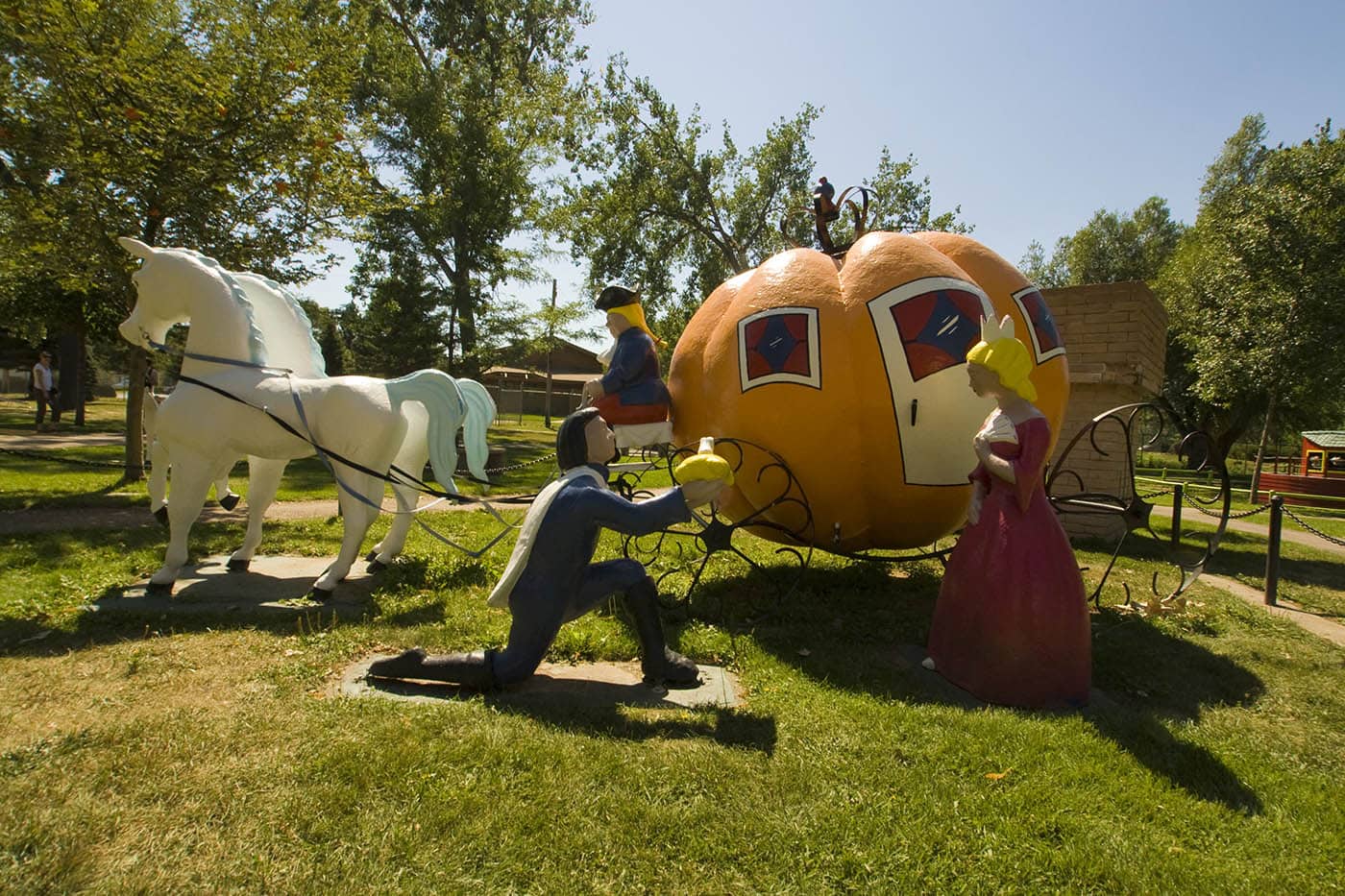 11. Storybook Island
1301 Sheridan Lake Rd. Rapid City, SD
Built in 1959, Storybook Island is a children's play area and family theme park with a fairy tale twist. There are play sets, interactive exhibits, and Instagram-worthy displays all depicting scenes from storybooks, fairy tales, and nursery rhymes. Children of all ages can play among their favorite characters from 101 Dalmatians, Cat in the Hat, Humpty Dumpty, Old MacDonald's Farm, Cinderella, The Three Little Pigs, and more. You might even catch a show from the children's theatre performing group.
12. Porter Sculpture Park
45160 257th St, Montrose, SD
Some of the most iconic roadside attractions in South Dakota can be found at Porter Sculpture Park. The works of Wayne Porter, you'll find over fifty larger than life sculptures that you're encouraged to get up close and personal with. There are magic dragons, swimming fish, pink hammers, a towering horse, and, the pièce de résistance: a 60-foot tall bull head!
13. The World's Largest Pheasant
Dakota Inn, 924 4th St NE, Huron, SD
The World's Largest Pheasant in Huron (the "Pheasant Capital Of The World") is one big bird: it's 28-feet tall, 40-feet long, and 22 tons! The South Dakota roadside attraction was built out of steel and fiberglass in 1959. Legend says that when settlers came to the Dakota Territory in the early 1880s rumors flew about a giant pheasant. Hunters were always on the lookout for the prize catch, but always failed. Then, one day, a small boy encountered the glorious beast. He declined to kill the bird, because its beauty was so immense, and the giant pheasant was so grateful it pledged to stay put so all could come and see.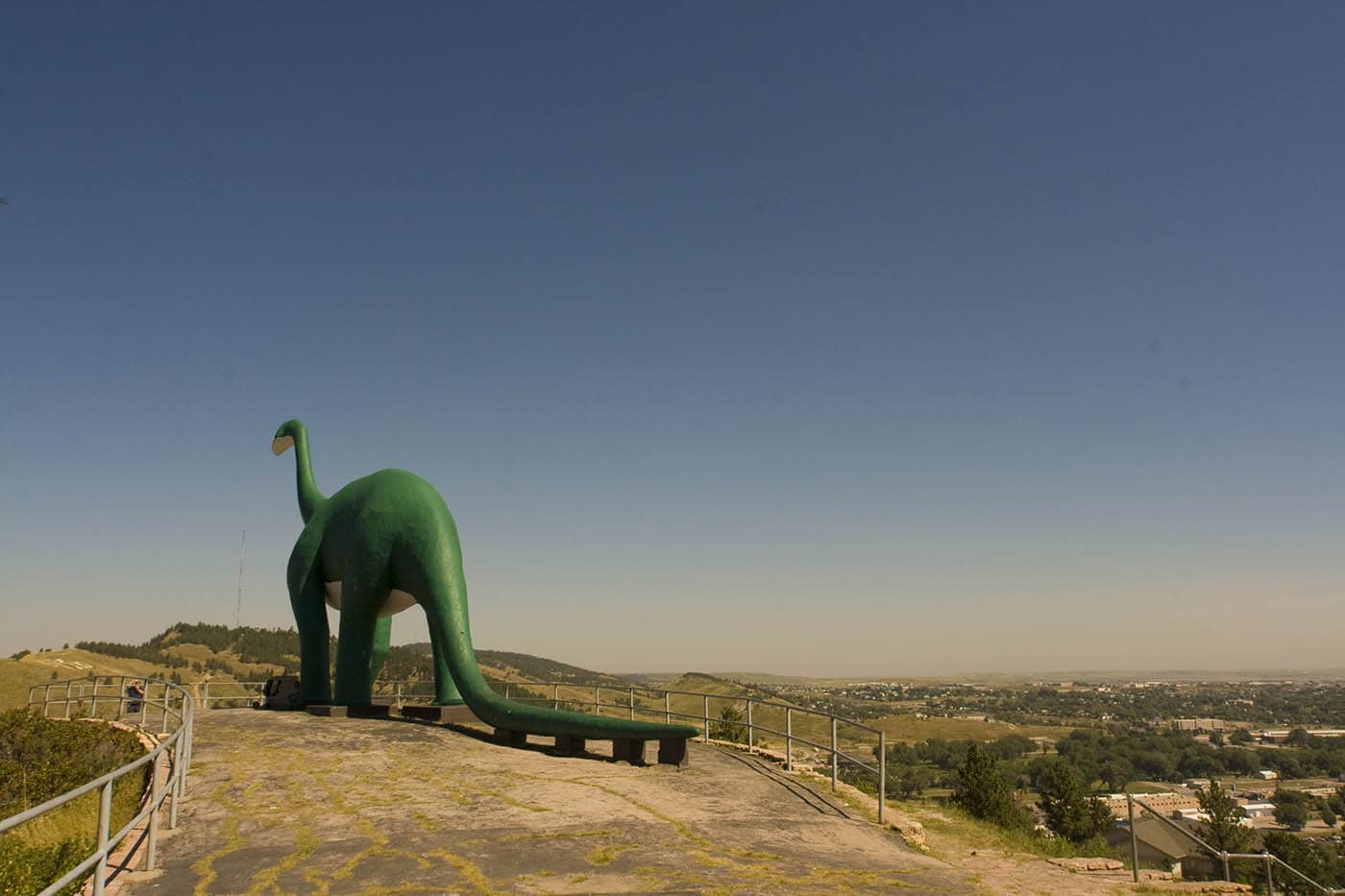 14. Rapid City Dinosaur Park
940 Skyline Drive, Rapid City, SD
The hill-top Rapid City Dinosaur Park is a playground for giant green cartoon-like reptiles. The iron, wire, and concrete-constructed sculptures were designed by Emmet Sullivan and were originally gray in color. In the 1950s they were repainted bright green with white details and not much, besides a little wear and tear from children climbing them, has changed since. Five dinosaurs climb the hill at the South Dakota dinosaur park: a Triceratops, a Stegosaurus, an Apatosaurus (Brontosaurus), a Tyrannosaurus Rex, and an Anatotitan. Two others were added later near the gift shop: a Protoceratops and a Dimetrodon. The Brontosaurus is the largest of the creatures found at the Rapid City SD dinosaur park: at 80-feet long and 28-feet high and stands high above the rest. In fact, it can be seen from anywhere in the town!
15. World's Only Corn Palace
604 N Main St, Mitchell, SD
Mitchell Corn Palace, the world's only corn palace, is an "a-maize-ing" South Dakota road trip stop that was built to celebrate the local corn harvest. The concrete castle is covered in thousands of bushels of corn and grain making striking murals in rotating themes across the walls. Stop by to admire the artwork, get some selfies with a giant ear of corn, learn the history on a tour, and shop for corny souvenirs.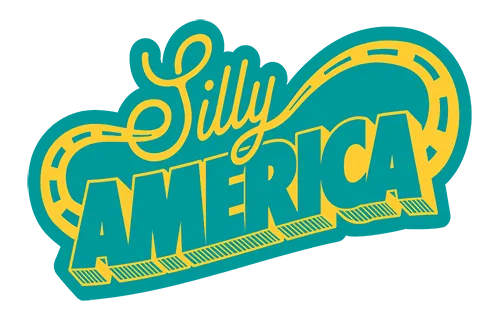 Pin this list of the 15 best South Dakota roadside attractions: