Are you planning an Idaho road trip and want to find all the best Idaho roadside attractions along your route? Whether you're driving across I-84 from Twin Falls to Boise, traversing Interstate 15, or road tripping the Teton Scenic Byway, you won't want to miss these fifteen must-see places to go in Idaho. They're fun road trip stops and great additions to your travel itinerary or route.
Below are the 15 best roadside attractions in Idaho: from a few giant potatoes to a couple of nuclear sites to a collection of collections to a muffler man devoted to all things clean to a giant beagle you can spend the night in! You won't want to miss any of these bucket list worthy tourist traps and road trips stops on your Idaho vacation.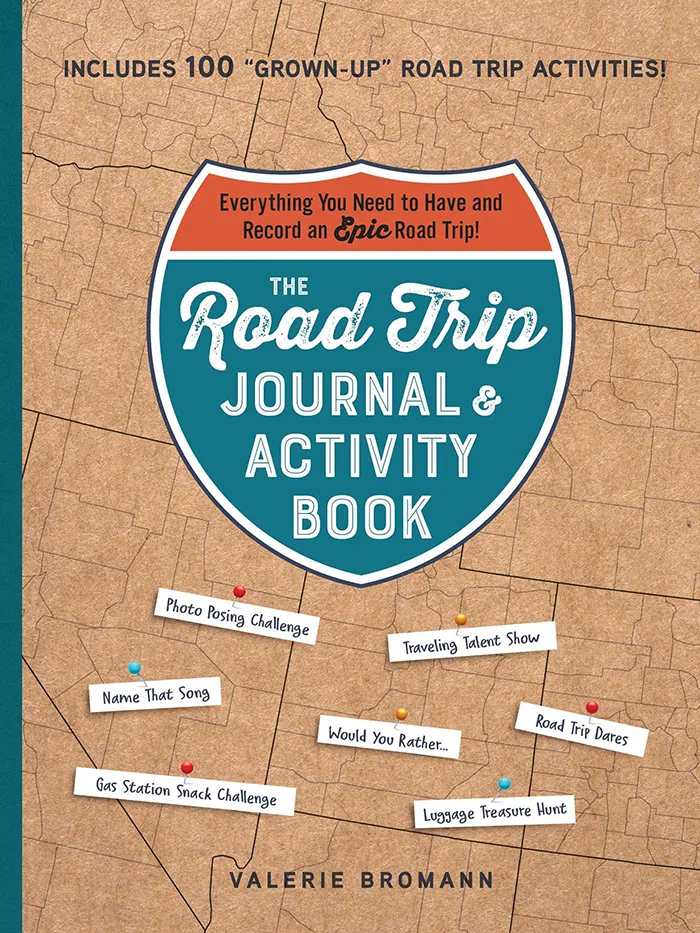 The Road Trip Journal & Activity Book
Everything You Need to Have and Record an Epic Road Trip!
Enjoy fun games and challenges to pass the time on your next road trip and have a keepsake to look back on for years to come with this entertaining must-have for your next vacation.
Ready to hit the road? Let's go! I call shotgun!
The 15 Best Idaho Roadside Attractions (in no particular order):
1. Idaho Potato Museum
130 NW Main St, Blackfoot, ID
You can't have a list of Idaho roadside attractions and not include a couple of giant potatoes. The Idaho Potato Museum in Blackfoot is a spud-tacular attraction devoted to the king of tubers. Here you can take photos with the world's largest styrofoam potato, learn about the history and agricultural importance of the potato, and find some unique and fun displays like a burlap rodeo queen outfit and the world's largest potato chip. Be sure to stop at the cafe for a baked potato or potato cupcake before you leave!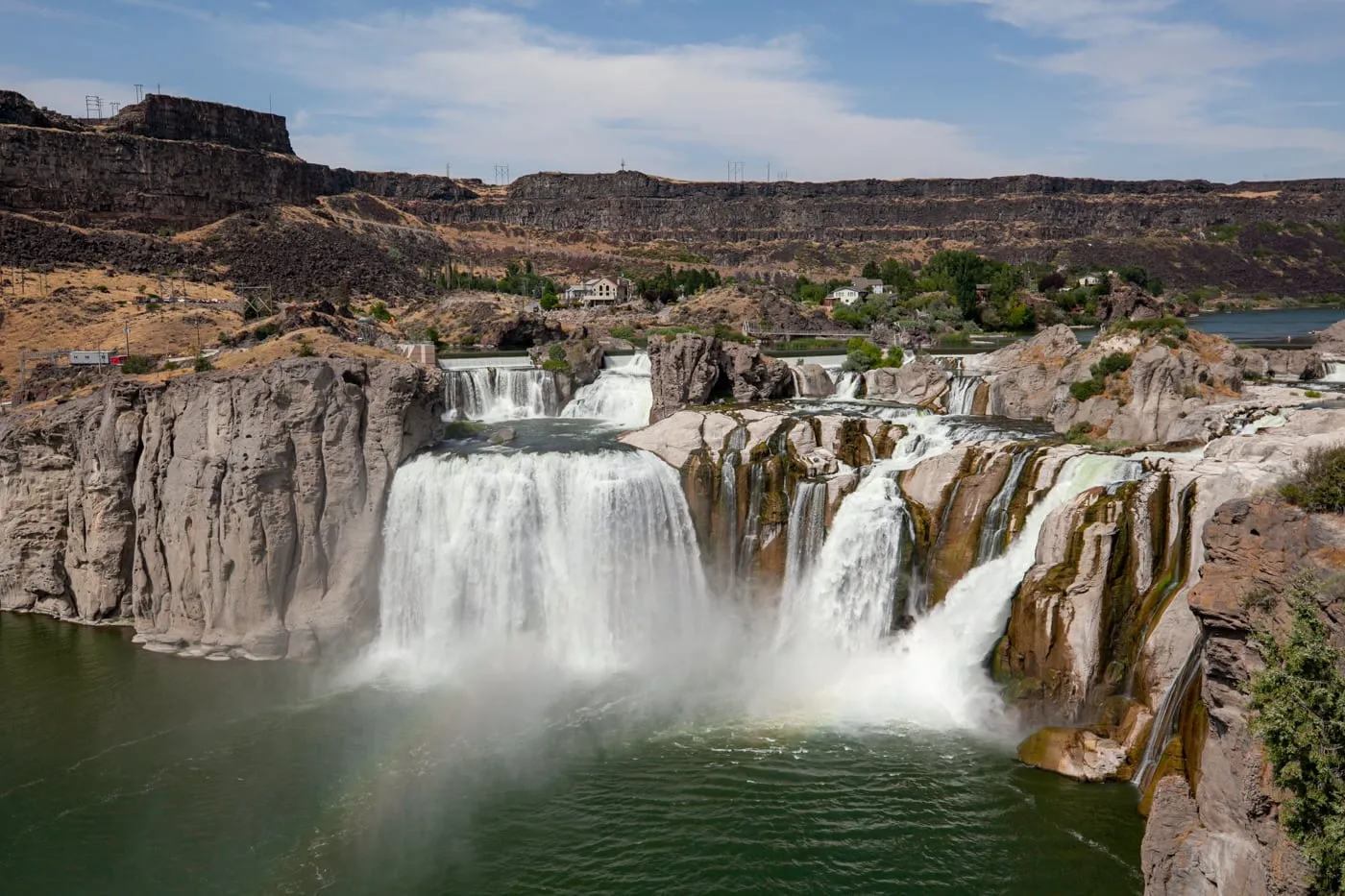 2. Shoshone Falls: the Niagara of the West
4155 Shoshone Falls Grade, Twin Falls, ID
Shoshone Falls is an impressive waterfall that is located on the Snake River in Twin Falls. The southern Idaho waterfall is dubbed the "Niagara of the West" reaches 212 feet (65 m) high, which is actually 45 feet higher than the famed Niagara Falls in New York State. At 900 feet wide, it's also one of the largest natural waterfalls in the United States.
3. Miner's Hat Realty
300 E Cameron Ave, Kellogg, ID
In 1939 Marietta Page had a building in the shape of a giant miner's helmet, complete with an old-fashioned carbide headlamp, constructed next to Highway 10. Then it was run as a roadside diner and, later, a classic drive-in restaurant. Today the programmatic architecture building houses Miner's Hat Realty, a real estate office.
4. EBR-I Atomic Museum: World's First Nuclear Power Plant
Arco, ID
Arco, Idaho is home to the site where usable electricity was first generated from nuclear energy in 1951 and where more nuclear reactors have been built than anywhere else in the world.. On a self-guided tour of the Experimental Breeder Reactor-I (EBR-I) Atomic Museum you can see four nuclear reactors and can learn about how electricity is produced by splitting atoms.
5. "Martha's Gal" Uniroyal Gal
851 S Broadway St, Blackfoot, ID
Known as "Martha's Gal" this Uniroyal Gal advertises Martha's Cafe in Blackfoot, Idaho. Uniroyal Gal's were giant figures of women created by International Fiberglass in the 1960s and modeled after Jackie Kennedy. This Uniroyal Gal in Blackfoot had previously lived at a local gas station and then at the White Eagle Drive-Thru. For years she was a blonde wearing a blue skirt and white top and apron and carried a large plate of fries in her hand. In 2011 she was given a makeover, the fries were removed, her hair was dyed black, her outfit changed to red, yellow, and blue, and she got a new giant diamond ring on her finger.
6. Spud Drive-In Movie Theater Giant Potato
2175 South, ID-33, Driggs, ID
In an era where most movies are shown at giant megaplexes, a drive-in movie theater in itself makes a fun road trip stop. But this drive-in also comes with a giant potato. At the Spud Drive-In Theatre you can find a giant concrete potato on a truck bed, a fun stop for pre-movie selfies. Every year the potato truck, "Old Murphy," is driven in the local parade.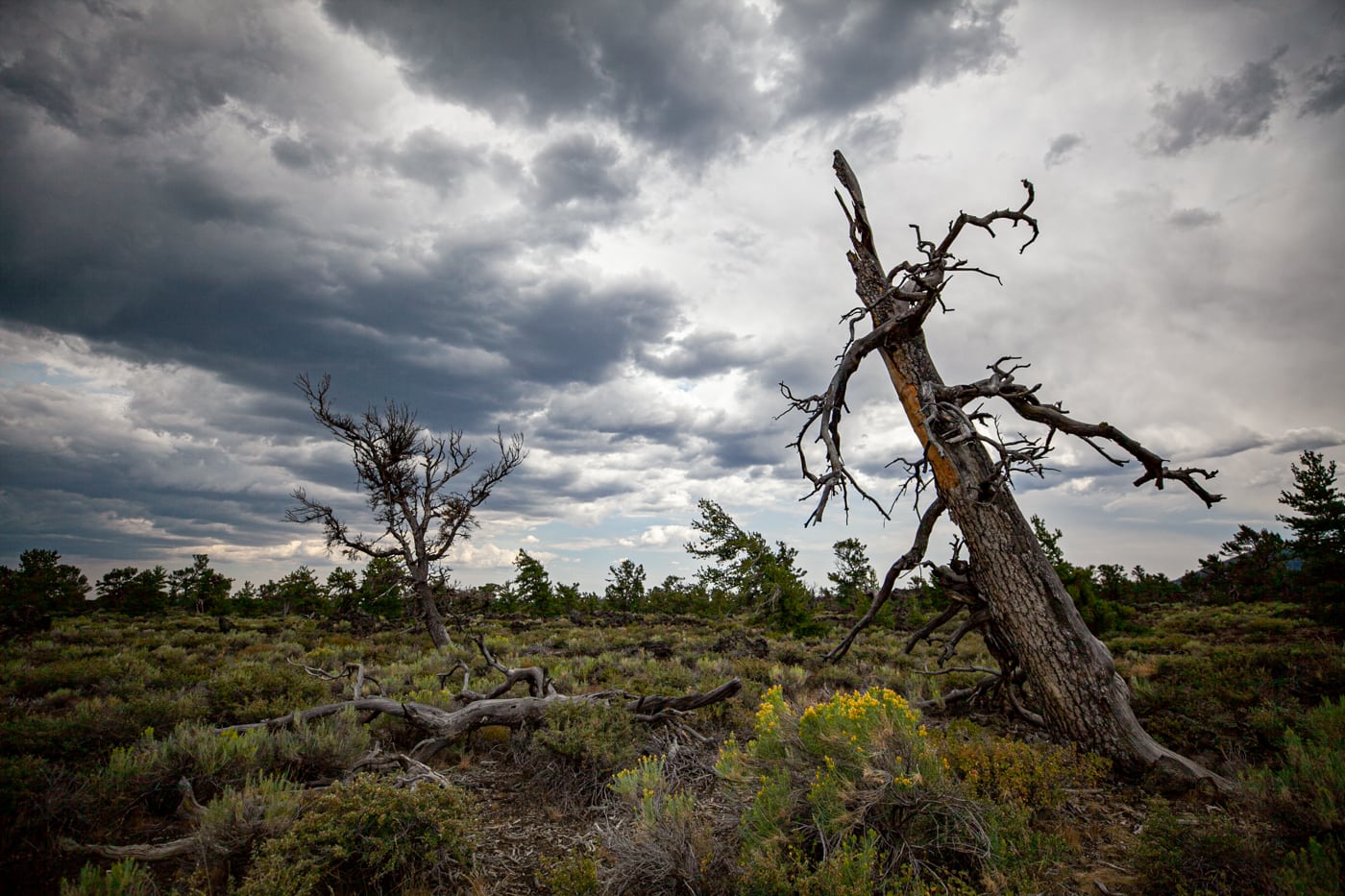 7. Craters of the Moon National Monument & Preserve
1266 Craters Loop Road, Arco, ID
Craters of the Moon National Monument and Preserve is a U.S. national monument and national preserve in central Idaho. Walk (and drive) among desolate lava fields that date back millions of years ago. The lava field spans for over 750,000 acres (1,100 square miles) and 53,500 acres are preserved within the monument. Among the bleak backdrop you'll find volcanic rifts, lava rivers, lava tube caves, cinder cones, tree molds, spatter cones, shield volcanoes, and lava beds.
8. World's Largest Beagle: Dog Bark Park Inn
2421 Business Loop 95, Cottonwood, ID
Have you ever wanted to sleep in a giant beagle? You're in luck! In Cottonwood, Idaho you'll find the World's Largest Beagle AKA Sweet Willy AKA Dog Bark Park Inn: a beagle shaped bed and breakfast! The 30-foot tall dog is the creation of folk artists Dennis Sullivan and Frances Conklin. They originally built a 12-foot dog hoping to lure in travelers. After their plan worked they had a realization: if a 12-foot dog brings visitors imagine how many more would come to see a 30-foot dog! When construction began, the giant beagle wasn't originally slated to be a habitable hotel, but as it progressed it became clear that the doggy would be a doghouse! The world's largest beagle sleeps four, and pets are welcome, but book far in advance if you want to stay overnight.
9. Evel Knievel's Snake River Jump Monument
3591 Blue Lakes Blvd N, Twin Falls, ID
On September 8, 1974, daredevil Evel Knievel attempted to leap a mile across Idaho's Snake River Canyon on a rocket motorcycle. He failed. His parachute malfunctioned, opened on takeoff, and, instead of taking a leap, he floated to the bottom of the canyon. While his stunt didn't go as planned, locals celebrated all the same. Find a plaque commemorating his visit at the city's visitor center.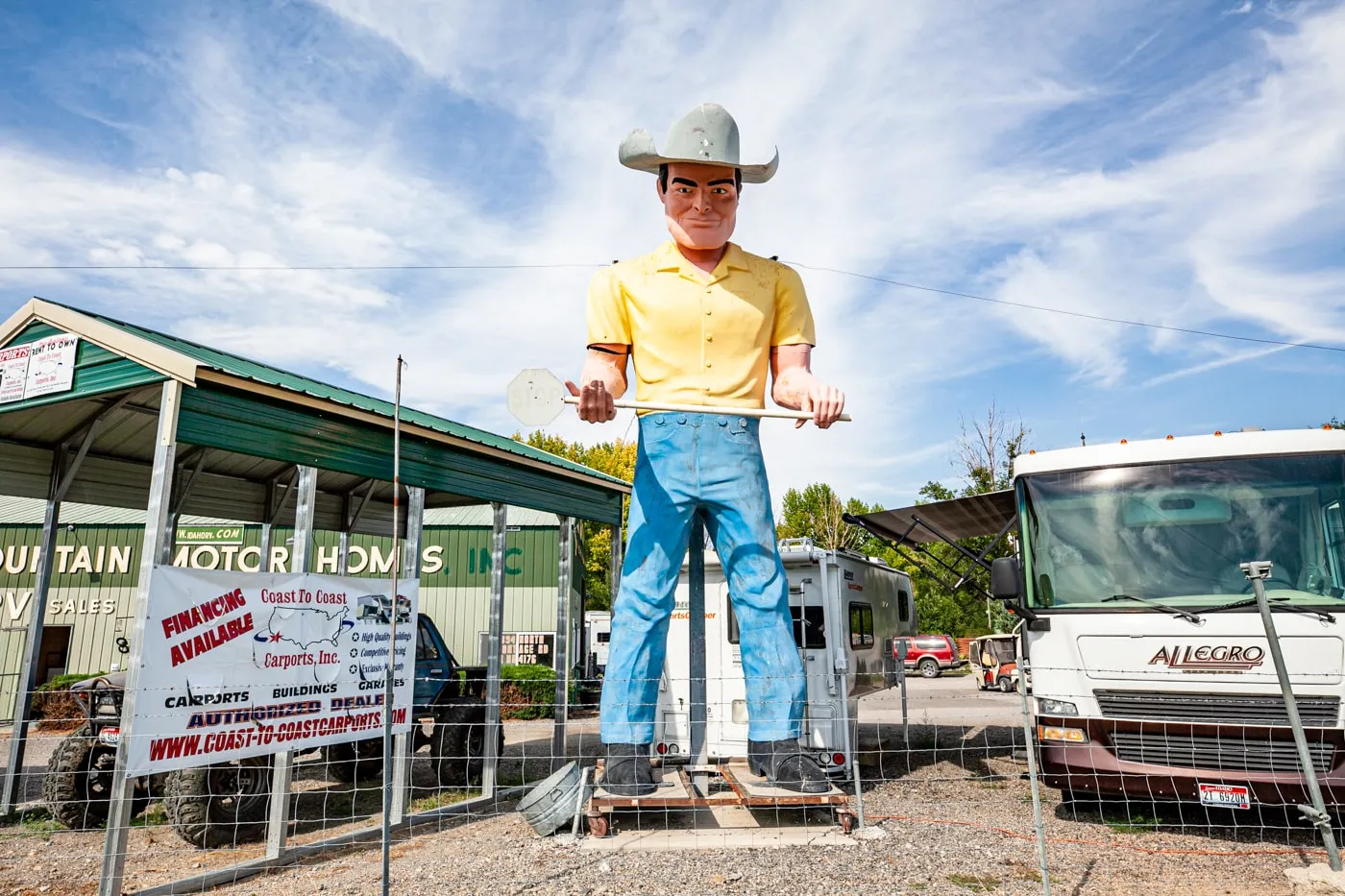 10. Cowboy Muffler Man
Intermountain Motor Homes & RV Camp, 1894 N. Frontage Rd., Wendell, ID
Standing at 22-feet tall and wearing a yellow shirt, blue jeans, black boots, and a gray cowboy hat, this giant muffler man is an Idaho roadside attraction that is hard to miss. And you don't have to miss him! If you're taking a road trip on I-84, a short detour off the highway will take you right to him.
11. Shoshone Ice Caves
1561 State Hwy 75, Shoshone, ID
Come for the ice caves, stay for the plethora of weird statues and kitsch. Inside these Idaho ice caves you'll take a to brisk tour through the natural refrigerator of the sub-freezing cave. That's weird in itself, but coupled with vintage statues of dinosaurs and cavemen this is one of the weirdest Idaho roadside attractions.
12. Collectors' Corner Museum
900 John Adams Pkwy, Idaho Falls, ID
Jim and Nida Gyorfy opened the Collectors' Corner Museum in 2003 but the collections started early in their lives. The museum houses a collection of collections including Precious Moments figurines, stuffed animals, Barbie dolls, commemorative plates, Ron Lee clowns, model planes, troll dolls, and mechanical monkeys.
13. Big Don the World's Largest Janitor
The Museum of Clean is dedicated to the history and techniques behind cleaning and keeping clean. It features exhibits on historic cleaning techniques along with tools throughout the ages. It also features Big Don: the world's largest janitor. Big Don is a repurposed muffler man donning a white janitorial jumpsuit and carrying a larger-than-life mop.
14. Atomic City
Atomic City, ID
Now a nearly-abandoned, isolated ghost town, Atomic City (originally called "Midway" as it is halfway between Blackfoot and Arco) was once bustling due to the nearby nuclear couple. What happened? Just a couple of nuclear breakdowns and fatal nuclear explosions. The few buildings and signs, and shuttered Atomic City Raceway make for great photo opportunities if you dare visit this nuclear wasteland.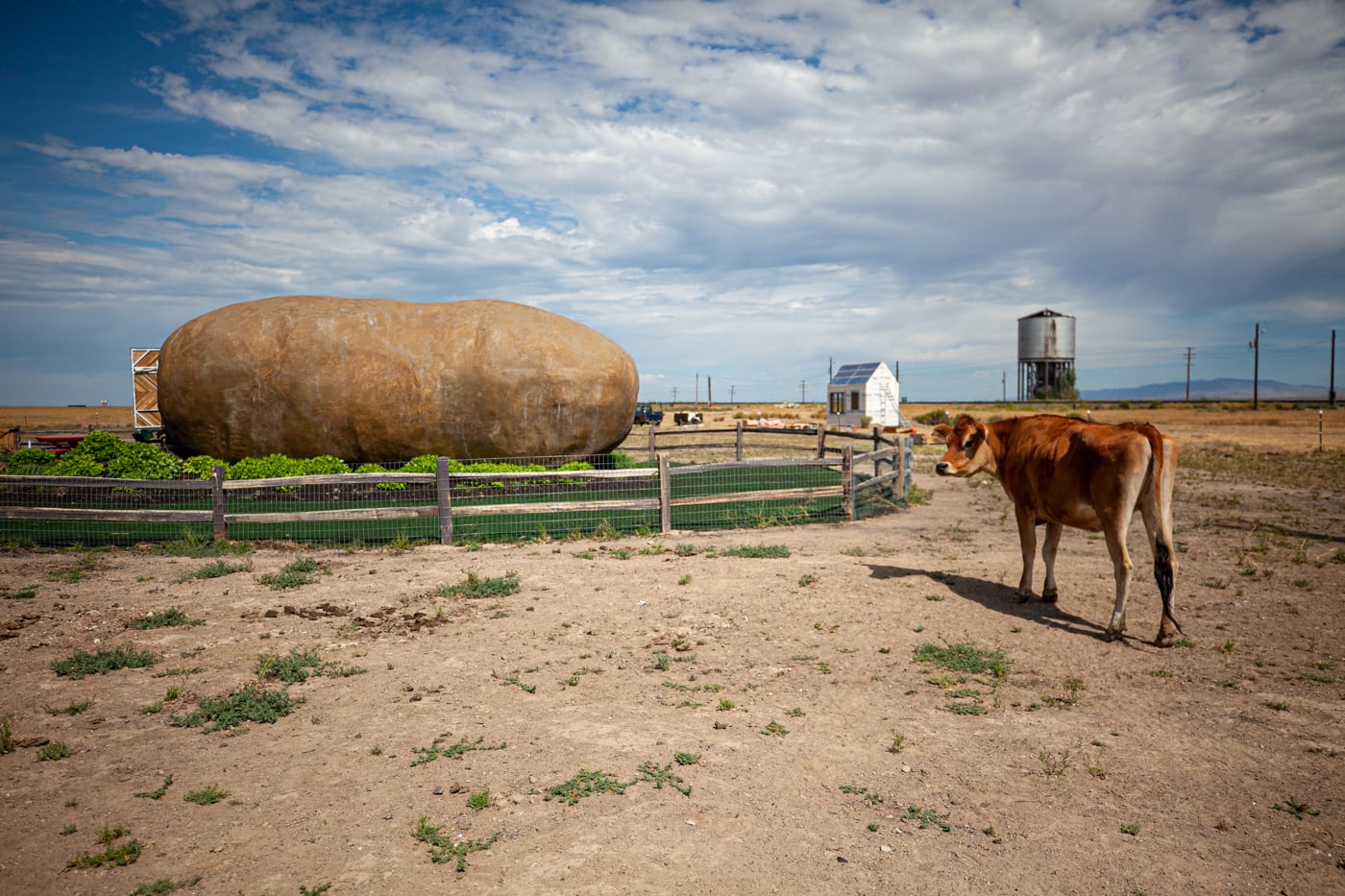 15. Big Idaho Potato Hotel
31581 S. Orchard Access Rd, Orchard, ID
The Big Potato Hotel in Boise began its life in 2012 as The Big Idaho Potato — a 6-ton giant steel, concrete, and plaster potato that traveled across the US to promote the Idaho Potato Commission on the Big Idaho Potato tour. For seven years the giant spud traveled across 48 states, nearly 175,000 miles, spreading the potato live across America. At 28-feet long, 12-feet wide, and 11.5-feet tall it was one BIG potato! In 2019 it was converted into an AirBNB and visitors can admire this giant potato from the road or book a night to sleep in the spud.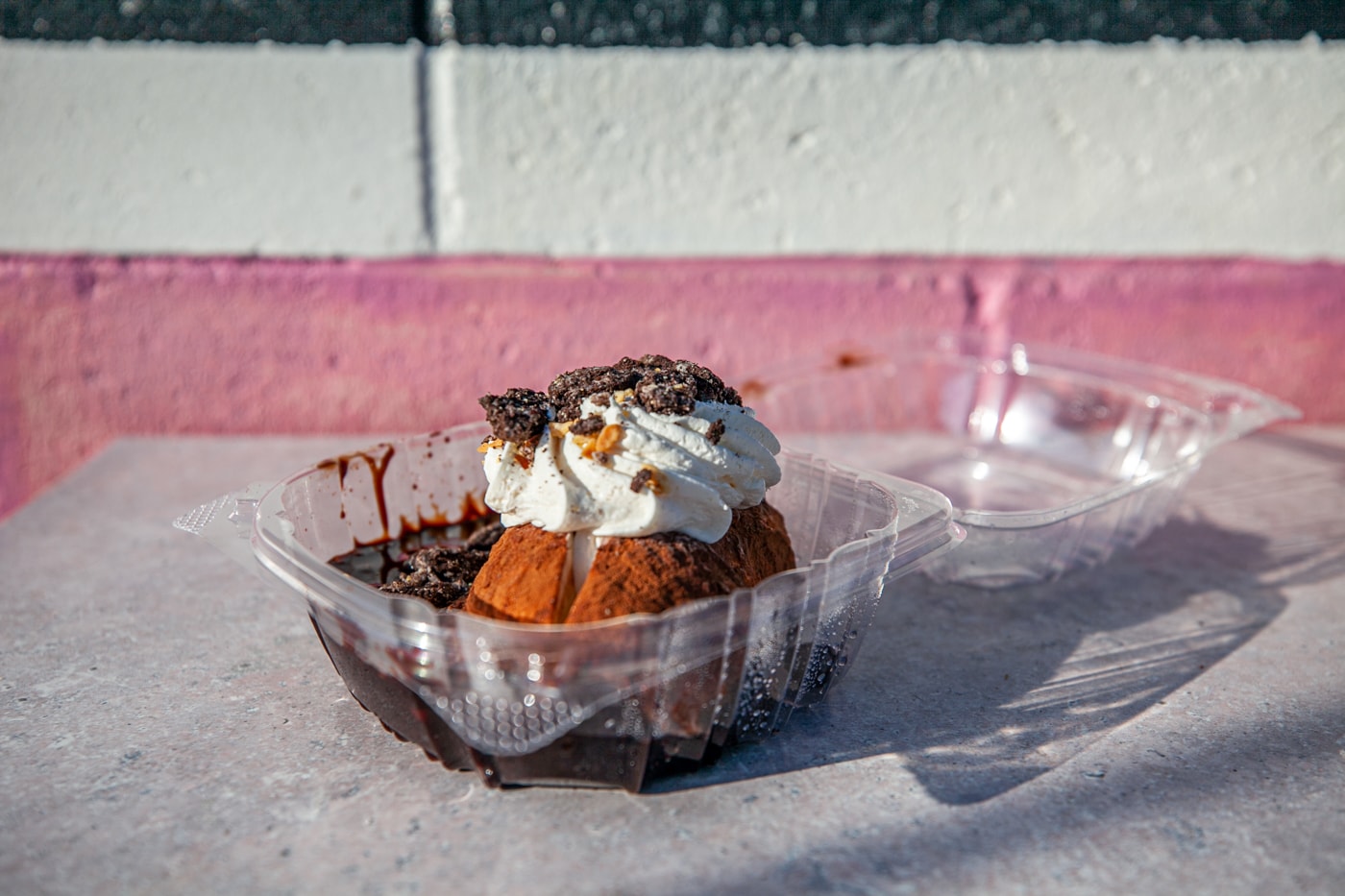 Bonus: Ice Cream Potato in Boise, Idaho
Westside Drive In, 1929 W State St, Boise, ID
While not a "roadside attraction," the Ice Cream Potato is definitely an Idaho road trip stop worth pulling over for. Is it ice cream? Or is it a potato? That's the question everyone seems to have when they discover the famous Idaho Ice Cream Potato at Westside Drive In in Boise, Idaho. This deceptive dessert might look like a classic loaded baked potato on the outside, but, don't worry, it's all ice cream on the inside.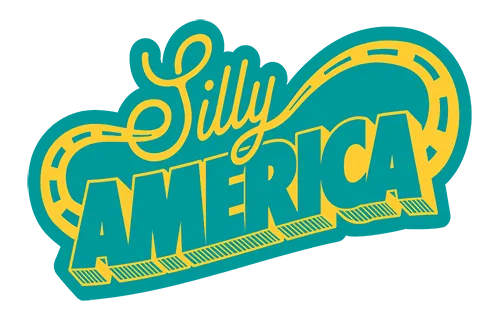 Pin this list of the 15 Best Idaho Roadside Attractions: