Are you planning a Kentucky road trip and want to find all the best Kentucky roadside attractions along your route? Whether you're driving across the state, taking the Big Lick Loop, or vacationing in Louisville, you won't want to miss these fifteen must-see places to go in Kentucky. They're fun road trip stops and great additions to your travel itinerary or route.
Below are the 15 best roadside attractions in Kentucky: from a wigwam shaped motel to an ark shaped museum, from golden statue on a corner to a goose on a roof, a from a giant bat to another giant bat! You won't want to miss any of these bucket list worthy tourist traps and road trips stops on your Kentucky vacation.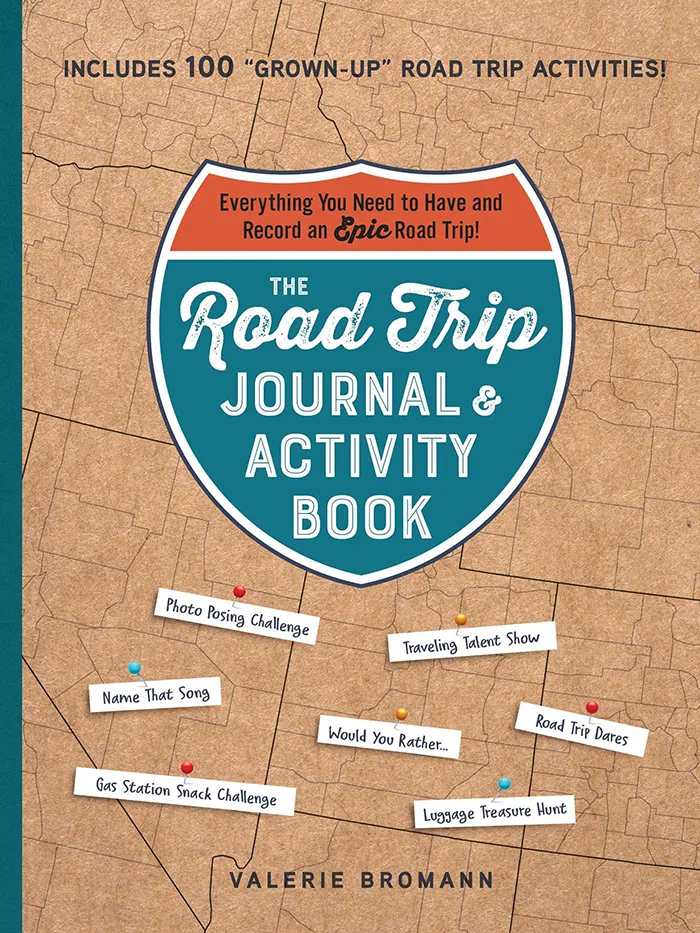 The Road Trip Journal & Activity Book
Everything You Need to Have and Record an Epic Road Trip!
Enjoy fun games and challenges to pass the time on your next road trip and have a keepsake to look back on for years to come with this entertaining must-have for your next vacation.
Ready to hit the road? Let's go! I call shotgun!
The 15 best Kentucky roadside attractions (in no particular order):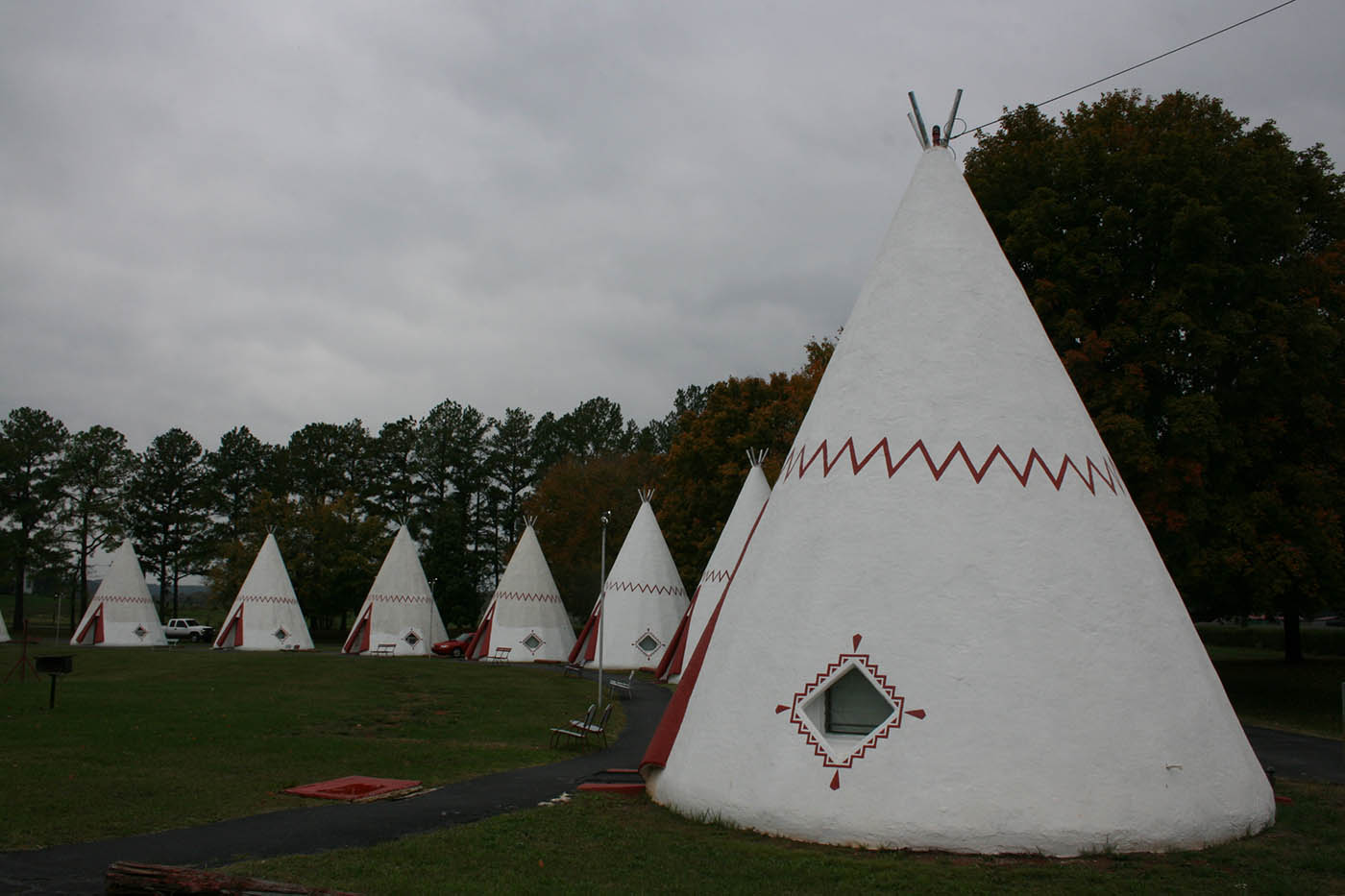 1. Wigwam Village #2
601 N Dixie Hwy, Cave City, KY
Wigwam Village #2 in Cave City is a vintage motel where all of the rooms are shaped like teepees. And these aren't tents: they are decked out with real beds, cable TV and all. Wigwam motels were a motel chain constructed in the 1930s and 1940s. Today, Wigwam Village Inn #2, in Cave City, Kentucky, is one of three remaining wigwam villages in the United States (there were originally seven with ones in Alabama, Florida, Arizona, Louisiana, and California plus two in Kentucky) and has been around since 1937.
2. World's Largest Bourbon Barrel
Barton 1792 Distillery, 300 Barton Rd, Bardstown, KY
Kentuckians love bourbon so it is no wonder Kentucky is home to the World's Largest Bourbon Barrel. Found at Barton 1792 Distillery, this 2.5 story barrel story barrel can only be seen by taking the distillery's 2-hour tour.
3. Mother Goose Inn
2906 N Main St, Hazard, KY
The Mother Goose house in Hazard opened in 1940 as a produce market. The unique house is a fine example of novelty architecture and is famous for its large oval dormer topped with a giant sitting goose. The siding on the goose represents feathers and the eyes are made from car headlights that glow at night. A market no more, in 2019 Mother Goose reopened as a B&B.
4. Harland Sanders Cafe and Museum
688 Hwy 25, Corbin, KY
In 1940 a legend was born in Corbin, Kentucky: Kentucky Fried Chicken. Harland Sanders perfected his iconic secret recipe blend of 11 herbs and spices at Sanders Cafe in town. Today, a historical marker outside that original cafe proclaims it to be the "Birthplace of Kentucky Fried Chicken." You can stop at the cafe to try it for yourself (though it's no different than you'd get at any other chain location) and look around at a museum full of memorabilia, including one of the Colonel's famous white suits, an original pressure cooker, and a 100-pound barrel of that special seasoning. While in town be sure to also stop to see the Colonel Sanders Statue at Sanders Park (201 N Main St).
5. Ark Encounter Noah's Ark
1 Ark Encounter Dr, Williamstown, KY
A giant replica of the biblical Noah's Ark can be found in Williamstown. The Kentucky roadside attraction was built to the exact measurements mapped out in the Book of Genesis making it 510 feet long, 85 feet wide, and 51 feet tall. But this isn't just a tourist trap. Inside is Ark Encounter, a creationist museum that features animal sculptures, animatronics, interactive exhibits, and even dinosaurs,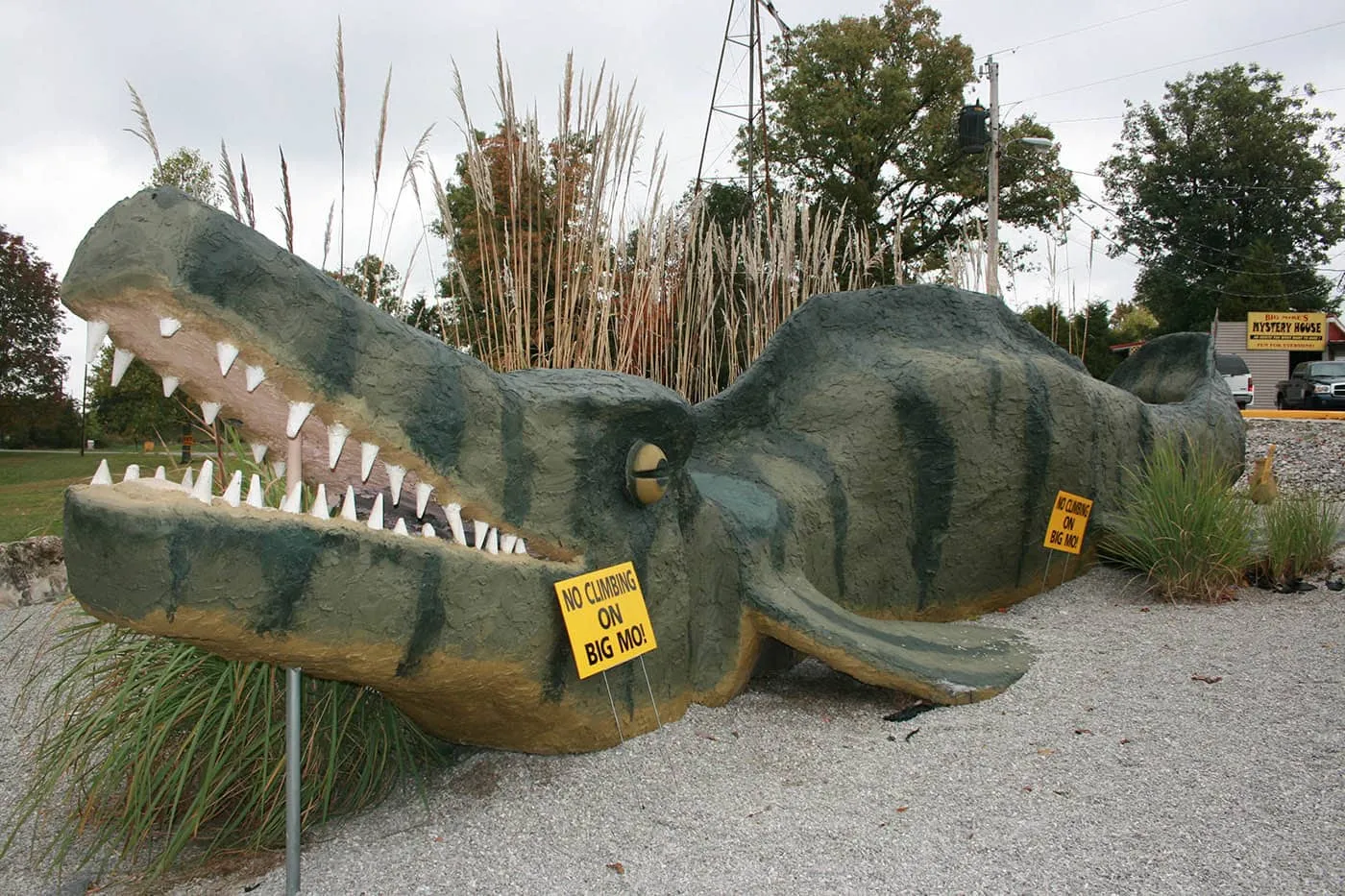 6. Big Mike's Rock Shop
566 Old Mammoth Cave Road, Cave City, KY
Big Mike's Rock Shop is one of many rock/gift shops in the Cave City area. Inside are typical gift shop fares mixed in among a wide selection of stones and a mosasaur fossil dubbed "Big Mo" (outside is a must-see life size replica). This gift shop has one thing that the others can't top: a mystery house. For a small admission price you can experience a house of wonder complete with topsy turvy rooms that defy gravity, water that runs up, and incredible shrinking rooms.
7. World's Largest Bat
Louisville Slugger Museum, 800 W Main St, Louisville, KY
With probably one of the best known roadside attractions in Kentucky, the Louisville Slugger Museum is home to what else but a giant Louisville Slugger baseball bat. The 120-foot-tall, 34 ton, world's largest baseball bat leans against the front of building and is an exact to-scale replica of Babe Ruth's legendary 34-inch Louisville Slugger bat. Head inside to learn more about the history of baseball, explore interactive displays, see some fantastic memorabilia, and visit another oversized sculpture, this one of a giant baseball mitt and glove.
8. World's Largest (Vampire) Bat
Caufield's Novelty, 1006 W Main St, Louisville, KY
Many businesses around Louisville have tried to cash in on the world's largest baseball bat's fame. One such business is Caufield's Novelty who installed a world's largest bat of their own, vampire bat that is. The black winged mammal can be found resting in the air against the red brick building, maybe just waiting to draw some blood.
9. Giant Cocktail
Imperial Liquor, 1465 Village Dr, Lexington, KY
Drink up! This mimetic building that houses Imperial Liquor is shaped like a giant green cocktail complete with a salt rim and cherry on top. But it wasn't always a liquor store and the building wasn't always painted like a drink. For 37 years the location was home to Bondurant Pharmacy and the building was decorated to be a giant mortar and pestle.
10. Kentucky's Stonehenge
201 Lynn Ave, Munfordville, KY
Kentucky's Stonehenge was built by former Munfordville mayor Chester Fryer. He searched the 1,000 acres of Hatcher Valley to find rocks to complete his creation and then moved them to his property, assembling them to align with the compass and align with the sun during summer solstice. Extra stones were used for other works across his estate.
11. Chained Rock
Pine Mountain, Chained Rock Rd, Pineville, KY
Chained rock doesn't need a chain. The big boulder looms over the side of the mountain and looks like it might fall at any moment, crushing everything in its path. Locals would tell people that it was attached to the mountain with a chain to ease their fears, even though it wasn't and wasn't needed. But they eventually installed a chain anyways.
12. Apple Valley Hillbilly Garden and Toyland
9351 US-68, Calvert City, KY
When Keith Holt was creating Apple Valley Hillbilly Garden and Toyland he took inspiration from other roadside attractions. You can especially see it in the garden full of punny folk art made from cast offs. There are lawnmowers partially buried a la Cadillac Ranch, a toilet Thronehenge, Floating sofas called Casting Couch. But that's not all to see. There's also a museum of old childhood toys and souvenirs. A sign out front says "Sorry, we're open," but I don't think you'll be sorry at all if you check this place out on your road trip through Kentucky.
13. Fork in the Road
Bunch Road and Uhls Road, Franklin, KY
What should you do when you come to a fork in the road? Get out of the car and take a picture! This 21-foot-tall, 680 pound stainless steel salad fork can be found at the side of the road in Franklin. This is a pretty new Kentucky roadside attraction having been installed in May 2018. It was created by the senior welding class at Franklin-Simpson High School. (It's a tight road so be sure to watch for oncoming traffic!)
14. Golden Statue of David
21c Museum Hotel, 700 W Main St, Louisville, KY
Outside of the 21c Museum Hotel in Louisville you'll find the city's answer to Michelangelo's David. While the original in Florence is a modest (at least as modest as you can get with a sculpture of a naked man) 17-foot tall Italian marble creation, Louisville's David is 30 feet tall and covered in gold. Designed by Turkish artist Serkan Özkaya, this giant gold naked man has been gracing the streets of Louisville since 2012.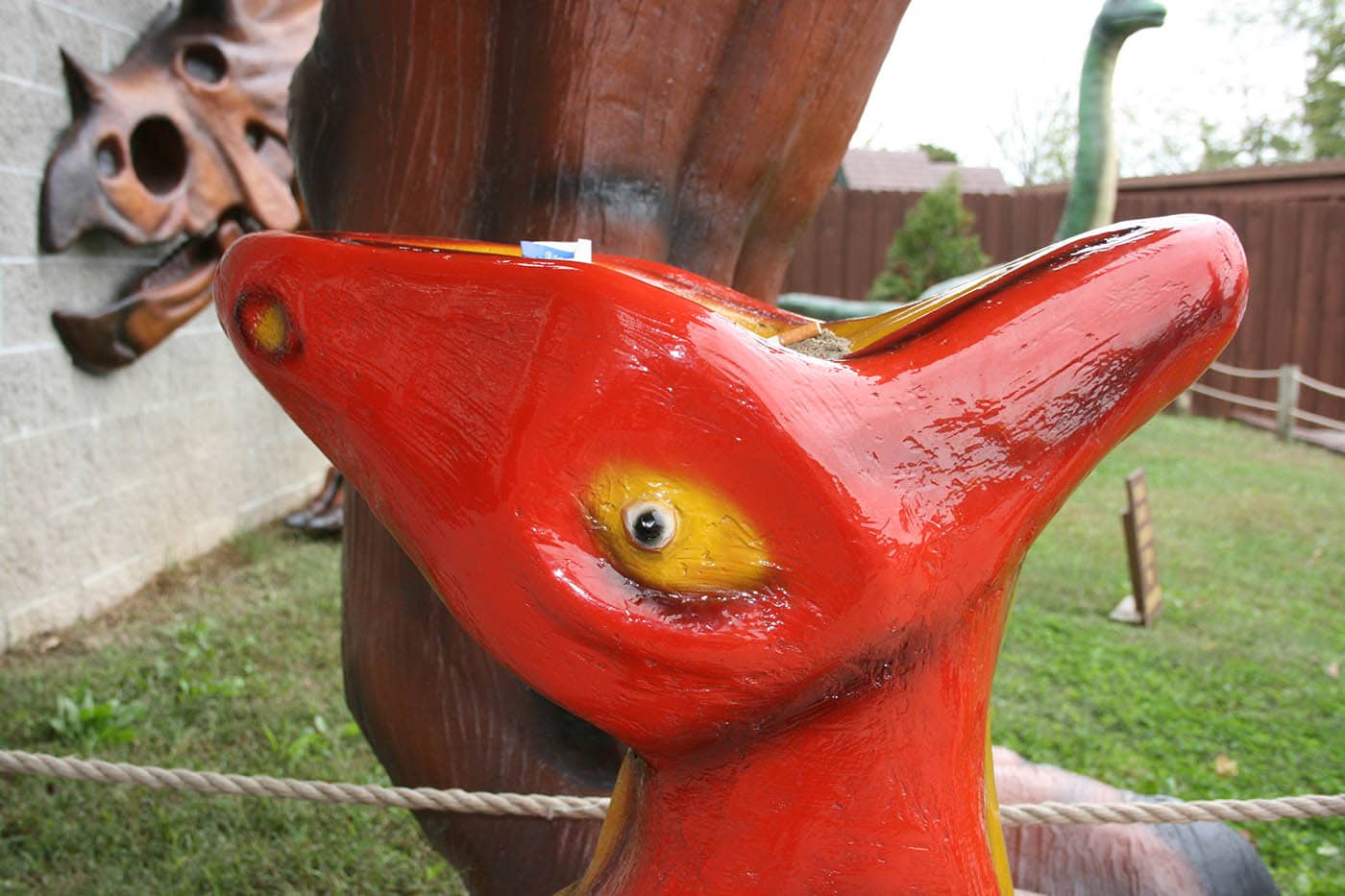 15. Dinosaur World
711 Mammoth Cave Rd, Cave City, KY
Dinosaur World in Cave City, Kentucky is a museum and park that features giant dinosaur sculptures and educational centers. You can dig for fossils, pan for minerals, play in a dino-themed playground, and hang out with hundreds of life-sized dinosaurs.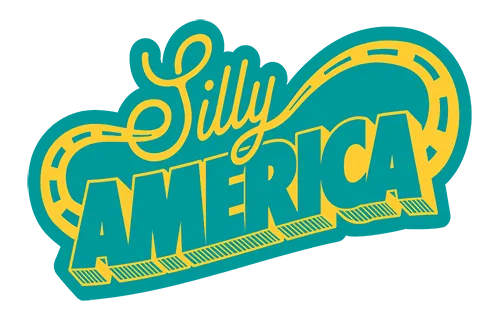 Pin this list of the 15 best Kentucky roadside attractions: