Are you planning an Alabama road trip and want to find all the best Alabama roadside attractions along your route? Whether you're driving Interstate 65 from Mobile to Birmingham, traversing the Coastal Connection Scenic Byway, or heading to Talladega National Forest, you won't want to miss these fifteen must-see places to go in Alabama. They're fun road trip stops and great additions to your travel itinerary or route.
Below are the 15 best roadside attractions in Alabama: from a giant woman floating in water to a giant peach floating in air, from a tribute to a bug to a tribute to Africa, from some big peanuts tosome buried hearses! You won't want to miss any of these bucket list worthy tourist traps and road trips stops on your Alabama vacation.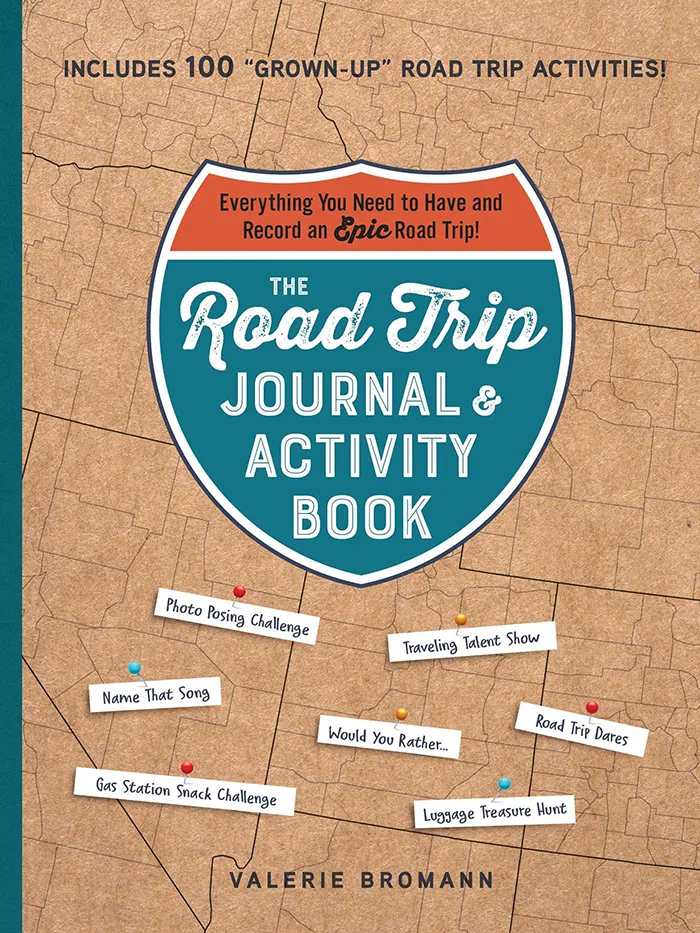 The Road Trip Journal & Activity Book
Everything You Need to Have and Record an Epic Road Trip!
Enjoy fun games and challenges to pass the time on your next road trip and have a keepsake to look back on for years to come with this entertaining must-have for your next vacation.
Ready to hit the road? Let's go! I call shotgun!
The 15 best Alabama roadside attractions (in no particular order):
1. Lady in the Lake & Bamahenge at Barber Marina
26986 Fish trap Rd., Elberta, AL
George W. Barber's marina is located on 800 acres on a peninsula between Wolf Bay and Ingram Bayou. You might just expect to just find a fleet of boats on a marina, but Barber's Marina is different: it's covered in kooky, weird, and giant works of art. Two of the best finds here are Lady in the Lake (a fiberglass 50-foot woman whose head and knees can be seen floating in the bay) and Bamahenge (a 21-foot tall by 104-foot wide fiberglass Stonehenge replica). Both of these were created by fiberglass artist Mark Cline of Enchanted Castle Studios (who might best be known for creating Foamhenge in Virginia).
2. World's Largest Office Chair
Miller's Office Furniture, 625 Noble St., Anniston, AL
In 1981 Leonard "Sonny" Miller decided to have the world's largest chair built in front of his business, Miller's Office Supply. The result was this giant 33-foot tall office chair with a 15-quare-foot seat made from ten tons of steel and 15 tons of cement. In 1982 Guinness World's Records bestowed the honor of World's Largest Chair on this behemoth. The title has since been usurped many times over, but this Alabama roadside attraction still remains as the "World's Largest Office Chair."
3. Elephant Service Station
548 Main St, Roanoke, AL
The Elephant gas station in Roanoke wasn't always shaped like an elephant. It was originally built to resemble a rocky seaside cliff complete with a jutting lighthouse on top. The lighthouse eventually fell into disrepair and was removed. What was left looked enough like an elephant for someone to paint on an eye.
4. Boll Weevil Monument
101 Main St, Enterprise, AL
The boll weevil is a beetle that feeds on cotton buds and flowers. In the early 1900s it infested U.S. cotton-growing areas, devastating the industry. But, in Enterprise, the bug's arrival was a blessing in disguise when local farmers were motivated to diversify their crops and found new bounty in things like peanuts, bringing in more money and prosperity. In 1919 Enterprise erected a monument devoted to the pest that changed their practices. The Boll Weevil Monument was a 13-foot tall neoclassical statue that featured a Greek woman holding an oil lamp over her head. The only thing the Boll Weevil Monument didn't have was a boll weevil, that was added in 1949.
5. Big Peach Water Tower
86 Peach Tower Rd, Clanton, AL
In Chilton County, the peach capital on Alabama, you'll find a giant peach-shaped water tower. In might not be the biggest peach water tower in the world (that is the Peachoid in Gaffney, South Carolina), but, at 120 feet tall with a capacity to hold 500,000 gallons of water, it's a still a pretty impressive piece of fruit. Be sure to also look for the the Big Peach Statue at nearby Peach Park.
6. World's Smallest City Block
201-209 N College St, Dothan, AL
You can find the World's Smallest City Block in Dothan. The site is little more than a small triangle of gravel accompanied by a stop sign, a street marker, and a plaque.
7. Unclaimed Baggage Center
509 W Willow St, Scottsboro, AL
When airlines lose luggage or it is never claimed, one place it might end up is the Unclaimed Baggage Center in Scottsboro. The business that sells unclaimed luggage started in 1970 and today takes up an entire block and sells thousands of items. Come to shop and stay for the museum of some of the more unique luggage finds, like a violin from the 1700s, Egyptian artifacts, and a Hoggle (a puppet from Jim Henson's Labyrinth).
8. World's Largest Brick Made of Bricks
Acme Brick Tile and Stone, 0200 US-80, Montgomery, AL
Outside of Acme Brick Tile and Stone in Montgomery you'll find the world's largest brick made of bricks. This Alabama roadside attraction was once the world's largest brick period, but in 2007 a company in Texas made a slightly bigger one. Still, this is a fun stop on an Alabama road trip!
9. The Haunted Chicken House
7522 AL-1, Heflin, AL
The Haunted Chicken House is a seasonal haunted house built on an old Alabama chicken farm. While the haunted house is only open in October, the attractions outside are visible year round. Here you will find some metal chickens and a collection of branded hearses buried in the ground and piled on top of each other.
10. Museum of Wonder Drive Thru
970 AL-169, Seale, AL
Seale, Alabama is home to the world's first drive-through art and antiques gallery. Created in 2014 by artist Butch Anthony, who has been a collector of curiosities all his life, the Drive-Thru Museum is created from stacked shipping containers and contains curated oddities and original works of art. You can see all the wonders without ever leaving your car: from two-headed ducklings to the world's largest gallstone to a turnip with a human face.
11. Big Peanut Big Gold Peanut and Art Peanuts Around Town
Dothan Area Convention & Visitor's Bureau, 3311 Ross Clark Cir, Dothan, AL
Dothan has self-declared themselves to be the "Peanut Capital of the World" and so it's no wonder you will find peanuts of all sizes around town. In front of the Visitor Information Center you'll find a big gold peanut and then several decorated fiberglass peanuts around town, dressed as everything from a doctor to Elvis Presley. You can also check out the giant peanut marked USA in front of the entrance to the National Peanut Festival!
12. Ave Maria Grotto
1600 St Bernard Dr, Cullman, AL
At Ave Maria Grotto at St. Bernard's Abbey you can see miniature replicas of world-famous structures and holy locations made from concrete and found objects. The works were created by Brother Joseph Zoettl, a hunchback Benedictine monk who came from Bavaria. While tirelessly working at the abbey's pump house, Zoettl started creating the tiny models of religious statues to keep himself occupied. Zoettl created countless miniatures that were sold in the gift shop and built 125 mini Holy Land replicas thatare still on display at this "Jerusalem in Miniature,"
13. Joe Minter's African Village in America
931 Nassau Ave. SW., Birmingham, AL
Since 1989 Joe Minter has been filling his yard with scrap-made art and shrines devoted to African-American history. His African Village in America features creations made from sports equipment, lawn ornaments, toys, and whatever God gives him. Some of the The lawn is easily visible from the road and Minter is often home to give tours during daylight hours.
14. Church With a Rock In It
Sallie Howard Memorial Baptist Church, CR 89, Mentone, AL
Milford Howard built the "Church With a Rock In It" as a tribute to his first wife Sallie. The church was constructed around a huge sandstone boulder he found on his property, which juts out the side of the building and serves as the pulpit's backdrop.
15. Goldie 1971 – The Fallen Robot
Woods Quad, 7th Ave, Tuscaloosa, AL
University of Alabama alumnus Joe McCreary's sculpture "Goldie 1971" depicts a 23-foot long rusted robot collapsed against the ground. The giant robot represents the collapse of Alabama's steel industry, notably Sloss Furnaces, which closed in 1971 after being an anchor of industrial life in Birmingham for decades. You can find this sculpture in Woods Quad, just outside the University's Department of Art and Art History.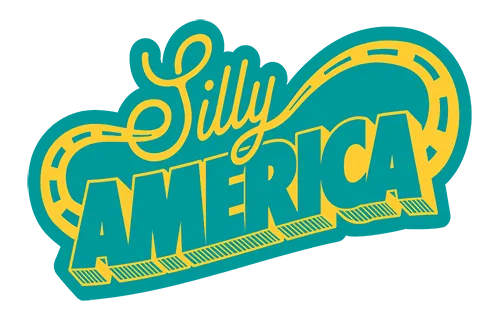 Pin this list of the 15 best Alabama roadside attractions: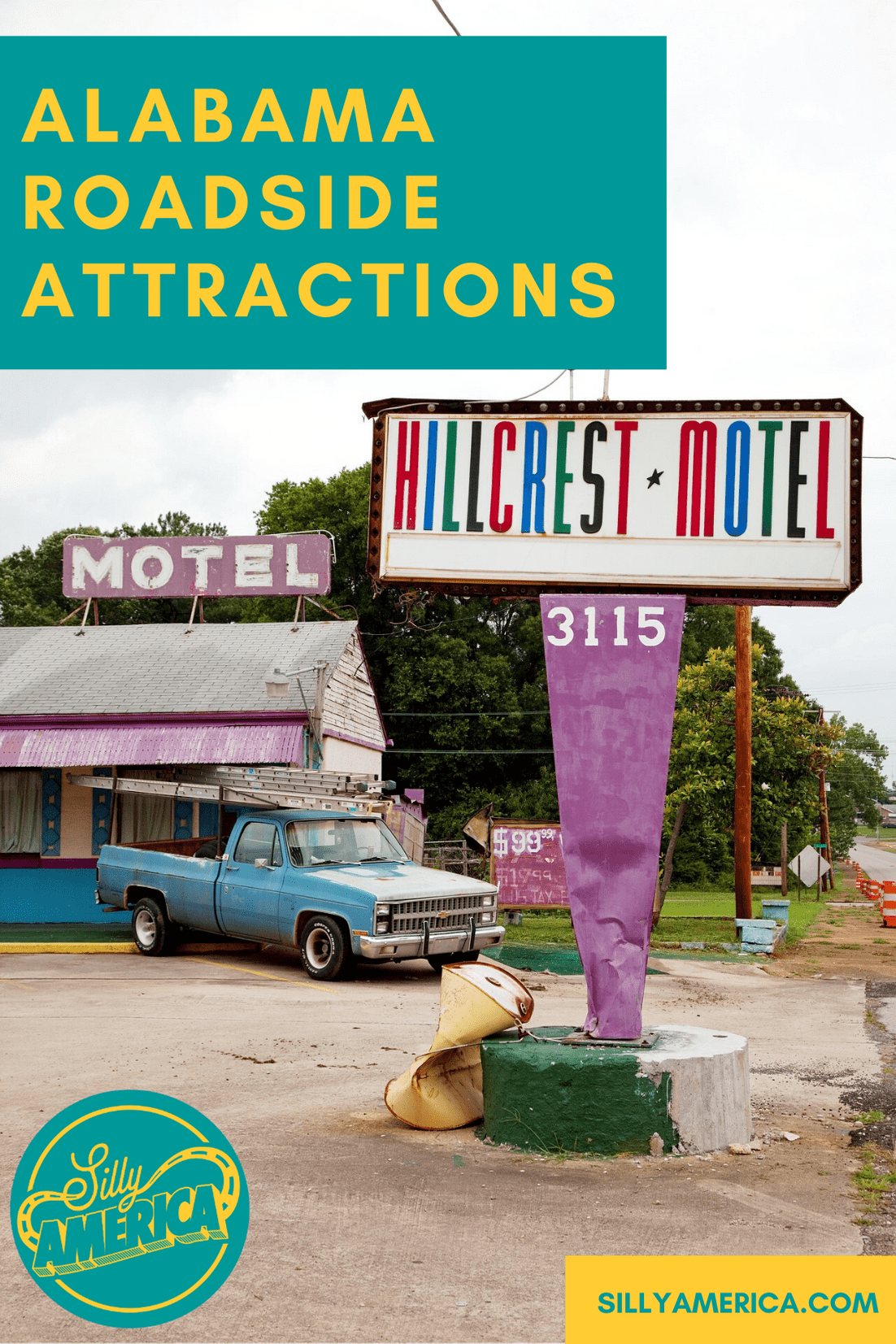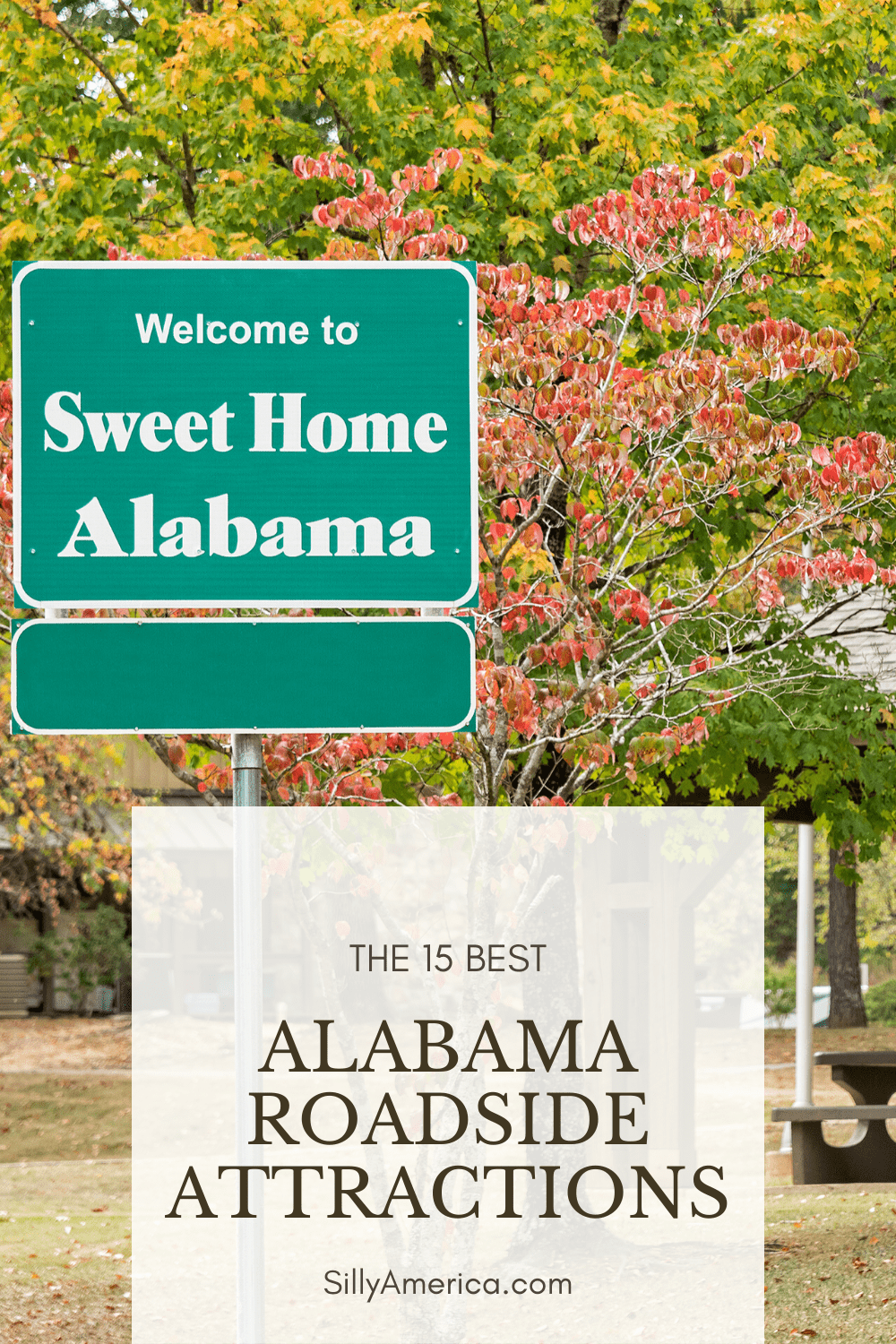 Image by Falkenpost from Pixabay