Are you planning a Nebraska road trip and want to find all the best Nebraska roadside attractions along your route? Whether you've driving across I-80 or exploring the Sandhills Journey, you won't want to miss these 15 must-see places to go in Nebraska. They're fun pit stops on the road and great additions to your travel itinerary.
Below are the 15 best roadside attractions in Nebraska: from a replica of Stonehenge made out of cars to a giant fork twirling spaghetti to a couple of kooky museums to a handful of weird world's largest things. You won't want to miss any of these bucket list worthy tourist traps and road trips stops on your vacation.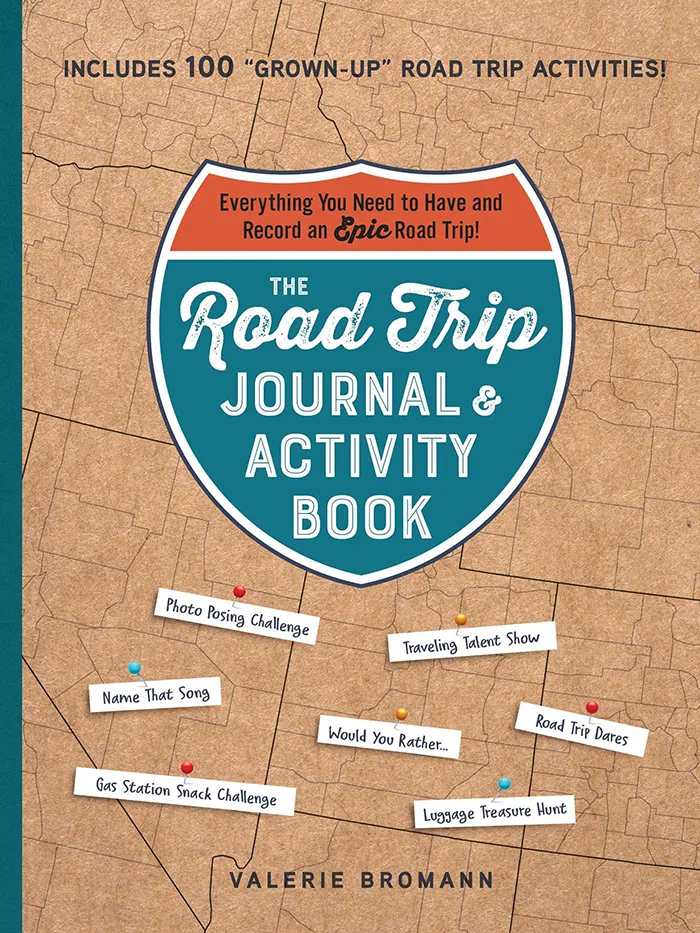 The Road Trip Journal & Activity Book
Everything You Need to Have and Record an Epic Road Trip!
Enjoy fun games and challenges to pass the time on your next road trip and have a keepsake to look back on for years to come with this entertaining must-have for your next vacation.
Ready to hit the road? Let's go!
The 15 Best Nebraska Roadside Attractions (in no particular order):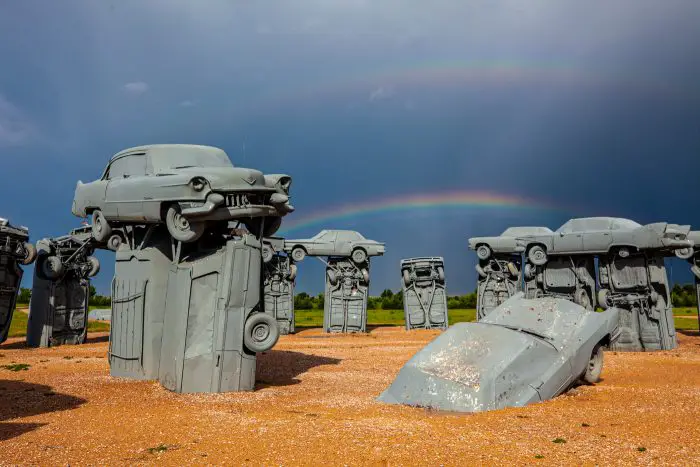 1. Carhenge
2151 Co Rd 59, Alliance, NE
Perhaps Nebraska's most famous roadside attraction, Carhenge is a replica of England's Stonehenge… but made from cars. Standing at 96 feet in diameter and made up of thirty eight gray-painted cars, the roadside attraction was created in 1987 by experimental artist Jim Reinders.
This is a must-stop item to add to any Nebraska road trip itinerary and it the perfect start or end to a Sandhills Journey road trip.
2. Hay Bale Rest Stop
US Hwy 87, Alliance, NE
Down the road from Carhenge is an unusual rest area. Here you'll find a couple of bales of hay, an open-air toilet, a sign declaring free wi-fi, and a lounge chair.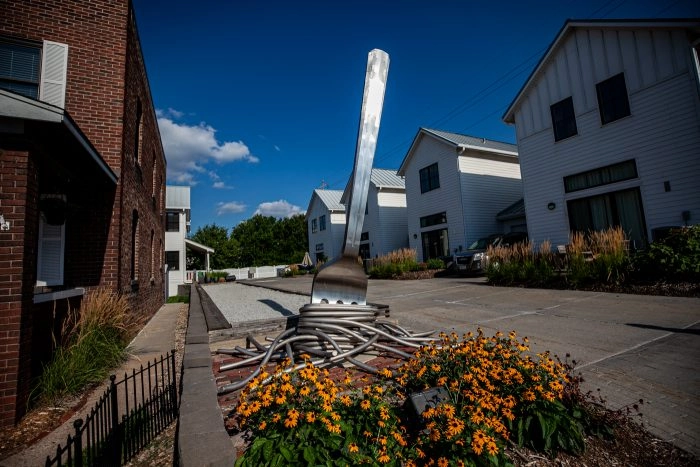 3. Stile di Famiglia (Family Style) Giant Fork with Spaghetti
1115 S. 7th St., Omaha, NE
When you come to a giant fork in the road in Omaha, Nebraska, you might not know which way to turn. But I know what to do: stop for a moment and dig in! You're at Stile di Famiglia (Family Style) – a giant fork with spaghetti at the Towns of Little Italy!
4. Fort Cody Trading Post
221 Halligan Dr, North Platte, NE
It's hard to miss Fort Cody Trading Post when driving I-80 in Nebraska. "Nebraska's Largest Souvenir and Western Gift Store" is surrounded by towering wooden stockades, covered wagons, a 30-foot tall Buffalo Bill cutout, and a giant Indian muffler man.
Inside, it's just as crazy. With a wide selection of souvenirs, a miniature Wild West show, and an old west exhibit (featuring a two-headed calf). Learn more here.
5. Museum of the Fur Trade
6321 US-20, Chadron, NE
The Museum of the Fur Trade is dedicated to preserving the history of the North American fur trade, the first business in the New World. The museum stands on the site of James Bordeaux's trading post, where the American Fur Company was established in 1837. Over 6,000 authentic artifacts are on display, illustrating the diverse stories and history of the fur trade. Items include the oldest known point blanket from 1775 and 125-year-old crop seeds.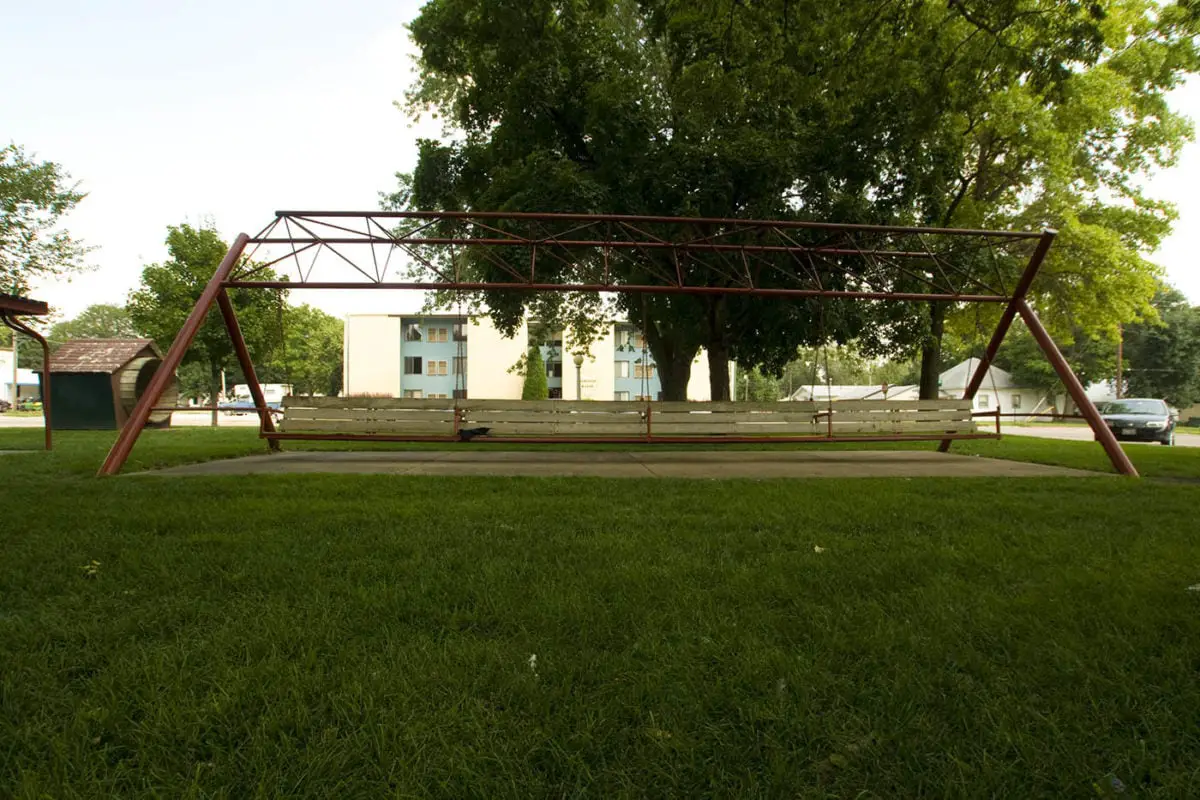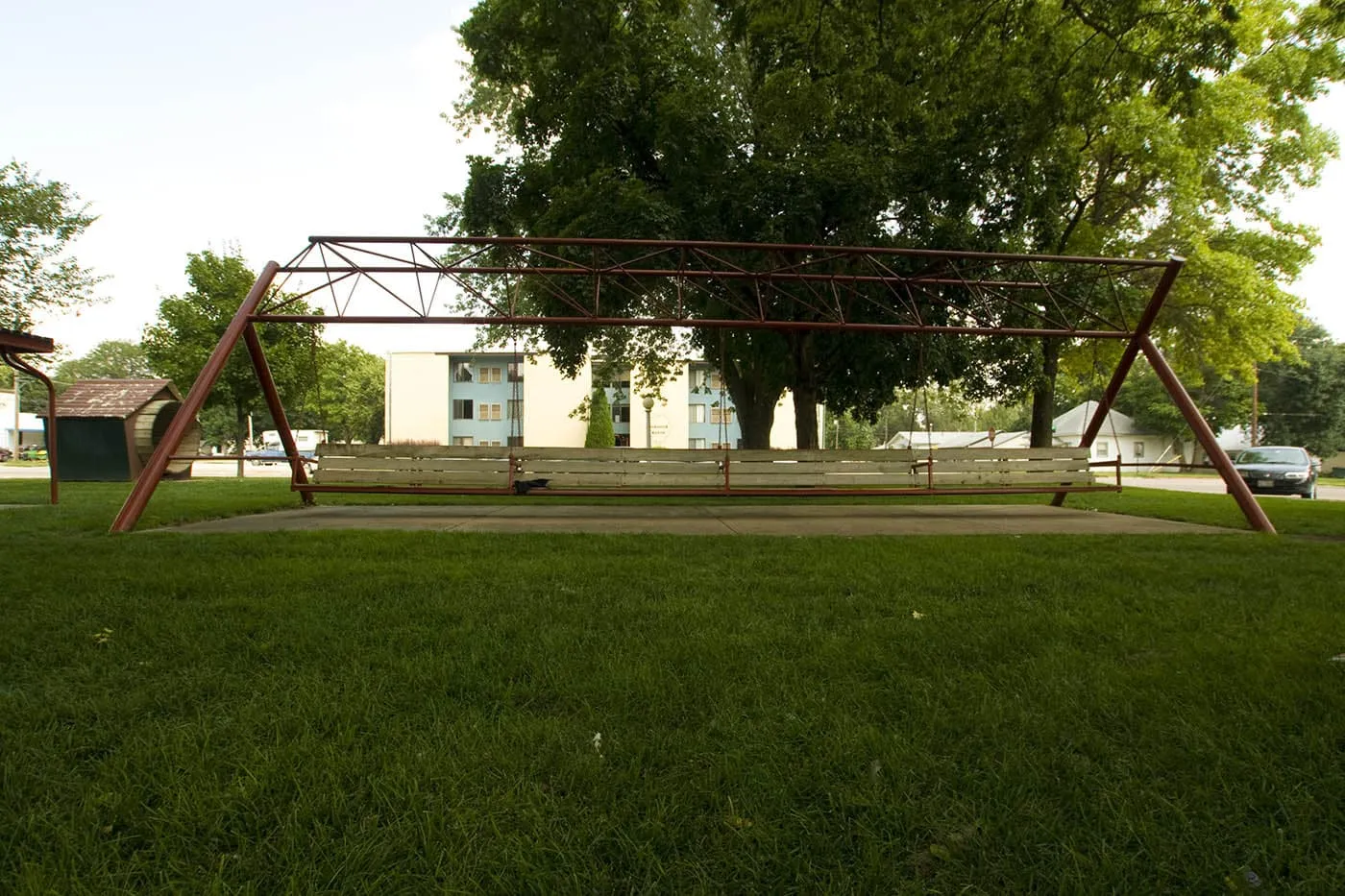 6. World's Largest Porch Swing
Roosevelt Park, South 5th & Jefferson, Hebron, NE
What the world's largest porch swing lacks in height it certainly makes up for in width. At 32 feet long, it fits up to 18 adults or 24 children.
Around 2016 the town built a gazebo enclosure over the roadside attraction, and re-dubbed it the World's Largest Covered Porch Swing. (And finally giving it an actual porch-like structure to at leave give off the illusion that this porch swing is on a porch even if there is still no gigantic house attached to it.)
7. Lee's Legendary Marbles & Collectibles & The World's Largest Collection of Marbles
3120 S Lincoln Ave, York, NE
Lee's Legendary Marbles & Collectables features thousands of marbles to marvel at. He began his collection in 1954, and it has grown to be the world's largest collection of collectible marbles. The marble museum features handmade ones, machine made ones, carpet balls, sulphide, Lutz's, European swirls, onionskins, agates, and more. You can also find marble-related games, paperweights, and an assortment of other antiques and collectibles.
8. Kool-Aid: Discover the Dream & The Birthplace of Kool-Aid
Hastings Museum, 1330 N Burlington Ave, Hastings, NE
Hastings Nebraska is the birthplace of Kool-Aid, the popular sweet electric-colored powdered drink mix. Edwin Perkins invented the product while living there and the town embraces that fact with an information plaque outside of the former Perkins Products Company and footprints from Kool-Aid Man in Cement. The big draw, however, is Kool-Aid: Discover the Dream, a permanent exhibit on display at the Hastings Museum. The museum explores the life of Perkins and his invention, with informational displays of long-gone products and promotional items, and even the first Kool-Aid Man suit. It will have you saying "Oh yeah!"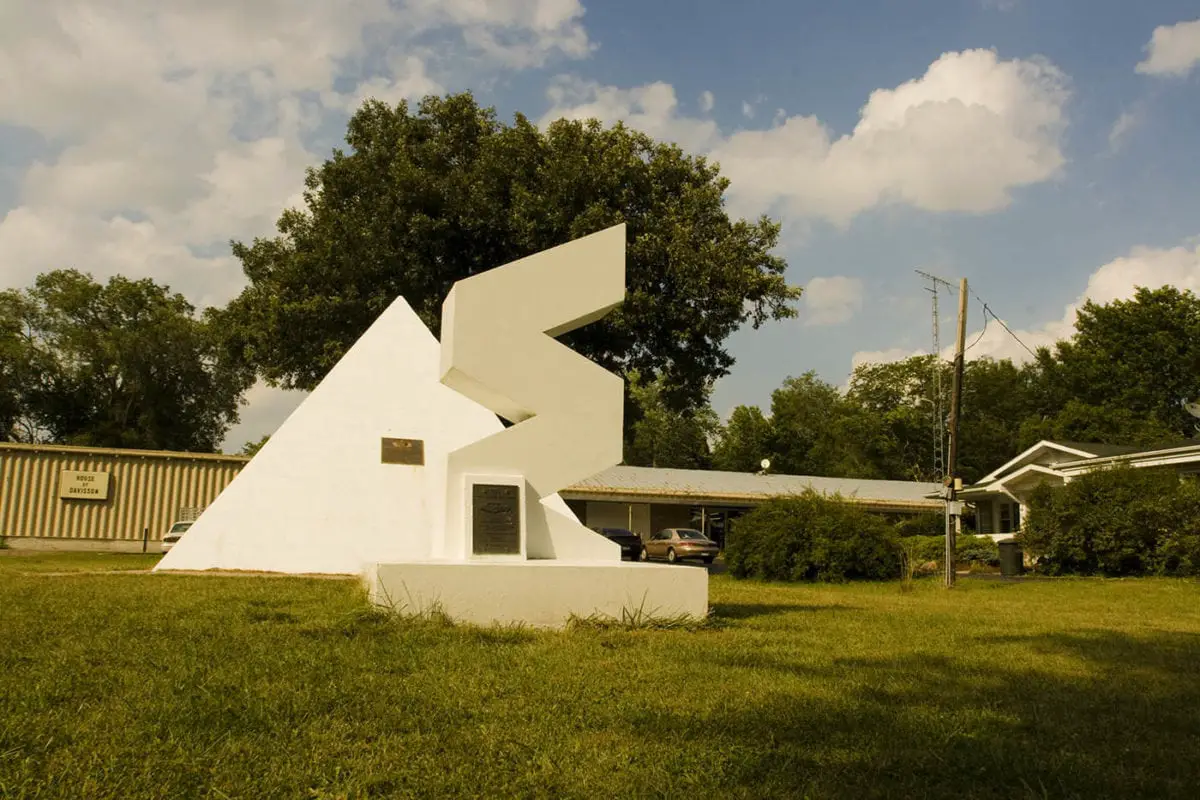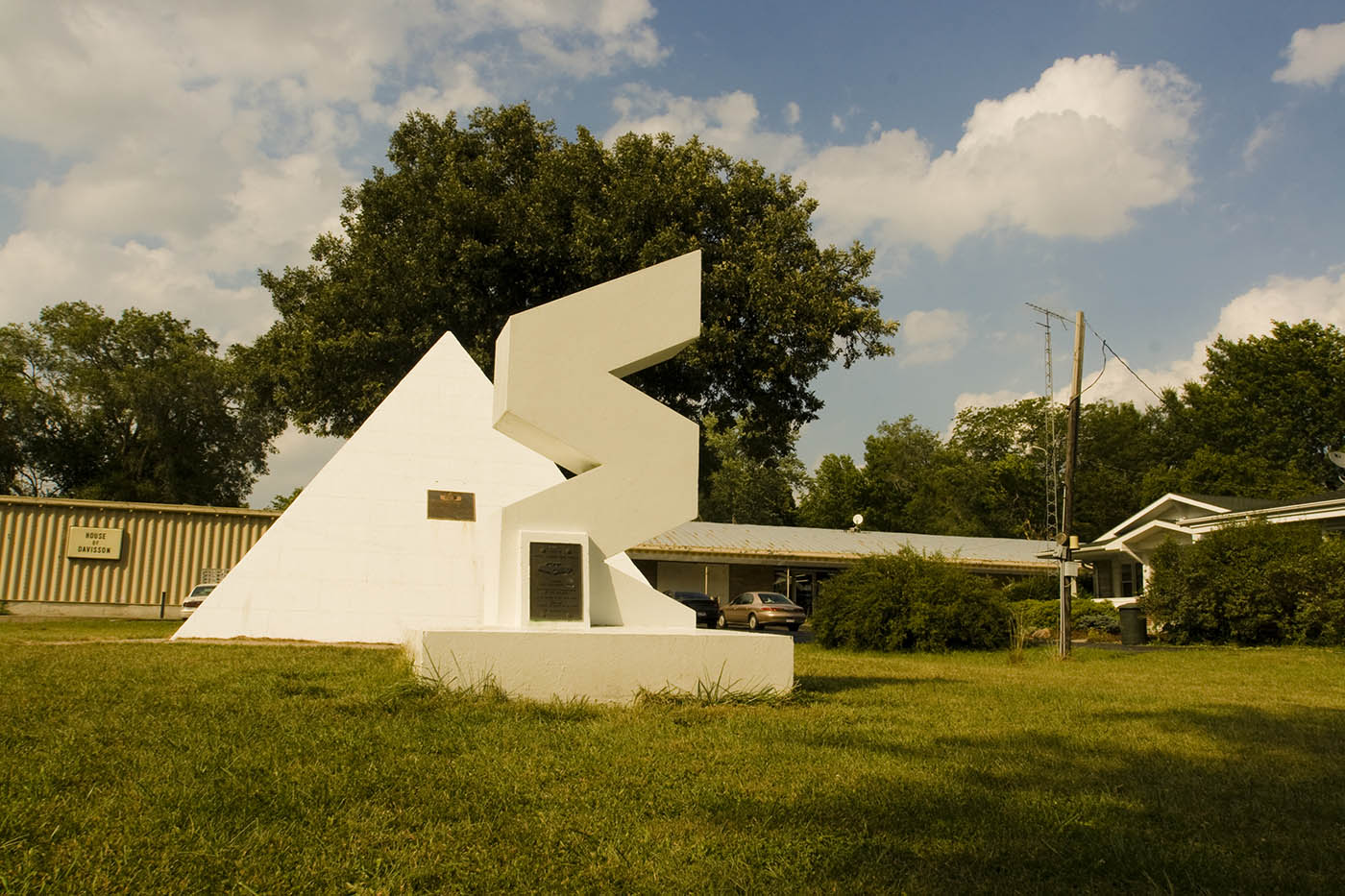 9. World's Largest Time Capsule
318 Hillcrest Dr, Seward, NE
The World's Largest Time Capsule in Seward contains a Kawasaki motorcycle, a leisure suit, bikini bottoms, letters from local parents, soda bottles, tapes, records, bowling pins, fireworks, a scholarship fund, and a brand new (at the time) Chevy Vega. It was sealed and dedicated on July 4, 1975 and is set to be opened 50 years later on July 4, 2025.
10. The Archway
3060 E 1st St, Kearney, NE
For over 200 years the Great Platte River Road, a path that followed the Platte River through Nebraska, has ignited adventurous pursuit. Since 2000, the Archway (AKA the Great Platte River Road Archway Monument) has stood as tribute to that great road and the journeys it has inspired. With historical visits on those who helped build America, this is a can't miss Nebraska tourist attraction. And I mean that literally: you can't miss it as the Archway is an actual archway that towers across the I-80 highway.
11. Klown Doll Museum
306 W Park Ave, Plainview, NE
Love em or hate um, clowns are captivating. Celebrate the iconic circus performer in the "Klown Kapital of Nebraska." Plainview's Klown Doll Museum displays the largest collection of clowns in the world with over 7,000 clowns on view. It's the stuff of a road tripper's dreams…or nightmares.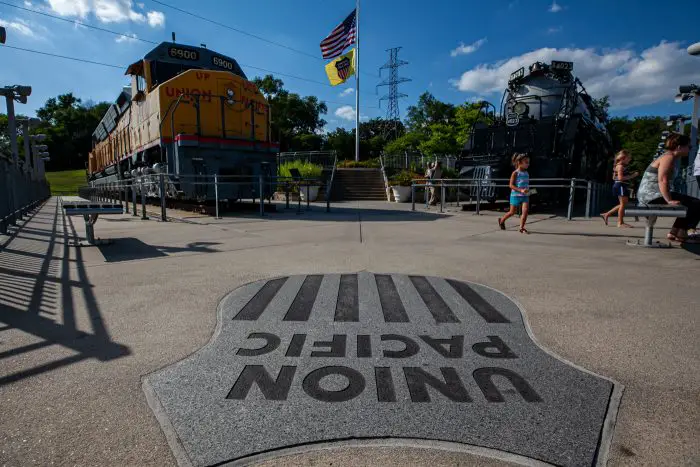 12. Union Pacific Big Boy Train
Kenefick Park, 100 Bancroft St Omaha, NE
Kenefick Park in Omaha, Nebraska features "two of the greatest locomotives ever to power Union Pacific Railroad." There's Centennial No. 6900 (the largest and most powerful diesel-electric locomotive ever built) and Big Boy No. 4023 (the world's largest steam engine train).
The trains are located at Lauritzen Gardens, Omaha's botanical gardens, and are visible from the highway, on top of the "Welcome to Omaha" sign.
13. Harold Warp's Pioneer Village
138 E. US Hwy 6, Minden, NE
Harold Warp's Pioneer Village is a complex of a 28 historic buildings spanning, 20 acres, and filled with…stuff. Over 50,000 items are on display throughout the grounds. You can find a Pony Express Station, America's oldest merry-go-round, a home made of sod, a toy store, and more, displaying historical artifacts like trolley cars, farm equipment, lawn mowers, pocket watches, and more, all displayed in themed and chronological order to take you on a journey through time.
14. World's Largest Ball of Stamps
Boys Town Visitor Center, Flanagan Blvd, Boys Town, NE
At the Leon Myers Stamp Center in the Boys Town Visitors Center, you'll find another peculiar site: The World's Largest Ball of Stamps. The 600 pound ball measures 32 inches in diameter and is made up of a whopping 4,655,000 stamps. It was created by the Boys Town Stamp Collecting Club from 1953 to 1955. In that year, Ripley's Believe It or Not penned an article on the strange creation and it's been attracting curious Nebraska tourists ever since.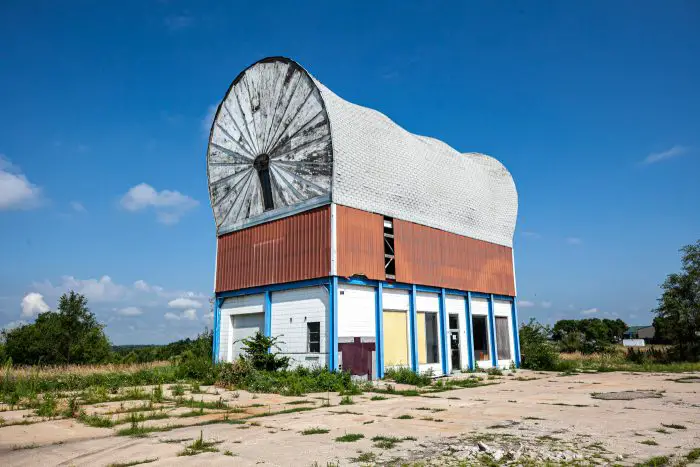 15. World's Largest Covered Wagon
965 County Rd 238, Milford, NE
Once upon a time, this Nebraska roadside attraction was a glorious example of mimetic architecture. Picture it. A fine white building, 50 feet long and 50 feet tall, topped with a brown wagon bed and a crisp round cover made from roofing shingles. Four 24-foot wheels, in themselves taller than a lot of giant roadside attractions, bolted to the four corners. A cowboy muffler man, wearing a bright red cowboy hat, almost as tall as the entire wagon, standing by, welcoming visitors to the tourist attraction.
Today, the world's largest covered wagon sadly been stripped and is falling into disrepair. See this Nebraska roadside attraction while you can, I'm not sure how much longer it will survive.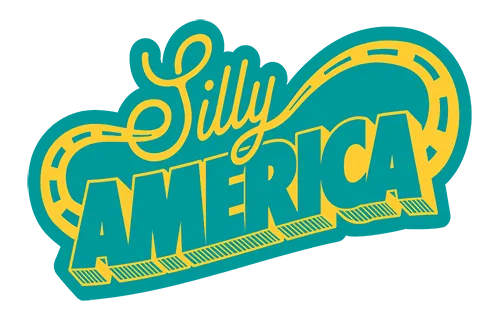 Pin this post for later: