Are you planning an Indiana road trip and want to find all the best Indiana roadside attractions along your route? Whether you're driving I-65 across the state, driving SR-62 or the Lincoln Highway, or taking an Indianapolis vacation, you won't want to miss these fifteen must-see places to go in Indiana. They're fun road trip stops and great additions to your travel itinerary or route.
Below are the 15 best roadside attractions in Indiana: from a giant ball of paint to a giant egg, from a monument to a popcorn icon to a taxidermied giant steer, from a shop shaped like a candle to a sundial shaped like a leg! You won't want to miss any of these bucket list worthy tourist traps and road trips stops on your Indiana vacation.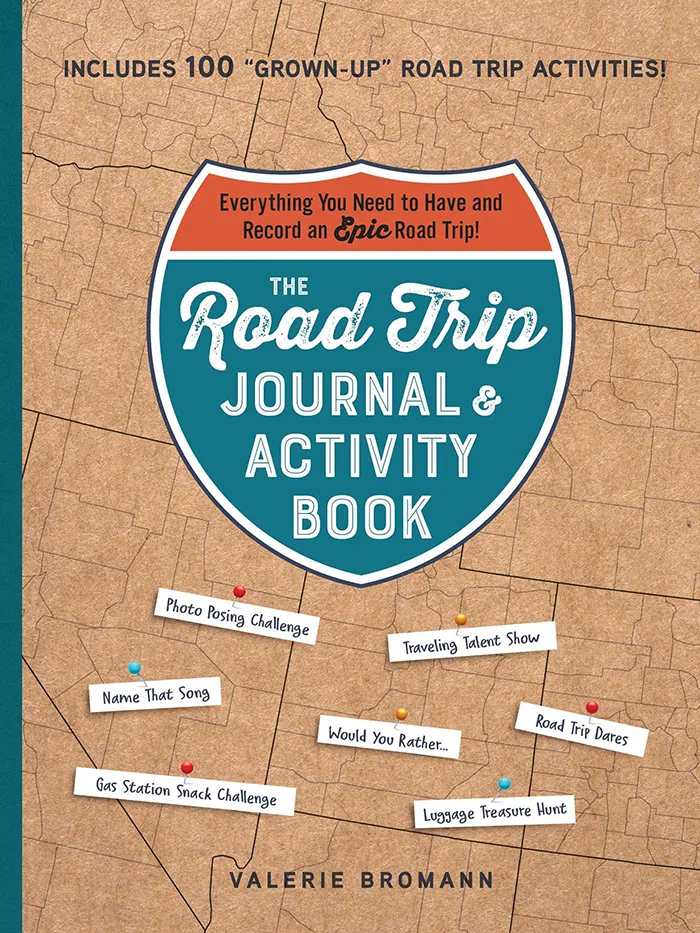 The Road Trip Journal & Activity Book
Everything You Need to Have and Record an Epic Road Trip!
Enjoy fun games and challenges to pass the time on your next road trip and have a keepsake to look back on for years to come with this entertaining must-have for your next vacation.
Ready to hit the road? Let's go! I call shotgun!
The 15 best Indiana roadside attractions (in no particular order):
1. World's Largest Ball of Paint
10696 N 200 W, Alexandria, IN
The world's largest ball of paint has been continually growing since 1977. It was then that Mike Carmichael and his son dropped a baseball into a can of paint and decided to just keep going. Now, over 40 years later it's gathered over 24,000 coats of paint and weighs more than 3,000 pounds. Visit the world's largest ball of paint to admire its vastness and contribute to the Indiana roadside attraction for yourself. Visitors are encouraged to paint on their own layer (just be sure to email or call ahead – this roadside oddity is by appointment only).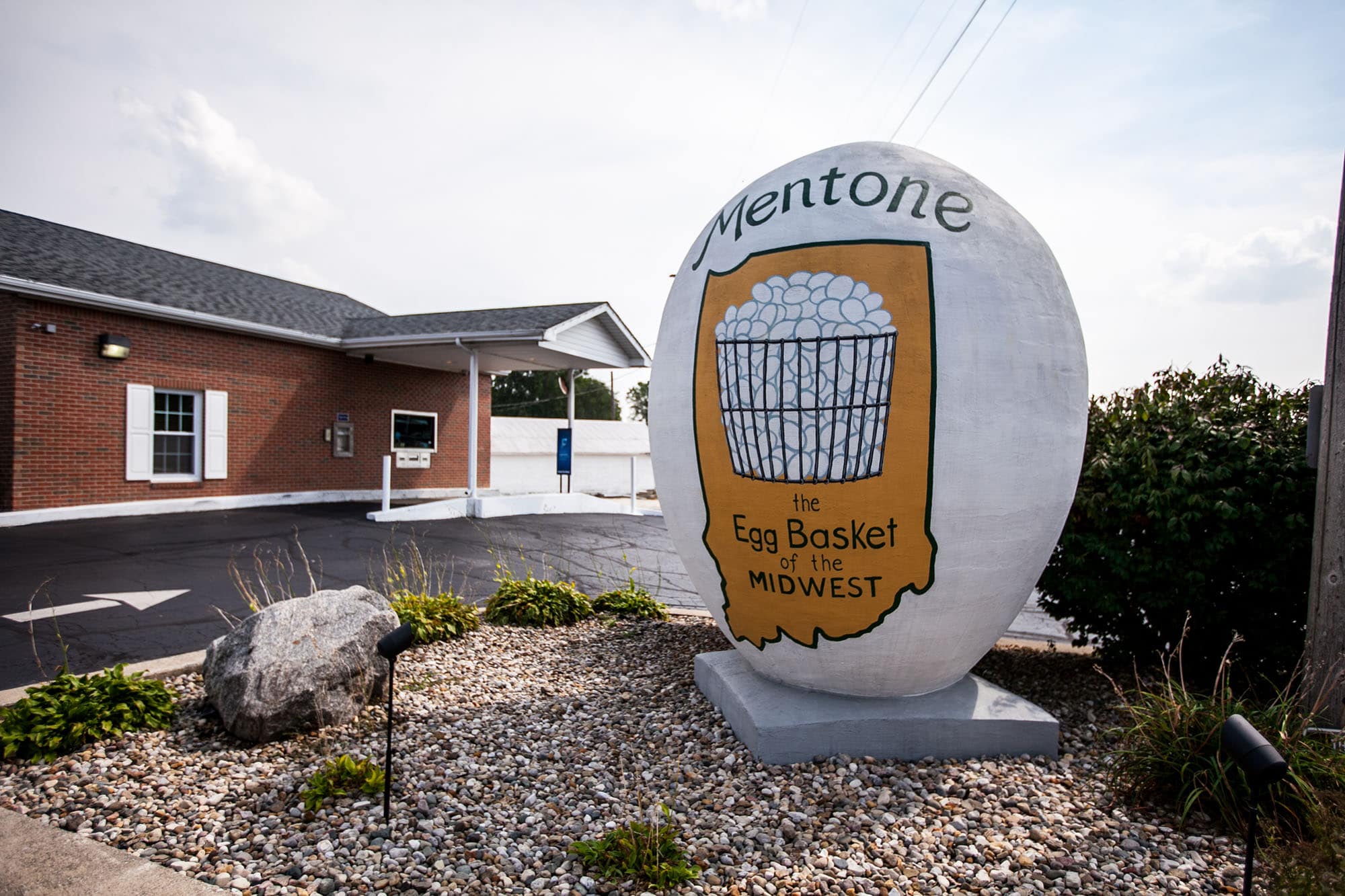 2. World's Largest Egg
E. Main St./Hwy 25 and S. Morgan St., Mentone, IN
The concrete Mentone egg is impressively giant egg. The Indiana roadside attraction stands at 10 feet tall and weighs a whopping 3,000 pounds. The painted on Easter-worthy inscription reads, "Mentone, the Egg Basket of the Midwest" referencing the area's abundant commercial egg production. The town even holds an annual Mentone Egg Festival each June to celebrate it's moniker. It was sculpted by a group of tradesmen in 1946 to advertise an egg show and was later moved to the spot it stands to today.
3. Orville Redenbacher Statue
Central Park Plaza, 63 Lafayette St., Valparaiso, IN
Indiana native Orville Redenbacher revolutionized the American popcorn industry, and he grew his popcorn empire in Valparaiso. A life-size bronze statue dedicated to the world's most famous popcorn giant was unveiled in September 2012 during the annual Valparaiso Popcorn Festival. Redenbacher's statue sports his signature suspenders and bow tie, wavy hare, and thick glasses and sits on a bench, beckoning passers-by to sit down and pose for a photo (don't forget to bring your own popcorn).
4. World's Oldest Santa Statue
69 State Road 245, Santa Claus
Santa Claus, Indiana is a town known for its Christmas theme and is home to many themed-attractions and stores (like Santa's Candy Castle, Frosy's Fun Center, Holiday World, Santa's Toys, and the Santa Claus Museum). But one of it's biggest claims to fame is the world's oldest Santa statue. In 1935 local businessman Carl Barrett erected a giant 22-foot-tall Santa Claus statue, with the vision of it being the centerpiece of a would-be wonderland called Santa Claus Park. The park itself never materialized but the Santa Claus statue still stands today. (Be sure to also
5. Martini-Drinking Pink Elephant
Elite Beverages, 308 W Broadway St, Fortville, IN
You can find this giant pink elephant in front of Elite Beverages in Fortville. The martini-drinking pachyderm serves as a mascot for the liquor store most of the year but sometimes leaves to march in a parade or appear at an event.
6. A Christmas Story Pole-Licking Flick Statue
Indiana Welcome Center, 7770 Corinne Dr, Hammond, IN
The holiday classic A Christmas Story took place in Hammond, Indiana (though the Christmas Story House where the outside scenes were filmed is in Cleveland, Ohio). But Hammond has a roadside attraction dedicated to the film of their own. At the Indiana Welcome center you can find a bronze statue of a boy with his tongue stuck to a flagpole in honor of one of the movie's most famous scenes. I triple dog dare you to visit this road trip stop (just don't stick your tongue on the pole — there are signs warning you against it).
7. The Big Peach
7738 N Old 41, Bruceville, IN 47516
When you think of peaches, you probably think of Georgia. And when you think of the Washington Monument, you probably think of Washington D.C. But you can find both in Bruceville, Indiana. The big peach (and replica Washington Monument) can be found at The Big Peach. a family farm market (open spring through fall) that offers fresh fruits and vegetables for sale alongside a pumpkin patch, corn maze, and more.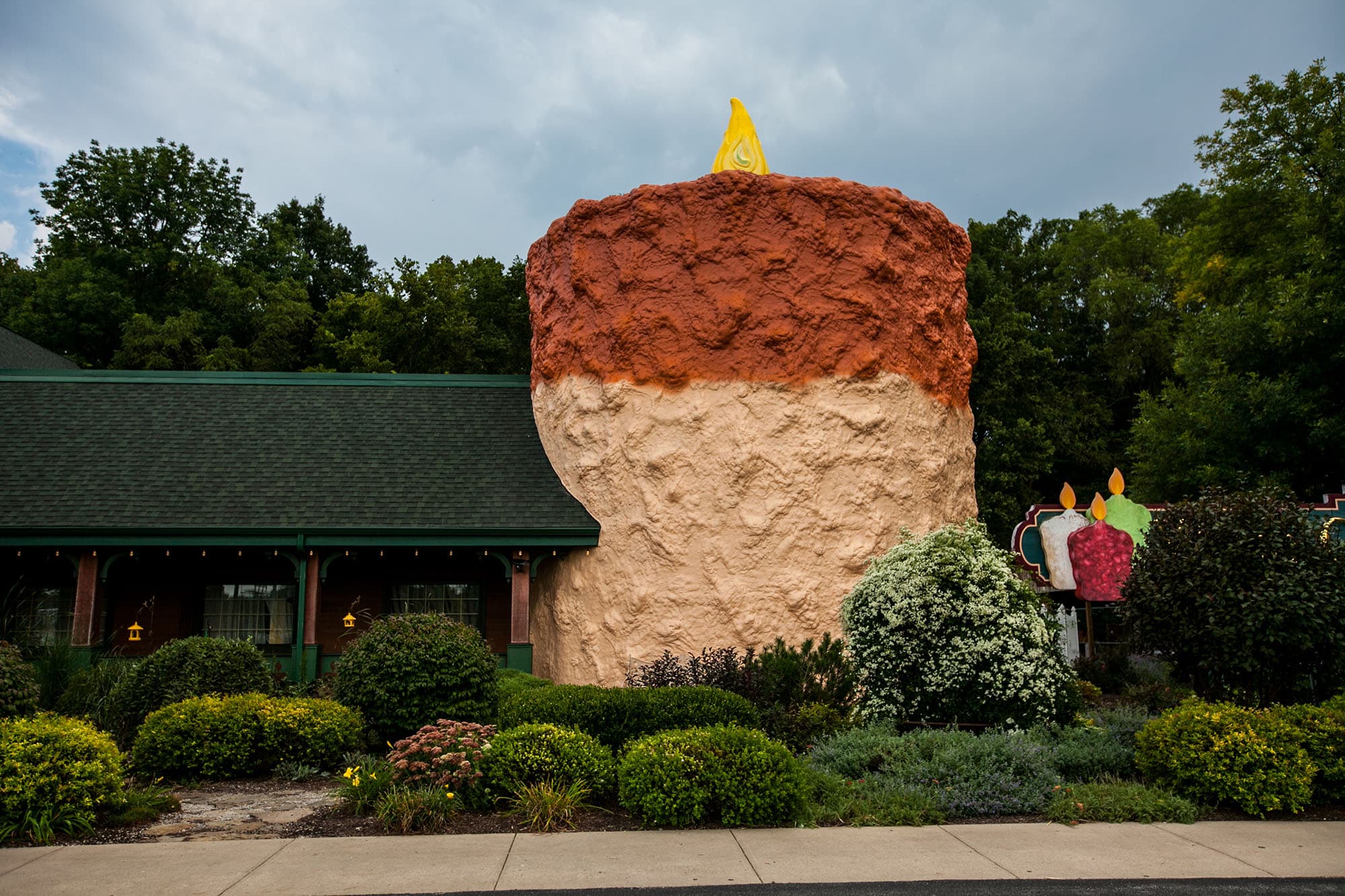 8. World's Largest Candle
Warm Glow Candle Outlet, 2131 N Centerville Rd, Centerville, IN
This giant candle is attached to the exterior of Warm Glow Candle Outlet in Centerville, Indiana. Stop by the store during the day to check out the world's largest candle outside and do a little souvenir shopping inside. If you stop by at night, after store hours, you won't be able to shop, but you can see the Indiana roadside attraction glow. While the wick of the giant decorative pillar-style candle doesn't actually get set on fire (the candle itself is not actually made of functioning candle wax, it's merely a statue), external lights beamed onto its surface give it the feeling of a real, warm, flickering candle.
9. Corey the Ice House Giant & the Ice Cream Giant
Ice House Tavern, 1550 Walnut St, New Castle, IN
7126 N. State Rd 3, Montpelier, IN
"Corey" the Giant was originally a mascot for Marathon Oil in the 1960s. Two of these dapper men remain in Indiana today. Corey the Ice House Giant wears shades of blue and stands outside Ice House Tavern in New Castle. Corey the Ice Cream Giant in red stands outside of a shuttered ice cream shop in Montpelier (and can be seen in the opening credits of Parks & Recreation).
10. Giant Lady's Leg Sundial
Sun Aura Nudist Resort, 3449 IN-10, Lake Village, IN
Sun Aura is a clothing optional resort that, under many different names and owners, has been open since 1933. In the 80s, when the resort went by "Naked City" the then-owners' son had a giant sundial built in the shape of a woman's leg. The giant leg is 63-feet long and is an actual accurate sundial that tells time with the sun.
11. World's Largest Sycamore Stump
1402 Defenbaugh St, Kokomo, IN
You might not think a tree stump would make for a fun road trip stop, but the World's Largest Sycamore Stump in Kokomo is a favorite among roadside attractions in Indiana. The remains of the sycamore tree is over 1,500 years old, is 12-feet tall, 18-feet wide, and over 50 feet around.
12. Old Ben, The World's Largest Steer
1402 Defenbaugh St, Kokomo, IN
While you're checking out the giant tree stump, be sure to save time to see Old Ben, the World's Largest Steer. Old Ben was born in 1902 and was already the "largest calf in the world at 125 pounds. When he died unexpectedly in 1910, he weighed 5,000 pounds. After he died his body was sent to a New York taxidermist where he was stuffed and then returned for display. You can still visit this giant steer in Kokomo's Highland Park.
13. Joe Palooka Statue
109 Main St, Oolitic, IN
Joe Palooka was a comic strip that ran from 1930 to 1984. Created by cartoonist Ham Fisher, it was about a kind-hearted heavyweight boxing champion. The Indiana limestone industry paid tribute to this cartoon character with a limestone statue, dedicated on June 14, 1948. While he's been vandalized several times over the years, this 10-foot-tall limestone boxer is still standing strong and a fun attraction to visit on an Indiana road trip.
14. John Ivers's Blue Flash Backyard Roller Coaster
6997 N Ivers Rd, Bruceville, IN
With no engineering background and no experience behind him, roller coaster enthusiast John Ivers decided to build a roller coaster of his own in his Bruceville backyard. The roller coaster, named "The Blue Flash" is 188-feet long, 20-feet high, travels at 25 miles per hour, and includes a 360-degree corkscrew loop. Visitors can come ride the backyard roller coaster for themselves, but only on weekends and by appointment only.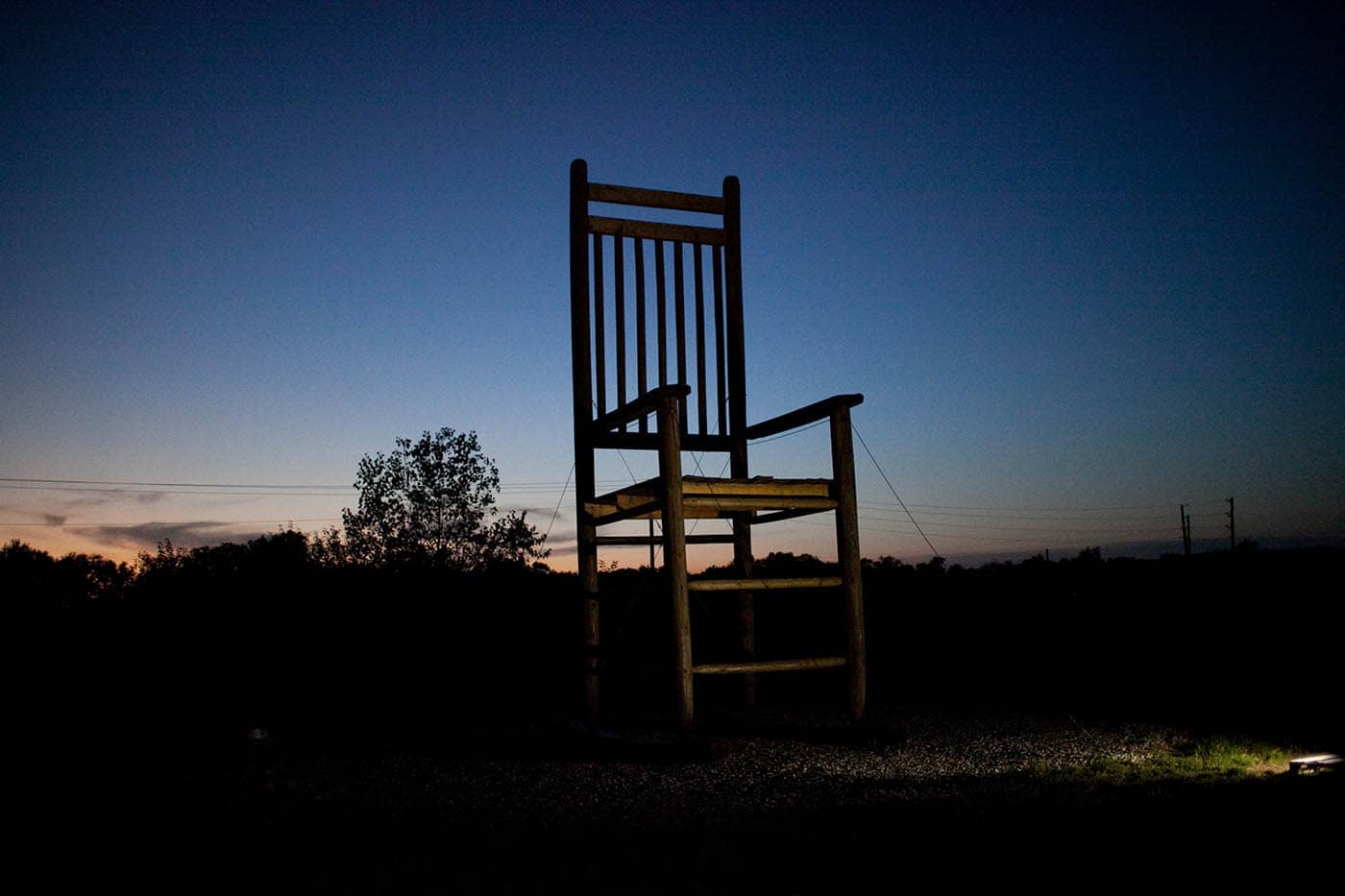 15. Big John – Former World's Largest Rocking Chair
Long's Furniture World, 4108 S. US Hwy 31, Franklin, IN
Big John, the "world's largest rocking chair" was built in 2004 and sits outside of Long's Furniture World in Franklin, Indiana (Amity). The wooden piece of furniture stands at 32 feet tall and was named after JD Long who owned the business until 2007. A sign onsite and their website claims that the Guinness Book of World Records recognized it as the "largest chair of it's kind."And that might have been true when this giant chair was built in 2004. But, since then, it's been trumped several times over. So, the giant wooden rocking chair in Franklin, Indiana might not actually be the world's largest rocking chair. But this, along with it's accompanying big dresser, is still a fun Indiana road trip stop.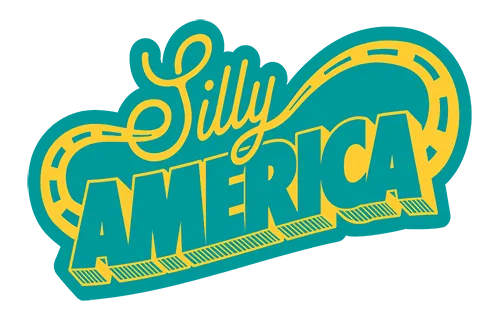 Pin this list of the 15 Best Indiana Roadside Attractions: