Are you planning a Connecticut road trip and want to find all the best Connecticut roadside attractions along your route? Whether you're driving from Hartford to New Haven, exploring Shoreline Drive, or traversing Route 169, you won't want to miss these ten must-see places to go in Connecticut. They're fun road trip stops and great additions to your travel itinerary or route.
Below are the 10 best roadside attractions in Connecticut: from the home of PEZ to the home of the hamburger, from a giant whale to a tall Uncle Sam, from a couple of Muffler Men to a biblical wonderland! You won't want to miss any of these bucket list worthy tourist traps and road trips stops on your Connecticut vacation.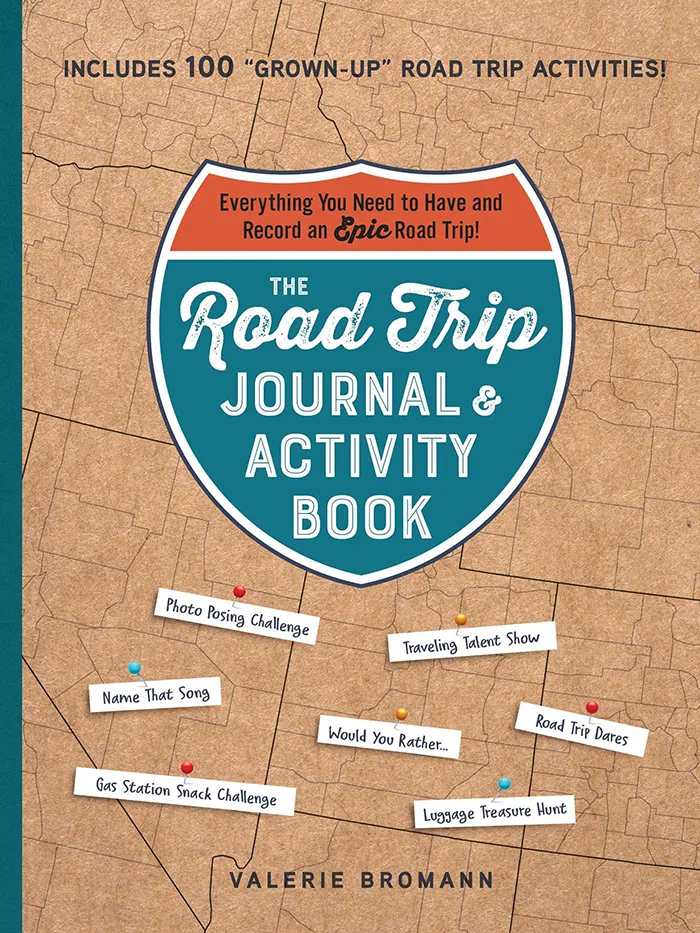 The Road Trip Journal & Activity Book
Everything You Need to Have and Record an Epic Road Trip!
Enjoy fun games and challenges to pass the time on your next road trip and have a keepsake to look back on for years to come with this entertaining must-have for your next vacation.
Ready to hit the road? Let's go! I call shotgun!
The 10 best Connecticut roadside attractions (in no particular order):
1. PEZ Visitor Center
35 Prindle Hill Rd, Orange, CT
We all know PEZ, the delicious mini-candies that are best eaten from a cartoon-headed dispenser. But did you know that you can visit their visitor center in Connecticut? At the PEZ Visitor Center you can learn the history of the popular candy, explore a huge selection of memorabilia and new, vintage, and rare dispensers, and watch the packing factory in action. Be sure to check out the world's largest PEZ dispenser and stop at the gift shop for some treats to take home!
2. Conny, the Walk-Through Sperm Whale
The Children's Museum, 950 Trout Brook Dr, West Hartford, CT
Outside of The Children's Museum in West Hartford you'll find a giant sperm whale named Conny. Conny is 60-foot long and was built to represent the State Animal of Connecticut. You can walk right through this giant whale or watch her squirt water through her blowhole!
3. World's Tallest Uncle Sam
Danbury Railway Museum, 120 White St, Danbury, CT
In front of the Danbury Railway Museum you'll find the world's tallest Uncle Sam. At 38-feet tall, this giant man is decked out in red, white, and blue: from the bottom of his red and white striped pants, to his star-spangled blue blazer, to the top of his extra-tall top hat. Originally built in the 1960s for an Ohio chain restaurant called Uncle Sam's, he moved to Danbury in 1971, then away to New York, then came back home in 2019.
4. Wells Dinosaur Haven
2464 Rte 32, Uncasville, CT
Visit Jurassic Park in a Connecticut backyard. Wells Dinosaur Haven features giant dinosaur statues that have been designed and created by Jeff "Fish" Wells since 1981. He was inspired to create these handmade, life-size, creatures by visiting other dinosaur parks (like the one in Rapid City). The Tyrannosaurus rex and friends live on his property, but visitors are welcome to come and explore, (just call ahead).
5. Big Bob the Cowboy Muffler Man
Surplus Unlimited, 381 W Main St, Norwich, CT
Big Bob, the cowboy muffler man, started is life in Norwich in the mid-1960s. Then he stood in front of an amusement park in town. When that business closed in 1982 the owners of Surplus Unlimited snatched him up and added an American flag. The muffler man has proudly stood in front of Surplus Unlimited, and served as their mascot, ever since.
6. Louis' Lunch: Home of the Hamburger
261 Crown St, New Haven, CT
Many town's across the US claim to be the birthplace of the hamburger. But only Louis' Lunch in New Haven has the original restaurant that served the first hamburger and is recognized by the Library of Congress as the origin. Louis' Lunch was opened as a lunch wagon in 1895, created the hamburger in 1900, and moved into its current location in 1917. The restaurant is still in the family and the burgers today are served just like they were back then: cooked on 1898 cast iron grills, served on two slices of white bread, and topped with cheese, onion, and tomato…no ketchup allowed.
7. Obsolete Merritt Parkway Toll Booths
Boothe Memorial Park, 5800 Main St, Stratford, CT
Boothe Memorial Park and Museum is a 32-acre park that features a collection of unique buildings (like a carriage house, windmill, and miniature lighthouse). One of the highlights of the park is a reconstruction of Connecticut's last remaining highway toll booth, made from wood logs, that was removed from the Milford side of the Igor I. Sikorsky Memorial Bridge at the end of the Merritt Parkway in 1988.
8. Otis Elevator Test Tower
99 Century Dr, Bristol, CT 06010
Outside the research center in Bristol you'll find this odd roadside attraction. At first glance the 383-foot tall tower looks like an ordinary skyscraper. But on second glance you'll see that it's a skyscraper that stands alone and has no windows. This unusual building is the Otis Elevator Test Tower, North America's tallest elevator test tower, where elevator cars are plummeted from great heights for safety research.
9. Muffler Man – Bunyan
House of Doors, Inc., 540 W Johnson Ave, Cheshire, CT
In Cheshire, Connecticut there's a law that no sign can be more than seven feet high. So when the owner of House of Doors wanted to install a 26-foot-tall Paul Bunyan muffler man out front they had to get a little creative. The owner simply replaced the fiberglass giant's axe for an American flag: because there was no height restrictions on flagpoles!
10. Holy Land USA
60 Slocum St, Waterbury, CT
Holy Land USA was once a popular religious theme park that attracted 40,000 visitors a year. Opened in the late 1950s it featured multiple structures based on biblical stories. The centerpieces of the park were an illuminated, 56-foot cross and a sign on a hill that read "Holy Land USA" and was reminiscent of the HOLLYWOOD sign in Los Angeles. Since the park's closing in 1984, the area has fallen into dispensary, with overgrown paths and broken and vandalized statues. While much of the attraction is long gone, recent efforts have been made to restore this biblical theme park. You can still access the grounds, just visit with care.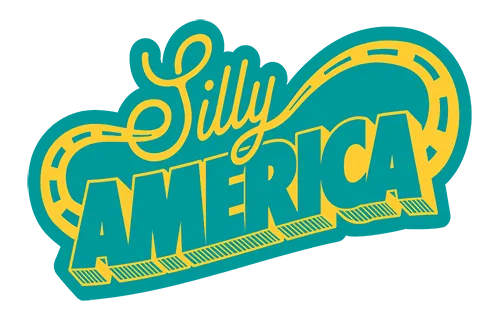 Pin this list of the 10 best Connecticut roadside attractions: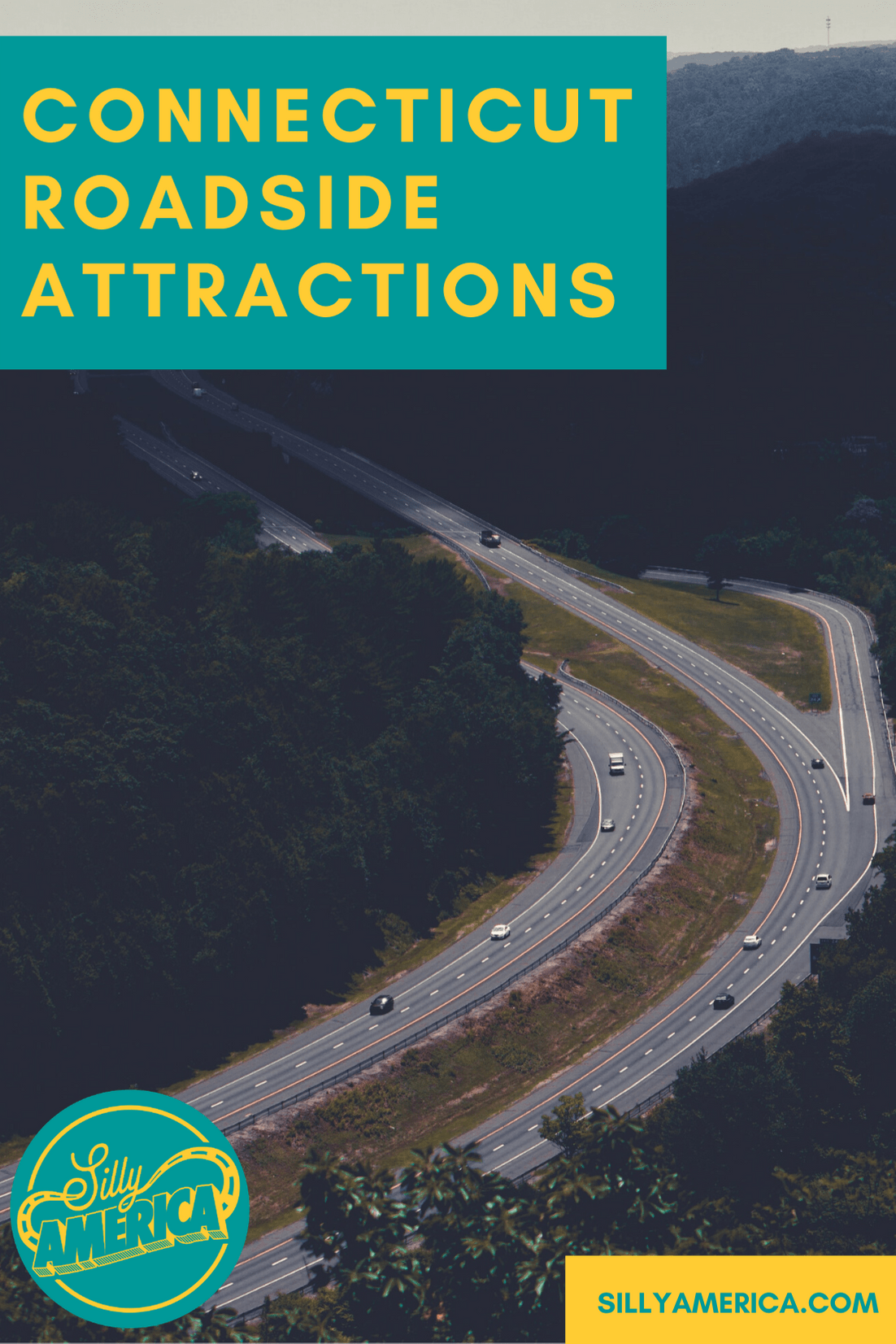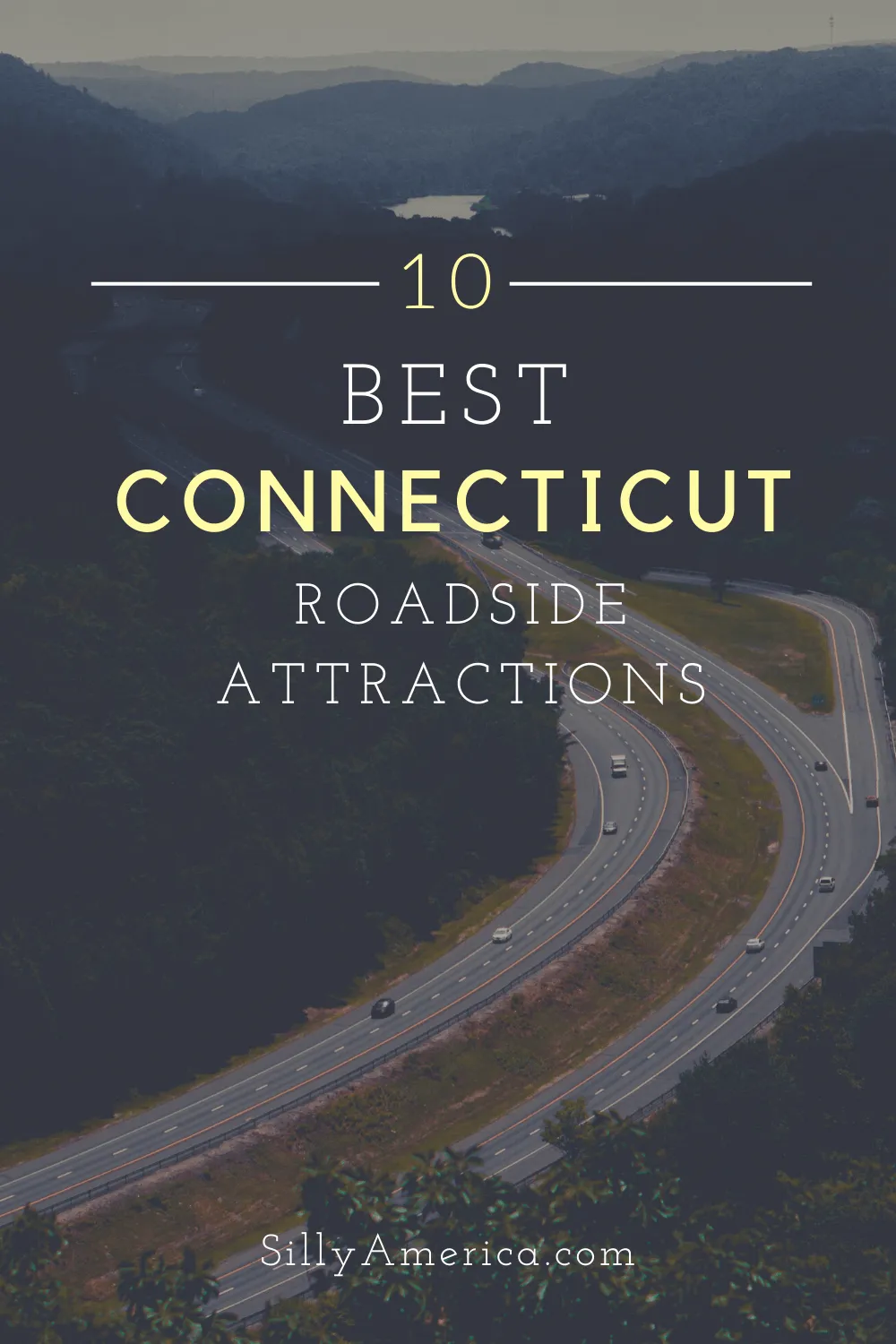 Photo by Derek Story on Unsplash