Are you planning a Montana road trip and want to find all the best Montana roadside attractions along your route? Whether you're driving across the state on I-90, exploring the National Bison Range, or heading to Glacier National Park, you won't want to miss these fifteen must-see places to go in Montana. They're fun road trip stops and great additions to your travel itinerary or route.
Below are the 15 best roadside attractions in Montana: from a giant penguin to a giant dinosaur, from a toxic pit to a radon cave, from an oversized frying pan to a monument to a beloved dog! You won't want to miss any of these bucket list worthy tourist traps and road trips stops on your Montana vacation.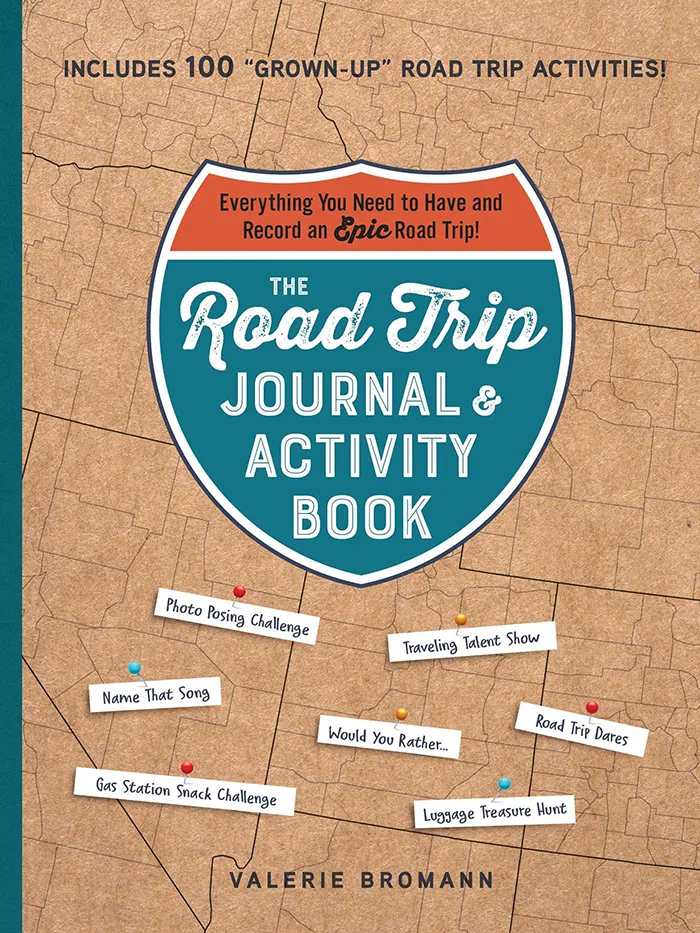 The Road Trip Journal & Activity Book
Everything You Need to Have and Record an Epic Road Trip!
Enjoy fun games and challenges to pass the time on your next road trip and have a keepsake to look back on for years to come with this entertaining must-have for your next vacation.
Ready to hit the road? Let's go! I call shotgun!
The 15 best Montana roadside attractions (in no particular order):
1. Talking Penguin Statue
Glacier Gateway Plaza, 1130 E Main St, Cut Bank, MT
Near Glacier National Park, Cut Bank, Montana claims to be the "Coldest Spot in the Nation" (or at least in the lower 48). The town celebrates their moniker with 27-foot tall, 10,000 pound giant penguin statue. The friendly penguin was constructed by Ron Gustafson in 1989 and (at least in theory) talks!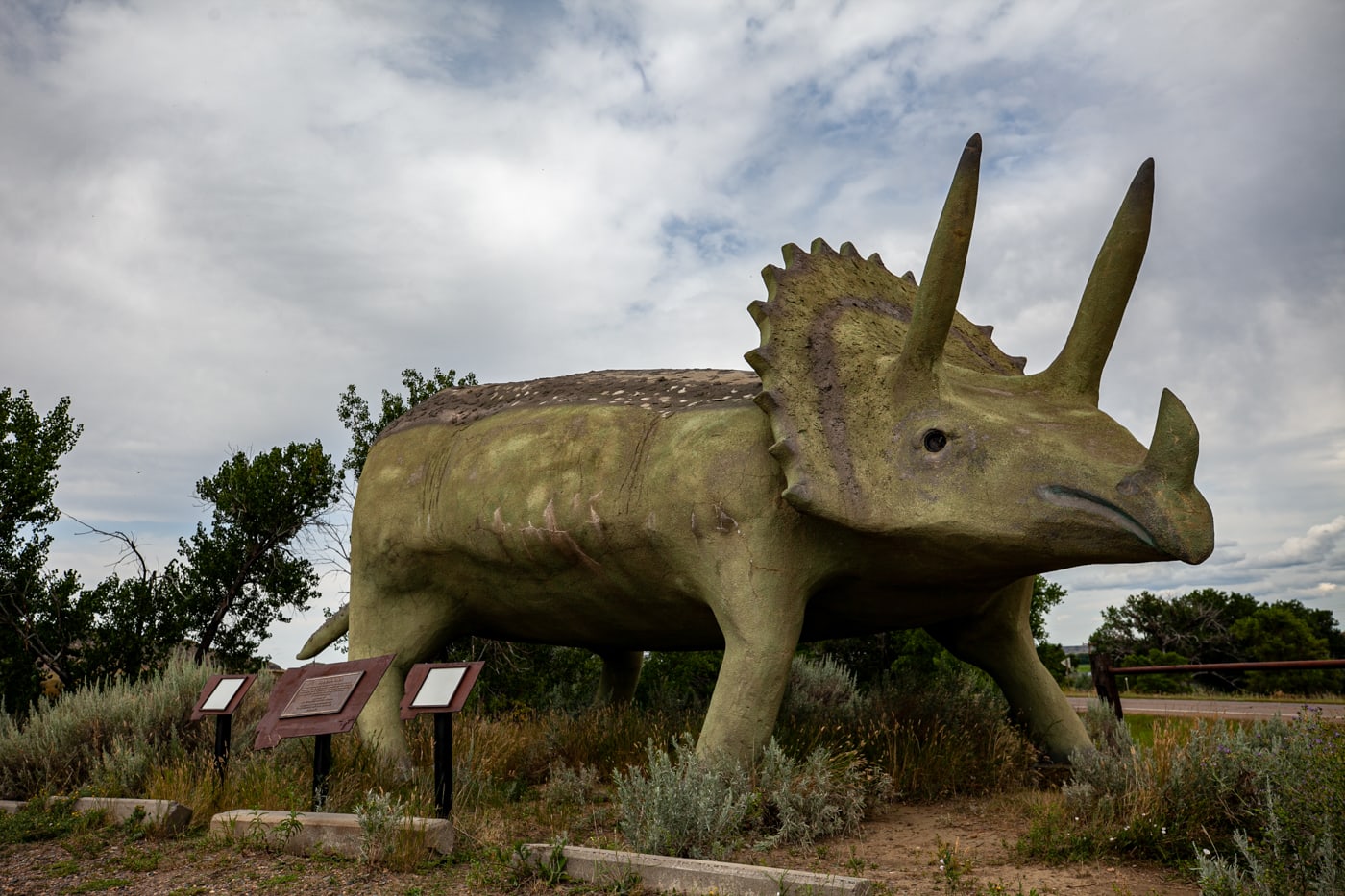 2. Glendisaurus Triceratops Dinosaur Statue
Hollecker Park, Olmstead Drive, Glendive, MT
While dinosaurs lived millions of years ago, you never know when a new one might be discovered. In the 1990s a new dino was spotted in Glendive, Montana: Glendisaurus. The Glendisaurus dinosaur statue is a based on a Triceratops and named for the town it resides in. The big green dinosaur roadside attraction is made of metal and is actually a life-sized representation, standing at around 10 feet tall.
3. Statue of Auditor, the Strip Mine Dog
Butte-Silver Bow Chamber of Commerce, 1000 George St, Butte, MT
Auditor was a much respected stray mutt who lived within the poisonous Berkeley Pit. He received his name from the miners because he always showed up when they least expected him. When the dog passed away in 2003 a 300 pound bronze statue was erected of the dog, which is now on display at the Butte-Silver Bow Chamber of Commerce.
4. Our Lady of the Rockies
5970 Montana 2, Butte, MT
From Butte, the Our Lady of the Rockies statue looks like a tiny speck atop the continental divide. But up close she is 90 feet tall and the largest Virgin Mary statue in North America. The nondenominational sculpture was dedicated by workers to woman everywhere, especially to mothers. She stands tall on a mountain, at an elevation of 8,510 feet, overlooking the city of Butte, and can be visited on a three-hour tour.
5. Paul Bunyan's Fry Pan
Heritage Museum, 34067 US-2, Libby, MT
Paul Bunyan's Fry Pan was crafted in Libby the early 1970s and was used for years to cook dishes at the town's annual Logger Days festival and, later, at the Northwest Montana Fair. The 18-inch deep and 11-foot wide skillet (with a span of 24.5 feet from the tip of the handle to the edge of the pan) can cook up to 75 dozen eggs at a time! It might just be the world's largest frying pan!
6. Berkeley Pit Overlook
201 Continental Dr, Butte, MT
The Berkeley Pit was once an open-pit copper mine in Butte. Now, it's a giant deadly lake filled with acidic water, heavy metals, and other toxic chemicals. It's so toxic it once killed 10,000 snow geese who landed on the surface. The "lake" is nearly 1,800 feet deep and a mile and a half long. Visitors can pay a small admission fee to see it from an observation deck (safely far enough from the toxic waste).
7. Garden of One Thousand Buddhas
34574 White Coyote Rd, Arlee, MT
One thousand Buddha statues fill up a garden in western Montana's Jocko Valley. They are arranged based on an eight-spoked Dharma wheel around the central figure of Yum Chenmo, the Great Mother, who is the manifestation of the perfection of wisdom. The garden is meant to bring about positive transformation within those who visit.
8. Miracle of America Museum
36094 Memory Ln, Polson, MT
Gil Mangels has always been a collector and his collection is on display at the Miracle of America Museum in Polson. His mission is to preserve artifacts of American history through his giant collection of antiques and artifacts. Hundreds of thousands of things (from mousetraps to military hardware) are on display across dozens of buildings over five acres, all celebrating the country.
9. Montana Vortex and House of Mystery
7800 US-2, Columbia Falls, MT
The Montana Vortex and House of Mystery first opened in 1970. Enter the three vortexes and explore the mystical anomalies contained on the site. Visit the House of Mystery where visitors seemingly shrink and grow, walk the Labyrinth to feel its healing powers, and experience the shifts in gravity and perspective that defy the physical rules.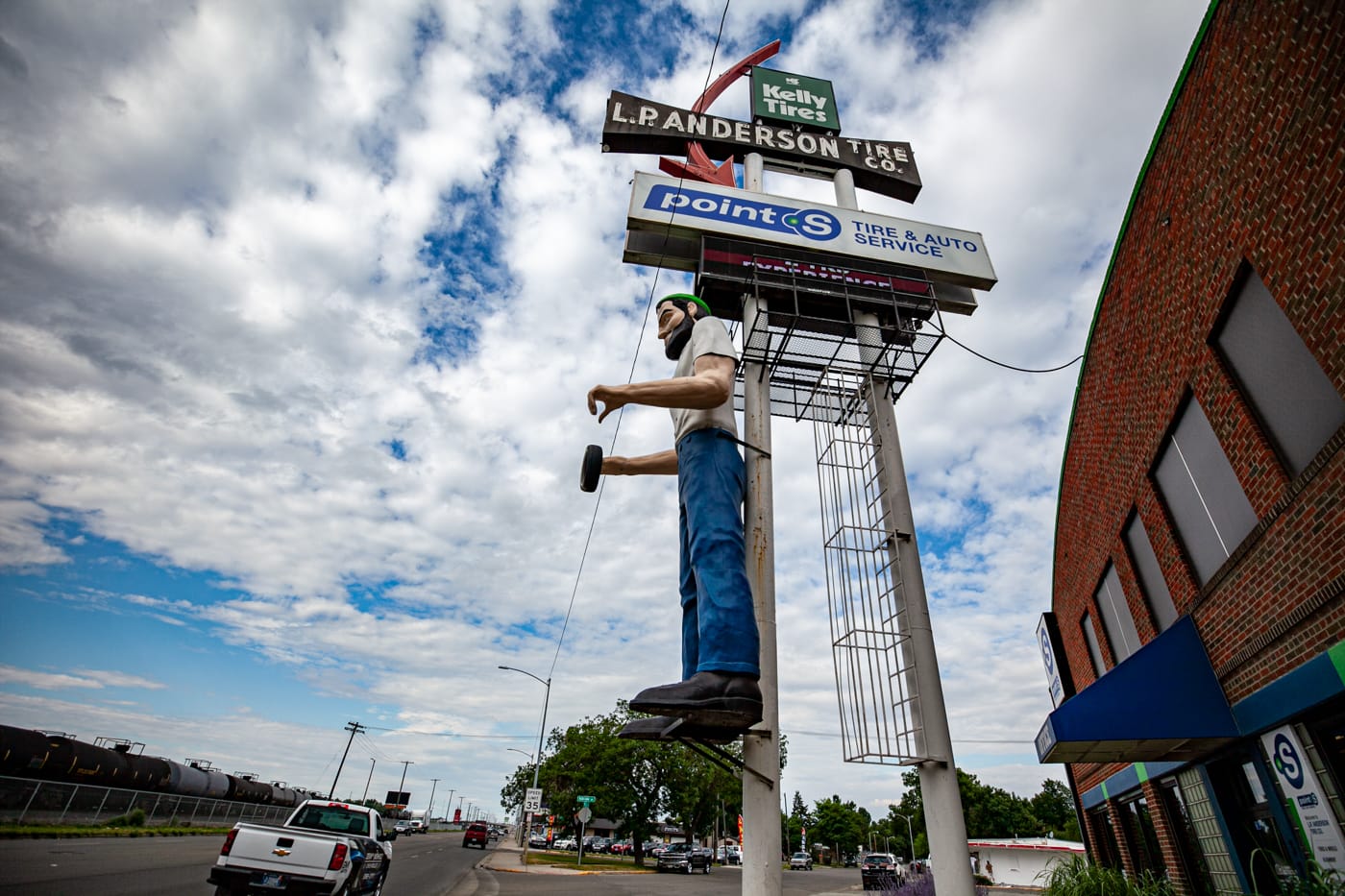 10. L.P. Anderson Tire Co. Muffler Man
L.P. Anderson Tire Point S, 3741 Montana Ave., Billings, MT
This Paul Bunyan-style lumberjack muffler man has a thick dark beard and wears a bright green cap, white button down shirt, blue jeans, and black boots. In his right hand he holds an actual, life-size tire, one that looks like a diminutive toy in his giant fiberglass hand. The giant lumberjack has lived outside of the L.P. Anderson tire store since 1964/5. Frank Bonogofsky, the then owner, paid $200 for this big guy at a national tire dealer convention in California. It was apparently damaged in transit but the shopping company took responsibility and paid to have his repaired.
11. Radon Health Mines
Free Enterprise Radon Health Mine, 149 Depot Hill Rd, Boulder, MT
Sunshine Health Mine, 130 Galena Gulch Rd, Boulder, MT
While most of us think of radon as a pretty dangerous element you don't want to be exposed to, others believe its healing properties can cure many ailments, like arthritis, diabetes, and asthma. At the mine country between Boulder and Basin you can find a handful of defunct gold and uranium mines filled with radioactive radon gas. Every summer these "health mines" attract hundreds of people looking for cures who then spend a week or two soaking in the radiation until they hit the maximum exposure level.
12. Bannack Ghost Town
4200 Bannack Rd, Dillon, MT
In the 19th century, with the discovery of gold in the area, Bannack State Park became a booming mine town. But, as the gold disappeared, so did the town's residents. In 1954 preservationists purchased the land to be kept as a ghost town. Today, over sixty structures remain and most of them are open for exploration to tourists.
13. Old Shep, the Forever Faithful Sheep Dog
Fort Benton, MT
Old Shep is a local legend. In the 1960s the sheep dog followed his ailing master to Fort Benton. When the herder died, and his body was carried onto a train, the dog waited for him. For the next five and a half years the dog waited faithfully at the train station. Old Shep was featured on Ripley's Believe It or Not and received national attention, and, when he died in 1942, the news went national. A wooden sign and cutout was placed on a bluff and lit up. It was restored in the 80s and you can now not only visit that Montana roadside attraction but see the pup's collar and dog bowl at the Museum of the Upper Missouri and a bronze statue at the train rail.
14. Steer Montana
O'Fallon Historical Museum, 101 W State St, O'Fallon, IL
Steer Montana was the world's largest steer. The Roan Polled Shorthorn Breed was born on March 23, 1923 and lived for over 15 years, reaching 5 feet 11 inches in height, 10 feet 4 inches in length, 9 feet 2 inches in girth, and a top weight of 3,980 pounds. During his life rancher Jack Guth showed the steer in over 60 fairs, shows and carnivals around the country. Today you can visit the world's largest steer at the O'Fallon Historical Museum.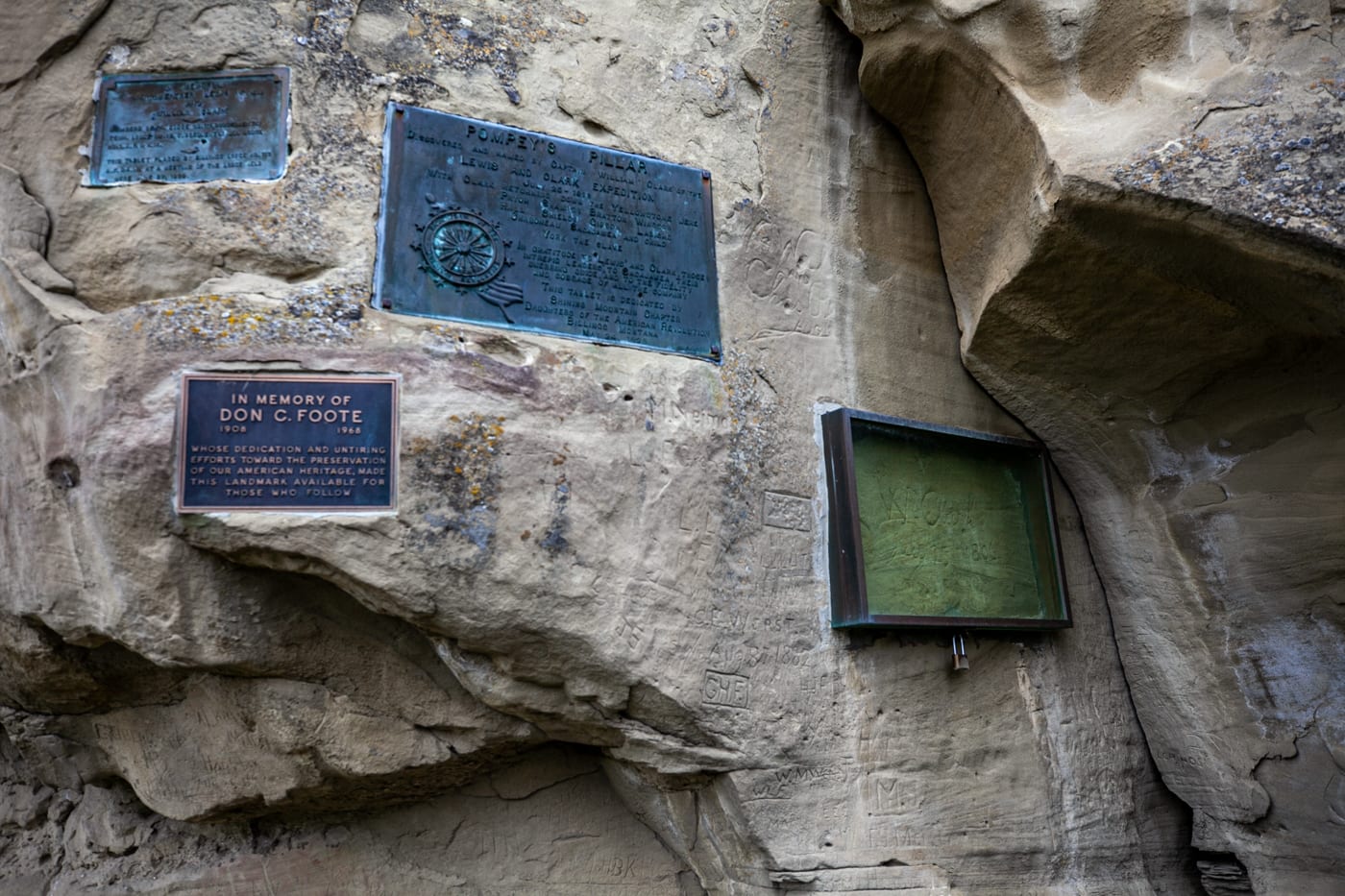 15. Pompeys Pillar National Monument
3001 Hwy 312, Worden, MT
Pompeys Pillar National Monument is a 150-200 foot sandstone butte (a natural rock formation) that stands overlooking the Yellowstone River in Worden, Montana. As a structure itself it provides an impressive landscape and a nice climb to look out over the scenic view. But the real draw to this Montana attraction is the signature of Captain William Clark (of the Lewis and Clark Expedition) etched into the side of the rock with the date, July 25, 1806, along side it. The explorer left his name when he passed along the Yellowstone on his return journey.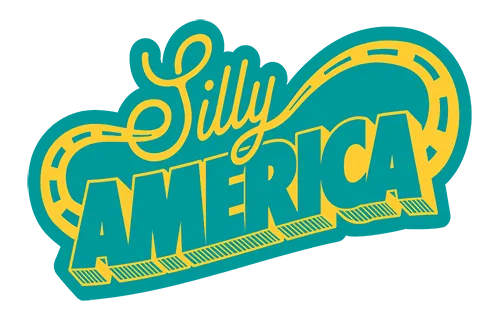 Pin this list of the 15 Best Montana Roadside Attractions: