Are you planning a Wisconsin road trip and want to find all the best Wisconsin roadside attractions along your route? Whether you've driving across I-94 or spending a weekend getaway in Milwaukee, you won't want to miss these 15 must-see places to go in Wisconsin. They're fun pit stops on the road and great additions to your travel itinerary.
Below are the 15 best roadside attractions in Wisconsin: from a junk-filled alien wonderland to a house on a rock full of stuff to some fiberglass world's largest things to a giant can of beer. You won't want to miss any of these bucket list worthy tourist traps and road trips stops on your vacation.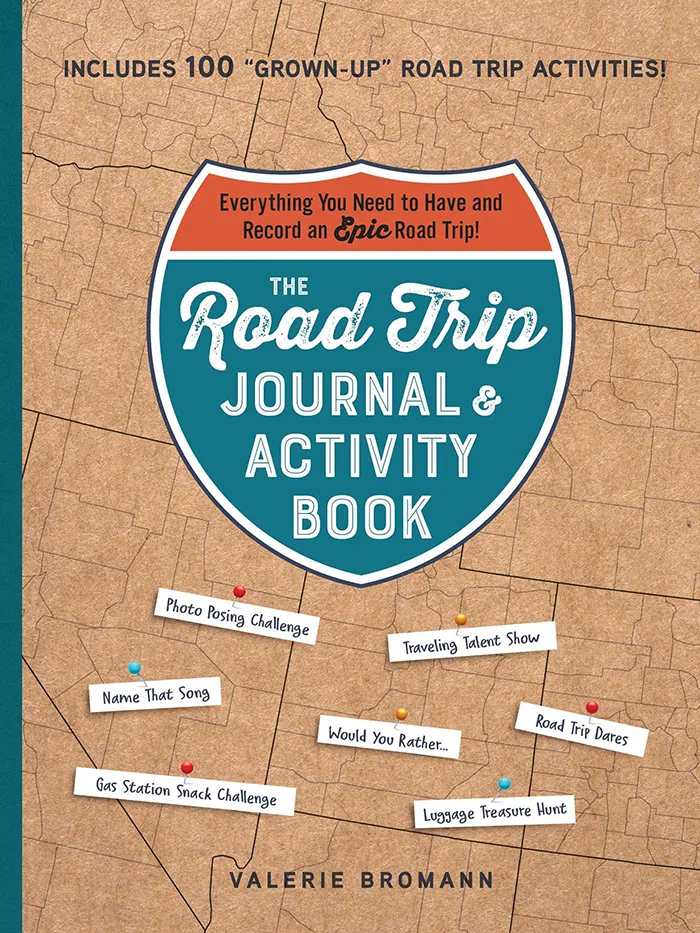 The Road Trip Journal & Activity Book
Everything You Need to Have and Record an Epic Road Trip!
Enjoy fun games and challenges to pass the time on your next road trip and have a keepsake to look back on for years to come with this entertaining must-have for your next vacation.
Ready to hit the road? Let's go!
The 15 Best Wisconsin Roadside Attractions (in no particular order):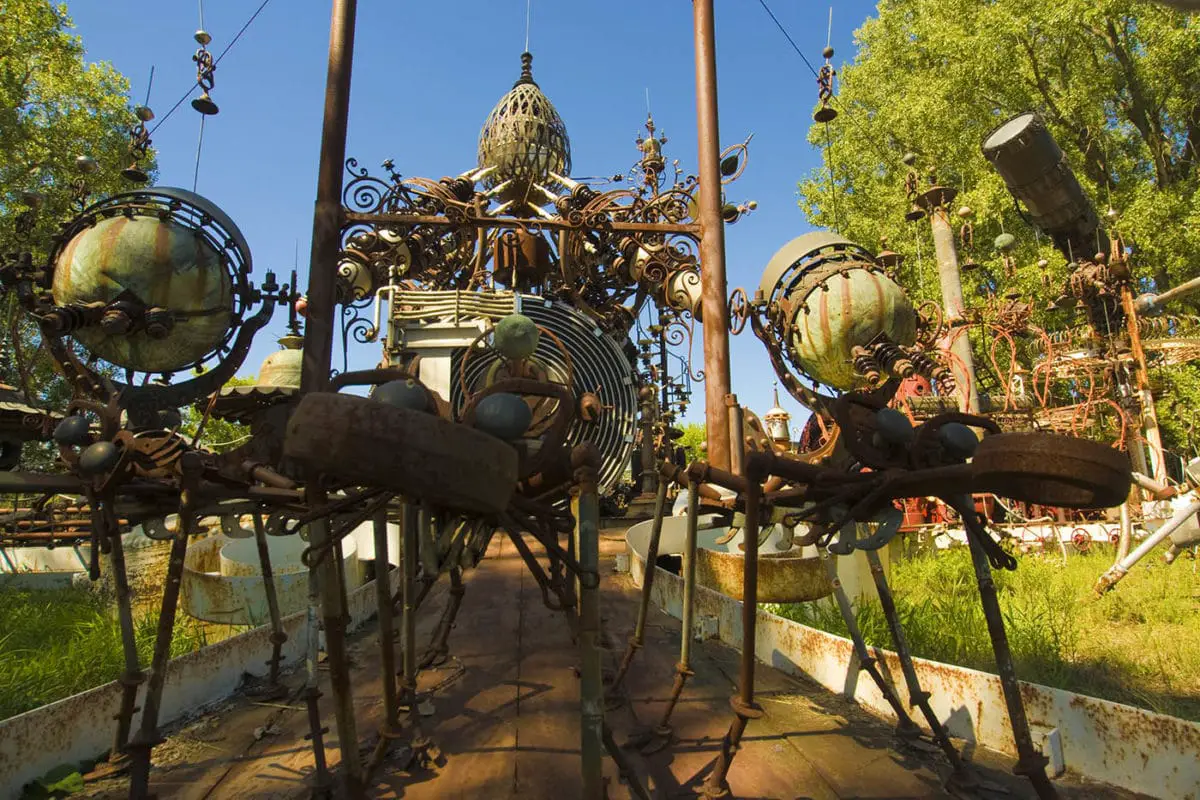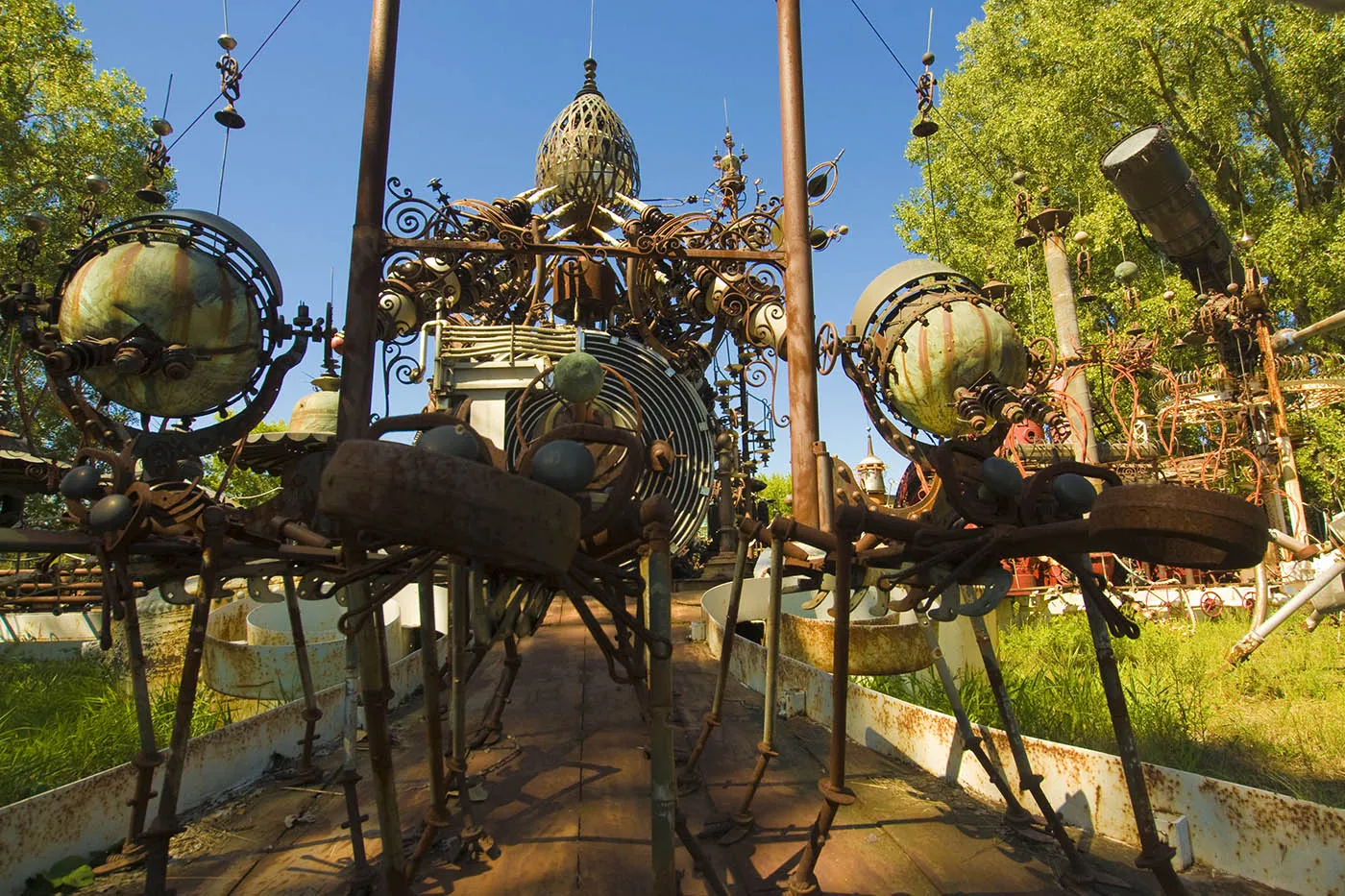 1. Dr. Evermor's Forevertron
S7703 US-12, North Freedom, WI
The Forevertron in North Freedom, Wisconsin is known to be the "World's largest scrap metal sculpture," but you might see it as a steampunk wonderland meets alien loading dock. The giant outdoor artwork was created by Dr. Evermor AKA Tom Every in the 1980s and is still an interesting piece of outdoor art welcoming visitors (from Earth and beyond) to explore.
2. House on the Rock
5754 WI-23, Spring Green, WI
Alex Jordan built a house on a 60-foot chimney of rock in Wisconsin in the 1940s. Today, House on the Rock is perhaps the most well-known tourist attraction in Wisconsin. Filled to the brim with collections of lanterns, musical instruments, lights, dollhouses, and more, the 14-room house will take you hours to explore. Be sure to visit the world's largest indoor carousel and its 269 carousel animals, a highlight of the kooky attraction.
3. The World's Largest Fish
10360 Hall of Fame Dr, Hayward, WI
Over 100,000 people visit the National Freshwater Fishing Hall of Fame in Hayward, Wisconsin every year. While they might be there to explore the world record fish archives or peruse the collection of lures and artifacts, the highlight is "Shrine to Anglers." The world's largest fish (which is also the world's largest fiberglass sculpture, period) portrays a leaping muskellunge (muskie) that stretches one-half city block long and four and a half stories tall.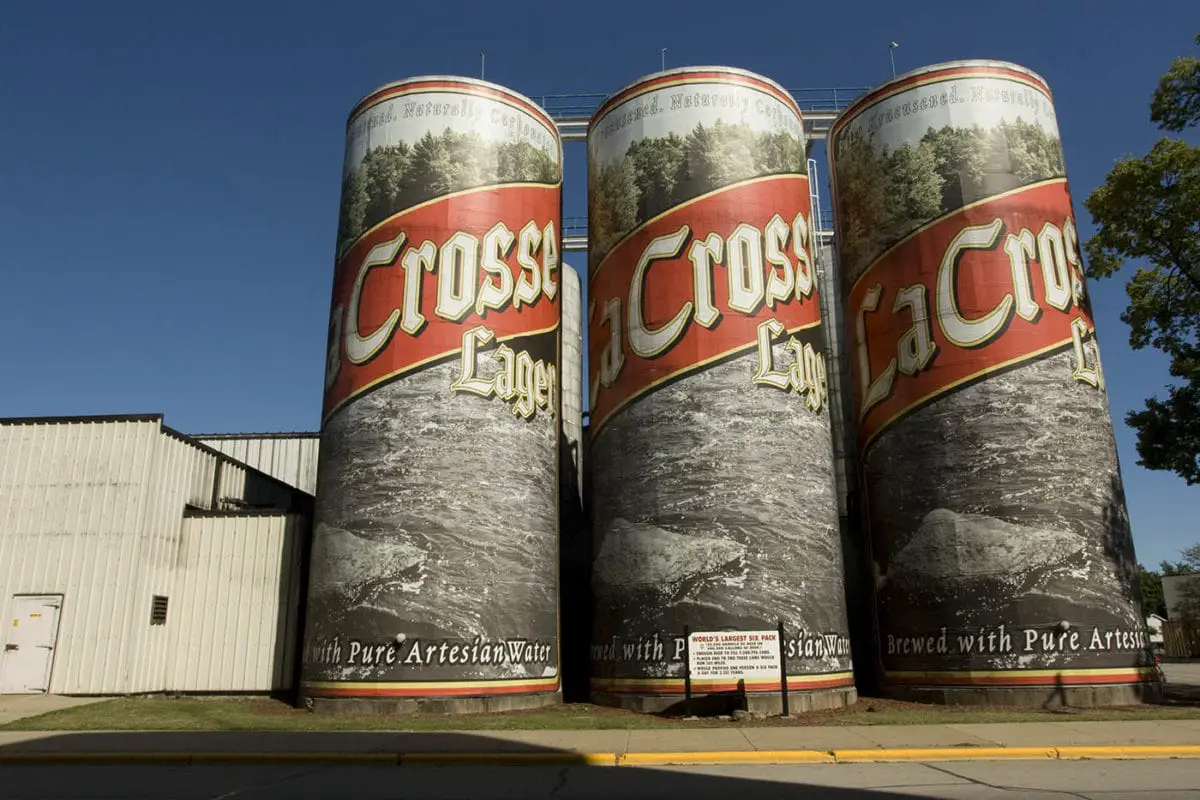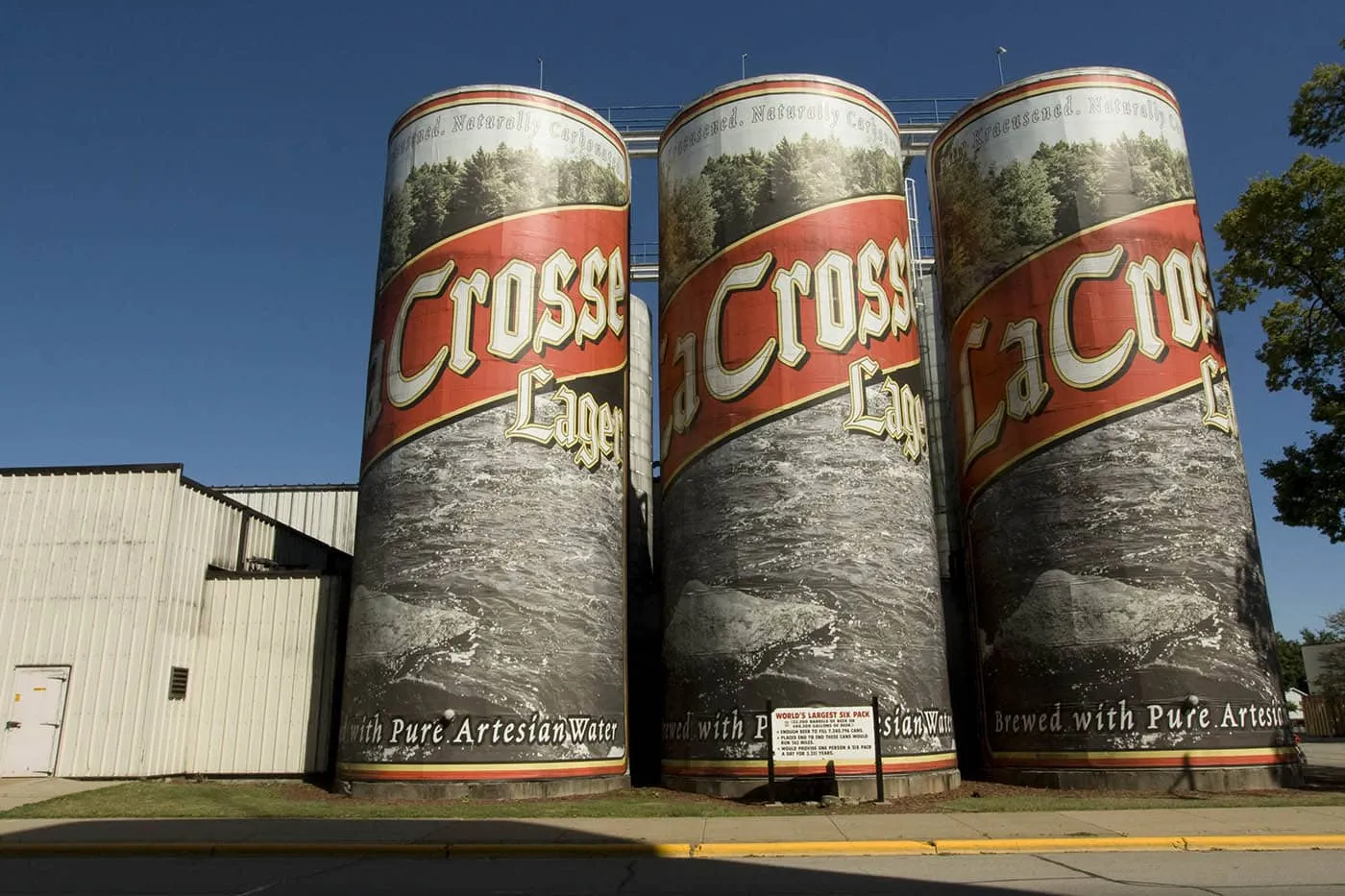 4. World's Largest Six-Pack of Beer
3rd St S, La Crosse, WI
What is special about the World's Largest Six-Pack of Beer in La Crosse, Wisconsin is that the giant beer cans not only look like real (albeit oversized) cans of beer, they actually contain real beer! These dressed up storage tanks for City Brewing Company in La Crosse, Wisconsin hold a whopping 688,200 barrels of beer — that's enough to fill 7,340,796 cans. That is a LOT of beer!
5. Al Johnson's Goats on the Roof
10698 N Bay Shore Dr, Sister Bay, WI
Road trip breakfasts should always include pancakes…and goats… At Al Johnson's in Sister Bay, Wisconsin, you can get an authentic Swedish meal (try the Swedish Pancakes with Lingonberries) and a show. Goats graze on top of the sod roof for road trippers and restaurant patrons to admire.
6. Home of the Hodag
W Kemp St & Sutliff Ave, Rhinelander, WI
Rhinelander, Wisconsin is home to the Hodag. What is a Hodag? A hodag is a legendary mystical creature that has roamed the Northwoods for over a century. It is a giant green beast that could have fit right into a colony of dinosaurs or dragons. See one for yourself by visiting the giant hodag statue in front of the Rhinelander Chamber of Commerce, an early artifact at the Logging Museum, or one of many monuments to the beast around town.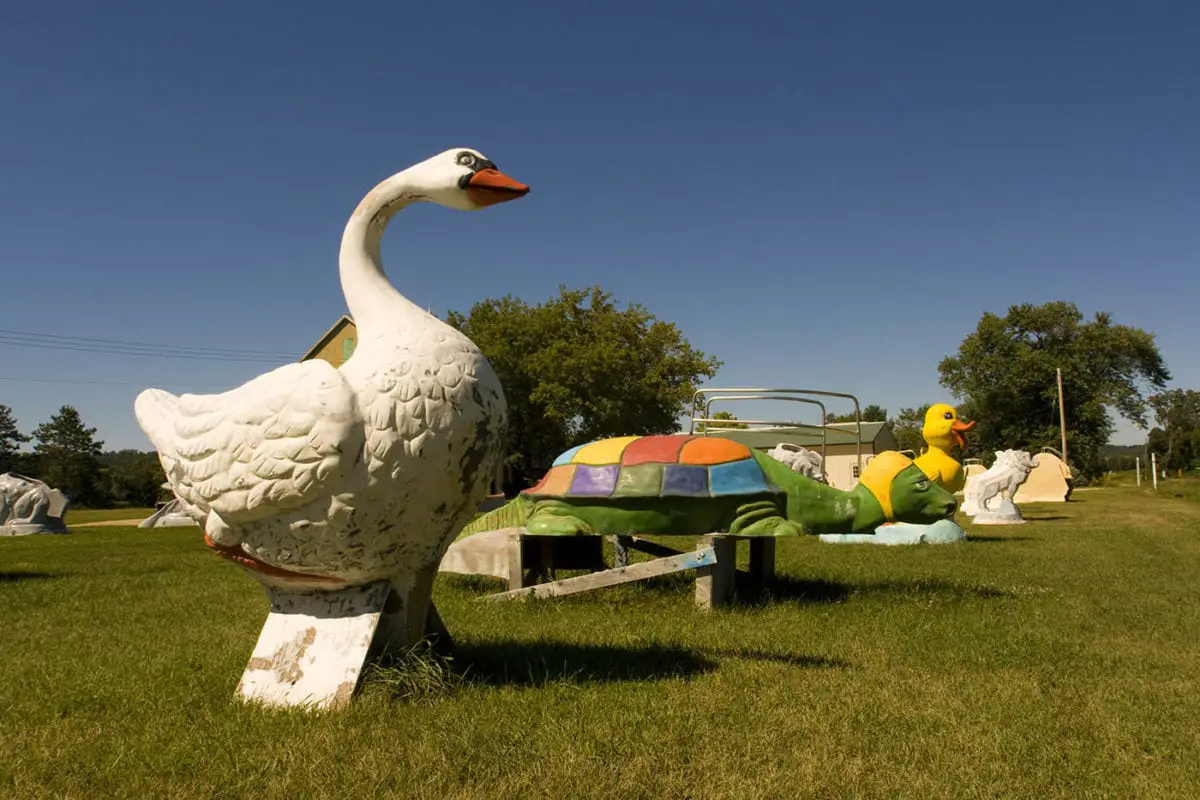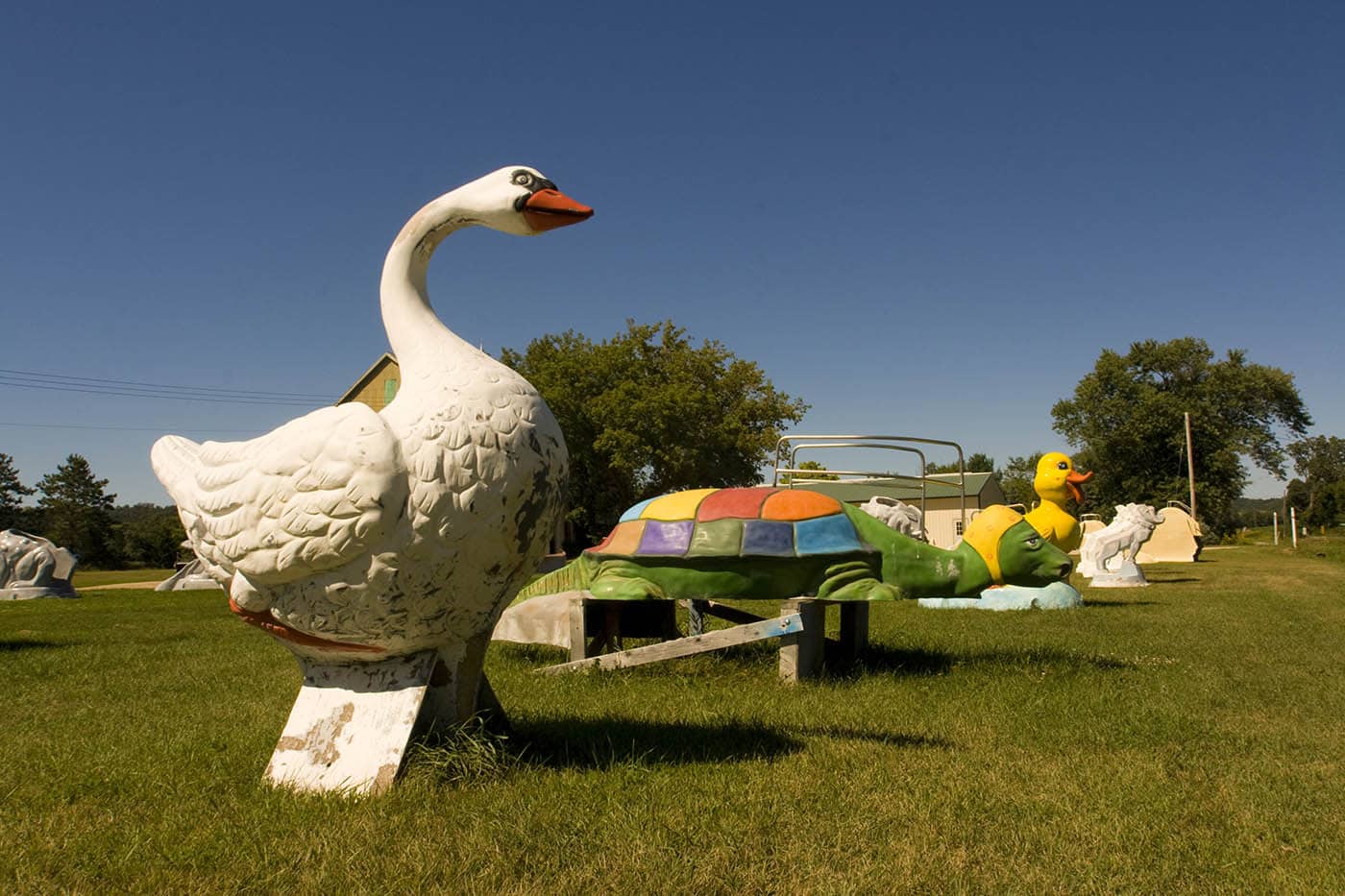 7. FAST Fiberglass Mold Graveyard
14177 Co Hwy Q, Sparta, WI
If you've seen any giant fiberglass roadside attractions on your road trips across America, there's a good bet it was made by F.A.S.T. Billing themselves as "the premier manufacturer of fiberglass statues" F.A.S.T. produces an unprecedented number of roadside creatures. You can visit their factory and fiberglass mold graveyard in Sparta, Wisconsin and walk among fiberglass giants in various states. Who knows, you might even get an early glimpse at the next best Wisconsin roadside attraction!
8. Don Q Inn
3658 WI-23 Trunk, Dodgeville, WI
Don Q Inn is a hotel…and roadside attraction. With crazy theme rooms and fantasy suites that will have you sleeping in an igloo, a cave, or a spaceship, this road trip stop is the perfect place to stay for anyone visiting the nearly House on a Rock or just needing a fun place to crash. Look for the giant airplane landed on the lawn and you'll know you've found the right place!
9. Giant Sinclair Dinosaur
1280 Wisconsin Dells Pkwy S, Lake Delton, WI
Towering above the pumps at a Wisconsin Dells gas pump, the world's largest Sinclair Dinosaur protrudes from the convenience store facade. The bright-green cartoon-like brontosaurus stands at at least 40 feet tall and his goofy smile welcomes tourists who are visiting the Dells and drivers who just need to fill up their tanks. His legs frame the store's door so you can walk through them when you need to grab a bottle of soda or a bag of chips.
10. Bronze Fonz
N Riverwalk Way, Milwaukee, WI
This Milwaukee roadside attraction will have you saying, " AAAAAAAY!" This statue dedicated to Happy Days character Arthur "Fonzie" Fonzarelli (and actor Henry Winkler) is affectionately nicknamed the "Bronze Fonz." The life-size statue stands at 5 feet, six inches tall (the same height as the actor), wears his signature leather jacket, and is shooting two thumbs up. It is a fun selfie spot on the Milwaukee RiverWalk.
11. Fred Smith's Wisconsin Concrete Park
N8236 State Hwy 13, Phillips, WI
For more than 15 years Fred Smith created hundreds of mixed media and concrete sculptures at his Northwoods property. Today, tourists can see them all at Fred Smith's Wisconsin Concrete Park, where you can walk through a garden of sculptures of cowboys, lumberjacks, farmers, elk, bears, deer, and ducks.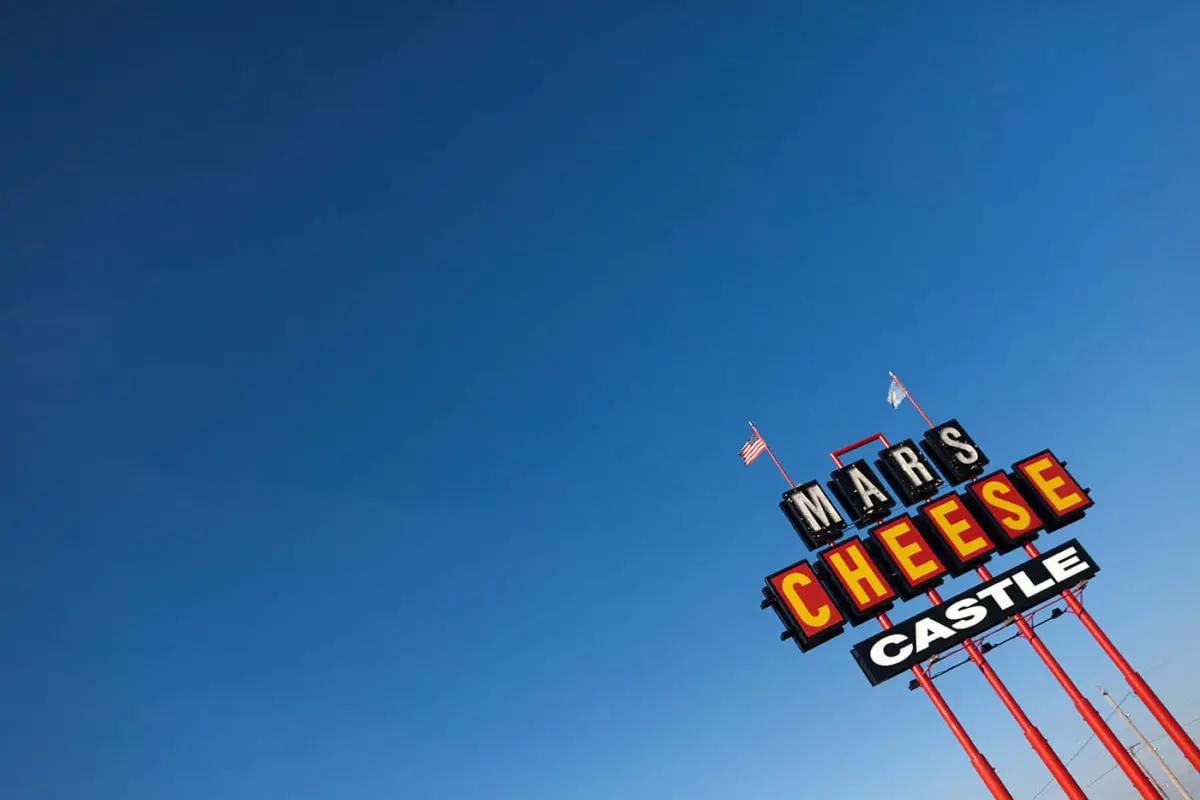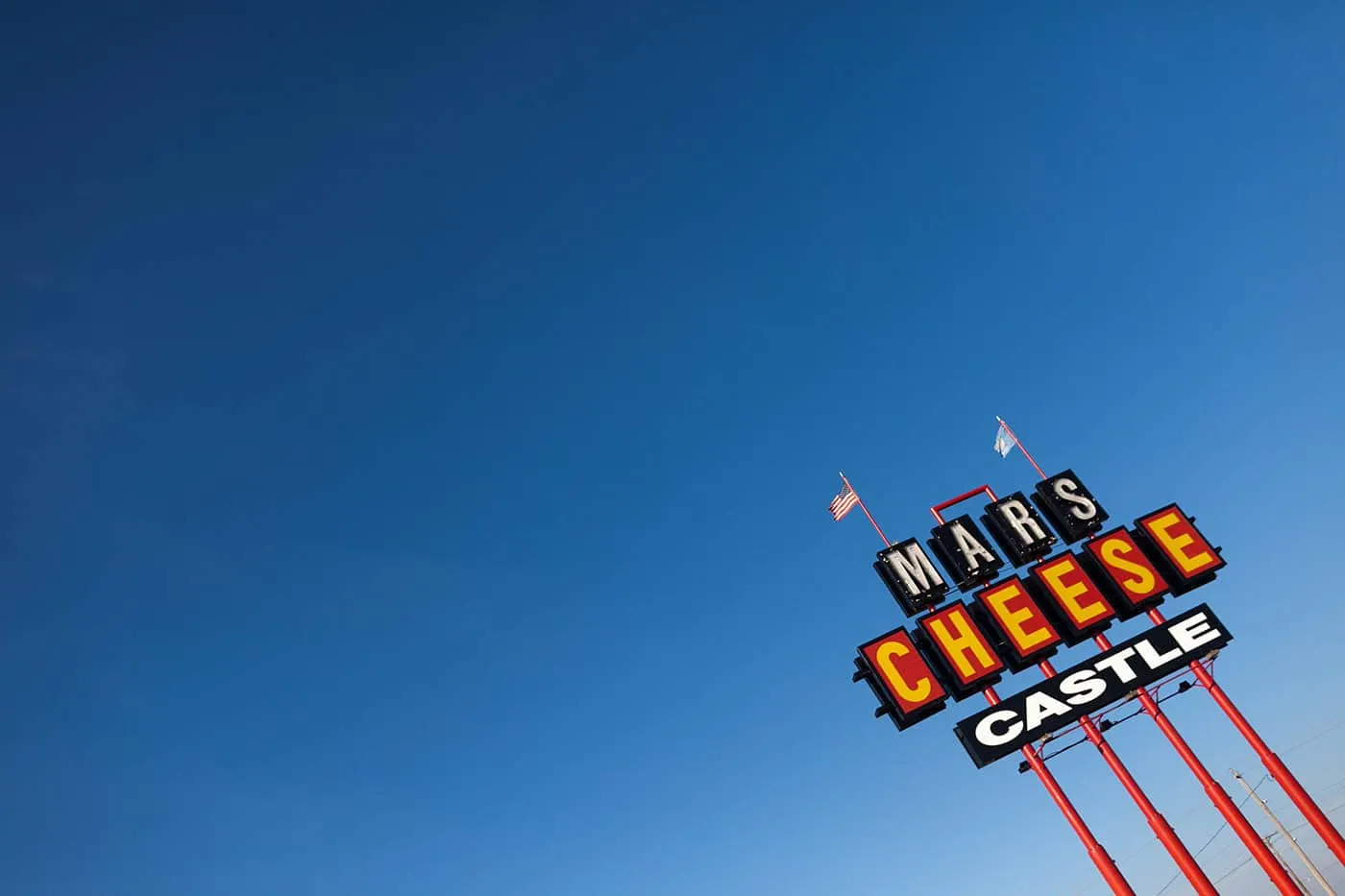 12. Mars Cheese Castle
2800 W Frontage Rd, Kenosha, WI
No trip to Wisconsin is complete without a trip to Mars Cheese Castle. The towering fortress looks out over I-94 beckoning drivers off the road to sample some cheese curds or local beer, pick up some cheesy Wisconsin souvenirs, or try on a cheese hat. There are many cheese shops in Wisconsin, but this one, you can't miss this popular tourist attraction.
13. Easter Island Head
15400 W. Cleveland Ave., New Berlin, WI
You don't have to travel to Chile to find the famed giant Easter Island heads known as Moai, you can find one right in Wisconsin! In 1980 Joe Stanke and some friends built their own version out of wood, metal mesh, and plaster on his front lawn and you can still visit this not-so-ancient artifact today.
14. Claire'd Loon: The World's Largest Talking Loon
5150N Hwy 51, Mercer, WI
Mercer, Wisconsin is known as the "Loon Capital" so it's only fitting that they play homage to their moniker with a 16-foot, 2,000-pound talking loon. The Mercer Loon AKA Claire'd Loon AKA The World's Largest Talking Loon was erected on May 22, 1981 at the Mercer Chamber of Commerce building.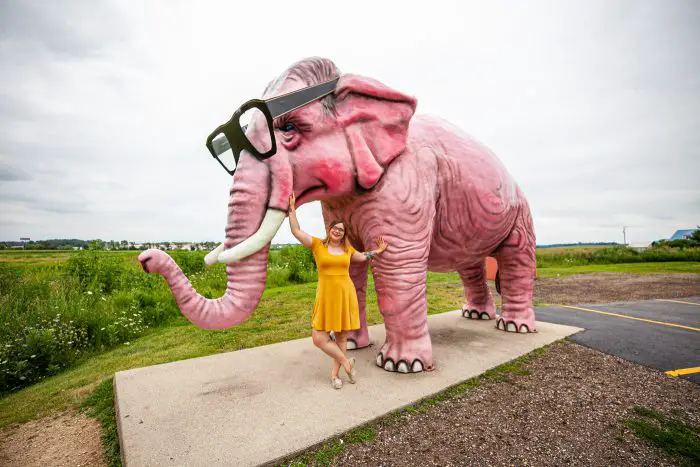 15. Pinkie the Elephant
4995 Co Rd V, DeForest, WI
This giant pink elephant with glasses, also known as "Pinkie the Elephant" or "Pinky the Elephant" is a Wisconsin roadside favorite. The big fiberglass elephant will bring a smile to your face and is conveniently located next to a gas station for all your fueling needs. Be sure to stop inside to check out the Pinkie souvenirs!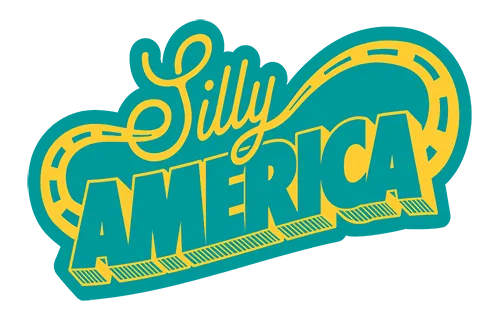 Pin this post for later: