Are you planning a North Carolina road trip and want to find all the best North Carolina roadside attractions along your route? Whether you're exploring the Smoky Mountains, are driving the Blue Ridge Parkway, or vacationing in Charlotte, Raleigh, or Asheville, you won't want to miss these fifteen must-see places to go in North Carolina. They're fun road trip stops and great additions to your travel itinerary or route.
Below are the 15 best roadside attractions in North Carolina: from some giant furniture to a giant pan, from a museum of cats to a house of mugs, from a town devoted to Andy Griffith to a park trapped in the land of Oz! You won't want to miss any of these bucket list worthy tourist traps and road trips stops on your North Carolina vacation.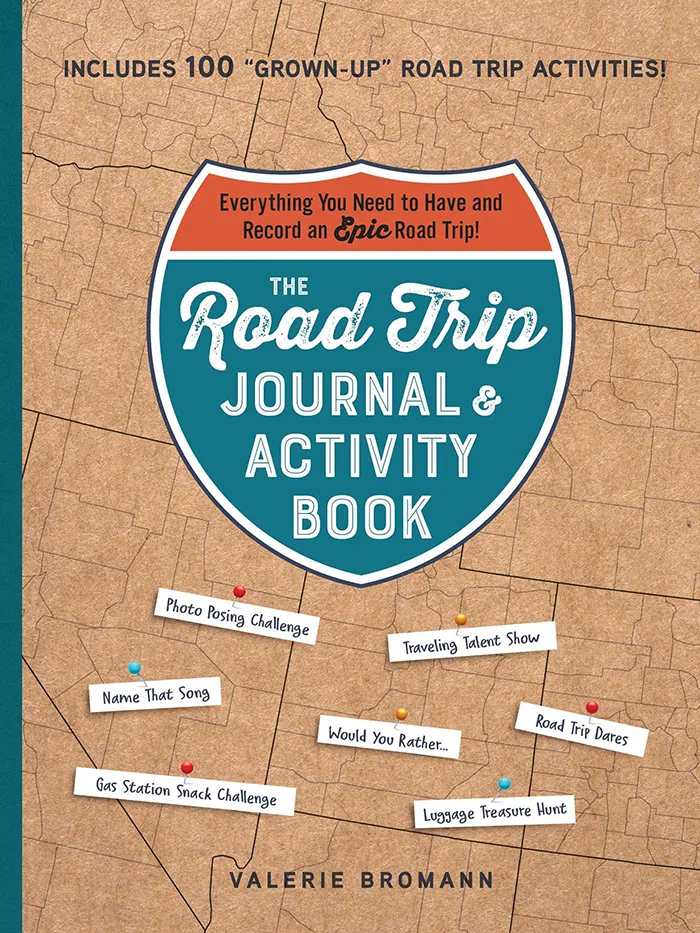 The Road Trip Journal & Activity Book
Everything You Need to Have and Record an Epic Road Trip!
Enjoy fun games and challenges to pass the time on your next road trip and have a keepsake to look back on for years to come with this entertaining must-have for your next vacation.
Ready to hit the road? Let's go! I call shotgun!
The 15 best North Carolina roadside attractions (in no particular order):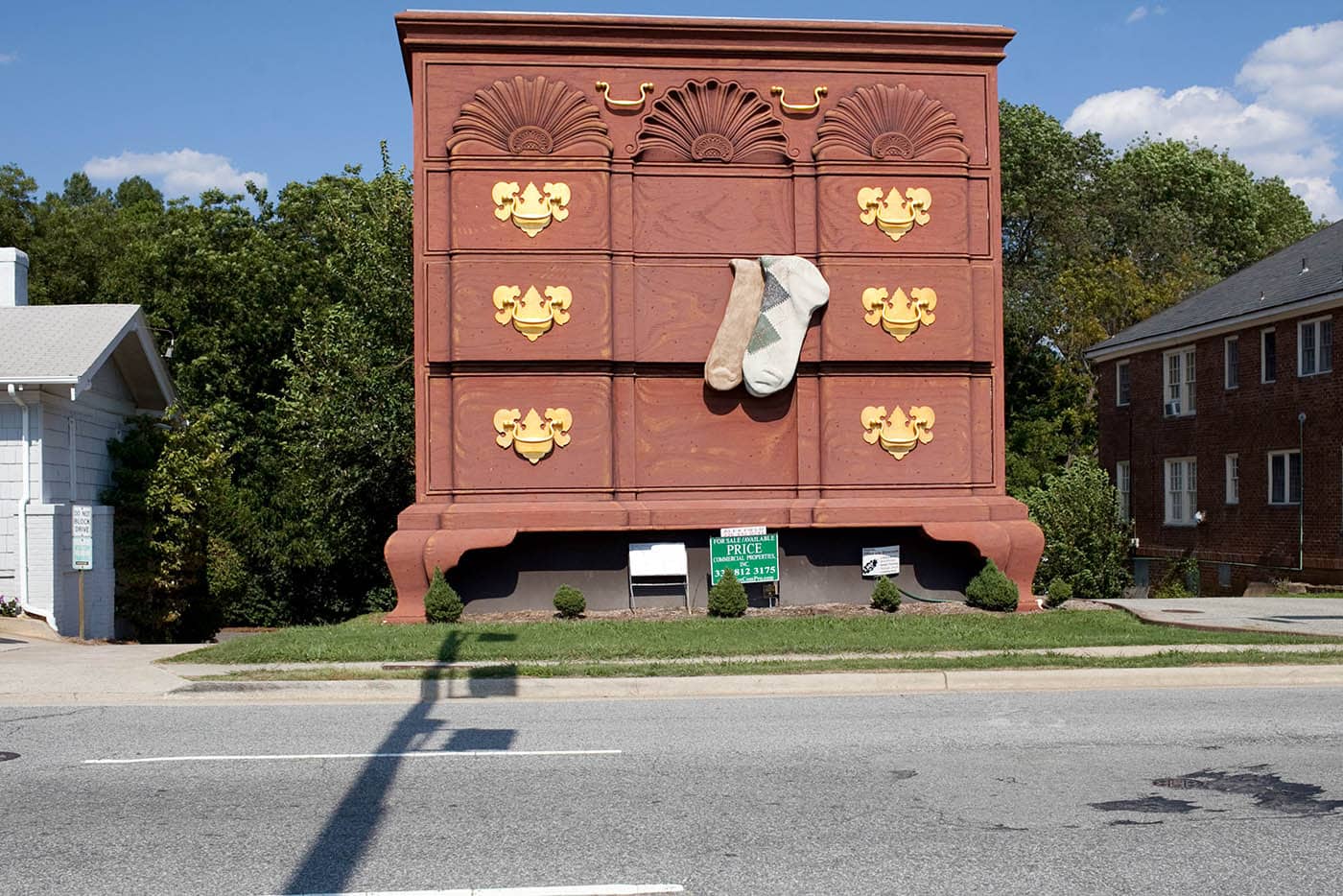 1. World's Largest Chest of Drawers
508 North Hamilton St., High Point, NC
First built in the 1920s by the High Point Chamber of Commerce, the World's Largest Chest of Drawers pays homage to the town's status as the "Home Furnishing Capital of the World." The first incarnation of this huge chest of drawers was just twenty feet tall, but in a 1996 renovation, more levels were added, creating the 38-foot tall dresser that stands there today. The huge cartoon-like structure, complete with oversized drawers, golden pulls and a pair of mismatched socks, towers over tourists, the traffic lights, and the nearby buildings.
2. Giant Concrete Legs
590-598 Welcome Ave, Henderson, NC
Built by artist Ricky Pearce, and inspired by Marilyn Monroe, these giant concrete legs are 17-feet high and weigh 40 tons. An arch that spans across these spread legs reads "Reminiscing."
3. House of Mugs
2650 Old Johns River Rd, Collettsville, NC
The owner of this western North Carolina home has covered his entire home (including the fence and archway) with more than 25,000 coffee mugs. VIsitors are encouraged to sign the guest book and add their own mug to the collection (if they can find a free spot, that is).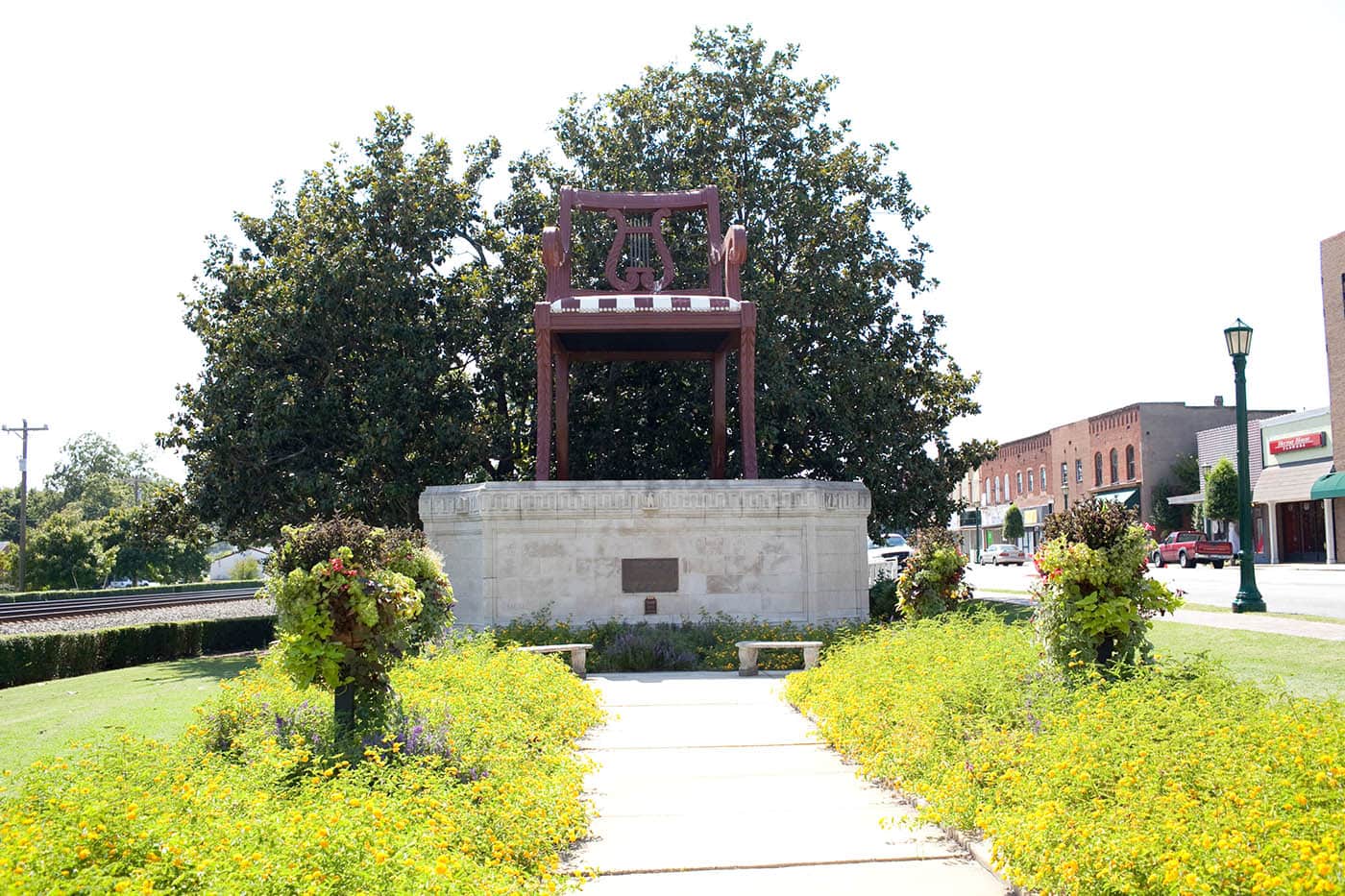 4. World's Largest Duncan Phyfe Chair
6 W Main St, Thomasville, NC
Thomasville is often referred to as "Chair Town" or "Chair City" — but not necessarily because of its famous shops. More so, because it is home to the World's Largest Duncan Phyfe Chair. Sometimes called the "Big Chair," this is a 30-foot replica of an original design by the famous American designer Duncan Phyfe.  Duncan Phyfe chair designs were known for their classical look and straight lines carved in rich hard woods like mahogany and walnut. This North Carolina roadside attraction sits on downtown Main Street and has been on display in 1951.
5. Vollis Simpson Whirligig Park
301 Goldsboro St S, Wilson, NC
Farm machinery repairman Vollis Simpson began making his "whirligigs" — giant kinetic sculptures and pinwheels — as he approached retirement and continued until he died at 94 in 2013. His impressive whirligigs were built using salvaged debris and were made in various shapes and sizes, some spanning up to 60-feet tall. The colorful sculptures look like carnival rides in the sky, rocket ships, bicycles, and more. When the towers started falling into disrepair, the intricate sculptures were purchased by a nearby town, restored, and moved to what is now the official Vollis Simpson Whirligig Park where they will be able to be admired for years to come.
6. Backyard School Bell Collection
3317 Old Fairground Rd, Angier, NC
This 30-foot bell tower holds dozens of old school, church, and firehouse bells with ropes to play them. It was built in 1970 by retired educator Mr. Robert (Tink) Coats. Every year on July 4 a "Ringing of the Bells Celebration" is held.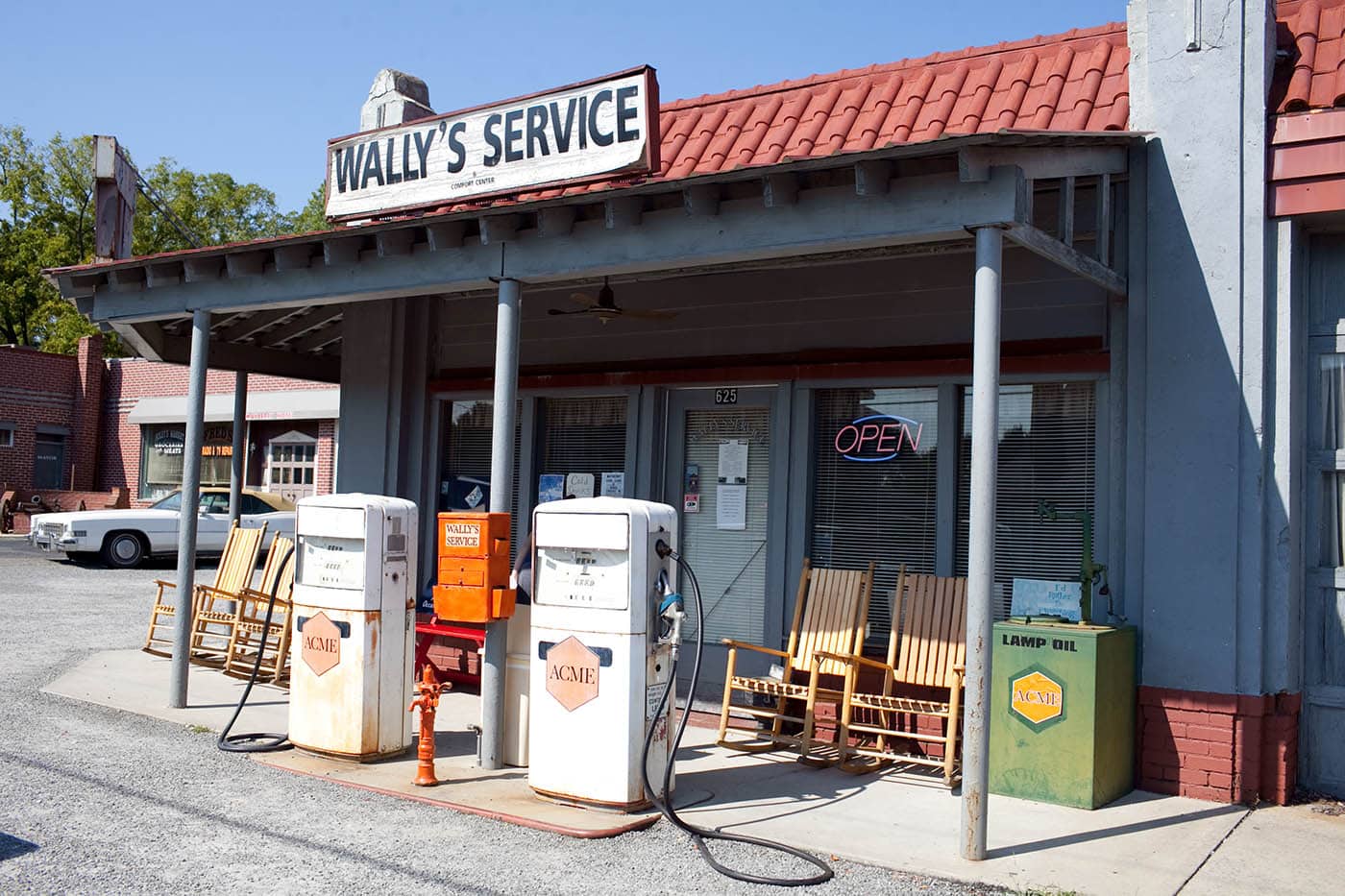 7. Mount Airy – Home of Mayberry and Andy Griffith
Mount Airy, NC
Mount Airy, North Carolina is the birthplace of actor Andy Griffith and is thought to have been the inspiration behind Mayberry, the fictional town made popular on his television show The Andy Griffith Show in the 1960s. The town celebrates its fame with signs, recreations of the show's sets, and cardboard cut outs of Mr. Griffith throughout the town. There's even a small Andy Griffith Museum & Collection that houses memorabilia from his life and the television show and a statue of Andy and Opie.
8. American Museum of the House Cat
5063 US-441, Sylva, NC
The American Museum of the House Cat was opened in 2017 by Dr. Harold "Cat Man" Sims. A house cat rescuer, he also collected house cat memorabilia and needed a place to display it. The collection included toys, clocks, fine art paintings, jewelry, and games all centered around the cat. Some of the more off-the-wall kitty finds include an original Andy Warhol cat and a 2,600-year-old Egyptian mummy cat.
9. World's Largest Ten Commandments
Fields of the Wood, 10000 NC-294, Murphy, NC
The World's Largest Ten Commandments is the centerpiece of The Fields of the Wood, a religious-themed park in Murphy. While this was the last attraction built at the park, the 300-foot wide scripture proved to be the most popular, with each letter spanning five-feet high by four-feet wide on a grassy slope extending towards heaven.
10. Grahamland
24605 Andrew Jackson Hwy E, Bolton, NC
Grahamland Fiberglass Figurines manufactures fiberglass sculptures for businesses and customers across the US, using both custom-made and vintage molds. On display at their property is a wonderland of over 250 fiberglass sculptures like giant pink flamingos, dinosaurs, Yogi Bear's Boo Boo, and a couple of over-the-top Uniroyal Gals.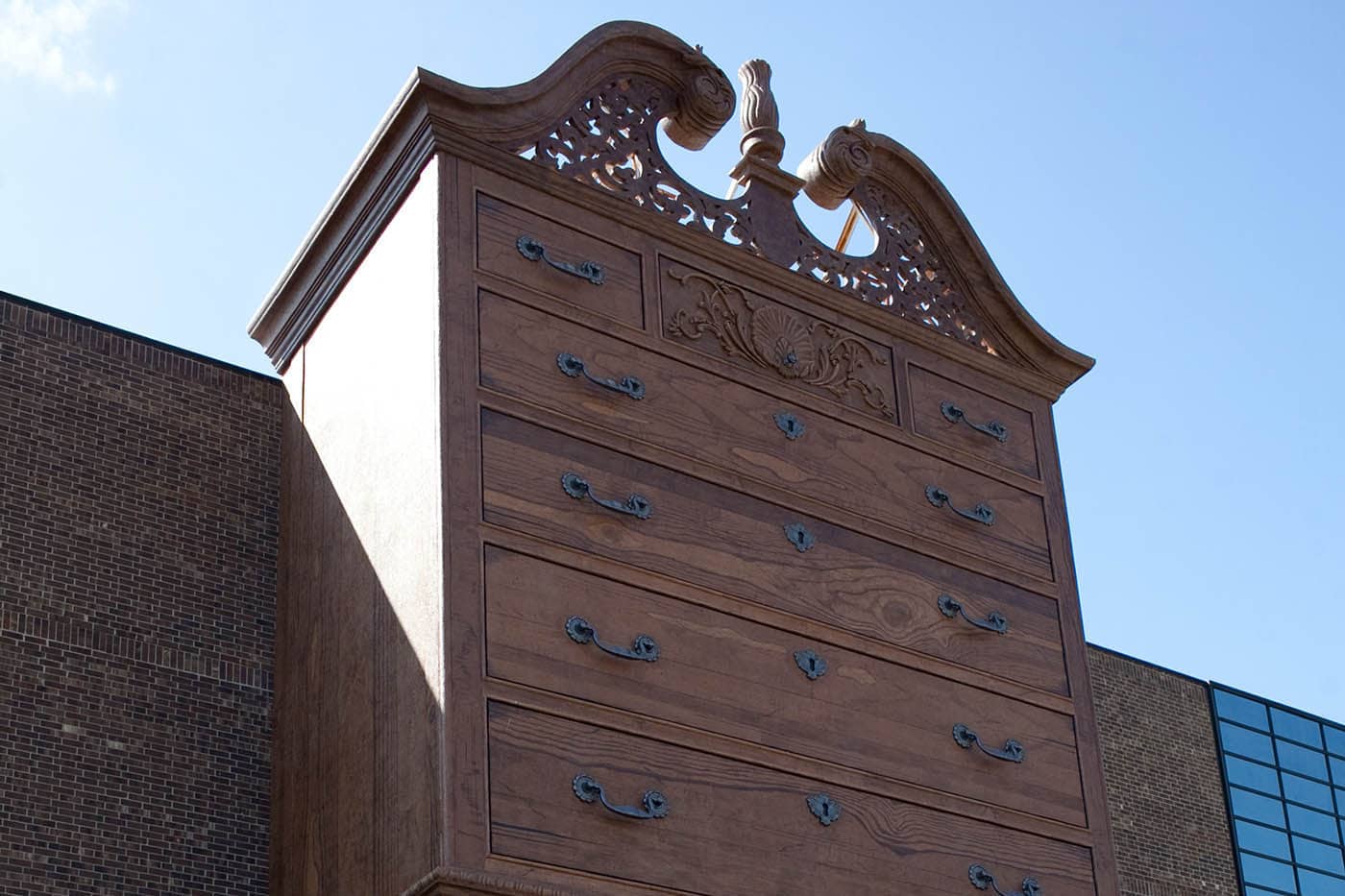 11. World's Largest Highboy Chest of Drawers
Furnitureland South, 5635 Riverdale Dr., Jamestown, NC
The World's Largest Highboy Chest of drawers features a sleek, ornamental look that would fit in to any giant's traditional home. It also feels right at home in North Carolina, a state known for its production of high quality of furniture and High Point, the furniture capital of the world. Constructed in 1999, the impressive eighty-five foot tall by forty-foot wide dresser that makes up the facade to Furnitureland South (which bills itself as the world's largest furniture store) in Jamestown, North Carolina is the world's largest replica of an 18th century Highboy chest. The giant chest of drawers was built when the store expanded, opening a 420,000 square foot showroom called "The Mart."
12. World's Largest Frying Pan
510 N Sycamore St, Rose Hill, NC
Visit the World's Largest Frying Pan in Rose Hill. This giant skillet is 15-feet in diameter and weighs 2 tons. It holds 200 gallons of oil and can fry up 365 chickens at one time! The big frying pan sits in a gazebo on top of 40 gas burners and is used to cook for the town at festivals. Be aware: this big pan is sometimes covered up between events.
13. Land of Oz Theme Park
1007 Beech Mountain Pkwy, Beech Mountain, NC
Land of Oz opened in 1970 as a theme park based on the Wizard of Oz books by L. Frank Baum. The park transformed visitors into the main character of Dorothy and took them through the story, from Kansas to the Emerald City, across the yellow brick road. One of the star attractions was a balloon ride "home" made from a modified ski lift. The park shut down in 1980 and continually fell into disrepair. Since then parts of the North Carolina tourist attraction have been refurbished and the park opens its doors several times a year for festivals and tours.
14. Cherokee, North Carolina
US Hwy 19, Cherokee, NC
The entire town of Cherokee, North Carolina (on the reservation home of the Eastern Band of the Cherokee Nation) is a tourist attraction in itself. You can take a photo with Chief Henry, stay in a tee-pee-shaped cabin, check out the Museum of the Cherokee Indian, see several Native American sculptures (and a muffler man), and even see some iconic retro hotel signs (like the Tinkerbell Motel Sign).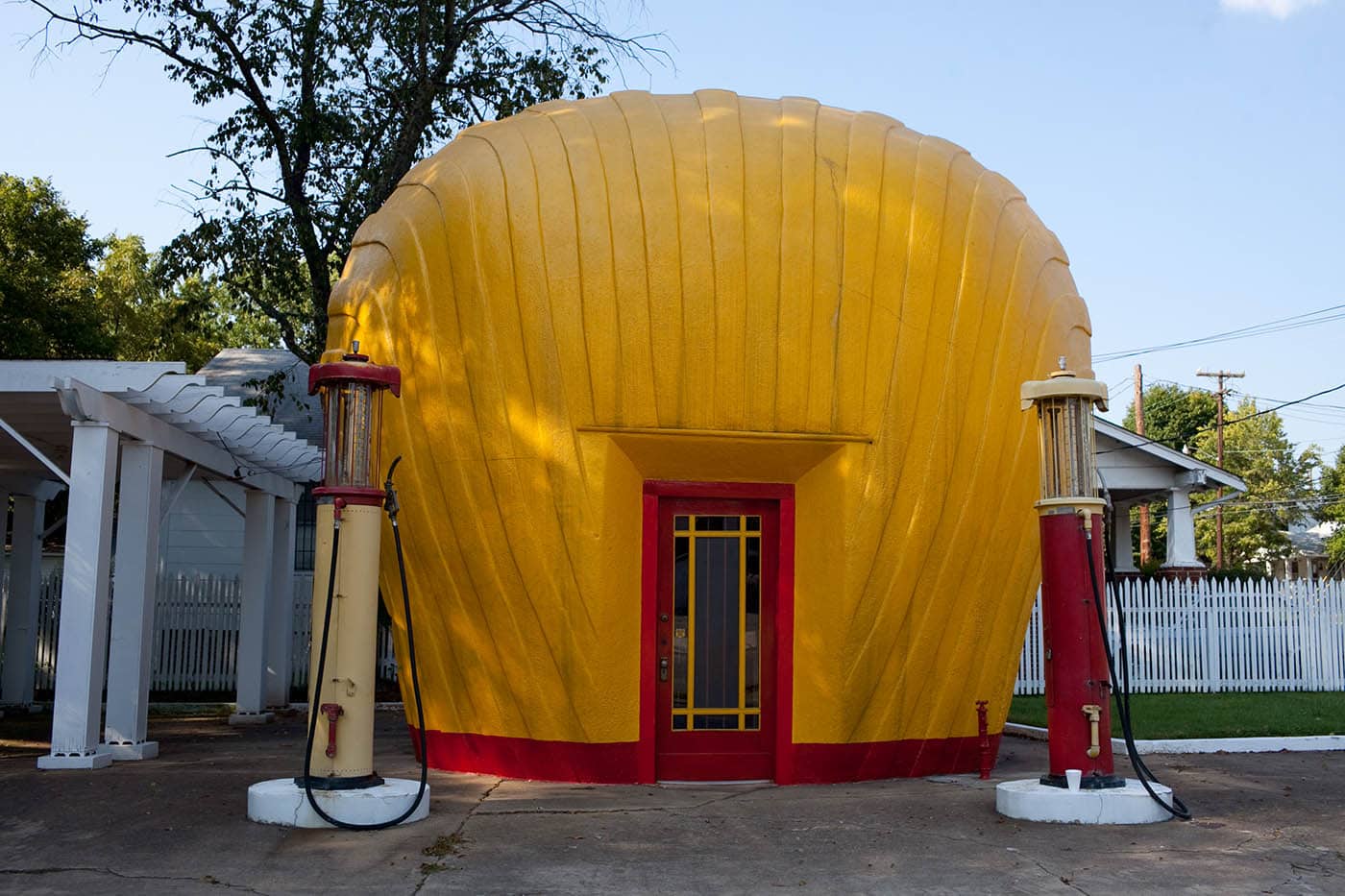 15. Shell-Shaped Gas Station
1111 E Sprague St, Winston-Salem, NC
There were once eight shell-shaped gas stations in North Carolina: seven in Winston-Salem and one in nearby Kernersville. Built in the 1930s by Quality Oil, a local distributor of Shell oil, these Shell Oil gas stations were meant to serve as hard-to-miss advertisements to entice customers to stop by. Today, only one of those original eight Shell stations is left standing. You can still stop at the glorious bight-yellow stucco roadside attraction to take photos, but don't show up with an empty tank, it's no longer in a functioning gas station!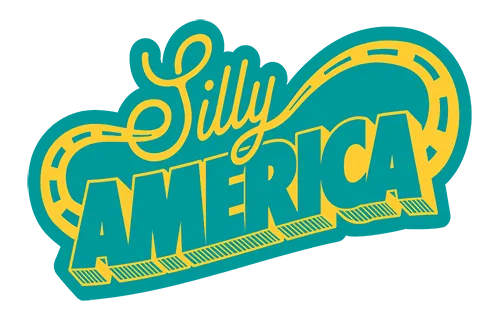 Pin this list of the 15 Best North Carolina Roadside Attractions: