You can't miss seeing Salem Sue, the World's Largest Holstein Cow when traveling through New Salem on a North Dakota road trip. And I mean that in two ways. One, she is absolutely one of the best and biggest world's largest things I have ever seen (and trust me, I've seen a lot of world's largest things), so it would be a travesty to drive by without at least taking a peek. And two, she's just so big that she is IMPOSSIBLE to miss!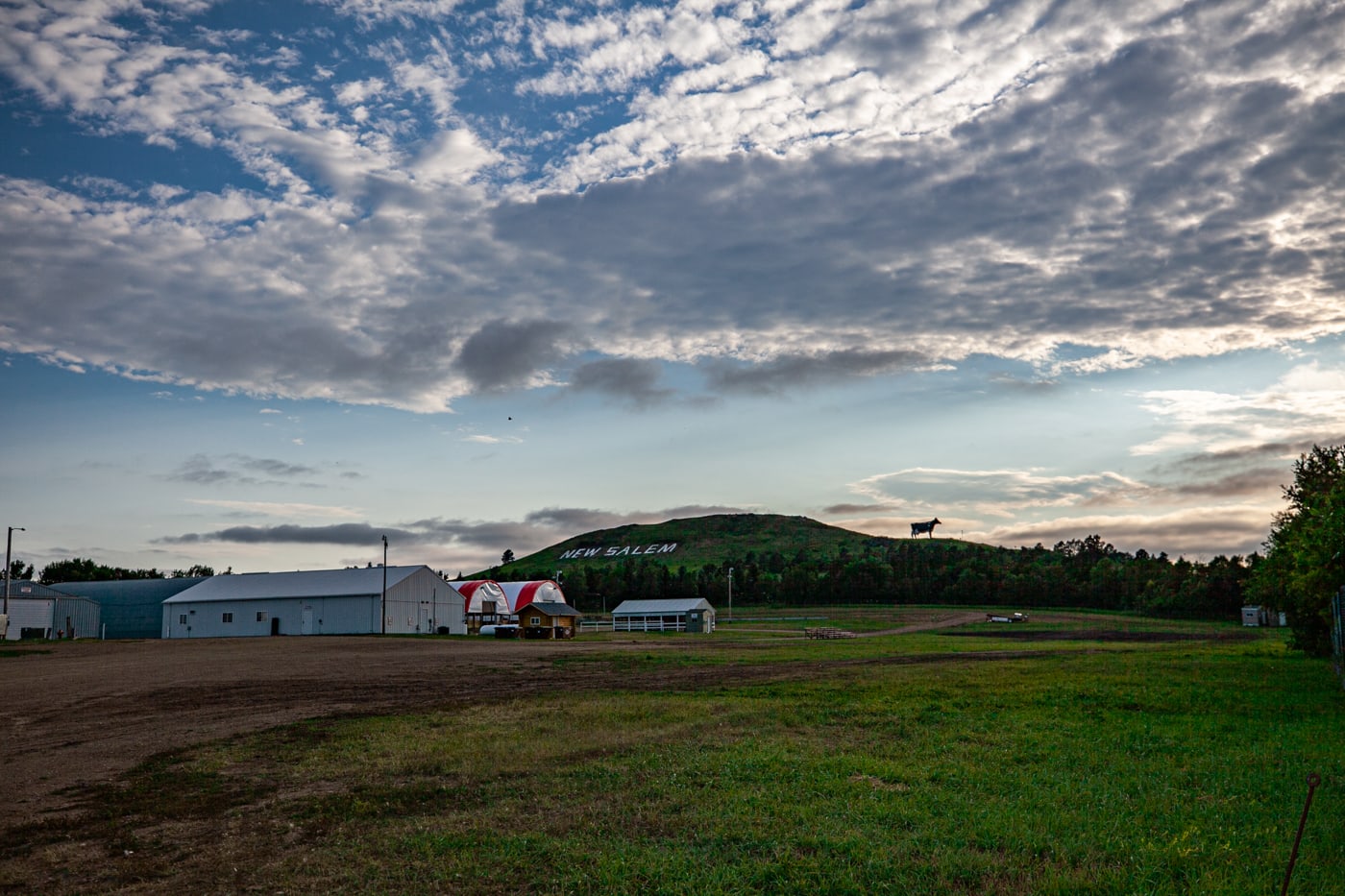 This giant fiberglass cow stands at 38 feet tall and 50 feet wide and weighs in at an impressive 12,000 pounds (6 tons). That weight is especially impressive since she was constructed with a hollow center. Perched on a hill overlooking New Salem, you can spot her from up to five miles away!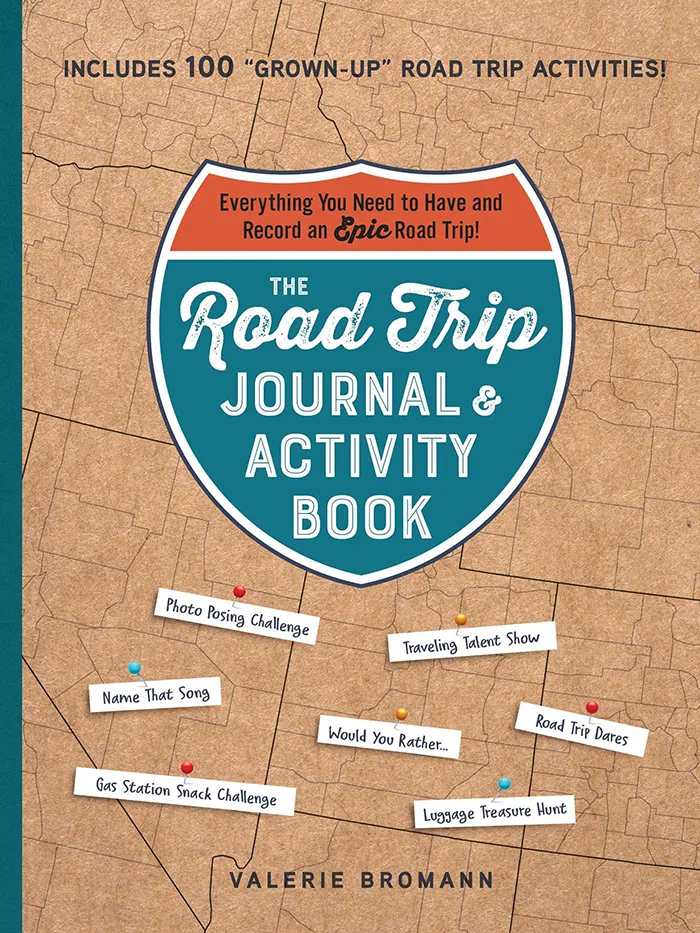 The Road Trip Journal & Activity Book
Everything You Need to Have and Record an Epic Road Trip!
Enjoy fun games and challenges to pass the time on your next road trip and have a keepsake to look back on for years to come with this entertaining must-have for your next vacation.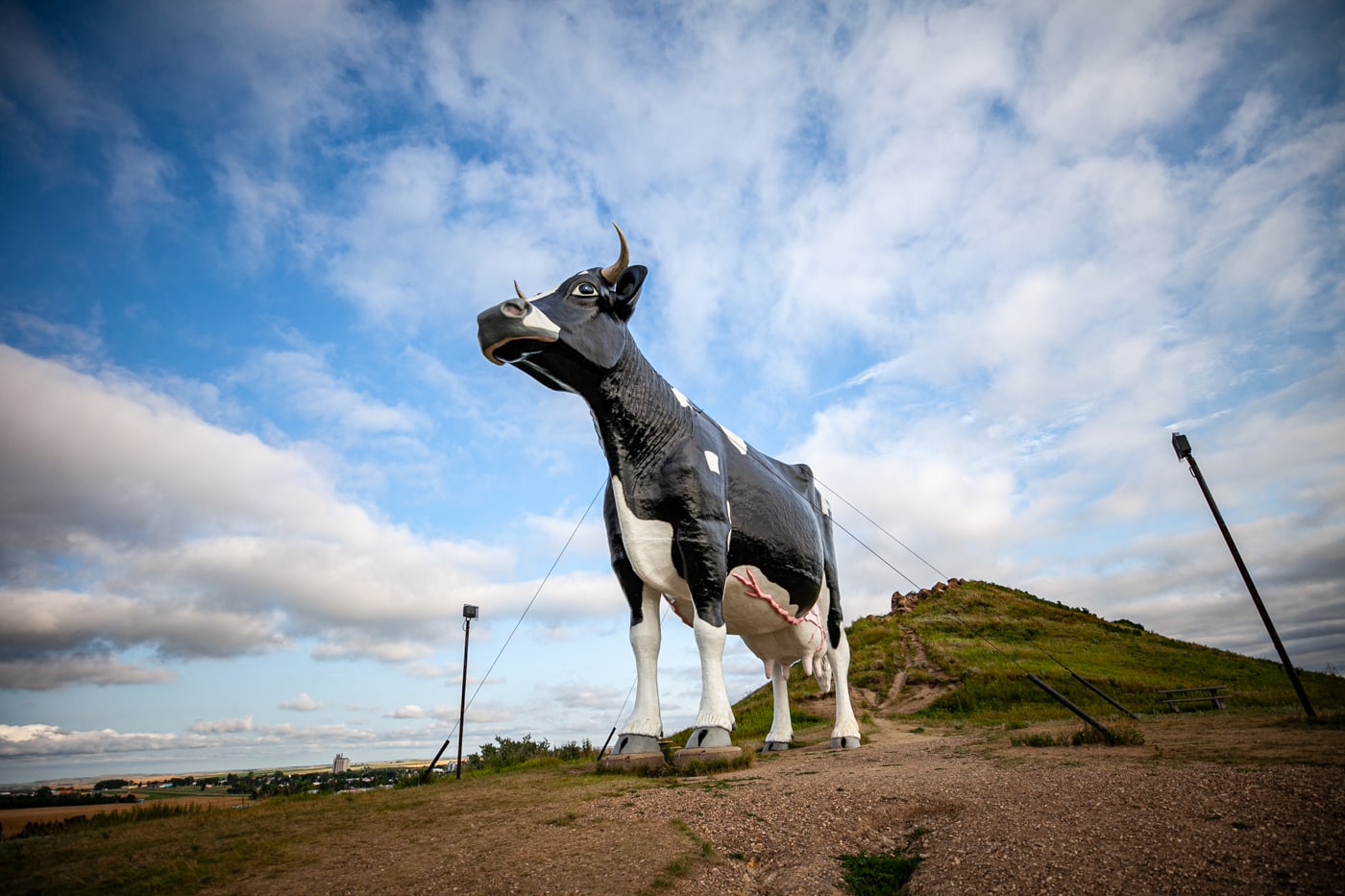 This big cow was erected in 1974 by the New Salem Lions Club. It was built by artist Dave Oswald at Sculpture Mfg. Co. of LaCrosse, Wisconsin to help promote the superior Holstein herds of the area and the high quality milk they produce, and to honor the dairymen that look over them.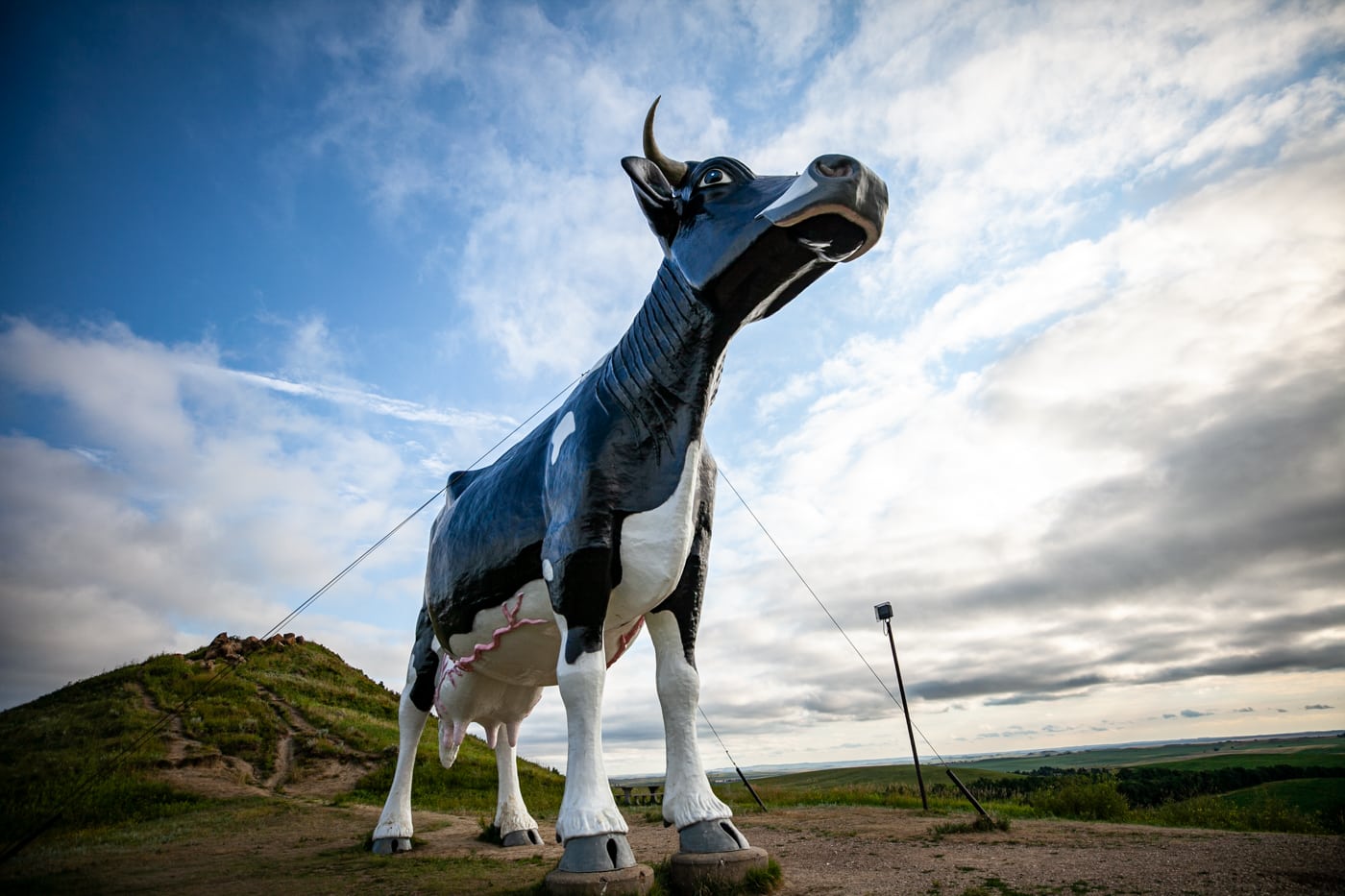 It cost $40,000 to construct the North Dakota roadside attraction in 1974. In 2019, that would be about $208,000. The money was contributed by dairymen, farmers, businessmen, the dairy industry and local residents.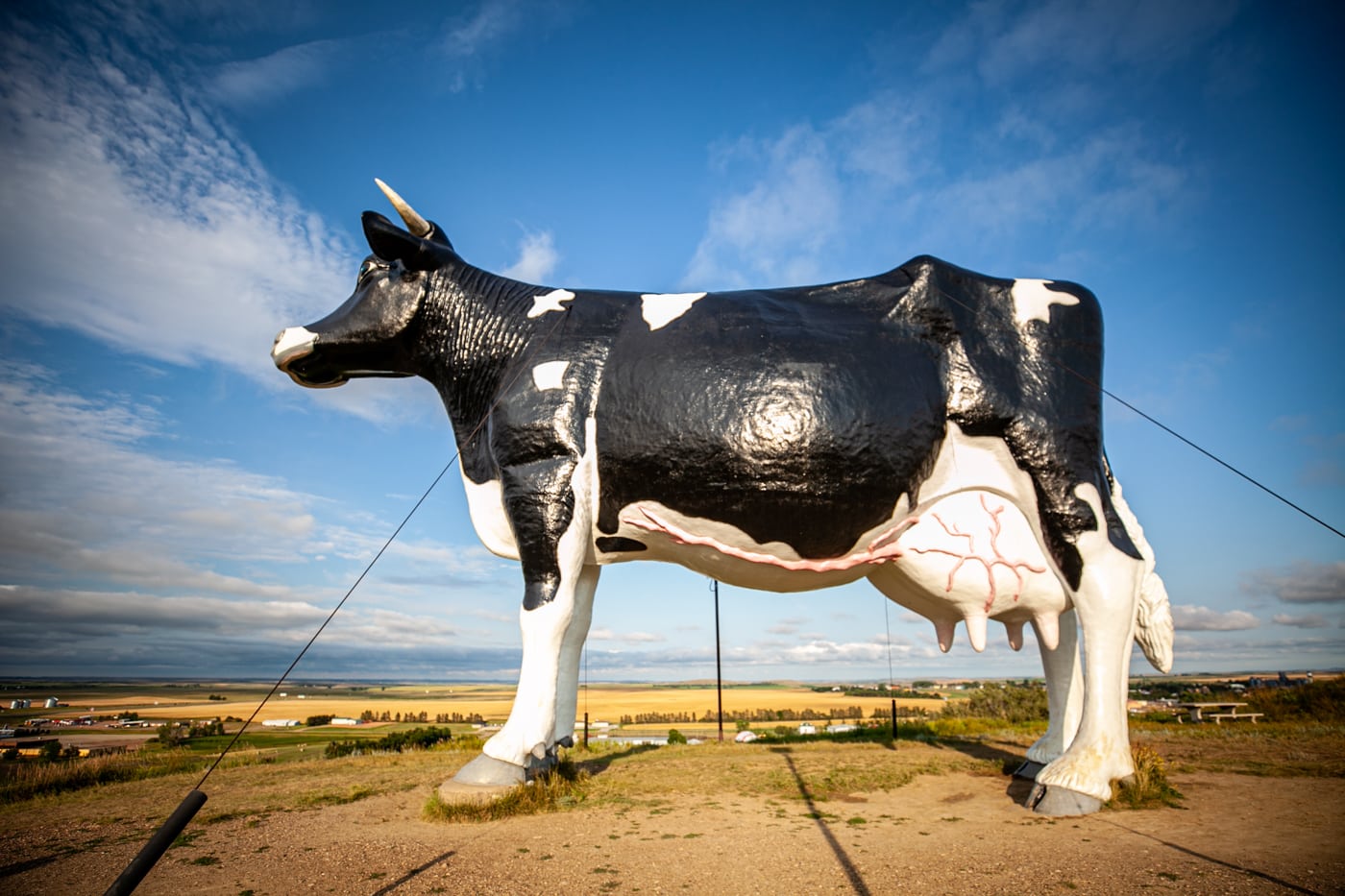 Sue was only the second giant animal roadside attraction created in North Dakota, but certainly not the last. The first was the World's Largest Buffalo in Jamestown, which was built 15 years earlier in 1959. That attraction's popularity set the stage for Sue's construction and all the other giant animals to come.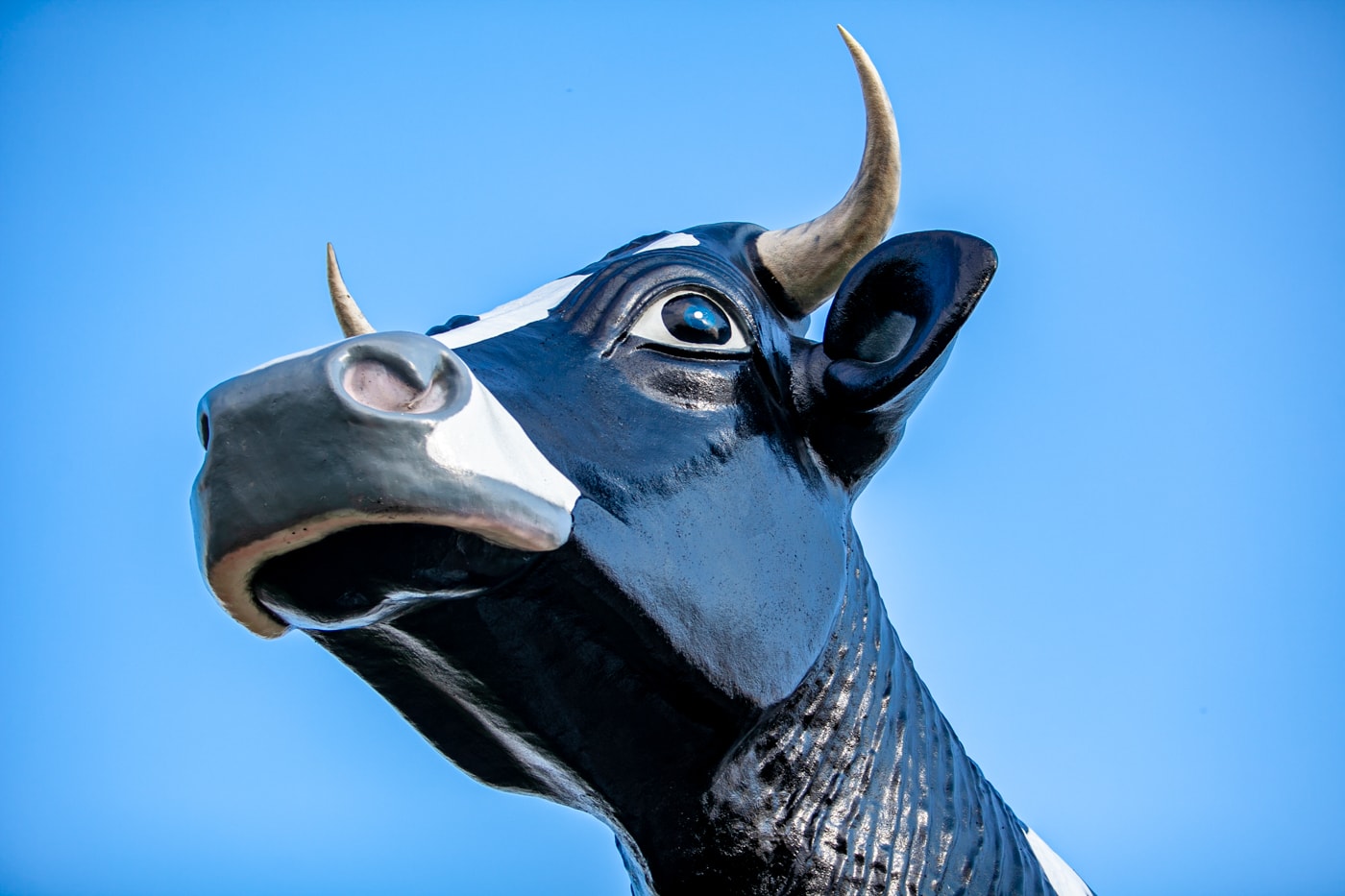 Nowadays you can find many world's largest animals in North Dakota including Sandy the Sandhill Crane in Steele, Rusty the Turtle in Turtle Lake, and Wally the Walleye in Garrison along with the World's Largest Catfish in Wahpeton, North Dakota, which was created by Dave Oswald, the same artist who make Salem Sue!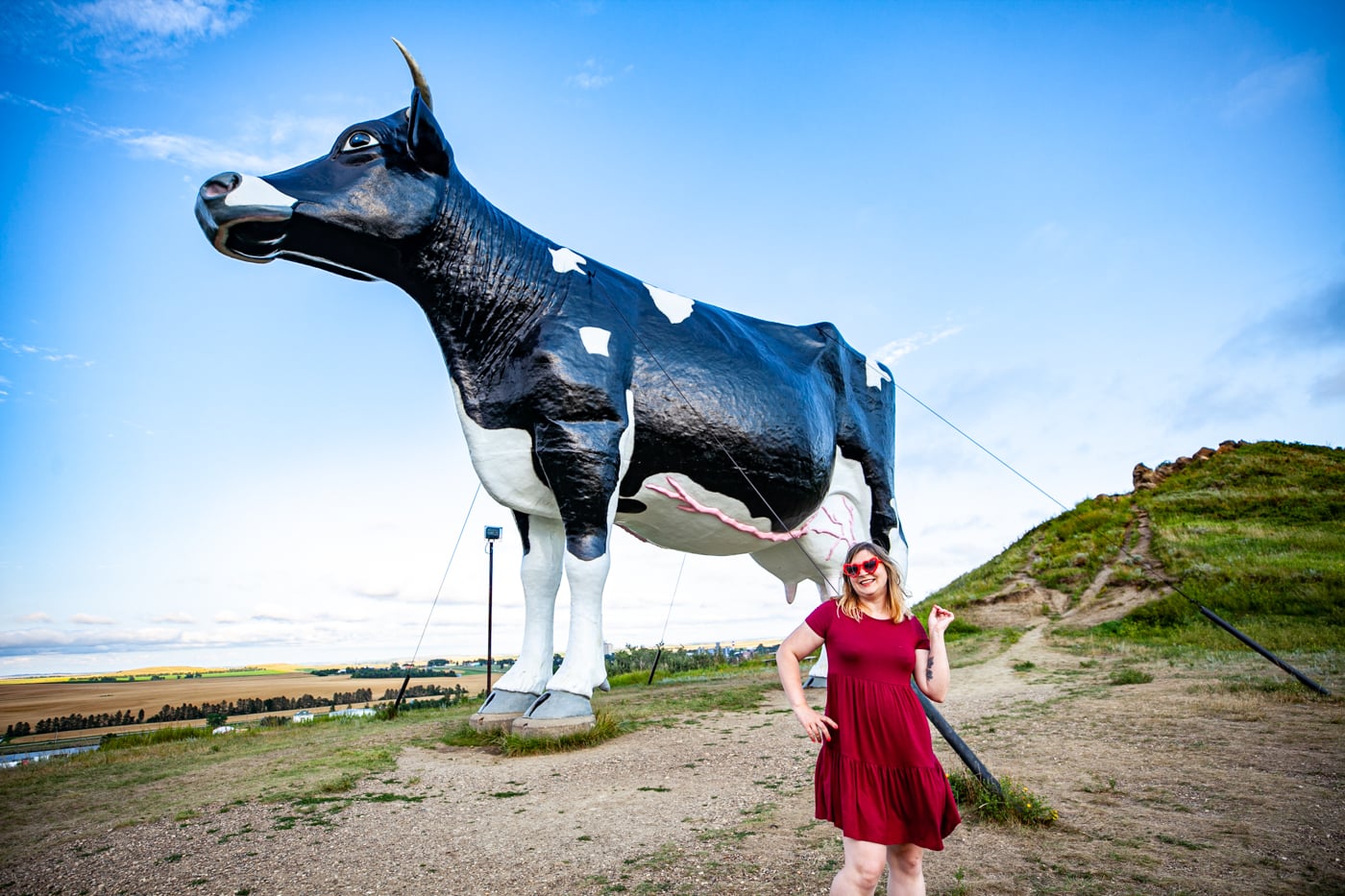 Salem Sue, the World's Largest Holstein Cow, is the most impressive giant cow I've ever seen. And I've seen a lot of giant cows, including Sissy the Cow in Wisconsin, Bessie the Cow in Wisconsin, and Gertrude the Cow in Illinois.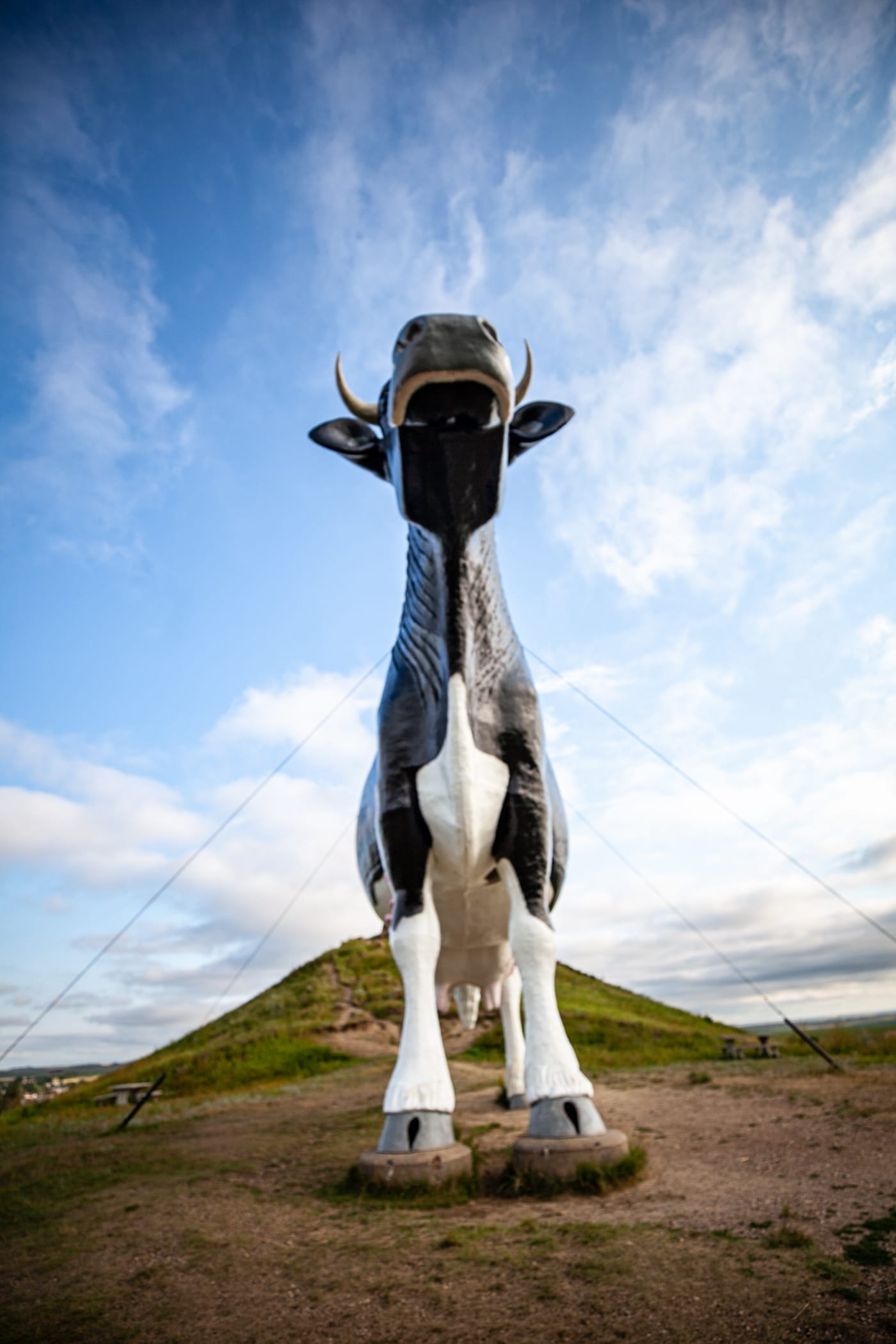 From the tops of her horns to the tips of her hooves and all the shining big black and white body in between, she is one beautiful bovine. But I can't talk about Sue without talking about her one feature that has had visitors snickering for years: her big, bloated, veiny, udders. They are UDDER-ly amazing!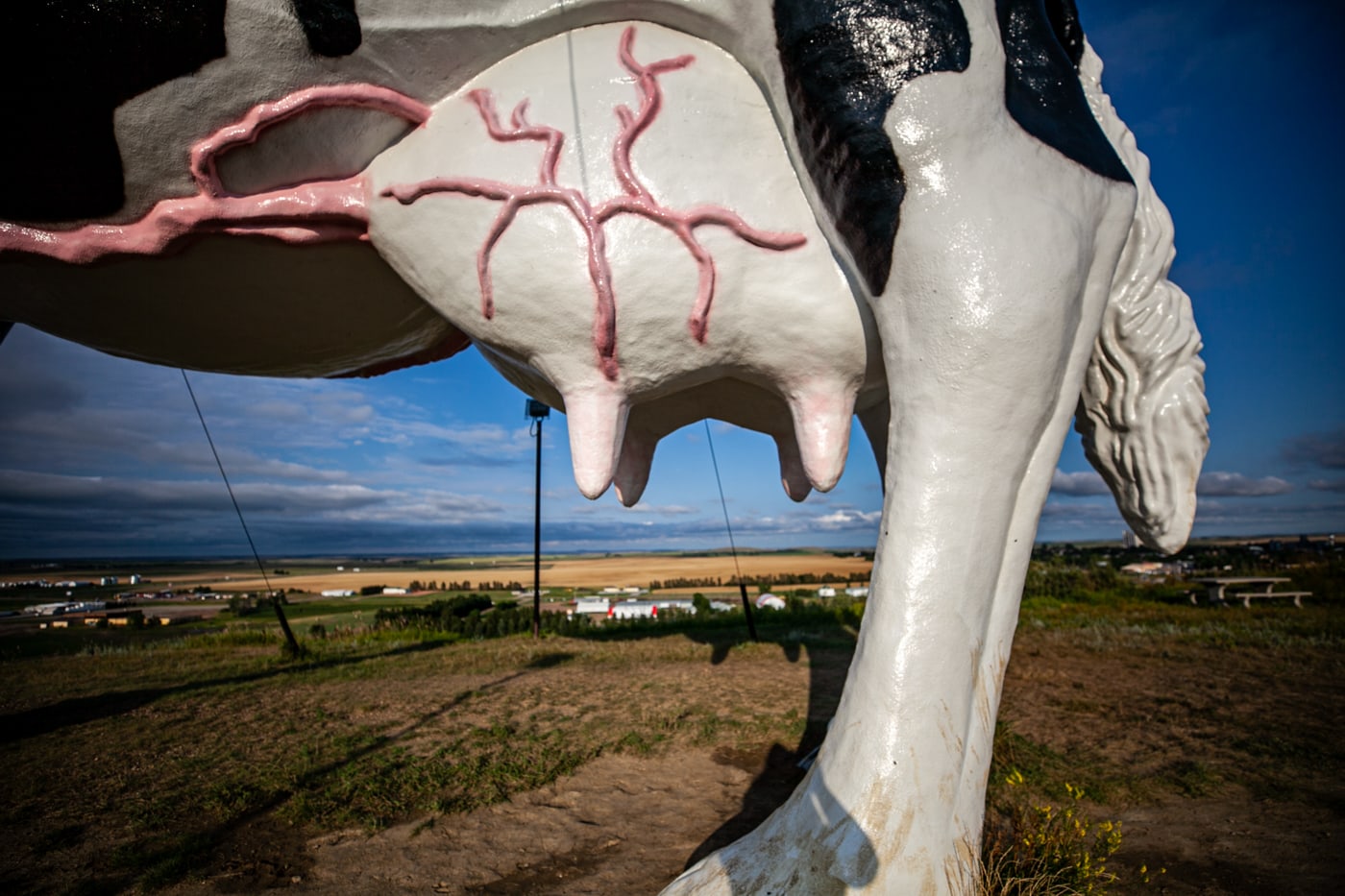 Even if you're not a fan of roadside attractions (though I can't imagine anyone not being one!), this should still be a must-stop road trip pit-stop for the gorgeous 360-degree views across the expansive farmland below. And, just maybe, you might fall in love with this giant fiberglass cow while you're up there enjoying the view from Salem Sue!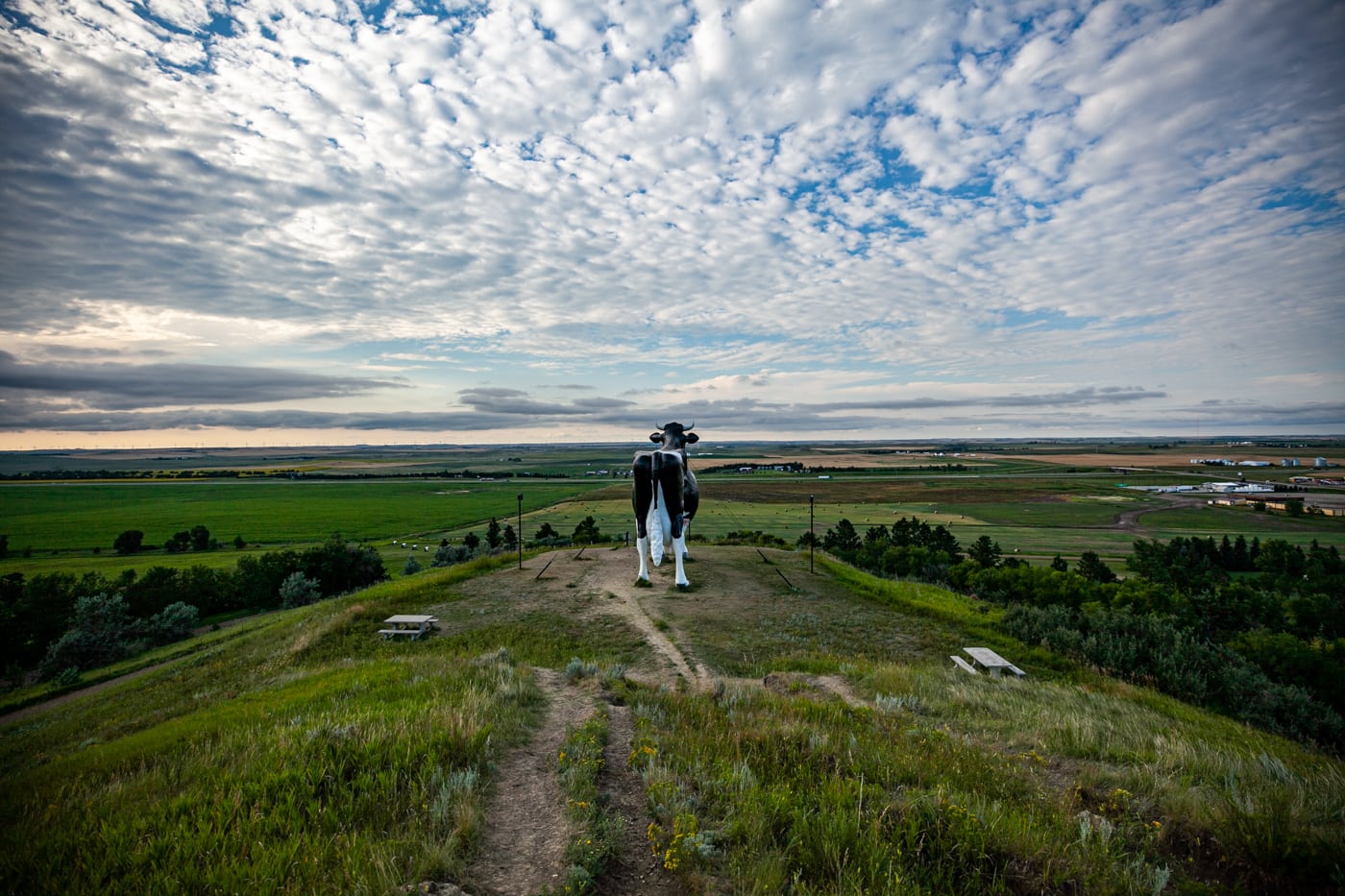 Salem Sue isn't just one of the best roadside attractions in North Dakota, she's one of the best roadside attractions in all of the United States. One visit will surely leave you having a mooriffic day and singing the "Ballad of the Holstein" (sung to the tune of "Joy to the World," from a brochure at the local gas station):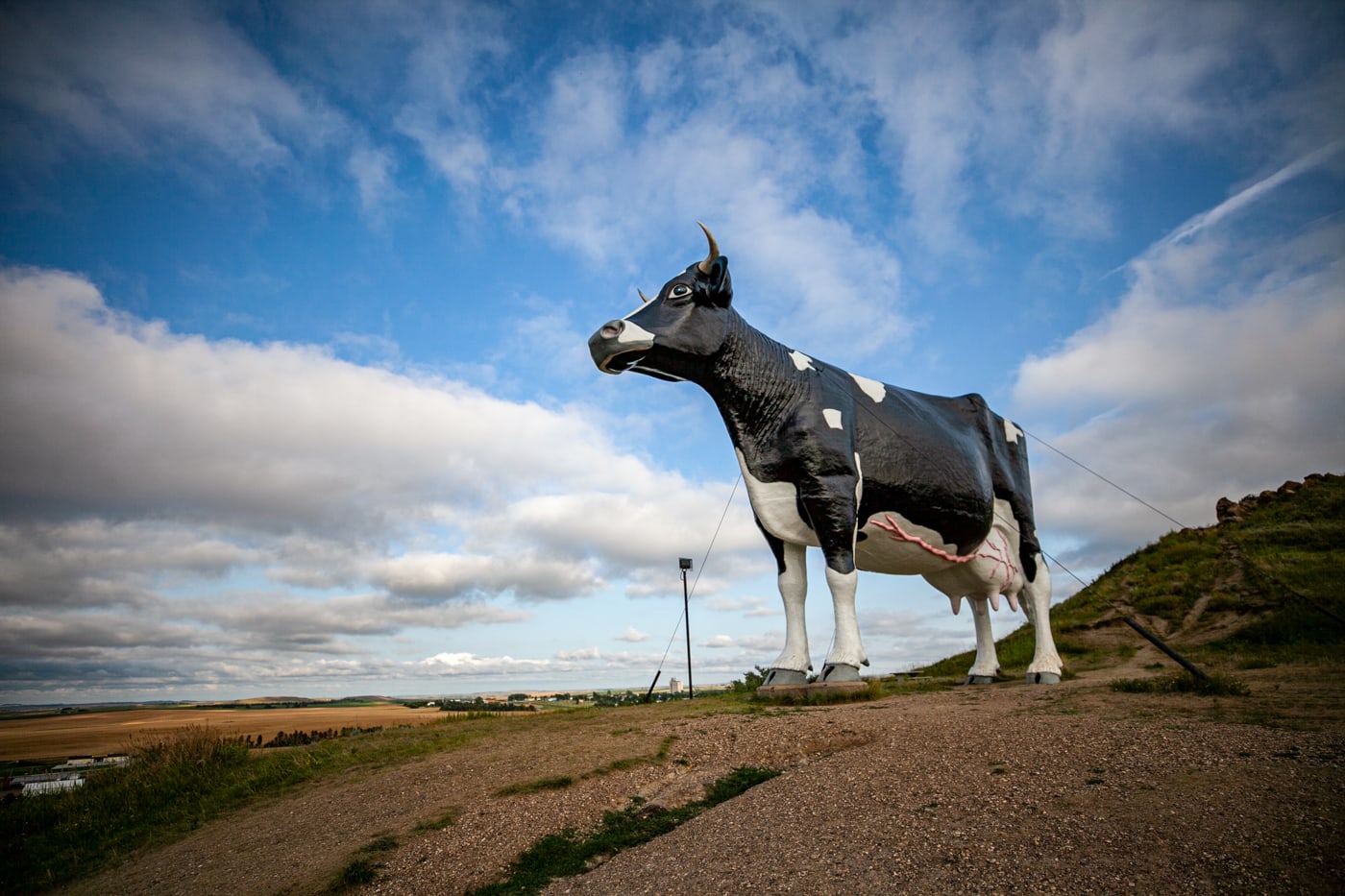 We've got the World's
Largest Holstein cow,
That looks across our fields.
Her presence shows
That New Salem grows,
With Milk-producers' yields:
Friends will come and
View from near and far,
She will tell to all
Just where we are;
We've got a cow
World's largest cow,
That looks across our fields.
More photos of Salem Sue, The World's Largest Holstein Cow in New Salem North Dakota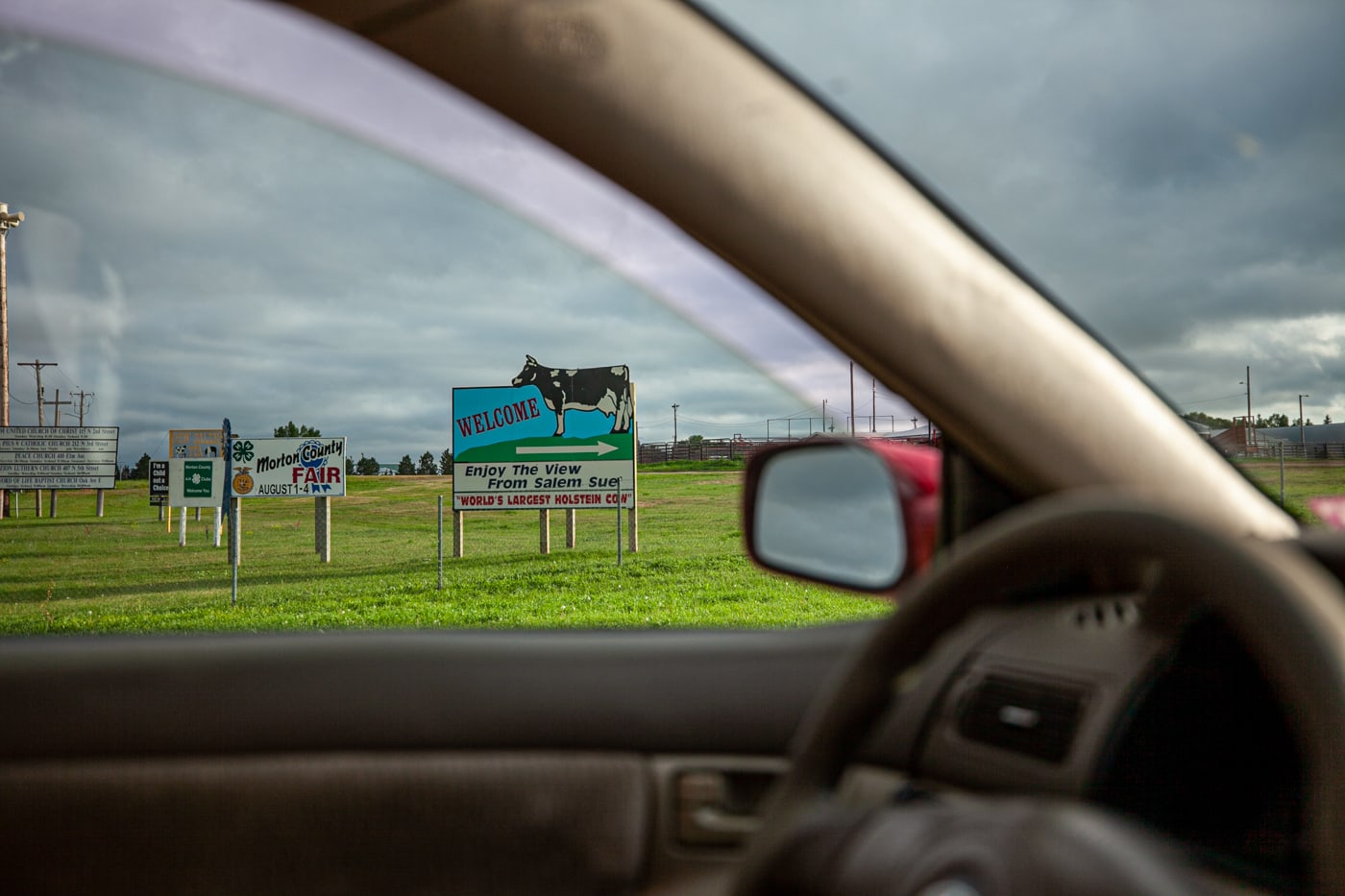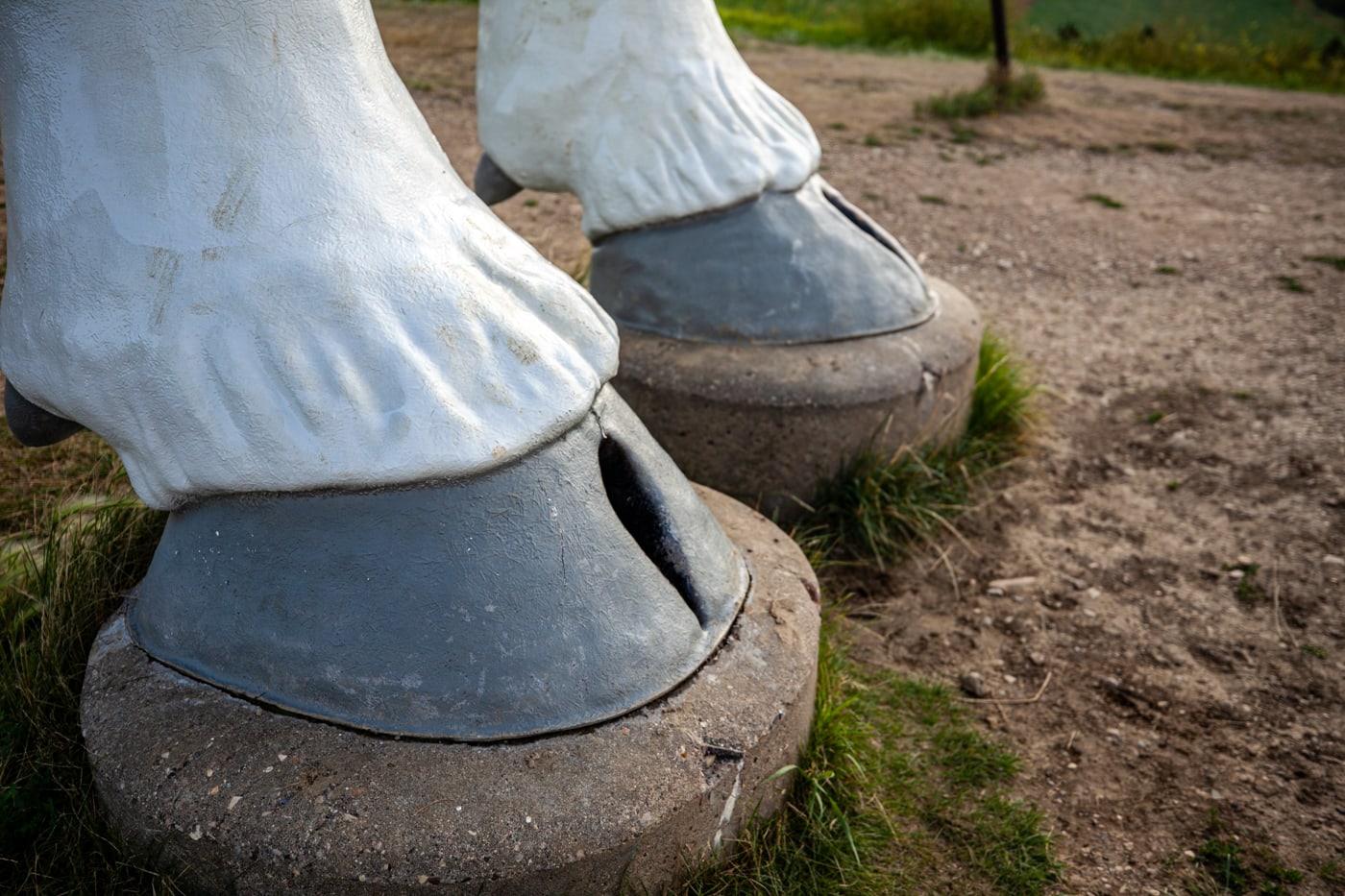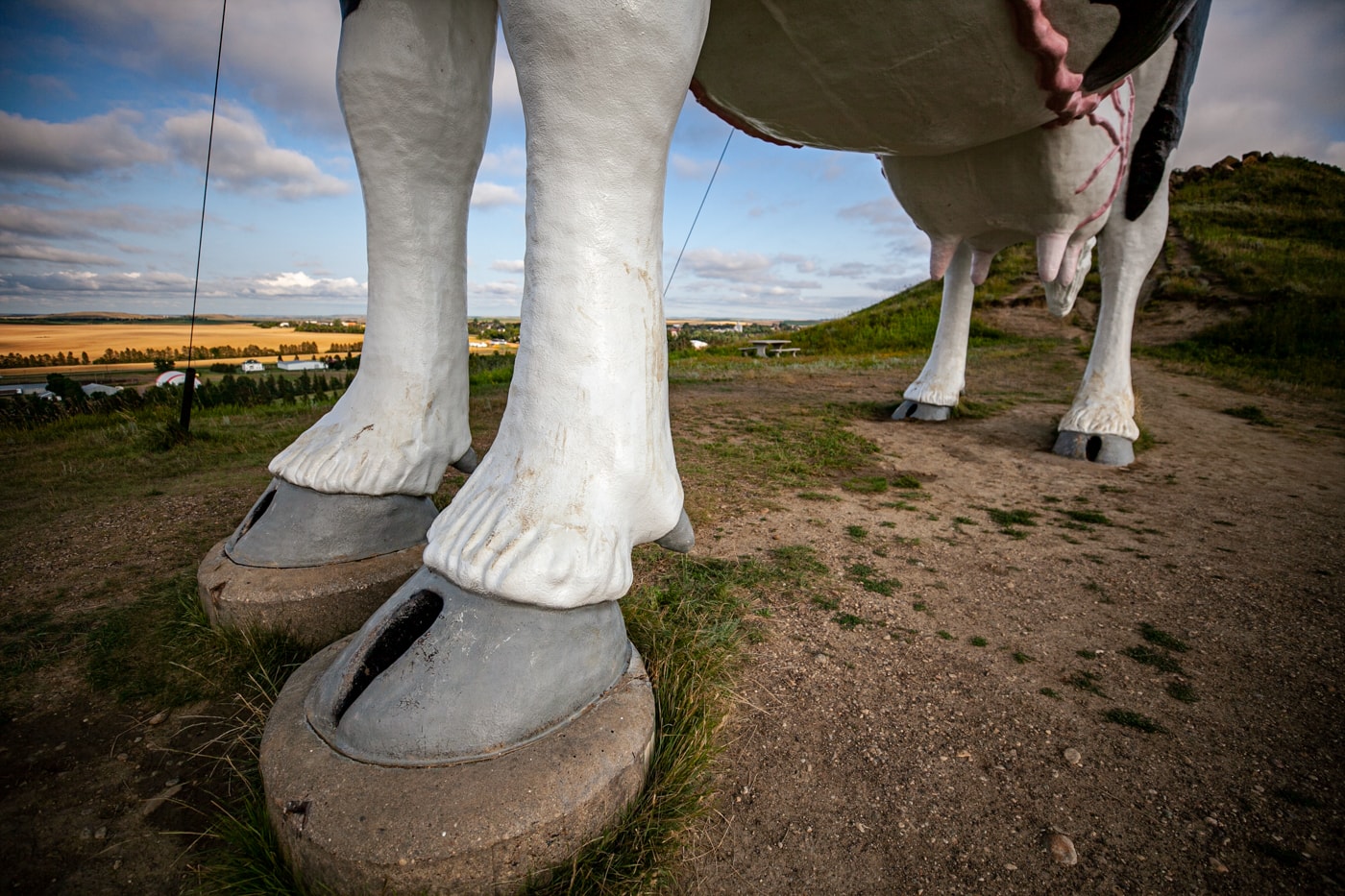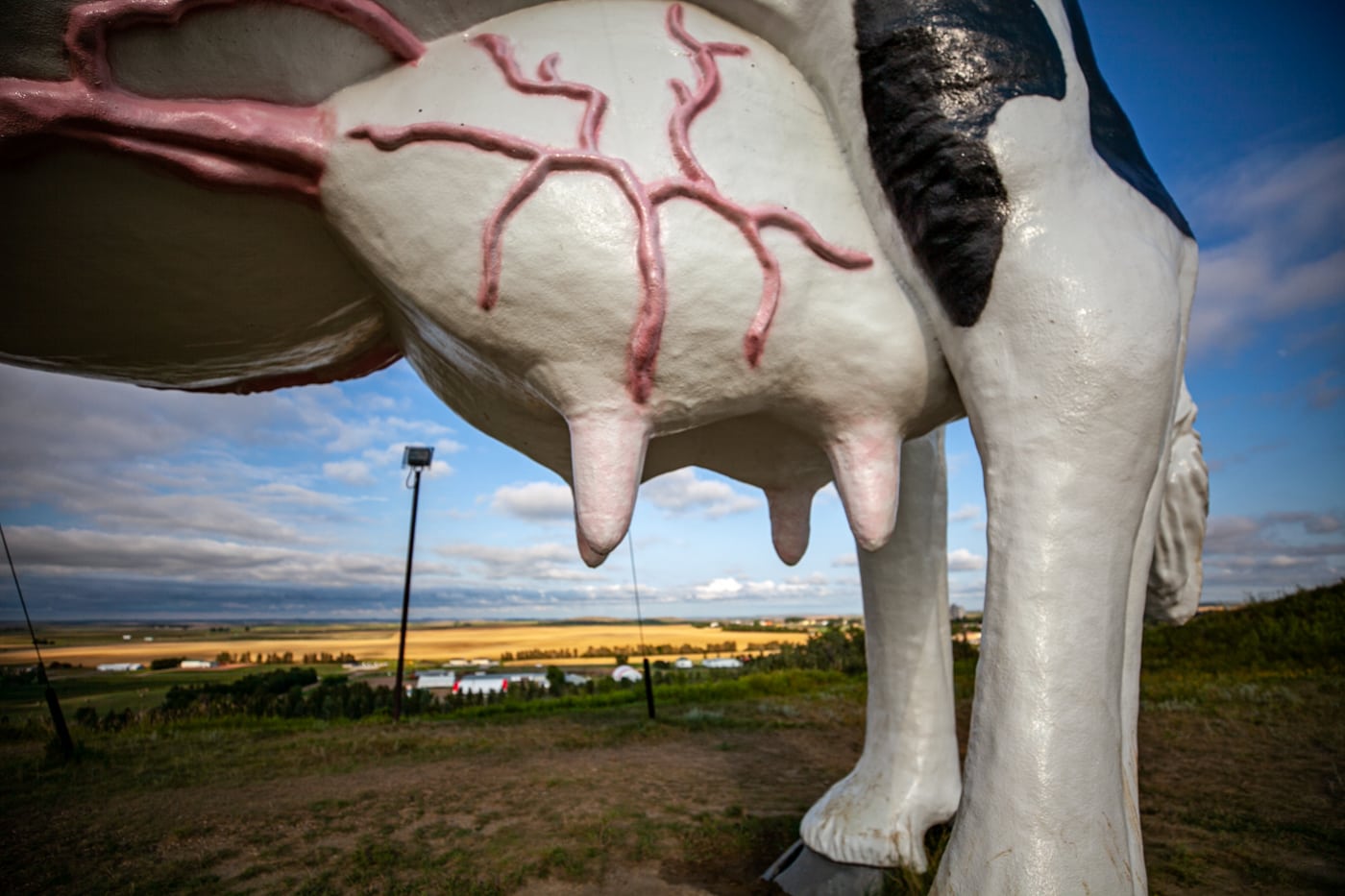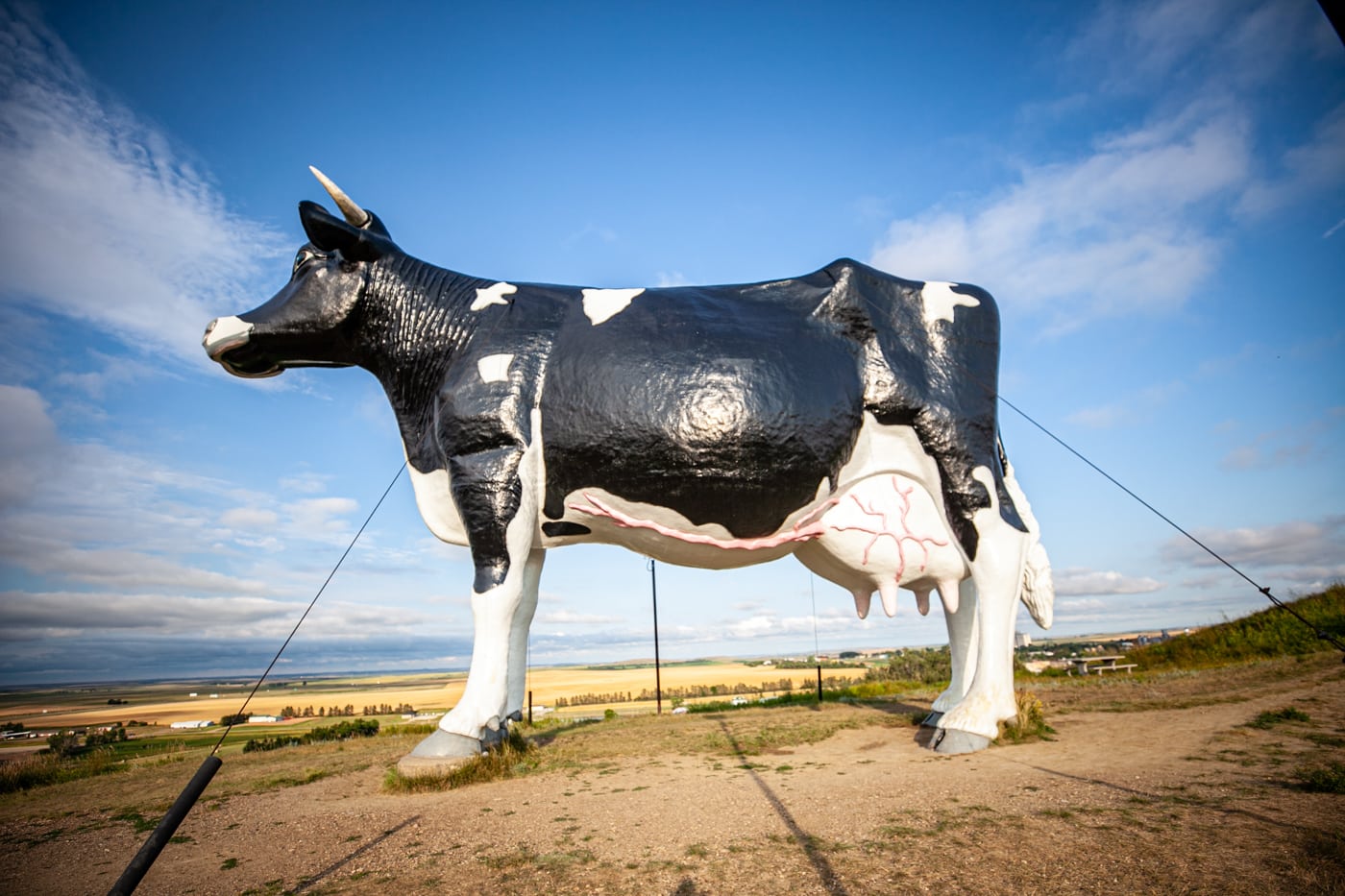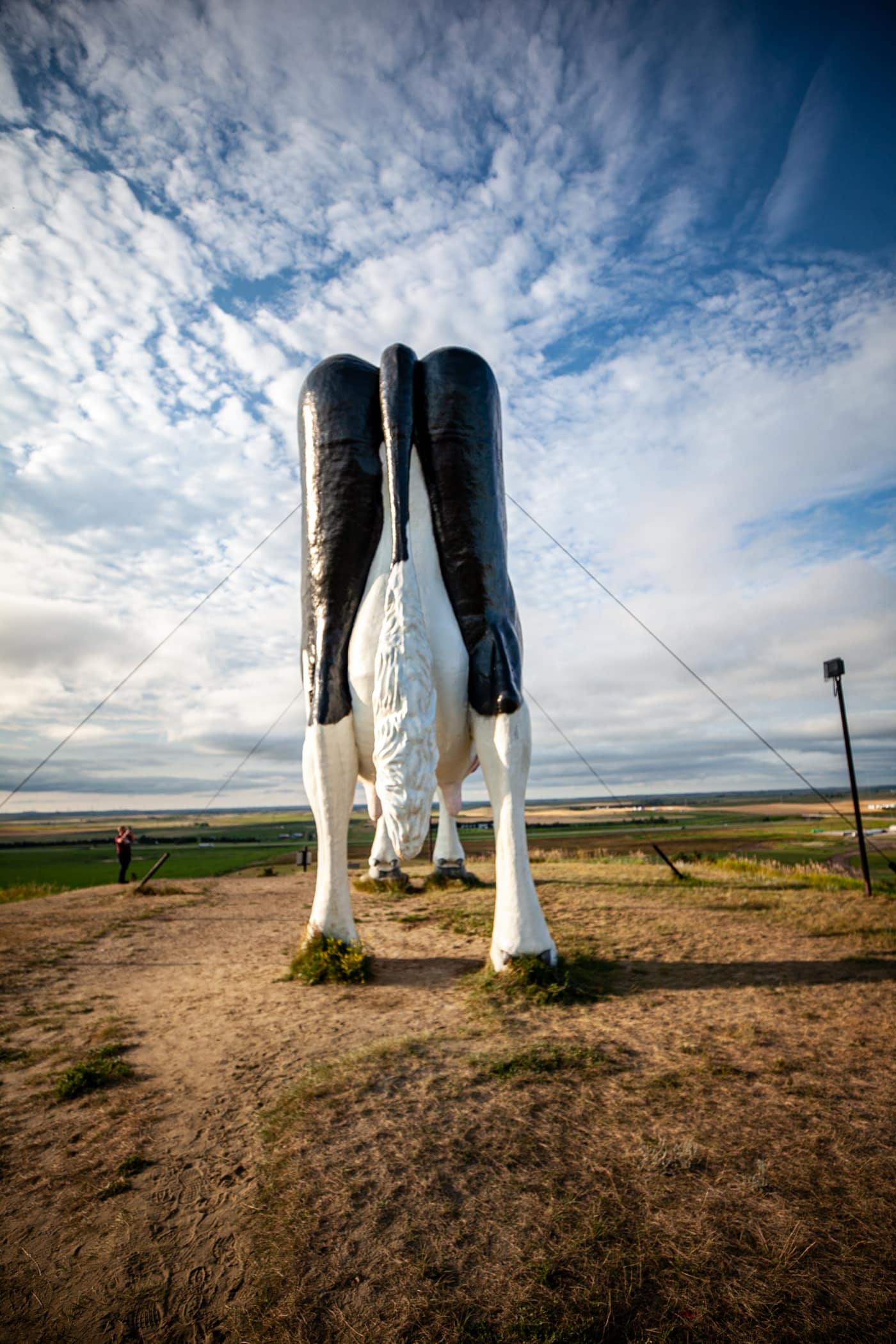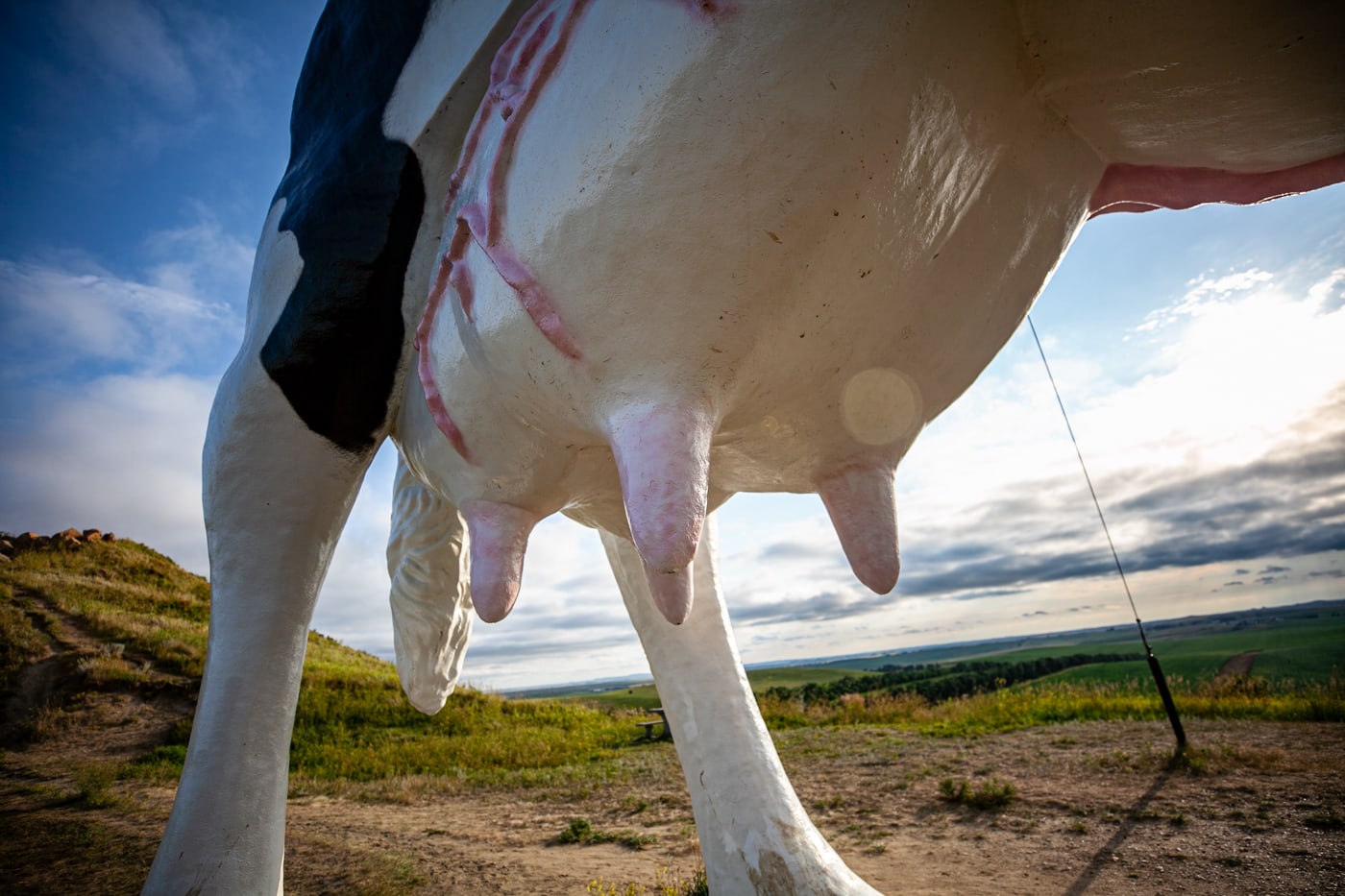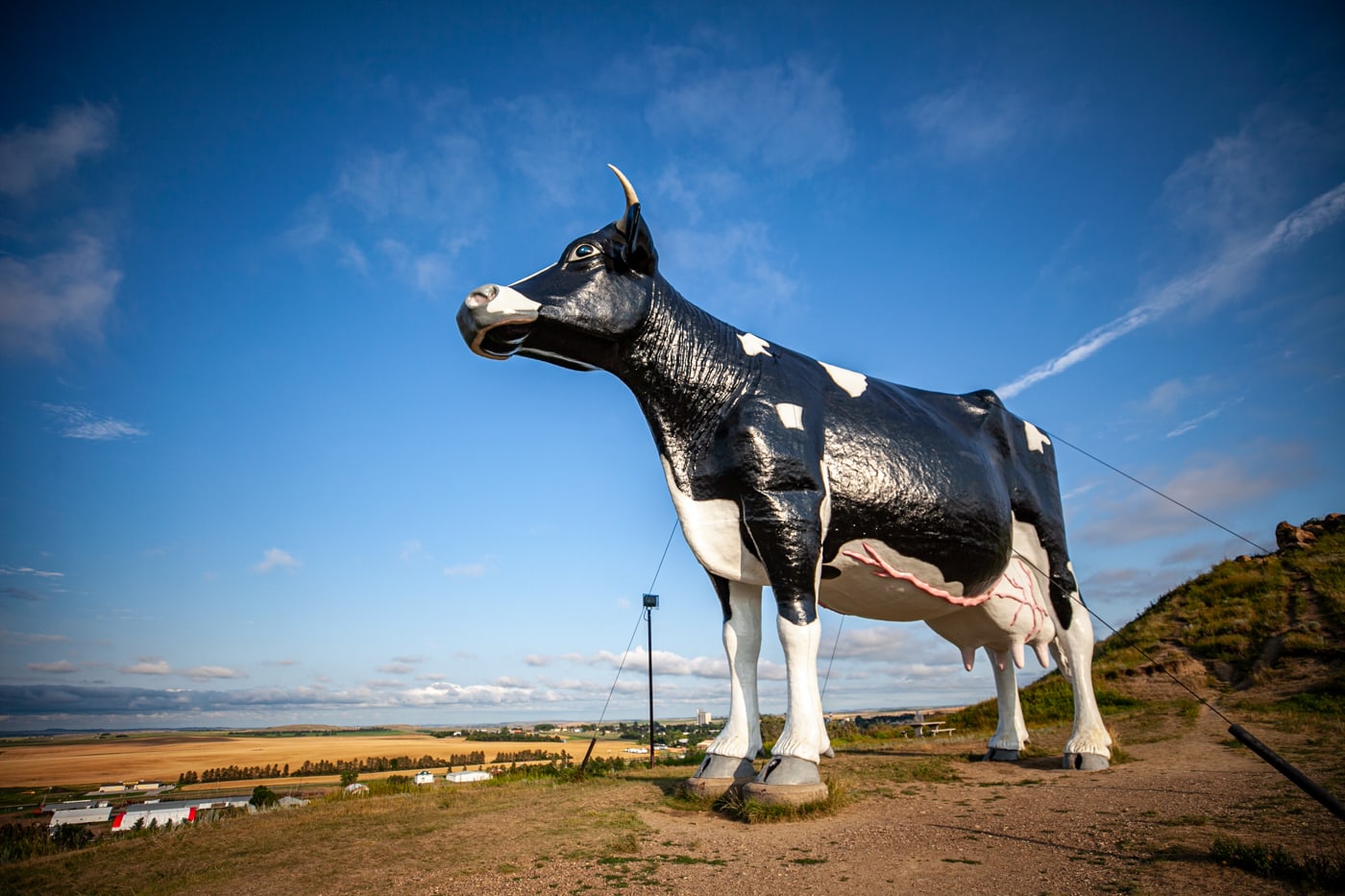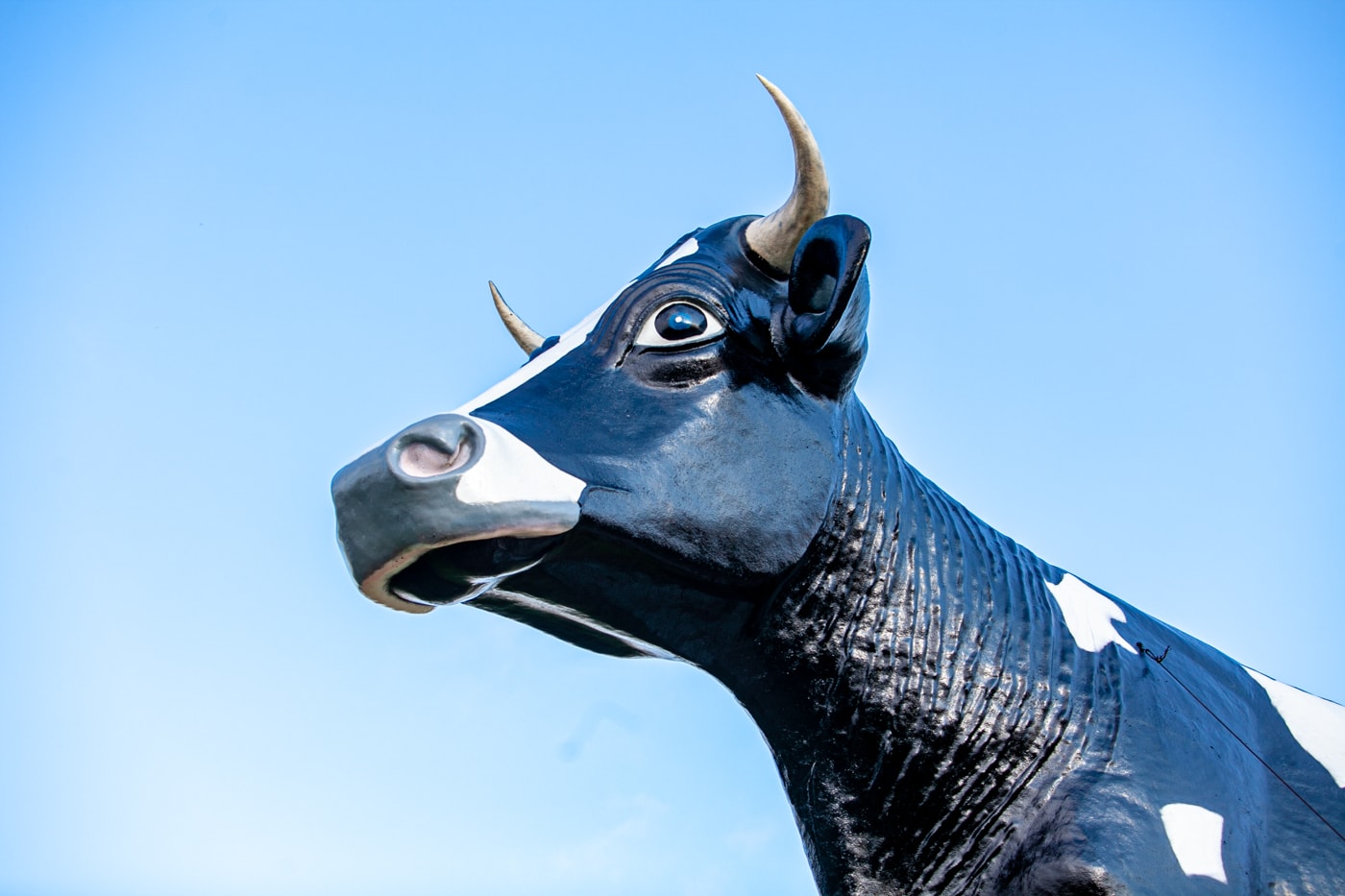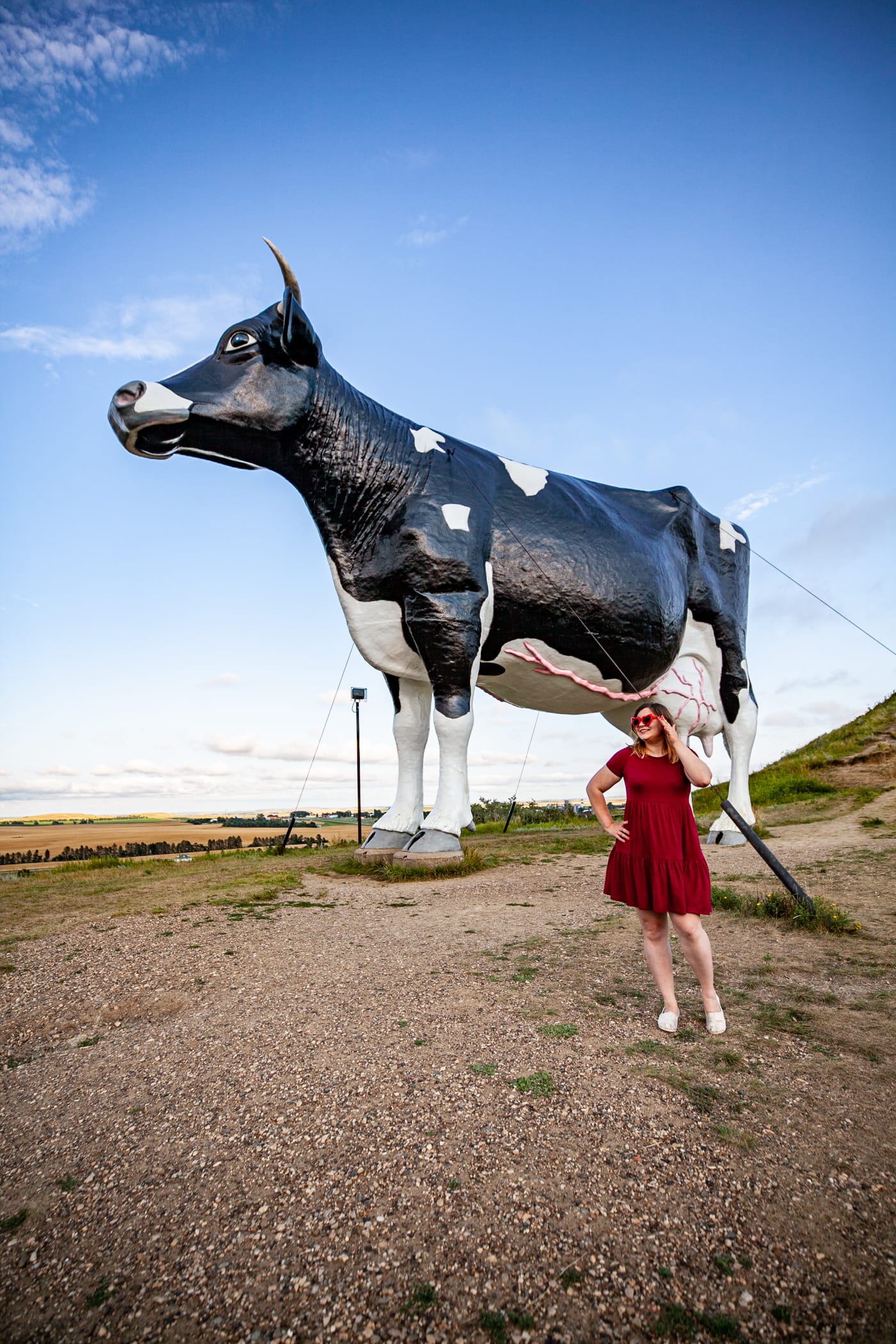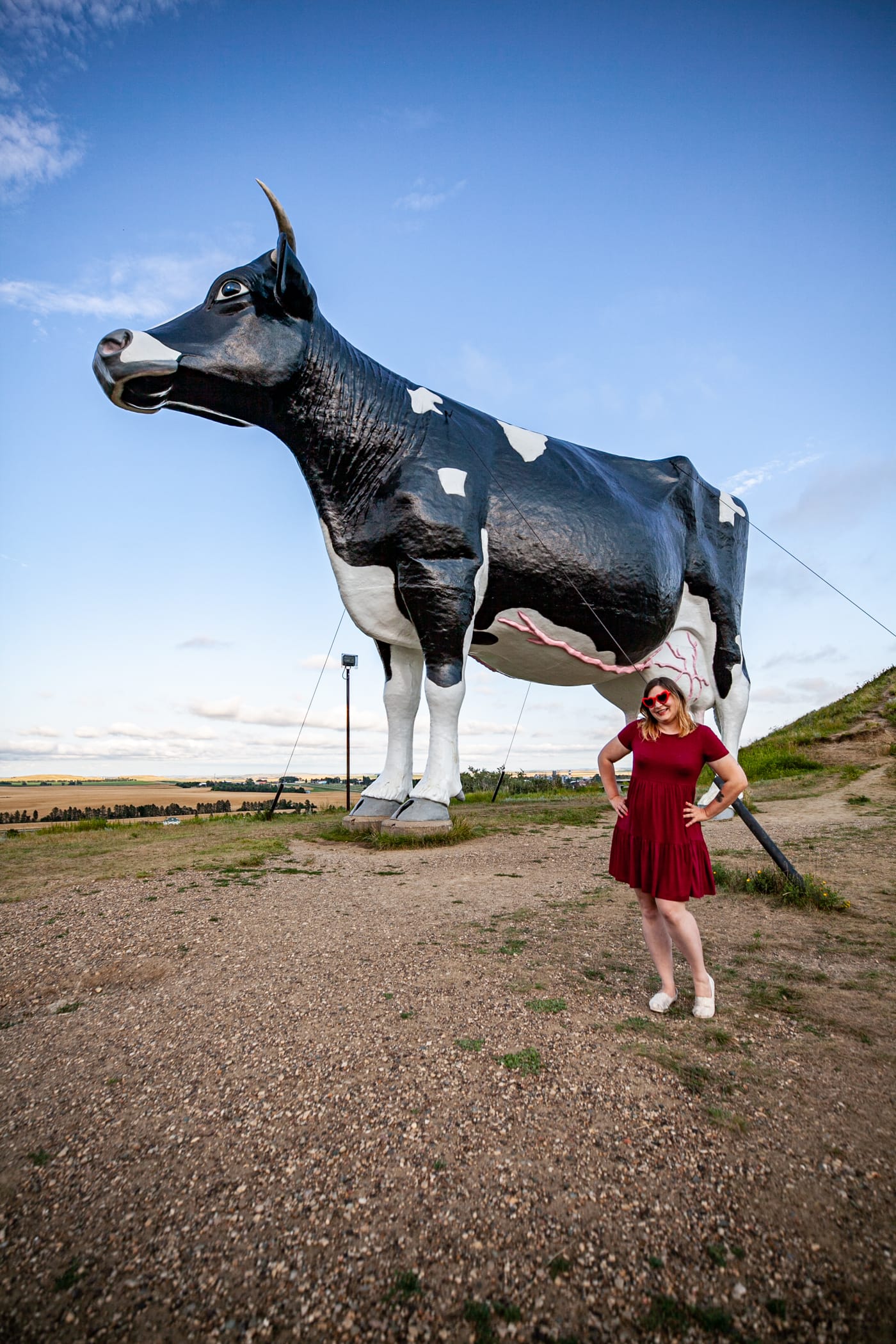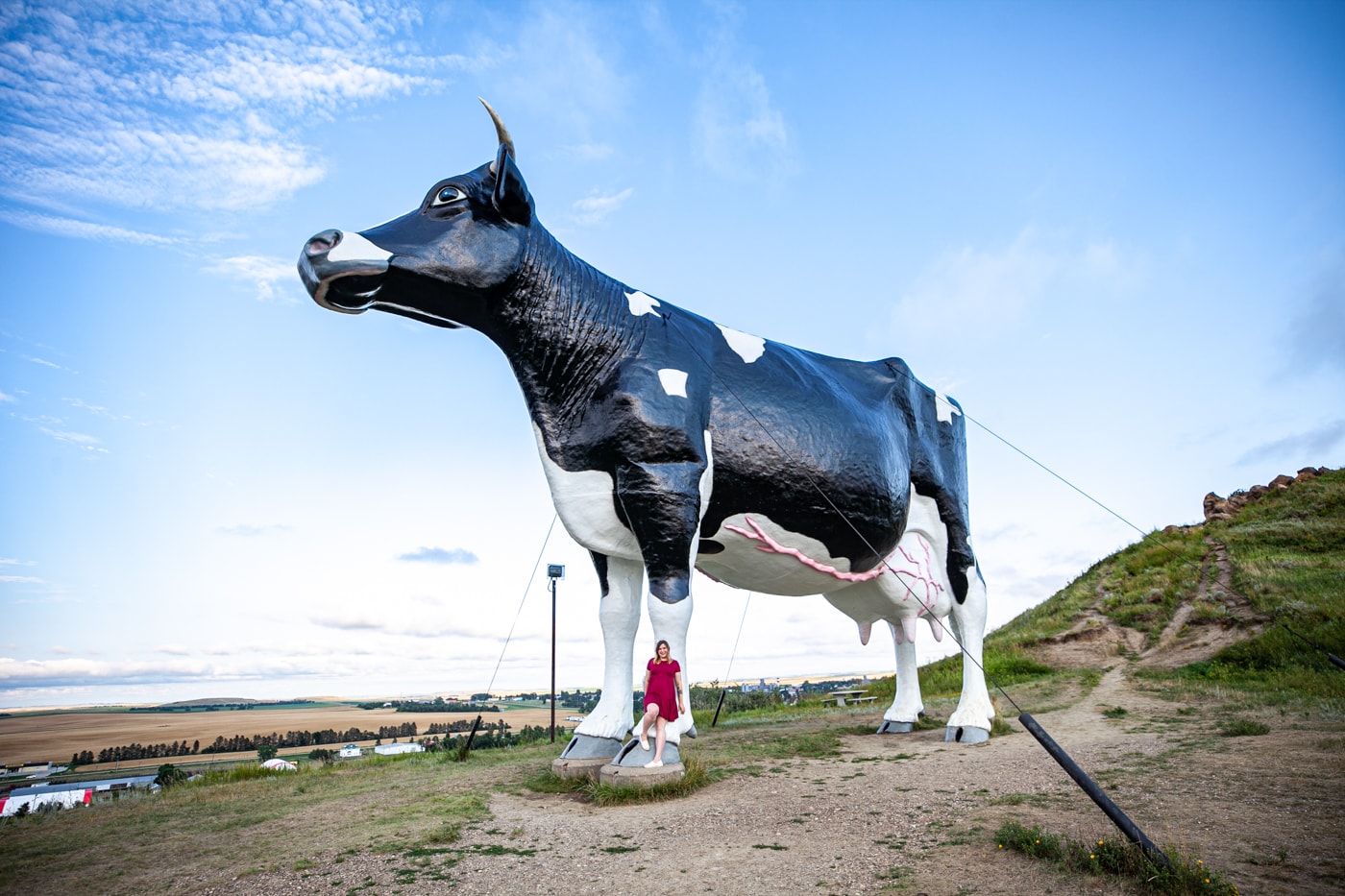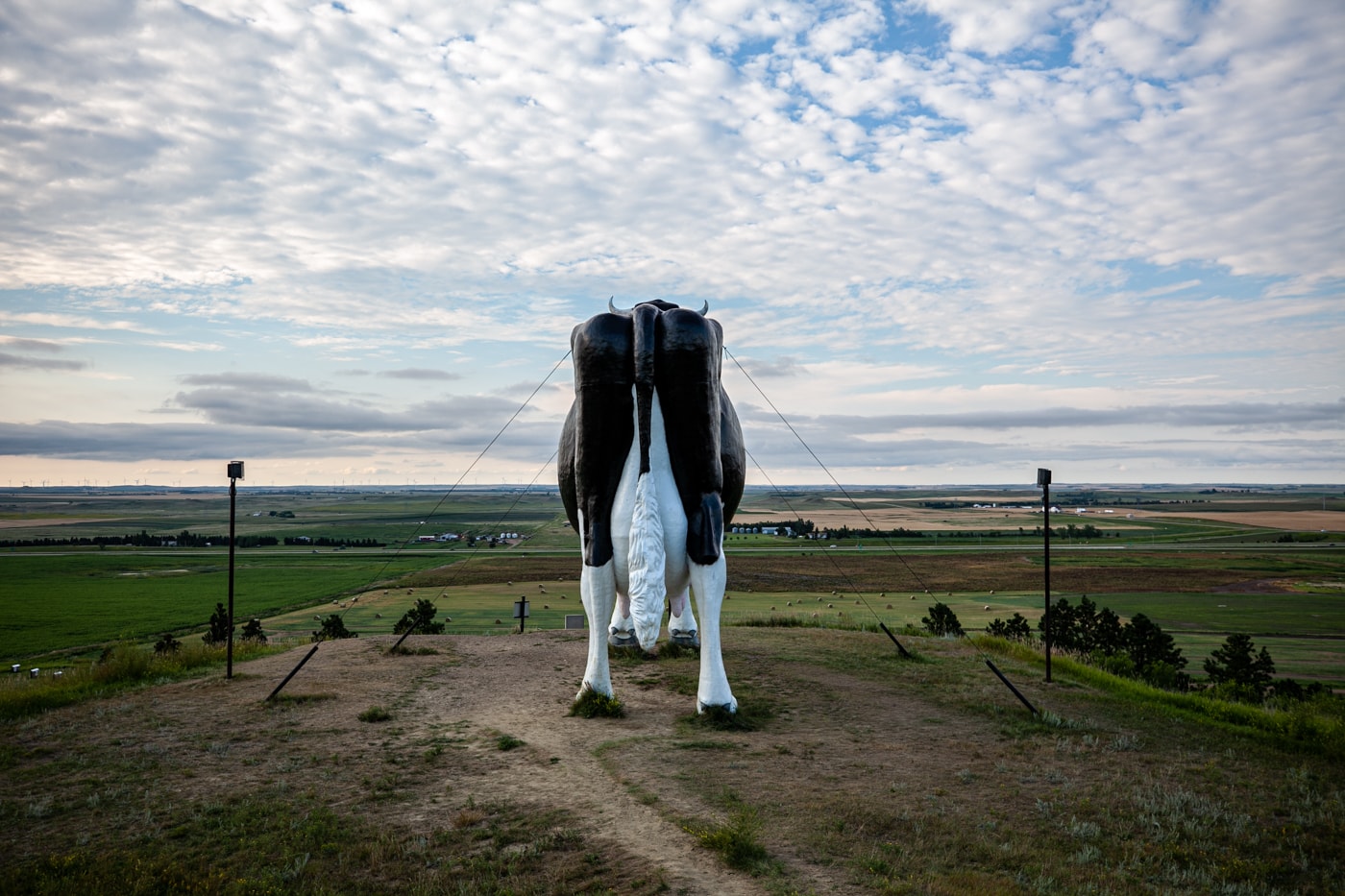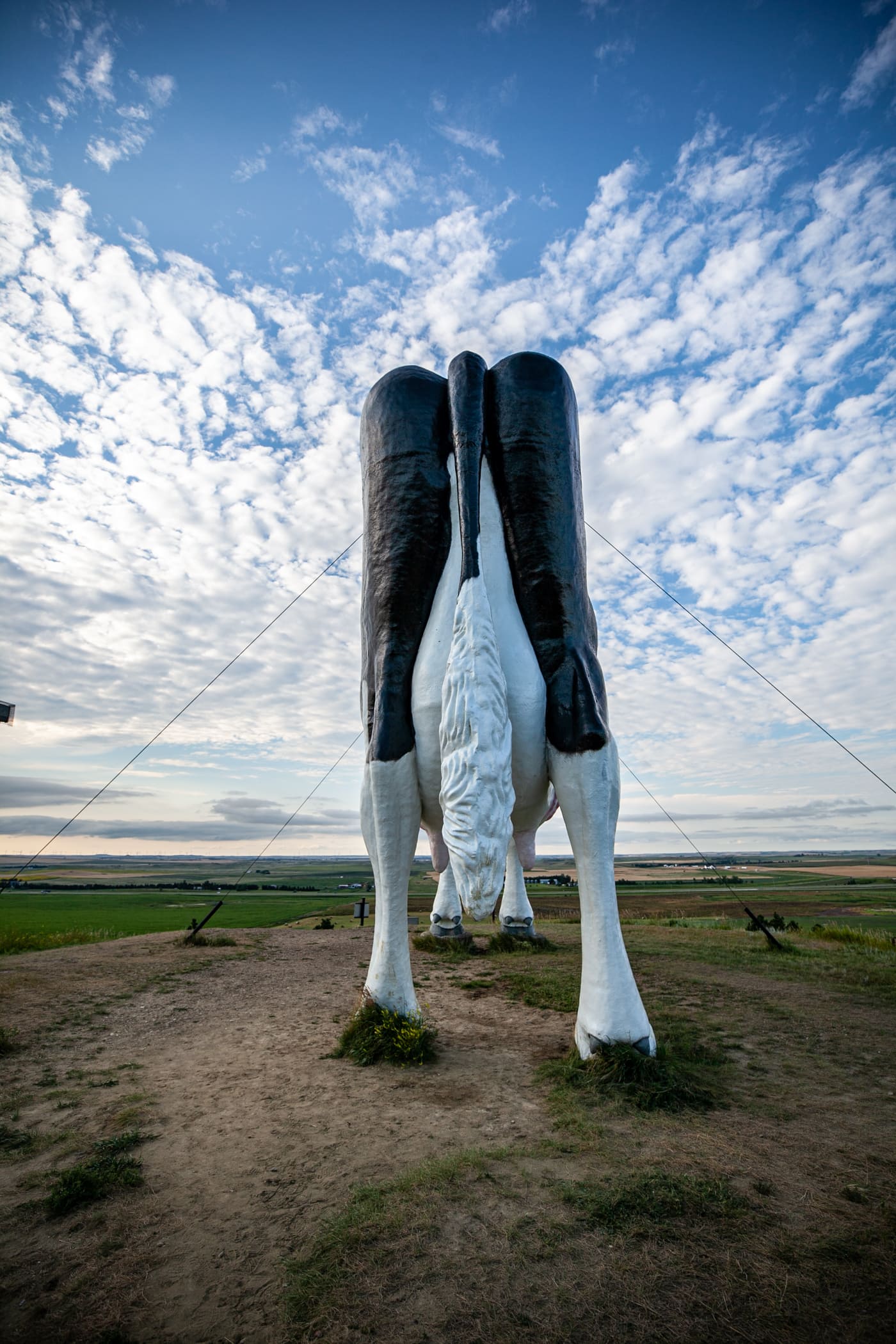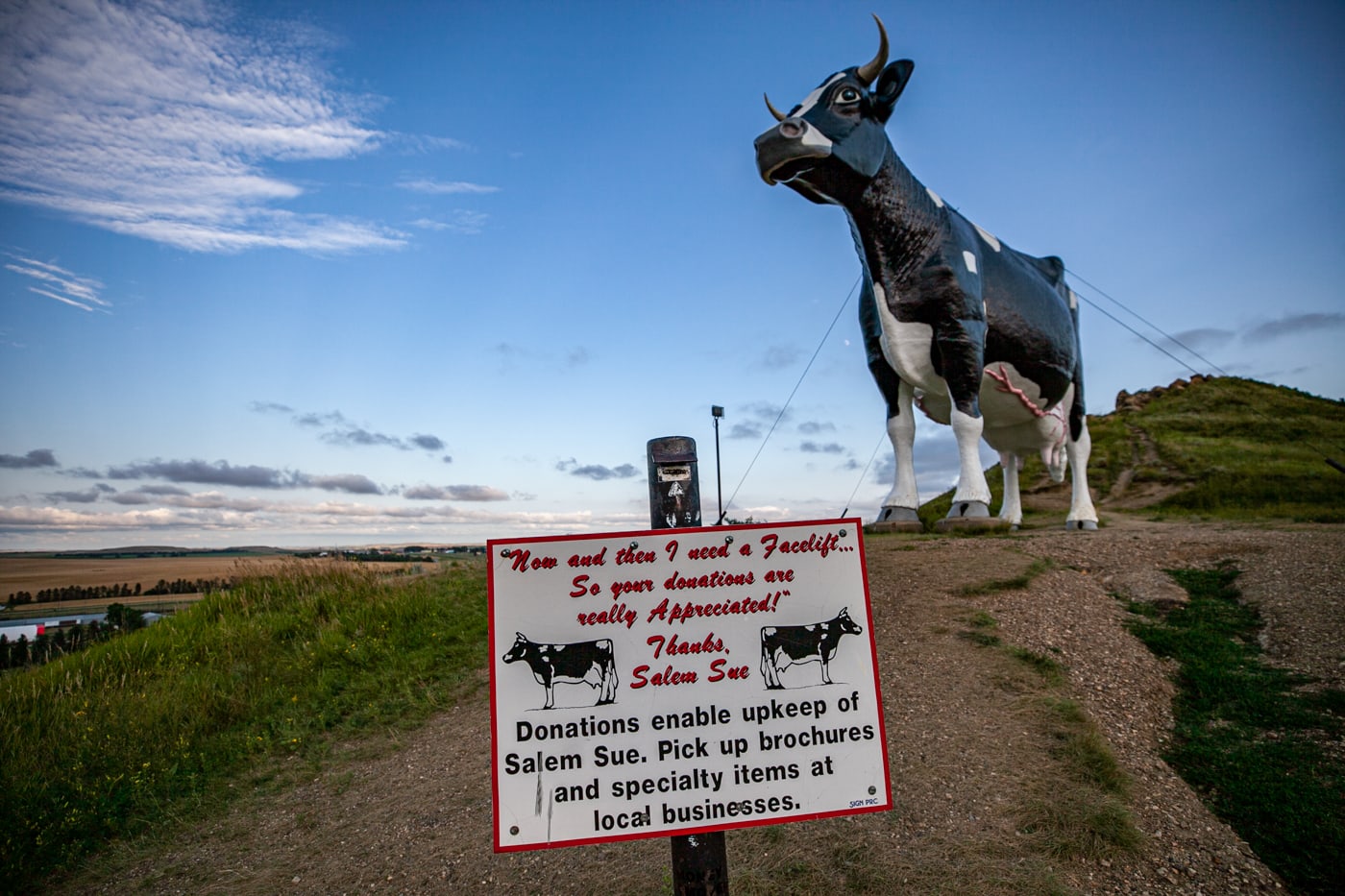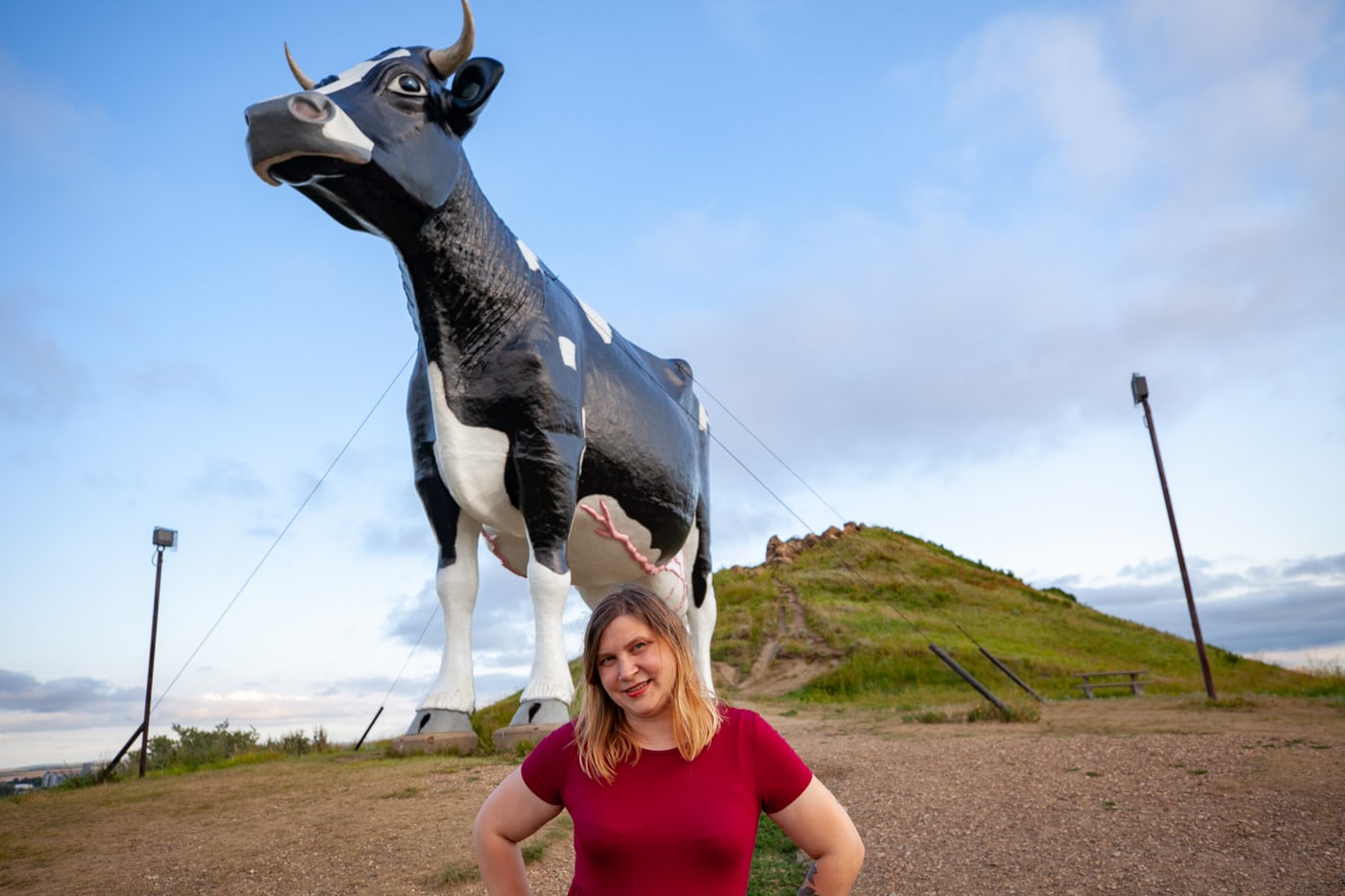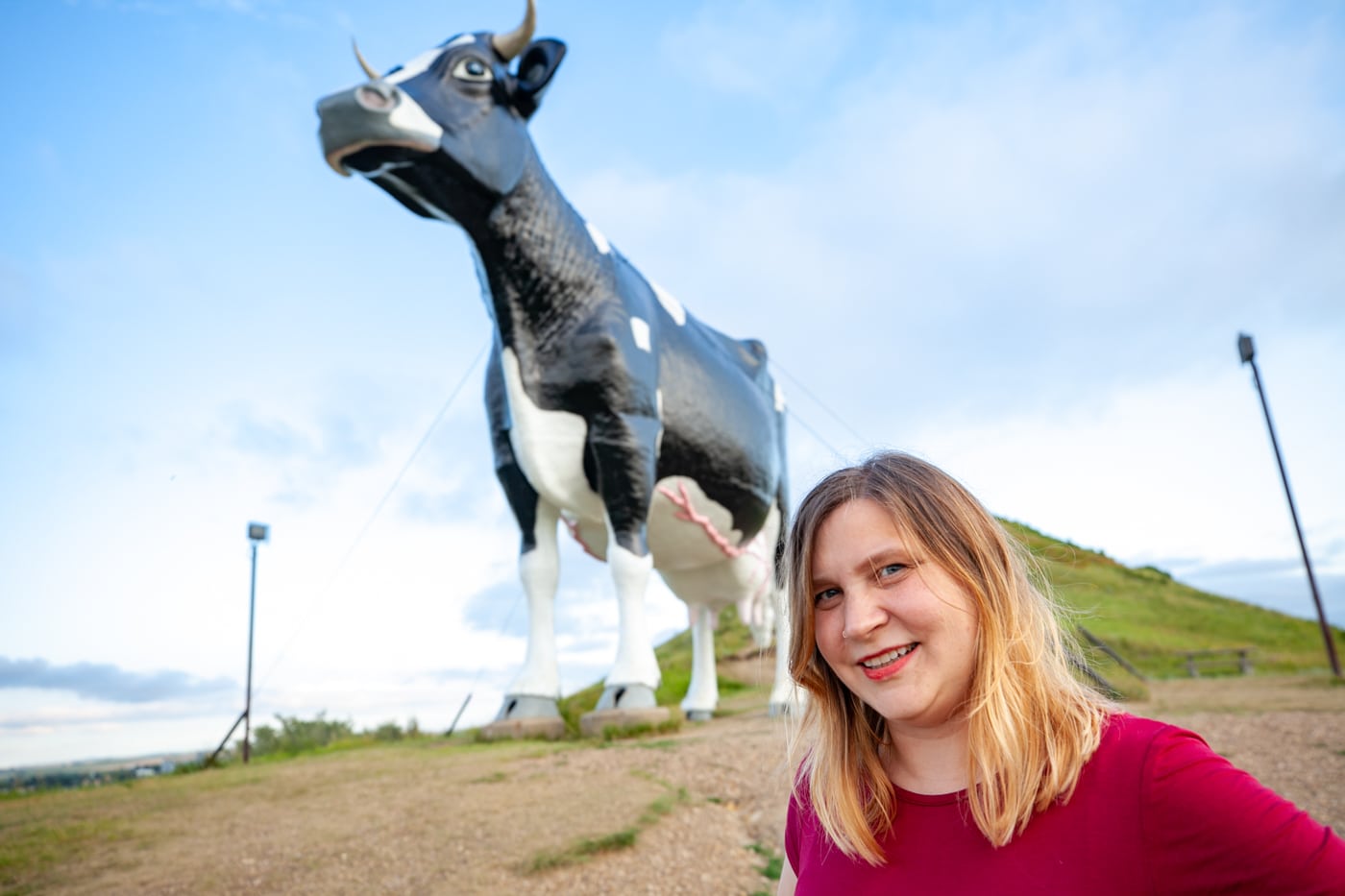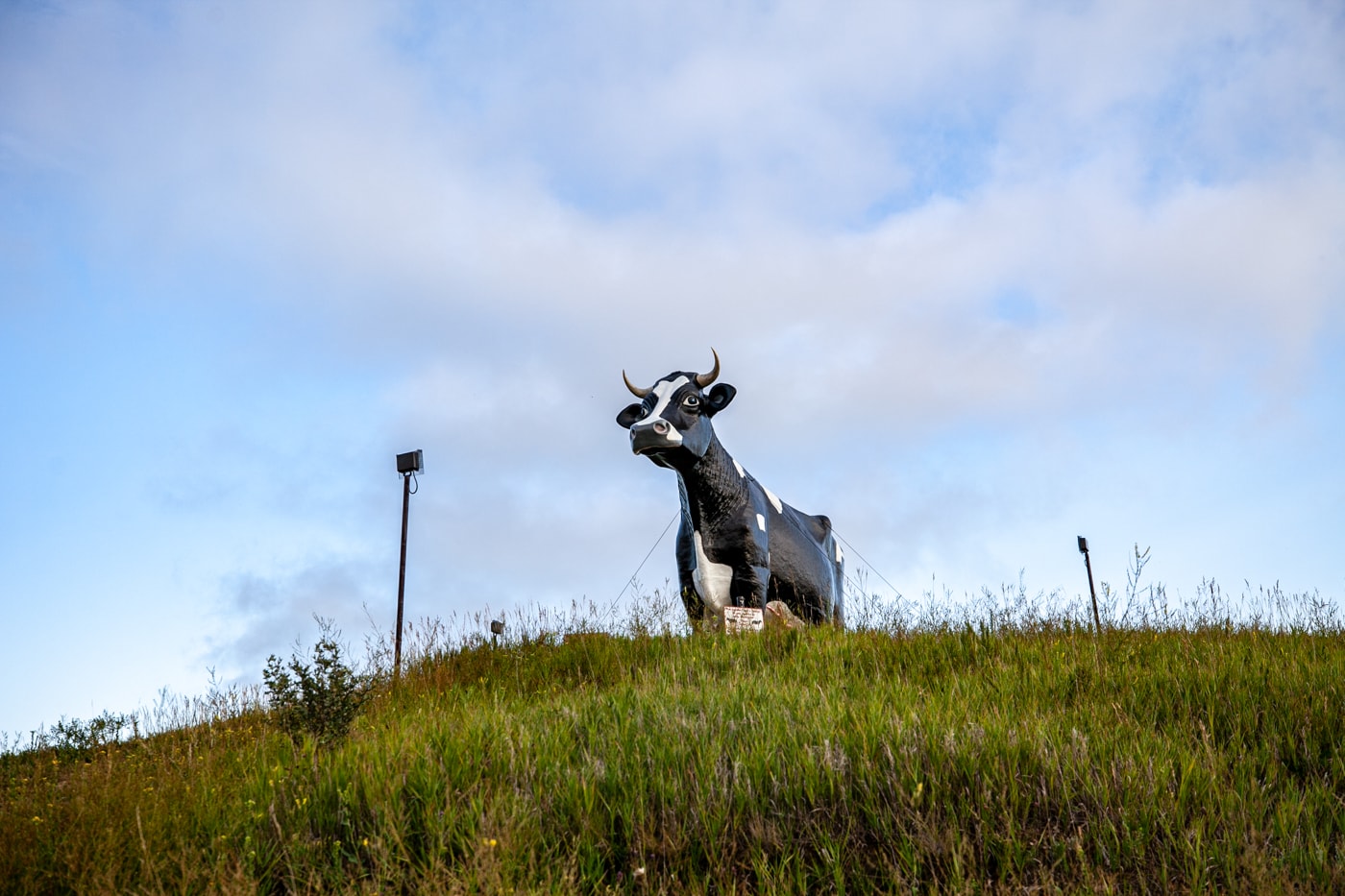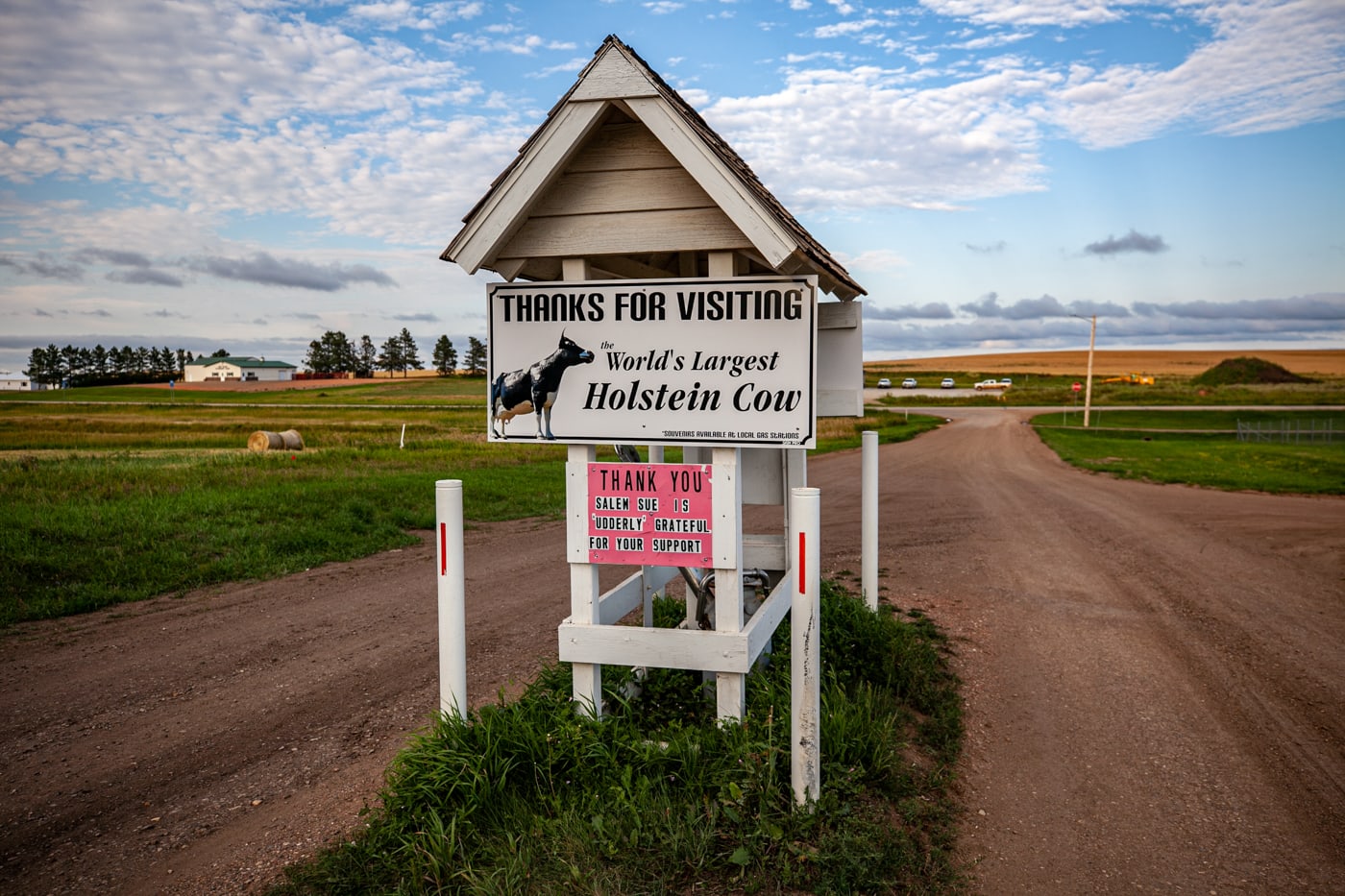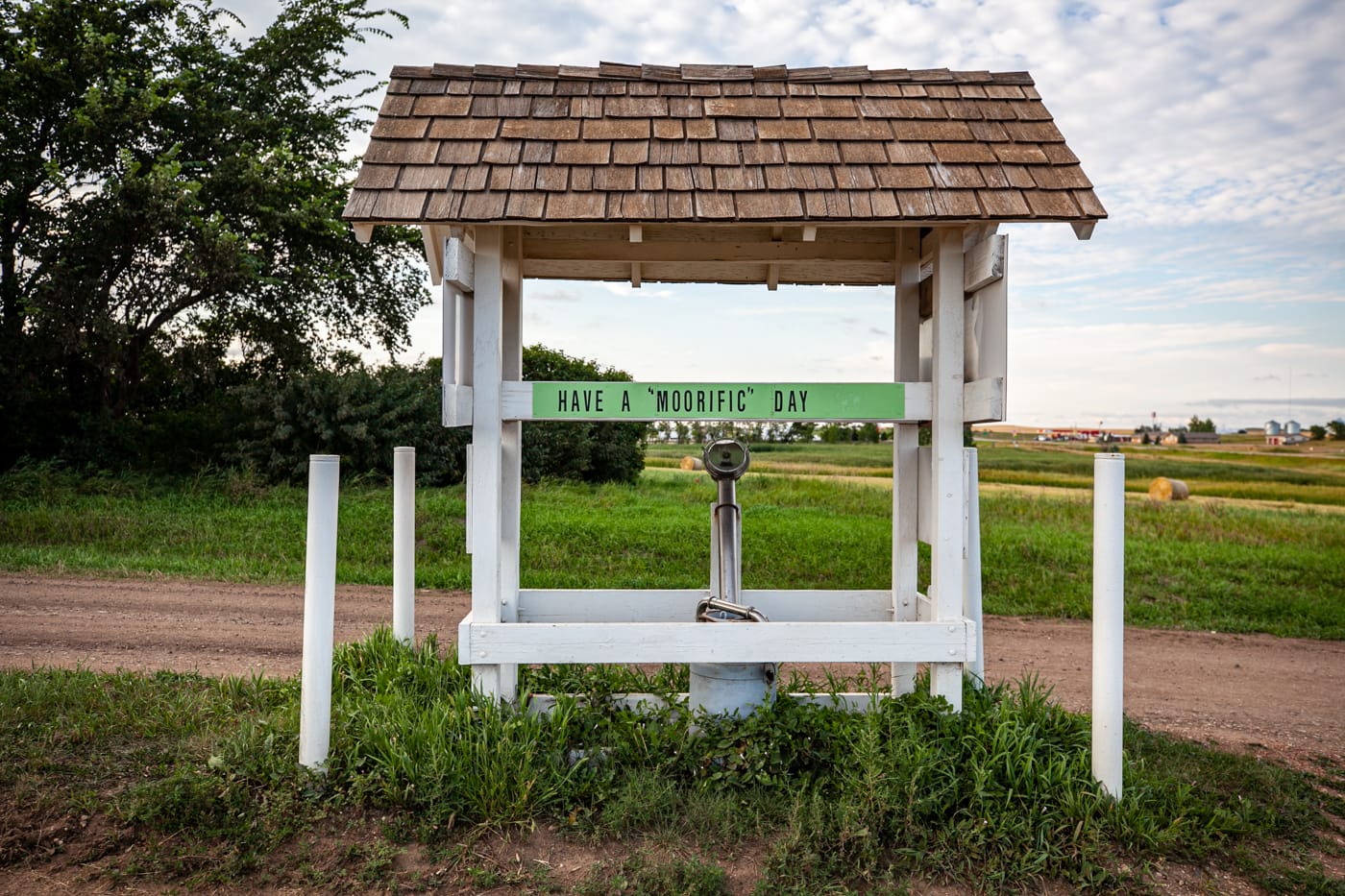 ---
Salem Sue, The World's Largest Holstein Cow
Address: 8th Ave. N, New Salem, ND (off of I-94, follow the signs!)
Cost: Free to See, donations accepted
Hours: Daytime hours 6:00am – 11:00pm, daily
---
Pin this North Dakota roadside attraction: