Are you planning a Maryland road trip and want to find all the best Maryland roadside attractions along your route? Whether you're driving across the state or vacationing in Baltimore or Ocean City, you won't want to miss these fifteen must-see places to go in Maryland. They're fun road trip stops and great additions to your travel itinerary or route.
Below are the 15 best roadside attractions in Maryland: from an unfinished ark to a repurposed fairy tale land, from a building shaped like a cider barrel to a building shaped like a mushroom, from a giant pink flamingo to a giant yellow crash test dummy! You won't want to miss any of these bucket list worthy tourist traps and road trips stops on your Maryland vacation.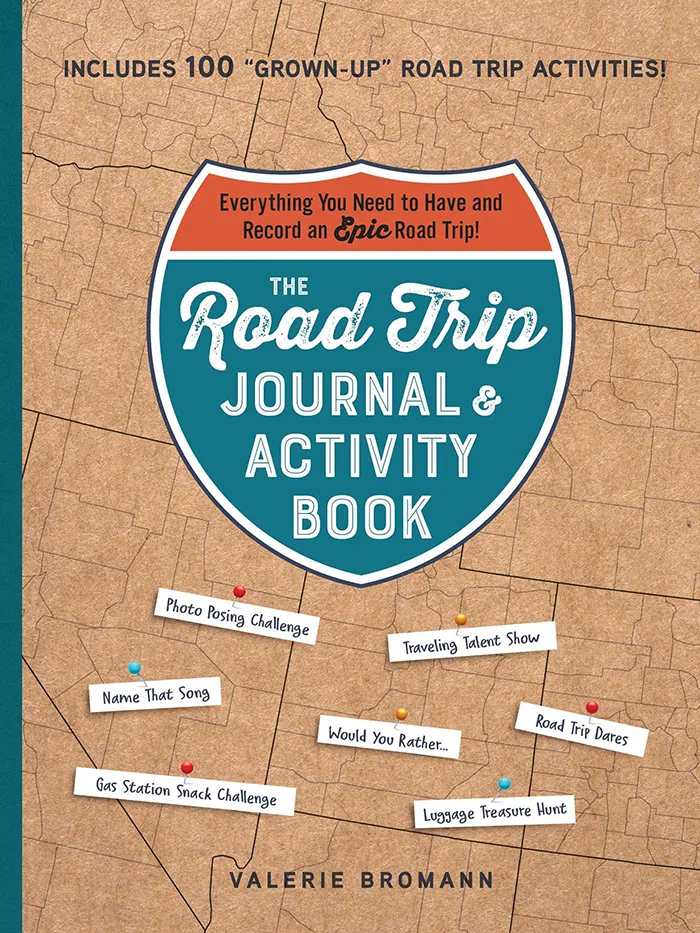 The Road Trip Journal & Activity Book
Everything You Need to Have and Record an Epic Road Trip!
Enjoy fun games and challenges to pass the time on your next road trip and have a keepsake to look back on for years to come with this entertaining must-have for your next vacation.
Ready to hit the road? Let's go! I call shotgun!
The 15 best Maryland roadside attractions (in no particular order):
1. Unfinished Noah's Ark
18606 Cherry Ln SW, Frostburg, MD
In 1974 Pastor Richard Greene heard from Jesus, and Jesus told him to build an ark. The ark was to be built next to the interstate and stretch 450-feet long and 75-feet wide and stand at 45-feet tall. There were drawings done and plans built that Greene proudly showed off. But construction stalled and all that was ever built was a wooden frame (reinforced with steel beams in 1999). A sign in front of the unfinished Noah's Ark (God's Ark of Safety) proclaims "Noah's Ark Being Rebuilt Here," though further progress hasn't been made.
2. The Cider Barrel
20410 N. Frederick Rd, Germantown, MD
The Cider Barrel is a cider barrel-shaped building that once served, you guessed it, cider. Built in 1922 during the Prohibition, the mimetic architecture building has been vacant for a long time, but still makes a fun Maryland roadside attraction. Rumor has it there are plans to open it again soon!
3. Cowboy Muffler Man with Ice Cream Cone
Frontier Town Water Park, 8428 Stephen Decatur Hwy, Berlin, MD
At Frontier Town Water Park (a western-themed water park) you can find a relatively new muffler man wearing a cowboy hat and kerchief and holding an oversized ice cream cone. While most roadside muffler men were built by International Fiberglass in the 1960s, this one is a modern rendition, created by Virginia fiberglass artist Mark Cline.
4. World's Largest Engagement Ring
Smyth Jewelers, 2020 York Rd, Timonium, MD
Where would a muffler man get an engagement ring? Probably at Smyth Jewelers in Timonium, home of the world's largest engagement ring. This Maryland roadside attraction is a 27-foot tall, 14-foot wide, "diamond" ring and makes for the perfect Instagram selfie, whether you're engaged or not.
5. Vanadu Art House
3810 Nicholson St, Hyattsville, MD
Clarke Bedford's Maryland home is anything but ordinary. Called "Vanadu," he has spent years covering every inch of his abode with found objects and recycled metal. Out front his passion has spilled onto his vehicles with four functioning art cars embellished with vases, horns, and other accoutrements.
6. Acorn Park
8075 Newell St, Silver Spring, MD
A giant acorn-shaped gazebo is the centerpiece of this small park that marks the spot of the spring Silver Spring was named for. The giant acorn was constructed in the 1850s by Benjamin C. King, at the request of Silver Spring founder Francis Preston Blair, Sr.
7. Pink Flamingo
Cafe Hon, 1002 W 36th St, Baltimore, MD
Cafe Hon's owner Denise Whiting has faced a lot of controversy over the years: from trademarking a favorite local term of endearment "hon" to appearing on Gordon Ramsay's Kitchen Nightmares to this giant flamingo. The original incarnation of this Baltimore roadside attraction was made of bed sheets and chicken wire. But permit issues abounded and she was forced to remove it until a resolution was met. When it was put back up, a new fiberglass pink flamingo was installed in its place.
8. Prayer Stop
16811 New Hampshire Ave., Silver Spring, MD
A tiny church in Silver Spring makes a quirky road trip stop or place to pray for weary travelers. The small chapel that looks more like a backyard clubhouse than a church was built in 2002 by a member of the nearby Immanuel's Church. It fits 4 people inside (if its open) plus there are a few lawn chairs out front.
9. Jim Henson and Kermit the Frog Statue
University of Maryland, Stamp Student Union, 3972 Campus Dr, College Park, MD
Jim Henson was a puppeteer, animator, and filmmaker best known for creating the lovable Muppet universe. He studied art at the University of Maryland in 1960 and, many years later, the college came together to celebrate his legacy. The Jim Henson and Kermit the Frog Statue (known as the Jim Henson Memorial) depicts Henson sitting on a red granite bench next to one of his most popular characters: Kermit the Frog. There's space on the bench for one more, so take a seat!
10. Transformers at Lawyer's Winterbrook Farm
Lawyer's Winterbrook Farm, 13001 Creagerstown Rd, Thurmont, MD
Lawyer's Farm in Thurmont is packed with fun roadside attractions. During seasonal openings you can pick pumpkins, toss apples, or get lost in a corn maze. But year-round you can check out these giant 40-foot tall "transformers" (robots made from car parts), a teepee, cow-shaped hay bales, and more.
11. Enchanted Forest at Clark's Elioak Farm
Clark's Elioak Farm, 10500 Clarksville Pike, Ellicott City, MD
The Enchanted Forest was a beloved theme park with a nursery rhyme motif. It operated in Ellicott City between 1955 and and 1989. After the park closed, the myriad of fairy tale buildings and enchanted characters laid abandoned, left behind and destined for a landfill. But in 2004 Clark's Elioak Farm came to the rescue and started rescuing the damsels (and dames and bears and pigs) in distress. Over the next ten years they would renovate and move characters like the Old Woman's Shoe, Cinderella's Pumpkin Coach, and Mother Goose to their petting farm and maze. (You can still find a few at their original location, at 10060 Baltimore National Pike.)
12. Mushroom House (The Shroom)
4949 Allan Rd, Bethesda, MD
The Mushroom House (AKA The Hobbit House AKA The Shroom) might look better suited for a Lord of the Rings shire than a suburban Maryland neighborhood. But that is where it can be found. Originally this was just an ordinary home, built in 1923. But when Edward and Frances Garfinkle bought the property in the 1970s they hired futurist architect Roy Mason to transform the abode into what you see today. He used polyurethane foam to expand and shape the house from a normal flat-surfaced home to the twisty-turvy curvy building that has lasted decades. It is a private residence, but can be viewed from the street.
13. Giant Crash Test Dummy
Maryland Motor Vehicle Administration, 6601 Ritchie Hwy, Glen Burnie, MD
Seat belts save lives. That is what this dummy wants you to remember. The 34-foot-tall giant crash test dummy was erected outside the Maryland Motor Vehicle Administration in 2012. The safety-yellow giant grasps a seat belt in his hands reminding passersby to "click it or ticker."
14. Spocott Windmill
1663 Hudson Rd, Cambridge, MD
The Spocott Windmill is an English-style post windmill (the entire house rests on one post, allowing the entire building to turn in the wind), and it is the last operational one in Maryland. The structure that stands today was built in 1972, but it is a reconstruction of an original version from 1852, which was destroyed in a blizzards in 1888. The state of Maryland only operates the windmill about twice a year (usually around mid-April and mid-October), but it is visible year round.
15. Nipper, the RCA Dog Statue
Maryland Historical Society Museum, 201 W Monument St, Baltimore, MD
For years the image of Nipper the Dog, a terrier tilting his head and staring into a phonograph, was used to promote record company RCA. A giant 18-foot-tall statue of the dog and gramophone was installed on top of Baltimore's RCA building in the 1950s. When the company stopped using the pup's image, the sculpture was sold to a private collector. Today it sits (and stays) on top the Maryland Historical Society Museum.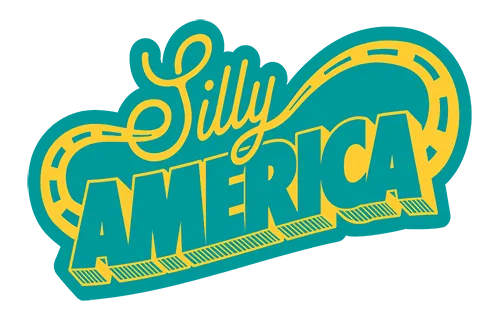 Pin this list of the 15 best Maryland roadside attractions: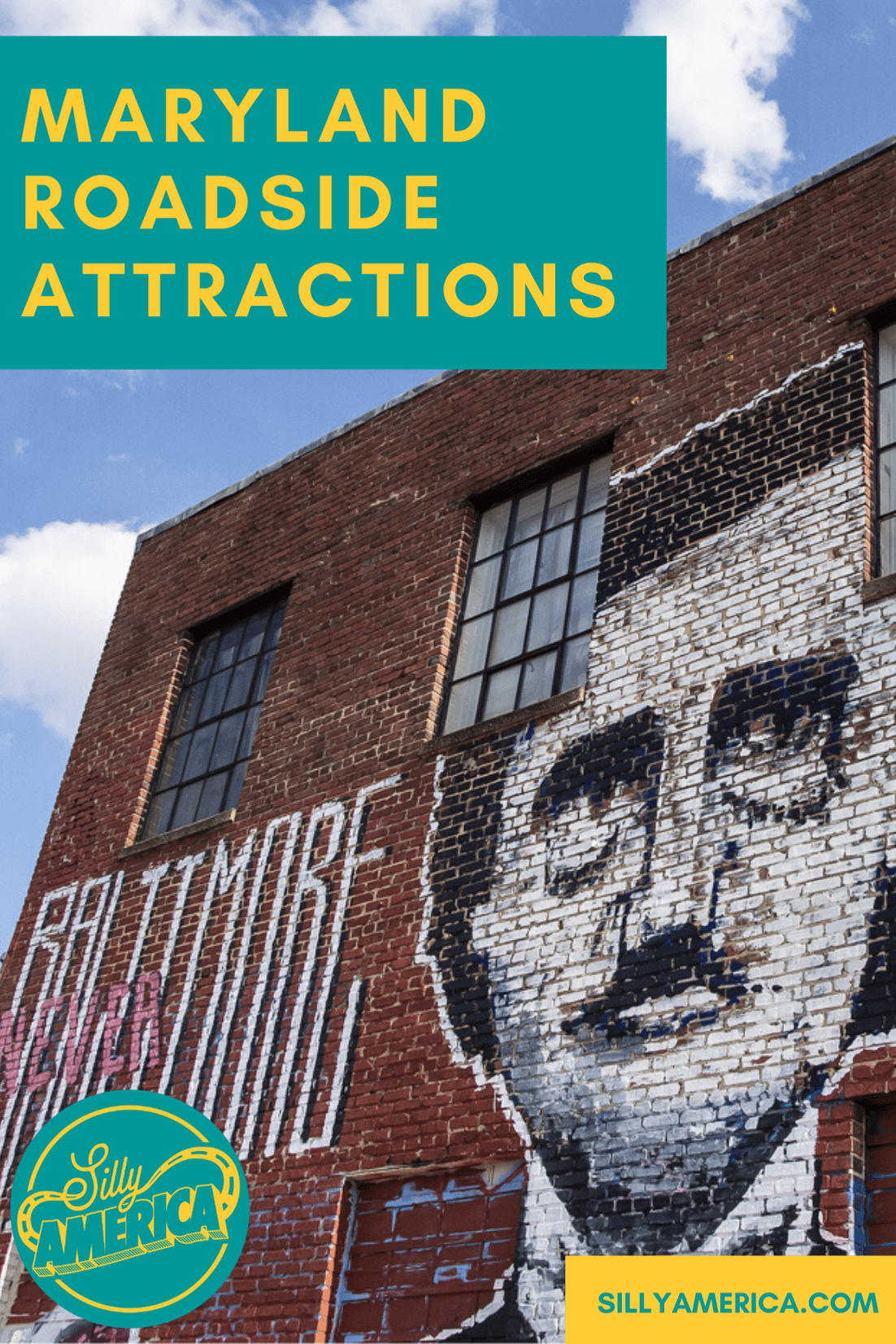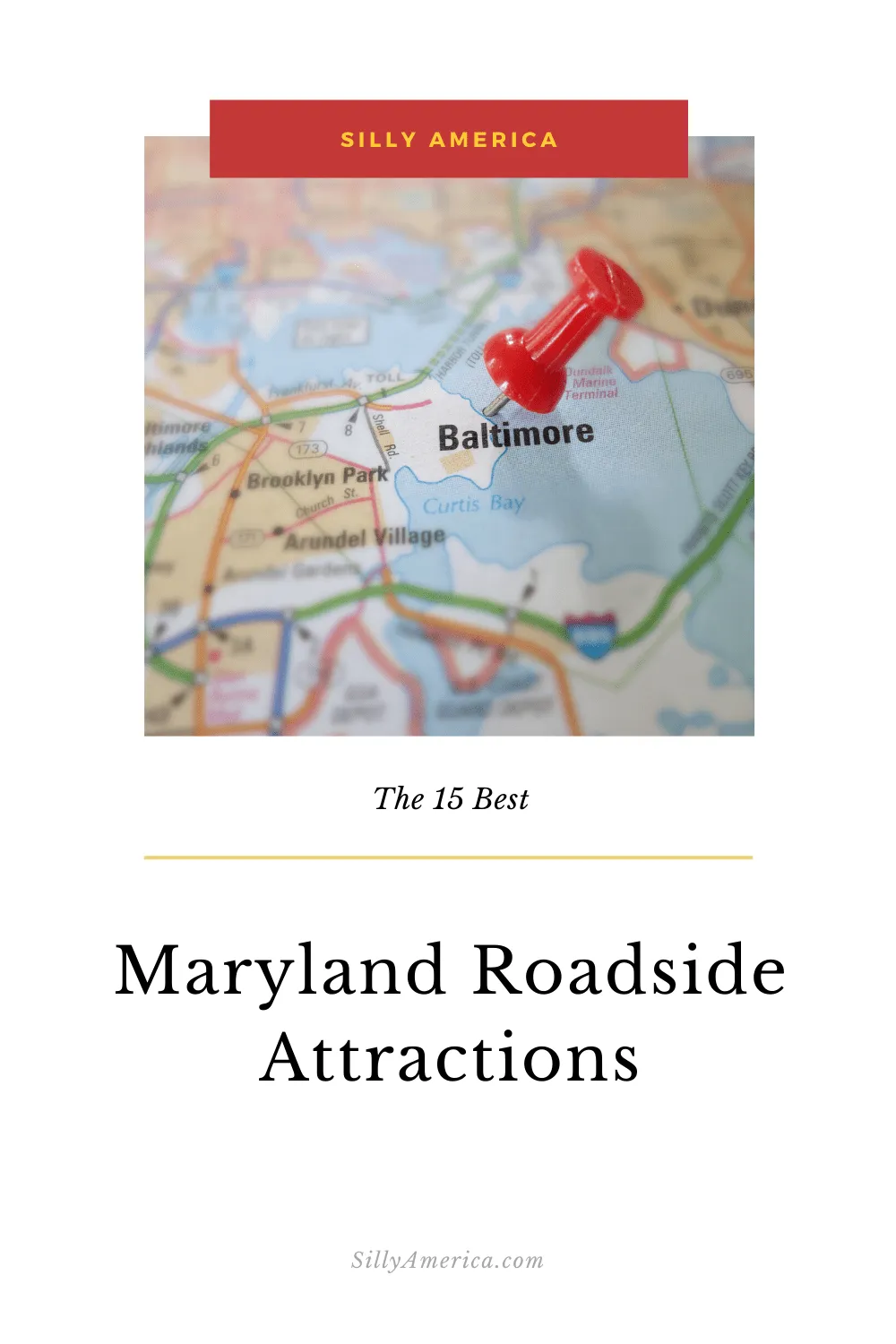 Image by Bruce Emmerling from Pixabay