Are you ready to take an Illinois road trip and find the best Illinois roadside attractions along the way? Whether you're taking a car trip with kids or a weekend getaway with friends these 20 places to go in Illinois make fun pit stops on the road and great additions to your travel itinerary.
I grew up in Illinois and lived in the state most of my life. I grew up in the suburbs, spent four years in school downstate, and spent many years living in Chicago. Within those forty-something years I've driven all over the state, from top to bottom and have taken many road trips through Illinois. So, when I say I know the best roadside attractions in Illinois, I'm not lying. I've even seen a grand majority of them in person. (There are still a few that, sadly, I haven't made my way to yet. But they are definitely on my road trip bucket list!)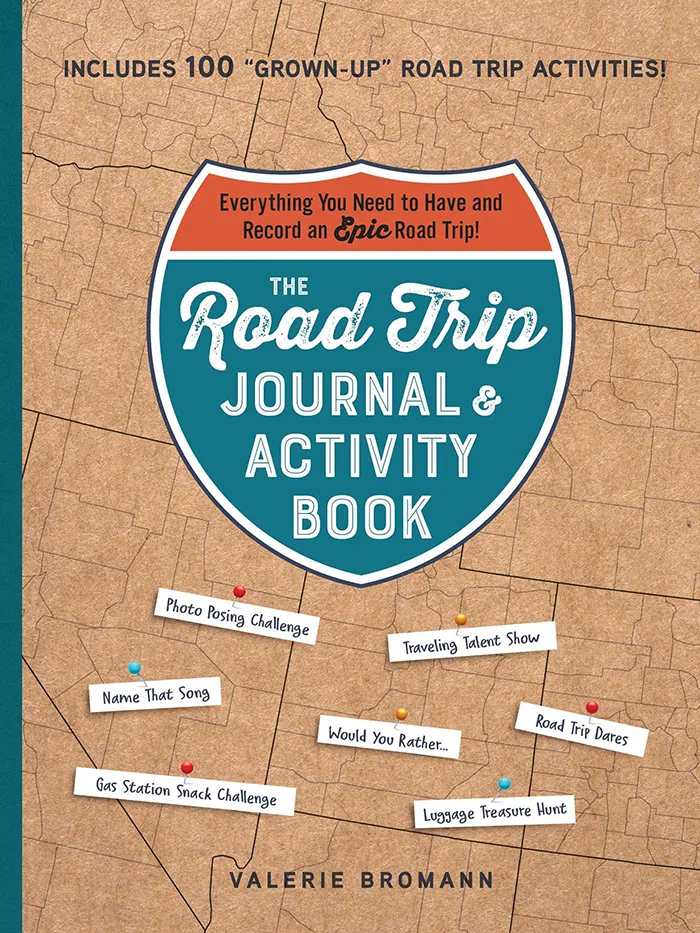 The Road Trip Journal & Activity Book
Everything You Need to Have and Record an Epic Road Trip!
Enjoy fun games and challenges to pass the time on your next road trip and have a keepsake to look back on for years to come with this entertaining must-have for your next vacation.
Below are the 20 best roadside attractions in Illinois: from a giant bottle of my favorite condiment to a life-sized superhero to an entire town devoted to world's largest things. You'll also find an Illinois roadside attractions map that you can download to your phone to find directions and locations for your Illinois road trip route!
Ready to hit the road? Let's go!
The 20 Best Illinois Roadside Attractions (in no particular order):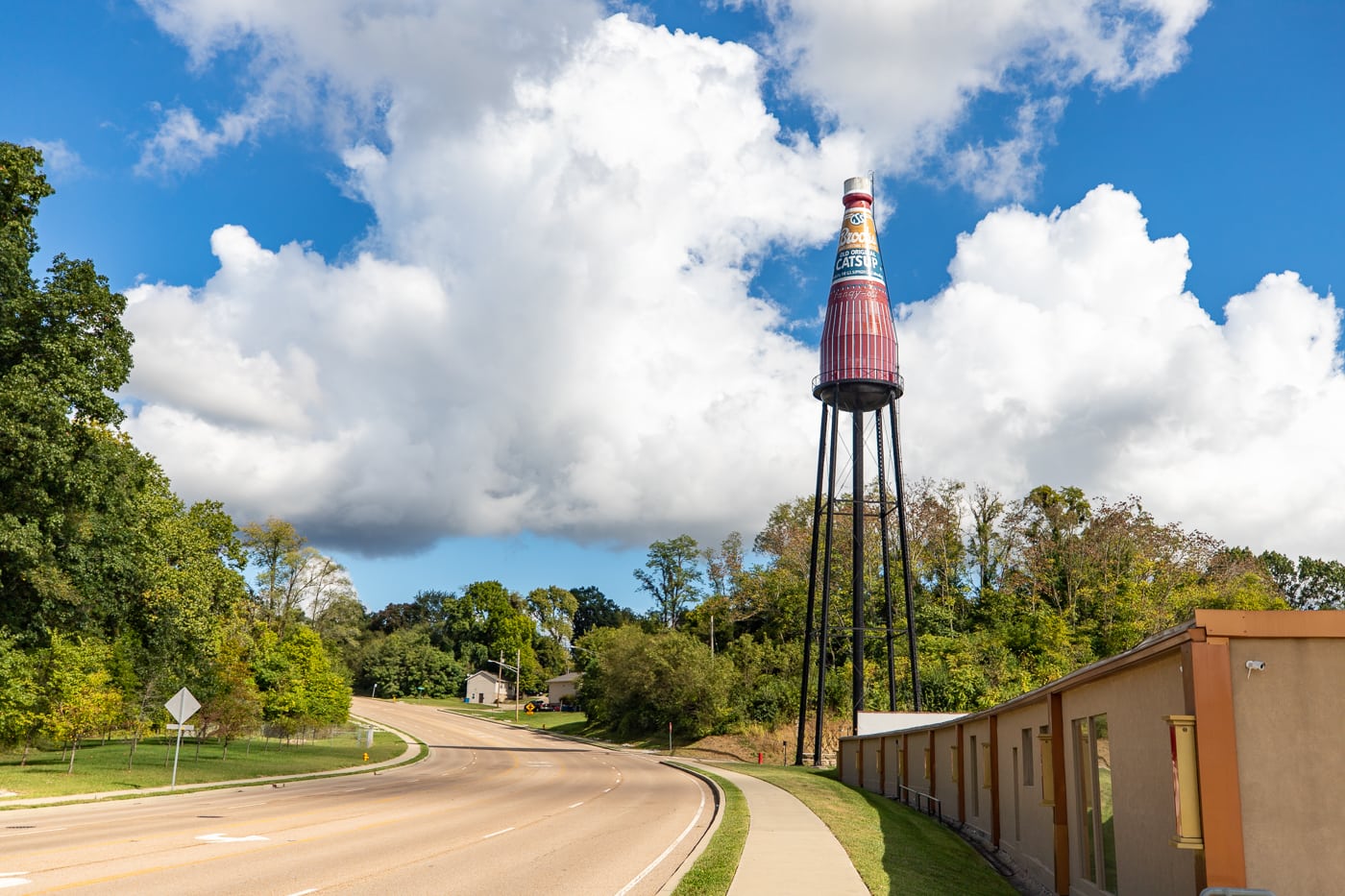 1. The World's Largest Catsup Bottle
305 Railroad Ave, Collinsville, IL
While you won't find any actual ketchup in this giant condiment container, it's one of the biggest, best, and most recognizable roadside attractions in Illinois. At 170-feet tall, the world's largest catsup bottle has stood high above Collinsville, Illinois, since 1949, serving as a water tower for the town that once was home to the company who bottled Brooks catsup.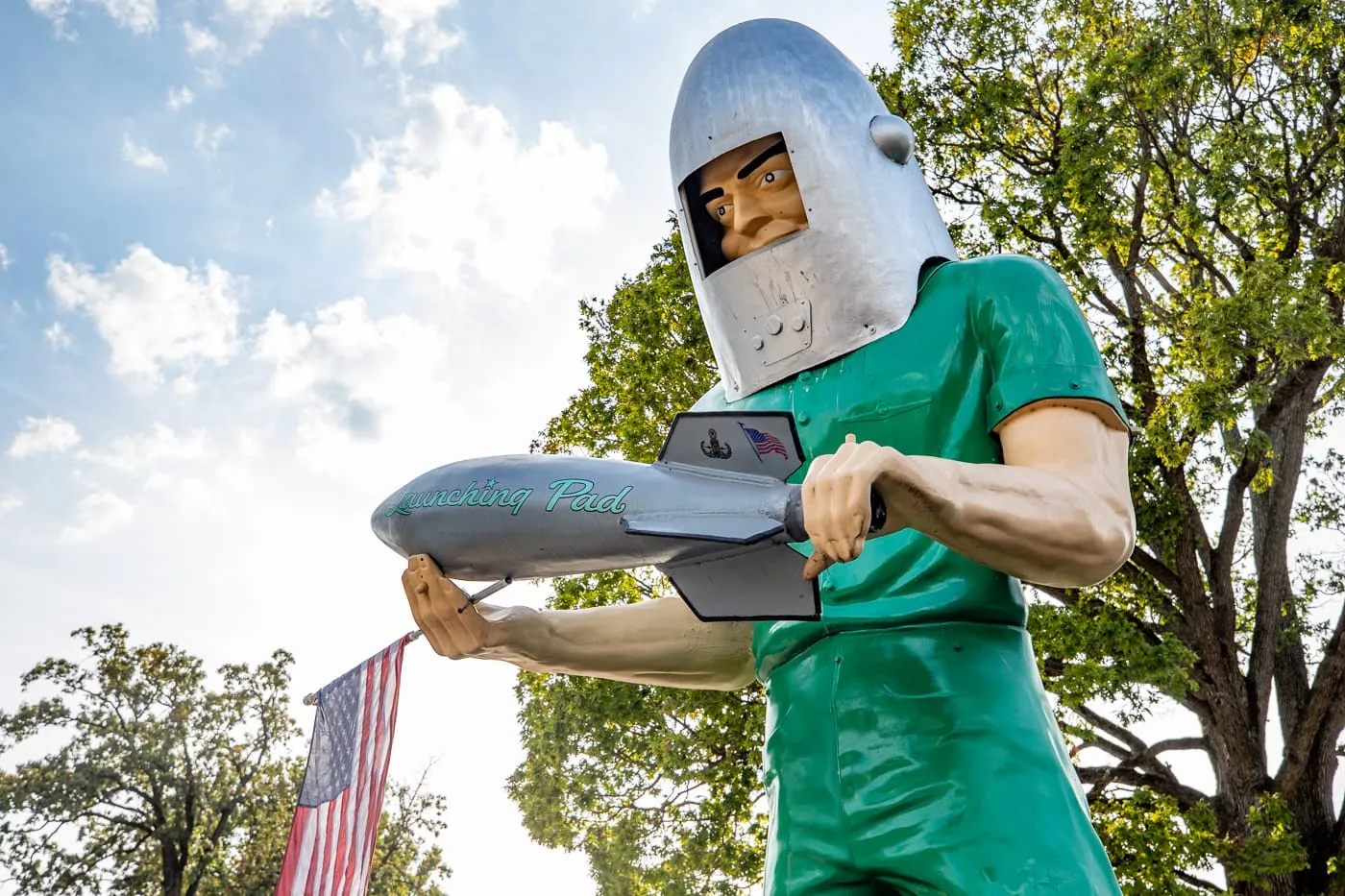 2. The Gemini Giant
810 E Baltimore St, Wilmington, IL
The Gemini Giant is a 28-foot tall muffler man who stands on Route 66 outside the Launching Pad restaurant in Wilmington, Illinois. He weighs in at a whopping 438 pounds: not counting his base of the giant 8-foot rocket he holds in his hands! When looking for Route 66 Illinois attractions, this is a must-see!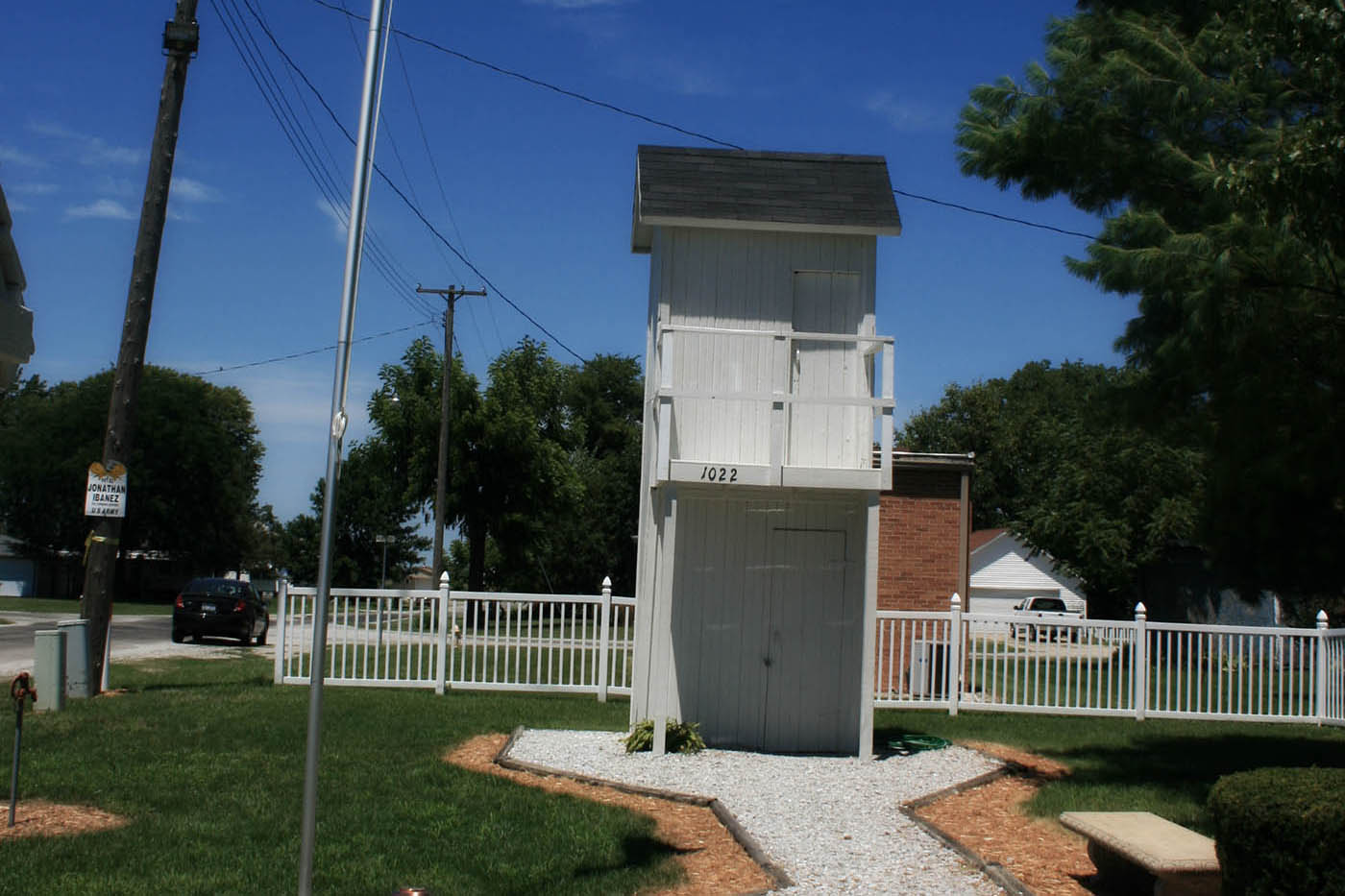 3. Two-Story Outhouse
1022 S Pine St, Gays, IL
While the two-story outhouse in Gays, Illinois is no longer open for the public to use, this bi-level "skyscrapper" should be on any list of things to see in Illinois. Dating back to 1872, the double-decker outhouse originally stood at the back of a general store to give residents of an upstairs apartment access to a private bathroom. Today, it's a fun stop on a road trip through Illinois (just maybe find a gas station if you actually need to use a toilet).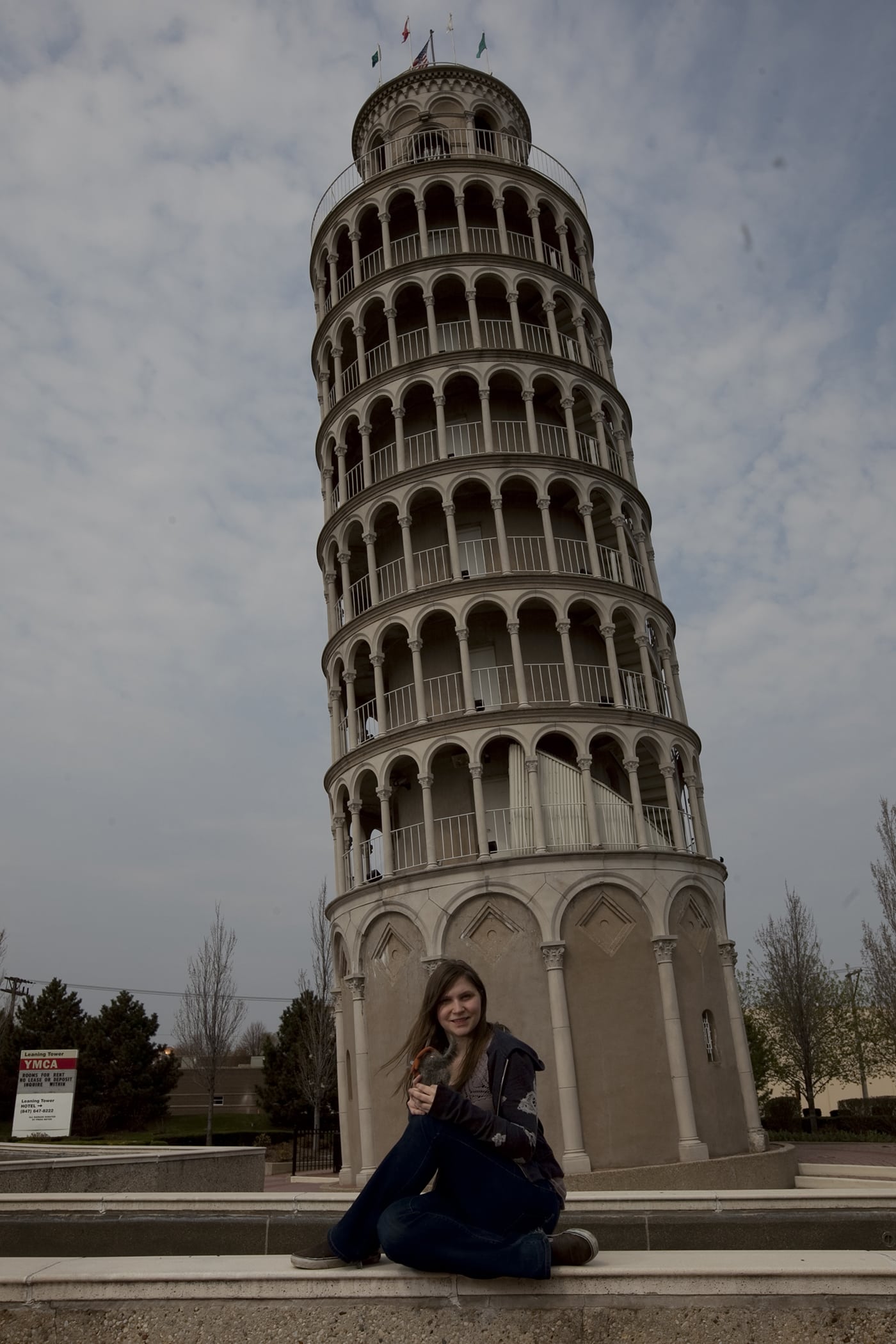 4. Leaning Tower of Niles
6300 W Touhy Ave, Niles, IL
Are we talking about Italy here or the American midwest? The Leaning Tower of Niles is about a half-size replica of the iconic tourist attraction it was meant to mimic: the Leaning Tower of Pisa in Pisa, Italy. This Illinois road trip stop weaves historic Europe into the giant midwestern Illinois attractions we all love.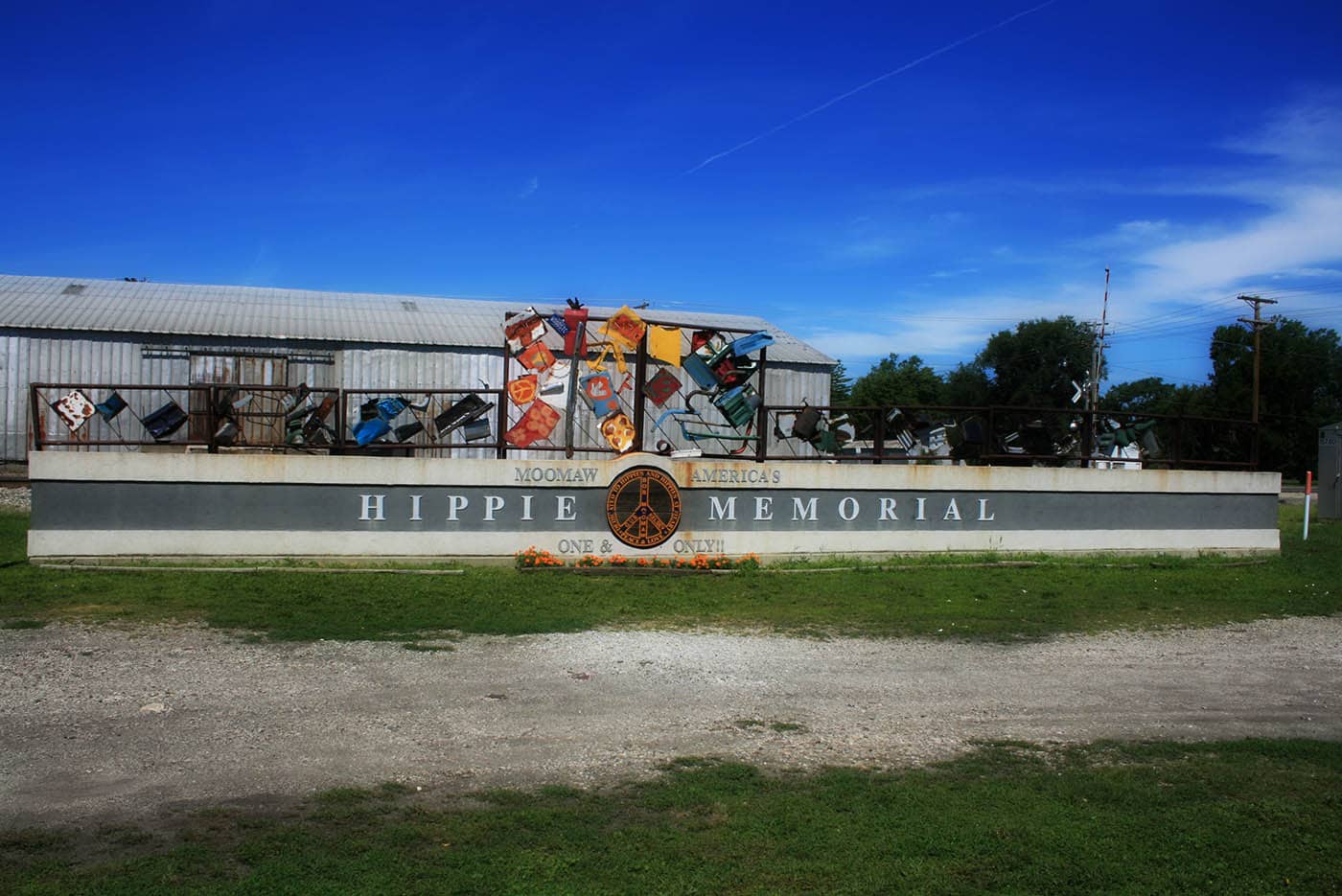 5. One and Only Hippie Memorial
N Oak St, Arcola, IL
The World's One and Only Hippie Memorial in spans 62 feet across alongside the railroad tracks in Arcola. It was built in 1992 by local Bob Moomaw who a rendered of his life in "junk." Each of the 62 feet of the artwork represents one part of Moomaw's life: from the The Great Depression, World War II and 1950s hypocrisy on one end, rising in the middle to a colorful expression of the years when Kennedy and the hippies rose to the declining scrap of the Reagan years.
6. Kaskaskia Dragon
2401-2599 Progress W Dr, Vandalia, IL
The Kaskaskia Dragon is a little bit of medieval myth wrapped into an Illinois tourist attraction. When you find this Illinois roadside attraction you might think you've stumbled into an episode of Game of Thrones, but really you're just in central Illinois. You can insert a token into this giant dragon to see it breathe propane-fueled fire while his eyes glow a bright red.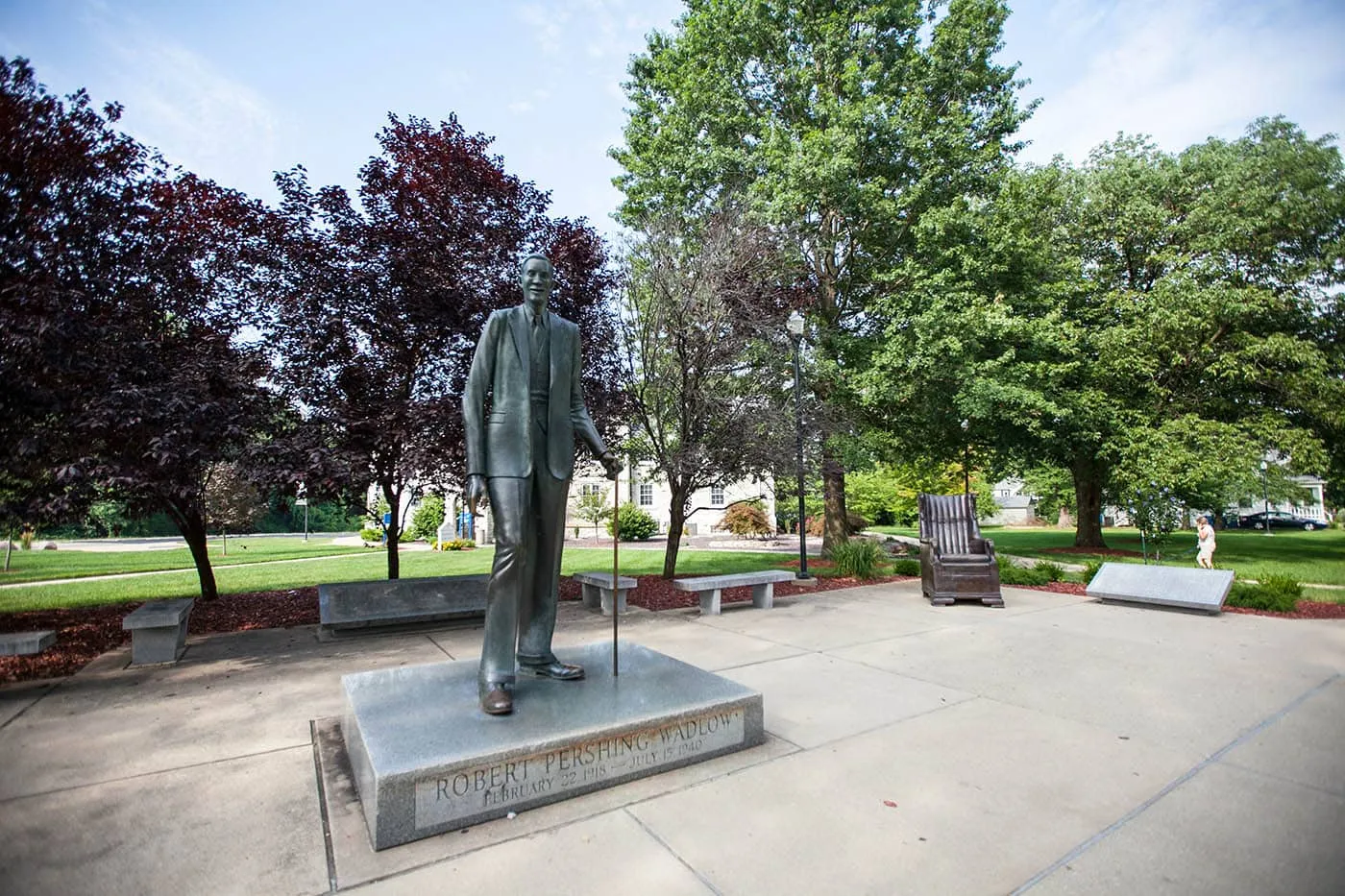 7. Statue of the World's Tallest Man, Robert Wadlow
2810 College Ave, Alton, IL
Robert Pershing Wadlow was the world's tallest man. At his greatest height, he was a staggering 8 feet 11.1 inches tall. In his hometown of Alton you'll find a life-size bronze state of the man who towered above his peers. The Statue of the World's Tallest Man is one of the roadside attractions Illinois has!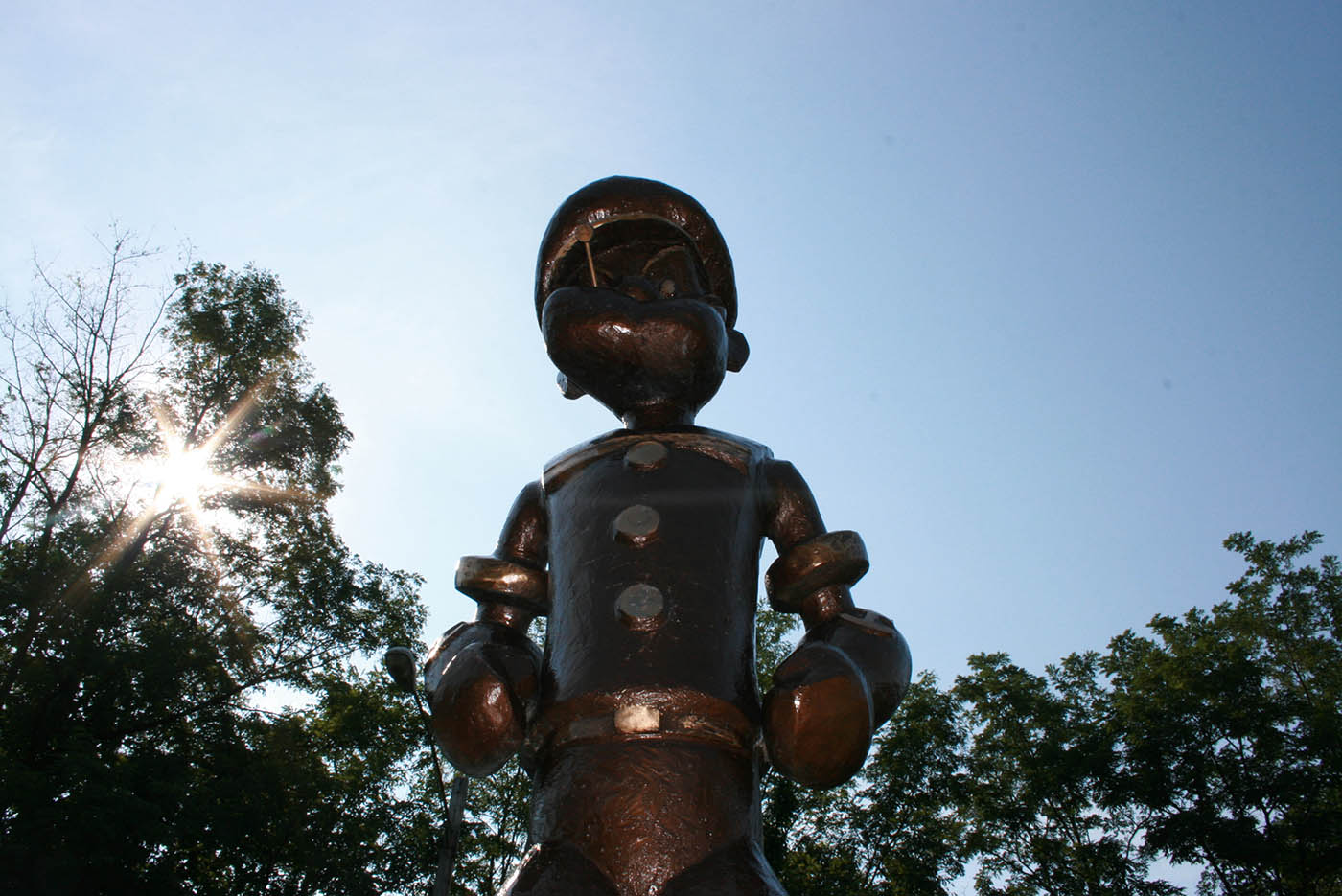 8. Statue of Popeye (and friends)
Hwy 51, Chester, IL
Cartoonist E.C. Segar, creator of Popeye the Sailor Man, was born in Chester in 1894 and today, the entire town is devoted to his legacy. The "Home of Popeye" proudly displays this six-foot, 900 lb. bronze Popeye statue in Segar Memorial Park, overlooking the Mississippi River. But that's not all. Chester proves to be one of the most fun places to visit in Illinois with its "Popeye Trail" of 14 monuments (and counting) that have been erected throughout the town.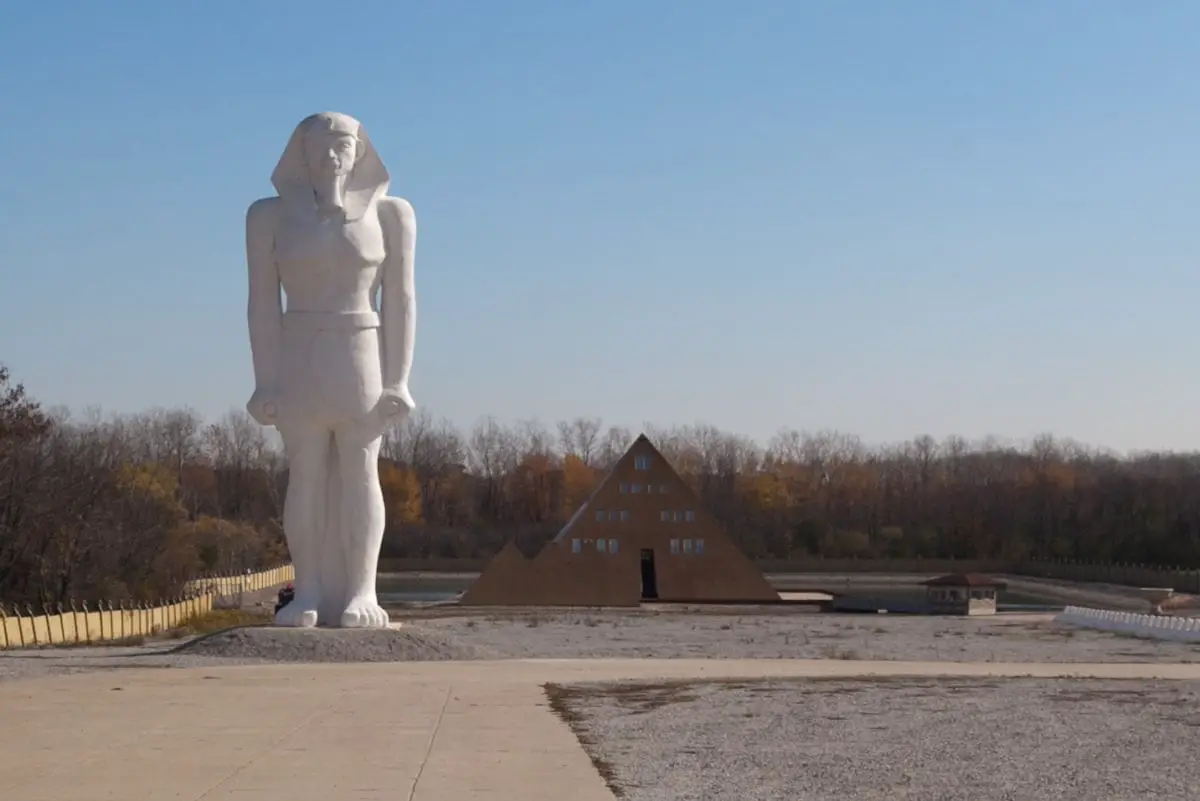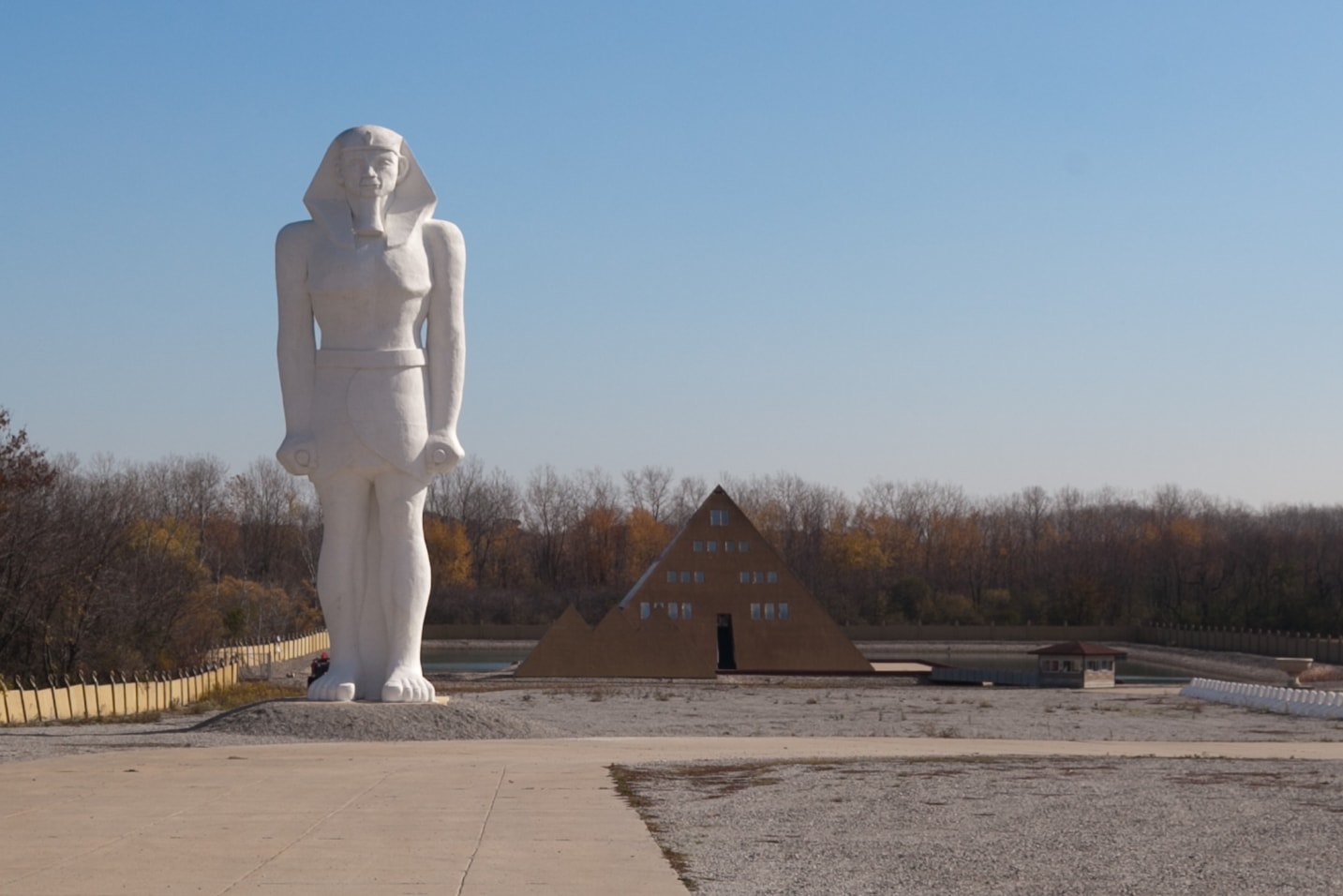 9. Gold Pyramid House
37921 N Dilleys Rd, Wadsworth, IL
The six-story, 55-foot tall, 17,000-square-foot Gold Pyramid House in Wadsworth stands out among its suburban neighbors by being, well, a giant pyramid-shaped house! Unfortunately, a devastating fire on July 17, 2018 caused major damage to the structure and the ancient artifacts that were housed inside. The family has since rebuilt this pyramid to its former state.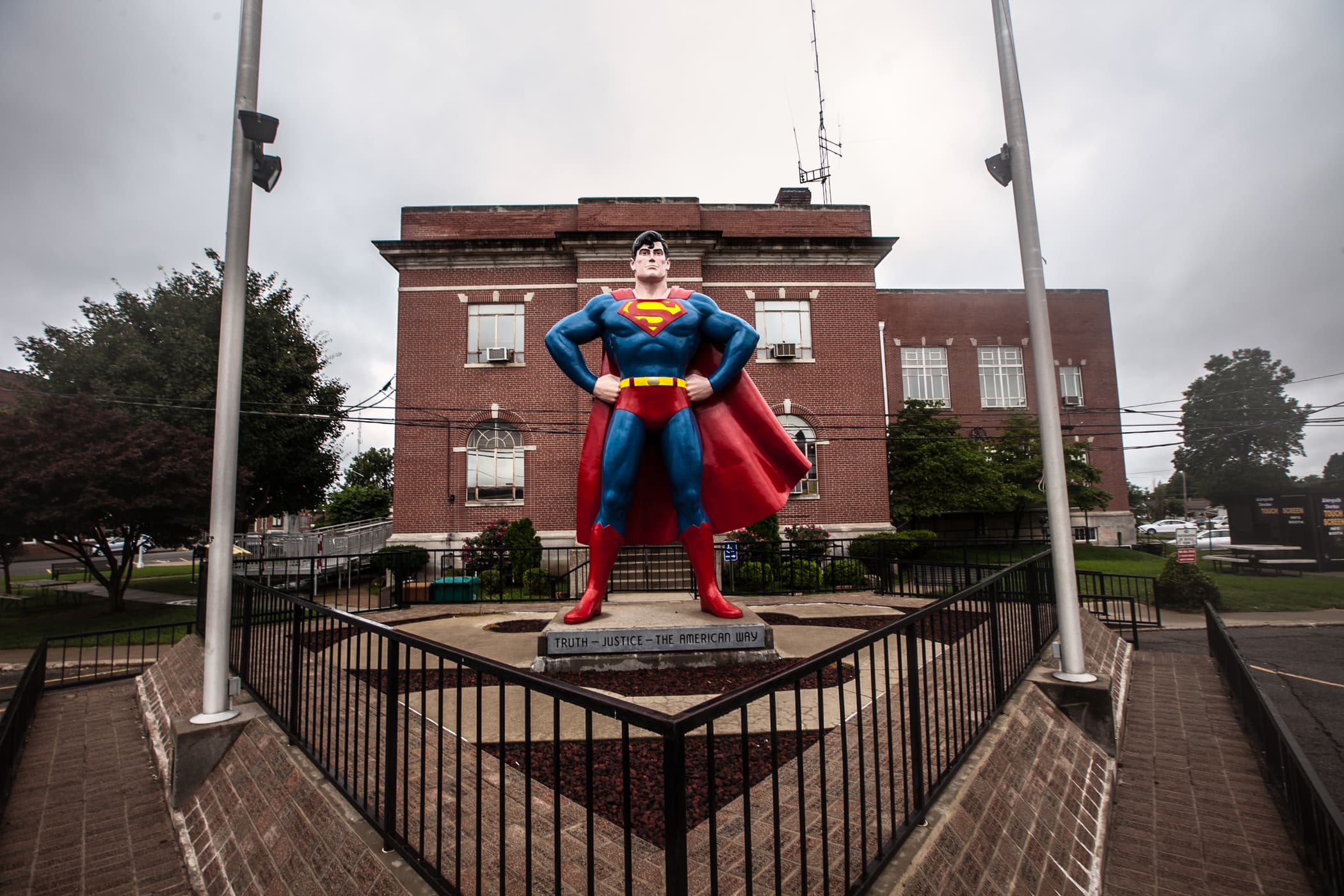 10. Superman Statue
Superman Square, Metropolis, IL
Known as the "Home of Superman," Metropolis, Illinois is located on the Ohio River, just ten miles from neighboring Kentucky and devotes itself to the superhero with a Super Museum and a giant Superman statue in Superman Square. The town is a staple of Illinois tourism and even holds an annual Metropolis Superman Celebration where fans gather from around the world each year to celebrate the Man of Steel.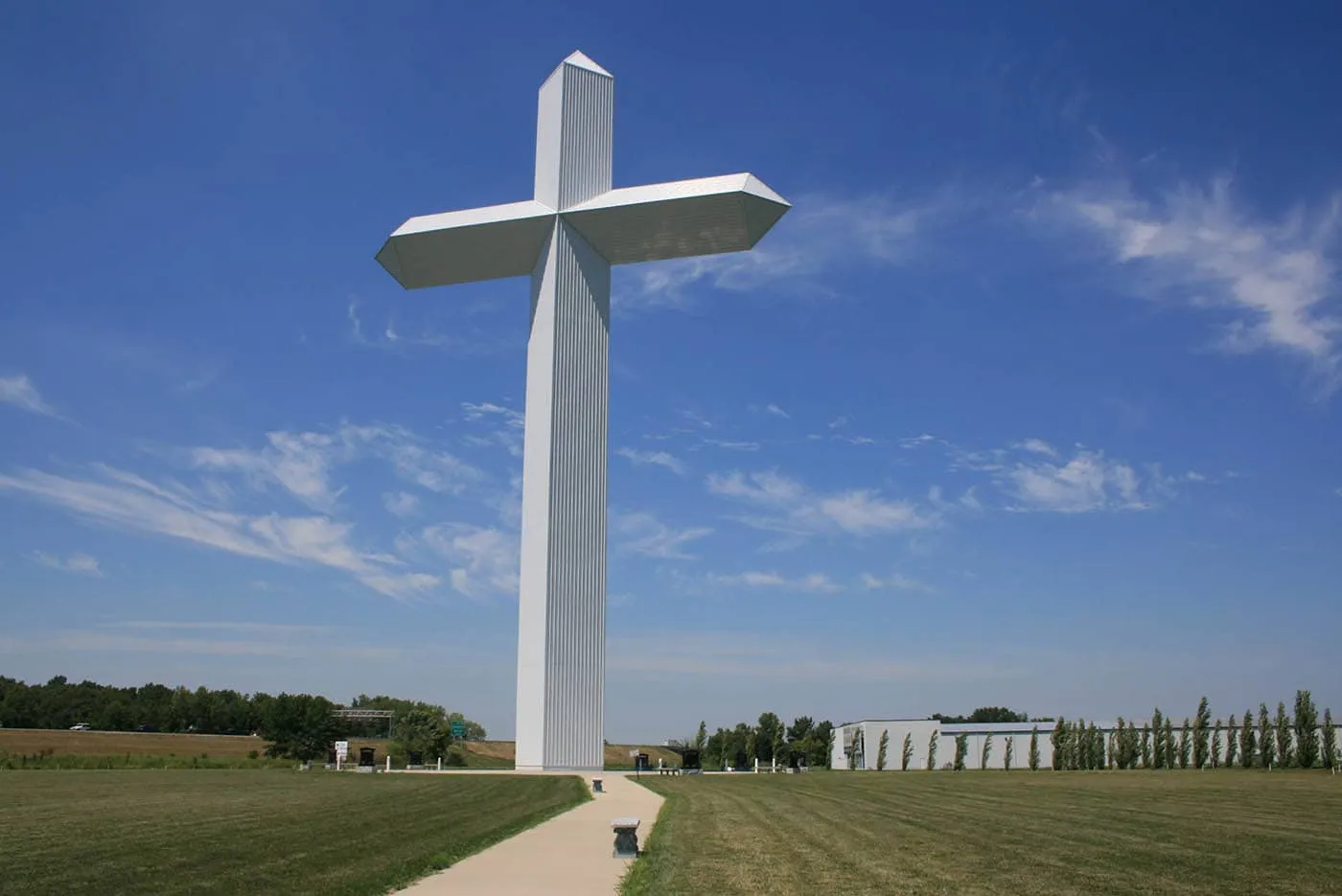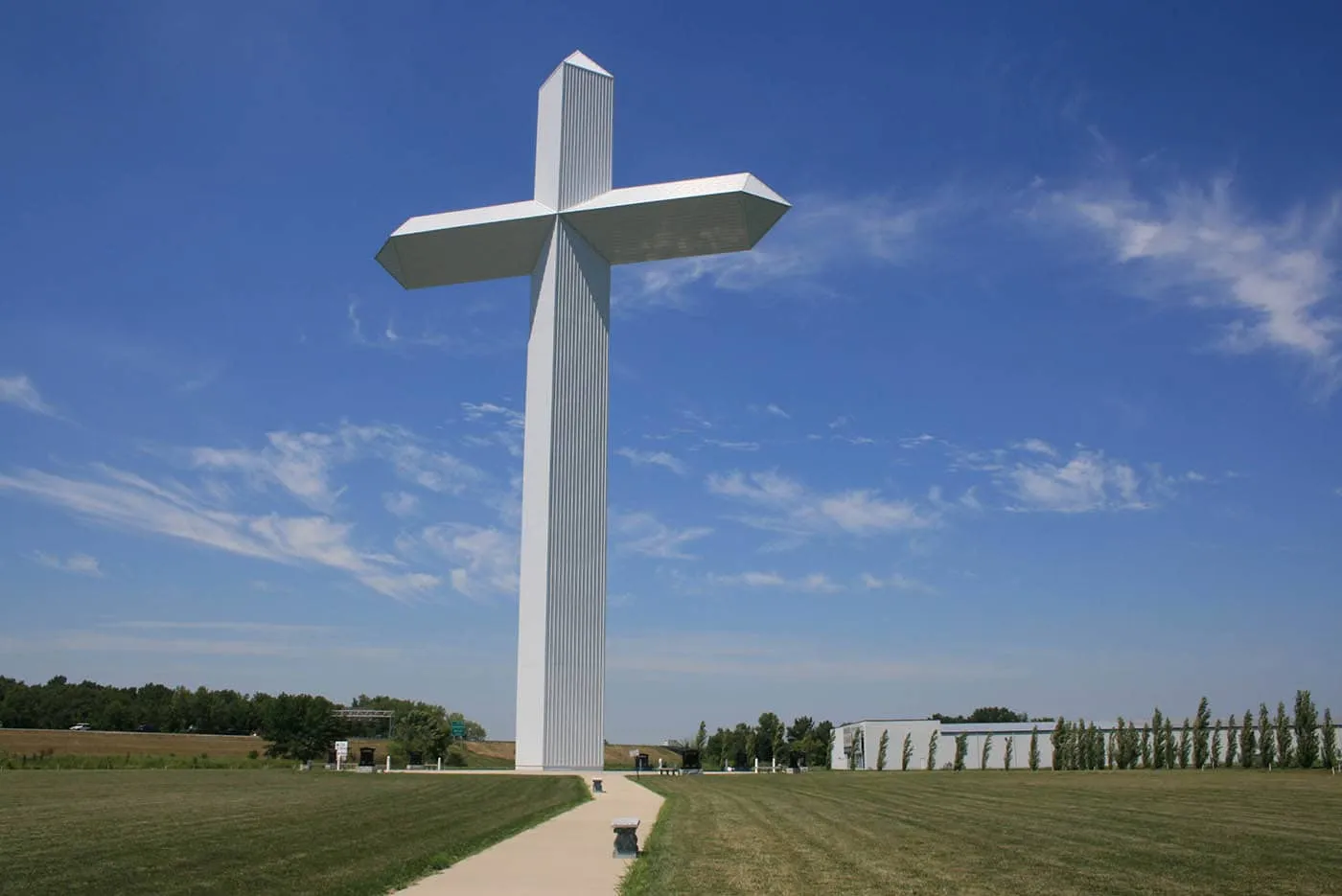 11. Cross at the Crossroads: America's Largest Cross
2603 S Raney St, Effingham, IL
This huge cross is made of over 180 tons of steel and stands tall at at 198 feet high and 113 feet wide. It can be found at he intersection of Interstates 57 & 70 in Effingham, Illinois. The giant Illinois cross truly is "the cross at the crossroads." Built at this major road it's estimated that 50,000 travelers see the landmark in Effingham each and every day.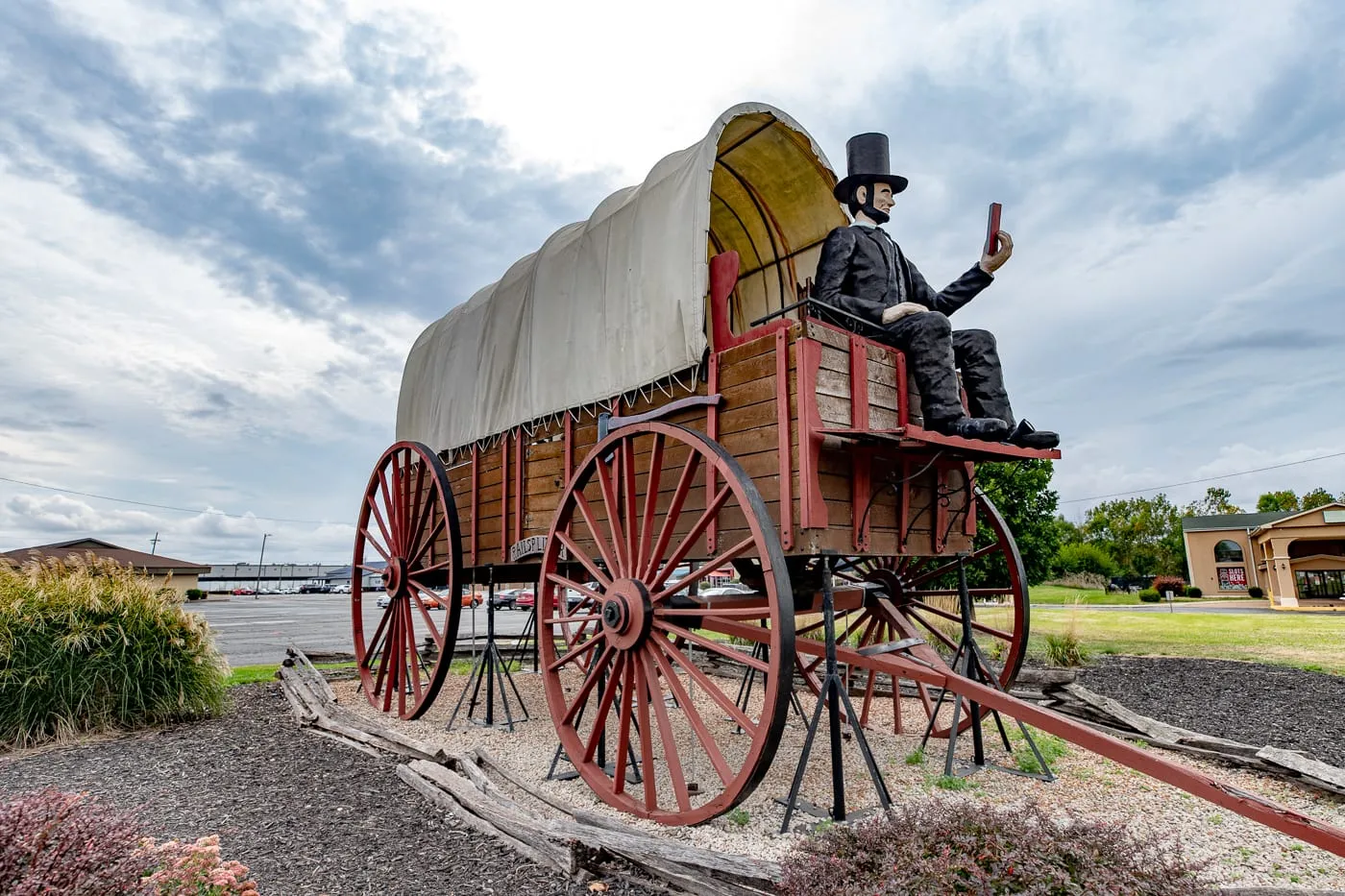 12. World's Largest Wagon and Big Abraham Lincoln
1750 5th St, Lincoln, IL
On this roadside attraction, a 350-pound, 12-foot tall statue of Abraham Lincoln reads a law book while sitting upon a large-covered wagon in the only town in the United States named for and by Abraham Lincoln before he became president: Lincoln, Illinois. The Railsplitter Covered Wagon that he sits on is the The World's Largest Covered Wagon. The 40-foot long, 12-foot wide, 24-foot tall wagon weighs five tons, the wagon is officially recognized as being the world's largest covered wagon by the Guinness Book of World Records, making this stop among the top must-see places to see in Illinois.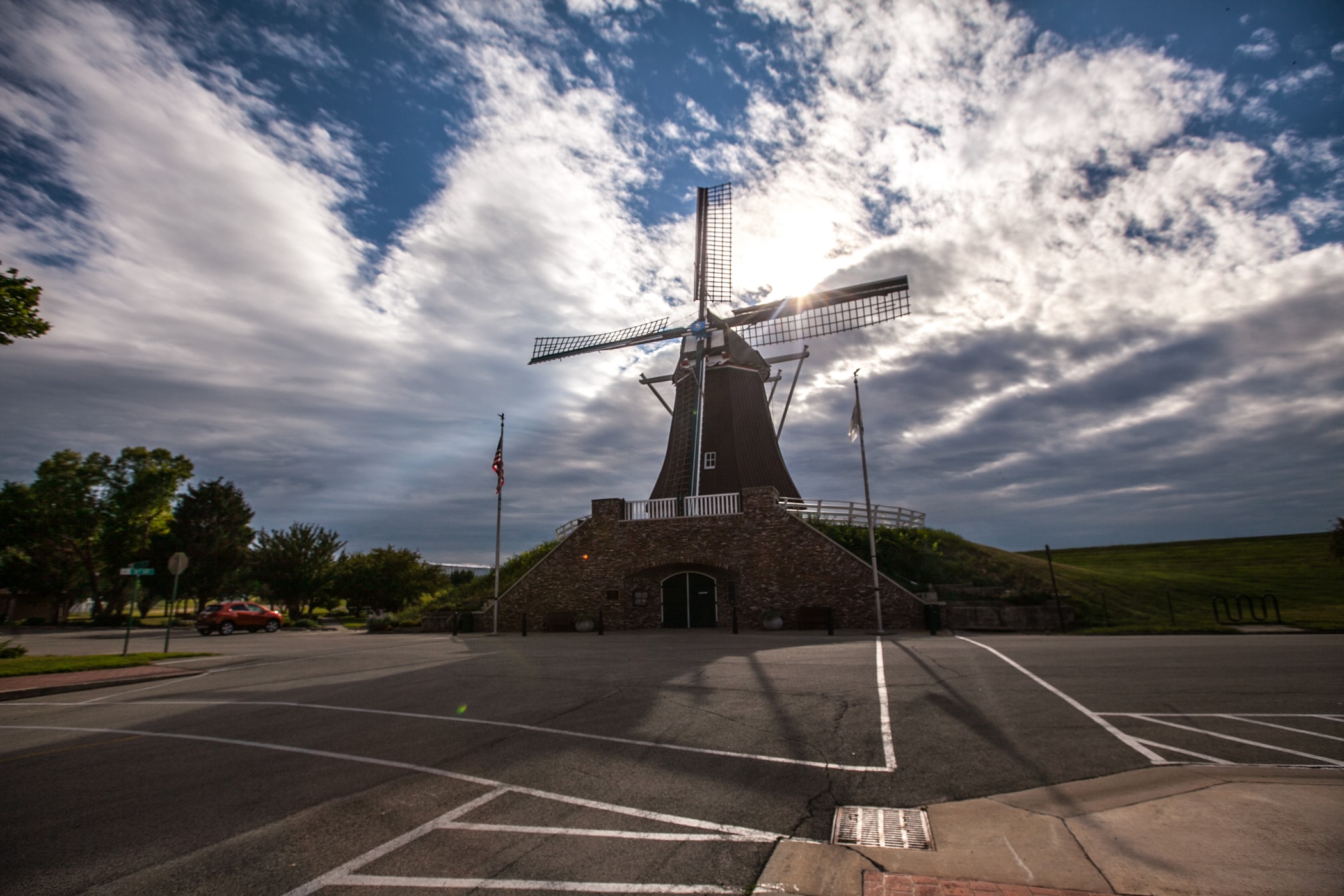 13. De Immigrant Windmill
111 10th Avenue, Fulton, IL
Located on the Great River Road, the De Immigrant Windmill in Fulton is an authentic Dutch Windmill that was manufactured and prefabricated in the Netherlands before being shipped and assembled in the American midwest. It is said to be one of only two Dutch windmills in the United States.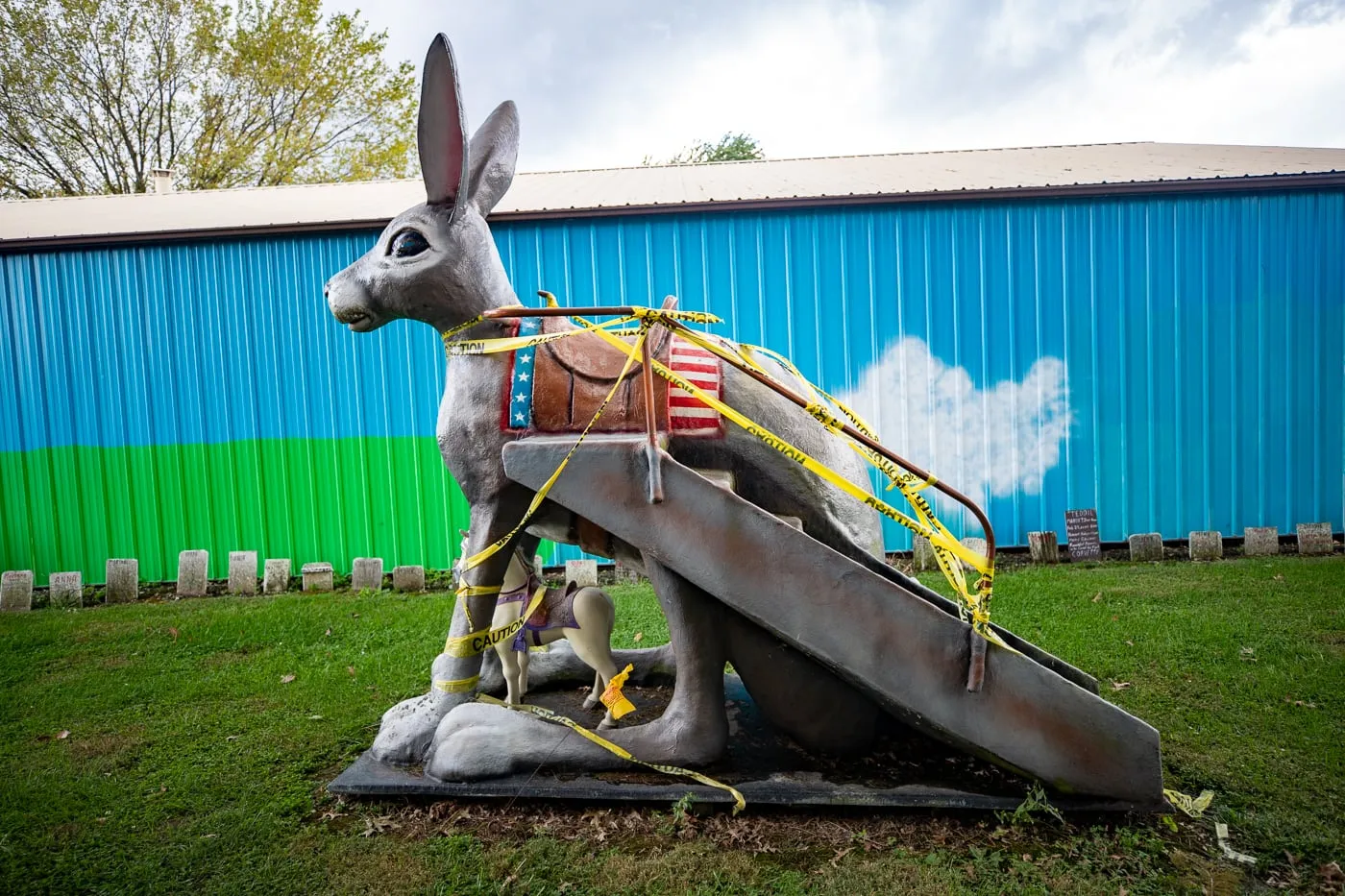 14. Henry's Rabbit Ranch
1107 Historic Old Rte 66, Staunton, IL
Henry's Rabbit Ranch features rabbits of all kind: from the fuzzy little creatures to the classic Volkswagens. With a gift shop, rabbit farm, replica of a vintage filling station, climbable larger than life jackrabbit, and graveyard of VWs, it's a Route 66 Illinois institution and a fun vacation spot for kids and adults.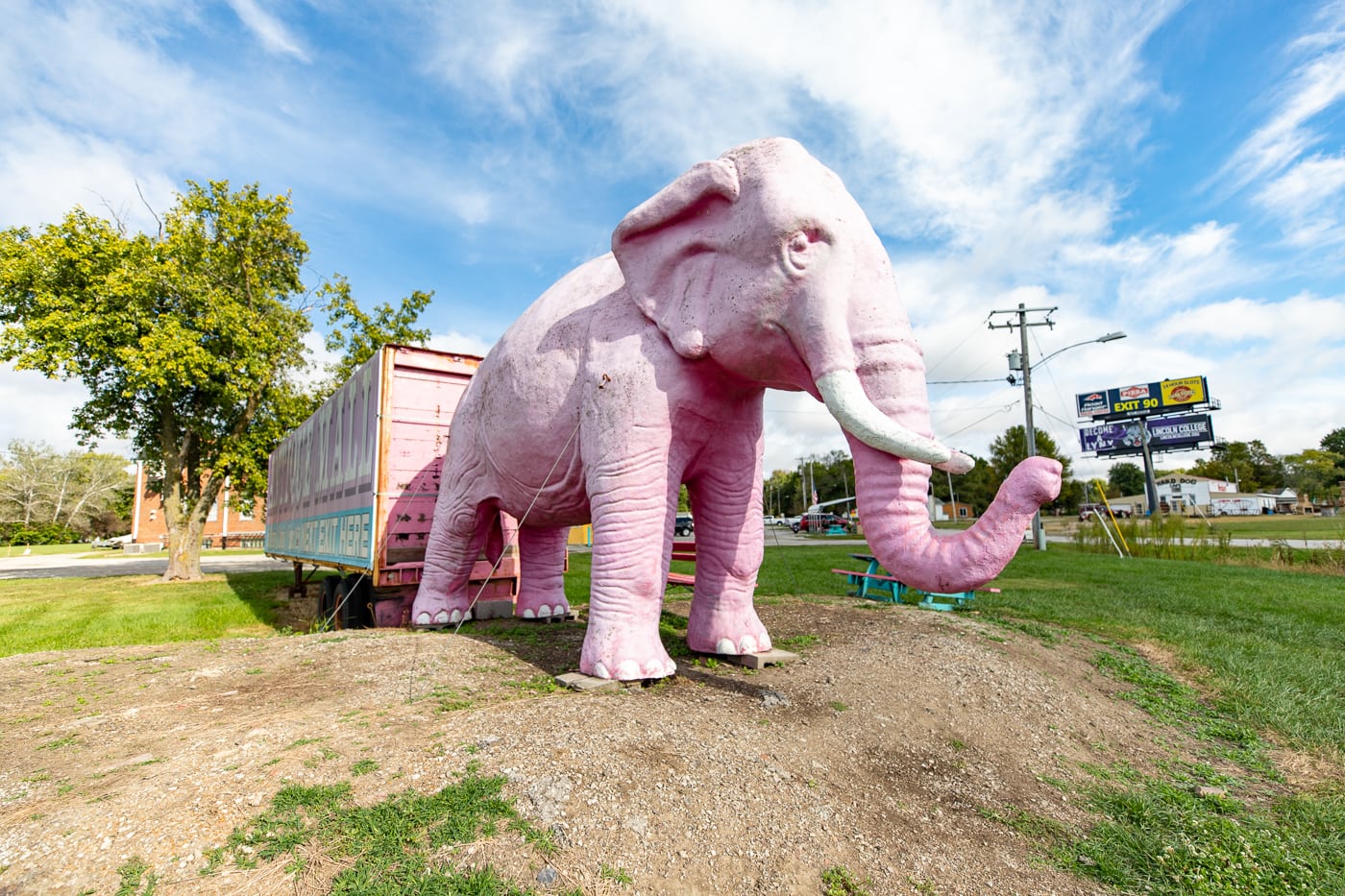 15. Pink Elephant Antique Mall
908 Veterans Memorial Dr, Livingston, IL
We've all heard of pink elephants on parade. But this location not only features a giant pink elephant but also a parade of one more giant thing after the next. At the Pink Elephant Antique Mall in Livingston, Illinois you can find their famous big pink elephant and also so many more fun Illinois road trip stops.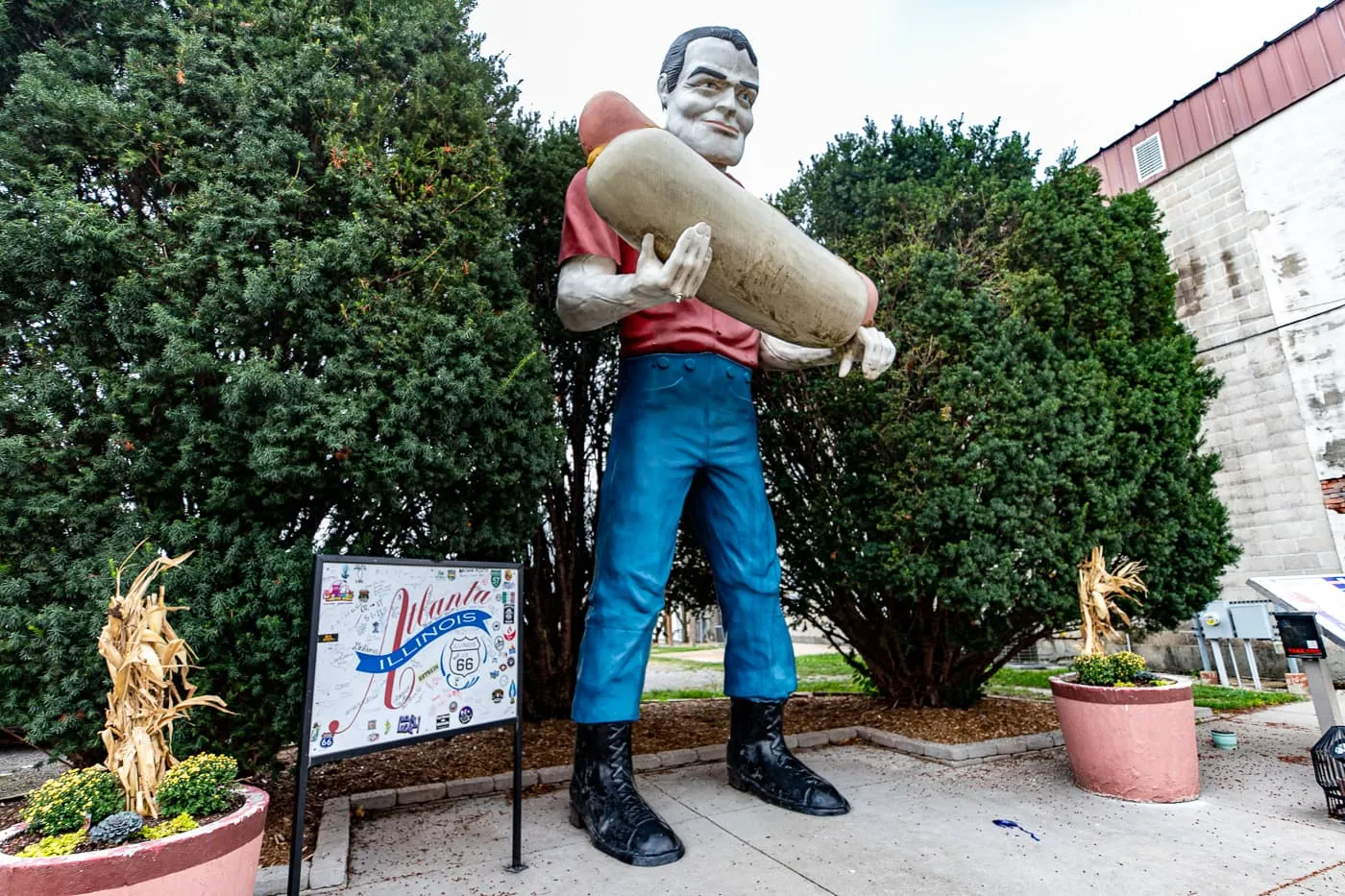 16. Paul Bunyon Muffler Man Holding a Hot Dog
112 SW Arch St, Atlanta, IL
In 1966 a muffler man was erected in Cicero, Illinois at a hot dog and burger restaurant named Bunyon's hot dog stand. Due to that this giant hot dog muffler man is known locally as "The Bunyon Giant." In 2002 the Cicero restaurant closed but the legacy of the hot-dog wielding giant muffler man lives on when he was relocated to Route 66 park in Atlanta.
17. Dungeons and Dragons Park (Boo Castle Park)
31 Homewood Dr, Carbondale, IL
Jeremy Rochman Memorial Park (also known as Dungeons and Dragons Park or Boo Castle Park) is a memorial to a son who died in car crash. His memory is kept alive with a whimsical park full of action figure inspired artworks, like dragons, gargoyles, castles, and wizards.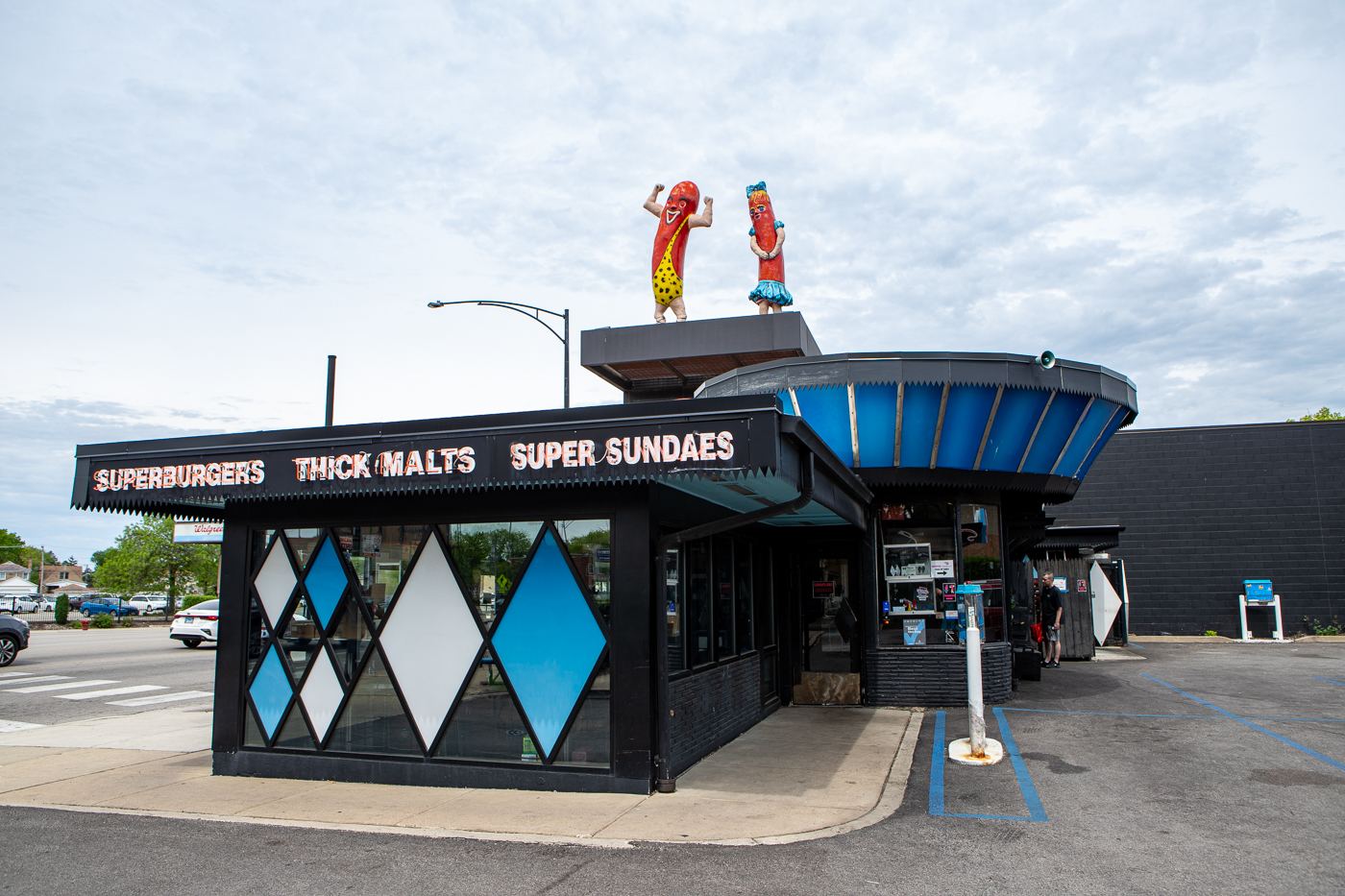 18. Superdawg Drive-In
6363 N Milwaukee Ave, Chicago, IL
Superdawg Drive-In is probably one of the best fast food restaurants in the city. Why? Is it the food? Yes! Is it the carhop service? Yes! But, who are we kidding, the greatest reason to visit Superdawg is the giant hot dogs with glowing red eyes on the roof! It's one of the best and tastiest Chicago tourist traps in the city!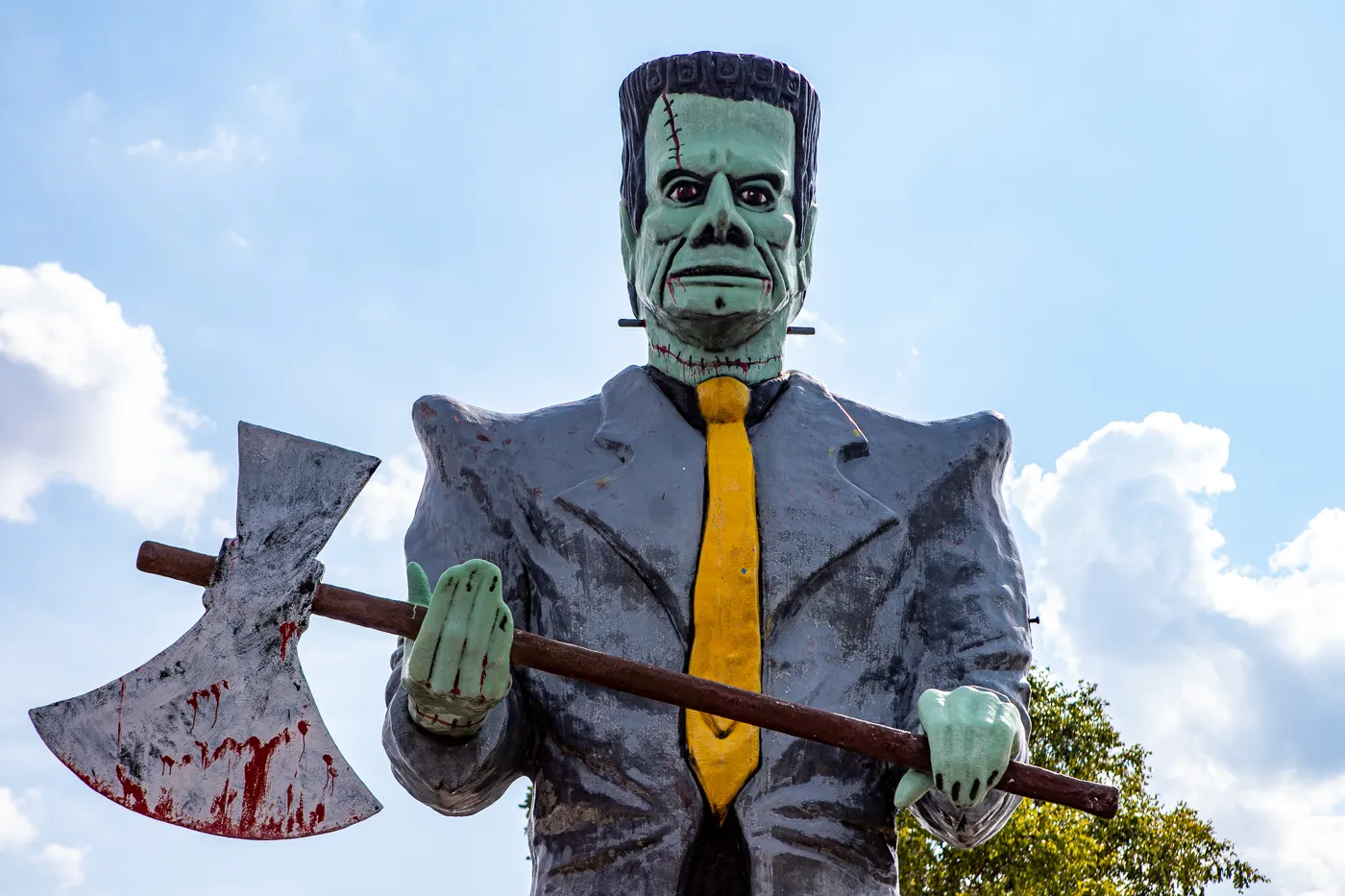 19. Haunted Trails Frankenstein Muffler Man
7759 S Harlem Ave, Burbank, IL
Haunted Trails in Burbank, Illinois is a family entertainment center with a spooky twist. Operating since 1975, the property has an arcade, go-carts, batting cages, and a mini golf course, all with a G-rated monster theme. For road trippers looking for the big and weird Illinois attractions, you can't miss the complex's oversized centerpiece: a Frankenstein muffler man.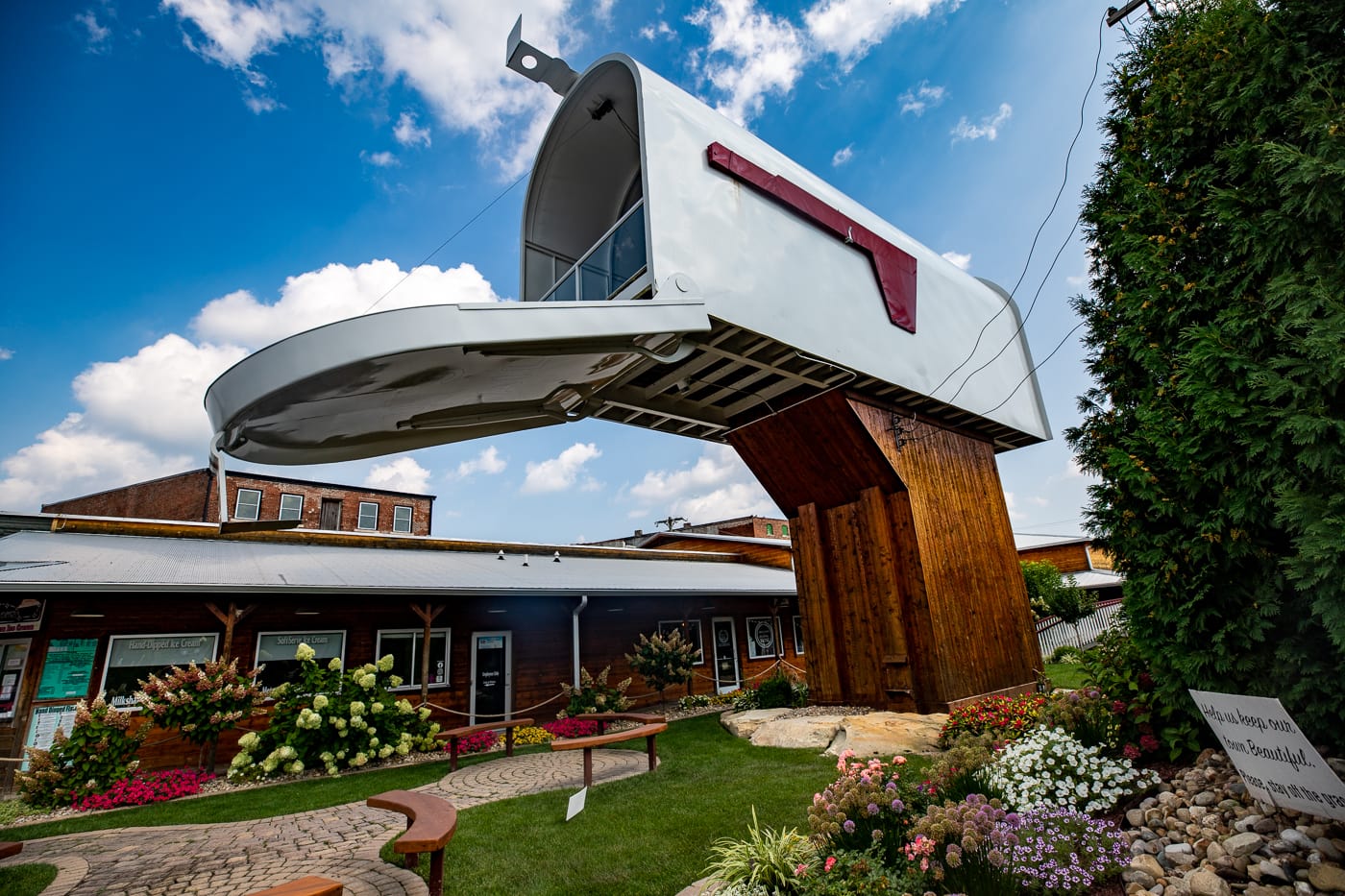 20. Big Things in a Small Town: Casey, Illinois
Casey, IL
Casey, Illinois is the definition of "go big or go home." Known for their "big things in a small town," Casey features many Guinness World Record certified world's largest things. It's the home to the giant and world's largest rocking chair, wind chime, knitting needles, pitchfork, golf tee, yardstick, Dutch wooden shoes, mailbox, pencil, birdcage, key, teeter-totter, gavel, golf club, swizzle spoon, barber's pole, and more. It's impossible to pick just one roadside attraction to make the list of best Illinois roadside attractions, so the entire town makes the list! If you're going to visit Illinois, this is a point of interest you can't miss.
Roadside Attractions Illinois Map
Use the Illinois tourist attractions map below to find locations of and directions to each of the best roadside attractions in Illinois and plan your road trip route!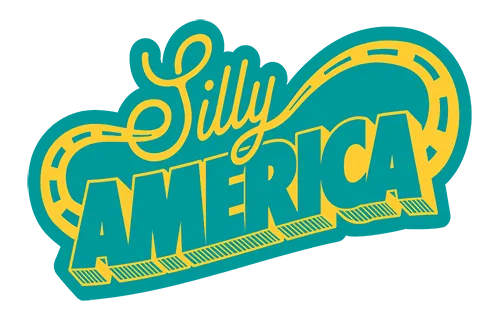 Want more? Check out our web story on the Top 10 Roadside Attractions in Illinois.
Pin this list of the 20 Best Illinois Roadside Attractions to save for your Illinois road trip itinerary!