Are you planning a Tennessee road trip and want to find all the best Tennessee roadside attractions along your route? Whether you're driving across the state on I-40, traversing one of the state's many scenic byways, vacationing in Memphis, or visiting the Grand Ole Opry in Nashville, you won't want to miss these fifteen must-see places to go in Tennessee. They're fun road trip stops and great additions to your travel itinerary or route.
Below are the 15 best roadside attractions in Tennessee: from a gas station shaped like an airplane to an airplane at Elvis's Graceland, from a replica of the Titanic to a house shaped like a UFO, from a giant sun built for a World's Fair to a museum made to hold salt and pepper shakers! You won't want to miss any of these bucket list worthy tourist traps and road trips stops on your Tennessee vacation.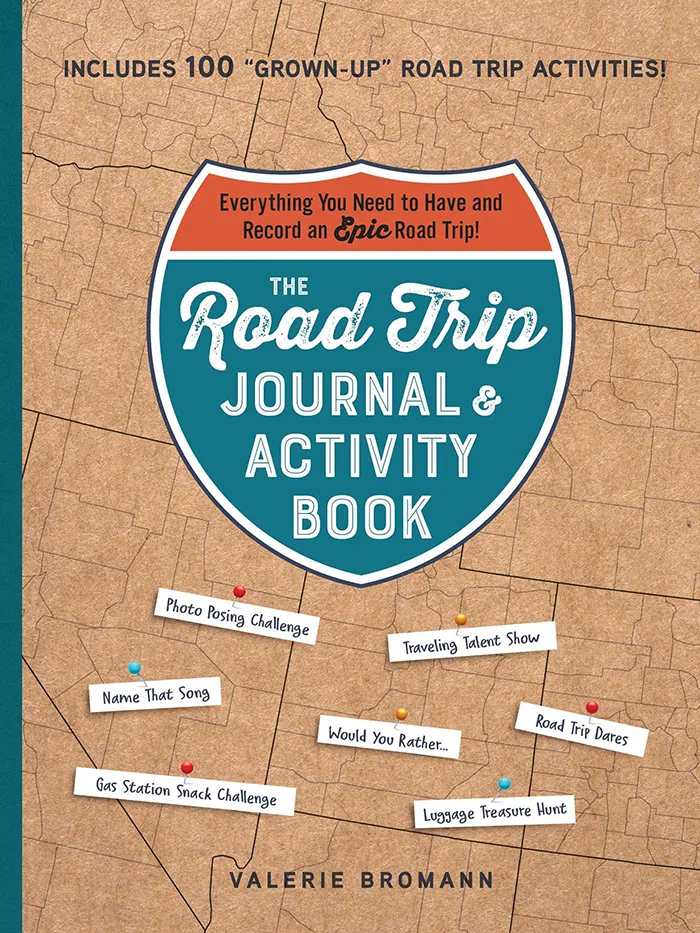 The Road Trip Journal & Activity Book
Everything You Need to Have and Record an Epic Road Trip!
Enjoy fun games and challenges to pass the time on your next road trip and have a keepsake to look back on for years to come with this entertaining must-have for your next vacation.
Ready to hit the road? Let's go! I call shotgun!
The 15 best Tennessee roadside attractions (in no particular order):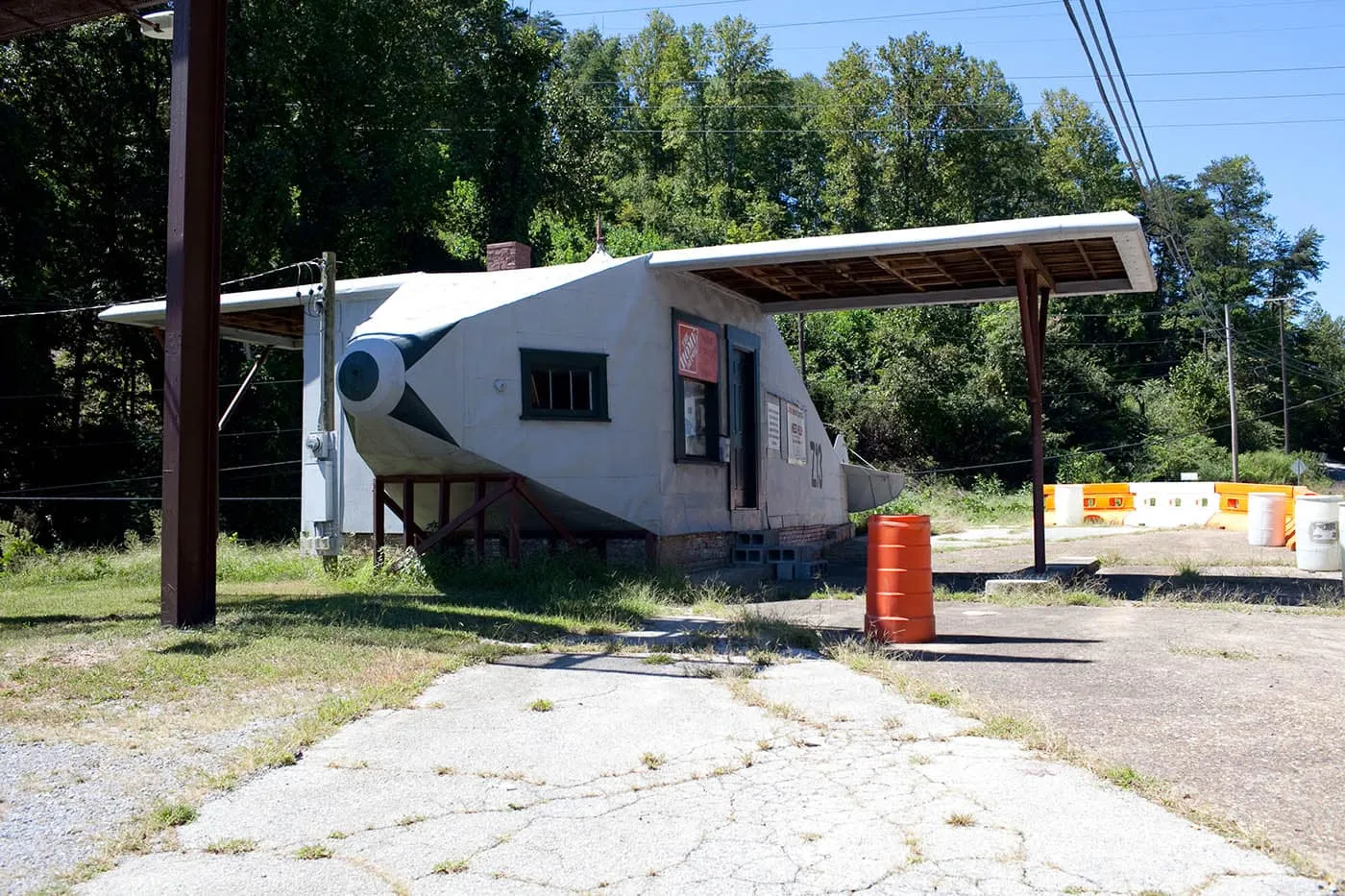 1. Airplane Service Station
6829 Clinton Hwy, Powell, TN
Built by two brothers, Powell's Airplane Filling Station, an airplane-shaped building has been standing since the 1930s and has even been placed on the National Register of Historic Places. First used as a gas station, it was built with the same intent of many other roadside icons of the time: build something unique to draw in the customers. Unfortunately, after the gas station dried up, it fell into disrepair and was named one of the 10 Most Endangered Roadside Places by The Society for Commercial Archeology. Today, it has been fully restored and operates as a barber shop in Powell.
2. Titanic Replica: The World's Largest Museum Attraction
2134 Parkway, Pigeon Forge, TN
Pigeon Forge is a treasure trove of over-the-top buildings, weird museums, and other popular roadside attractions in Tennessee. But none others can top Titanic: The World's Largest Museum Attraction. Enter a facsimile of the doomed ocean liner and explore the recreated interior: from the boiler room to the Grand Staircase. Filled with artifacts rescued from the actual ship, information on its passengers and voyage, and interactive experiences, you can relive the movie like you were on the "unsinkable" ship.
3. Backyard Terrors Dinosaur Park
1065 Walnut Grove Rd, Bluff City, TN
Enter Jurassic Park in Tennessee. At Backyard Terrors Dinosaur Park you can take a self-guided tour through a park full of homemade dinosaur replicas. You'll see over 50 over the top sculptures and learn more about these prehistoric creatures.
4. The Sunsphere
810 W Clinch Ave, Knoxville, TN
In 1982 Knoxville hosted the World's Fair. The Sunshere was built to be a star attraction — literally! Built to mimic the sun, the 75-foot sphere is made with reflective glass panels layered with 24-karat gold dust and stands 26 stories above the skyline. Admire this second sun from the street or take a ride up to the observation deck for a bird's eye view of Knoxville.
5. Dolly Parton Statue
Sevier County Courthouse, 125 Court Ave, Sevierville, TN
Meet Dolly Parton in Tennessee, at least a bronze version of the famed country singer. The Dolly Parton statue was created by artist Jim Gray in 1987 and showcases a young Parton perched on a rock and strumming her guitar. It is certainly one of the best roadside attractions in Tennessee!
6. Billy Tripp's Mindfield
344 W. Main St., Brownsville, TN
Billy Tripp's work on Mindfield began in 1989. He used salvaged metal to construct the largest outdoor sculpture in Tennessee: a quirky wonderland that takes up an acre of land and reaches 125 feet high. Tripp has said that the outdoor artwork represents significant events in his life along with his emotions and personal growth.
7. Pink Elephant with Martini Glass
112 Antique Mall, 8759 TN-25, Cross Plains, TN
This giant pink elephant raises a martini glass with his trunk. Stop by the antique mall to see this peach pachyderm on your Tennessee road trip.
8. Clinton Twelve Statues
Green McAdoo Cultural Center, 101 School St, Clinton, TN
Not all Tennessee roadside attractions are big goofy versions of things. Some tell an important story of our history. At the Green McAdoo Cultural Center in East Tennessee you'll find 12 bronze statues that commemorate the bravery and courage of the Clinton 12: the twelve Black students who attended an all-white public high school in 1956, marking the first integration of a public high school in the south. The sculpture was erected in 2007 to honor the 50th anniversary of the desegregation of Clinton High School. Visit the Cultural Center for a closer look back at this historic time.
9. Flying Saucer House
1408 Palisades Rd, Signal Mountain, TN
The Signal Mountain Flying Saucer House was built in 1972. The giant spacey orb was made complete with a drop down staircase to ascend into the UFO. This spacecraft isn't just for looks: it's a 2,000 square foot 3-bedroom, 2-bath house decorated to match it's celestial facade. If you visit be careful that the road is on a dangerous curve and that it is a private residence!
10. The Salt and Pepper Shaker Museum
461 Brookside Village Way, Gatlinburg, TN
When Andrea Ludden opened the Salt and Pepper Shaker Museum she had around 12,000 pairs of shakers. It eventually had to move to a bigger building and today over 20,000 pairs are on display, arranged based on type and color. You'll find salt and pepper shakers that resemble bunnies, frogs, dogs, Disney characters, vegetables, feet, the Beatles, and more at the Salt and Pepper Shaker Museum!
11. Fortress of Faith (Greenback Castle)
250 Lee Shirley Rd, Maryville, TN
The Fortress of Faith (AKA Greenbeck Castle) is a homemade castle created by Floyd Banks Junior. It's made from tree branches, tires, marbles and other castoffs to create a unique structure that comes complete with a throne rooms, a torture chamber and 30-foot tall turrets. It began as a project to "draw in the ladies" but evolved to have a more spiritual significance after mysterious imaged started appearing on the castle walls, messages that the castle's creator felt came from God.
12. Minnie Pearl Chicken Wire Statue
5 Public Square, Centerville, TNm
Minnie Pearl was a comedic star of the Grand Ole Opry for more than 50 years who also made a name for herself in television. She got her start in Centerville where artist Ricky Pittman captured her likeness in chicken wire. The giant bust sits outside of the county courthouse and comes complete with Pearl's signature hat…$1.98 price tag and all.
13. Bell Witch Cave
430 Keysburg Rd, Adams, TN
In the early 1800s a witch haunted the Bell family. "Kate" or "The Bell Witch" as she was known, was particularly set that father John Bell must die and daughter Betsy Bell should not marry the neighbor boy. She spent years torturing the family and, eventually, got her wish. Some say her presence never left the area and you can visit The Bell Witch Cave to see for yourself.
14. World's Largest Rubik's Cube
Knoxville Convention Center, 525 Henley St, Knoxville, TN
Another leftover from the 1982 Knoxville World's Fair is the World's Largest Rubik's Cube. This 10-foot tall, 1,200 pound toy originally stood at the entrance to the Hungarian Pavilion where a complex system of motors turned the pieces into different patterns. After the fair this Tennessee roadside attraction was left to rust, but it was eventually restored, repainted, and moved into the lobby of the convention center.
15. Graceland
Elvis Presley Blvd, Memphis, TN
Elvis Presley might just be the most famous Memphis resident of all time. You can visit a plethora of Elvis-related tourist attractions around the city including his childhood home, high school, Sun Studio (where Elvis recorded his first demo), and even an Elvis statue on Beale Street. But there is no Elvis tourist attraction as popular as Graceland: Elvis's breathtaking mansion. Take a tour of the grounds, walk the gardens where he found peace, view the aircraft that took him from show to show, and experience Elvis Presley's Memphis entertainment complex to see costumes, artifacts, and mementos.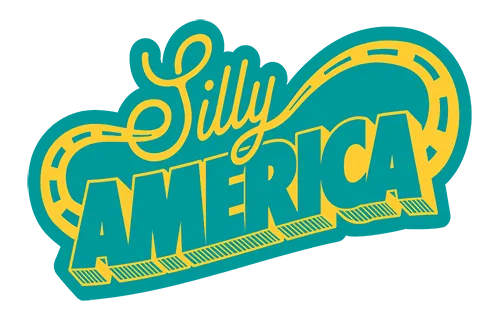 Pin this list of the 15 best Tennessee roadside attractions: