Are you planning a Minnesota road trip and want to find all the best Minnesota roadside attractions along your route? Whether you're driving across I-94 from Minneapolis to Fargo–Moorhead, driving the Great River Road, or exploring all the clear lakes on the Edge of the Wilderness (Wilderness Byway), you won't want to miss these fifteen must-see places to go in Minnesota. They're fun road trip stops and great additions to your travel itinerary or route.
Below are the 15 best roadside attractions in Minnesota: from a couple of giant Paul Bunyans to some of the world's largest birds and fish to a museum devoted to canned meat! You won't want to miss any of these bucket list worthy tourist traps and road trips stops on your Minnesota vacation.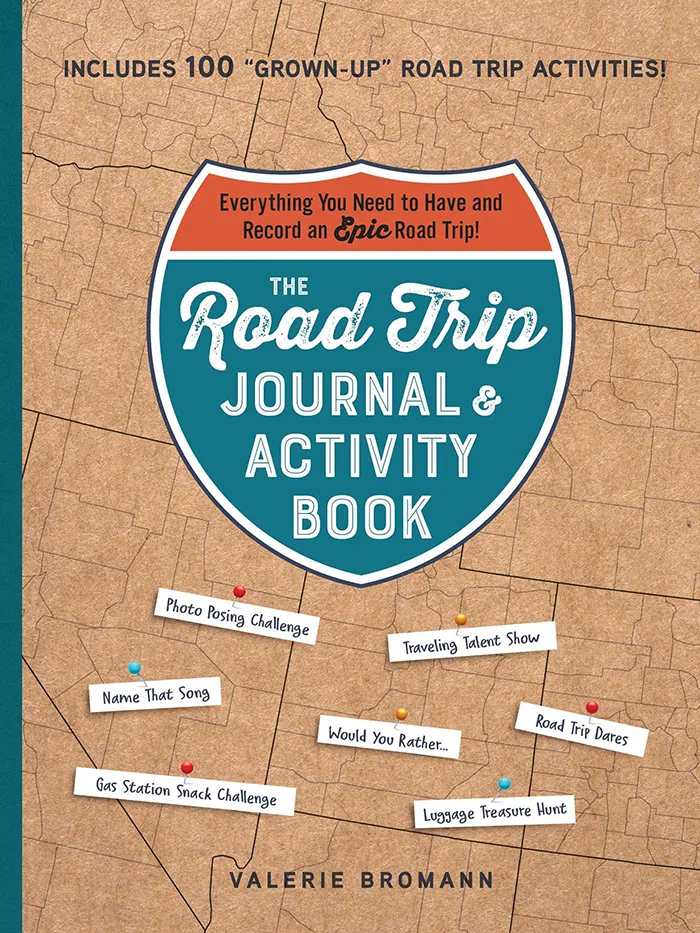 The Road Trip Journal & Activity Book
Everything You Need to Have and Record an Epic Road Trip!
Enjoy fun games and challenges to pass the time on your next road trip and have a keepsake to look back on for years to come with this entertaining must-have for your next vacation.
Ready to hit the road? Let's go! I call shotgun!
The 15 Best Minnesota Roadside Attractions (in no particular order):
1. Paul Bunyan & Babe the Blue Ox Statues
300 Bemidji Ave N, Bemidji, MN 56601
Minnesota legend says that it's 10,000 lakes were formed when Paul Bunyan's footprints were filled with water. So it's not wonder that at least two of Minnesota' best roadside attractions revolve around this folklore giant.
The Paul Bunyan & Babe the Blue Ox Statues in Bemidji are said to be the "second most photographed statues in the United States" (behind Mount Rushmore). The 18-foot tall lumberjack wearing a red plaid shirt and blue pants was created in 1937 for a local winter carnival, and the 10-foot Babe the Blue Ox was added beside him in 1939. This pair isn't just one of the best American roadside attractions, they are also some of the earliest! In 1988 the duo was listed on the National Register of Historic Places.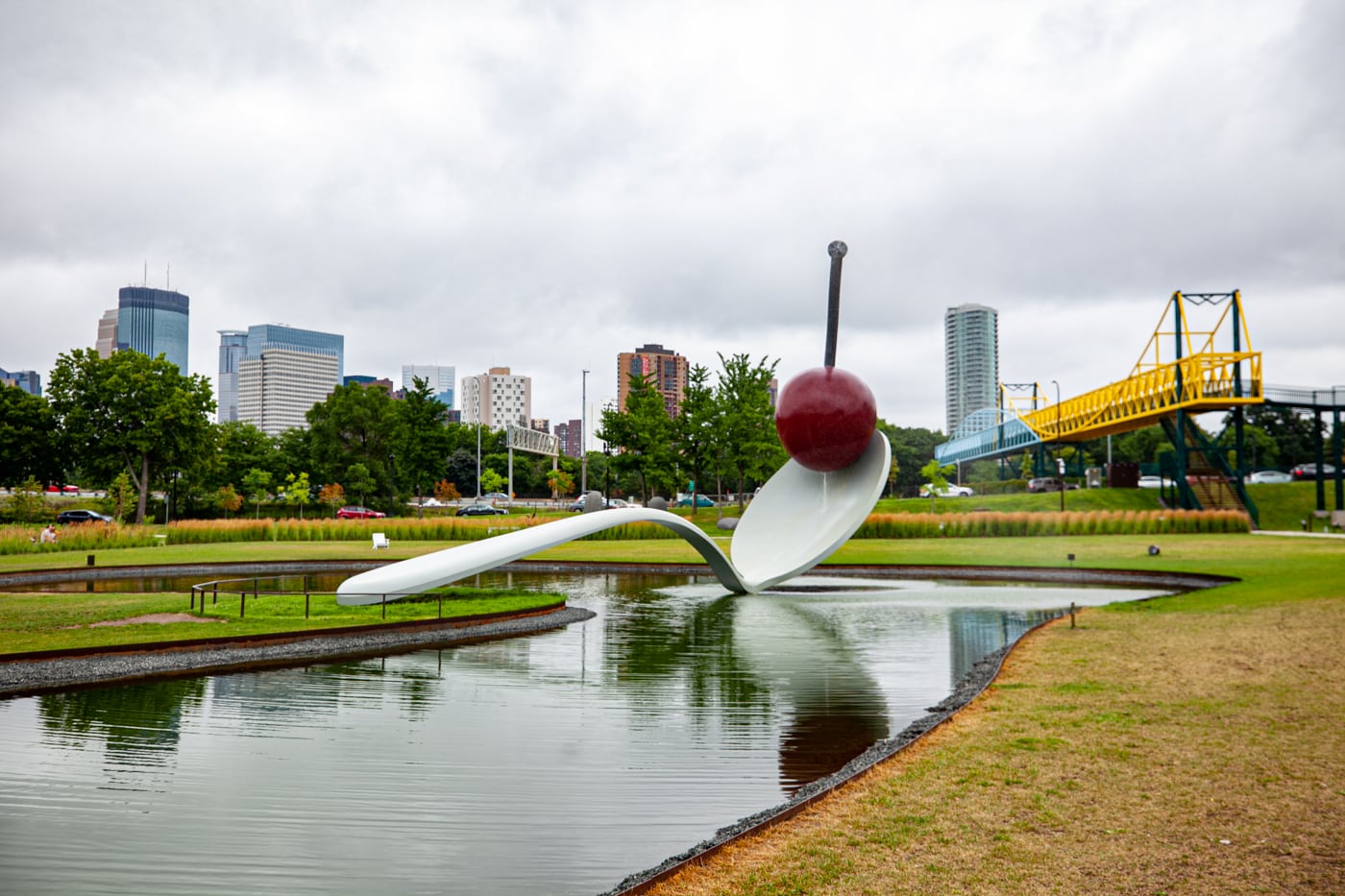 2. Spoonbridge and Cherry
14357 Loring Greenway, Minneapolis, MN
Spoonbridge and Cherry is a giant pop art sculpture that depicts a big cherry resting on a big spoon. This Minneapolis roadside attraction was created by artist Claes Oldenburg and his wife, Coosje van Bruggen. It was commissioned in 1985 for the Minneapolis Sculpture Garden at Walker Art Center and installed and inaugurated in 1988. The stainless steel and aluminum sculpture is 29 feet 6 inches tall by 51 feet 6 inches long by 13 feet 6 inches wide. The 5,000 pound the spoon carries a 1,200 pound cherry!
3. World's Largest Ball Of Twine
1st St, Darwin, MN 55324
Many cities around the U.S. claim to be home to the world's largest ball of twine and Darwin, Minnesota is one of them. This giant twine ball stands at 12 feet in diameter and weighs a whopping 17,400 pounds. Francis A. Johnson began winding the twine in March 1950, and spent the next 29 years adding to it. When it was completed in 1979 Guinness Book of World Records declared it as the "biggest ball of twine," a title this Minnesota roadside attraction held until 1994. While the one in Cawker City, Kansas might have out twined it that year, this is still considered to be the "largest ball of sisal twine built by a single person" and the only one to be referenced in Weird Al" Yankovic's 1989 song "The Biggest Ball of Twine in Minnesota."
4. SPAM Museum
101 3rd Ave NE, Austin, MN
Minnesota's Spam Museum celebrates the infamous canned meat that we all love to hate and hate to love. Originally opened in 1991 as the Hormel Foods First Century Museum, a newer Spam-focused museum emerged in 2001. Today the 14,000 square foot downtown Austin museum features advertising from around the world, World War II-themed exhibits, Spam Brand 101 where patrons can learn all about the different varieties of Spam, and, of course, a gift shop with gifts and souvenirs. Don't leave without getting a Spample of the canned delicacy to taste for yourself!
5. Jolly Green Giant
Green Giant Statue Park, 1126 Green Giant Ln, Blue Earth, MN
In the 1920s the Jolly Green Giant was created by the advertising firm Leo Burnett to serve as the spokesman for the Green Giant food company. In 1978 a massive 55-foot fiberglass statue of the big green giant was erected in Blue Earth to commemorate the linking of the east and west sections of Interstate 90 and honor the local plant. The Green Giant Company took a vital role in the building of the giant statue, making sure he conformed to the ideal mold, especially since the giant had never before been seen from behind! Now tourists can stop by and see the giant in his towering glory, from the front, sides, and behind.
6. Big Ole – Big Viking Statue
Central Lakes Trail, Alexandria, MN
Big Ole, the big viking statue in Alexandria was built in early 1965 for the 1964/1965 New York World's Fair. When the fair ended, America's Biggest Viking was shipped to Alexandria. It became a fitting symbol as the town is proud of their viking heritage and believes it was visited by Norsemen in 1362. The 28-foot tall viking statue was erected on a traffic island where he spent many years getting banged up, set on fire, vandalized, and pummeled by bad weather. In 2002 Big Ole was moved to a park and in 2015/16 he was restored and repaired, ensuring that this giant viking would continue to look out over the town for many years to come.
7. World's Largest Free-Standing Hockey Stick
412 Monroe St, Eveleth, MN
In 1995 the 3-ton, 107-foot long "World's Largest Hockey Stick" was unveiled in Eveleth. Unfortunately, this roadside attraction couldn't live up to its title: a 61,000 pound, 205-foot long hockey stick already existed on Vancouver Island in British Columbia. After their stick fell into disrepair, Eveleth created new stick that is 3,000 pounds heavier and 110-feet long: still not quite as large as the Canadian counterpart so they have dubbed it the "World's Largest Free-Standing Hockey Stick."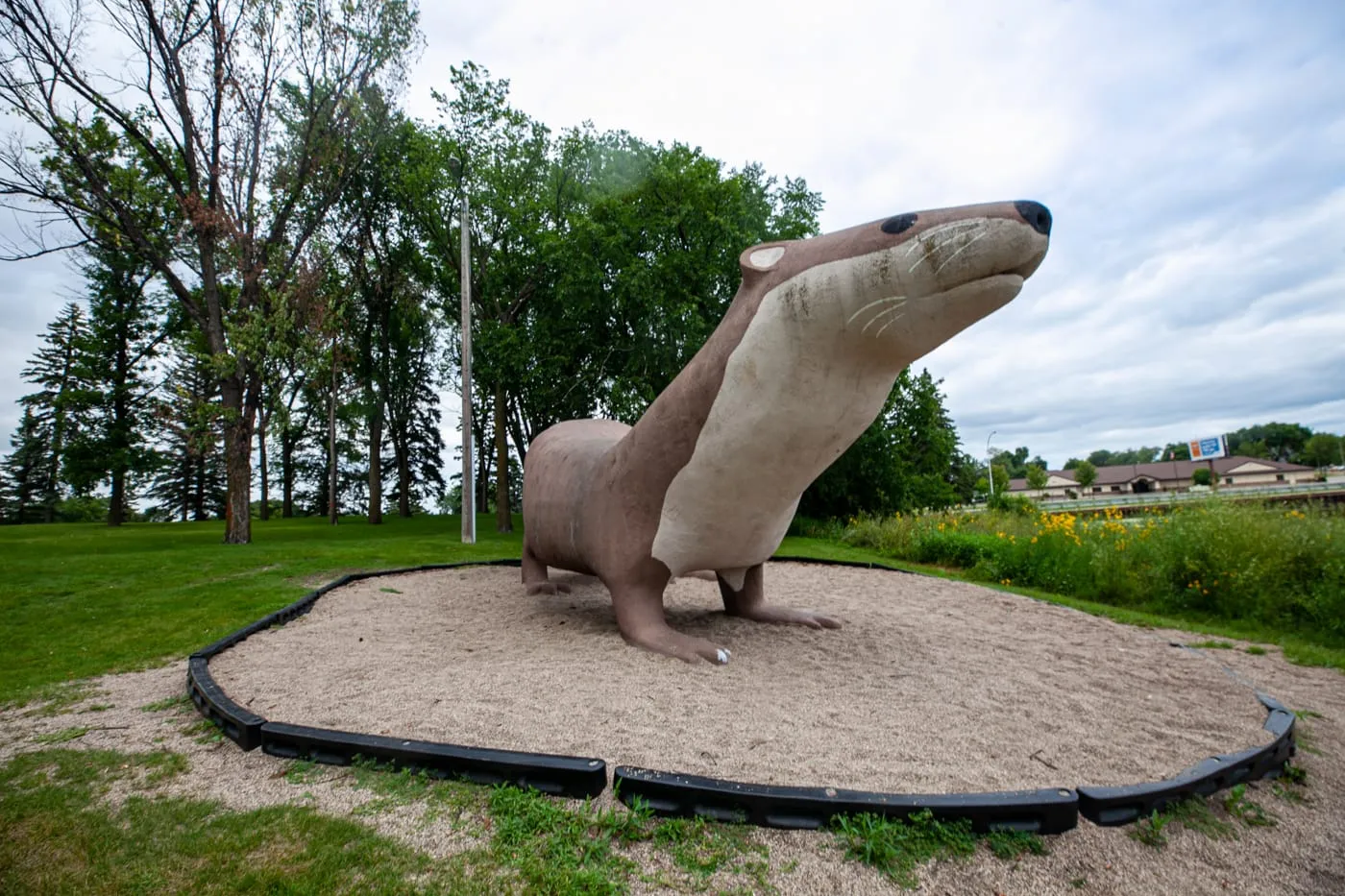 8. Otto the Big Otter
Grotto Park, S. Burlington Ave., Fergus Falls, MN
Otto the Otter – the giant otter in Fergus Falls was constructed in 1972 by students at Fergus Falls High School, with the help of local metal artist Steve Jaenisch. Made from a frame of metal rods and covered in concrete and paint, the sculpture was built to commemorate the centennial founding of Fergus Falls. This roadside attraction now serves as a mascot for the town (which is only fitting, as the town is located in Otter Tail County on Otter Tail River). At 15-feet tall and 40-feet wide, this large concrete mammal is certainly the world's largest otter.
9.World's Largest Paul Bunyan
Heartland State Trail, Akeley, MN
Paul Bunyan is so steeped in Minnesota lore that there isn't just one but two Paul Bunyan roadside attractions on this list. Akeley, Minnesota declared itself to be the Birthplace of Paul Bunyan in 1949 and built a wood baby cradle in his honor. In 1985 the town unveiled a new attraction during the town's annual Paul Bunyan Days: a giant statue of Paul Bunyan sitting on one knee with his hand outstretched for visitors to climb. The "World's Largest Paul Bunyan" is actually a bit shorter than other versions around America, but, according to the creators, if this sitting Paul stood up, he would actually be well over 60-feet tall!
10. Pelican Pete – The World's Largest Pelican
Pelican Rapids, MN
At 15.5-feet tall, Pelican Pete is the World's Largest Pelican. Built in 1957, this giant bird stands at the base of the Mill Pond dam on the Pelican River. Sometimes referred to as It has been referred to as "The Mother of All Pelicans" or "The Pelican Rapids Pelican" or the "Giant Pelican Sculpture" it's most fun to visit during fishing season when locals gather to see what they can catch.
11. Giant Walleye in Walleye Capital of the World
Garrison Concourse Wayside Park, Garrison, MN 56450
In 1965 Minnesota designated the walleye as the Official State Fish. Garrison quickly declared itself to be the Walleye Capital of the World due to its location next to Mille Lacs, a popular walleye fishing spot. A giant 15-foot long walleye statue was placed adjacent to Mille Lacs some years later to celebrate the town's claim to fame.
12. World's Largest Dilly Bar
Dairy Queen, 24 8th St. S., Moorhead, MN
The Dilly Bar, a disc of soft serve coated in hardened chocolate (or cherry or butterscotch candy) served on a stick, was invented in 1955 at the Moorhead Dairy Queen in Minnesota. In August 2017 the Moorhead Dairy Queen honored their legacy by installing a 12-foot tall world's largest Dilly Bar on their patio. Now visitors can enjoy their dilly bars next to a giant dilly bar.
13. Big Tom – The World's Largest Turkey
Lion's Park, 32911, MN-87, Frazee, MN
Big Tom was a source of civic pride for Frazee, Minnesota: The Turkey Capital of The World. The 22-foot tall statue took center stage at the annual Frazee's Turkey Days festival. That is, until 1998, when the maintenance department accidentally set him on fire and burnt his to a crisp. While his presense was missed at that year's festival, the giant turkey returned a few months later when a new 3-ton fiberglass Big Tom arrived.
14. Big Fish Supper Club
456 US-2, Bena, MN
Big Fish Supper Club began its life in the 1950s as a drive-in restaurant with a giant muskie to draw people in. While, over the years, they stopped serving food inside the big fish itself, it still was a big roadside draw for diners to the restaurant. In 2009 the dilapidated giant fish was restored to its former glory and you can still dine in at Big Fish Supper Club, getting a seafood platter or Friday prime rib next to this big muskie.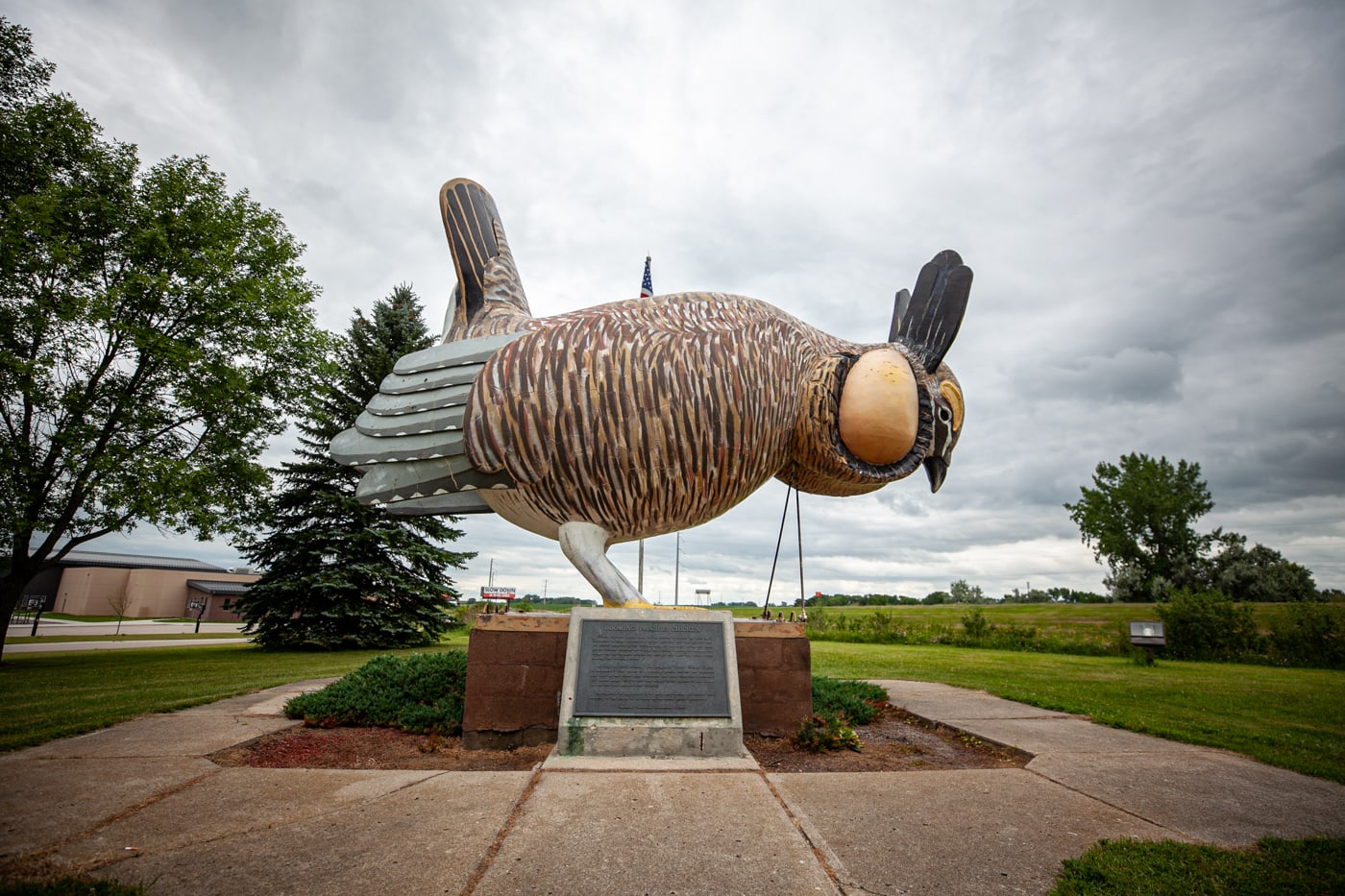 15. World's Largest "Booming" Prairie Chicken
The World's Largest "Booming" Prairie Chicken is a 9,000 pound big bird statue that stands at 13-feet tall. It was created by artist Art Fosse in 1976 to celebrate the country's bicentennial and the town's self-proclaimed title of "Prairie Chicken Capital of Minnesota." The giant chicken received a fresh coat of paint in 2008 in honor of the town's 125th anniversary celebration.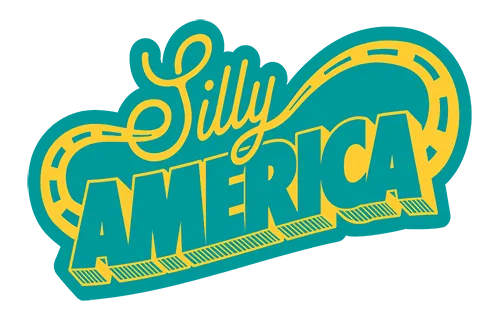 Pin this post on the 15 Best Minnesota Roadside Attractions to save for later: