Are you planning a New Mexico road trip and want to find all the best New Mexico roadside attractions along your route? Whether you're driving the length of Route 66, traversing the Enchanted Circle Scenic Byway, visiting White Sands National Park, or vacationing in Albuquerque or Santa Fe, you won't want to miss these fifteen must-see places to go in New Mexico. They're fun road trip stops and great additions to your travel itinerary or route.
Below are the 15 best roadside attractions in New Mexico: from a giant pistachio nut to a giant chile pepper, from a restaurant packed with fiberglass giants to a park packed with cutout photo ops, from a very large array to a very large roadrunner! You won't want to miss any of these bucket list worthy tourist traps and road trips stops on your New Mexico vacation.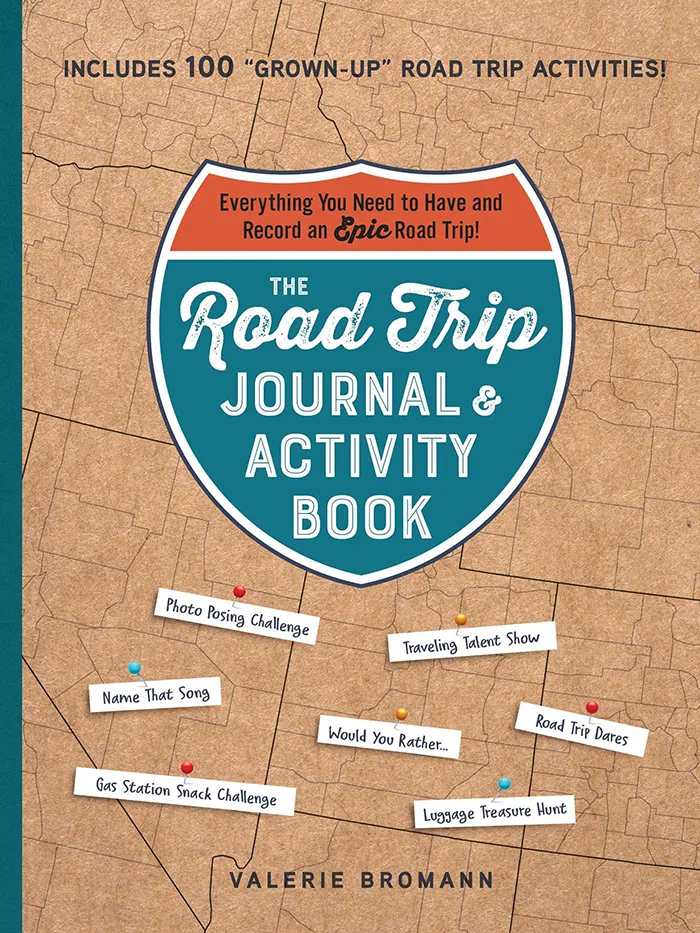 The Road Trip Journal & Activity Book
Everything You Need to Have and Record an Epic Road Trip!
Enjoy fun games and challenges to pass the time on your next road trip and have a keepsake to look back on for years to come with this entertaining must-have for your next vacation.
Ready to hit the road? Let's go! I call shotgun!
The 15 best New Mexico roadside attractions (in no particular order):
1. World's Largest Pistachio Nut
McGinn's Pistachio Tree Ranch, 7320 US-54, Alamogordo, NM
Stop by McGinn's Pistachio Tree Ranch to admire the World's Largest Pistachio Nut. The giant nut stands at 30-feet tall and is made of concrete. It was installed in 2008 to both lure travelers off the road and onto the pistachio farm (tours are also available and the gift shop is stocked with pistachios, pistachio products, and other local fare) and honor Tom McGinn, the farm's founder who had passed away the year before. A bronze plaque at the base of this New Mexico roadside attraction reads, "Tom dreamed big, expected big, and accomplished big things. He would have said the monument is not big enough!"
2. Apple Boy
Old Apple Barn, 949 US-82, High Rolls, NM
Bill and Beverly Niffenegger, the owners of Old Apple Barn, knew they wanted to erect a kitschy roadside attraction when they launched the business. Artists themselves, they created their mascot, Apple Boy, in two months, and unveiled him in 2010. This adorable boy with a cheeky apple face holds a bushel of apples on one arm and waves to passersby and guests with the other.
3. Four Corners Monument
4 Corners Rd, Teec Nos Pos, NM
Ever wanted to stand in four places at once? At the Four Corners Monument in Shiprock you can stand at the intersection of four states on the tip of your toe. Here New Mexico meets Arizona, Utah, and Colorado, marked by a plaque on the floor that allows you to easily jump between them while taking obligitory selfies.
4. World's Largest Chile Pepper
2160 W Picacho Ave, Las Cruces, NM
The World's Largest Chile Pepper (or World's Largest Chili Pepper) is a 47- foot long, bright red, spicy sculpture that lives outside the Big Chile Inn in Las Cruces. Made of 5,000 pounds of concrete this big chili has been attracting tourists since 2010 when the motel owners built it to attract visitors to their property and rival nearby Hatch (home of the famous Hatch green chile and the proclaimed Chile Capital of the World).
5. Fox Cave
26897 US-70, Ruidoso Downs, NM
Once a hideout for Billy the Kid, Fox Cave (once known as Ice Cave and, later, Ruidoso River Museum) is now a popular tourist trap on a New Mexico road trip. Explore the museum's quirky collection of memorabilia, like Marie Antoinette's crown, alien artifacts, geodes, and chupacabra hands. Outside take some Instagram-worthy selfies with the myriad of giants, like a cowboy muffler man, dinosaurs, and a big set of hands.
6. History in Bronze
W. Main St., Artesia, NM
"History in Bronze" consists of nine bronze statues found on various corners of Main Street in Artesia. Each one depicts a historically important tradition of the area. Themes of ranching, cattle driving, and oil drilling abound in the unique sculptures.
7. Recycled Roadrunner Sculpture
32 AL-106, Las Cruces, NM
The giant roadrunner sculpture in Las Cruces honors two things: the official state bird of New Mexico and recycling. Created by artist artist Olin Calk in 1993, the 20-foot tall by 40-foot long roadrunner is made entirely from recycled materials. The big bird has been remade several times in several locations. It now features Volkswagon headlights for eyes and looks out over a rest area (and the surrounding rattlesnakes).
8. Cruising San Mateo 1 (Chevy on a Stick)
San Mateo Blvd SE, Albuquerque, NM
"Cruising San Mateo I" might be better known as "Chevy on a Stick," but whatever you call it, this high-flying car is a fun New Mexico roadside attraction. Erected in 1991, this public art by artist Barbara Grygutis features a salvaged 1954 Chevy on top of a 26-foot-tall arch, both covered in blue mosaic tiles.
9. Very Large Array
Socorro, NM
The Very Large Array is a very unexpected roadside attraction in New Mexico. This astronomical radio observatory features 27 radio antennas in a Y-shaped configuration, each 25 meters (82 feet) in diameter. Combined electronically they give the resolution of an antenna 22-miles across. This futuristic place has been featured in many sci-fi films like Independence Day, Terminator Salvation, and Contact.
10. Route 66 Musical Road
Route 66, Tijeras, NM
The Route 66 Musical Highway is a relatively new attraction on Route 66 in New Mexico. When you hit that stretch of road, a sign tells you to reduce your speed to 45 miles per hour and, if you do, you'll be rewarded with a clip of "America the Beautiful" played via your car's tires meeting a rumble strip pressed into the asphalt. The musical road was installed in 2014 as part of National Geographic Channel's "Crowd Control" television program. The show tested whether people would obey an unpopular law (driving the speed limit) if they were rewarded (here, with music).
11. Teako's Giants of Hatch
Sparkys, 115 Franklin St, Hatch, NM
Stop at Sparkys for a famous Hatch green chile burger (or a green chile shake), but be sure to save some time to admire the explosion of roadside attractions that decorate the outside. There's everything from an A&W root beer family to a burger-eating robot to a giant 30-foot tall Uncle Sam to a big pig to an enormous KFC bucket. The collection belongs to owner Teako Nunn who has been obsessed with fiberglass giants since he was a kid.
12. Ethyl the Whale
Santa Fe Community College, 86 College Dr, Santa Fe, NM
Ethyl is an 82-foot long blue whale sculpture made from recycled plastic trash. Created by two San Francisco artists, Yustina Salnikova and Joel Stockdill, this giant work of art on the Santa Fe Community College campus is meant to bring awareness to the negative impact plastic has on the environment. She
13. Connie's Photo Park
2881 NM-14, Madrid, NM
Connie's Photo Park is a park full of photo stand-ins (those large painted boards with holes cut out to stick your head in for photos) ion the Turquoise Highway in Madrid. All of the photo ops were painted by artist Connie Mayhew. Pose for Instagram photos as an alien, cowboy, hippie, or jailbird.
14. Meow Wolf Giant Robot, Spider, and Coyote
Meow Wolf, 1352 Rufina Cir, Santa Fe, NM
Meow Wolf is a former bowling alley turned into an interactive fun house and Instagram-worthy art complex. While the inside is a super cool wonderland, outside you'll also find some of the best New Mexico roadside attractions. There's a giant red robot clutching a dandelion, an overarching spider that looms over a couple of picnic tables, and an oversized shiny coyote.
15. Roswell
Roswell, NM
It would be hard to pick just one Roswell roadside attraction to feature here. Roswell, after all, is known for being the site of an alleged 1947 UFO crash and is a town that embraces their extraterrestrial ties. Everywhere you turn in Roswell you'll find alien murals, alien streetlamps, and alien and flying saucer statues. Even the chain restaurants, like KFC, McDonald's and Dunkin' Donuts, get in on the theme with alien-centered decor. And don't forget to stop at the Area 51 Museum, the International UFO Museum, and the space-age Roswell Welcome Sign.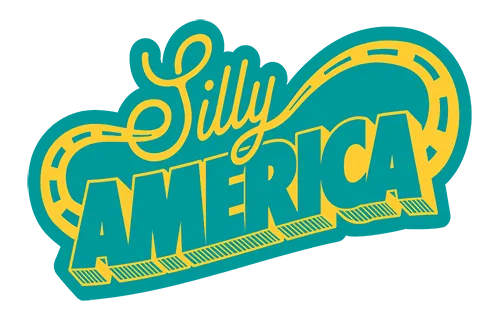 Pin this list of the 15 best New Mexico roadside attractions: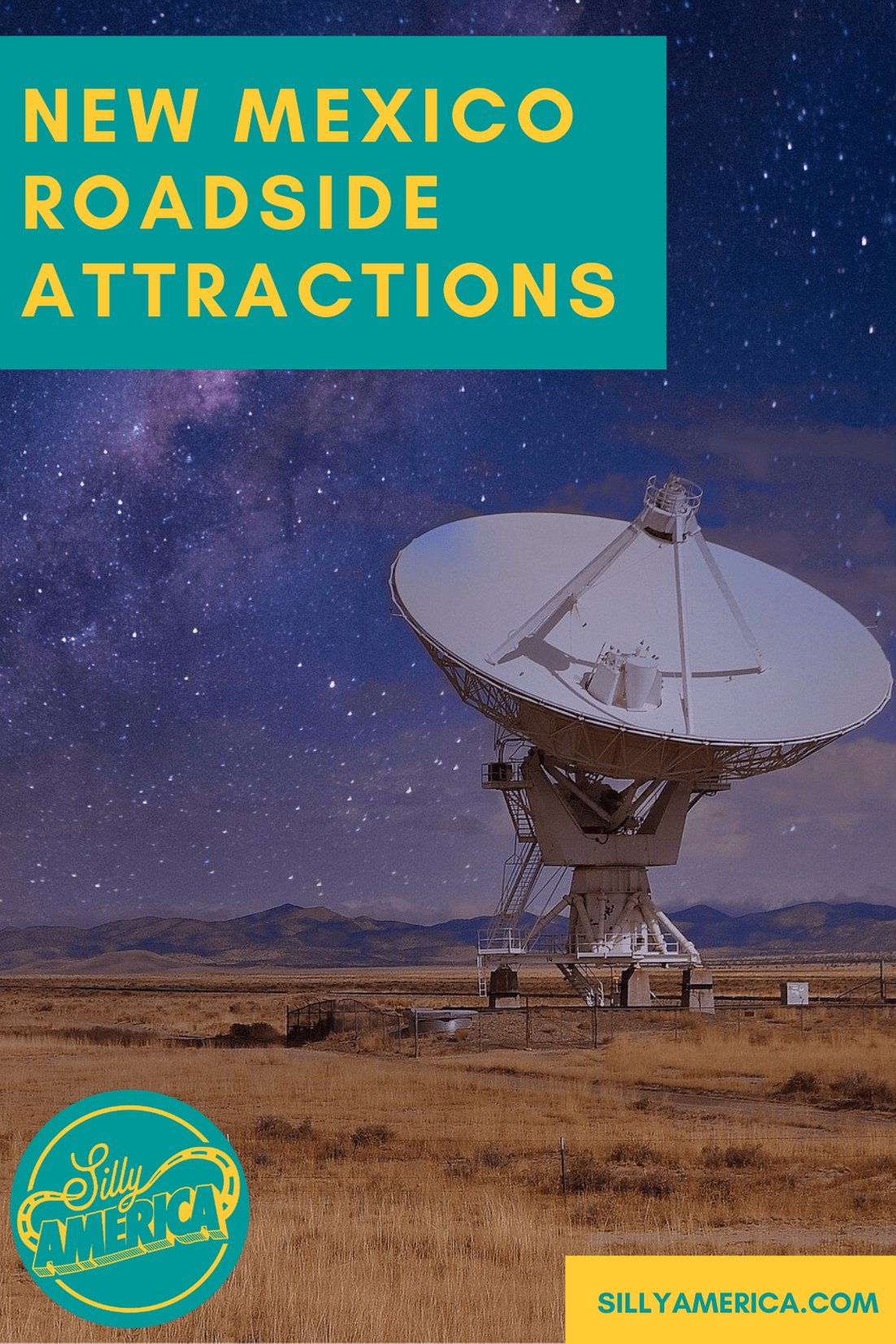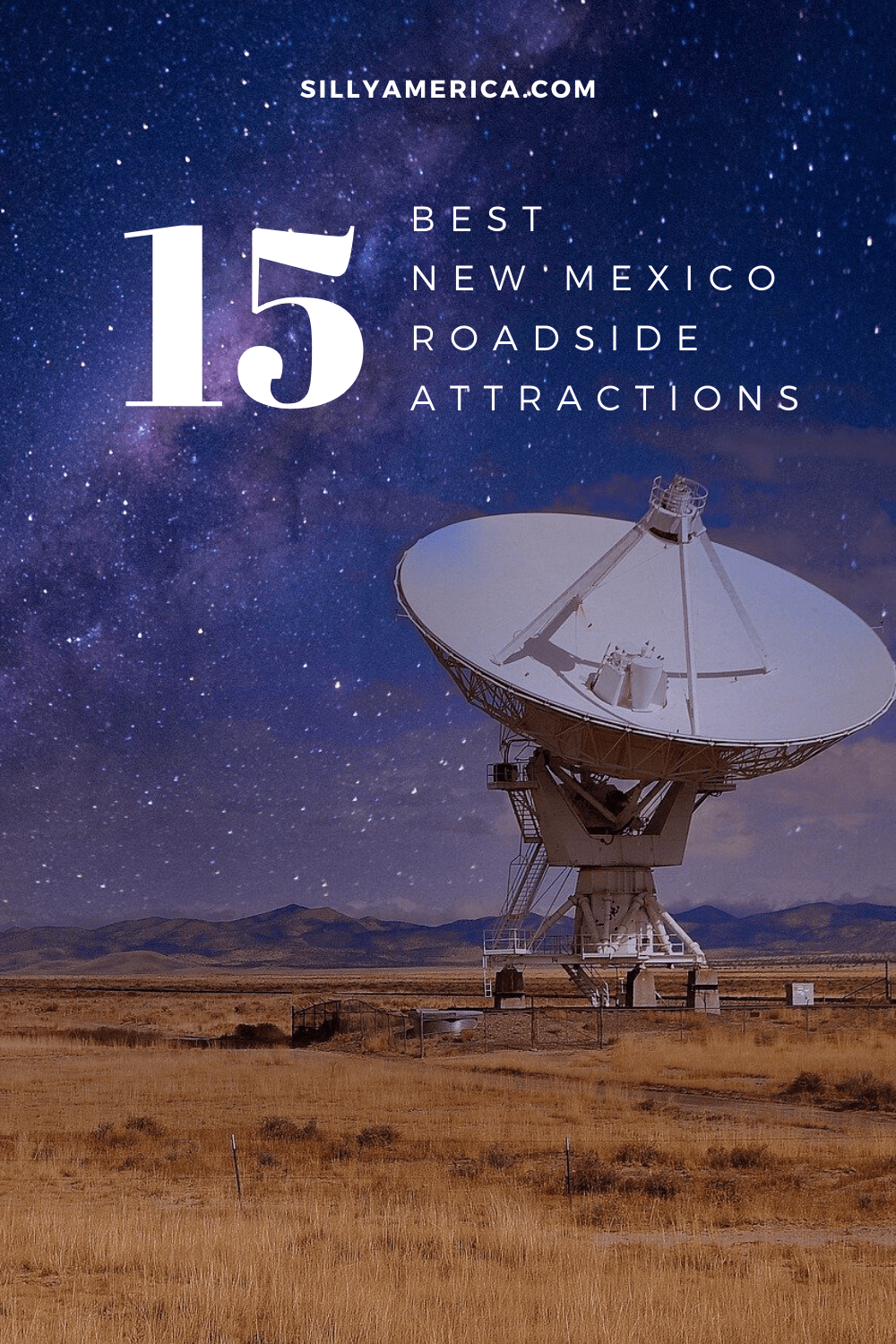 Image by Pierluigi D'Amelio from Pixabay