The license plate game, road sign bingo, mad libs on the road, and more! Road trip car games are necessary for long car rides. Car travel games are a great distraction for kids and passengers of all ages to pass the time in between roadside hamburgers, motel overnights, and roadside attractions.
Browse the selections below for the best car games for your next road trip and printable road trip games.
Recommended Road Trip Car Games:
Travel Road Sign Bingo
Road Sign Bingo is a truly classic road trip car game! There are many variations. You can play classic Bingo and see who gets a line horizontally, vertically, or diagonally first. Or for longer drives you can see who can spot signs the quickest and fill up their entire card first!
Free Road Trip Bingo Printable
Get your free road trip bingo printable cards here! Print up these four different cards and look for the signs as you drive! Click on the thumbnails below to download the four different Road Sign Bingo cards.
Each card will open in a separate window as PDFs.
More Car Ride Bingo Sets
Don't have a printer? Check out these ready-made car bingo sheets.
License Plate Game
Watch out your window and try to spot as many different state license plates as you can with a license plate scavenger hunt game! Who will spot the most states? Will anyone spot the most rare and coveted states like Hawaii or Alaska? Test your eyes and luck while on the road!
Free License Plate Game Printable
See who can spot them all (or at least the most) first! Print this free printable license plate game sheet that lists all 50 states (plus Washington D.C.) and check them off as you see them. Remember, only one person can claim each plate, so think fast!
Click on the thumbnail to download the License Plate Game card.
It will open in a separate window as a PDF.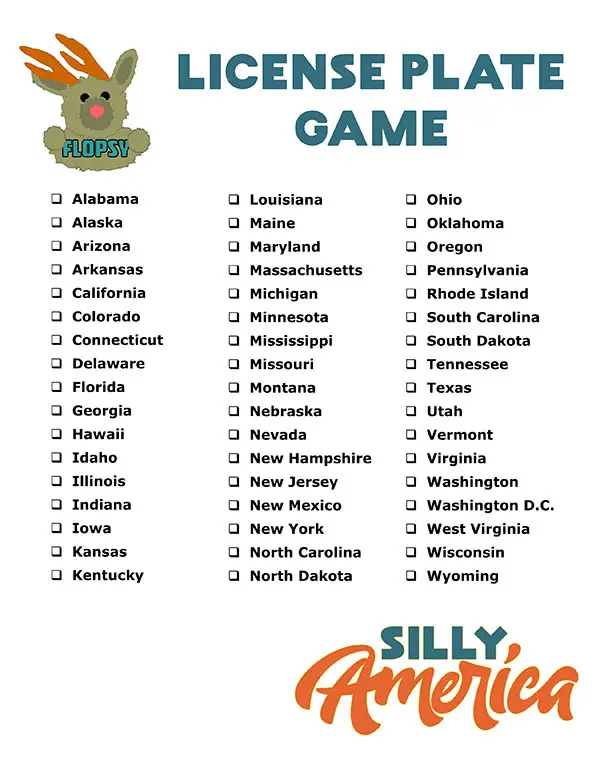 More License Plate Game Sets
Don't have a printer? Check out these ready-made License Plate Game sheets.
Road Trip Scavenger Hunt
Road trip scavenger hunts are a fun way to keep everyone in the car engaged! Print off a list of things to see on a road trip, have everyone keep a copy and keep their eyes peeled, and then award points for who sees the most and who sees what first.
Free Road Trip Scavenger Hunt Printable
Be on the lookout for some iconic road trip sites. See who can spot them all and who can see them first!
Click on the thumbnail to download the road trip scavenger hunt game card.
It will open in a separate window as a PDF.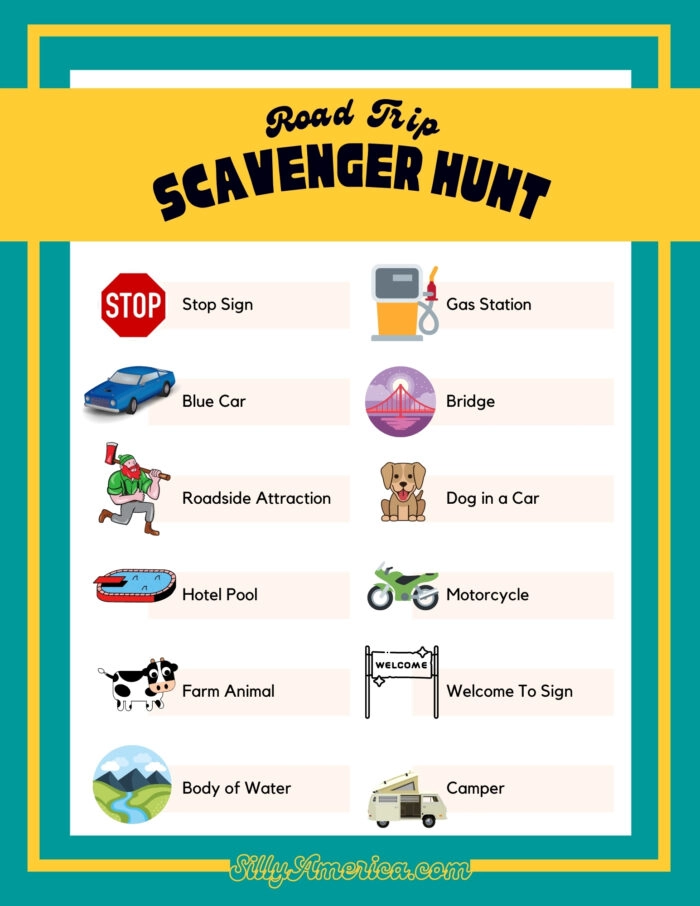 More Scavenger Hunt Game Sets
Don't have a printer? Check out these ready-made Road Trip Scavenger Hunt games.
Hey cow! Road Trip Game
Hey Cow may be a new one to you, but it is tons of fun!
Here's the premise: Each time you see a pack of cows while driving, take turns. One person will open the window and yell "Heeeeey Co-ow!" loud enough so the cows can hear. For every cow that turns around, you get one point!
OK, so it may sound a little ridiculous. And there may be some debate as you count up your points. But , when it comes to road trip games for adults or kids, it's definitely a fun one to play!
Click on the thumbnail to download the Hey Cow! instruction sheet.
It will open in a separate window as a PDF.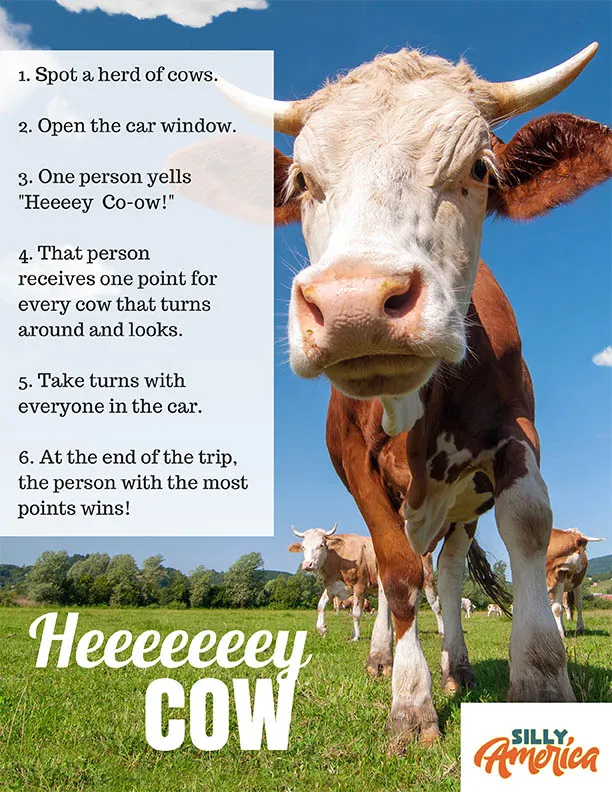 Travel Mad Libs
Mad Libs is a classic road trip favorite. Every page contains fill-in the blank stories and no one knows where they will go until passengers shout out their verbs, adjectives, and nouns. For an extra fun time be sure to get a travel or road trip themed workbook like the ones below!
I Spy
"I spy with my little eye, something yellow." I Spy is a fun game to keep kids entertained on a long road trip. The rules are simple: taking turns, one person "spies" something and describes it using a very simple idea. Something like "I spy something red" or "I spy something that starts with the letter C." Then others in the car take turns trying to guess what it is until someone guesses correctly.
When playing I Spy on a road trip make sure to pick things that are always in view. A billboard that zooms by on the highway isn't ideal. Pick things in the horizon or things in the car, or play at pit stops.
Questions and Answers
Would You Rather?
Pin this post about road trip car games to save for later: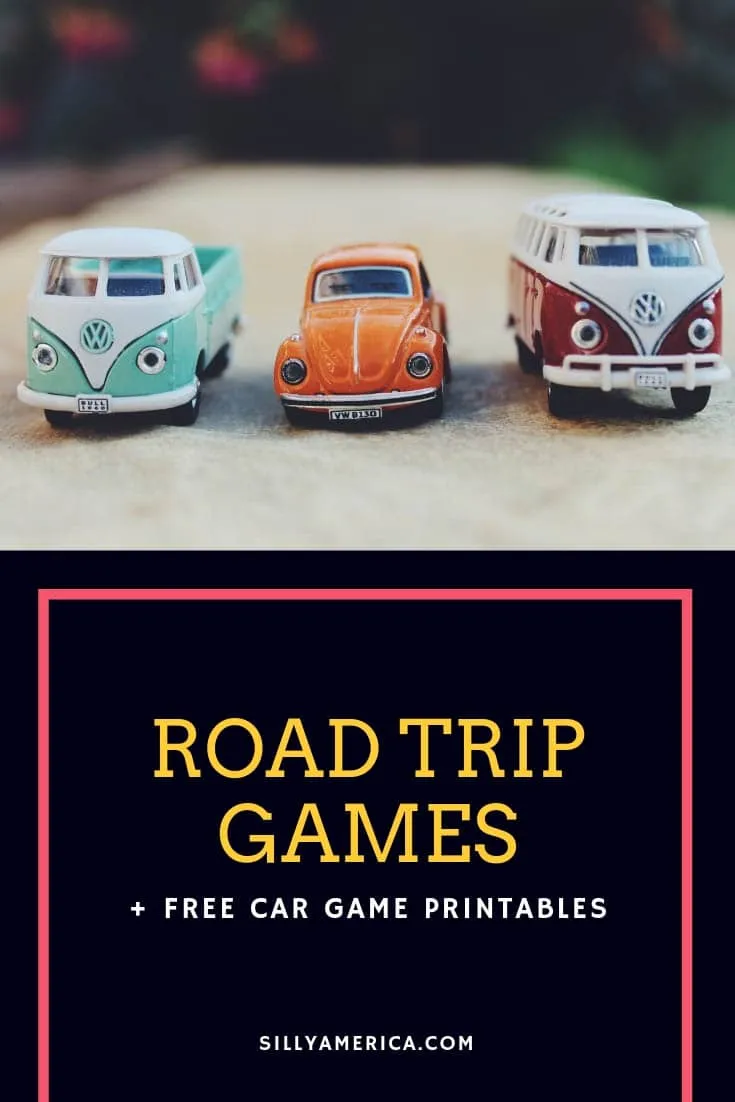 Photo by Zoe Ella Mumford on Unsplash