Are you planning a West Virginia road trip and want to find all the best West Virginia roadside attractions along your route? Whether you're driving across the state, traversing one of the state's many scenic byways, looking for the best things to do along I-64, camping and white water rafting at the Gauley River, or vacationing in Charleston or Harpers Ferry, you won't want to miss these fifteen must-see places to go in West Virginia. They're fun road trip stops and great additions to your travel itinerary or route.
Below are the 15 best roadside attractions in West Virginia: from a Mothman to a Flatwoods Monster, from a giant teapot to a yard full of fiberglass giants, from a palace of gold to a house of coal! You won't want to miss any of these bucket list worthy tourist traps and road trips stops on your West Virginia vacation.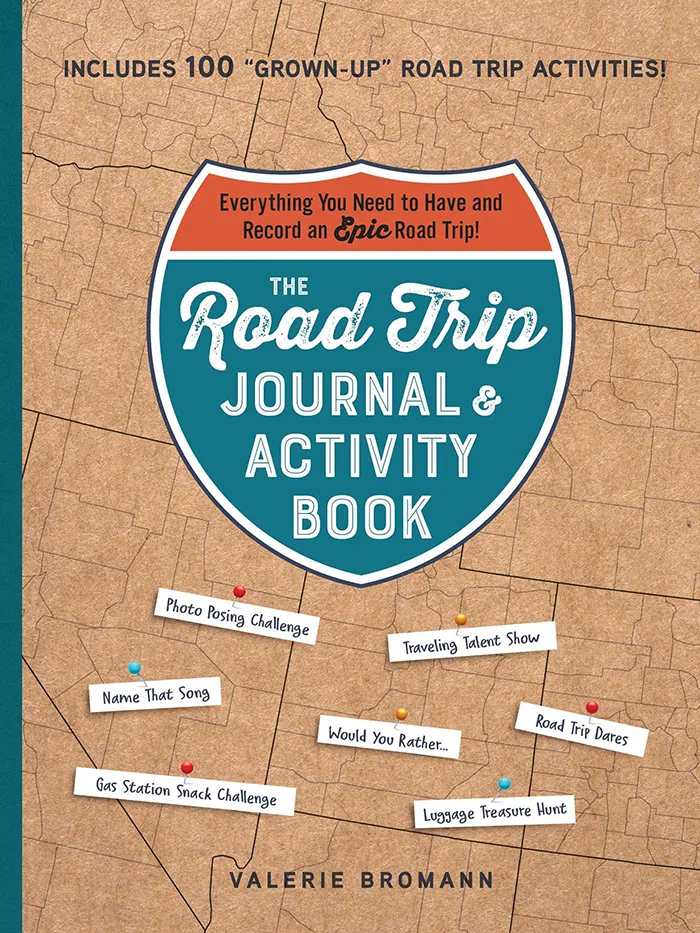 The Road Trip Journal & Activity Book
Everything You Need to Have and Record an Epic Road Trip!
Enjoy fun games and challenges to pass the time on your next road trip and have a keepsake to look back on for years to come with this entertaining must-have for your next vacation.
Ready to hit the road? Let's go! I call shotgun!
The 15 best West Virginia roadside attractions (in no particular order):
1. Mothman Statue
201 4th St, Point Pleasant, WV
The legend of Mothman has been popular in the Point Pleasant area since 1966 when locals started reporting sightings of a strange flying humanoid monster with red eyes, a 10-foot wingspan, and the face of an insect. While the creature has been around for many years, his popularity surged after the release of the movie The Mothman Prophesies in 2002. On the day of the film's premiere, West Virginia's secretary of state announced that they would build a monument dedicated to this local urban legend. A 12-foot tall polished steel Mothman statue was erected in downtown Point Pleasant and, in 2006, the Mothman Museum and Research Center opened across the street with history, film props, and souvenirs.
2. Prabhupada's Palace of Gold
3759 McCreary's Ridge Rd, Moundsville, WV
The Palace of Gold will have you thinking you stepped out of West Virginia and onto a Bollywood movie set. Built in the late 1960s for the Hare Krishna community of New Vrindaban, it was originally meant to be a simple residence for spiritual leader Srila Prabhupada. But plans grew and it eventually became the shimmering, golden Indian palace it is today.
3. Mystery Hole
16724 Midland Trail, Ansted, WV
Ansted's Mystery Hole has been a popular roadside attraction in West Virginia since 1973 when Donald Wilson discovered the mystical forces within the his property that caused gravity to stop working. Balls would roll up, people would stand at a slant, and furniture would balance on end. Today a new batch of owners runs the Mystery Hole for road trippers to enjoy its psychedelic charm and gravity-defying nature.
4. The Coal House
73 E 2nd Ave, Williamson, WV
The Coal House in Williamson has 2-foot thick walls made entirely out of local seam coal. The West Virginia roadside attraction was built in 1933 by by architect H.T. Hicks from an idea by O. W. Evans as a publicity stunt for Norfolk and Western Railway to be a symbol of the "Billion Dollar Coalfield." While the coal house has never actually been used as a house, it does house the Tug Valley Chamber of Commerce. You can also find another coal house in Lewisburg that was built in 1959.
5. World's Largest Teapot
Chester, WV
The world's largest teapot wasn't always a teapot. This West Virginia roadside attraction was originally built to be a hogshead barrel for Hires Root Beer. When the building was brought to Chester in 1938 a large handle, spout, and lid were added to transform it to a teapot in order to celebrate Chester's claim to the largest pottery industry in the world. The Chester Teapot stands at 14-feet tall and 14-feet in diameter.
6. Hillbilly Hot Dogs
6951 Ohio River Rd, Lesage, WV
Hillbilly Hot Dogs is a fun stop for lunch and Instagram photos on a West Virginia road trip. The hot dog stand meets roadside is made from a giant school and has photo-ops galore, from a dilapidated outhouse titles "Hillbilly Gas Station", to a slew of homemade signs, to a giant hot dog out front. While you're at Hillbilly Hot Dogs, try a hot dog topped with chili sauce, or, for the adventurous, try your hand at the homewrecker: a 1-pound, 15-inch hot dog topped with jalapeños, sautéed peppers and onions, nacho cheese, habanero, chili sauce, mustard, slaw, lettuce, tomato, and shredded cheese (eat it in under 12 minutes and get a t-shirt).
7. Flatwoods Monster Museum
208 Main St, Sutton, WV
On September 12, 1952 seven people climbed to a hill in Sutton, West Virginia to see a flying saucer and found a 10-foot-tall green monster with a round, red face shrouded in a mist. The monster and UFO disappeared, evaporated, the the story lived on. For a long time the residents of Sutton tried to put aside its alien past until a new director of the Braxton County Visitors Bureau decided to embrace the monster and the tourists the legend brings to town. Visit the Flatwoods Monster Museum features memorabilia, including the original sketches of the monster, locally-made lamps, newspaper articles, and a giant statue. While in town, also look for the painted monster chairs and Flatwoods Monster Sign.
8. Congressional Fallout Shelter
Greenbrier Resort, 101 W Main St, White Sulphur Springs, WV
There's more than meets the eye at West Virginia's Greenbrier Resort. In 1958, under the guise of the construction of a new wing, the United States government began building an emergency Cold War fallout shelter deep beneath the Greenbrier Resort in White Sulphur Springs. The bunker was meant to house the entire U.S. Congress in case of nuclear war or another realistic threat. The facility was active until 1992, when an article in The Washington Post exposed the secret. Today Greenbrier Resort hosts Bunker Tours so you can get an inside glimpse.
9. Big Apple Time Capsule
W King St, Martinsburg, WV
The Big Apple Time Capsule was erected in 1990 by the Martinsburg Jaycees and installed as a "community pride project" to "preserve the apple capital city and surrounding areas." The big fiberglass apple serves as a time capsule set to be opened in 2040.
10. Mummies of Philippi
Barbour County Historical Museum, 13 Museum St, Philippi, WV
Some time in the 1800s, farmer Graham Hamrick wanted to test out his own unique embalming technique. So he requested a couple of bodies from the nearby insane asylum. The embalming was successful and his mummies went on tour with P.T. Barnum's circus before, eventually, returning to Philippi. After being lost, found, destroyed by floor waters, restored, destroyed again, and restored again, the mummies made their way to the local historical museum where they are now on display.
11. Farnham Fantasy Farm (The Farnham Colossi)
14633 Winchester Grade Rd, Unger, WV
George and Pam Farnham are pack rats with a penchant for anything big and fiberglass. They moved to their West Virginia home in the 1980s and after lucking out on eBay, added a muffler man to their yard. But the couple couldn't stop at just one roadside attraction. The muffler man turned into a fiberglass beach dude and that turned into a Big John Grocery Clerk and that turned into a Uniroyal Gal. Their collection has grown exponentially over the years adding everything from a giant apple to a full collection of Simpsons characters. Stop by to see a menagerie of fiberglass giants (but be respectful, its their private property).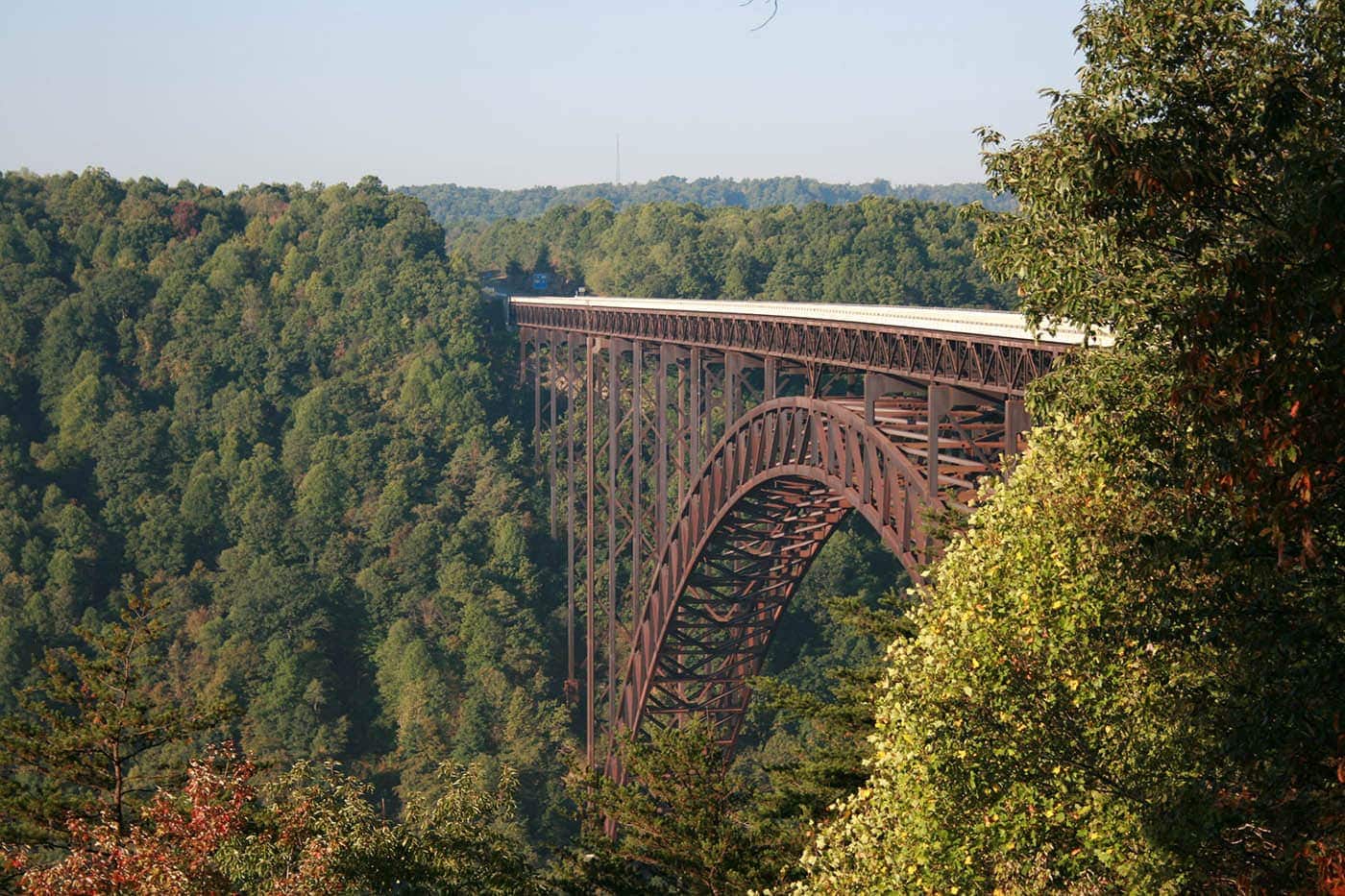 12. New River Gorge Bridge: America's Longest Single-Span Arch Bridge
Fayetteville, WV
The New River Gorge Bridge is a steel arch bridge that spans 3,030 feet over the New River Gorge. It was built in 1977 to connect the hills on either side of the river and, at the time, was the world's longest single-span arch bridge. Today it ranks fourth, but is still the longest in the United States and a breathtaking West Virginia road trip stop. Head to the visitor's center and walk the staircase down the side of the gorge to take it in and get a glimpse one of the most photographed places in West Virginia.
13. George Washington's Outdoor Bathtub
Berkeley Springs State Park, 2 S Washington St, Berkeley Springs, WV
Visit the only outdoor monument dedicated to presidential bathing at Berkeley Springs State Park. George Washington visited the town named Bath in 1748 and bathed in a tub fed by natural spring water. He returned many times and eventually bought the land which became Berkeley Springs, the first health spa in the country.
14. Archive of the Afterlife, "A Paranormal Museum"
The Sanford Center, 1600 3rd St #202, Moundsville, WV
The Archive of the Afterlife is a paranormal museum featuring historical curiosities and (allegedly) haunted or cursed wares. Here you'll find prison relics, embalming tables, cursed dolls and ventriloquist dummies, an electric chair cap, haunted portraits, and murderous relics
15. Frostop Drive-In Rotating Root Beer Mug
Hal Greer Boulevard, Huntington, WV
The Frostop Drive-In in Huntington, West Virginia has been open since 1959. On top of the restaurant is a much beloved site: a giant mug of root beer that slowly spins. Stop in to see this fun roadside oddity and stay for a frosty mug of house-made root beer!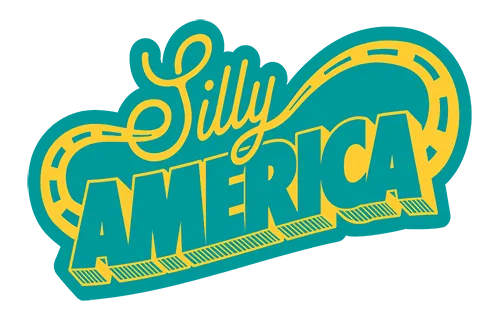 Pin this list of the 15 best West Virginia roadside attractions: