Are you planning a New Jersey road trip and want to find all the best New Jersey roadside attractions along your route? Whether you're driving across the state, taking one of the many scenic routes, or visiting the Atlantic City boardwalk or the Jersey Shore, you won't want to miss these fifteen must-see places to go in New Jersey. They're fun road trip stops and great additions to your travel itinerary or route.
Below are the 15 best roadside attractions in New Jersey: from a giant elephant to a giant gorilla. From a big light bulb to a fairy tale forest, from an American queen ready to crown you to a muffler man ready to change your tire. You won't want to miss any of these bucket list worthy tourist traps and road trips stops on your New Jersey vacation.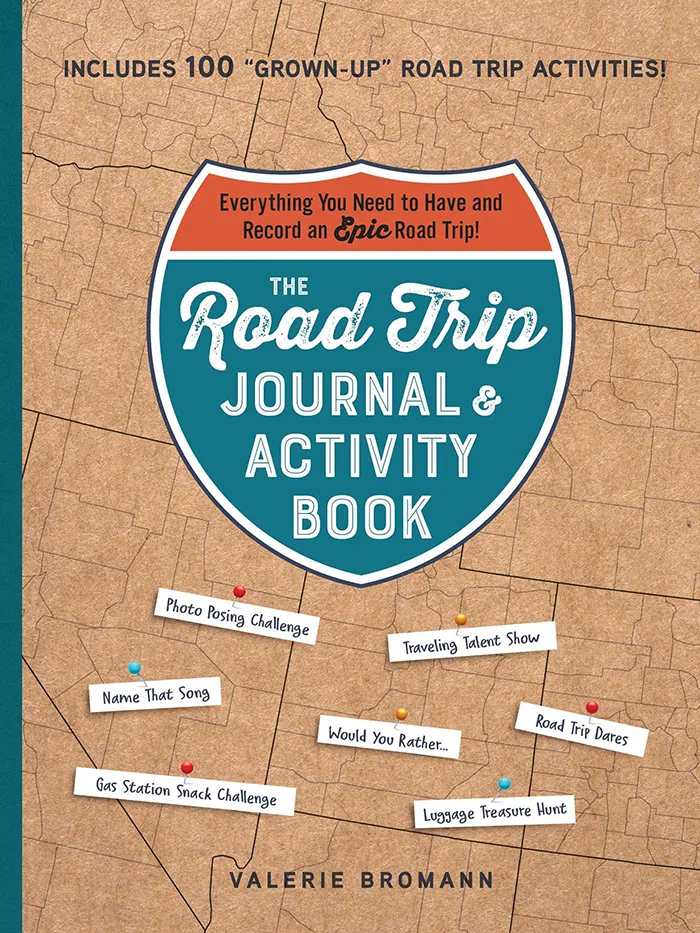 The Road Trip Journal & Activity Book
Everything You Need to Have and Record an Epic Road Trip!
Enjoy fun games and challenges to pass the time on your next road trip and have a keepsake to look back on for years to come with this entertaining must-have for your next vacation.
Ready to hit the road? Let's go! I call shotgun!
The 15 best New Jersey roadside attractions (in no particular order):
1. Lucy The Elephant
9200 Atlantic Ave, Margate City, NJ
Standing at six-stories tall and weighing over 90 tons, Lucy the Elephant in Margate City, New Jersey is the world's largest elephant. Lucy was built in 1881 by real estate developer James V. Lafferty. The giant elephant originally functioned as a real estate office and then for various other businesses through the years, from a summer home to a tavern. By the 1960s the poor elephant had seen better days, laying abandoned and dilapidated. Luckily for tourists to come, the citizens of Margate raised money to restore her to her former glory and she is now the pride of Margate City, a National Historic Landmark, and one of the best New Jersey road trip destinations you can find.
2. The World's Largest Light Bulb
Thomas Edison Center at Menlo Park, 37 Christie St, Edison, NJ
At the Thomas Edison Center at Menlo Park you can find the world's largest light bulb. To celebrate the famed inventor, a 118-foot-tall tower topped with a 14-foot-tall light bulb was erected at the sight where it was invented in the 1870s. The eight-ton bulb is illuminated at night (though, now with LEDs). While you're there you can also pose with a not-quite-as-big giant incandescent light bulb replica that's also found in the park
3. Miss America Statue
1761 U.S. 9, Toms River, NJ
For the majority of years since 1921 the Miss America pageant has been held off the boardwalk in Atlantic City. From 2004 to 2013 the pageant was moved to Las Vegas and then, in 2014, it was moved back to the boardwalk. When the pageant returned, larger-than-life-size Miss America statue was erected outside of Boardwalk Hall. The sculpture by artist Brian Hanlon wears a gown, sash, and crown, and holds out a new crown to signify the passing of the title. Visitors can pose for Instagram as if they themselves are being crowned the next Miss America. There's also a statue of Bert Parks (famed host from 1955 to 1979) holding out a crown outside the Sheraton Atlantic City Convention Center Hotel.
4. Grounds For Sculpture
80 Sculptors Way, Hamilton Township, NJ
Seward Johnson (1930-2020) was probably best known for his larger-than-life hyper-realistic sculptures that popped up in cities around the world. Sculptures like the Forever Marilyn (a giant Marilyn Monroe statue based on Billy Wilder's film The Seven Year Itch), Unconditional Surrender (a sculpture based on the famous Times Square kiss photo, V-J Day in Times Square), and the God Bless America (a sculpture based on the painting American Gothic). You can see more of his works, both big and small, along with works by other contemporary artists at New Jersey's Grounds For Sculpture.
5. Giant Salt Water Taffy
Lucille's Own-Make Candies, 4105 Long Beach Blvd, Beach Haven, NJ
OH FUDGE! That's what is printed across the building for Lucille's Own-Make Candies in Beach Haven and what you'll be saying is you miss this weird New Jersey roadside attraction. Next to the beachfront candy shop you'll find a delightful giant piece of white-with-pink-stripe salt water taffy, a seaside classic! Take some photos with this giant confection and then head inside to grab some normal-size versions for yourself!
6. Fairy Tale Forest
140 Oak Ridge Rd, Oak Ridge, NJ
Fairy Tale Forest was once a bustling children's theme park in Oak Ridge. Opened in 1957, it attracted visitors with its fairy-tale themed displays until it closed in 2005. A giant shoe (as in there was an old woman who lived in a shoe) and parts of Rapunzel's castle are still visible from the road and the New Jersey roadside attraction has plans to open again soon as Fables Restaurant and Marketplace at Fairy Tale Forest.
7. Nitro Girl Uniryal Gal
Werbany Tire Town Inc, 1337 N Black Horse Pike, Blackwood, NJ
This Uniroyal Gal has been positioned outside Werbany Tire Town since 1965 but she got a big makeover in 2007. Now known as "Nitro Girl," the Wonder Woman-esque fiberglass woman sports a star-spangled blue skirt, a W-with-wings logo on her chest, and more stars sprinkled in her hair.
8. Mercedes Benz Tombstone
Rosedale Cemetery, 50 E Linden Ave, Linden, NJ
All Ray Tse, Jr. wanted was to get his driver's license and drive a Mercedes Benz. When he died before his time at age 15 his brother made his wish come true in the form of a 36-ton granite Mercedes Benz placed at the family mausoleum. The memorial's license plates read: "RAY TSE."
9. Tire Guy Muffler Man
Royal Tire & Auto, 301 N White Horse Pike, Magnolia, NJ
The Tire Guy is a 20-foot tall muffler man holding, you guessed it, a tire! This guy has been a mainstay of among South Jersey attractions for years. He's lived at several locations over the years and has been repainted many times over. Currently he lives at Royal Tire & Auto in Magnolia and sports some bright pink pants and a bright orange shirt! Check him out along with many other muffler men in New Jersey. Look for muffler men at Barnacle Bill's Amusements (Ortley Beach), Cowtown Rodeo (Pilesgrove), Casino Pier (Seaside Heights), Dracula's Domain (Cream Ridge), and Golden Galleon Pirate Golf (Ocean City).
10. Bud the Bayville Dinosaur
510 U.S. 9, Bayville, NJ
Since 1935 a brontosaurus has served as a local landmark on Route 9 in Bayville. Bud the Bayville Dinosaur is a fixture in town and has seen many paint jobs (including one in a light purple with white and red hand prints all over) over the years. His head was recently torn off by a passing truck but he has been fully restored, painted a more realistic dino-color and is back to being a Jurassic roadside attraction.
11. Junk Sculptures at Peterson's Service Center
Peterson's Service Center, 308 White Horse Pike, Egg Harbor City, NJ
Mechanic Tom Peterson has created hundreds of sculptures made from discarded auto parts over the years. Many of those have been displayed at his garage through the years, including sculptures of dinosaurs, robots, knights, and an eight-foot-tall Statue of Liberty made from car parts, golf clubs, and gum ball machines. Many of the works have been sold off, but a few remain, and are worthy of a road trip stop, including Lady Liberty.
12. Hindenburg Crash Site
Front Gate Naval Air Engineering Station Lakehurst, Manchester Township, NJ
In 1937 a German airship caught fire and was destroyed trying to dock in New Jersey. The Hindenburg disaster took the lives of 35 people. A simple memorial in the shape of a cement outline of the Hindenburg was placed in the spot there the disaster took place. The memorial is on an active Naval Air Station, and tours are offered at select times and should be booked ahead.
13. Mr. Bill Halfwit Muffler Man
Mr. Bill's, 453 NJ-73, Hammonton, NJ
Mr. Bill, a halfwit muffler man with a yellow shirt, blue suspenders, goofy smile, and boater hat, stands outside Mr. Bill's in Hammonton. The diner features hamburgers, breakfasts, and ice cream creations and Mr. Bill has beckoned hungry travelers on the way to the Jersey Shore since the 1950s. The restaurant closed in 2014 and reopened with new owners in 2016. He's since been given a good wash and painted, making this vintage muffler man ready for the next 50 years of being an iconic New Jersey roadside attraction.
14. Giant Steel Hockey Player
232 Market St, Newark, NJ 07102
Called "The Iron Man," this giant steel hockey player in Newark is the has been the centerpiece of Championship Plaza, the area surrounding the Prudencial Center and Devils Arena Entertainment, where the New Jersey Devils play hockey, since 2009. The statue, which stands at 22 feet tall and weighs three tons, was designed by professional sculptor and Devils hockey fan.
15. Mighty Joe the Gorilla
Mighty Joe's Gas Grill & Deli, 1231 US-206, Shamong, NJ
Mighty Joe the Gorilla has had many names over the years. "Kongo-Pongo" and "Magilla" when he lived on the boardwalk in Wildwood and "George" when he watched over a go-kart track in South Jersey. Today he is known as Mighty Joe and stands in front of Mighty Joe's Gas Grill & Deli in Shamong. Larry Valenzano bought the gorilla and renamed him "Mighty Joe," after his son who died of a brain tumor in 1999. The giant gorilla holds a sign that says, "Hello, my name is Mighty Joe. My job is to look up to heaven from time to time and say, 'HEY, JOE, WE WILL ALWAYS LOVE YOU.'"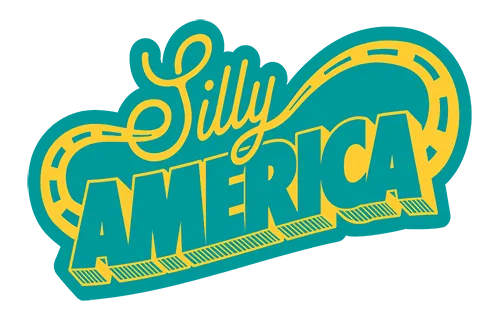 Pin this list of the 15 best New Jersey roadside attractions: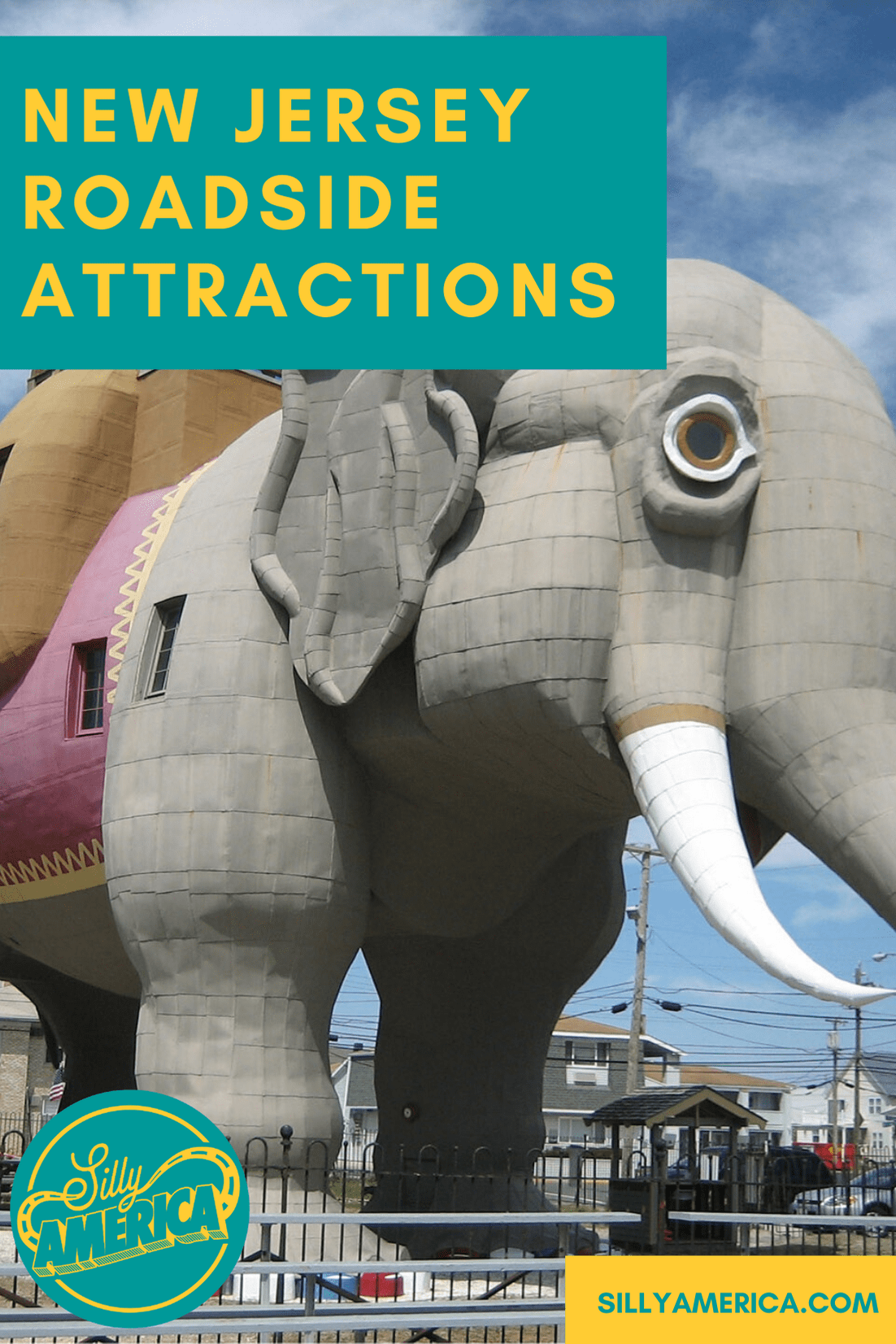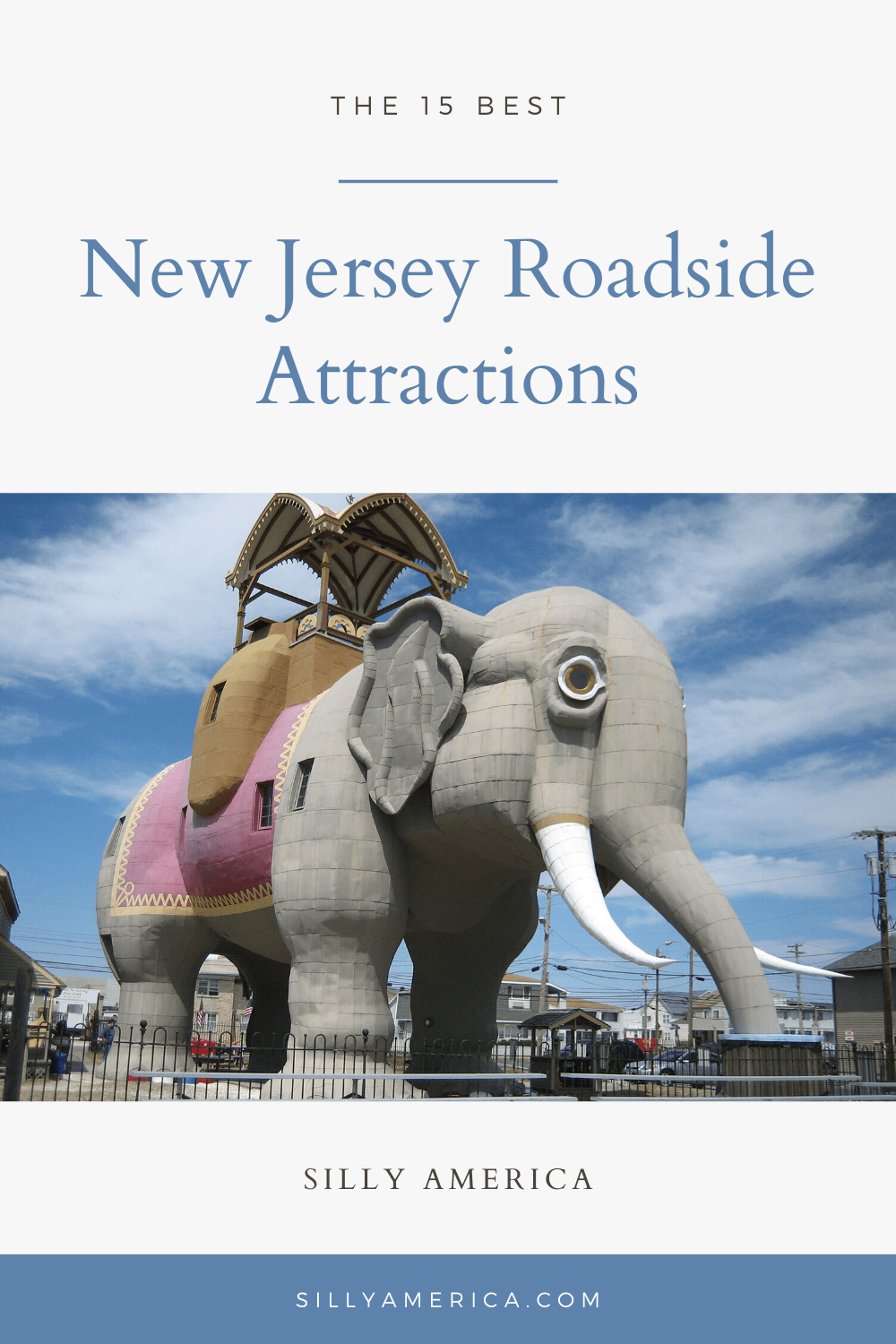 Image by Jim McIntosh from Pixabay