Are you planning a Wyoming road trip and want to find all the best Wyoming roadside attractions along your route? Whether you're driving across Interstate 80 or Interstate 25, heading to Devil's Tower, or visiting Yellowstone National Park, you won't want to miss these fifteen must-see places to go in Wyoming. They're fun road trip stops and great additions to your travel itinerary or route.
Below are the 15 best roadside attractions in Wyoming: from a tree in a rock to skull-flanked building, from an arch made of elk horns to a home made of dinosaur bones, from a yard of sculptures to a whole lot of jackalopes! You won't want to miss any of these bucket list worthy tourist traps and road trips stops on your Wyoming vacation.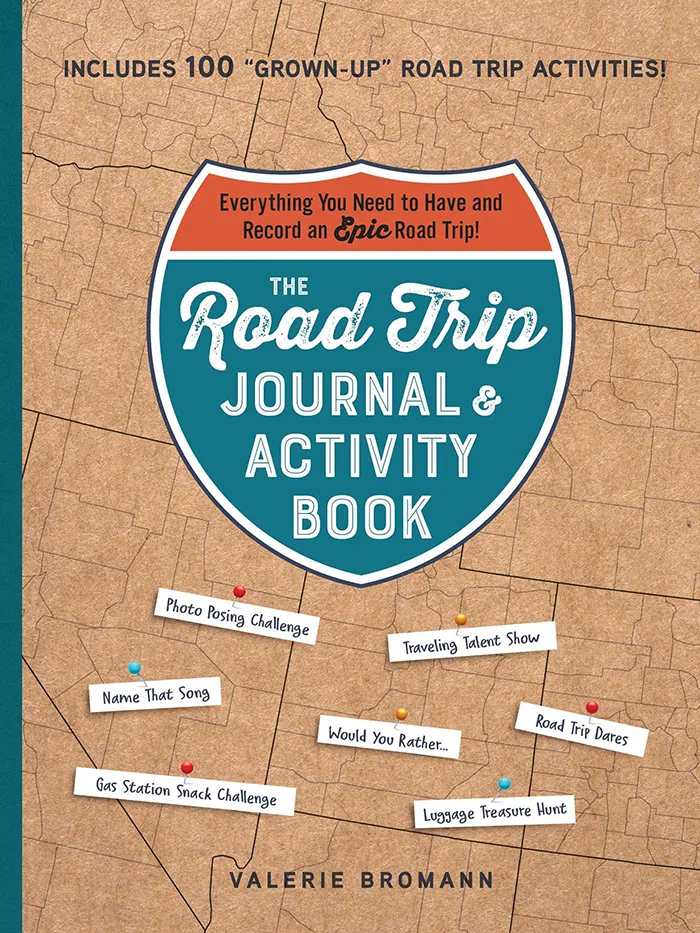 The Road Trip Journal & Activity Book
Everything You Need to Have and Record an Epic Road Trip!
Enjoy fun games and challenges to pass the time on your next road trip and have a keepsake to look back on for years to come with this entertaining must-have for your next vacation.
Ready to hit the road? Let's go! I call shotgun!
The 15 best Wyoming roadside attractions (in no particular order):
1. Former World's Largest Jackalope
100-198 S 3rd St, Douglas, WY
Douglas, Wyoming is the self-proclaimed "Jackalope Capital of the World," and they don't take that title lightly. In the middle of town that celebrates the mythical jackrabbit antelope hybrid, you'll find Jackalope Square, anchored by an eight-foot tall jackalope sculpture. The town has since erected multiple other jackalope monuments: the new World's Largest Jackalope at the Douglas Railroad Interpretive Center and a 13-foot tall metal silhouette on top of a hill. All of the statues are worth a detour on a Wyoming road trip, but the OG in the square is the most beloved.
2. Fossil Cabin
US Highway 30, Medicine Bow, WY
The Fossil Cabin outside of Medicine Bow is a home built out of 5,796 mortared-together dinosaur bones. It was finished in 1933 by the Boylan family who used bones bug up out of the nearby Como Bluff (now referred to as the dinosaur graveyard). In 1983 Robert Ripley called it the "Oldest Cabin in the World" and a sign reading "BELIEVE IT OR NOT" still stands out front. The dino home has gone through several owners over the years and doubles as a private residence and museum.
3. Lonely Big Boy Statue
N. Fork Hwy, Wapiti, WY
Big Boy statues are popular fiberglass mascots for a chain of restaurants by the same name. While the statues themselves are a dime a dozen, most of them are attached to a restaurant, which is what makes this peculiar Big Boy statue worthy of a spot on this list of the best roadside attractions in Wyoming. This one appeared out of nowhere on the stretch of road between Cody and Yellowstone National Park in 2013.
4. Giant Buffalo Skull Doorway
408 W Rams Horn St, Dubois, WY
Since 1982 this giant 15-foot tall fiberglass buffalo skull has flanked the entrance to this Dubois building. Then the Grub 'n' Tub the giant skull featured over-the-top horns and it was joined by a giant moose and a rooftop wagon. The wagon and moose are now long gone but the skull (now with chiselled down horns)skill marks the entrance to the current laundromat and carwash.
5. Smith Mansion
2891-, 2903 N Fork Hwy, Cody, WY
Smith Mansion was the work of Francis Lee Smith. For more than 12 years he painstakingly constructed this 5-story, 77-ft. tall eccentric structure by hand. Perched on a slope near Yellowstone National Park, the home is an amalgamation of logs turned into makeshift rooms, balconies, and staircases. Unfortunately the house got the best of Smith: he died after falling from a balcony while working on it in 1992. The house is on private property but visible from the road and the house was sold to a new owner in February 2020 so its future is uncertain.
6. World's Largest Elkhorn Arch
458 Washington St, Afton, WY
The World's Largest Elkhorn Arch spans 75-feet across and 18-feet above the 4-lane road in Afton. The impressive arch is made up of over 3,000 elk antlers that were naturally shed and collected by local Boy Scouts.
7. Little America
Interstate 80, Exit 68, Little America, WY
For practically the entire stretch of driving I-80 in Wyoming, you'll be presented with road signs advertising 75cent ice cream at Little America Travel Center.⁠ And when that many signs tell you to do something, you do it. The 75 cent swirl cone from Little America, Wyoming is worth every penny.⁠ Besides ice cream, Little America also has a Grill & Deli, a convenience store, a playground for kids complete with a buffalo statue, and a Sinclair Dinosaur.
8. Tree Rock
Interstate 80, Buford, WY
In a median on I-80 you can find tree rock (AKA Tree in a Rock), a pine tree growing out of a boulder. It was discovered by railroad workers laying tracks for Union Pacific in the 1860s. No one knows how long the tree has been growing there, but that species of Limber Pine can live as long as 2,000 years.
9. Giant Parade Rifle
1131 12th St, Cody, WY
If you're looking for gun-related roadside attractions, you can't beat Cody, Wyoming. You can stop into the Dug Up Gun Museum to see vintage salvaged guns, you can stay for the daily street gunfight reenactments in front of Buffalo Bill's Irma Hotel, and you can check out this giant parade rifle. The 30-foot long replica of a '76 "Buffalo Bill" Winchester stands on top of a business and was first created in 1976.
10. Ames Brothers Monument
210 Monument Rd, Buford, WY
The Ames Brothers Monument was built in 1881 to honor the men who made the transcontinental railroad happen…and to polish their reputation after it was found that they committed fraud. The giant 60 foot by 60 foot pink granite pyramid was erected at what was then the highest point on the transcontinental railroad at 8,247 feet and passengers were encouraged to get off the train to admire the while the engines were changed. But eventually Union Pacific went bankrupt, the tracks were moved, and now the pyramid lays abandoned, far from railways and highways.
11. Mel Gould's Buryville
3558 I-80 Service Rd, Cheyenne, WY
Mel Gould is a self-taught inventor who has filled his property with oddities. There's a giant carousel, a wind-powered sculpture that generates electricity for the property, and giraffes and bears and birds made up of an assortment of metal parts. Also on the property is Gould's underground workshop made from a school bus, camper, grain silo, and 55,000-gallon gas tank. If Mel Gould is around, he'll give you a free tour.
12. Abraham Lincoln Memorial Monument
136 US Frst Service Rd 705 A, Laramie, WY
Wyoming's Abraham Lincoln Memorial Monument originally was unveiled in 1959 to celebrate the president's 150th birthday. It stood at Sherman Summit, the highest point in the Lincoln Highway at 9,000 feet above sea level. It was later moved its current home on I-80. The monument features a gigantic bronze Lincoln head perched on top of a 30-foot granite pedestal.
13. Ride the Jackalope
Country Store, 404 W Ramshorn, Dubois, WY
At the Country Store in Dubois you'll find jackalopes, jackalopes, and more jackalopes. Outside there is a big fiberglass jackalope perfect for road trip selfies and inside there is an 8-foot tall ride-me stuffed jackalope, complete with a saddle. Visitors are encouraged to hop on for photos! There's also a "World's Largest Jackalope Exhibit" featuring jackalopes of all shapes, sizes, and materials.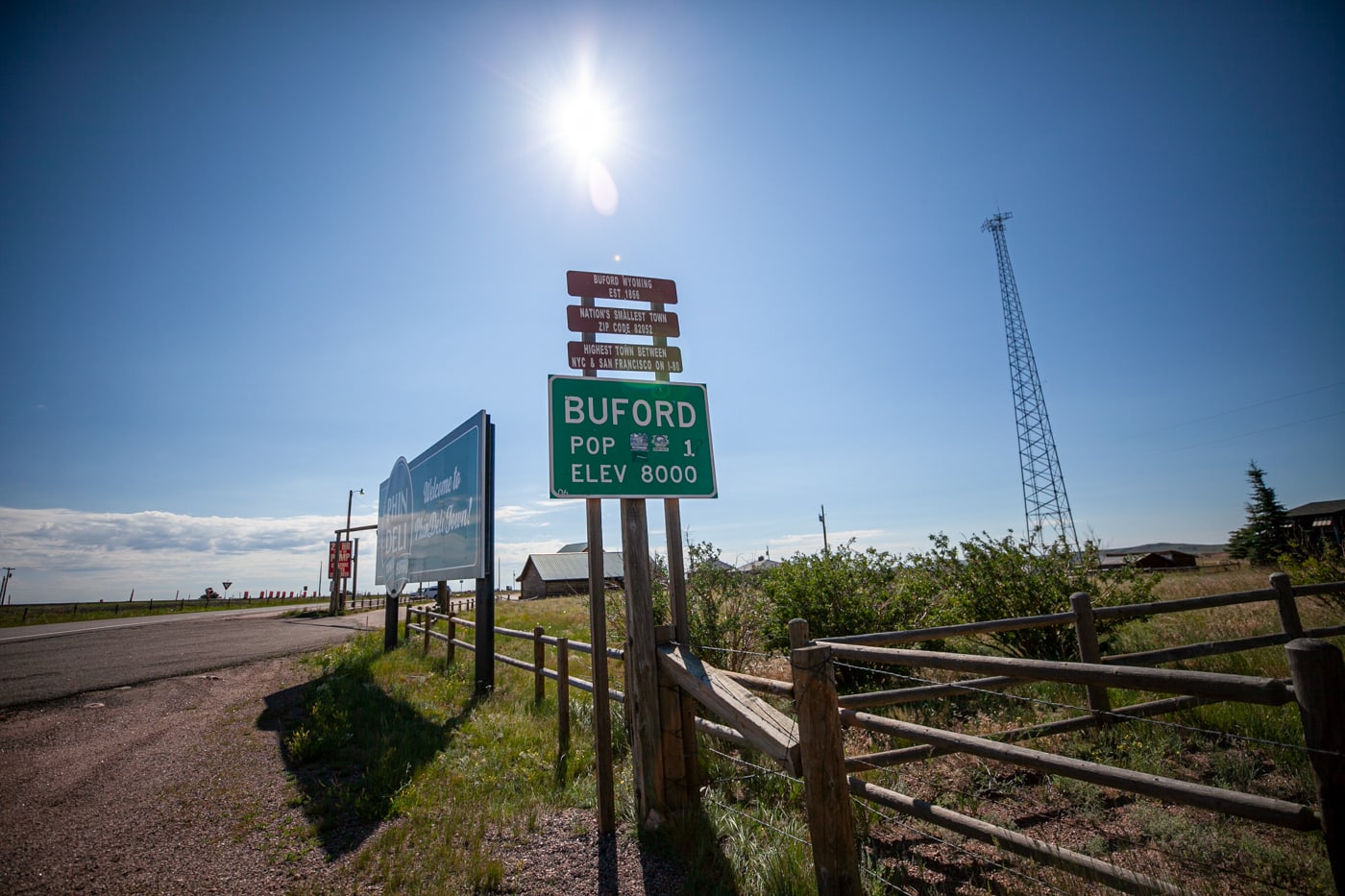 14. PhinDeli Town Buford: The Smallest Town in America
2 Sammons Ln, Buford, WY
Buford, Wyoming is the smallest town in America with a population of one. Or maybe it's zero. And maybe it's not even Buford at all anymore but PhinDeli Town. Buford was founded in 1866 along the First Transcontinental Railroad. At its prime, the bustling town had a population of 2,000. By 1980 there were seven people living in town, including new resident Don Sammons and his family. Sammons later purchased the town and was the only resident. In 2012 it was purchased by Vietnamese businessman Phạm Đình Nguyen who never actually moved in. Leaving the population today at zero.
15. Dome on the Range
Harriman Rd, Granite, WY
"Dome on the Range" or "Capitol Dome 1917" is the old 1917 capitol dome cupola from Cheyenne that was relocated to Granite when it was replaced. It sits next to the old Granite School House from 1892.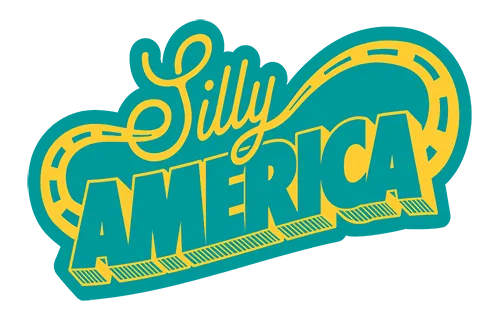 Pin this list of the 15 best Wyoming roadside attractions: