Are you gearing up for a long car trip, packing your bags, and left wondering what to wear on a road trip?
Road trips are a great way to travel the country. They're cost-effective and fun! Not only can you get to your destination with ease, but you have the freedom to forge your own path and make as many stops as you want along the way.
When picking out road trip outfits, there are a few things to keep in mind. If you're spending a vacation in a car, comfort should always be a top priority. But what else should you considered? Read on for all my tips for what to wear on a road trip!
Tips for what to wear on a road trip:
Dress for Comfort
Comfort is key if you're spending a day in the car. You'll already be cramped up in a bucket seat and constrained by a tight seatbelt, so there's no need to add any extra discomfort with tight jeans or scratchy sequins.
My favorite road trip outfits are comfy road trip outfits: loose t-shirts and leggings, breezy sundresses and shirt dresses, billowy maxi dresses, and zip-up hoodies. Roomy rompers are a great choice too (just keep in mind that many of your day's bathroom stops might be a bit questionable.)
Dress for the Weather
The weather will play a key part in what you put on. What to wear on a road trip in summer is different than in winter and even in spring and fall. For summer road trip, dress light: loose dresses, t-shirts, and shorts are all appropriate. In winter, bundle up with sweaters, sweatshirts, and coats. For spring and fall, leggings and light jackets are the way to go!
Dress in Layers
When it comes to dressing for a road trip, layers are key. Even if it's hot outside you never know when you'll stop at a restaurant that's colder than the arctic or be stuck with a driver who likes to keep the car's air conditioner blasting extra high.
It's always a good idea to bring an extra hoodie, jacket, or cardigan to throw on if it gets chilly. Likewise, keeping a pair of socks and leggings in your road trip bag is a good idea for layering up if you get cold.
For cold-weather road trips, it's the opposite! You'll want to dress in warm layers (Including coats, hats, and scarves) but want to make sure you can peel off a layer or two in a heated car or restaurant.
Wear Comfortable Shoes
When preparing your road trip packing list, don't forget your shoes! You'll want your whole outfit to be comfortable, and that includes your feet. Ditch the heels and opt for flats or sneakers. Slip on tennis shoes are my favorite road trip shoes (I always pack a few pairs to match every outfit). If you love sandals make sure they fit tight if you're driving (and be sure to pack flip flops…but save them for the hotel pool!).
Dress for Photos
Comfort should always come first when deciding what to wear on a road trip…but that doesn't mean you can't look cute with some road trip fashion! Whether you're planning on traversing Route 66, cruising the Pacific Highway, or trekking through the Rockies, you're probably planning to make lots of stops at the best roadside attractions, scenic overlooks, National Park backdrops, and more. So you'll probably want to look your best for your Instagram selfies. Keep that in mind when choosing your road trip outfits.
Wear the Right Accessories
Accessories should always be among your road trip essentials. You never want to leave home without a pair of sunglasses, a big purse or backpack, and large scarf (that can do double duty as a fashion accessory, wrap for cold cars, and sarong at the beach). The right accessories not only can make or break an outfit, they can also make or break a road trip!
Pin this post about what to wear on a road trip to save for later: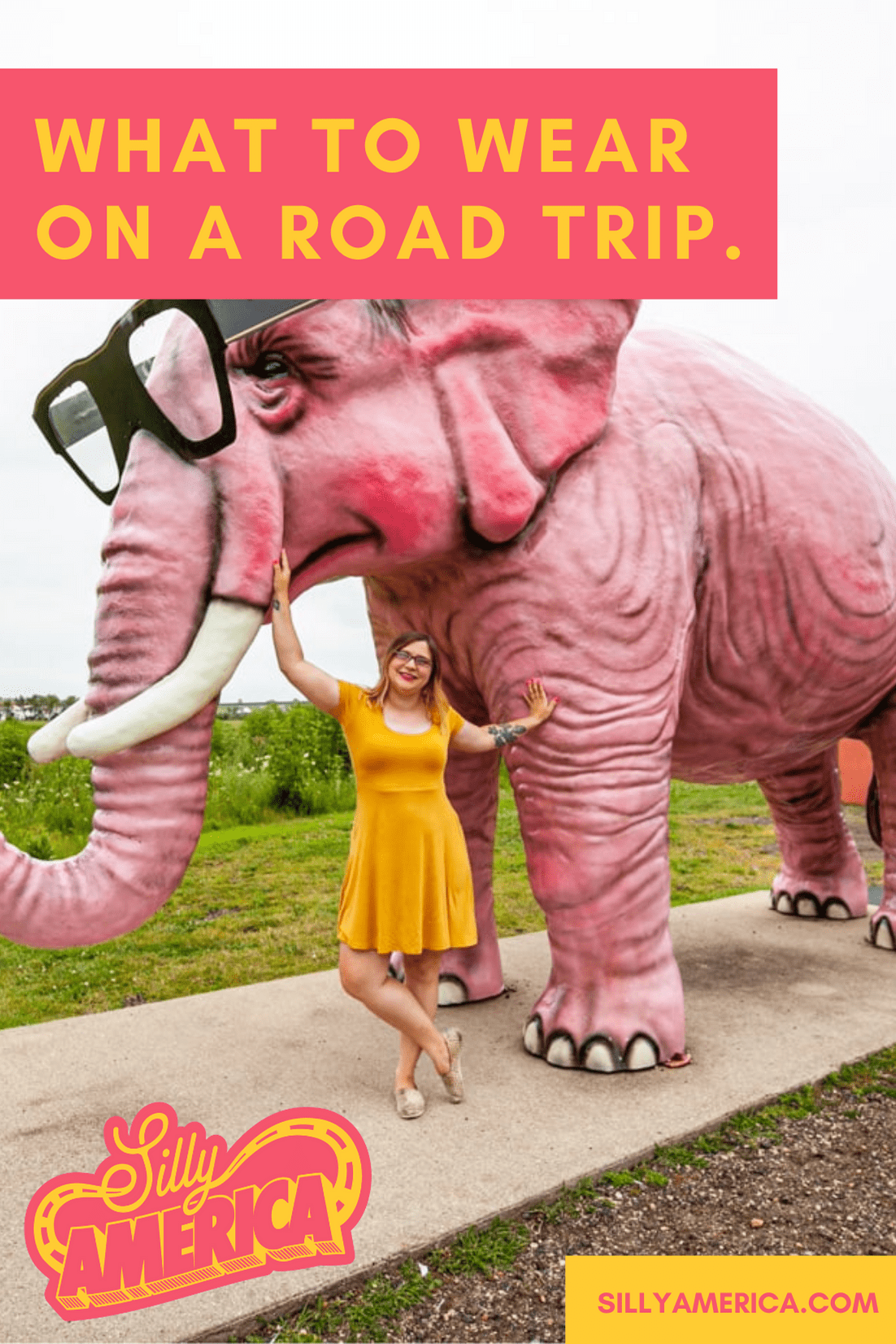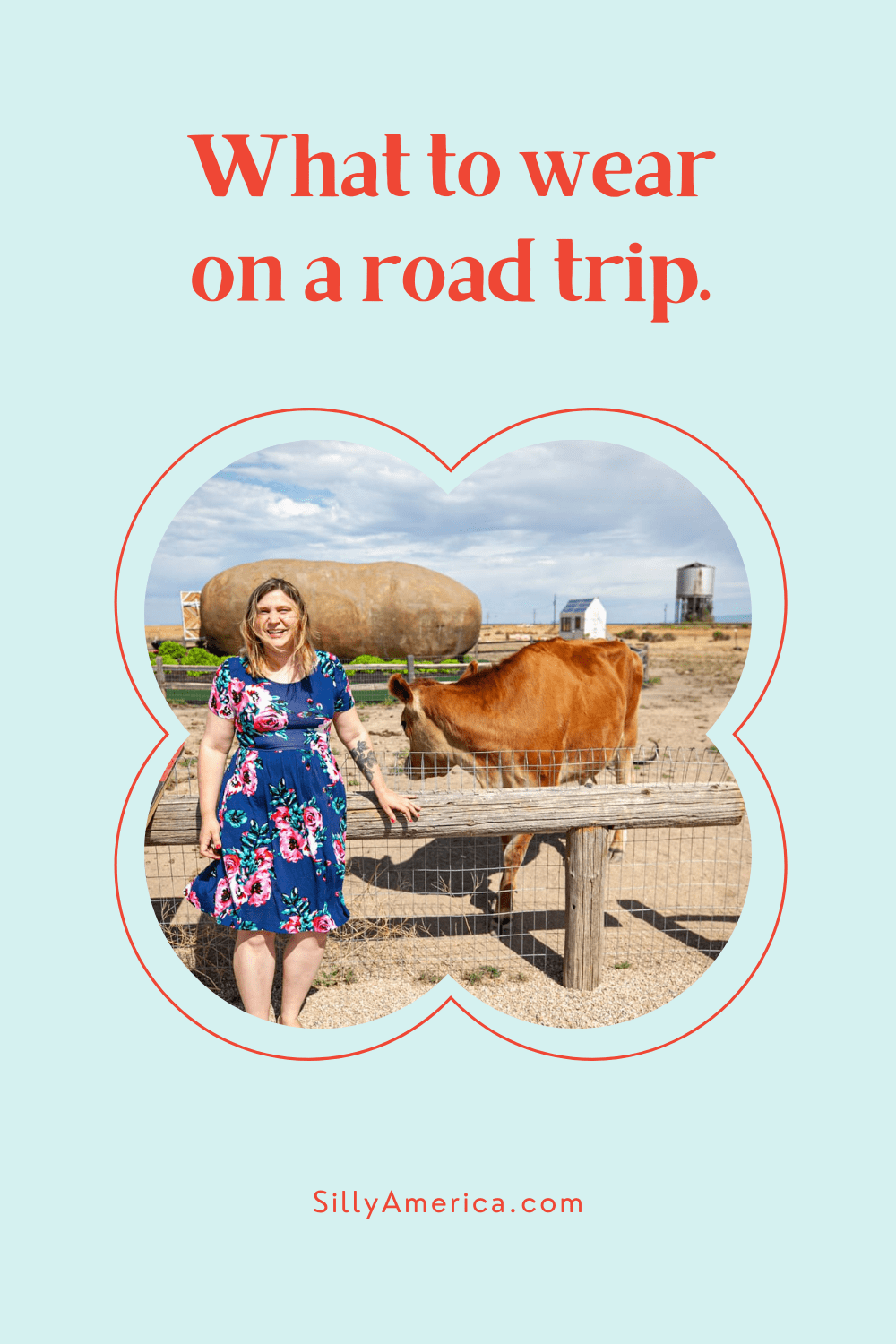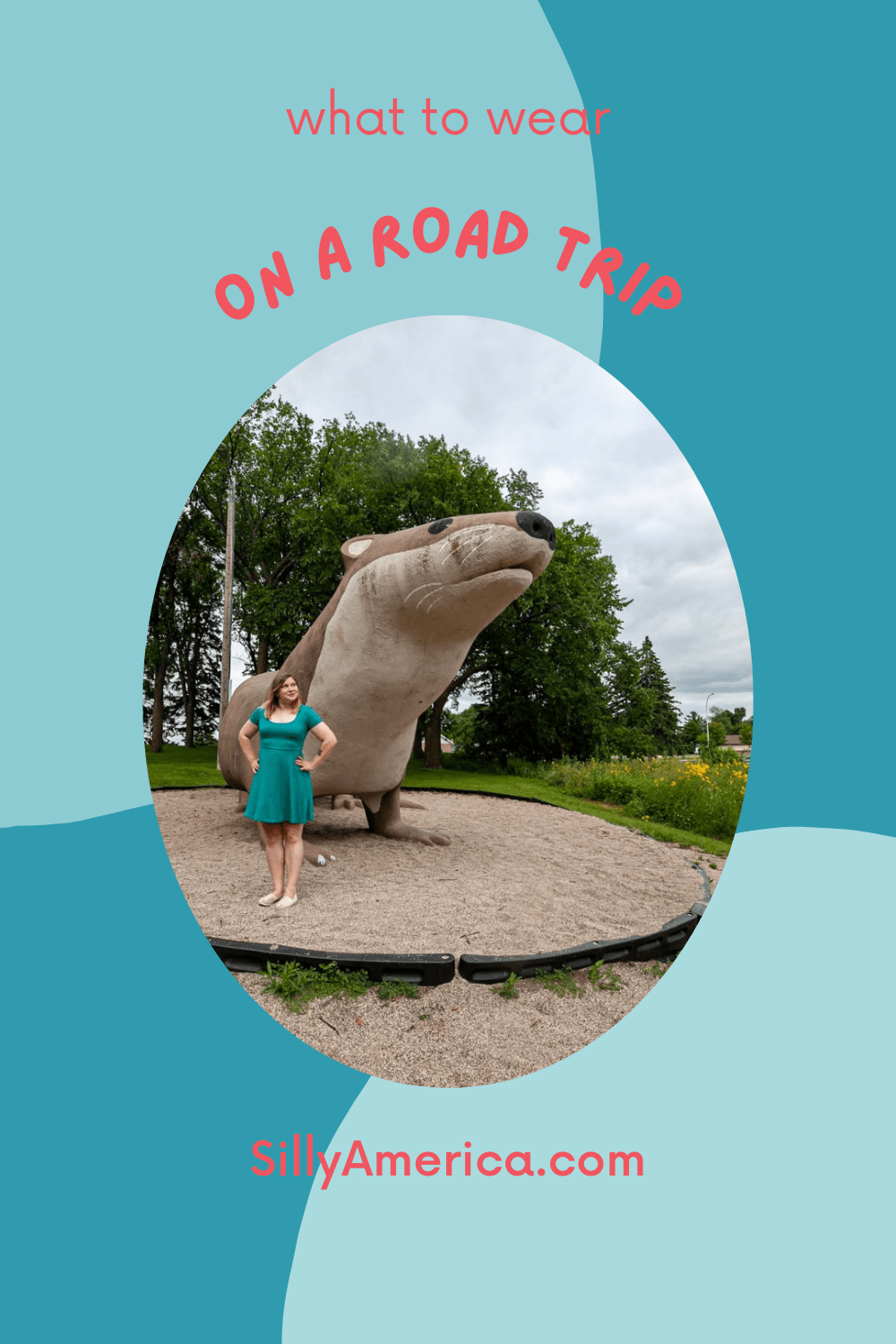 Are you gearing up for a long car trip, packing your bags, and left wondering what to wear on a road trip? Read on for all my tips for comfy road trip outfits and more of what to pack in your luggage.
#RoadTripOutfitIdeas #RoadTripOutfit #RoadTripAesthetic #WhatToWearOnARoadTrip #RoadTripPacking #RoadTripPackingCar #RoadTripPackingList #RoadTripPackingClothes#RoadTripPackingFOrAdults #RoadTripPackingTips #RoadTripPackingEssentials #RoadTripPackingIdeas #LongRoadTripPacking