Are you planning a Texas road trip and want to find all the best Texas roadside attractions along your route? Whether you're driving Route 66 or are vacationing in Austin, Dallas, or Houston, you won't want to miss these fifteen must-see places to go in Texas. They're fun road trip stops and great additions to your travel itinerary or route.
Below are the 15 best roadside attractions in Texas: from some giant furniture to a giant pan, from some painted cars stuck in the mud to Prada store in the middle of nowhere, from the world's largest pair of cowboy boots to a cowboy hat that sits on an Eiffel Tower, from a cathedral of junk to a house of beer cans! You won't want to miss any of these bucket list worthy tourist traps and road trips stops on your Texas vacation.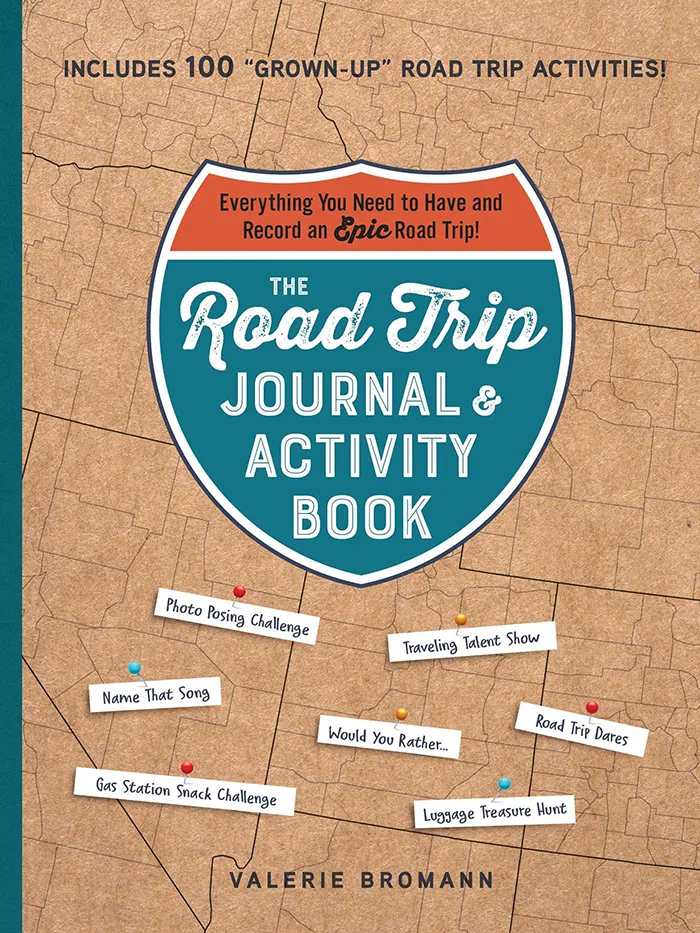 The Road Trip Journal & Activity Book
Everything You Need to Have and Record an Epic Road Trip!
Enjoy fun games and challenges to pass the time on your next road trip and have a keepsake to look back on for years to come with this entertaining must-have for your next vacation.
Ready to hit the road? Let's go! I call shotgun!
The 15 best Texas roadside attractions (in no particular order):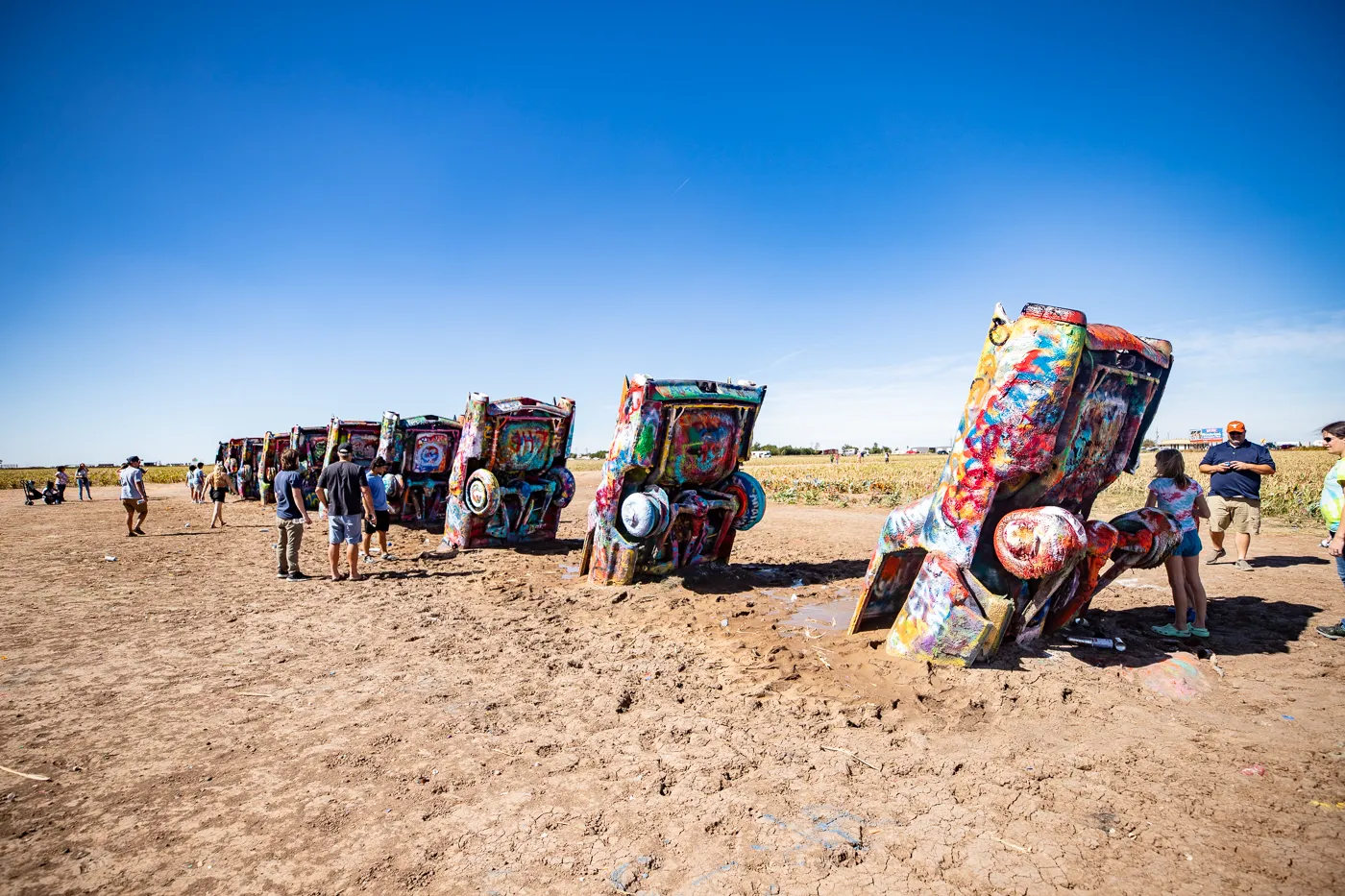 1. Cadillac Ranch
13651 I-40 Frontage Rd, Amarillo, TX
Cadillac Ranch might just be the most recognizable pit stop on Route 66. Installed by a group of San Francisco hippies dubbed "The Ant Farm" in 1974, this Texas roadside attraction has been attracting crowds ever since. In a field you'll find ten Cadillac cars (1949-1963 models) buried nose-first in the ground and covered in colorful graffiti. Visitors are encouraged to leave their mark with a can of spray paint so no two views will ever be the same.
2. World's Largest Cowboy Boots
North Star Mall, 7400 San Pedro Ave, San Antonio, TX
While you might think no where else in the U.S. could be home to the World's Largest Cowboy Boots, they were originally built to be displayed in Washington D.C. Bob "Daddy-O" Wade (1943-2019) constructed the 35-foot tall boots for a commission in the nation's capital in 1979. But they only lasted there for four months before they were snatched up by a mall in San Antonio and trucked back to Texas where they still stand today.
3. Dalmatian Fire Hydrant
Fire Museum of Texas, 400 Walnut St, Beaumont, TX
Outside of Beaumont's Fire Museum of Texas you'll find a 24-foot-tall fire hydrant decked out with white paint and black spots to resemble the markings on a dalmatian. This weird roadside attraction was actually donated to the museum by Walt Disney. The company created it as a promotion for the re-release of their animated film 101 Dalmatians in 1999. Originally displayed at Disney Land in Anaheim, California, and then sent it off to Beaumont when they were done. It's not quite the world's largest fire hydrant (that is in South Carolina) but this 4,500 pound hydrant can blast 1,500 gallons of water a minute, making it the World's Largest Working Fire Hydrant.
4. Beer Can House
222 Malone St, Houston, TX
Retired Houstonian John Milkovisch spent 18 years adorning his house with beer cans. Today the abode is covered in over 50,000 empty crushed cans along with bottle caps, bottles, metallic garlands, and other accoutrements that he meticulously placed. John died in 1988, and his wife Mary in 2002, but the house was so beloved as a local piece of folk art, that a non-profit preservation organization (The Orange Show Center for Visionary Art) picked it up and preserved the extraordinarily shiny home.
5. Paisano Pete: Giant Roadrunner
East Dickinson Boulevard & North Main Street, Fort Stockton, TX
Paisano Pete is one big bird. At 22 feet long and 11 feet tall he was once the world's largest roadrunner (in 1993 a new guy in Las Cruces, New Mexico usurped the title). Still, this impressive bird and the mascot of Fort Stockton is worth a detour.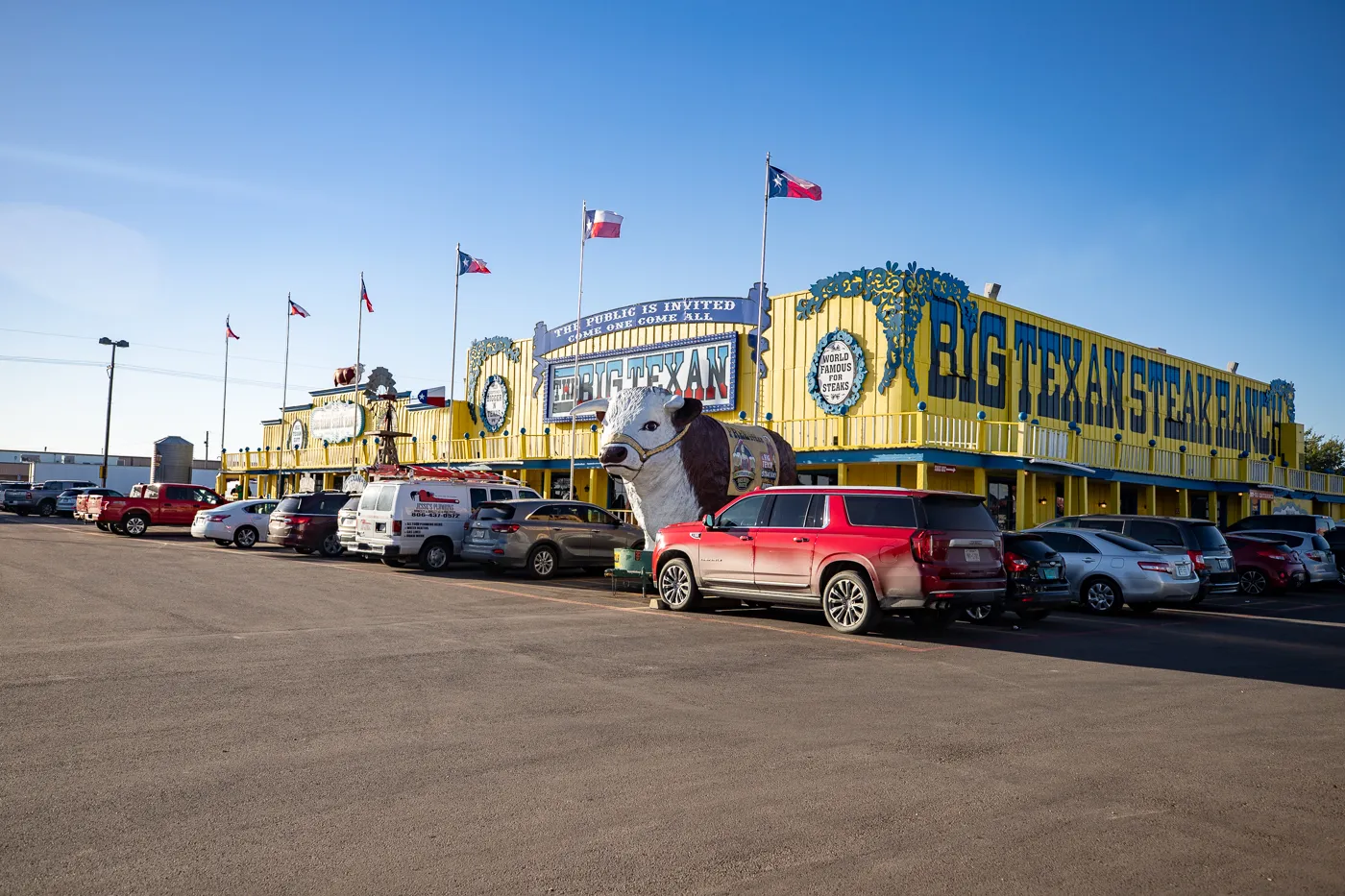 6. Big Texan Steak Ranch
7701 I-40 East, Amarillo, TX
Looking for a roadside attraction, Route 66 icon, motel, and restaurant all rolled into one? Look no further than Big Texan Steak Ranch in Amarillo. Outside you'll find a bright yellow building anchored by "Big Moo" (a giant steer), "Big Tex Rex" (a dinosaur in a cowboy hat), and a 15-foot-tall cowboy boot. Inside, you can grab a typical 16-ounce Texas steak dinner, but the big draw here is the Steak Challenge that's been offered since the 1960s: eat a 72-ounce steak along with a shrimp cocktail, baked potato, salad, and buttered roll in one hour and the $72 meal is free.
7. Giant Hog Stand
1112 S St Mary's St, San Antonio, TX
Go hog wild over this fine example of programmatic architecture. This big hog-shaped building once one of many similar structures in the city and housed Frank's Hog Stand. The building went missing for a while but then was found, refurbished, and moved to where is stands today.
8. Eiffel Tower With Big Cowboy Hat
2025 S Collegiate Dr, Paris, TX
You don't have to fly to France to experience the beauty of Paris. You can find it right in Texas. Paris, Texas boasts a 70-foot tall Eiffel Tower replica. The structure is about 10 times smaller than it's namesake counterpart in Europe but this one has something that one doesn't have: it's topped with a bright red cowboy hat.
9. Prada Marfa
14880 US-90, Valentine, TX
If you're driving in the middle of the Texas desert and you see a Prada store up ahead, you might think it is just a mirage. But it's real. Well, sort of. Prada Marfa looks just like a luxury boutique, merchandise and all, but it was never an actual functioning store. The fake Prada store was designed as a "pop architectural land art project" from Berlin-based artists Elmgreen and Dragset in 2005 and quickly became a must-see quirky Texas road stop.
10. World's Largest Pecan
101 E Court St, Seguin, TX
Seguin, Texas, is the "pecan capital of Texas," so obviously they needed to celebrate their title with the world's largest pecan. In 1962 a local dentist built a 1,000-pound, five-foot-long pecan and placed it in front of the town's City Hall. For twenty years this monument held strong as the biggest of its kind…until some pecan farmers in Brunswick, Missouri, built a bigger one. In 2011 Seguin decided to reclaim their title and unvelied a new 16-foot-long pecan that you can find at the Texas Agricultural and Heritage Center in town.
11. Barney Smith's Toilet Seat Art Museum
5959 Grove Ln, The Colony, TX
At Barney Smith's Toilet Seat Art Museum in The Colony you can peruse more than 1,400 toilet seats decorated with found objects like cassette tapes, ballet tutus, and seashells. These interesting pieces of art are the work of retired plumber Barney Smith who sadly passed away in 2019. Luckily the collection was purchased from him before he passed away and the collection of intricate art moved from San Antonio to The Colony, where it is on display at The Truck Yard bar.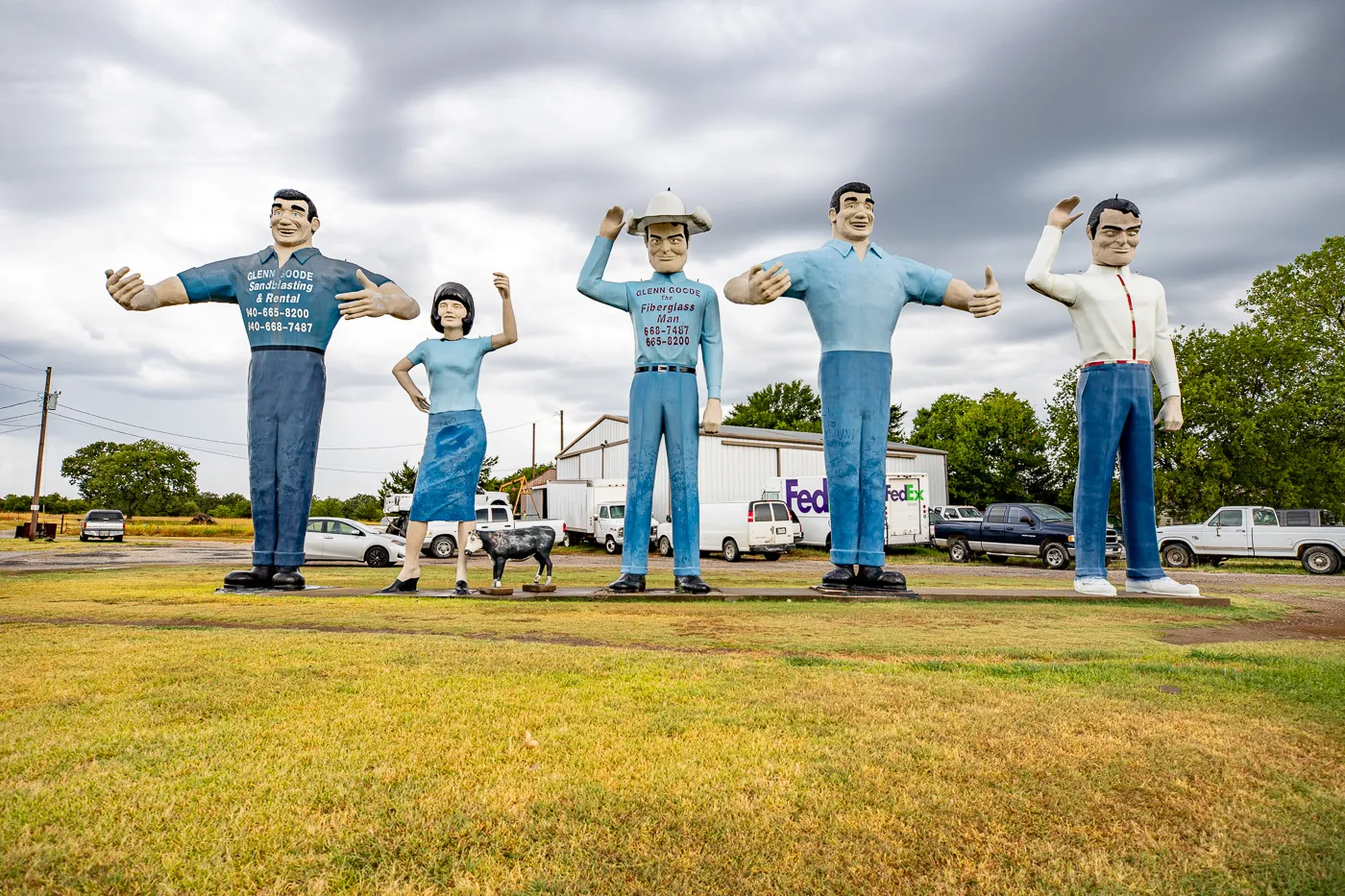 12. Glenn Goode's Big People
1719 FM371, Gainesville, TX
Glenn Goode, "The Fiberglass Man," loved fiberglass beings of all shapes and sizes. In front of his business he proudly displayed two muffler men, a Uniroyal Gal, and two Big John statues that he collected and restored over the years. Glenn Goode's Big People is a gathering of fiberglass giants you won't want to miss on a Texas road trip.
13. World's Largest Killer Bee
704 Ramon Ayala Dr, Hidalgo, TX
Hidalgo, Texas is the "Killer Bee Capital of the World," and the town surprisingly embraces that distinction. The mayor was so proud of those bees that he had a $20,000 monument built for the bug. The World's Largest Killer Bee can be found outside Hidalgo City Hall most of the year…except when its buzzing down the street at the town's annual Border Fest celebration.
14. Cathedral of Junk
4422 Lareina Dr, Austin, TX
The Cathedral of Junk is pretty much as it sounds: a giant cathedral-like structure made from cast offs. Vince Hannemann began constructing the Cathedral of Junk in his backyard in 1988. The three-story wonderland is made from used items most people would discard: bicycle parts, kitchen utensils, cables, doll heads, and other, well, junk. This Texas roadside attraction is a must see, but it's on private property so call ahead for an appointment.
15. Tex Randall
1400 N 3rd Ave, Canyon, TX
Want to meet Texas's Biggest Texan? Tex Randall first graced the state in 1959. The 47-foot-tall cowboy was made by high school shop teacher William "Harry" Wheeler and was displayed outside of a Western apparel store. Over the years he's been given several makeovers but has always captured the hearts of locals and visitors looking for a man that truly lives the motto "everything is bigger in Texas."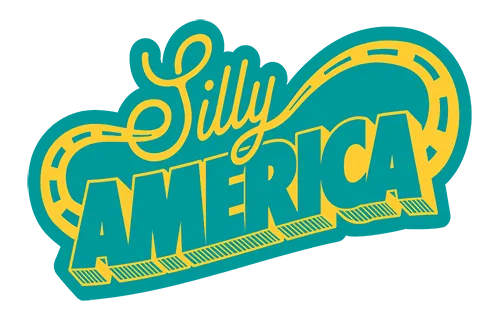 Pin this list of the 15 Best Texas Roadside Attractions: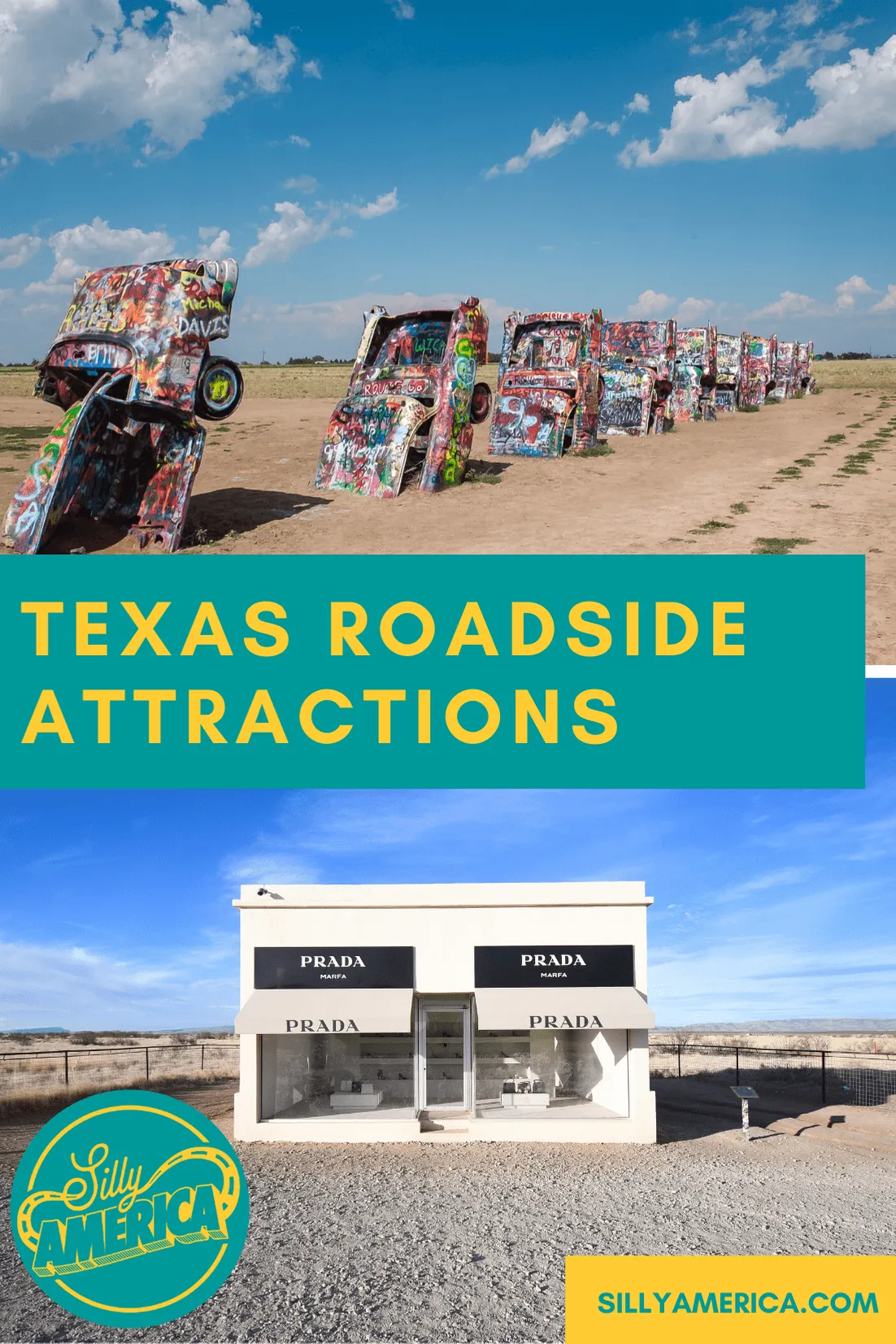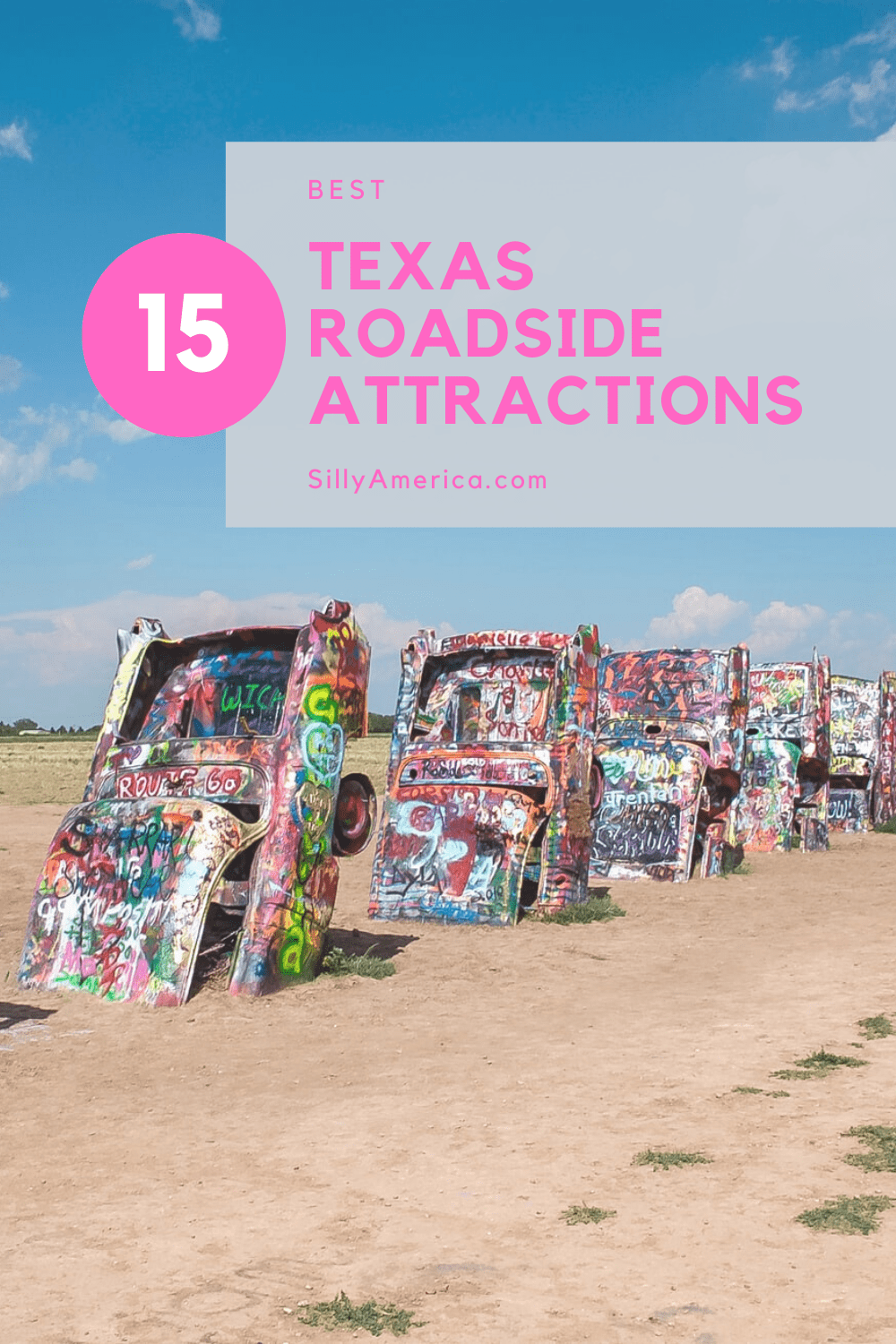 Photo by Matthew T Rader on Unsplash
Photo by David Solce on Unsplash
Photo by K. Mitch Hodge on Unsplash