Planning on taking a long car trip but not totally sure what to do on a road trip? While there is no right or wrong answer, and everyone paves their own way, there are many common things to see, places to stop, and ways to pass the time when driving long distances.
Some people's idea of a road trip is to get from point A to point B in the shortest amount of time possible. But if you really want to make the most of a road trip, you're going to want to maximize what you do along the way. If you don't, you might as well fly!
Need inspiration for what to do on a road trip? Here are 30 ideas to help you plan an epic journey!
What to do on a Road Trip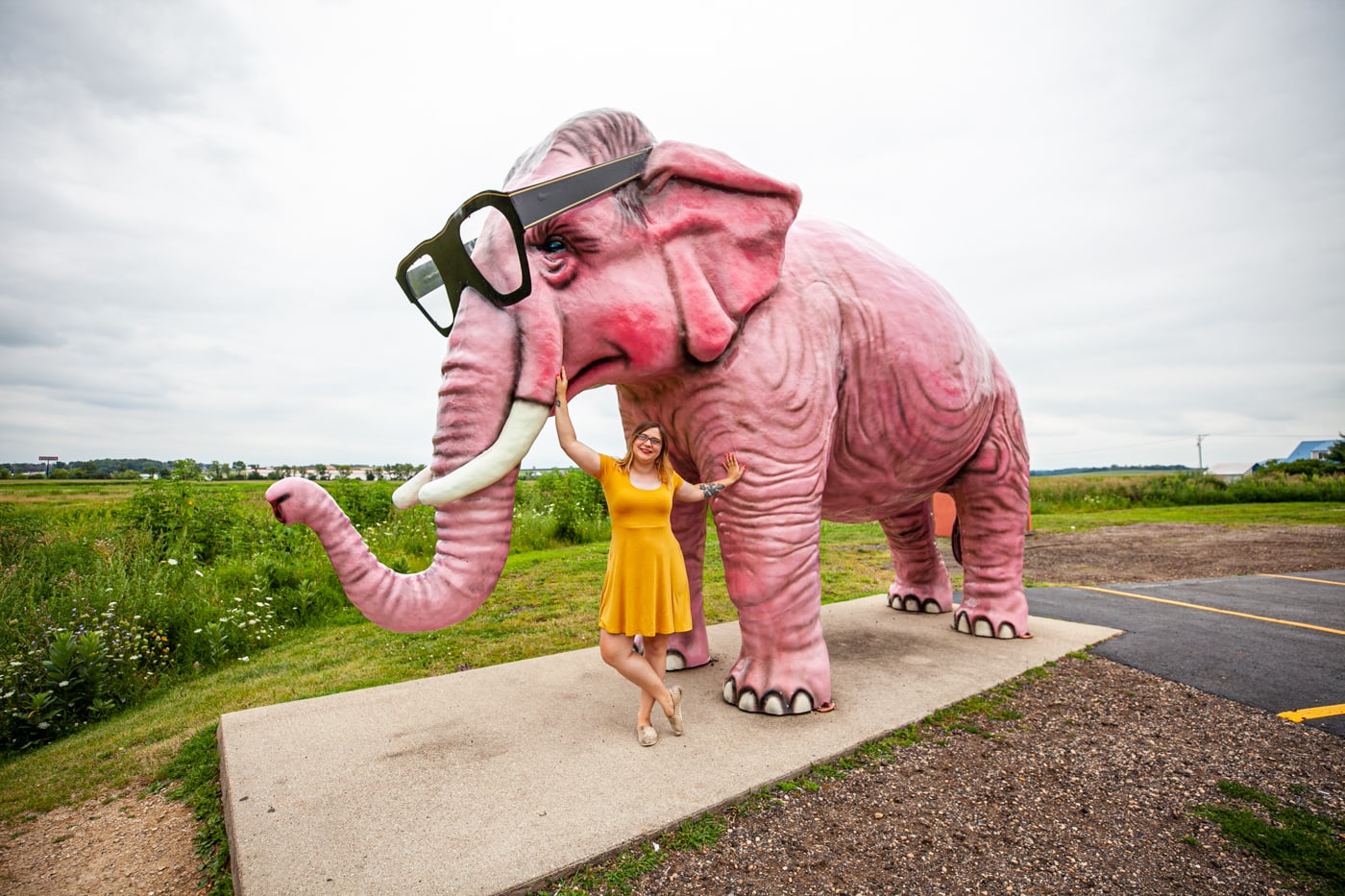 1. Stop at Roadside Attractions
Roadside attractions are usually wacky things, often big things, and almost always just a short detour from the highway. Find the best roadside attractions in every state to visit on your next road trip and plan to see a few (or many) along your road trip route!
2. Have a Road Trip Scavenger Hunt
Road trip scavenger hunts are a fun way to keep everyone in the car engaged! Just print off a list of things to see on a road trip, have everyone keep a copy and keep their eyes peeled, and then award points for who sees the most and who sees what first. Ready to play? Check out the full rules and download a free road trip scavenger hunt printable.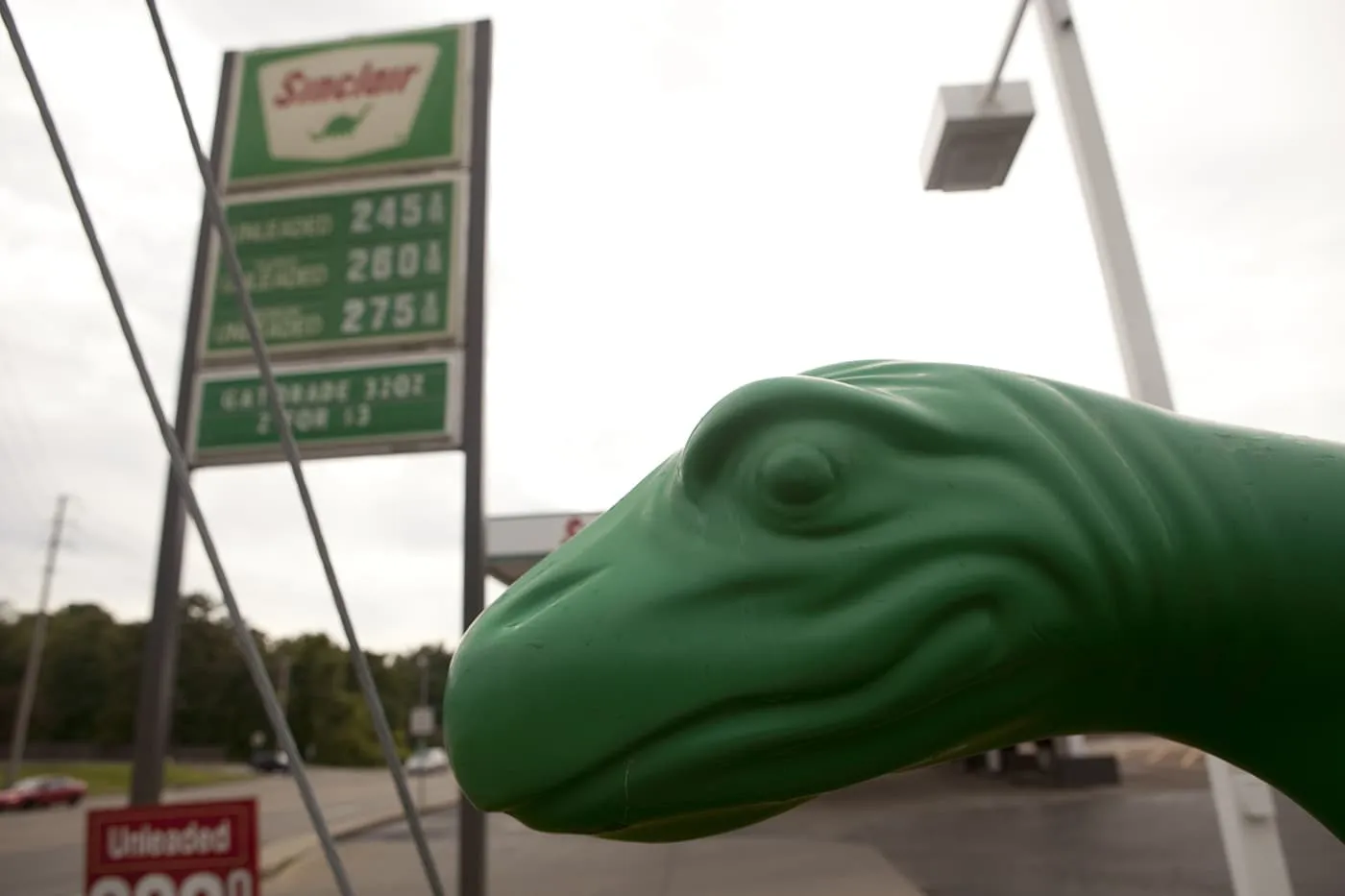 3. Splurge at a Gas Station
I always love wandering the aisles of a gas station and picking out road trip snacks for the day. Am I in the mood for a Gatorade or a Coke? Peanut M&Ms or Red Vines? Doughnuts or pecan log rolls? How about all of it!
4. Listen to a Podcast
Podcasts are a fun choice for road trip entertainment. Whether you love movie trivia, politics, true crime, marketing, or pop culture, there's a podcast for everyone. Load up your favorites to stream through your car radio or try something new!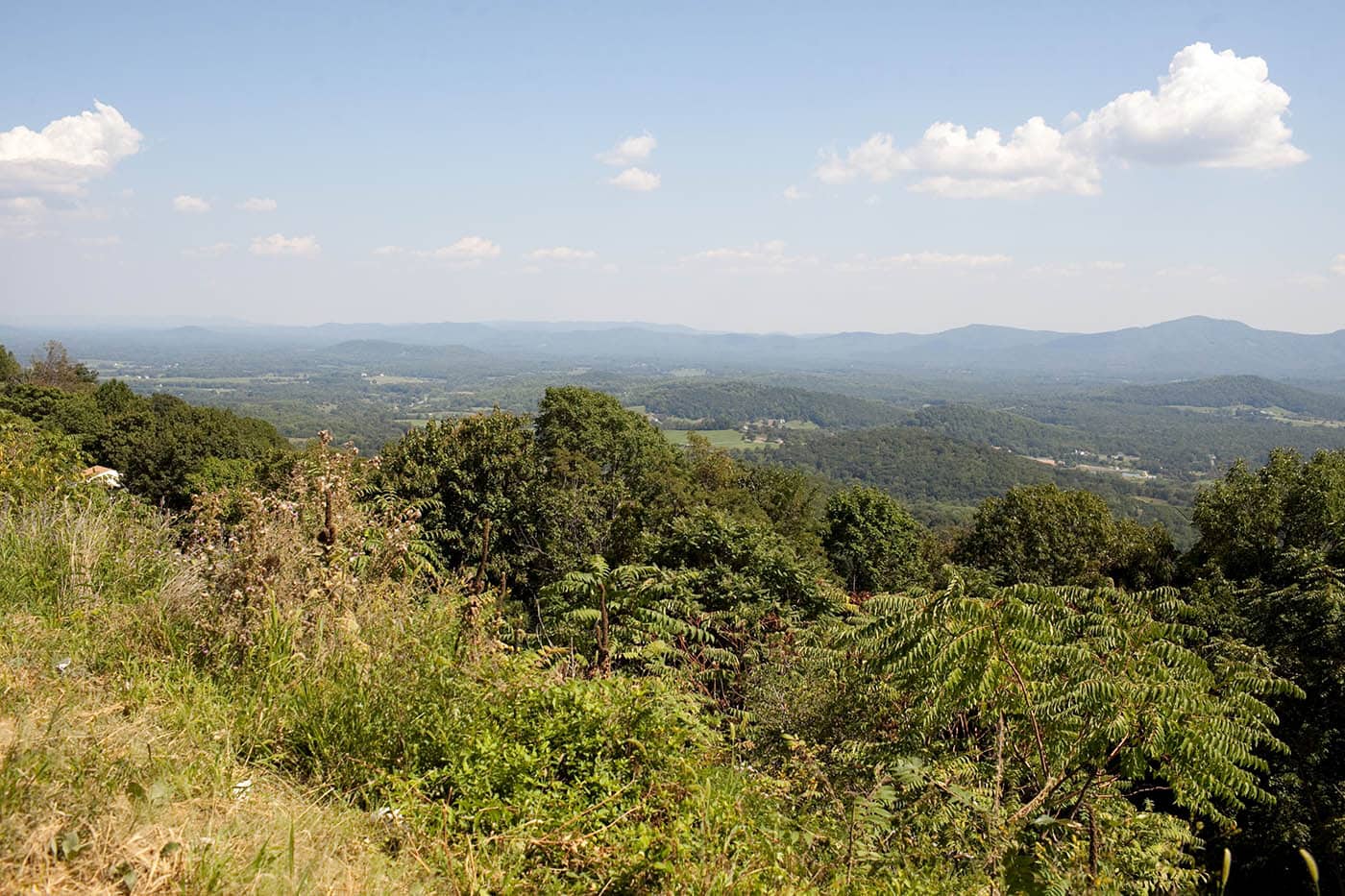 5. Stop at a Scenic Overlook
If you're thinking of fun things to do on a road trip, be sure to think of scenic overlooks. Scenic overlooks (also called scenic viewpoints, observation points, or lookouts) are elevated spaces along highways, parkways, or other roads that allow you to pull over to take in the views. They often look over mountains, valleys, trees, or bodies of water and the panoramic scene makes for a great photo opportunity. Take a break to stretch your legs, check out a few, and appreciate the land you're driving through.
6. Watch a Movie
Passengers can keep entertained on a long car trip by playing a movie in the backseat. Use a portable DVD player that clips onto the front-seat's headrest or an iPad and turn your car into a drive-in movie theater. Bring popcorn snacks for an extra backseat movie experience. Check out our list of the best road trip movies and list of the best road trip movies on Netflix to find a vacation-friendly film!
7. Play Road Trip Games
Road trip games are always a fun way to pass the time in the car! Games can keep everyone in the car engaged on long drives. Popular games you can play in the car include the License Plate Game, Road Sign Bingo, and I Spy. Buy a road trip activity book, download an app, or print games at home!
The Road Trip Journal & Activity Book
Enjoy fun games and challenges to pass the time on your next road trip and have a keepsake to look back on for years to come with this entertaining must-have for your next vacation. The Road Trip Journal & Activity Book features fun and engaging journal prompts. plus 100 activities and games to play in the car, at your hotel, or at stops along your route.
8. Hit the Beach
Beach days are a fun way to spend time on a road trip, whether you love to swim, surf, or sunbathe. Pull over for sand, sun, water, and views.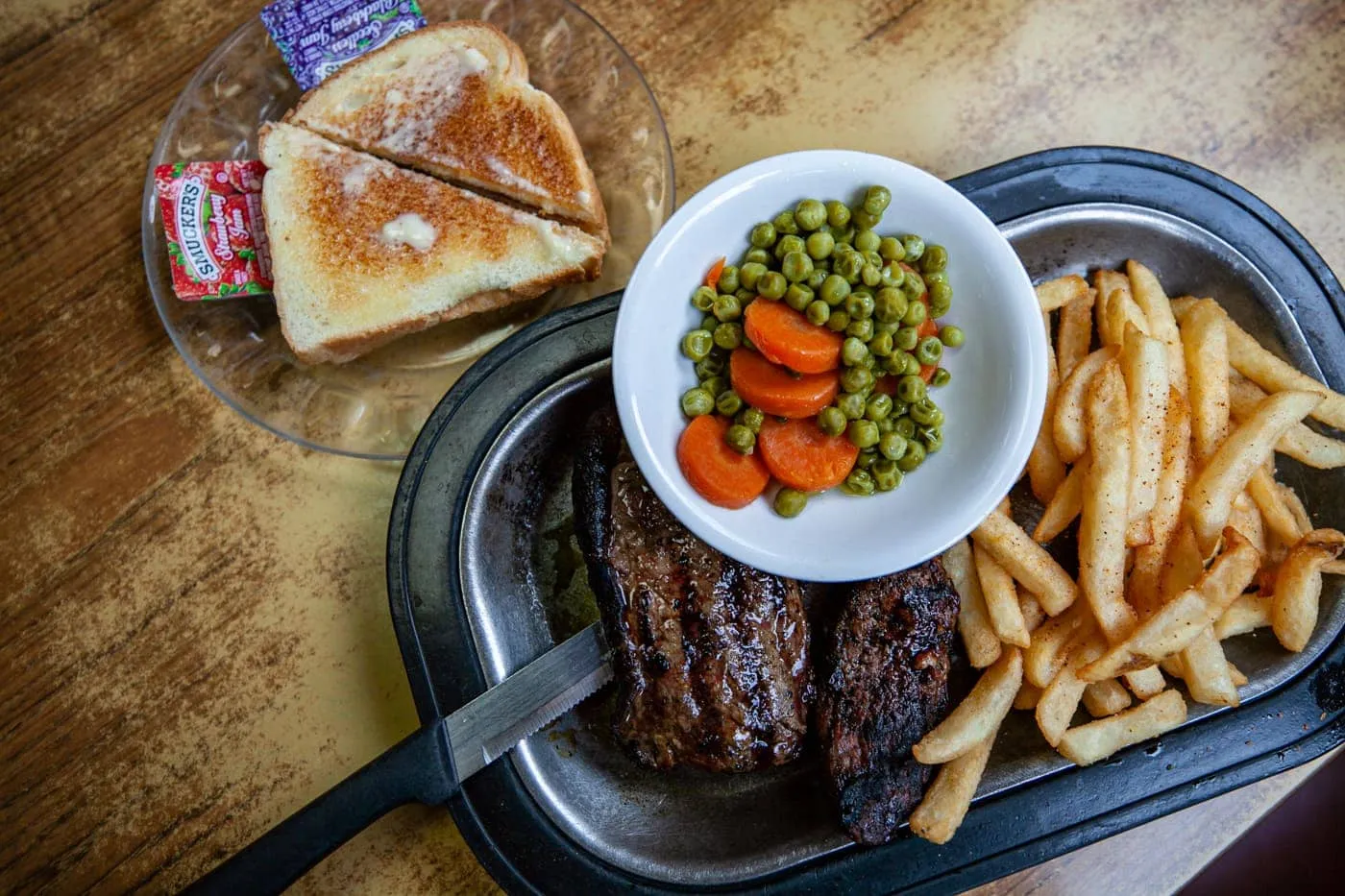 9. Eat at a Local Restaurant or Diner
You have to eat while on the road! One of the best parts of taking a road trip is trying new restaurants and food. Stop by a local restaurant or diner at your destination or along your route for breakfast, lunch, or dinner.
10. Follow Along on a Map
Chances are you're using a dedicated GPS or following directions on your phone to find your way. Why not go old school for a bit and plot your trip on a paper map. Turn off the GPS and let a passenger guide the way. (Don't worry, you can always turn back on the Google directions if you get lost).
11. Sing Car-aoke
Host your own car-aoke on your next road trip (get it? Car + karaoke?). You can create a playlist of karaoke versions of your favorite sing-along songs from Spotify and have passengers look up lyrics on their phones or you can download a karaoke app on your phone. Make karaoke in your car even more fun with a Bluetooth karaoke microphone passengers can pass between themselves.
12. Explore a National Park
National parks are a road trip rite of passage and one of the best things to do on a roadtrip. Drive through the breathtaking scenery, take a hike, watch wildlife, visit history, enjoy the views, or even go spelunking. Plan your road trip around one or multiple National Parks and you won't regret it.
13. Ask Each Other Questions
With so much free time on the way to your destination, why not spend some time in the car getting to know your passengers by taking turns answering road trip questions. Whether you're traveling with your partner, family, or friends, car ride questions are the perfect ice breakers and conversation starters.
14. Keep a Journal
Keeping a journal while on a road trip in the perfect way to memorialize your travels, archiving daily logs of what you saw, what you did, where you stayed, and how you felt. Buy a road trip journal that contain travel prompts to get you started alongside blank pages and write away!
The Road Trip Journal & Activity Book
Enjoy fun games and challenges to pass the time on your next road trip and have a keepsake to look back on for years to come with this entertaining must-have for your next vacation. The Road Trip Journal & Activity Book features fun and engaging journal prompts. plus 100 activities and games to play in the car, at your hotel, or at stops along your route.
15. Learn a Language
Spend time in the car learning a new language. Pop a learn-a-language CD into your car's CD player, download a language tutorial on Audible, or try a language podcast. Soon you and your passengers will go from road trip to viaje por la carretera or voyage en voiture.
16. Find a Campsite
Sure, you can stay in hotels, motels, or AirBNBs, but a fun experience on a road trip is to camp! Find a campsite, pull in, pitch a tent, toast some s'mores over an open fire, and camp under the stars.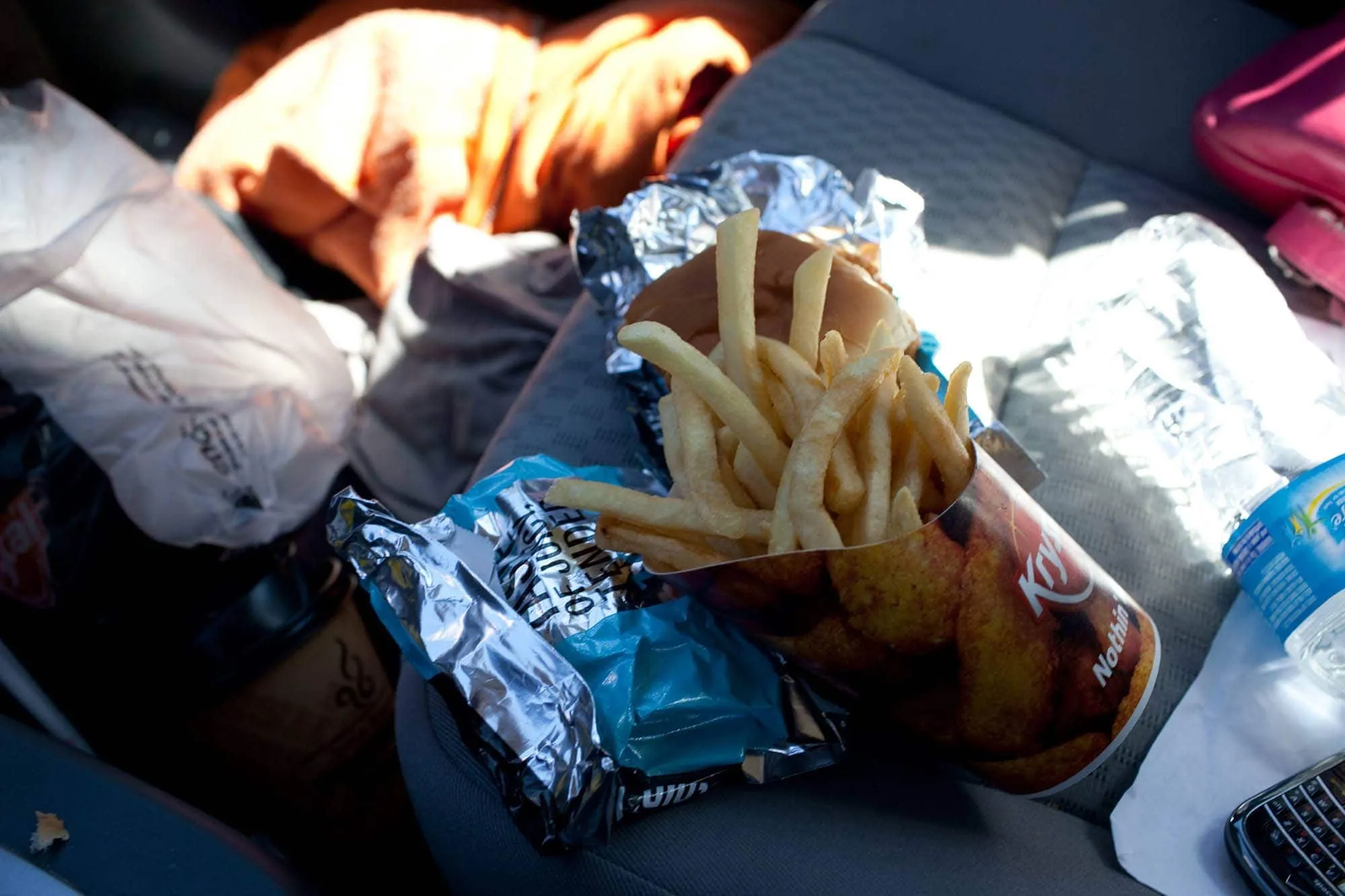 17. Stop at a Fast Food Drive Through
Even if you love sit down restaurants and diners, sometimes a road trip meal is best eaten in the car. Pull through a fast food drive through for a cheeseburger, greasy fries, and a chocolate milkshake.
18. Rest
While not the ideal activity for the driver, a good nap is often in the cards for passengers. The lull of the road and long stretches without stops will make anyone sleepy. So bring some pillows and blankets at let the backseat passengers take a snooze on the way to the destination.
19. Tell Jokes
What did the stoplight say to the car? "Don't look! I'm about to change!" If you're looking for road trip entertainment, jokes are a fun way to pass the time. Challenge your children to a joke competition or get them a road-trip themed joke book to help them pass the time.
20. Have a Snack
Road trip snacks are the best snacks. Whether you love chips, chocolate, or granola bars, keep some in the car to munch on in between stops.
21. Listen to an Audio Book
Listening to audio books is a great activity to do in the car. Available across genres and at varying lengths, you can fill an entire car ride chapter by chapter. It's entertaining and allows you to multitask by taking in that book you've been saying you want to read while you drive. Try Audible Plus for an all-you-can-listen-to membership with thousands of audiobooks to listen to in your car.
22. Stop at a Welcome Center (and Welcome Sign)
As you enter almost every state you will surely pass two things: a welcome center with restrooms, maps, and brochures, and a welcome sign offering a greeting. Stop at the sign for fun Instagram photos and the welcome center to get more information for your journey.
23. Stargaze
If you're driving somewhere with lots of open air, be sure to pull over to admire the sky. Stargazing is a perfect road trip activity, especially for city-dwellers who are used to noise pollution.
24. Stop for Local Treats
Almost every state and city has a local specialty, whether it's Wisconsin cheese, Maine blueberries, or boysenberry ice cream. Pull off the road to a specialty shop to taste something you've never tasted before.
25. Listen to Music
Everyone loves cranking up the radio in the car, opening the windows, and singing along as they explore the open road. So turn on the radio, blast your favorite broadway musical showtunes, shuffle your favorite artist, or plan ahead with a playlist on Spotify, Apple music, or Amazon Music. Need inspiration? Check out our list of the Best Road Trip Songs to Blast in the Car.
26. Take Photos
For all the fun stuff to do on a road trip that you partake in, be sure to take plenty of photos to document your trip and everything you do on the way! Need help choosing a camera? Check out our recommendations for the best road trip camera.
27. Stop for Coffee
A caffeine boost is often needed at the start of a long day of driving or somewhere along the way. Stop at a local coffee shop to try something new, a Starbucks, a McDonald's drive-through, or a gas station for a much-needed pick-me-up.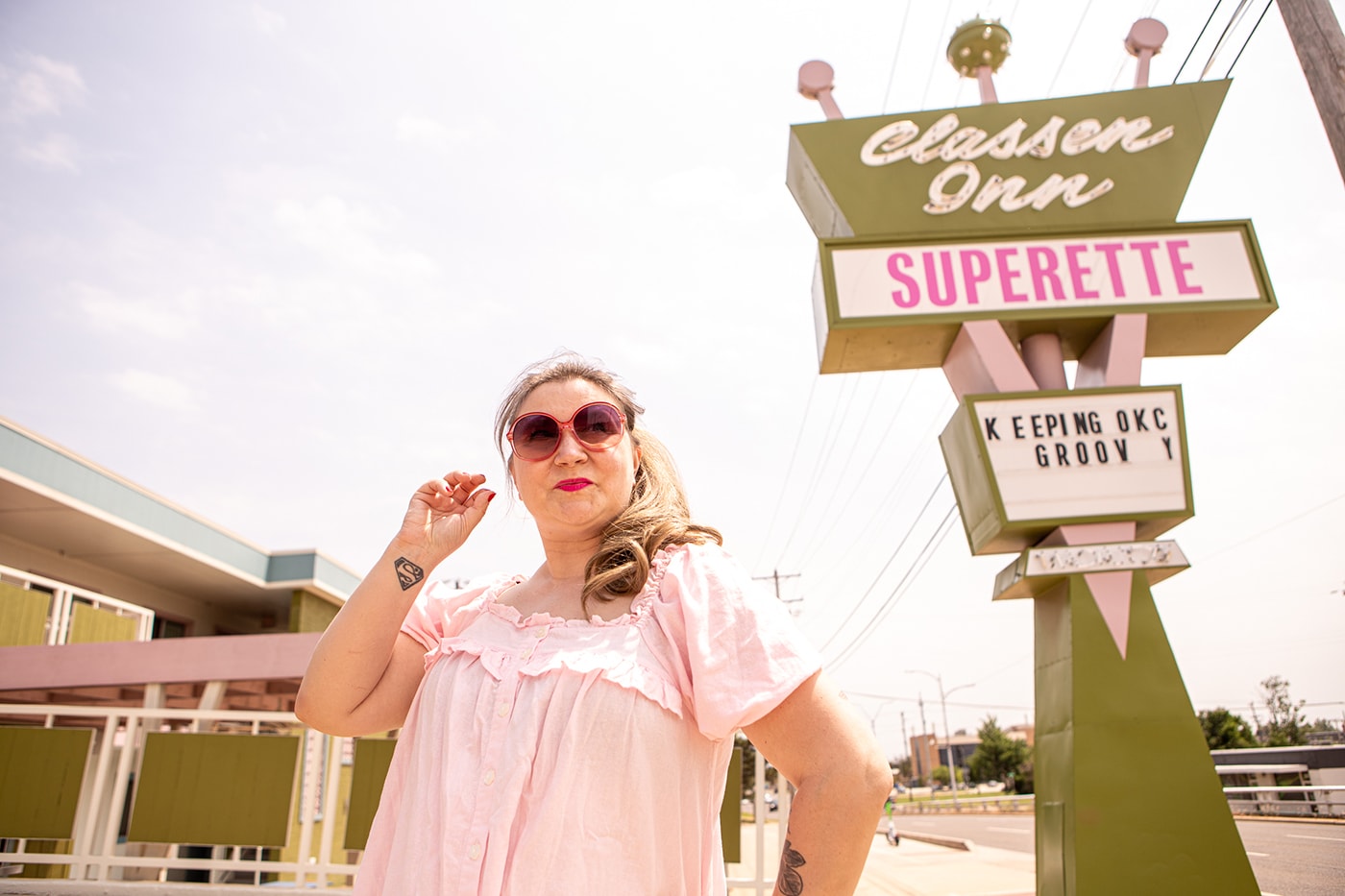 28. Go to a Hotel
After a long day of driving there is no better feeling than checking into a hotel and settling into a big comfy bed. Stop at a hotel, get a good night's sleep, and take advantage of all the amenities like the TV, the shower, the pool, the hot tub.
29. Buy Souvenirs
Don't forget to stock on mementos of your journey. Stop at a souvenir shop for kitschy keychains, mugs, and more. Or stop at a local shop for handicrafts and artwork. There is no limit on what you can bring home as a souvenir from a road trip.
30. Share Your Trip on Social Media
Road trips are best shared, with both your travel companions and your friends and family back home. With plenty of time in the car and so many road trip things to experience, passengers have also have plenty of time to share their photos and videos on Instagram, Twitter, TikTok, and Facebook. Be sure to pick a personalized road trip hashtag, use the perfect road trip emoji, and tag me at @SillyAmerica and #SillyAmerica. Need more inspiration? Check out our lists of Road Trip Instagram Story Ideas and 200 Road Trip Captions for Instagram.
Pin this post on what to do on a road trip to save for your next adventure