Are you planning an Iowa road trip and want to find all the best Iowa roadside attractions along your route? Whether you're driving across I-80, taking the Great River Road, or exploring the Historic Hills, you won't want to miss these fifteen must-see places to go in Iowa. They're fun road trip stops and great additions to your travel itinerary or route.
Below are the 15 best roadside attractions in Iowa: from the world's largest bull to the future birthplace of a Starship captain to a house you thought you'd only find in a museum to a giant berry a baseball field that might have you seeing stars (or ghosts). You won't want to miss any of these bucket list worthy tourist traps and road trips stops on your Iowa vacation.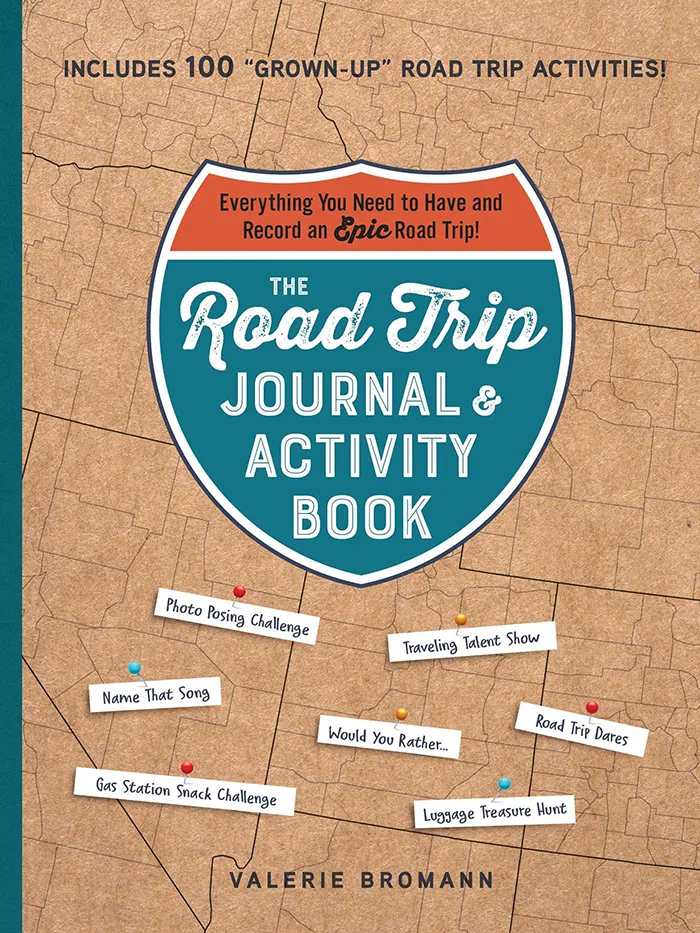 The Road Trip Journal & Activity Book
Everything You Need to Have and Record an Epic Road Trip!
Enjoy fun games and challenges to pass the time on your next road trip and have a keepsake to look back on for years to come with this entertaining must-have for your next vacation.
Ready to hit the road? Let's go! I call shotgun!
The 15 Best Iowa Roadside Attractions (in no particular order):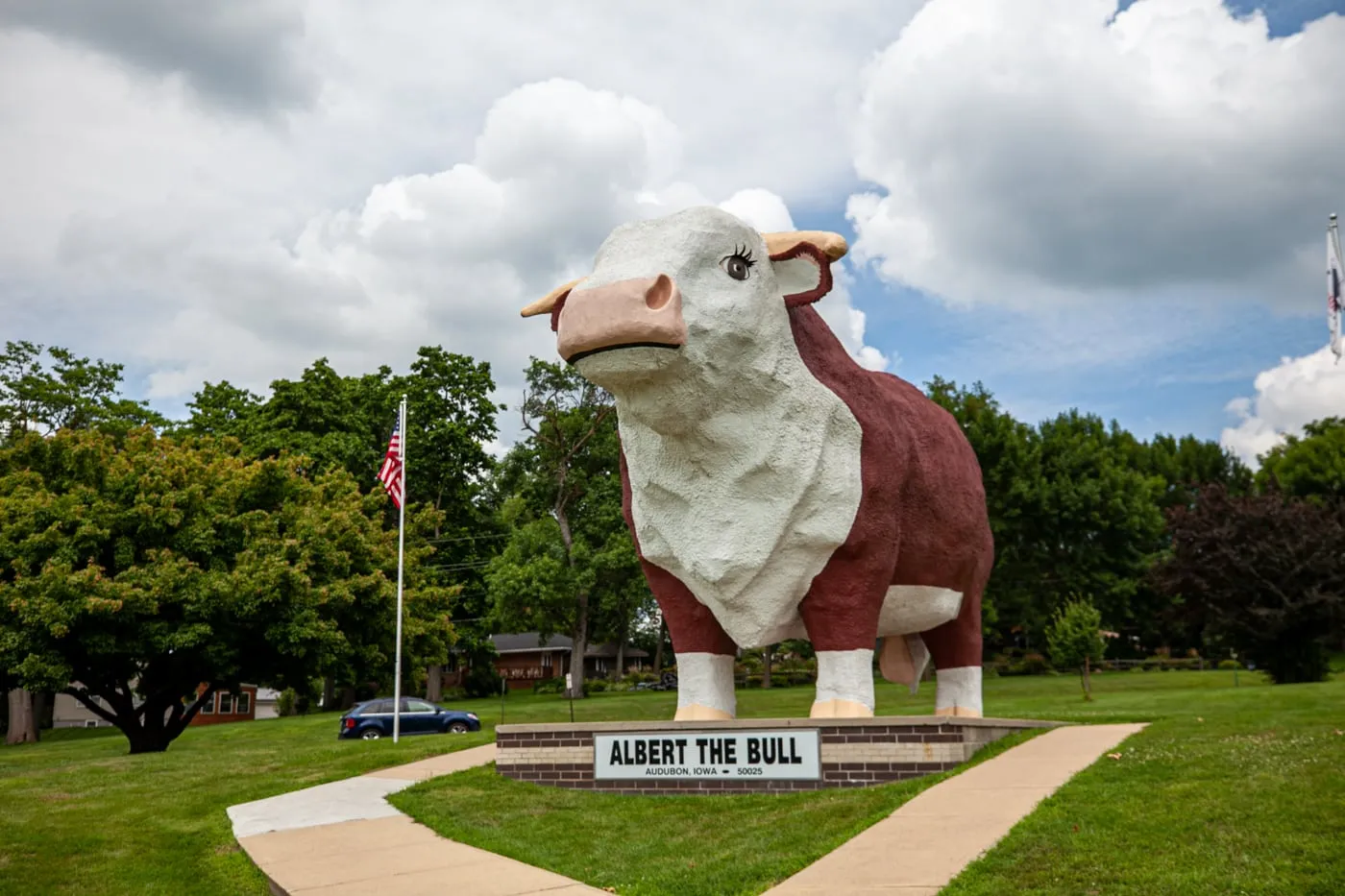 1. Albert the Bull – the World's Largest Bull 
115 Circle Dr, Audubon, IA
Albert the Bull, the world's largest bull, has been an icon of the Iowa town of Audubon since he was dedicated on October 21, 1964. He was conceptualized to represent the booming local beef industry and to be a tourist attraction to draw passersby from the highway. Nowadays over 20,000 visitors visit the Iowa roadside attraction every year. Albert weighs 45 tons and stands at 30 feet tall and 33 feet long.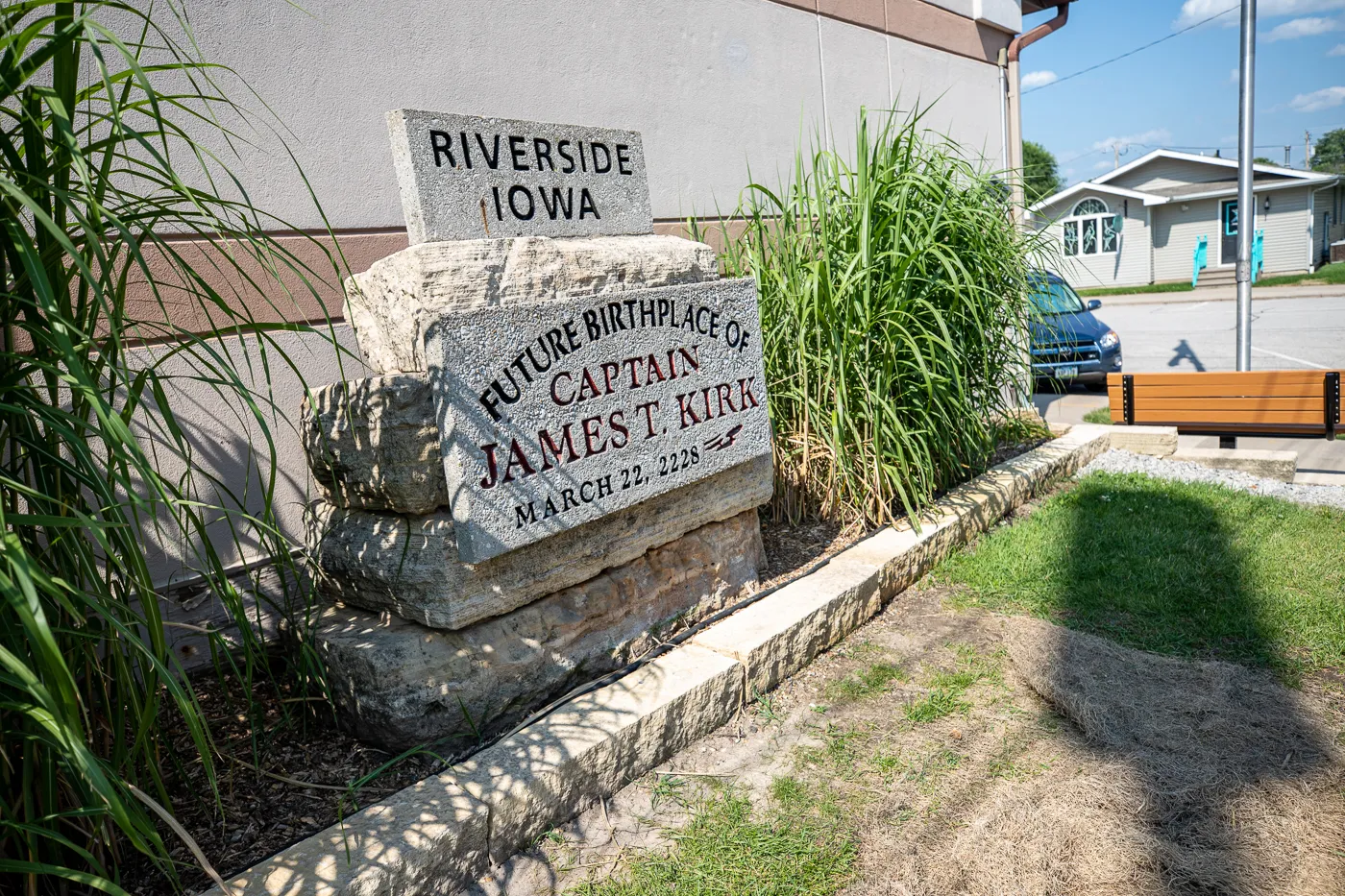 2. Future Birthplace of James T. Kirk
51 W. 1st St., Riverside, IA
Star Trek's James T. Kirk (captain of the Starship Enterprise) will be born in a small town in Iowa on March 22, 2228 (or 2233, depending on where in the canon your facts come from). Riverside, Iowa took it upon themselves to declare that they will be, in fact, that small town. Celebrate all things Captain Kirk in the town "Where the Trek begins," by visiting the official plaque, a bronze statue of James T. Kirk, and the Star Trek Voyage Home Museum in Riverside, Iowa.
3. Shrine of the Grotto of the Redemption
208 1st Ave NW, West Bend, IA
The Grotto of the Redemption is the largest man-made Grotto in the world. The religious shrine in West Bend, Iowa depicts the life of Jesus in intricate sculptures made from stones, gems, minerals, and petrifications
4. Buddy Holly Crash Site
22728 Gull Ave., Clear Lake, IA
February 3, 1959 is known as the "Day the Music Died," as it marked the tragic day music stars Buddy Holly, Ritchie Valens, and J.P. "The Big Bopper" Richardson's plane crashed in an Iowa field. At the site of the crash you can find a DIY stainless steel monument to the musicians and pilot depicting a guitar and three records. Adjacent to the memorial is a giant pair of thick black glasses, a signature trademark of Buddy Holly.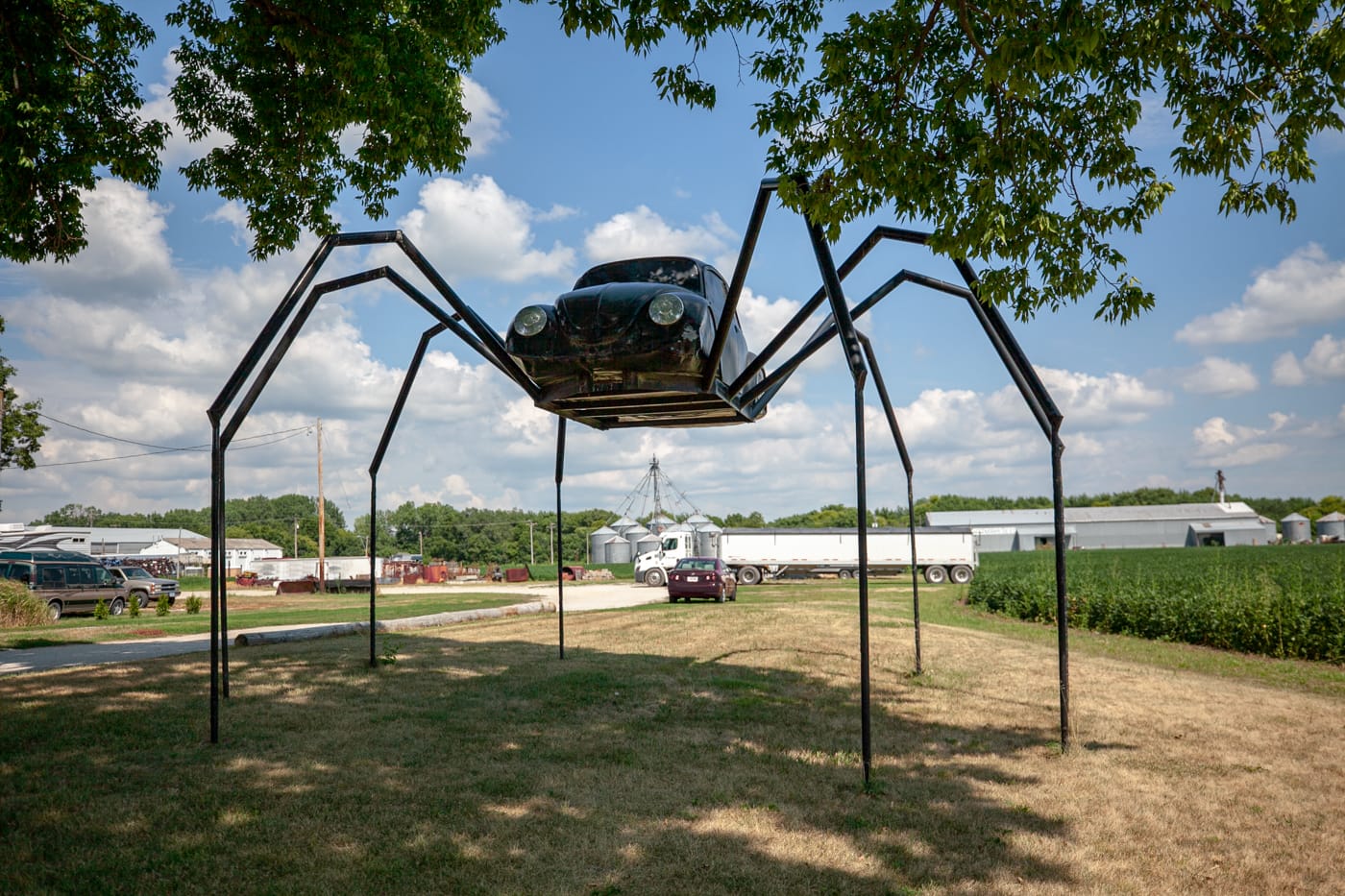 5. Volkswagen Beetle Spider
649 S Chestnut St, Avoca, IA
This giant VW beetle spider in Avoca, Iowa is made from a vintage Volkswagen beetle car (VW bug) sitting on top of eight long, thin, spider legs. It's a creepy roadside attraction near I-80.
6. Matchstick Marvels Museum
319 2nd Street, Gladbrook, IA
At the Matchstick Marvels Museum in Gladbrook, Iowa you will find the world's largest collection of art made from matchsticks. Since 1977 local artist Pat Acton has used over 7 million matchsticks to create incredibly details models. From Paris's Notre Dame to Harry Potter's Hogwarts School of Witchcraft And Wizardry, these incredible works of art make a fun road trip pit stop.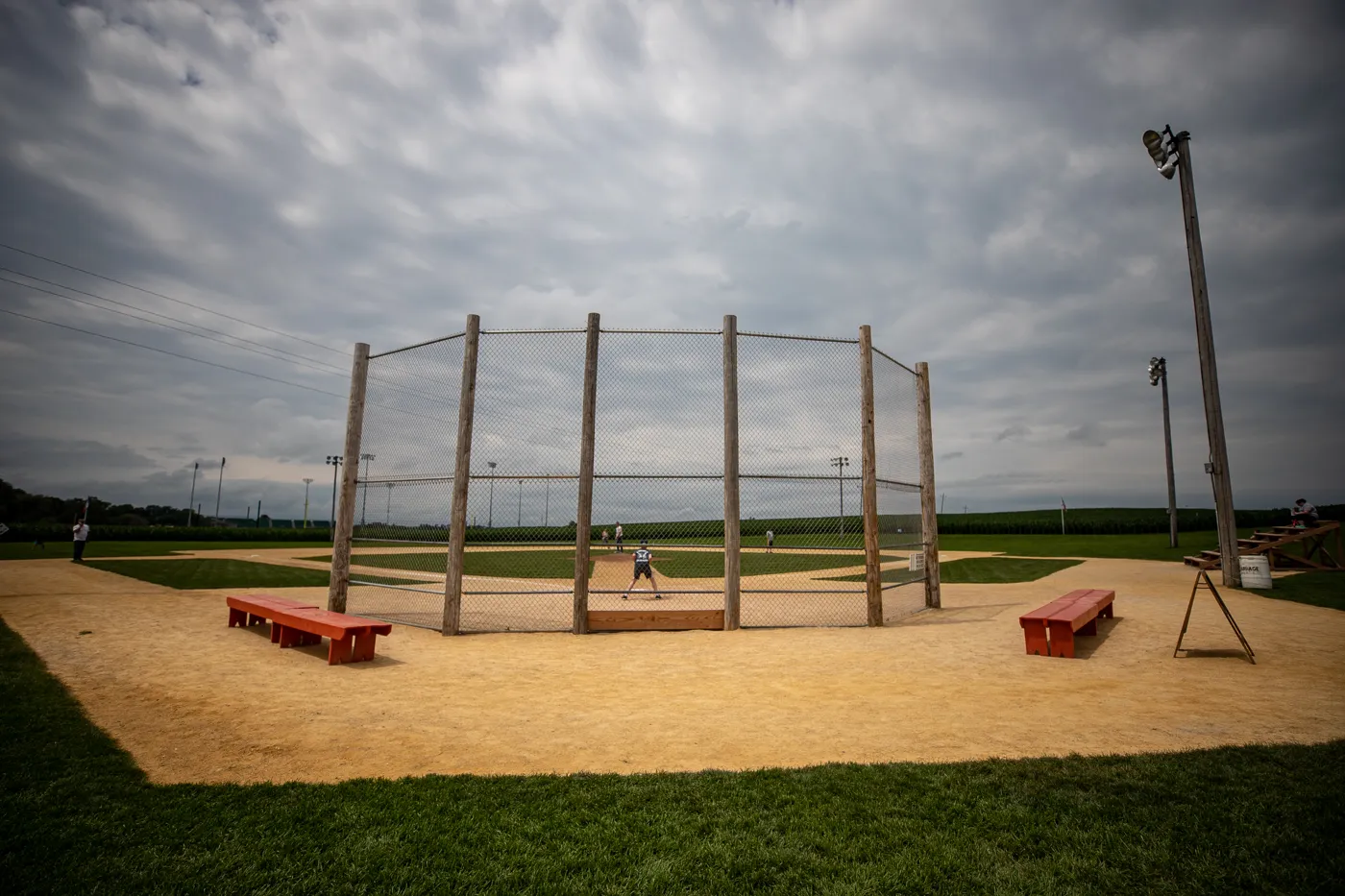 7. Field of Dreams Movie Site
28995 Lansing Rd, Dyersville, IA
In 1989 the movie Field of Dreams premiered to the world. The movie depicts an Iowa farmer who builds a baseball field among his crops that attracts the ghosts of baseball history. It brought us the famous line, "if you build it, he will come," which proved true in more ways than one. For the movie, an actual baseball field was constructed in rural Iowa, and the tourist attraction still attracts visitors today. You can visit the Field of Dreams movie site in Dyersville and, if you're lucky, see a ghost or a game.
8. World's Largest Concrete Gnome
1407 S University Blvd, Ames, IA
The World's Largest Concrete Gnome is a 15-foot-fall garden sculpture that would rival any giant. The oversized garden ornament lives at Reiman Gardens at Iowa State University in Ames, Iowa.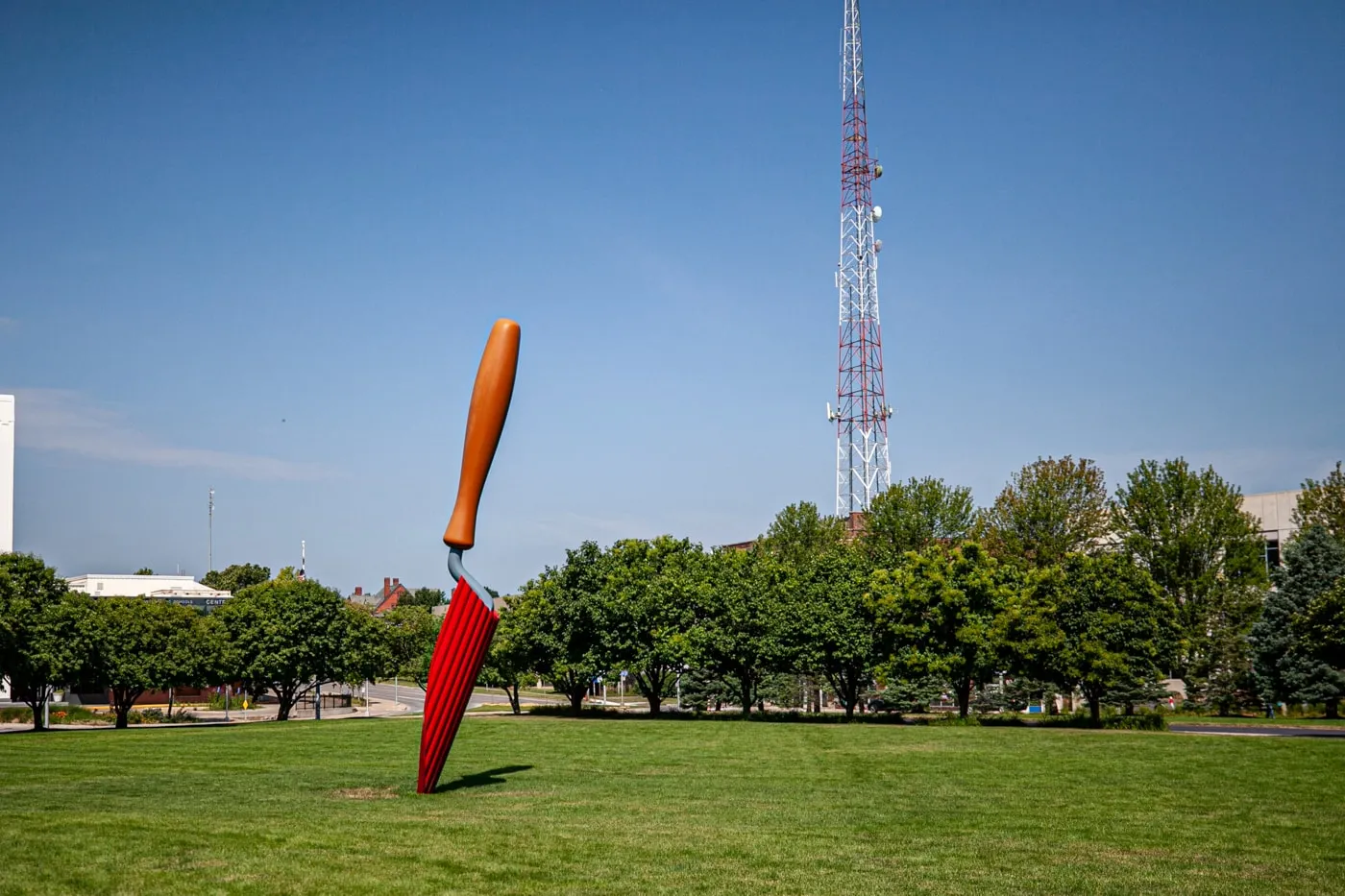 9. Plantoir – Giant Garden Trowel
1749 Locust St., Des Moines, IA
Plantoir (the French name for the garden tool) was the vision of famous pop artists Claes Oldenburg and Coosje van Bruggen. Sculpted in 2011, this giant garden trowel a 23-foot tall, 2,300 pound larger than life version of the everyday object. Visit this weird Iowa roadside attraction in Des Moines.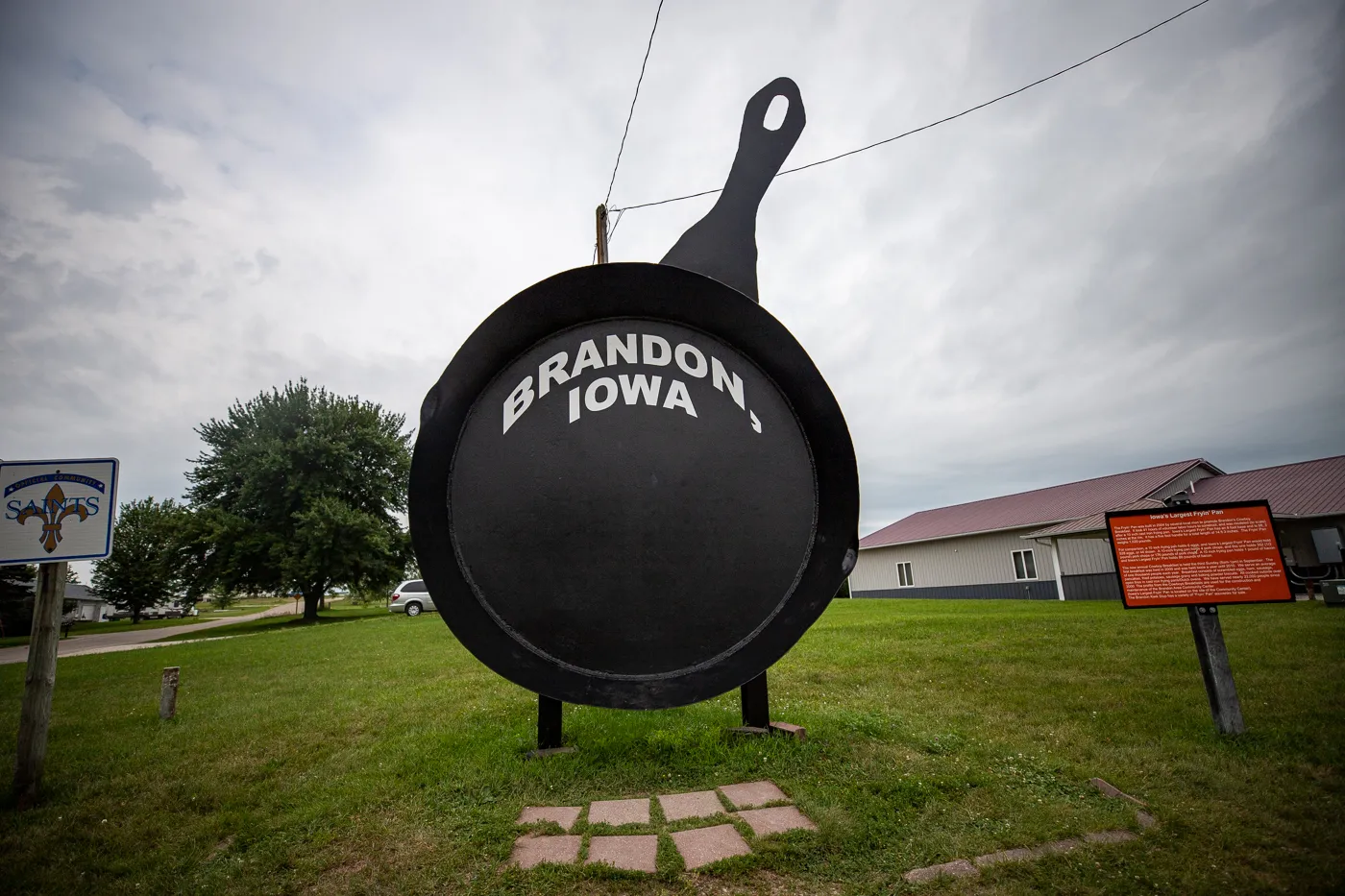 10. Iowa's Largest Frying Pan
800-850 Main St, Brandon, IA
Iowa's Largest Frying Pan stands at 9 feet, 3 inches wide and 14 feet 3 inches long and weighs 1,020 pounds. While it's not the world's largest frying pan, it could cook up 528 eggs, 88 times the amount a standard 10-inch skillet could fry. This roadside attraction in Iowa was built in 2004 for the town's Cowboy Breakfast Festival.
11. Snake Alley – The Crookedest Street in the World
409-499 N 6th St, Burlington, IA 52601
Snake Alley in Burlington, Iowa is also known as "The Crookedest Street in the World." The winding street was built in 1894 to move traffic up and down a too-steep hillside. This ultra-winding road was recognized as as "Unbelievably Crooked" by Ripley's Believe It or Not! in 2017 and was granted the number one Odd Spot in their Odd Spots Across America Campaign.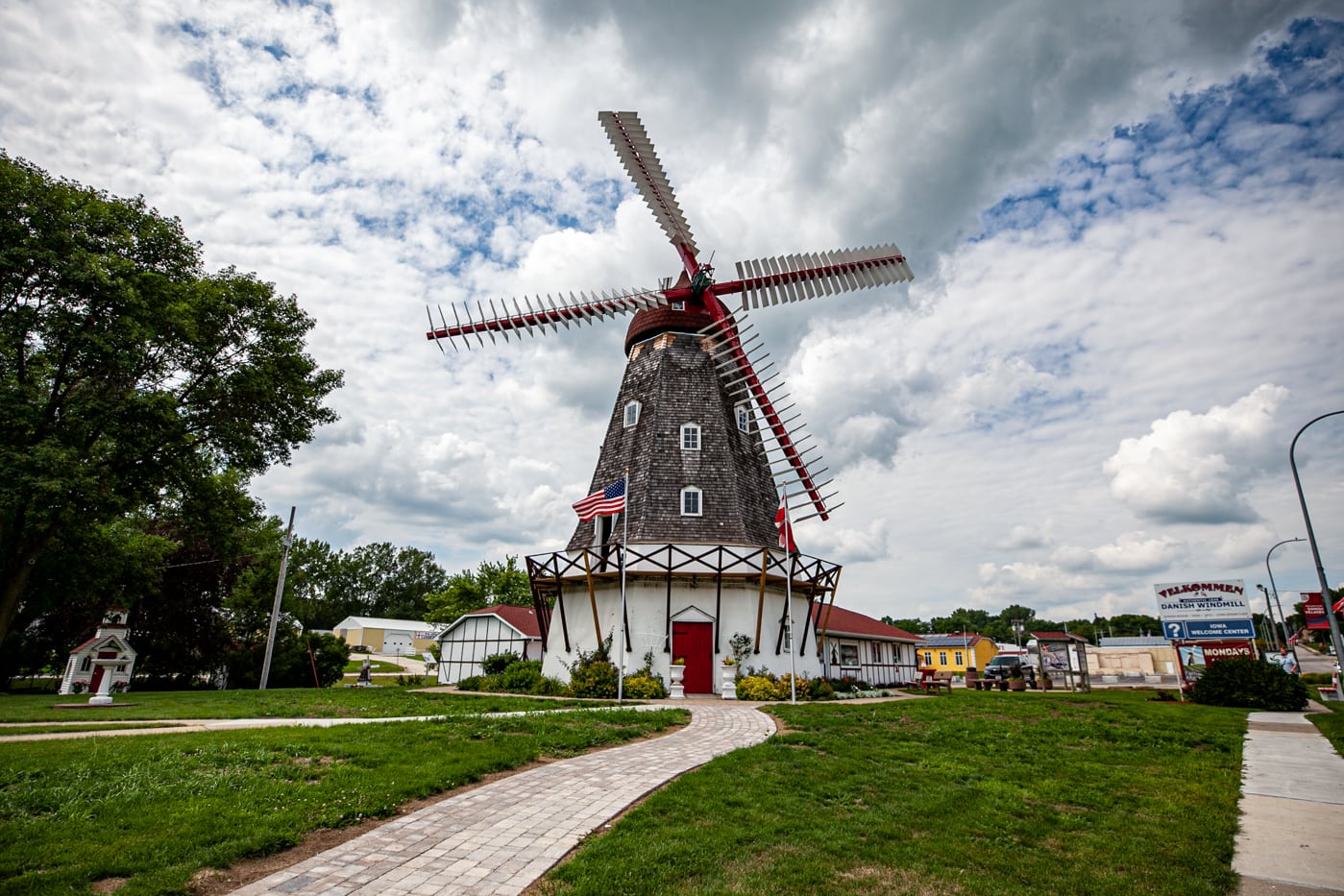 12. Working Danish Windmill
4038 Main St., Elk Horn, IA
Elk Horn and nearby Kimballton make up the largest Danish settlement in the United States. In the 1940s the town raised over $30,000 to buy a working Danish windmill for themselves and had it shipped over from Denmark. Today the Danish windmill is a popular Iowa tourist attraction and a fun Iowa roadside attraction that's not too far a drive from Interstate 80.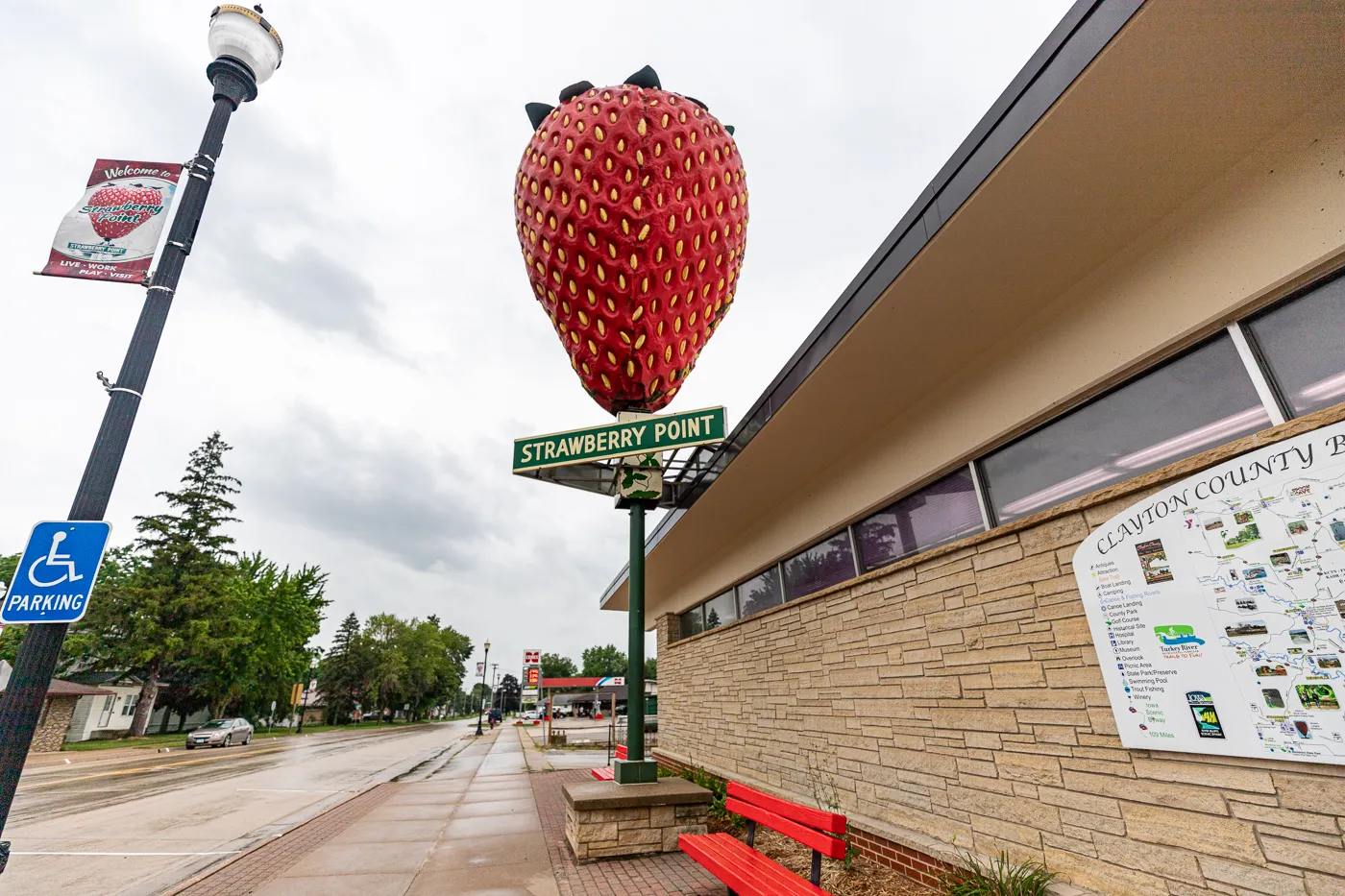 13. World's Largest Strawberry
111 Commercial St., Strawberry Point, IA
Strawberry Point, Iowa is home to the world's largest strawberry — a 15-foot tall fiberglass berry. This Iowa road trip stop stands on a post in front of the town's City Hall where it was dedicated in the late 1960s.
14. American Gothic House
300 American Gothic St, Eldon, IA
Officially named the Dibble House, this Eldon, Iowa home is better known to most as the American Gothic House. It's the distinctive building depicted in Grant Wood's 1930 painting and visitors are invited to this Iowa tourist attraction to recreate the famous artwork for themselves, pitchfork and all.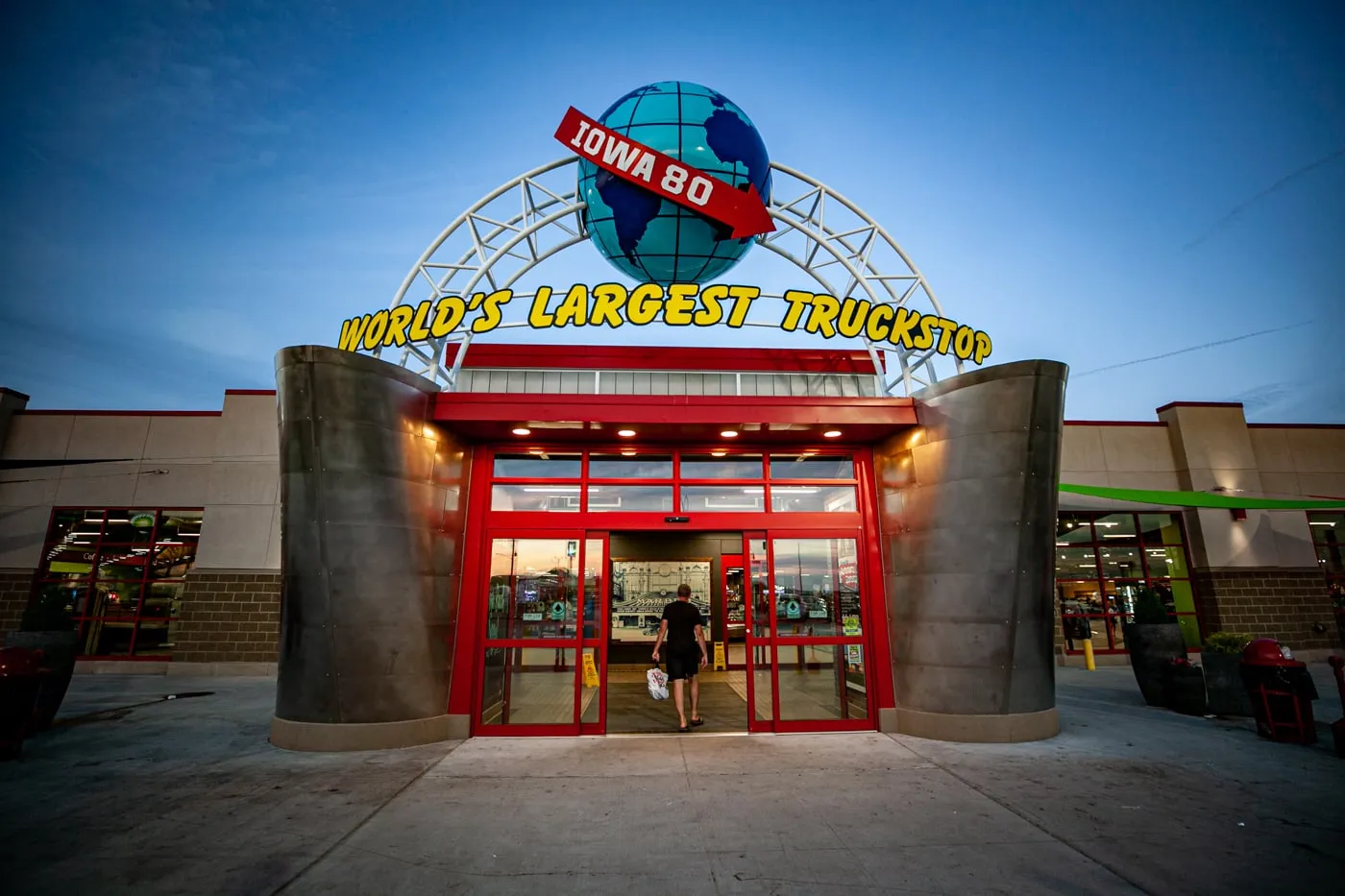 15. The World's Largest Truck Stop
If you're driving on an Interstate 80 road trip near the Iowa/Illinois border it's hard to miss Iowa 80, the world's largest truckstop. Besides gas pumps and a convenience store, this truck stop has everything from a movie theater to a a barber shop, and even has a full trucking museum with antique gas pumps and vintage vehicles on display.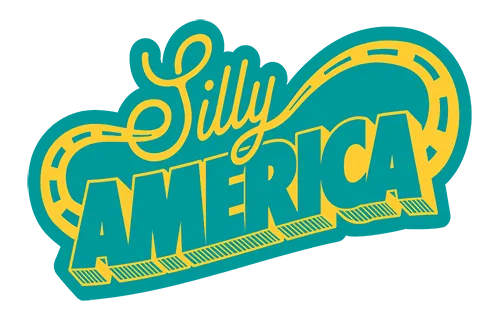 Pin this post on Iowa roadside attractions for later: