Are you planning an Arkansas road trip and want to find all the best Arkansas roadside attractions along your route? Whether you're exploring the Ozark mountains, traversing the Delta flatlands, driving down next to the Mississippi River, or vacationing in Little Rock or Fayetteville, you won't want to miss these fifteen must-see places to go in Arkansas. They're fun road trip stops and great additions to your travel itinerary or route.
Below are the 15 best roadside attractions in Arkansas: from a giant raven to a dancing boar, from an alligator farm to a world of snakes, from an oversized beer can to an oversized Jesus! You won't want to miss any of these bucket list worthy tourist traps and road trip stops on your Arkansas vacation.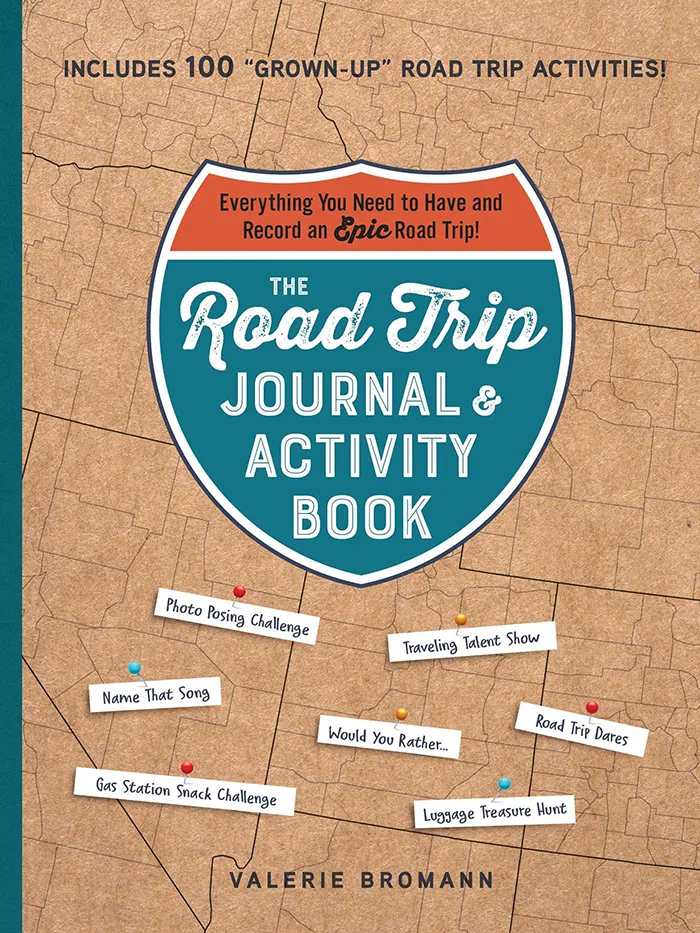 The Road Trip Journal & Activity Book
Everything You Need to Have and Record an Epic Road Trip!
Enjoy fun games and challenges to pass the time on your next road trip and have a keepsake to look back on for years to come with this entertaining must-have for your next vacation.
Ready to hit the road? Let's go! I call shotgun!
The 15 best Arkansas roadside attractions (in no particular order):
1. Big Raven Statue
211 US Hwy 63, Ravenden, AR
The town of Ravenden commemorates the bird that gave them their name with a giant raven statue. The fiberglass sculpture was first built in 1991 but it (and its replacement) were burned down a few years later. In 1996 a 12-foot tall cement raven was erected in its place and that big bird still stands today. At the base of the monument you'll find several inscriptions: "The Raven was the first bird sent from Noah's ark in search of land" and "The Raven has the reputation for divine or magical powers."
2. Tiny Town
374 Whittington Ave, Hot Springs, AR
Frank Moshinskie's Tiny Town is, well, a tiny town. The miniature village is lit up and electrified and features rivers, mountains, houses, bars, swimming pools, parks, and teeny little people to enjoy it all. Many of the displays were inspired by Moshinskie's USA travels and famous celebrities. What started as a Christmas display in his own home, the ever expanding Tiny Town was moved to its own building (where it still lives today) in 1963.
3. Mammoth Orange Café
103 N Highway 365, Redfield, AR
Mammoth Orange Cafe was built in 1965 by Earnestine Bradshaw and was created to look like a giant orange to rival similar Orange Julius stands. This big orange is more than just an Arkansas roadside attraction: it's a restaurant and it still in operation.
4. Hogeye, the 30-Foot-Tall Dancing Boar
HogEye, Inc., 4148 M.L.K. Jr Blvd, Fayetteville, AR
The owners of Hogeye Inc. in Fayetteville could have installed a normal sign in front of their custom merchandise business, but they decided to build a landmark instead. Inspired by their own logo that features a fierce beast on a war shield, they decided to build a 30-foot tall world's largest boar. The giant copper hog is officially named Hogeye but is nicknamed "dancing boar," as it stands vertically on his hind legs with his hooves in the air as if striking a dancing pose.
5. Arkansas Alligator Farm: Home of the Merman
847 Whittington Ave, Hot Springs, AR
An alligator farm in itself is an appealing stop on any road trip. But add in a merman and you have one of the best roadside attractions in Arkansas. Stop at the Arkansas Alligator Farm and Petting Zoo to view some alligators, pet some goats, and admire The Merman: a leathery, mummified half fish, half monkey creature that was originally captured off the coast of Hong Kong.
6. Popeye Statue
Popeye Garden, 811 Fayetteville Ave, Alma, AR
Alma, Arkansas is the spinach capital of the world and they celebrate their status was a big statue of one of the world's most famous spinach consumers: Popeye the Sailor Man. Originally the town had built a paper mache and fiberglass Popeye in 1987 but that was replaced by the current 8-foot-tall bronze statue in 2007. Find this one on top of a fountain in a park named Popeye Garden and the original at a store nearby. Also look for the town's spinach can water tower.
7. Giant Budweiser Beer Can
21163-21399 AR-22, Lavaca, AR
David McMahon, Sr. was a local cattle breeder and beer distributor who made a grand gesture to show his love for beer, specifically, Budweiser. One of the silos on his property was painted to look like a giant Budweiser can as it would have looked in 1975/76. The big beer can could hold 8,734,902 fluid ounces of beer: enough to fill eight swimming pools!
8. Christ of the Ozarks
937 Passion Play Rd, Eureka Springs, AR
Visitors flock to The Great Passion Play to watch and hour and forty-five minute retelling of the last days of Christ staged in an outdoor amphitheater. But that isn't the only reason to go. On the property you will also find a 7-story, 67-foot tall Jesus statue called Christ of the Ozarks. Built in 1966 this giant Jesus was the first attraction built for the religious theme park.
9. Beatles Park & Abbey Road
110 Abbey Road, Walnut Ridge, AR
On September 18, 1964 The Beatles landed in Arkansas. While the visit was only a short blip at Walnut Ridge Airport for the band to change planes, a lifelong tribute was born. In 2011, aa 20-foot-wide, 10-foot-tall aluminum sculpture of the Abbey Road album cover was installed at Beatles Park. You'll also find colorful murals of the Fab Four, a yellow submarine, and more around town.
10. Gateway Rabbit
Gateway, AR
Originally a parade float in the 1980s, this giant cartoonish bunny stood outside of R.C.'s Family Style Restaurant (formerly Hillbilly Restaurant) for many years. When the restaurant closed the bunny was repainted white (it used to be bubblegum pink) and was moved to a private lawn around 2007.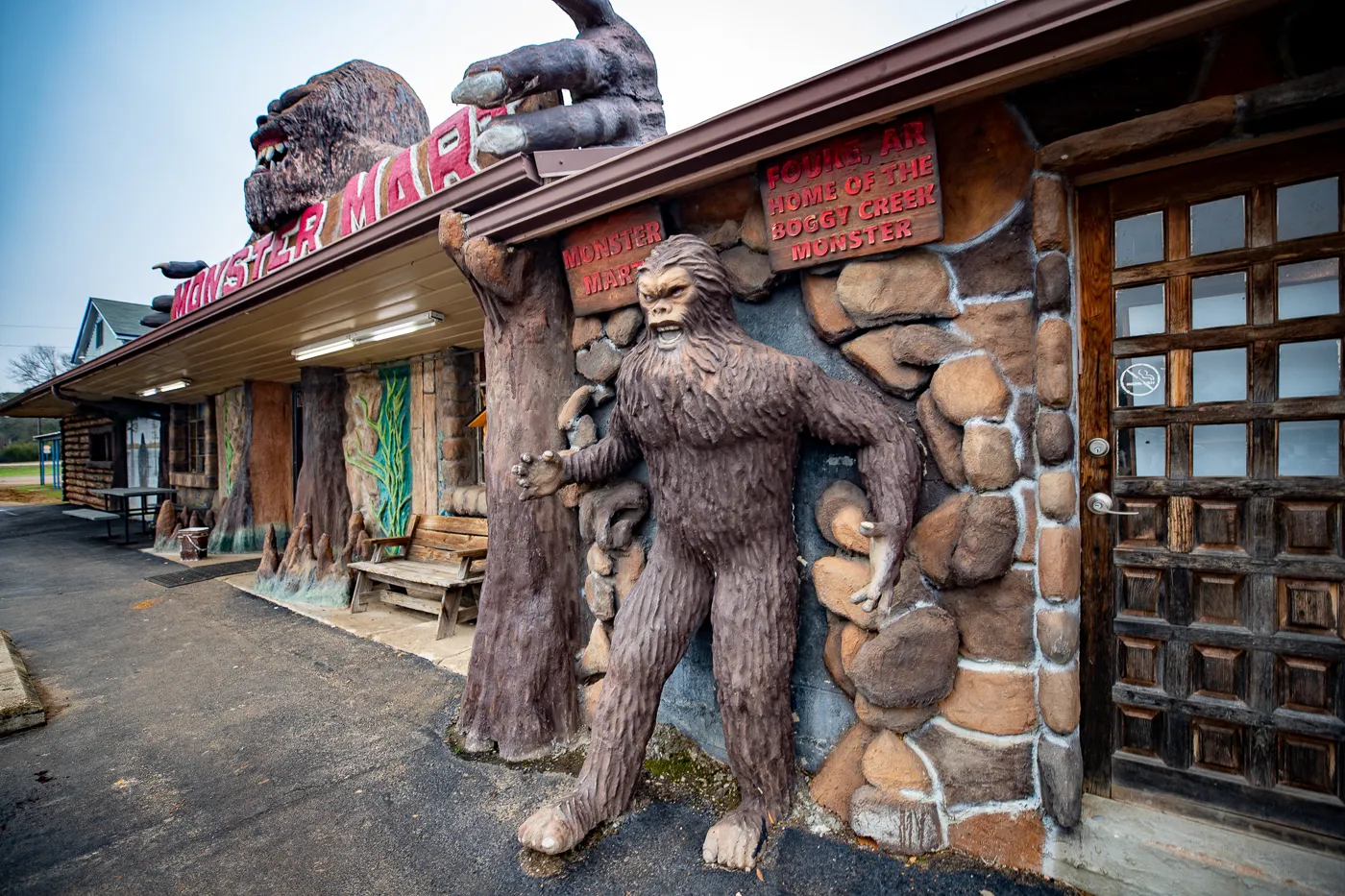 11. Fouke Monster Mart: Home of the Legendary Boggy Creek Monster
104 US-71, Fouke, AR
The Boggy Creek Monster is Fouke's answer to bigfoot. The 8-foot-tall, 300-pound, hairy monster has been stalking the area since at least 1834 and had even inspired a series of horror films. Stop at Fouke Monster Mart (formerly Peavy's) on an Arkansas road trip to learn more about this local legend, pick up some souvenirs, and snap your picture with a Boggy Creek Monster photo op.
12. Big Turkey and Rooster
QC Supply, 2285 E Pridemore Dr, Lincoln, AR
These fowl Arkansas roadside attractions stand outside QC Supply (Preferred Poultry Supply) in Lincoln. The 12-feet tall giant turkey and rooster once lived in Springdale but moved outside the poultry supply company in Lincoln in 2012.
13. The Guitar Walk
109 SW Front St., Walnut Ridge, AR
Walk along this 115-foot-long concrete Epiphone Casino guitar and hear music and stories of rock 'n' roll legends such as Elvis, Johnny Cash, and Carl Perkins who performed along Highway 67 in northeast Arkansas.
14. Snake World
3380 US-62, Berryville, AR
Dale Ertel "The Snake Man" has over 45 years of experience handling reptiles and keeps over 70 snakes in his Arkansas trailer. Stop by for a tour and to learn more than you ever wanted to know about snakes.
15. Billy Bass Adoption Center
Flying Fish, 511 President Clinton Ave, Little Rock, AR
We all remember the Big Mouth Billy Bass, the As Seen on TV hot of the late 90s/early 2000s that came in the form of an animatronic mounted fish who would sing hits like "Don't Worry… Be Happy" and "Take Me to the River." The Flying Fish restaurant in Little Rock is where these once popular novelties go to die…or, at least, retire. Stop by for some catfish and hush puppies and to admire the Billy Bass Adoption Center: a wall filled with discarded, re-homed, Big Mouth Bill Bass.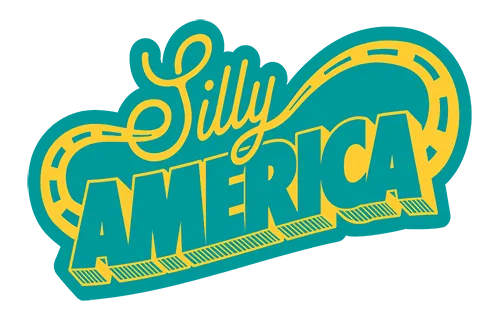 Pin this list of the 15 best Arkansas roadside attractions: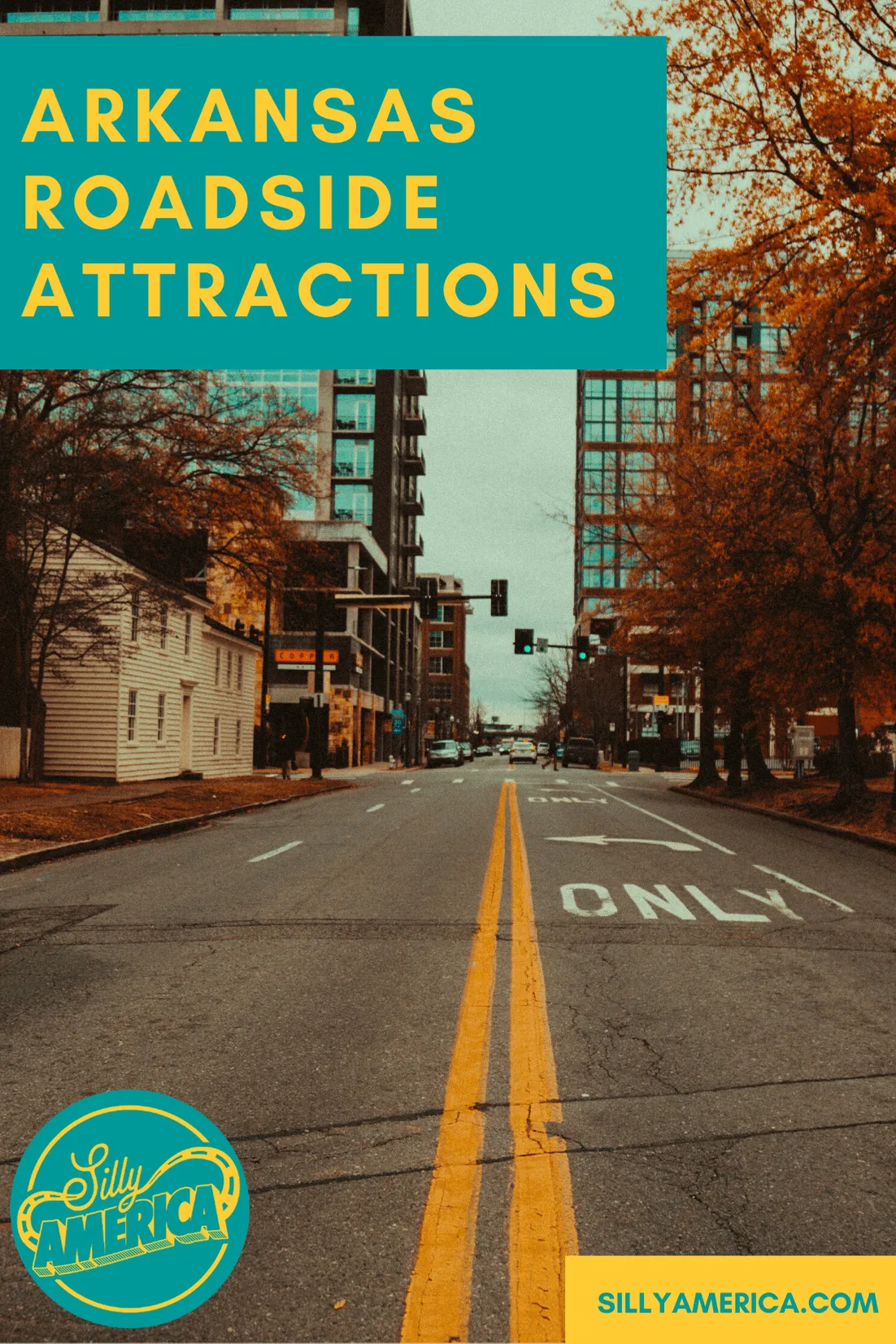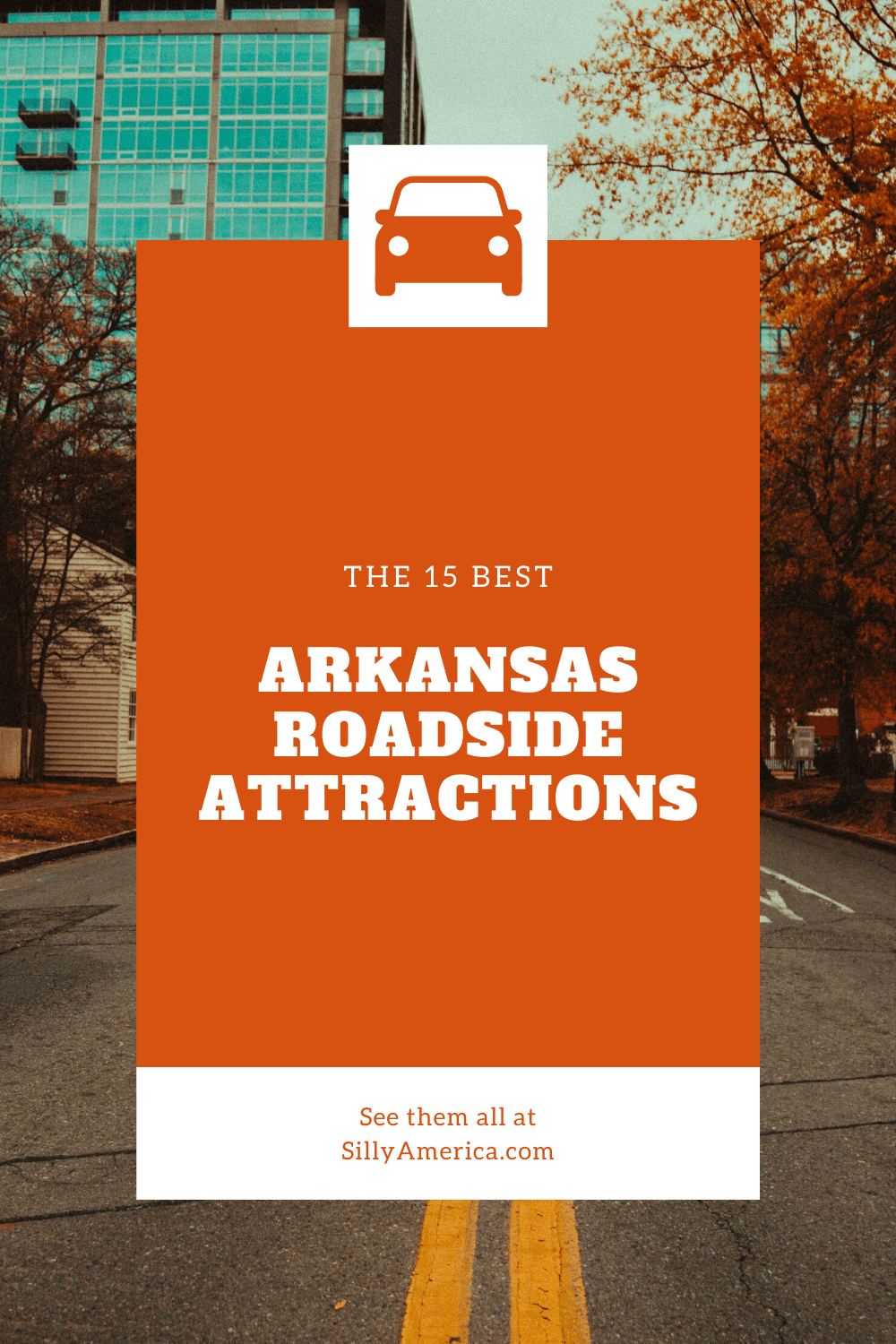 Photo by Brandon Johnson on Unsplash