Are you planning an Ohio road trip and want to find all the best Ohio roadside attractions along your route? Whether you're driving across Interstate 71 from Cincinnati to Columbus to Cleveland, driving the Ohio River Scenic Byway or Amish Country Scenic Byway, or taking U.S. Route 50, you won't want to miss these fifteen must-see places to go in Ohio. They're fun road trip stops and great additions to your travel itinerary or route.
Below are the 15 best roadside attractions in Ohio: from a giant picnic basket to a giant stamp from oversized corn to oversized crab from a house devoted to A Christmas Story to an alley devoted to David Grohl! You won't want to miss any of these bucket list worthy tourist traps and road trips stops on your Ohio vacation.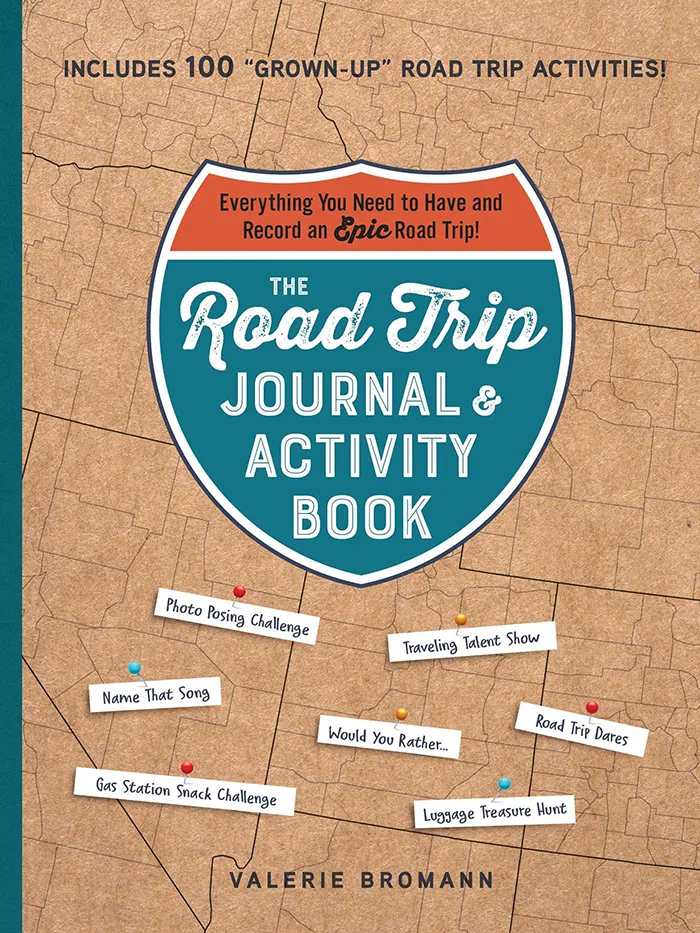 The Road Trip Journal & Activity Book
Everything You Need to Have and Record an Epic Road Trip!
Enjoy fun games and challenges to pass the time on your next road trip and have a keepsake to look back on for years to come with this entertaining must-have for your next vacation.
Ready to hit the road? Let's go! I call shotgun!
The 15 Best Ohio Roadside Attractions (in no particular order):
1. Longaberger's World's Largest Picnic Basket
1500 E Main St, Newark, OH
The World's Largest Picnic Basket was once the corporate headquarters to the Longaberger Basket Company. The giant basket was constructed to be an over-the-top replica of Longaberger's Medium Market Basket, only standing at 160 times larger than it's normal-sized counterpart. At seven-stories tall, it is 192 feet long and 126 feet wide at the base and 208 feet long and 142 feet wide at the roof, this Ohio roadside attraction is certainly the world's largest basket. Alas, the business has since closed and the big basket laid vacant for many years. But there is hope for its future: a developer bought the property in 2017 and announced in 2019 that it would be turned into a hotel.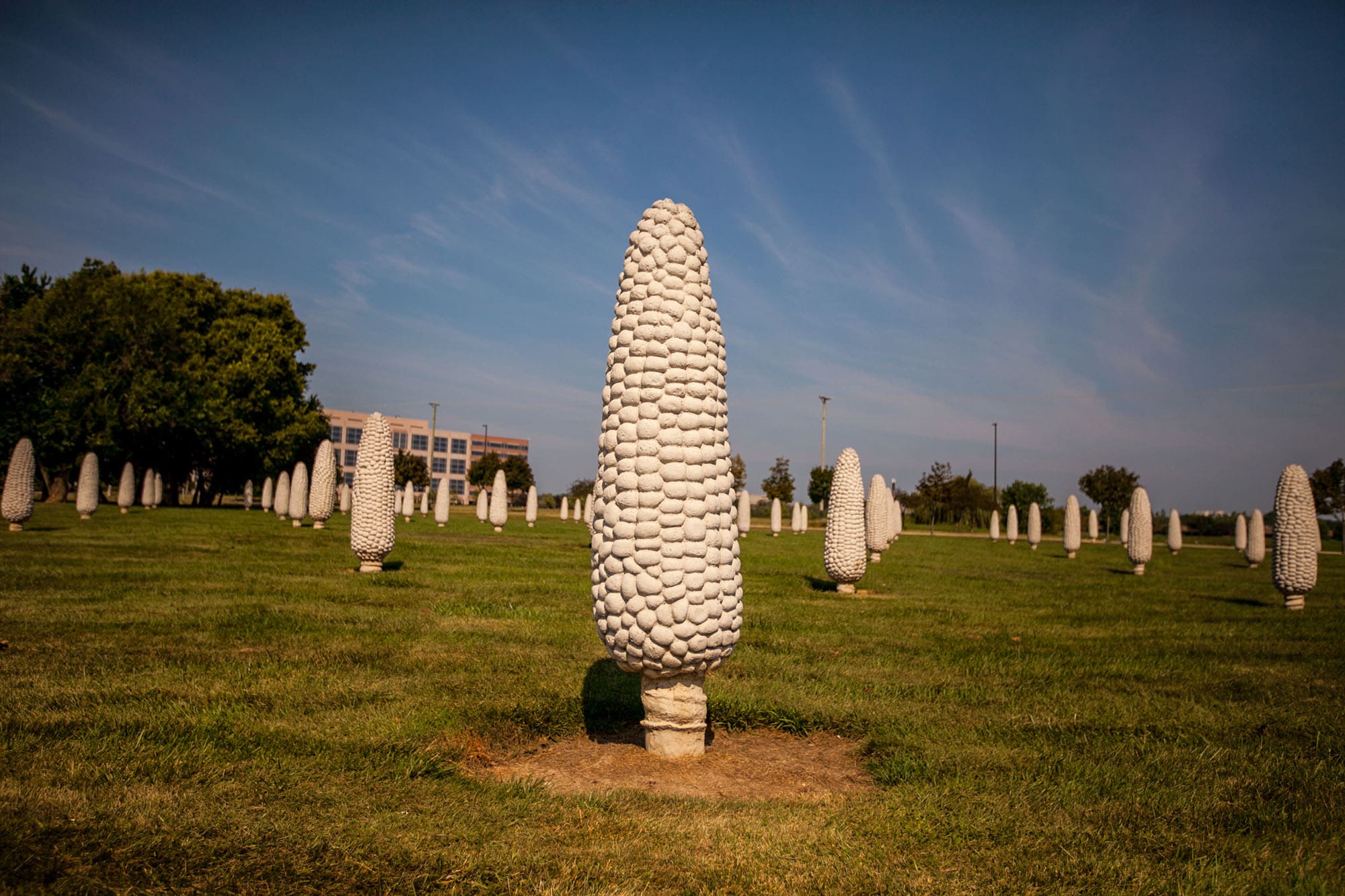 2. Field of Giant Corn Cobs
4995 Rings Rd, Dublin, OH
In a large field off of the highway in Dublin, there stand 109 human-sized ears of corn each standing at 6 feet 3 inches (1.9 m) tall and each weighing in at a whopping 1500 pounds (680 kg.). Known to some as the Field of Giant Corn Cobs, to others as just Cement Corn and, to others, as "Cornhenge" this roadside attraction is actually called "Field of Corn (with Osage Oranges)" and was designed and created by artist Malcolm Cochran, a professor of sculpture at the Ohio State University.  The piece was commissioned by Dublin Art Council's Dublin Art in Public Places program and was installed in 1994.
While it might just look like a field of white concrete corn, there's a lot of meaning behind this public art. The field itself was once farmed by Sam Frantz, a leader in the use and research of hybridized corn and the art installation symbolizes the history of the community's farming legacy and serves as a memorial to rural landscapes.
3. Futuro House, a.k.a. UFO House
9473 OH-123, Carlisle, OH
Often called UFO Houses or Flying Saucer Houses, these gray orbital pods are actually called Futuro Houses. The spacey abodes were designed as prefabricated homes by Finnish architect Matti Suuronen in 1968. After a handful of these Futuro House were built, an oil crisis forced production to stop, so only around 20 remain in the United States today. The Carlisle Futuro House is a private residence but visible from the street. And maybe even from space.
4. The Troll Hole Museum
228 E Main St, Alliance, OH
The Troll Hole is home to over 8,000 troll dolls and over 20,000 troll-related items. Sherry Groom has been collecting this world's largest troll collection since she was a child and opened the Troll Hole museum in 2013 to display the toys for the world to see.
5. World's Tallest Our Lady of Guadalupe
6601 Ireland Rd, Windsor, OH
A 33-foot-tall statue of Our Lady of Guadalupe depicting the Blessed Virgin Mary stands tall in a rural Ohio farm field. The statue at Servants of Mary Center for Peace was conceptualized by Pat and "Deacon Ed" Heinz and designed by artist Richard Hyslin. While there are many statues of Our Lady of Guadalupe found all around the world, this roadside attraction in Ohio is the tallest, being purposely built three feet larger than the previous record holder and standing on top of a cloud and angel soaring her height to 50 feet tall.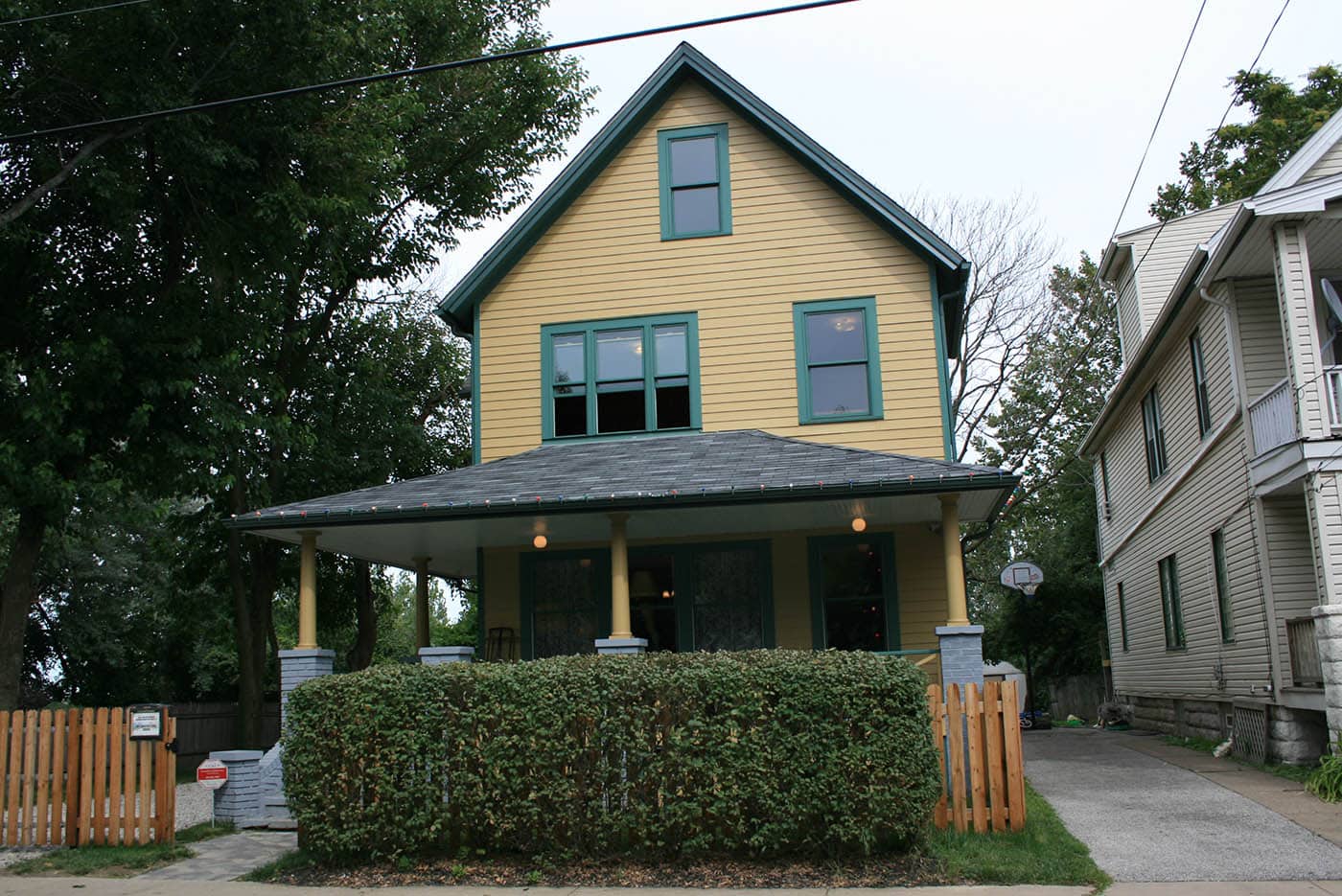 6. A Christmas Story House
3159 W 11th St, Cleveland, OH
A Christmas Story is a holiday classic, often rerun for 24-hours at a time every December 25. It is a movie about young Ralphie Parker, a boy whose only Christmas wish is to receive a BB gun. More specifically, an Official Red Ryder Carbine-Action Two-Hundred-Shot Range Model Air Rifle. Of course, his family, teachers, and even the department-store Santa are against it, famously proclaiming "You'll Shoot Your Eye Out." While the movie itself takes place in the fictional town of Hulman, Indiana (based off of Hammond), the Christmas Story House actually resides in Cleveland, Ohio and is open for tours. The Ohio Christmas Story House itself was only used for exterior shots (the interior was filmed on a sound stage in Toronto, Ontario), but the owner has done a spectacular job of transforming the property both inside and out to mimic what was seen on screen.
7. Giant Dancing Rabbits
Ballantrae Community Park, 6350 Woerner Temple Rd, Dublin, OH
The Ballantrae Giant Dancing Hares were commissioned in 2001 from English artist Sophie Ryder. The 24-foot trio of dancing rabbits were made from scrap metal: if you look closely you can see all kinds of trinkets and objects poking through!
8. World's Largest Horseshoe Crab
7592 OH-124, Hillsboro, OH
The World's Largest Horseshoe Crab started its life at the Freedom Worship Baptist Church in Blanchester, Ohio. In 2015 the crab was put up for sale and local Ben Sexton bought it, hacked it apart, and reassembled it in a new spot 25 miles away. The giant crab, nicknamed Crabby, is 68 feet long and 28-feet wide and can now be found next to Highway 124 in Hillsboro.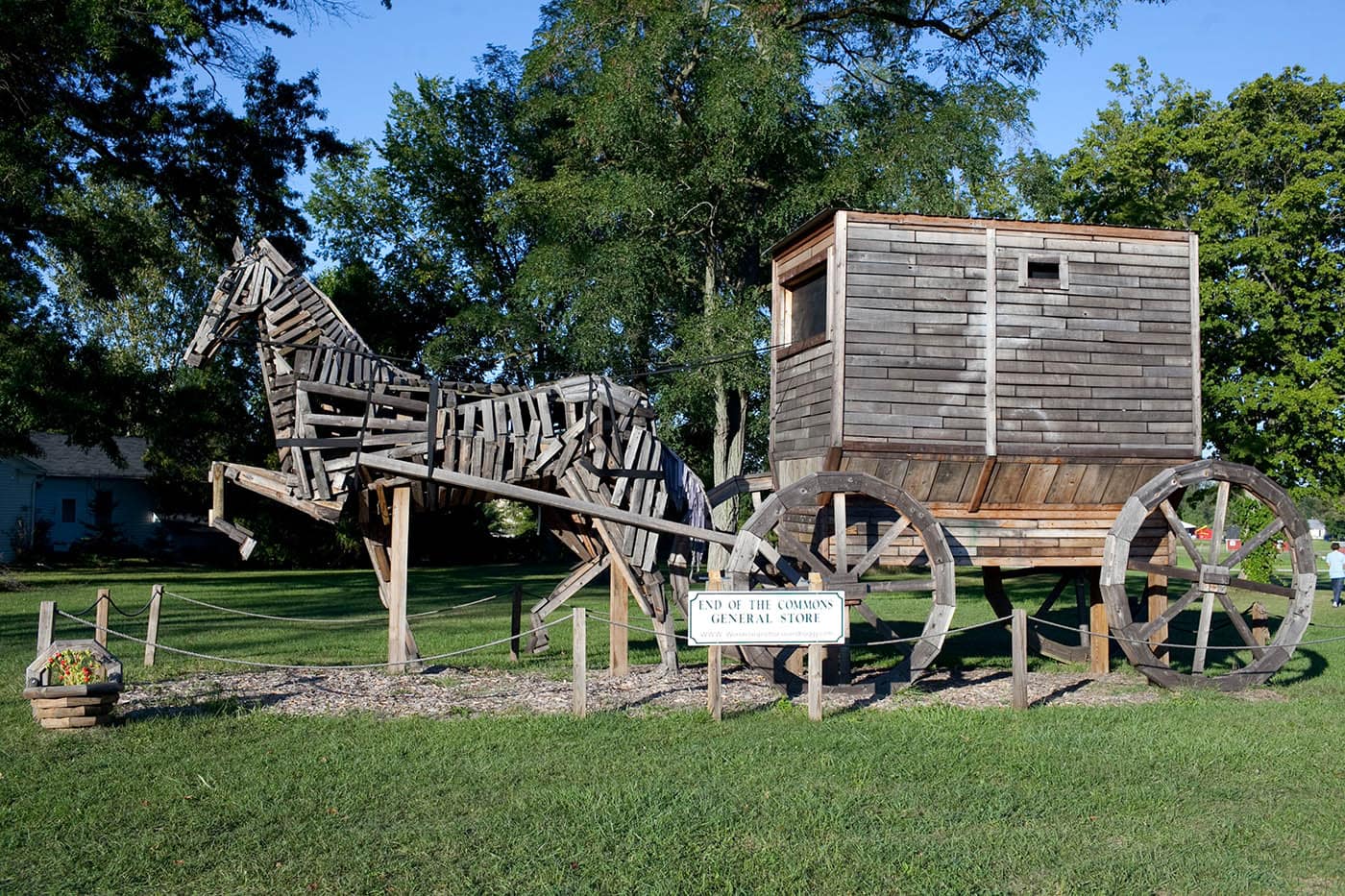 9. World's Largest Amish Horse and Buggy
End of Commons General Store, 8719 State Route 534, Mesopotamia, OH
This 32-foot long horse and carriage was designed by Chris McConnell. The fully proportional giant wooden horse and buggy is made up of 2,300 board feet of lumber and 30 pounds of screws. The wheel size is 7 feet tall and the horse stands at 29.25 hands tall! Mesopotamia is the fourth largest Amish community in the United States, so the creation is definitely a case of art imitates life. It's the perfect icon to draw in visitors. In fact, if you drive up to find the World's Largest Amish Horse and Buggy you'll probably pass a few normal-sized real-life horse and buggies on your way.
10. World's Largest Cuckoo Clock
100 N Broadway St, Sugarcreek, OH
The World's Largest Cuckoo Clock was built in 1972 and lived for years at Alpine-Alpa restaurant in Wilmot. In 2010 the 24-foot tall clock was moved to Sugarcreek, "The Little Switzerland of Ohio." Now fully restored, visitors can watch three-foot-tall dancers polka to Bavarian music played by a robot oompa band as the clock cuckoos.
11. Giant Ronald McDonald
7352 East St #37, Sunbury, OH
Outside of the McDonald's in Sunbury, Ohio is a strange, giant Ronald McDonald spreading his arms and embracing some food characters, like a cartoon hamburger, fries, Happy Meal, and soda.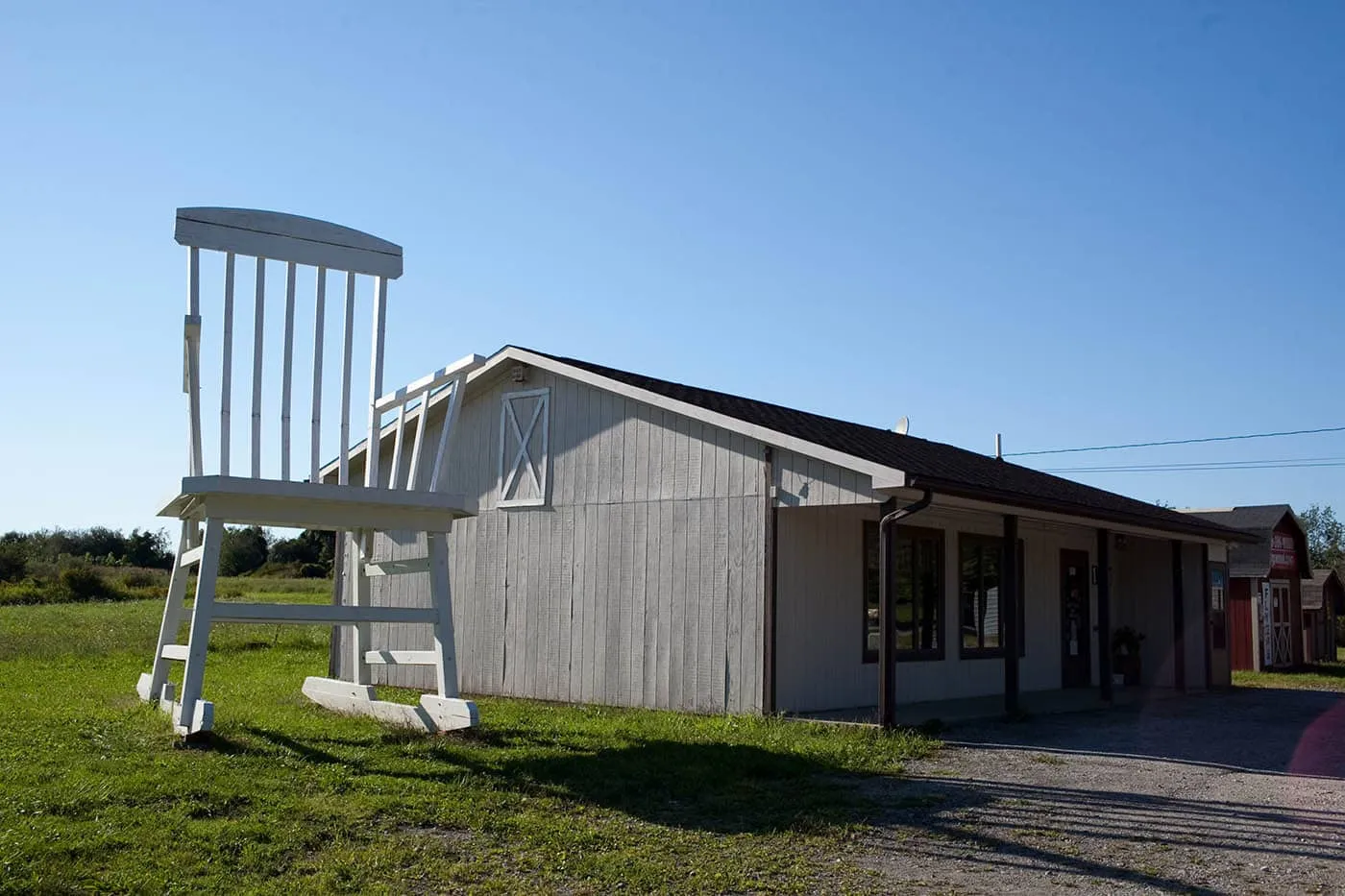 12. Giant Rocking Chair
1933 Hwy 45, Austinburg, OH
At twenty-feet tall this Ohio roadside attraction isn't the world's largest rocking chair, or even in the top three, but this giant rocking chair in Austinburg is still a worthy stop on an Ohio road trip.
13. David Grohl Alley and the World's Largest Drumsticks
Warren, OH
David Grohl, Nirvana drummer and founder of the Foo Fighters, was born in Warren, Ohio. The town's David Grohl Alley took a dilapidated alleyway and turned it into a colorful shrine to the rock star. The alley features murals, a David Grohl drummer sculpture, and the World's Largest Drumsticks.
14. World's Largest Washboard
14 Gallagher Ave., Logan, OH
The World's Largest Washboard hangs on the side of Columbus Washboard Company in Logan. Visit this Ohio roadside attraction any day of the year or during the Annual Washboard Music, Arts and Crafts Festival. Call ahead and you might also be able to take a tour of the factory.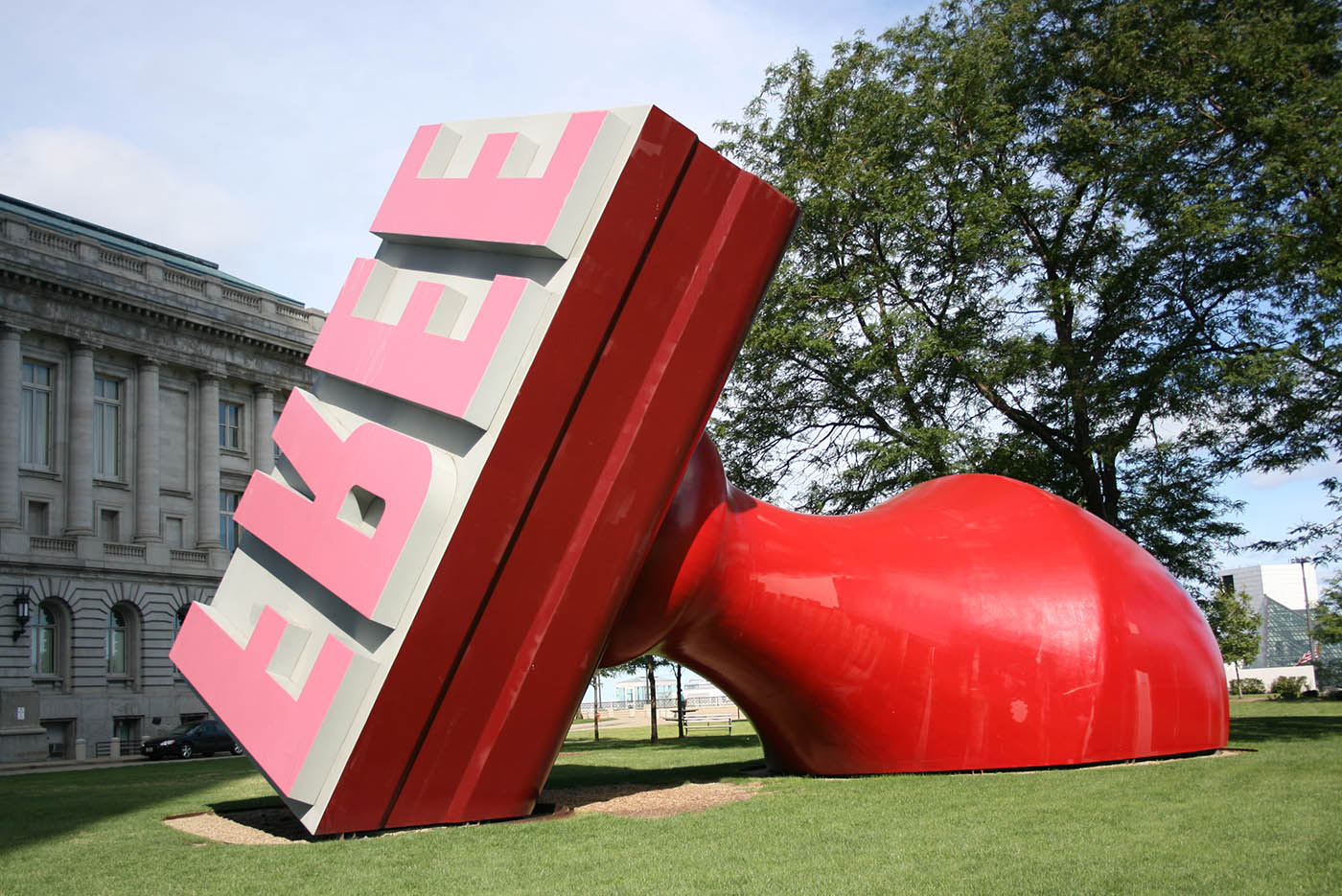 15. World's Largest Rubber Stamp
Inaugurated on November 15, 1991, the bright red FREE stamp in Cleveland stands at a whopping 28-feet tall and 48-feet long and is FREE for all to see. The world's lagest rubber stamp was designed by famed pop artist Claes Oldenburg, who has created large-scale renditions of everyday objects all around the world.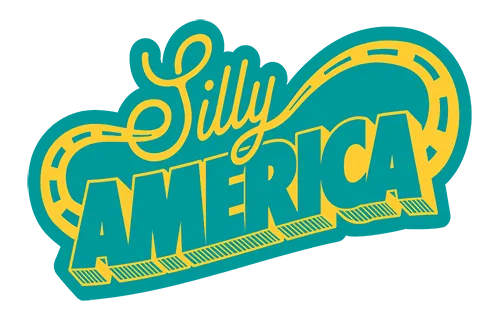 Pin this post on the 15 Best Ohio Roadside Attractions to save for later: