Overwhelmed with planning a road trip and all the things that go into pre-vacation planning? Use this road trip checklist to organize your planning and get a step-by-step guide to all the things you should be thinking about and doing to prepare to hit the road for a long car ride. Plus download the free printable PDF to always have this to do list on hand.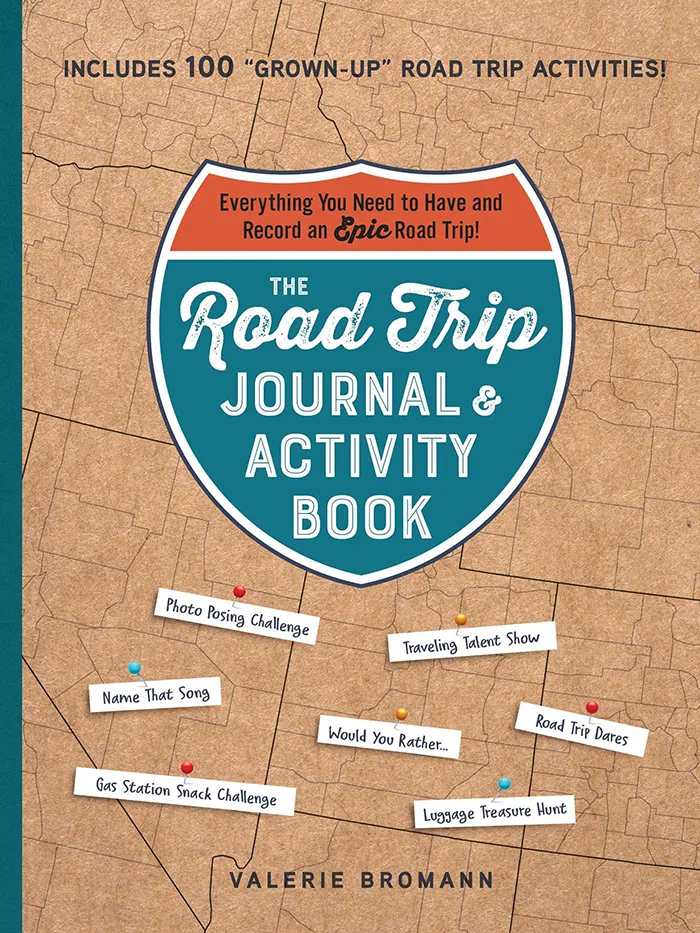 The Road Trip Journal & Activity Book
Everything You Need to Have and Record an Epic Road Trip!
Enjoy fun games and challenges to pass the time on your next road trip and have a keepsake to look back on for years to come with this entertaining must-have for your next vacation.
Pre Road Trip Checklist
Pre Road Trip Planning Checklist
☑ Pick a Destination
You can't take a road trip unless you know where you're road tripping to! The very first thing you need to do when planning a road trip is to decide where you're going to go. This is an essential step because it defines everything else you need to do to get ready for your vacation. Your budget, need for flights and rental cars, itinerary, and even packing list are determined based on where you are going.
☑ Choose a Route and Map Your Stops
Once you know where you're going you can get a better idea of how to get there. Plan your road trip Route with Google Maps or use an app like RoadTrippers Plus. Once you know your route you can start researching and plotting stops along the way and in your destination.
Need help planning your road trip route? Join our challenge! Sign up below and in just five days you can have your entire route planned!
☑ Make a Budget
You should never take a road trip without first determining your budget. Budgeting is essential to informing every decision you make along the way. Are you going to stay in 5 Star hotels or roadside motels? Are you going to splurge on a bunch of big activities or stick to free sites? Are you eating at restaurants or fast food drive throughs? And just how much gas are you going to need to do everything you want to do? Having a road trip budget is essential, learn how to set a road trip budget here.
1-2 Months Before Road Trip Checklist
☑ Find a Pet Sitter or House Sitter
You want to make sure that any furry (or not so furry) friends left at home are well taken care of while you're away. And, for longer trips, you might consider a house sitter to take care of your entire home. It you've never used a pet sitter or house sitter before, start looking early because it can take a while to find the right fit and many sitting services have service caps and might not have room for new clients. If you already have a dog or cat sitter you know and love book as soon as you can to be sure you are on their calendar.
☑ Make a Packing List
Don't wait until the last minute to start making a road trip packing list! Start early to allow yourself plenty of time to gather everything you need from around your house or shop for new things. Check out our Ultimate Road Trip Packing List for ideas on what to pack.
☑ Shop for Things You Need
Once you know what you need to pack, you'll know what you do and do not have. Now is the time to start shopping for anything on your packing list that you do not already own.
☑ Buy a National Parks Pass
If you're planning on visiting any National Parks while on your road trip, consider buying a National Parks Pass. This annual pass allows access to 2,000 federal recreation sites across the country, including all national parks.
☑ Check Drivers License Expiration
You don't want to be a thousand miles from home and realize you've been driving on an expired drivers license. A month or two before your long car ride double check the expiration date and renew your license if need be.
☑ Plan Your Itinerary
You should already know by now your destination and a general idea of your route, but now is the time to start getting more specific. Research all your stops, make a spreadsheet of everywhere you want to go, gather information, and start forming a solid plan.
☑ Book Your Hotels
Now is the time to start booking your trip! Once you know where you're going and have an itinerary that includes where you plan to stop each night, start researching where to stay, reading hotel reviews, and book hotels along your route.
☑ Book Your Rental Car
If your road trip is starting in a different city from where you live, you don't own a car, or you would just rather not put the extra miles on your own vehicle, you're going to need to rent a car for your road trip. Book early to get the best deals.
☑ Book Flights
If your road trip is starting in a different city from where you live, you'll need to book flights to get there. Book early for the most flexibility and best deals.
☑ Book Activities and Tours
If you are planning any excursions, activities, or tours, book them ahead of time to make sure you get a spot.
☑ Purchase Travel Insurance
Travel insurance can help with unexpected delays, cancellations, or medical emergencies. Look into buying travel insurance to see if it is right for you and your trip.
The Week Before Road Trip Checklist
☑ Confirm Your Bookings
Before you leave on your trip make sure you've organized and confirmed all your bookings. If you have email confirmations, bookmark them and add them to a special folder for easy access and make sure your flights, rental cars, hotels, excursions, and sitters are all still confirmed.
☑ Get Your Car Checked
Before you hit the road, hit the mechanic. Have your car looked over to make sure nothing is wrong and have anything that needs to be maintenanced maintenanced. Check your engine lights, top off fluids (windshield fluid, brake fluid, coolant), check your tire pressure, check your spare tire, check your brake pads and rotors, and make sure your headlights and turn signals are properly working. If you're driving thousands of miles, get an oil change now so you don't have to stop mid-trip.
☑ Buy Snacks
Buying road trip snacks ahead of time is an essential part of road trip planning! Grocery store (or wholesale store) snacks will have a wider variety and better price than you'll get at gas stations along the way and packing up your car with snacks means you'll never have to wait until the next time you need gas to get a bag of chips.
☑ Make a Road Trip Playlist
When you're driving through multiple towns and multiple states, you don't want to have to be playing constant catch up with radio static. At least a week out, make a road trip playlist of everyone in the car's favorite songs. Or, better yet, make a themed playlist based on where you're going!
☑ Download Road Trip Apps
Make sure you have all the best road trip apps downloaded to your phone. Some of my favorites include the Roadside America app, RoadTrippers Plus (Use code SILLYAMERICA to save $5!), and GasBuddy.
☑ Pack Your Bags
A week before your road trip is the perfect time to start packing your bags. You don't want to stress yourself out with waiting until the last minute but don't want to start so early that you need to unpack something in the meantime or forget what is already in your bag. Need packing help? Check out our guides on what to pack for a road trip, fun things to pack for a road trip, and road trip luggage.
☑ Share Your Itinerary
In case of emergency, it is always a good idea to share your itinerary with someone who is not going on the trip with you. Your parents, a sibling, or a trusted friend. Let them know where you are going, when you'll be where, where you are staying, and a general route.
The Night Before Road Trip Checklist
☑ Look Up the Weather
The night before you hit the road it's a good idea to look up the weather at your starting point, destination, and some spots along the along the way. You want to make sure you're prepared for whatever weather is coming.
☑ Water Your Plants
Water your plants the night before you leave so you've not scrambling to do it in the morning and so you don't return to wilted leaves.
☑ Make Snacks and Sandwiches
If you're making your own road trip snacks or packing sandwiches in your cooler, make them the night before.
☑ Pack Your Car
You might need to leave a few things until the morning, but get a head start on the day by packing your car with your luggage and essentials the night before.
☑ Charge Phones and Electronics
Make sure all the electronics you're bringing with you are fully charged. Don't forget to charge your mobile phone and road trip camera.
☑ Set Up Your Cat or Dog Cam or Home Surveillance Camera
Keep an eye on your pet (or your house) by setting up a motion-censored camera.
Morning Of Road Trip Checklist
☑ Finish Packing
No matter how much you've packed ahead of time, there will always be last-minute things to pack, like those sandwiches you made last night or the razor you had to use this morning. Gather up all those last minute items and get them to your car.
☑ Unplug Electronics
Unplug any electronics that won't be used while you're away, like lamps, toasters, coffee makers.
☑ Tidy Up
After a long road trip, no one wants to return home to a dirty house or an unexpected smell. Be sure to take a few minutes to tidy up and make sure every dish is cleaned and every trash bag is taken to the curb.
☑ Leave Notes for Your Sitter
Leave out a note with instructions for your pet or house sitter.
☑ Feed and Snuggle Your Pets
If you have cats or dogs be sure to leave out enough food to last until the sitter checks in. Give them extra snuggles to make sure they know you will miss them and will be back soon!
☑ Lock Up
One last step before you leave on your road trip: close all your windows and lock all your doors!
Free Printable Road Trip Checklist PDF
Right click and save the image below or click the image or button to download a free printable PDF Road Trip Checklist to use for planning a road trip.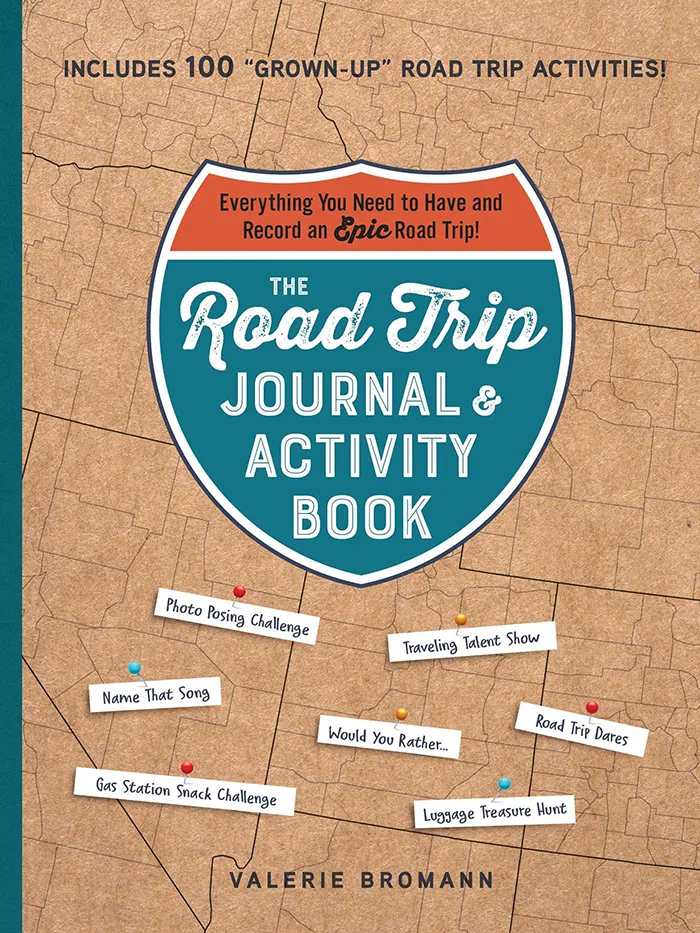 The Road Trip Journal & Activity Book
Everything You Need to Have and Record an Epic Road Trip!
Enjoy fun games and challenges to pass the time on your next road trip and have a keepsake to look back on for years to come with this entertaining must-have for your next vacation.
Pin this Road Trip Checklist to save for your next road trip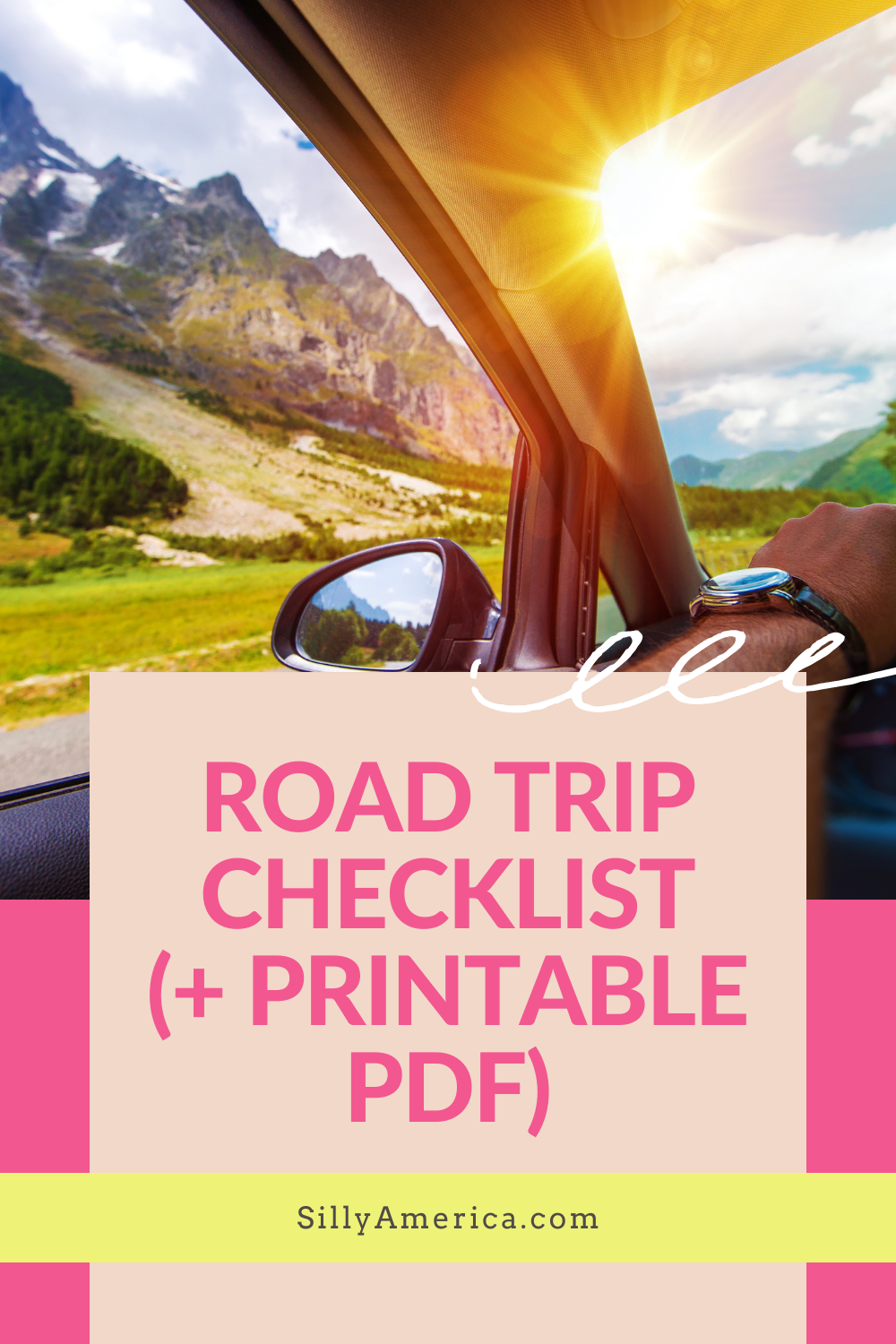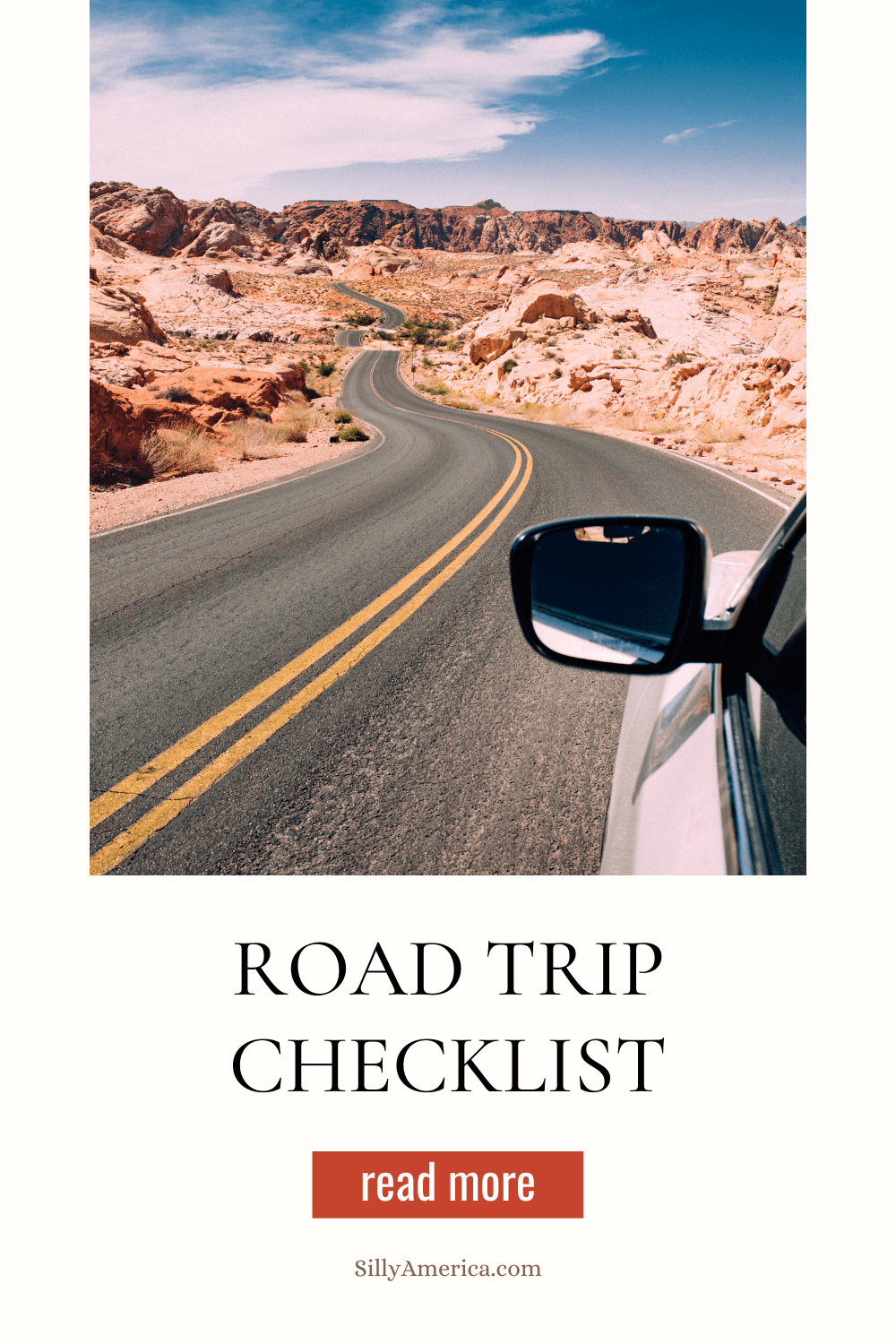 Photo by Peter Fazekas from Pexels