Make some space in your road trip itinerary for this Route 66 roadside attraction: the Gemini Giant muffler man in Wilmington, Illinois. It's out of this world!
The Gemini Giant is a 28-foot tall muffler man who stands on Route 66 outside the Launching Pad restaurant in Wilmington, Illinois. He weighs in at a whopping 438 pounds: not counting his base of the giant 8-foot rocket he holds in his hands!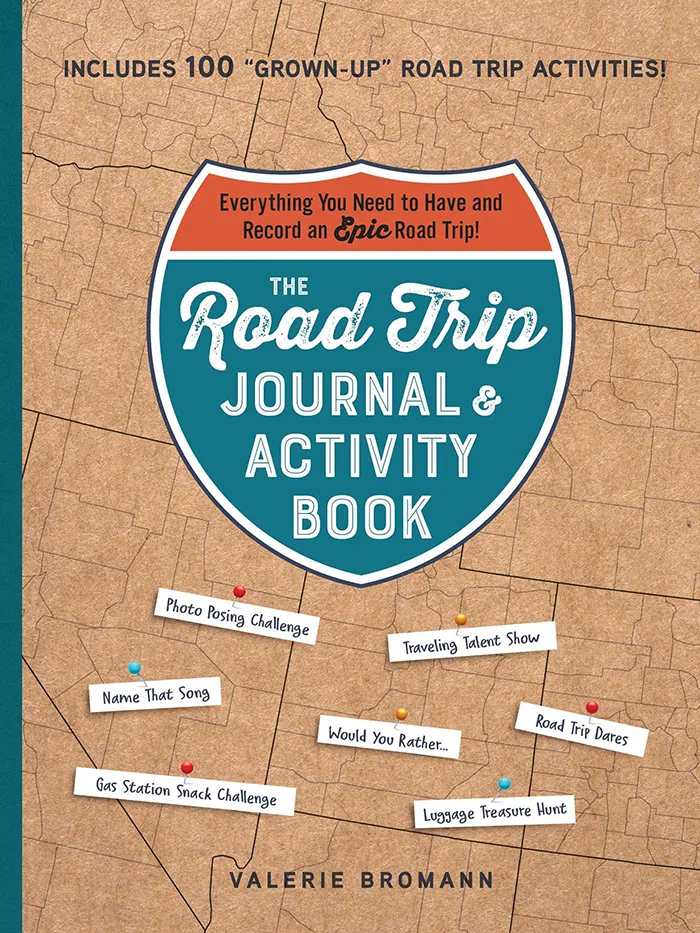 The Road Trip Journal & Activity Book
Everything You Need to Have and Record an Epic Road Trip!
Enjoy fun games and challenges to pass the time on your next road trip and have a keepsake to look back on for years to come with this entertaining must-have for your next vacation.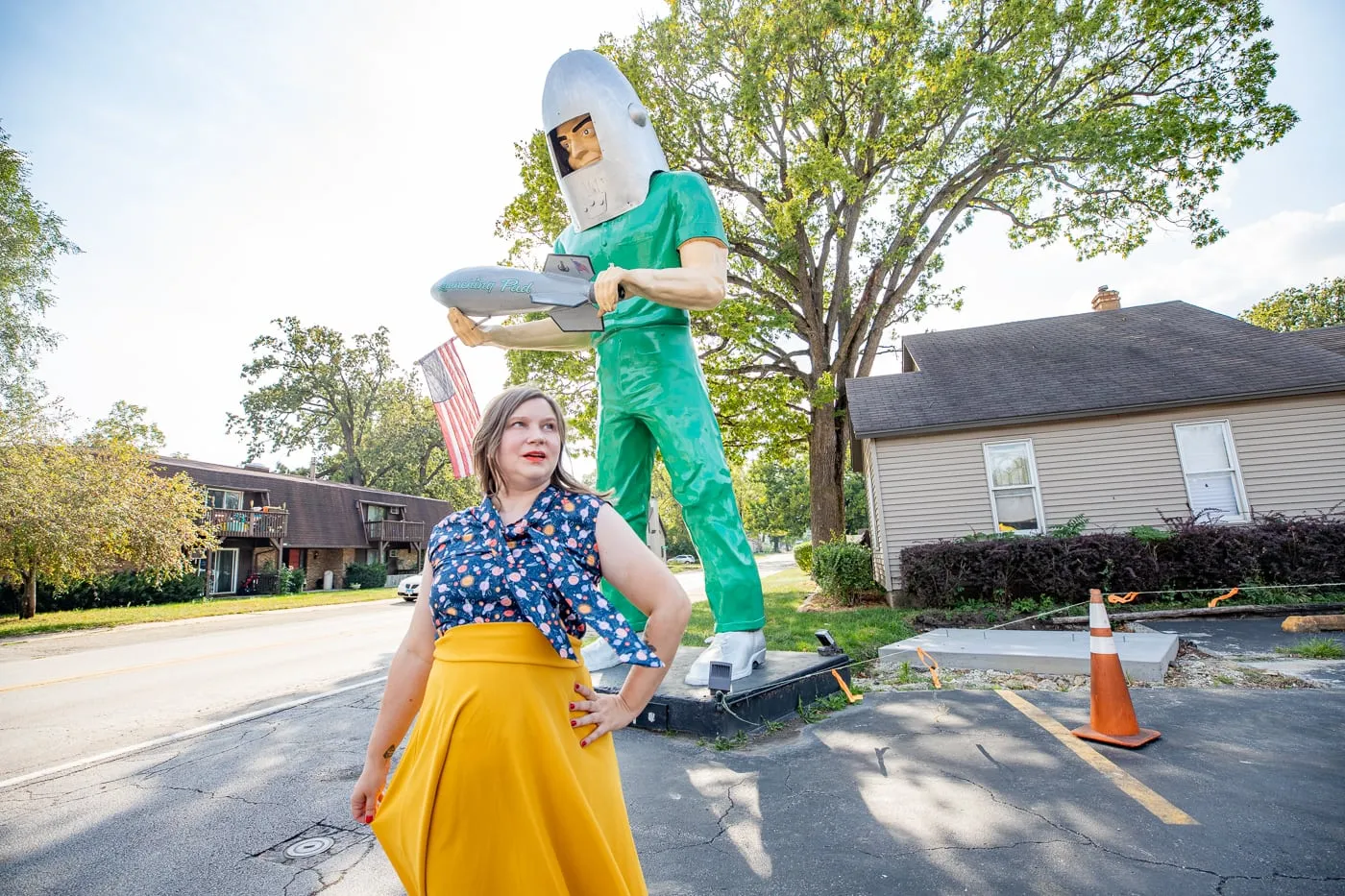 This space man is one of many muffler men spread throughout the United States. Muffler men roadside attractions are fiberglass giants who stand anywhere from 14 to 25 feet tall. Each has a similar design and was built between 1963 and 1972 by International Fiberglass in Venice, California. With signature stances, these big men stood outside of muffler shops and other businesses to call attention from the road.
In 1956 the business opened as Dari Delite, a small shop that sold hot dogs and ice cream. In 1960 John and Bernice Korlic took over the restaurant and renamed it as The Launching Pad Drive-in. To capitalize on their celestial moniker, the couple had the fiberglass spaceman made by International Fiberglass and named him the Gemini Giant via a local contest.
The Korlics ran the Launching Pad and maintained the giant for 47 years until they sold in in 2007.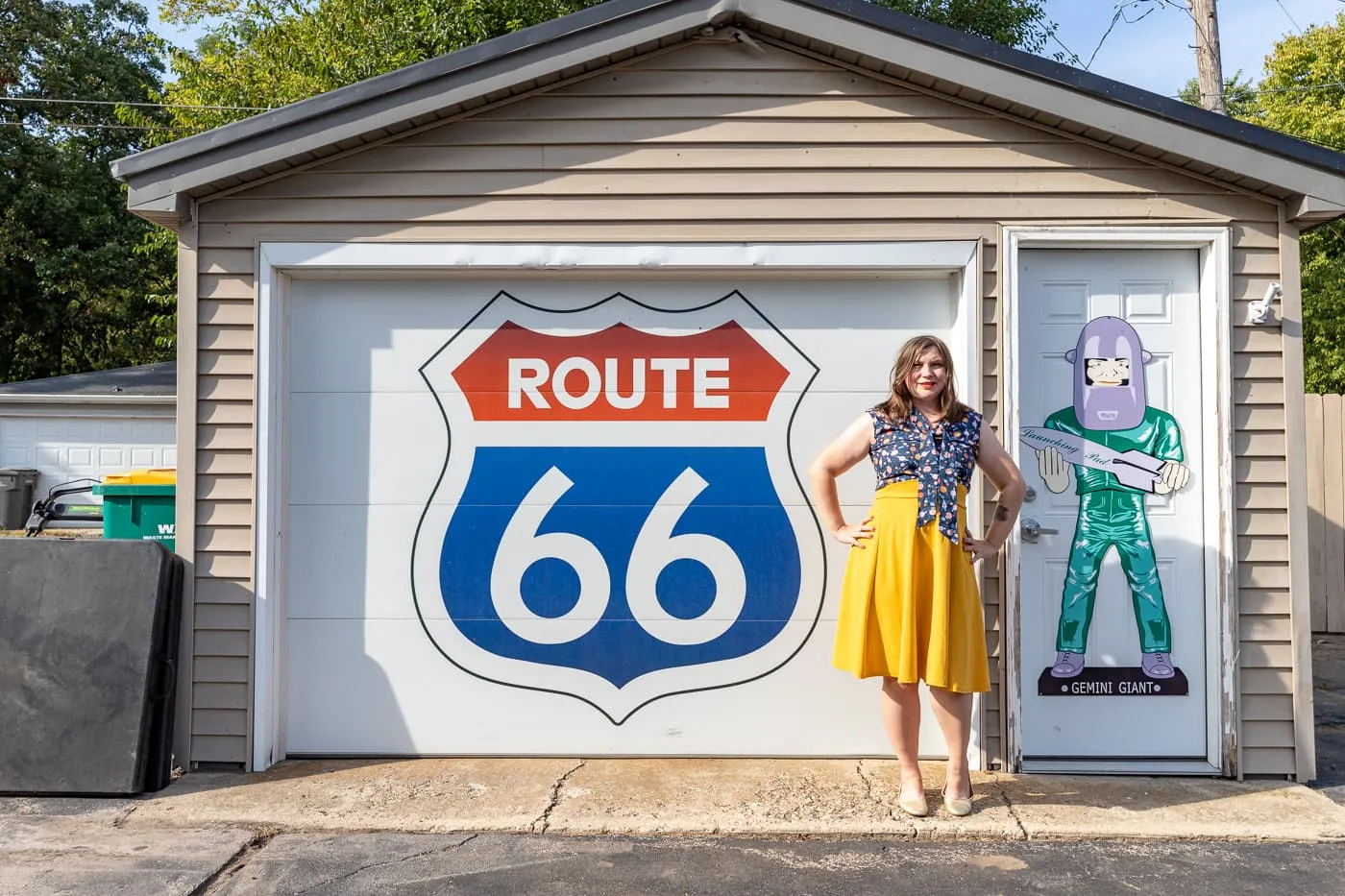 For years after, the Wilmington Gemini Giant went through some rough times, with an uncertain future. The Launching Pad closed down in 2010. With the drive in restaurant and muffler man statue for sale no one knew when, or if, it would reopen and what would happen to the Route 66 icon.
In 2016, the restaurant went to auction, but failed to sell because the reserve wasn't met.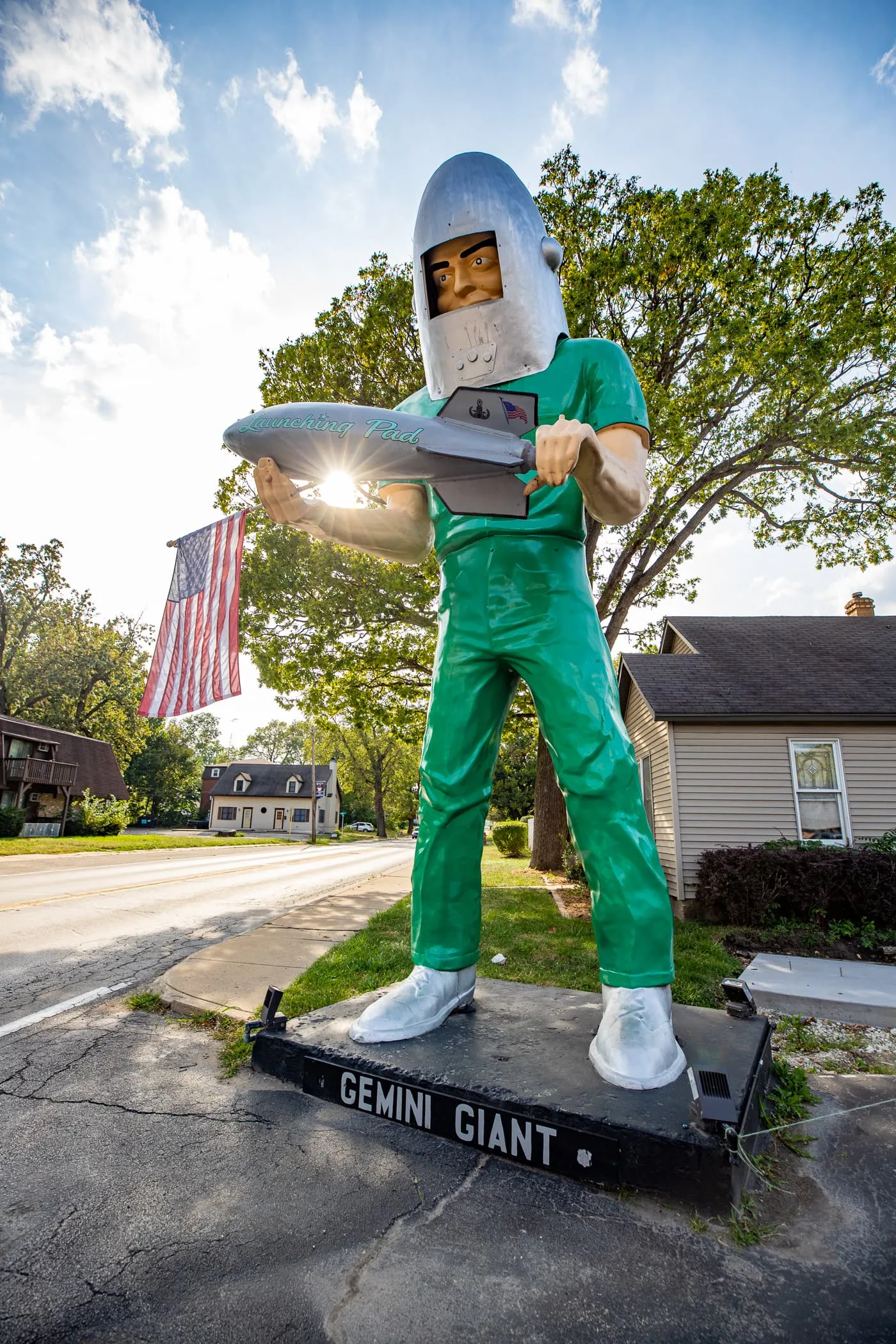 Though the Launching Pad restaurant closed, the space-age muffler man statue still stood and drew crowds of road-trippers looking for roadside attractions on Route 66. But, with the business closed, and no potential buyers in site, the fate of the big green man was still up in the air and no one knew how much longer he'd keep standing.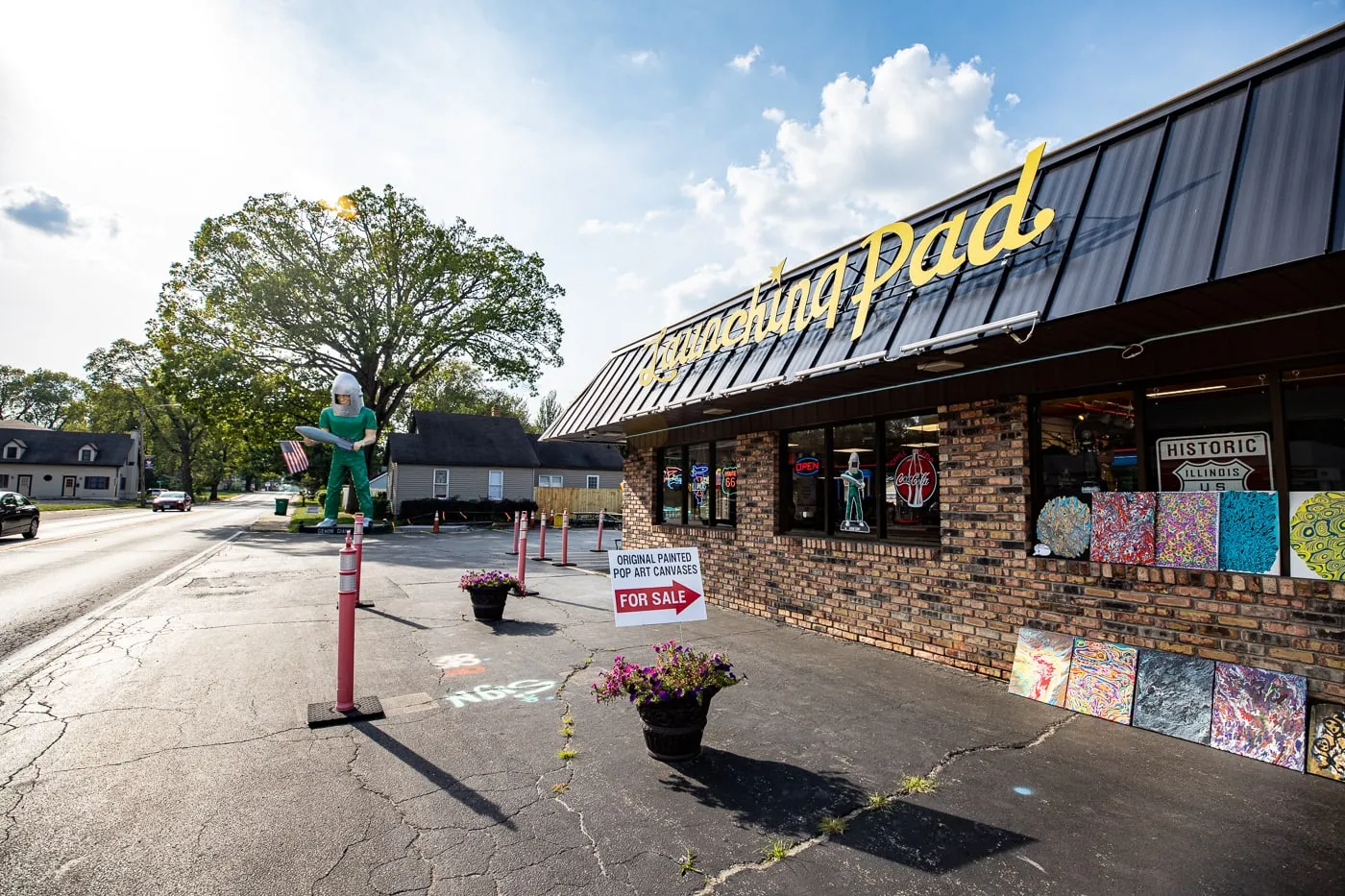 Luckily, in 2017 the Illinois Gemini Giant's fate changed: Holly Barker and Tully Garrett bought the business and decided to restore the building and keep the famous mascot.
The Launching Pad reopened on April 16th, 2018 as a Route 66 Welcome Center and gift shop. Eventually, the kitchen was restored and the restaurant was brought back as well.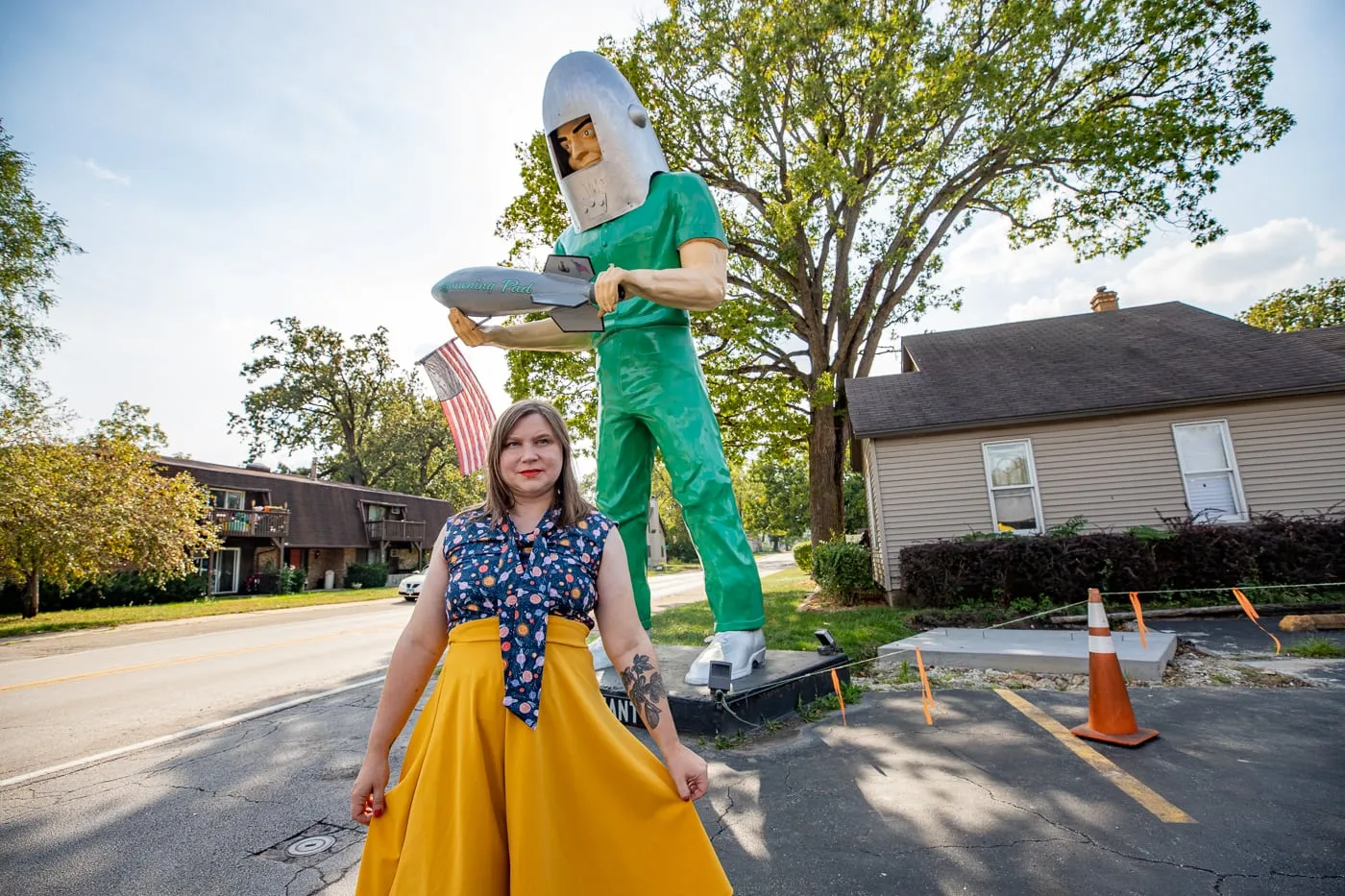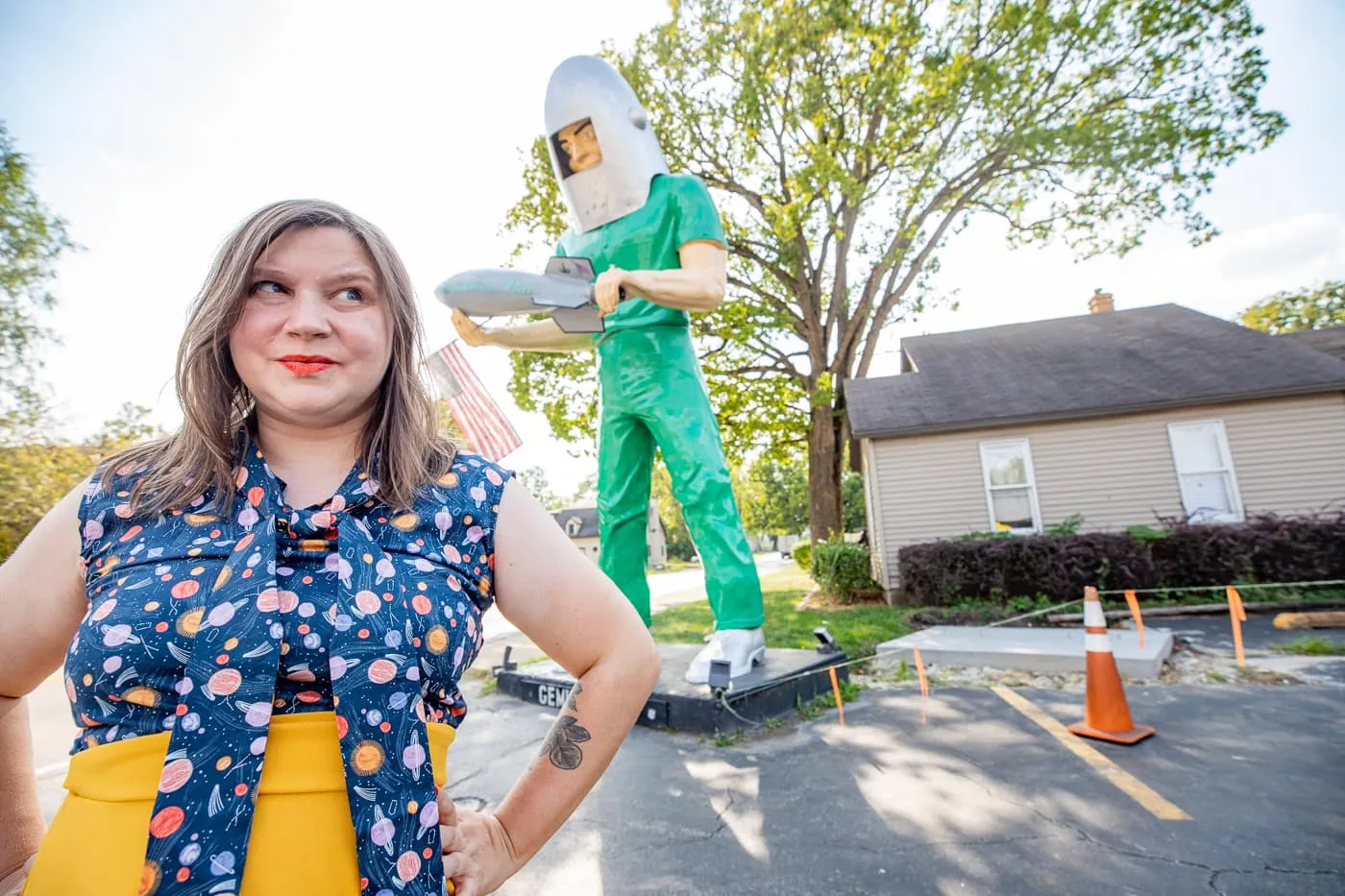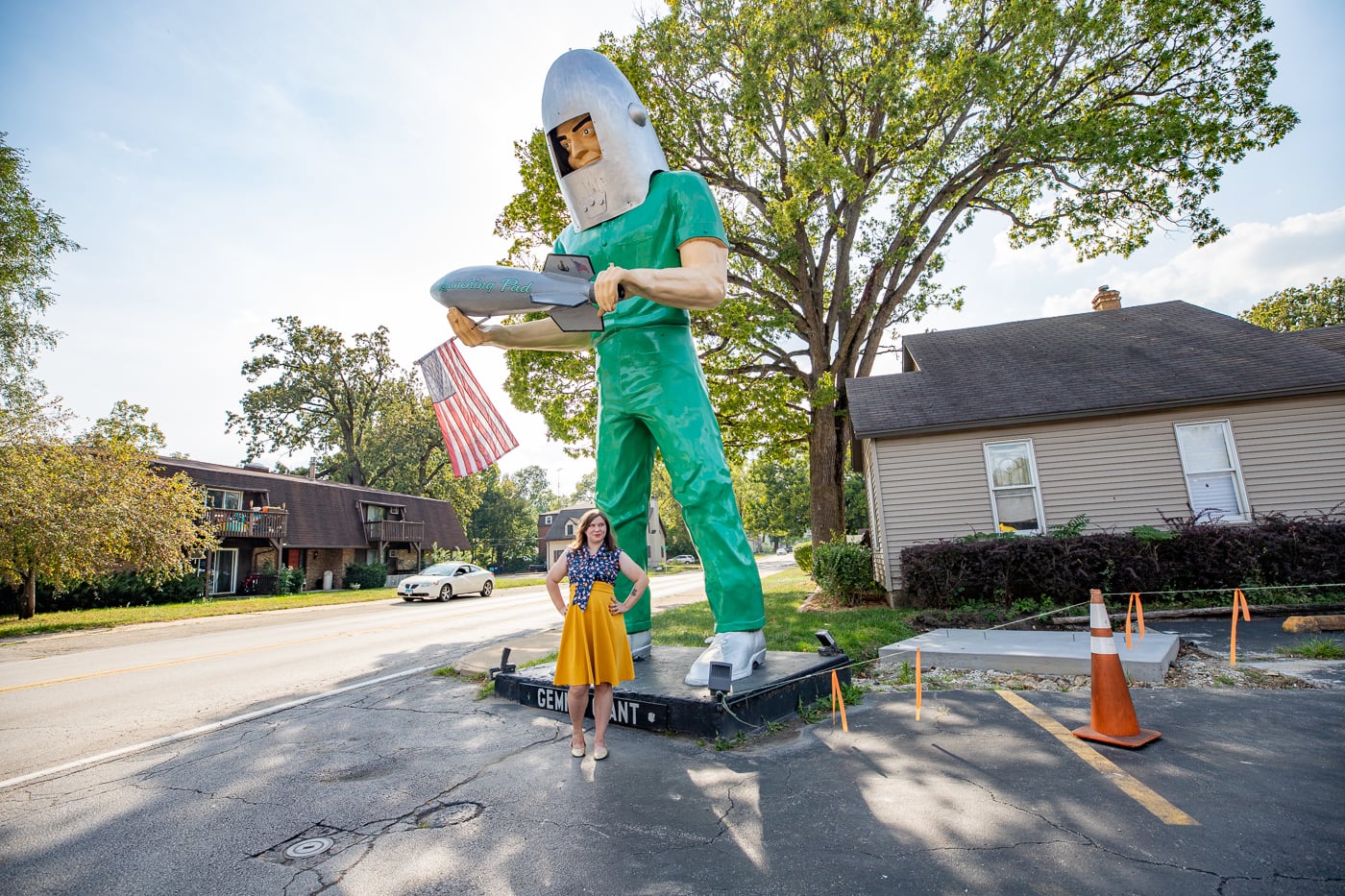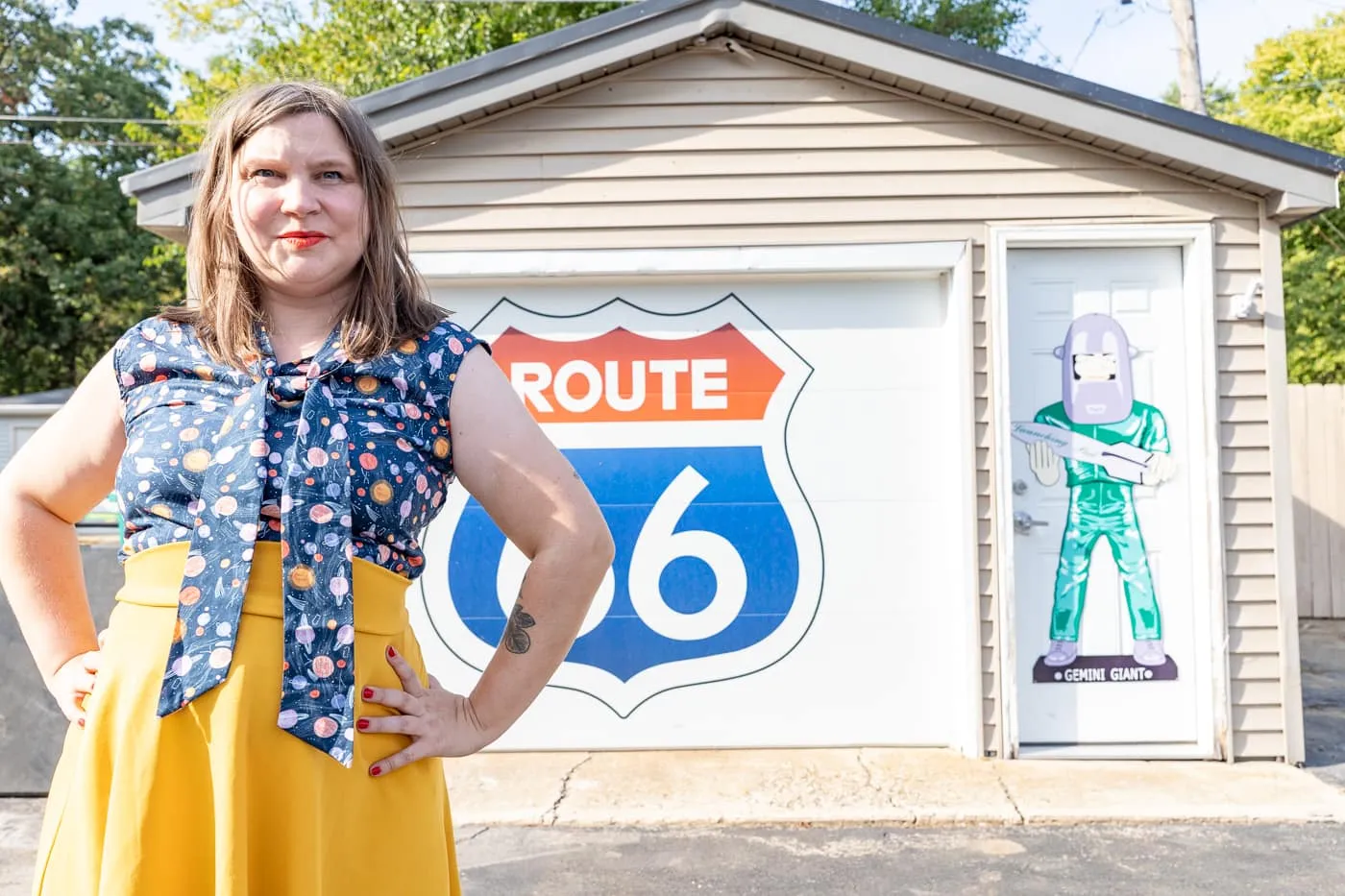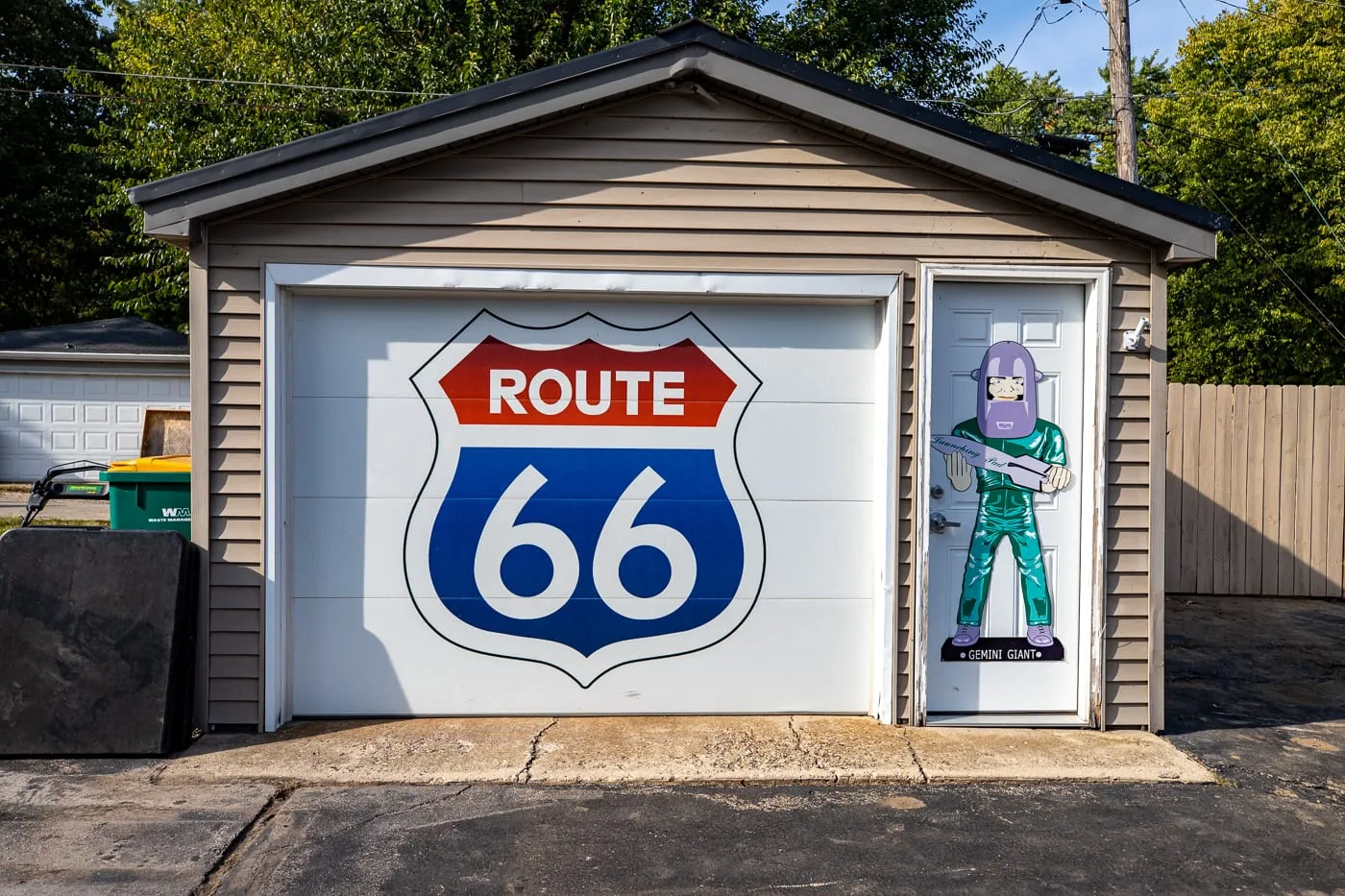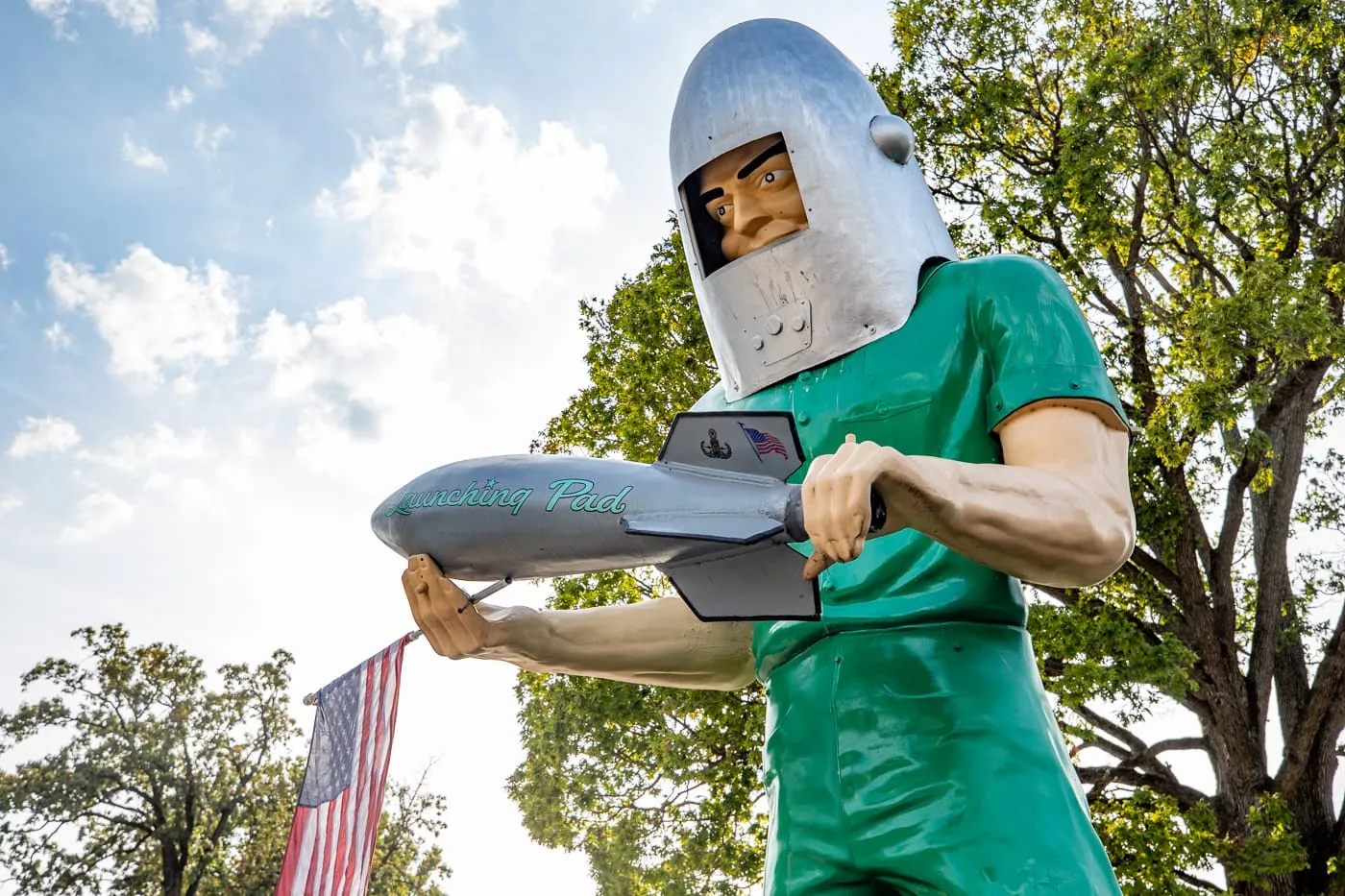 The Gemini Giant muffler man in Wilmington, Illinois is here to stay! In fact, in May 2019 this Illinois Route 66 muffler man got a facelift. He was restored with a fresh coat of paint! This allotted fans to come check out a site that hadn't been seen over 50 years: the Gemini Giant without a helmet!
The helmet had to be removed to paint his face (and with it, a football that was stuck inside for over ten years was also removed!). I took a mini road trip to Wilmington (it's only about an hour and a half drive outside of Chicago) to check it – see the photos of the Gemini Giant with his helmet removed below!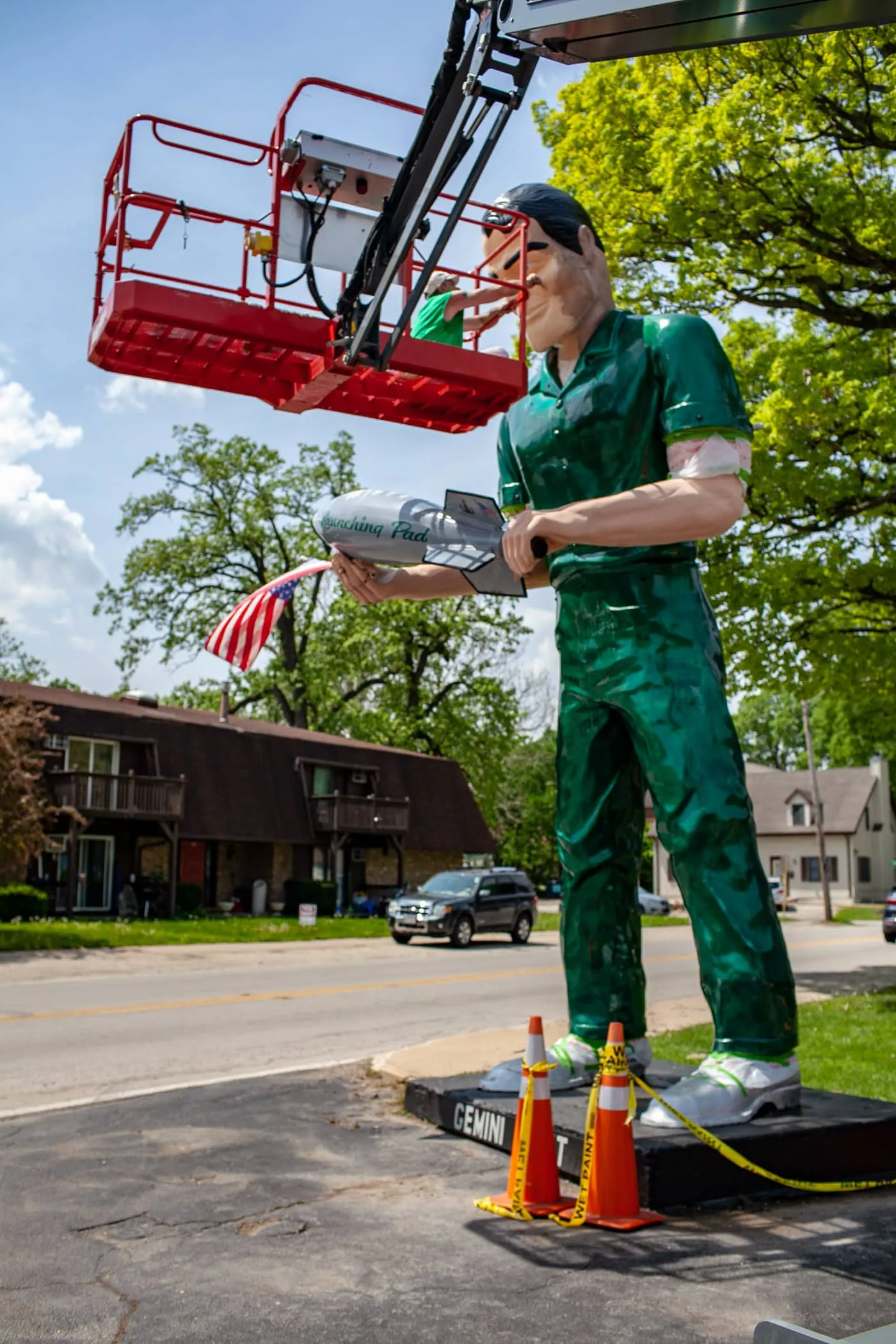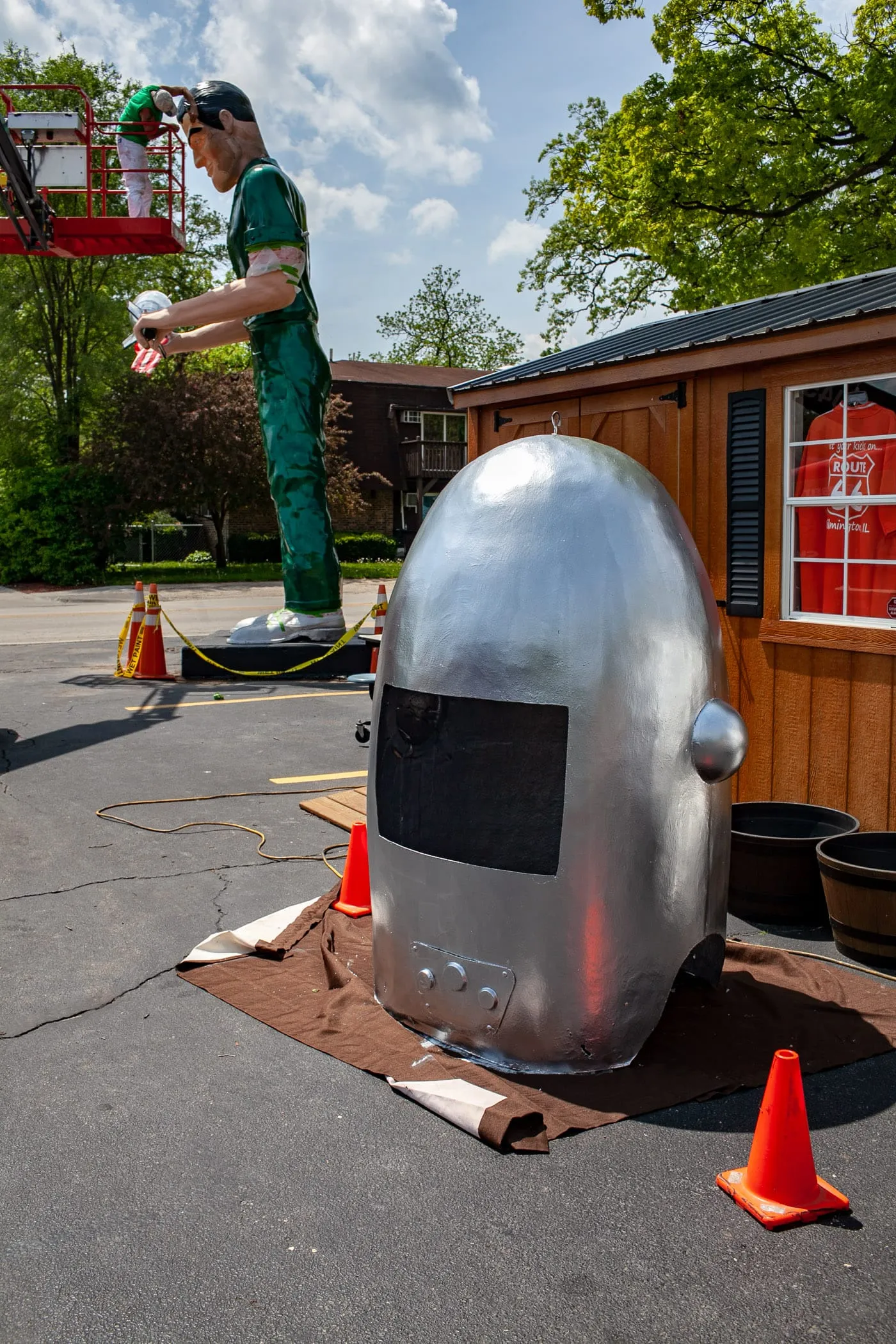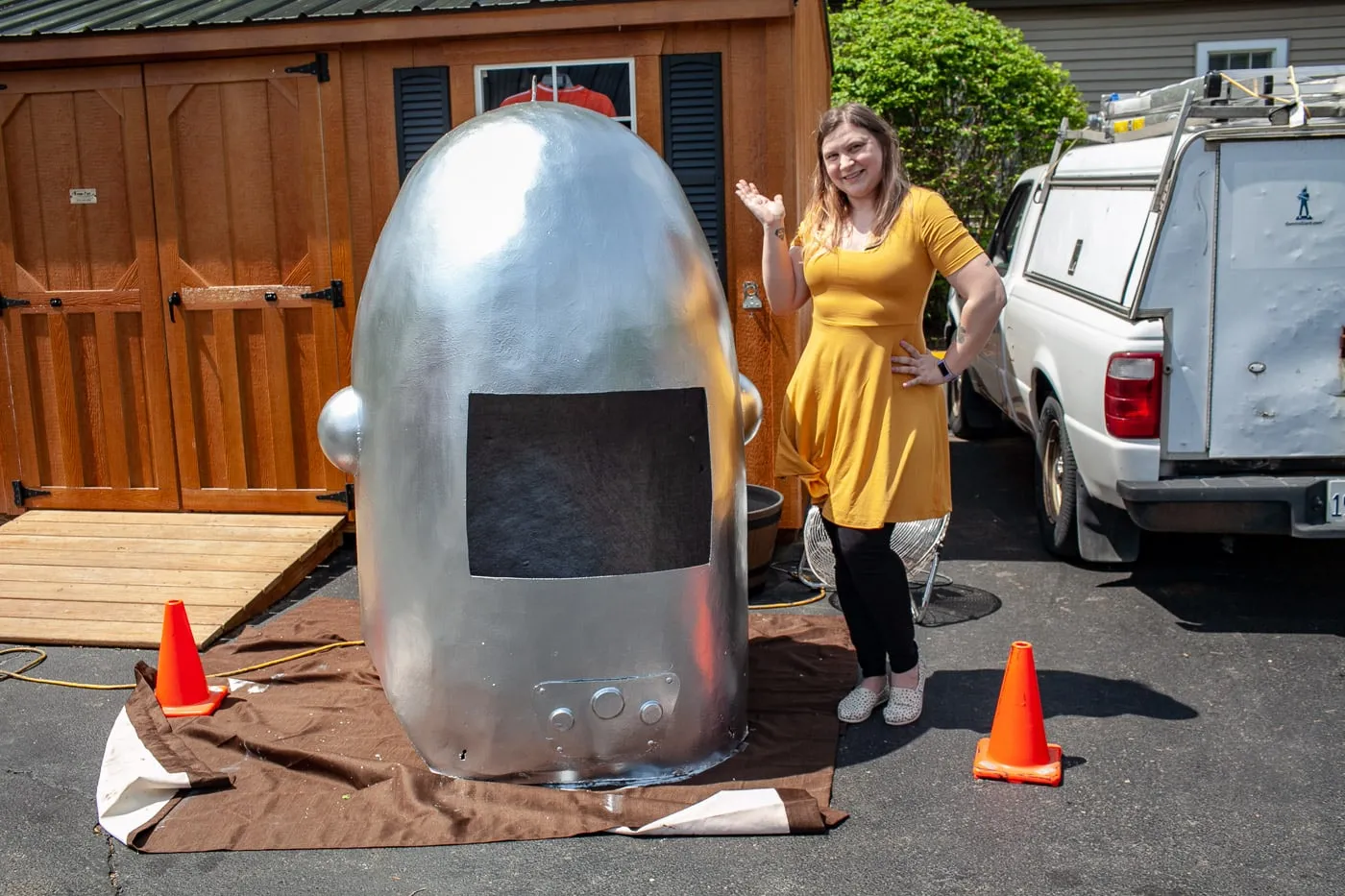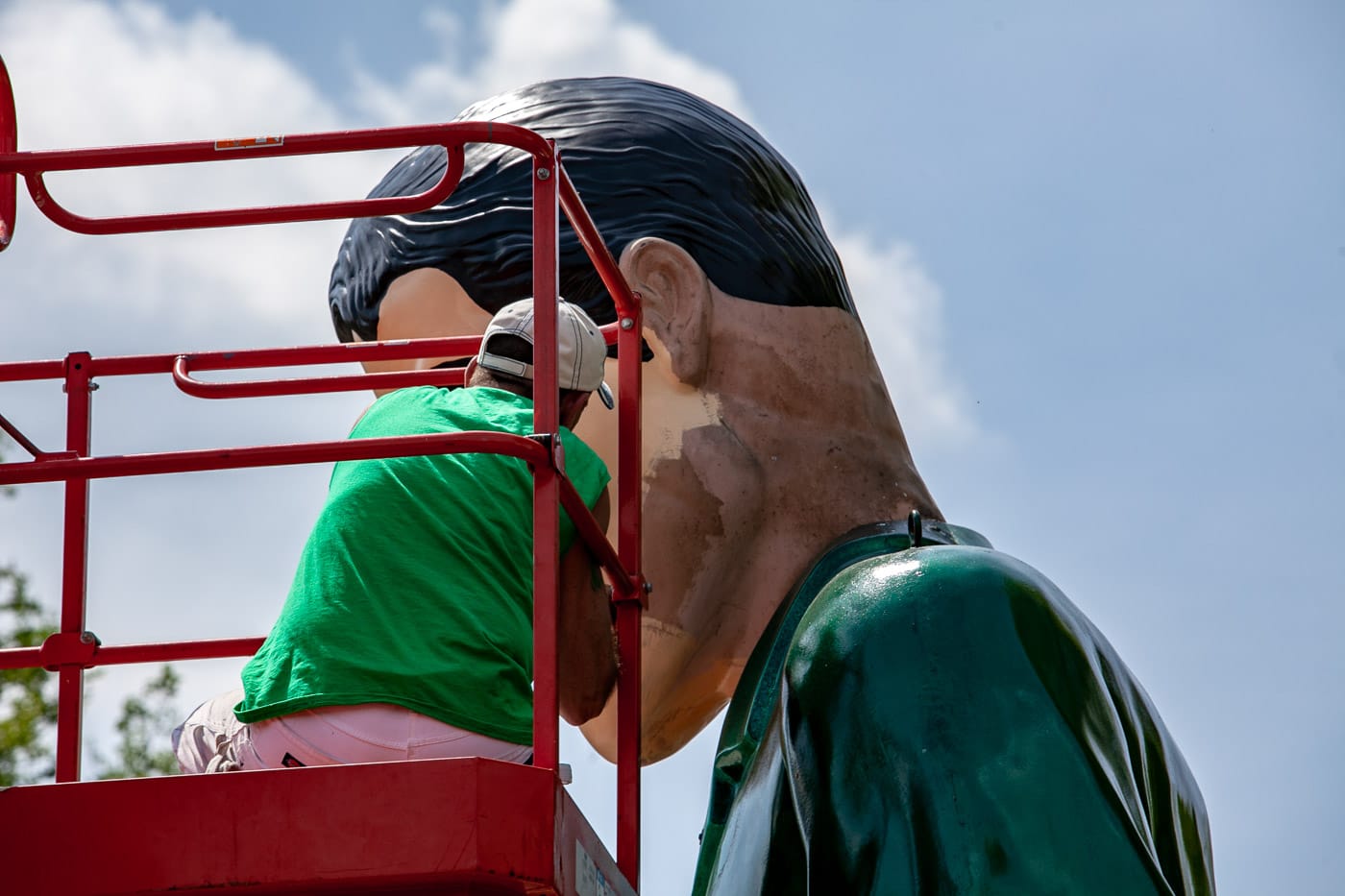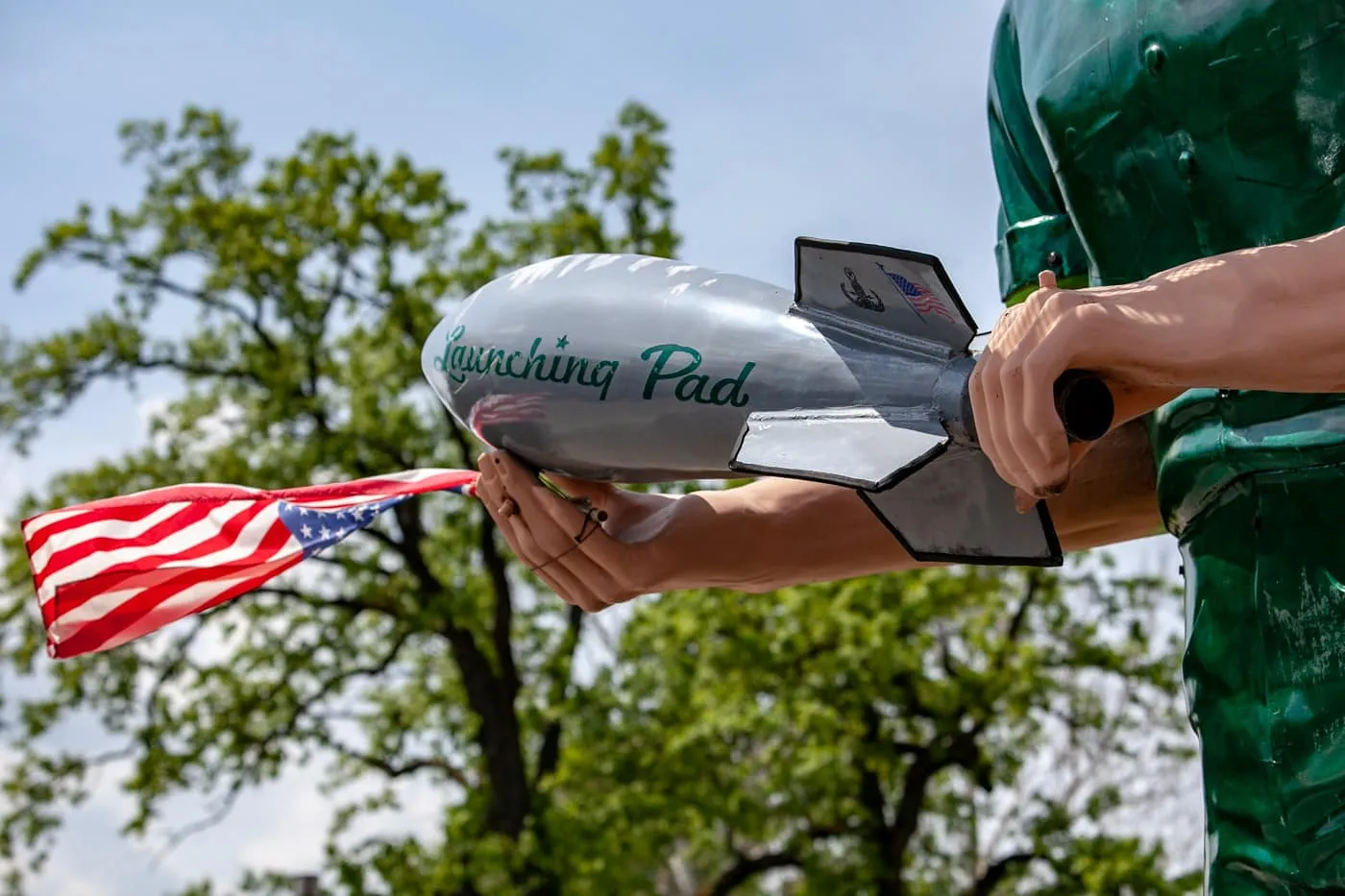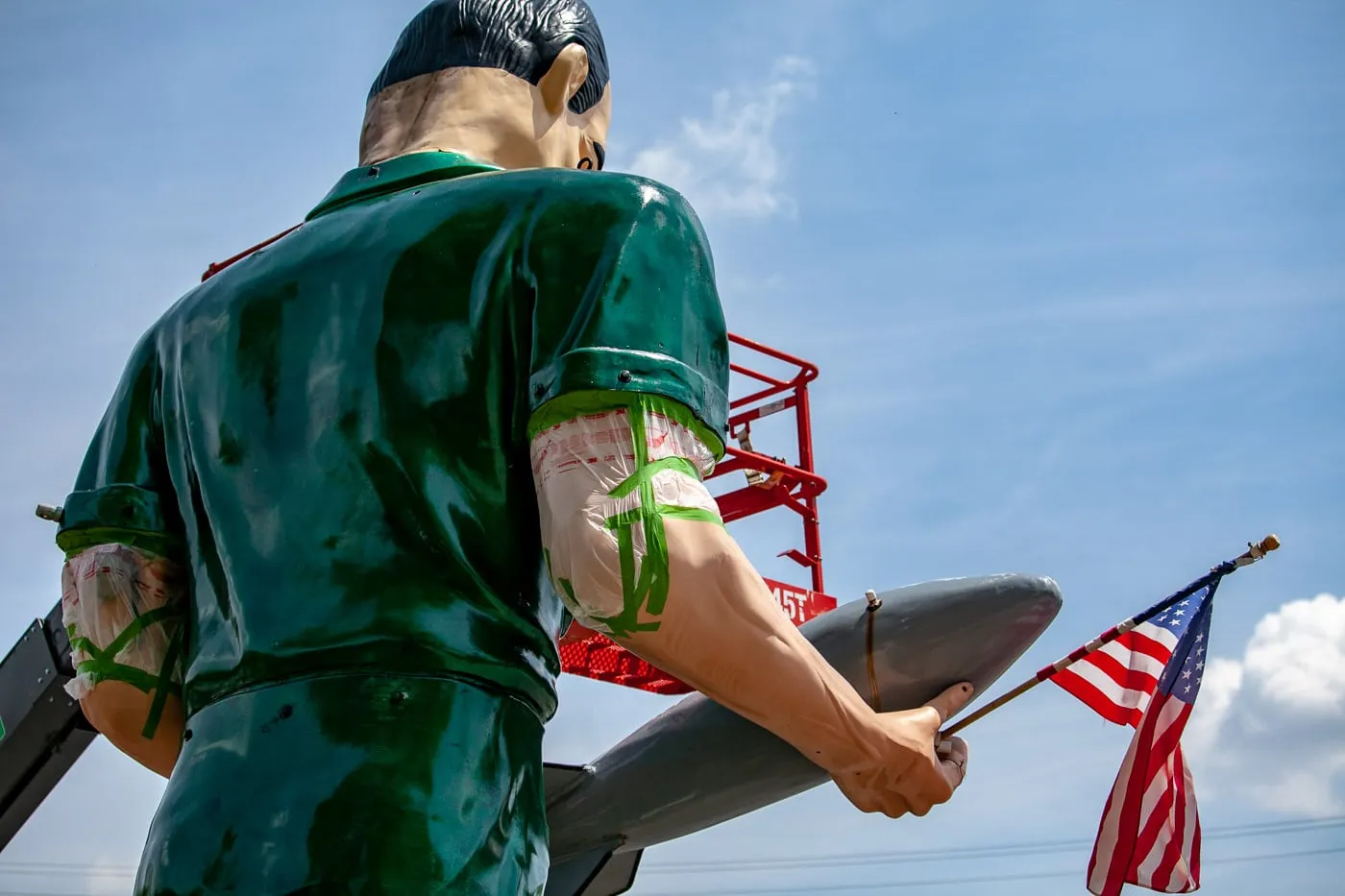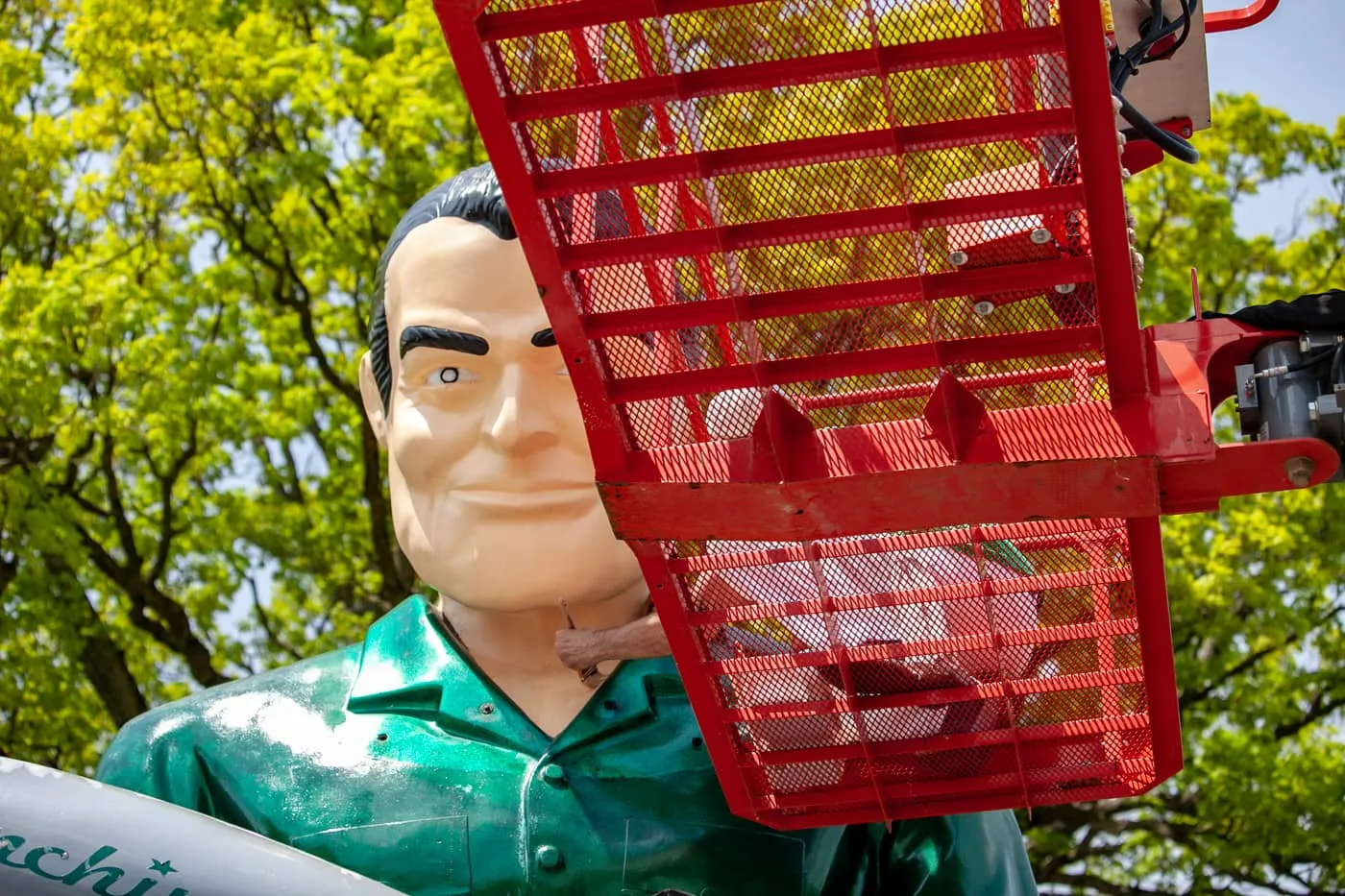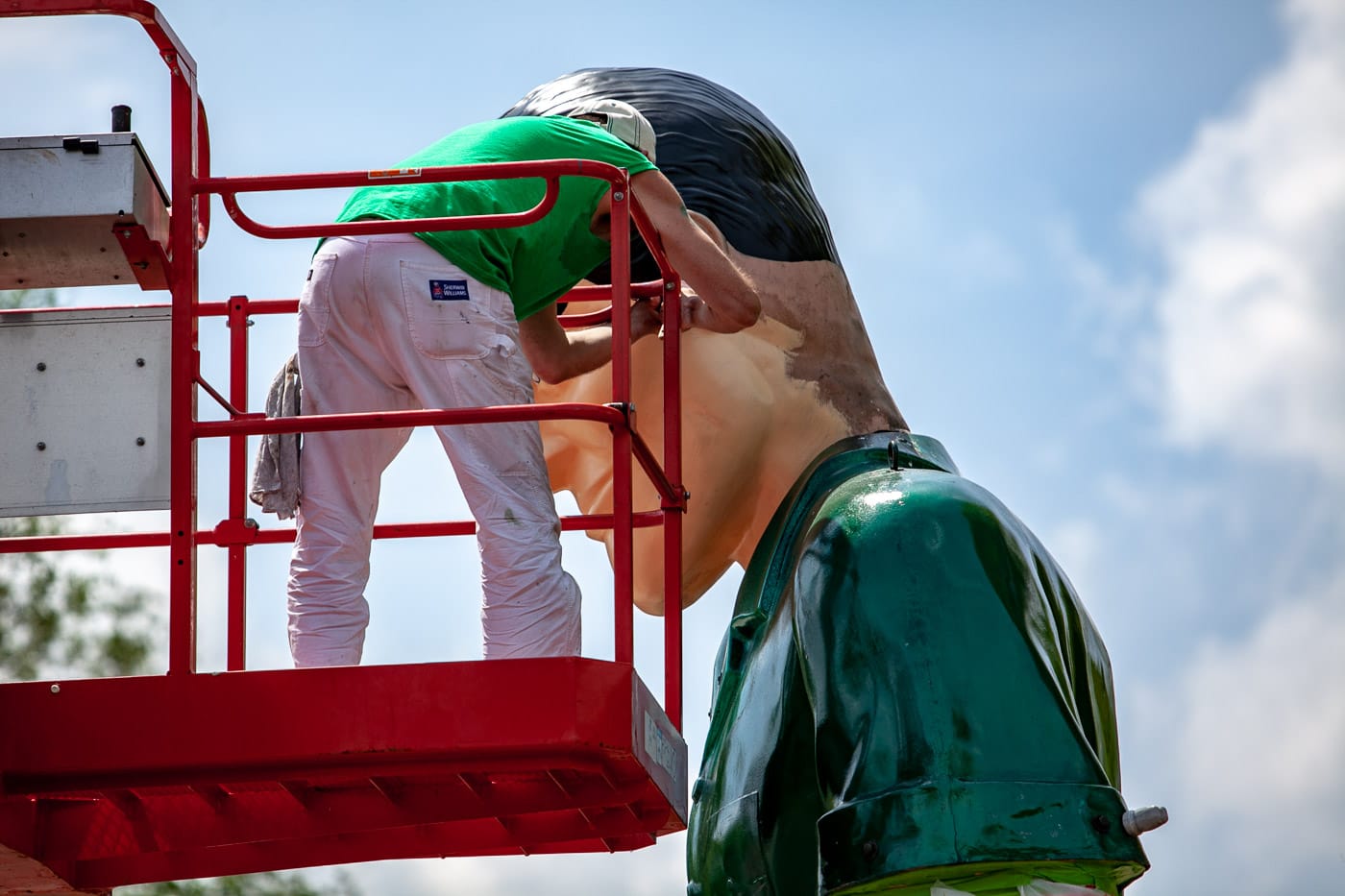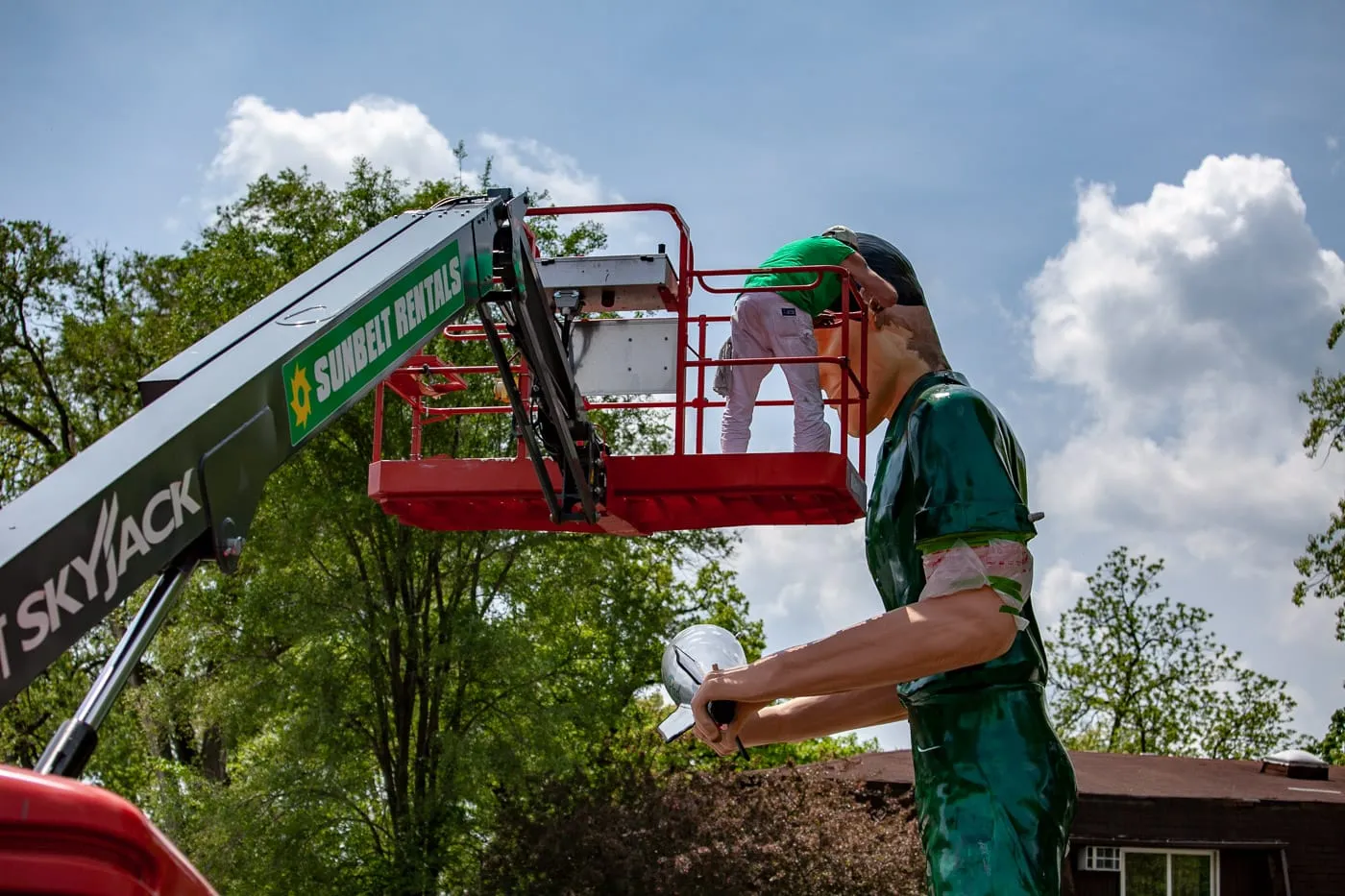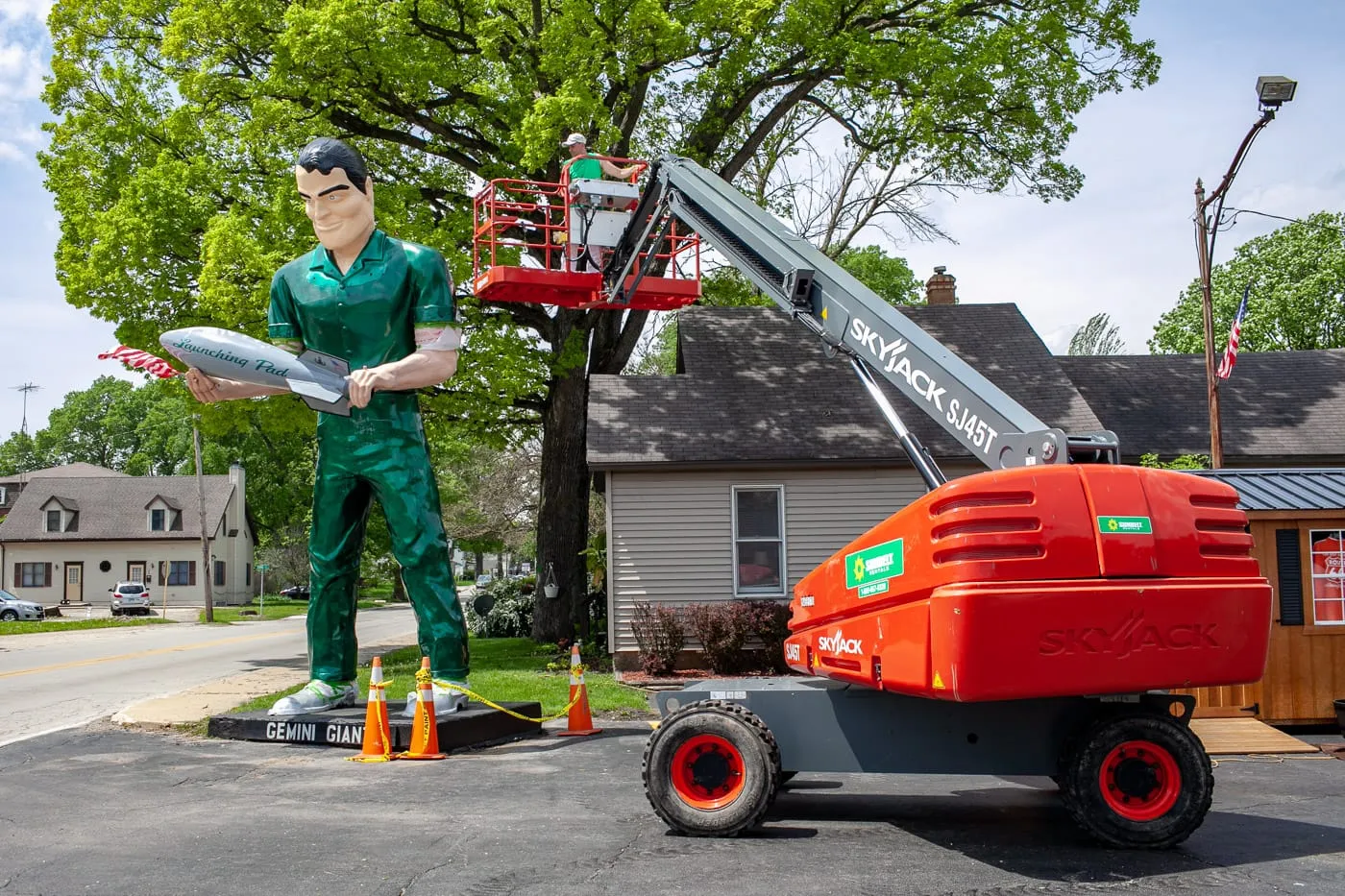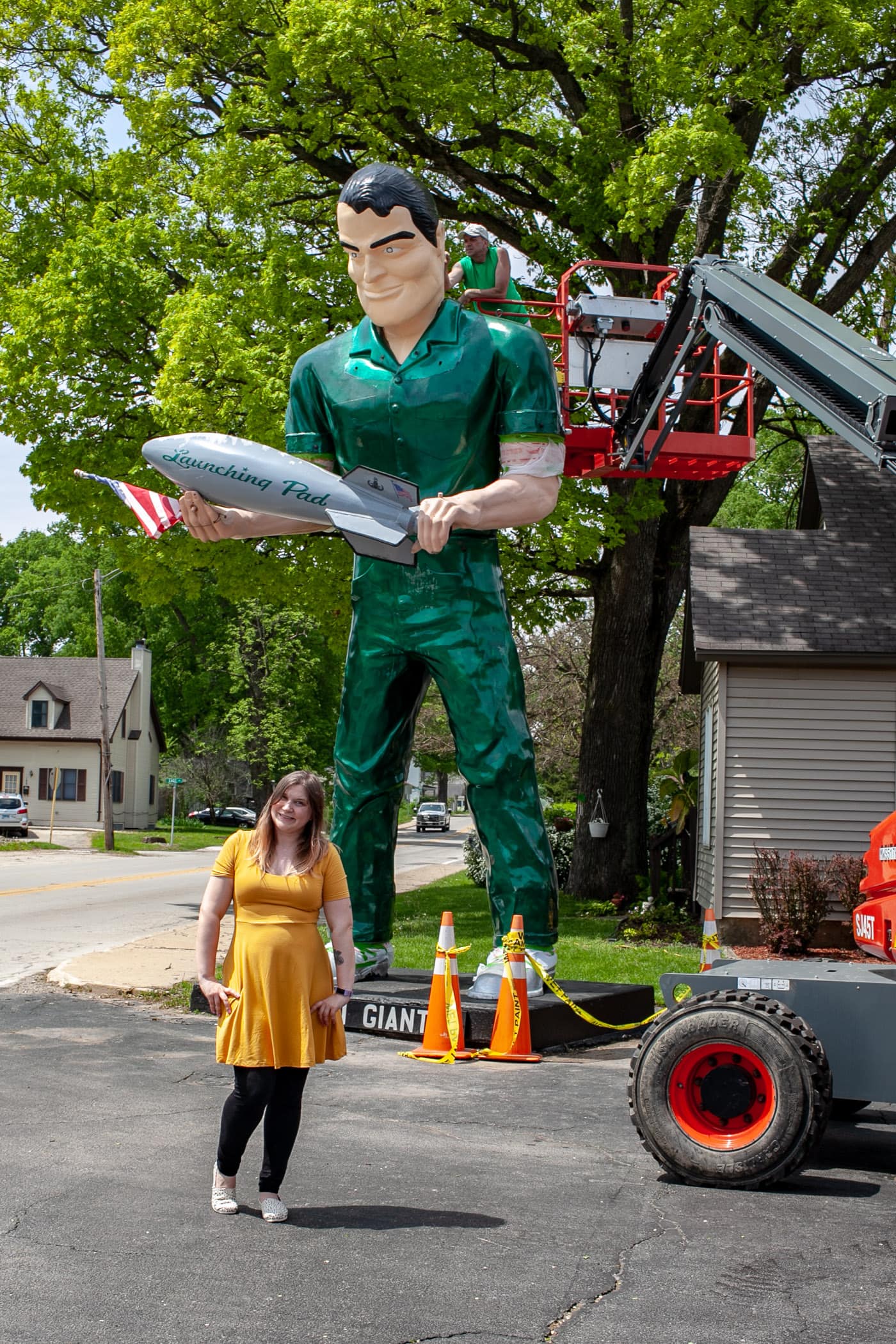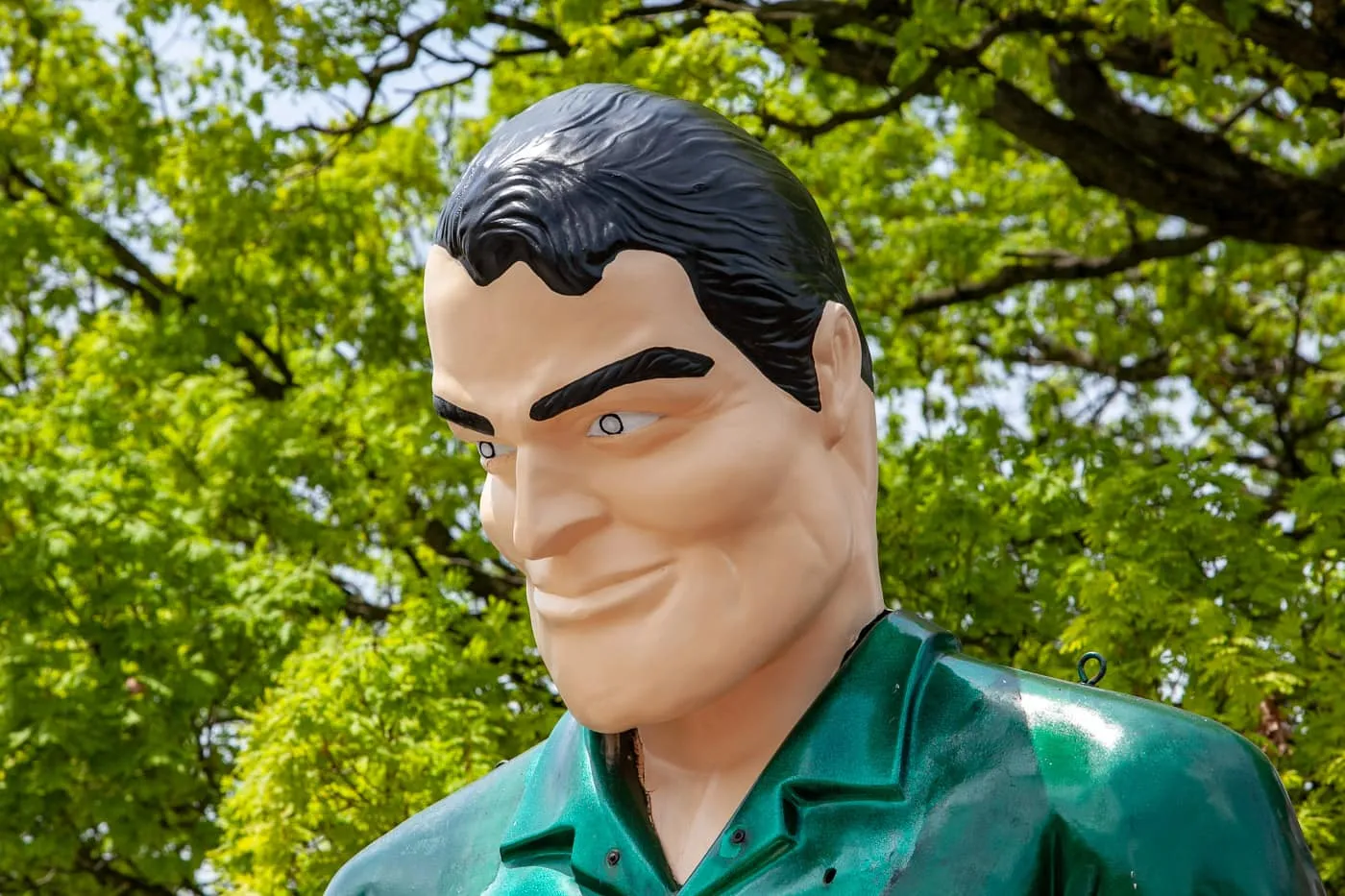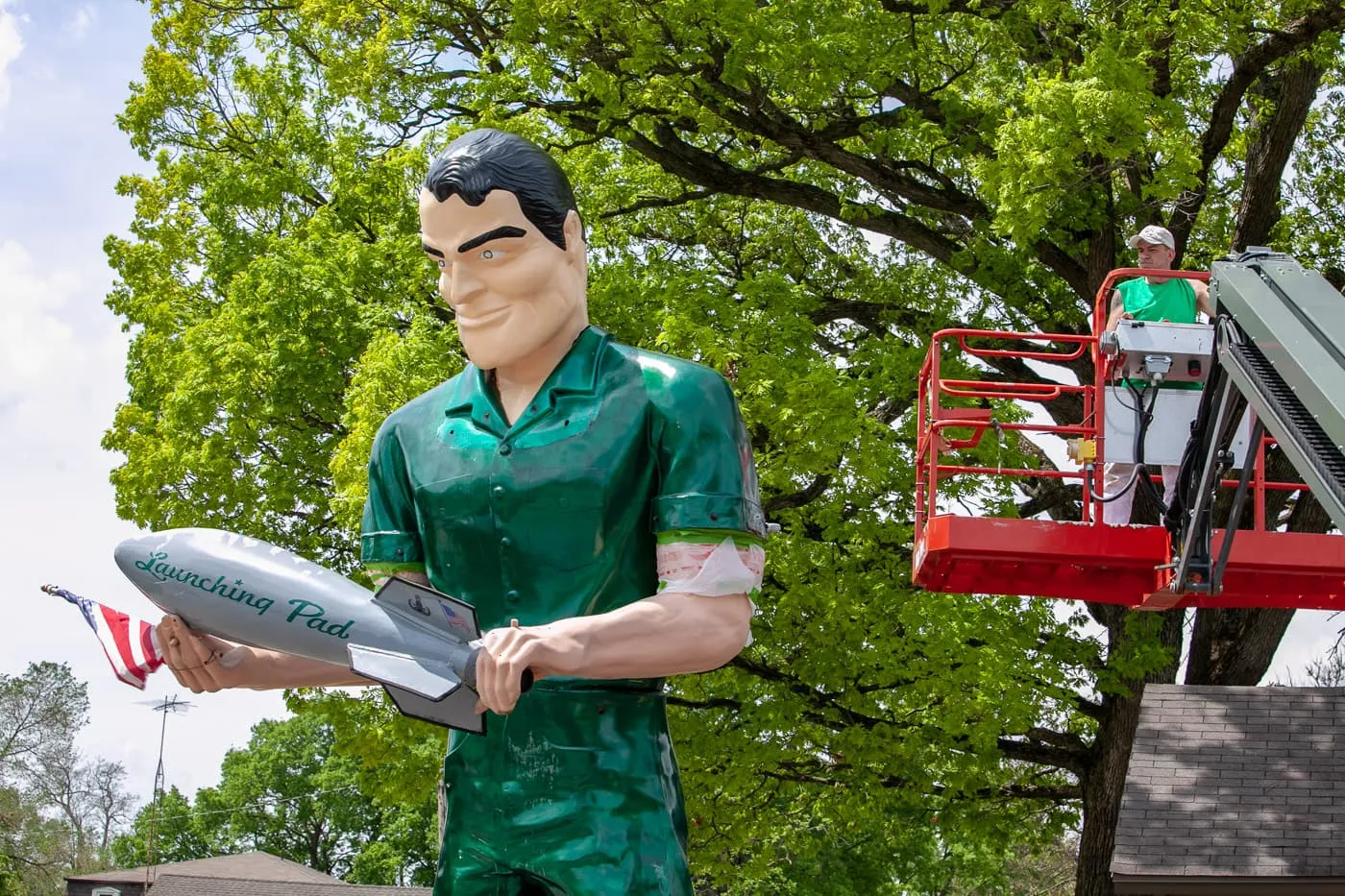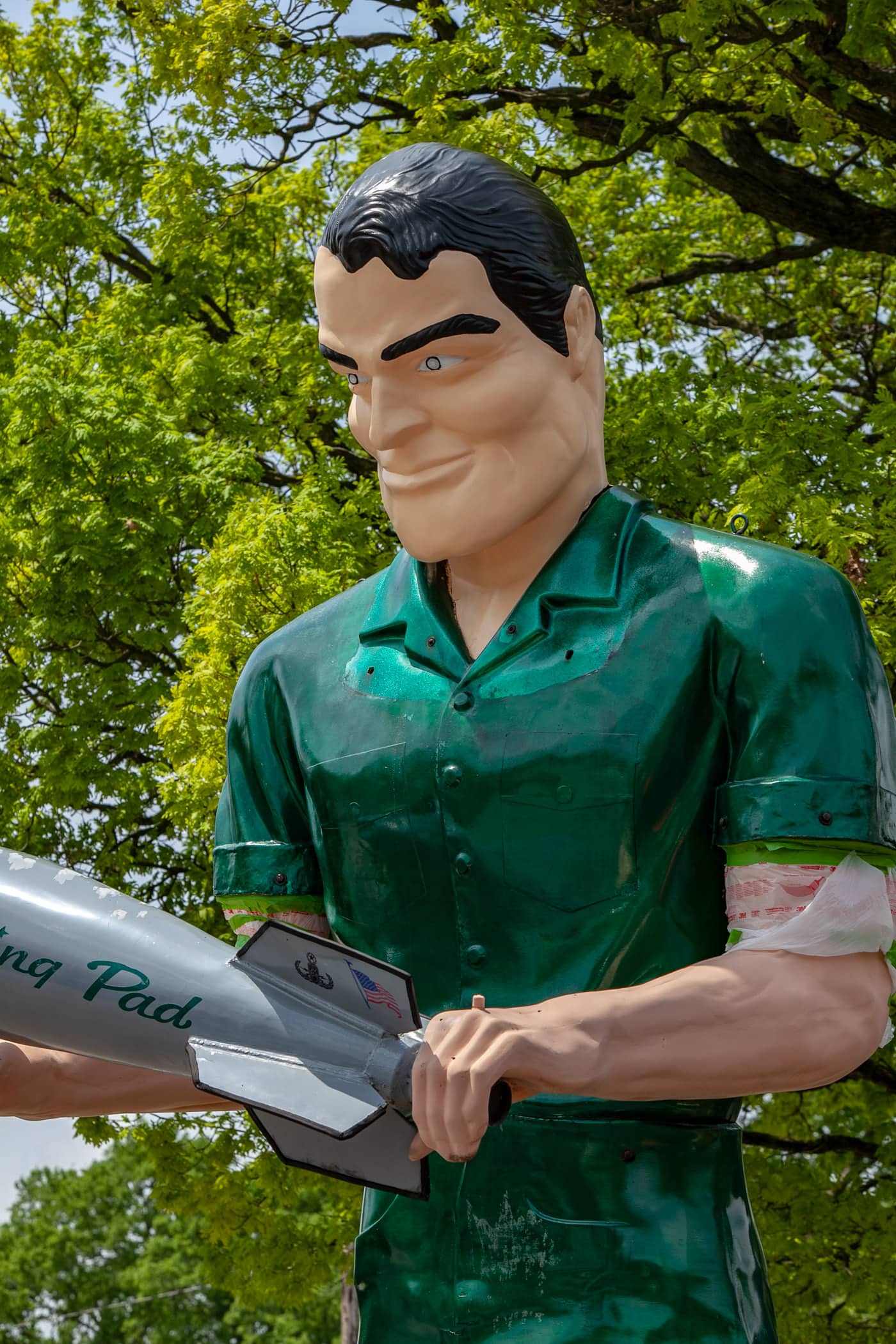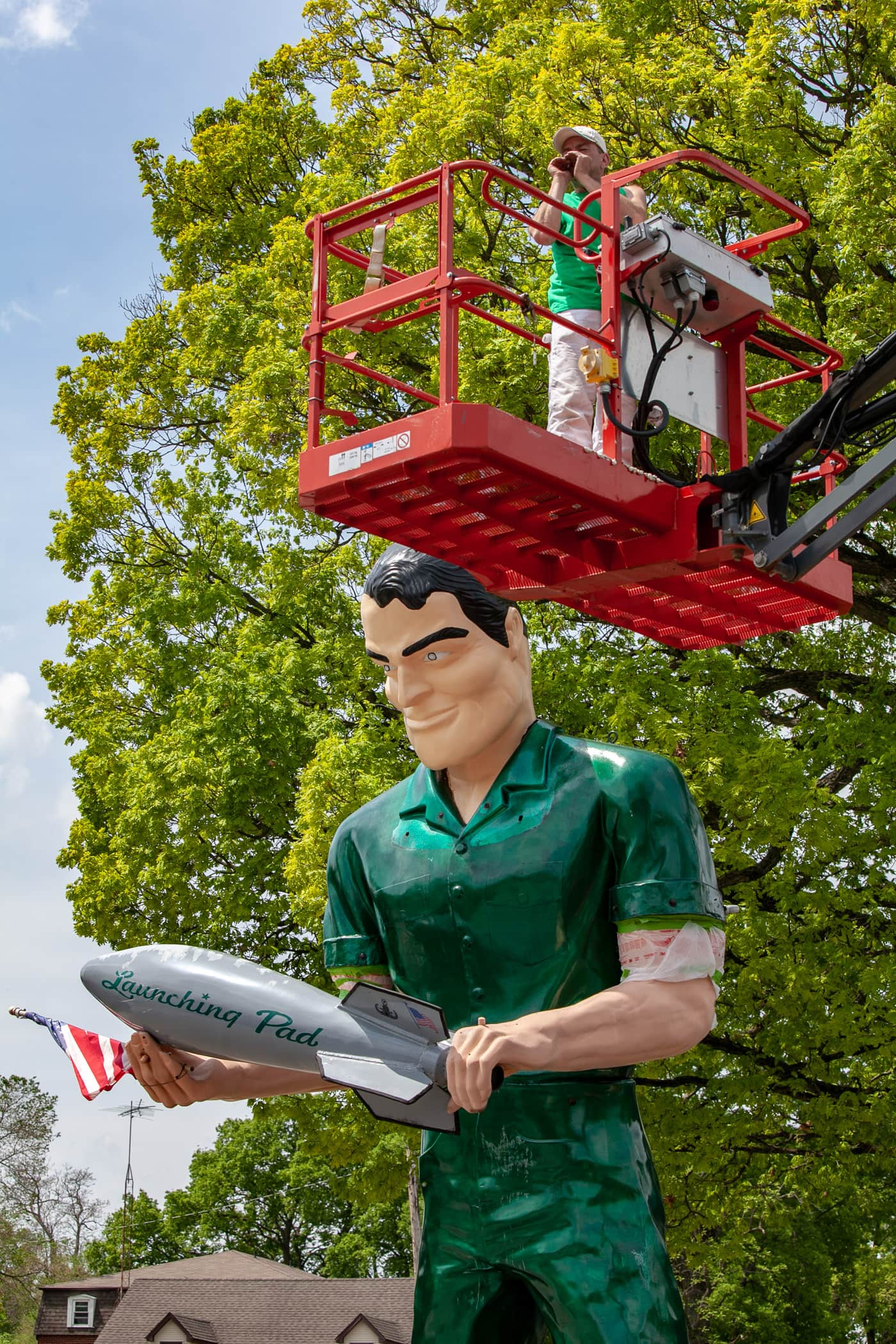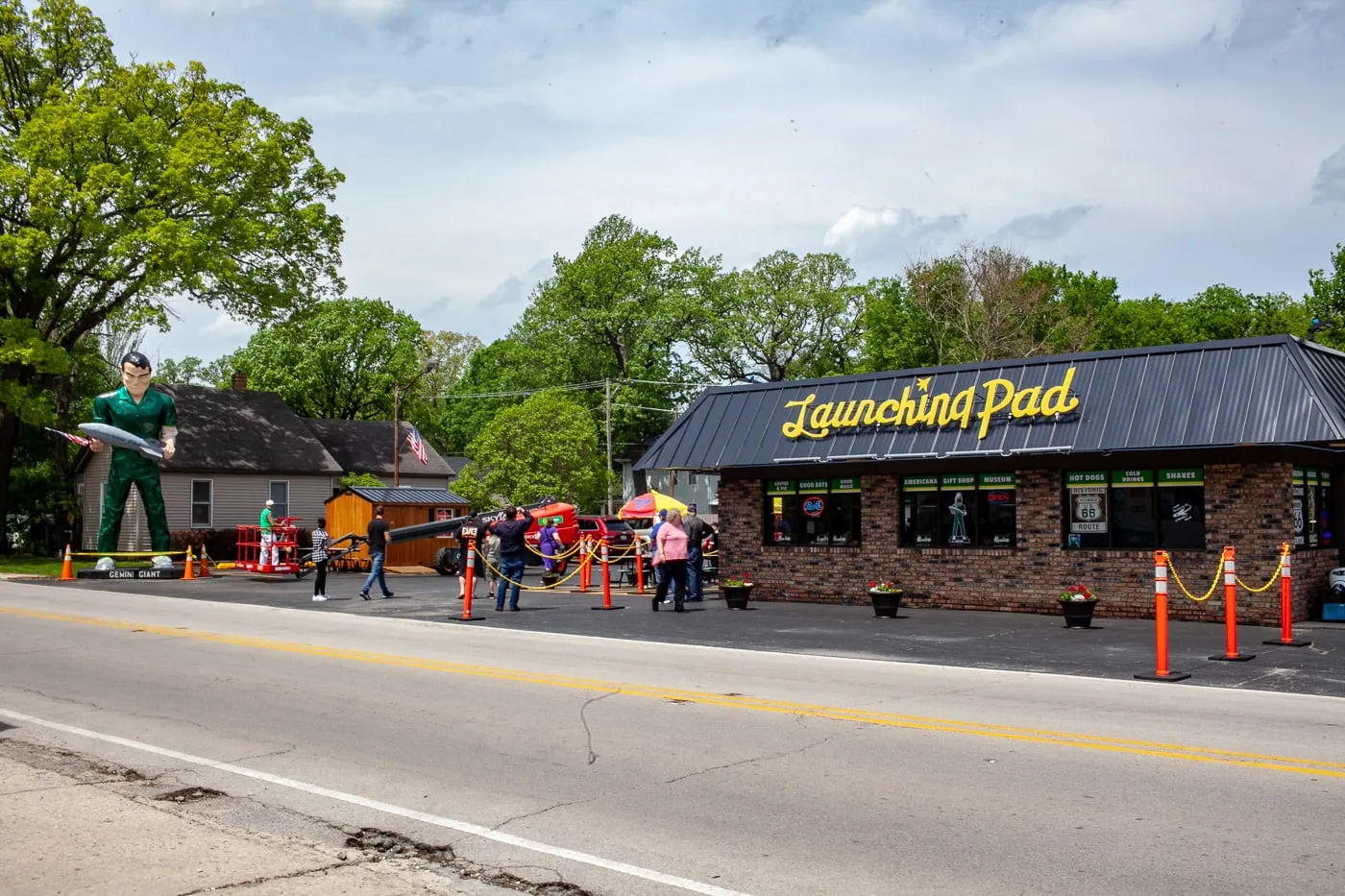 We unfortunately didn't stick around to try one of the Launching Pad's hot dogs, pot roast sandwiches, fruit pies, or ice cream sundaes (I'll have to return again when it's less crowded!) but on the way home from our mini Route 66 road trip we did get some fried chicken at another Mother Road institution: Dell Rhea's Chicken Basket.
Photos of the Gemini Giant in 2010: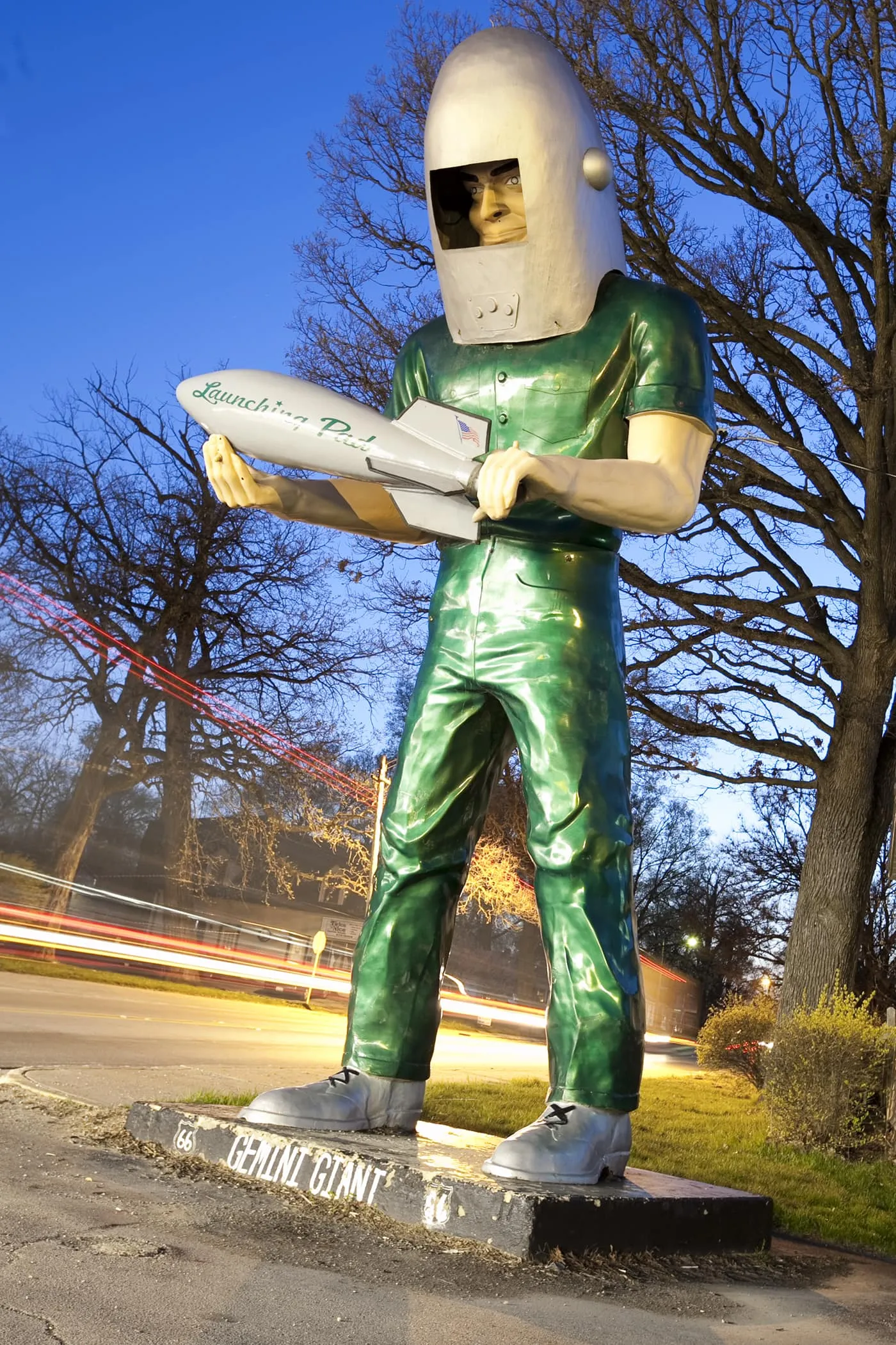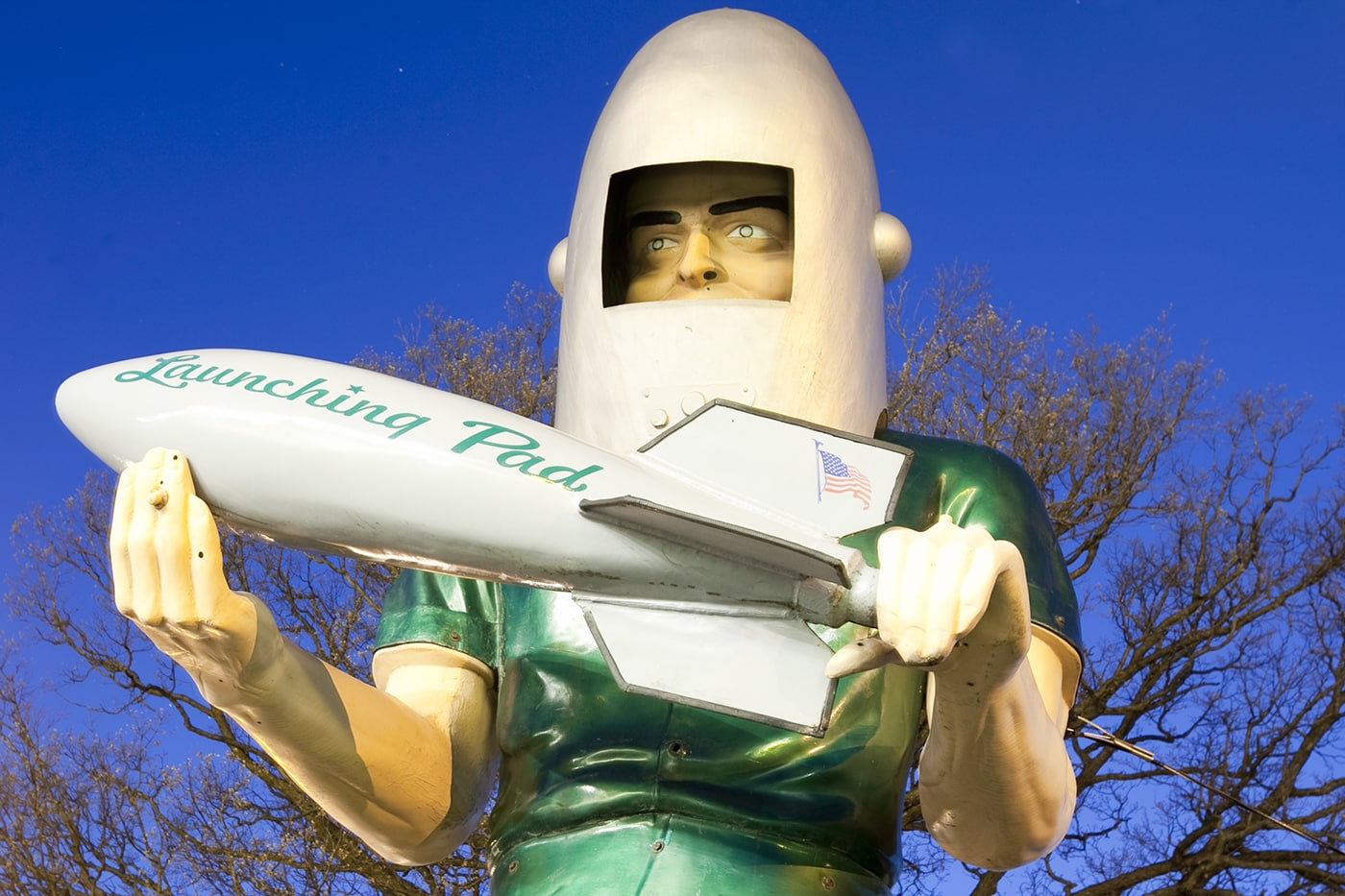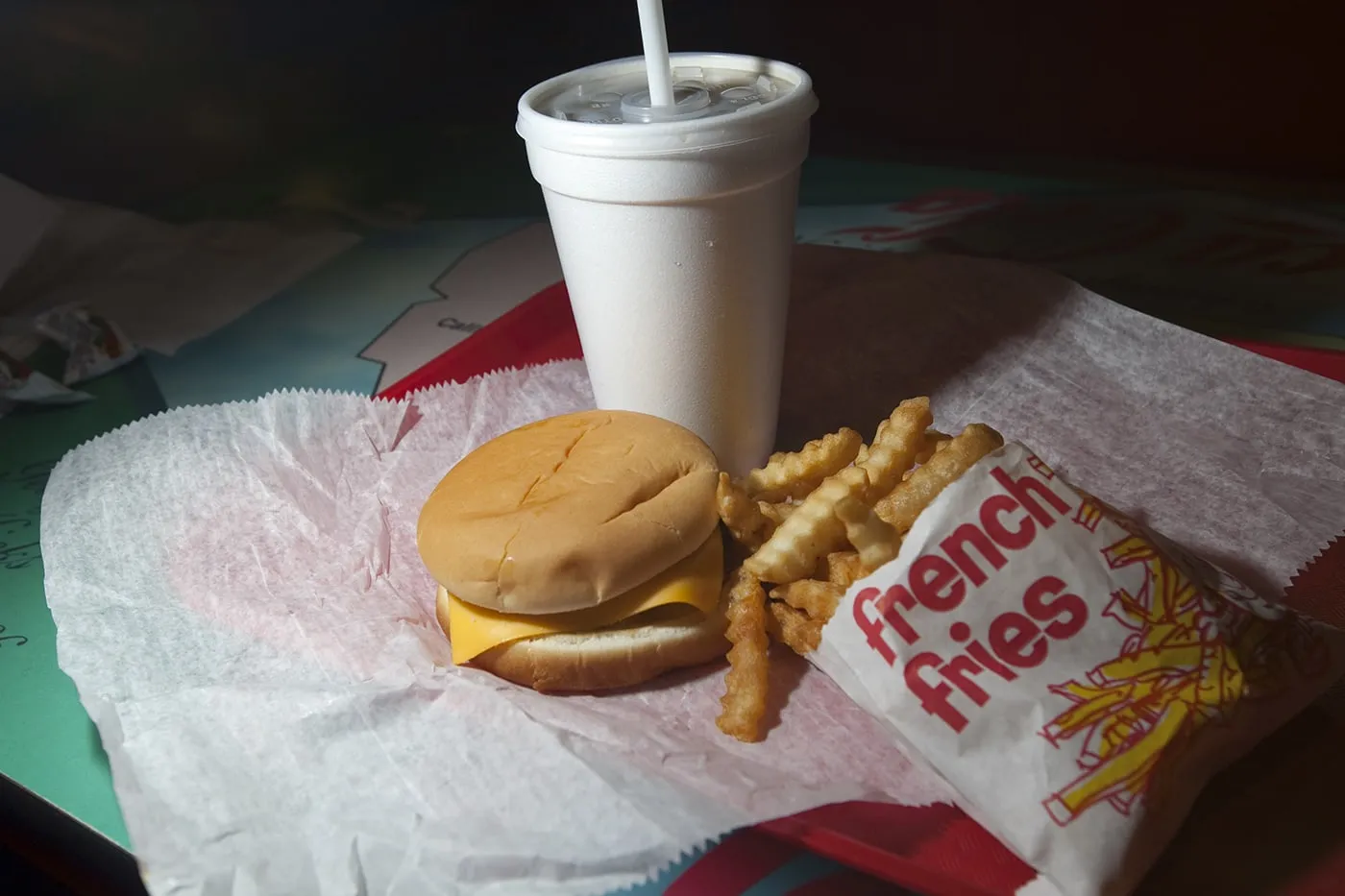 Photos of the Gemini Giant in 2007:
Here are a few photos of the Gemini Giant and Launching Pad restaurant from my first trip there back on July 13, 2007. I visited the Illinois roadside attraction again on a very quick Illinois road trip in 2010 where I also visited the Leaning Tower of Niles and the Agricultural Crash Monument.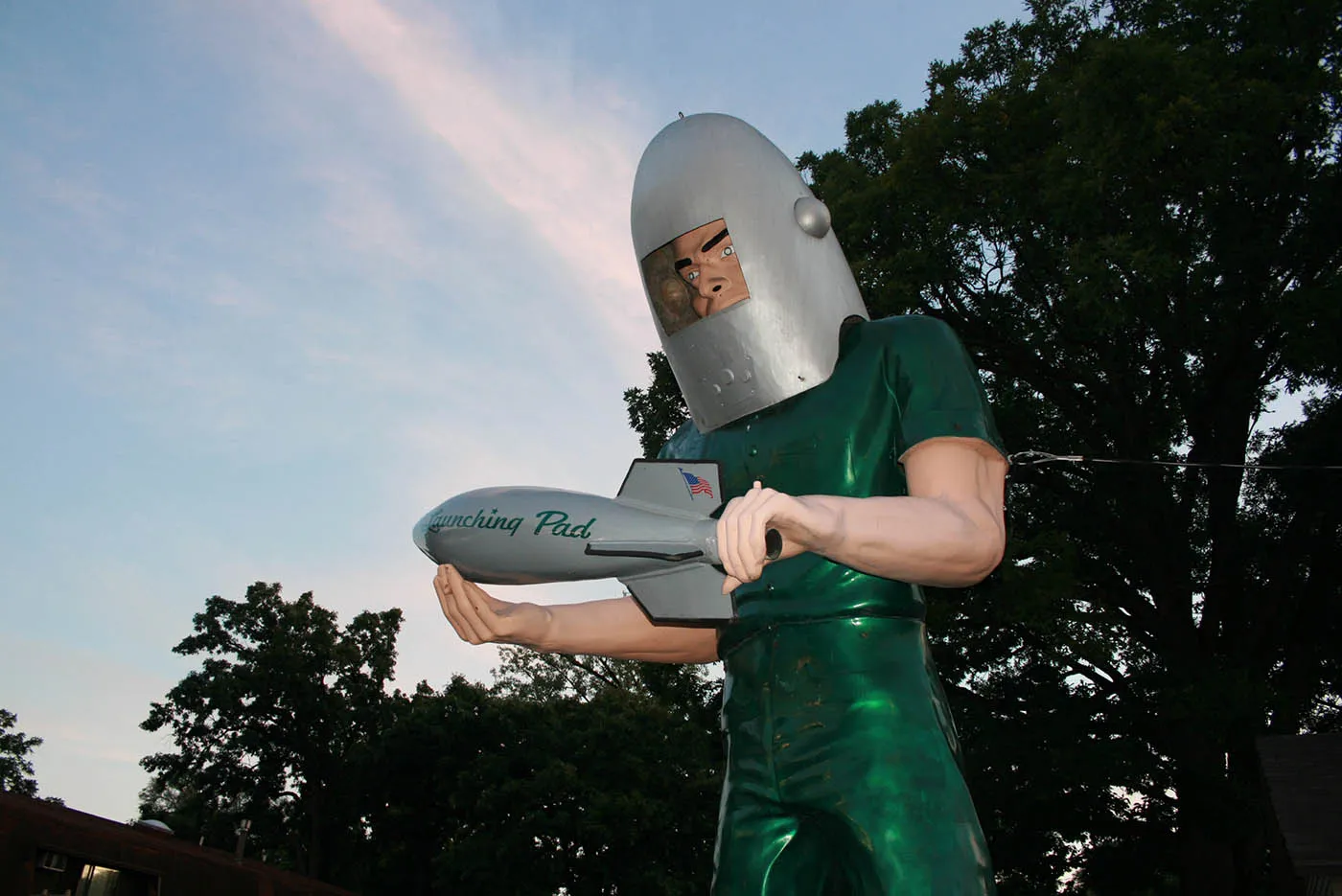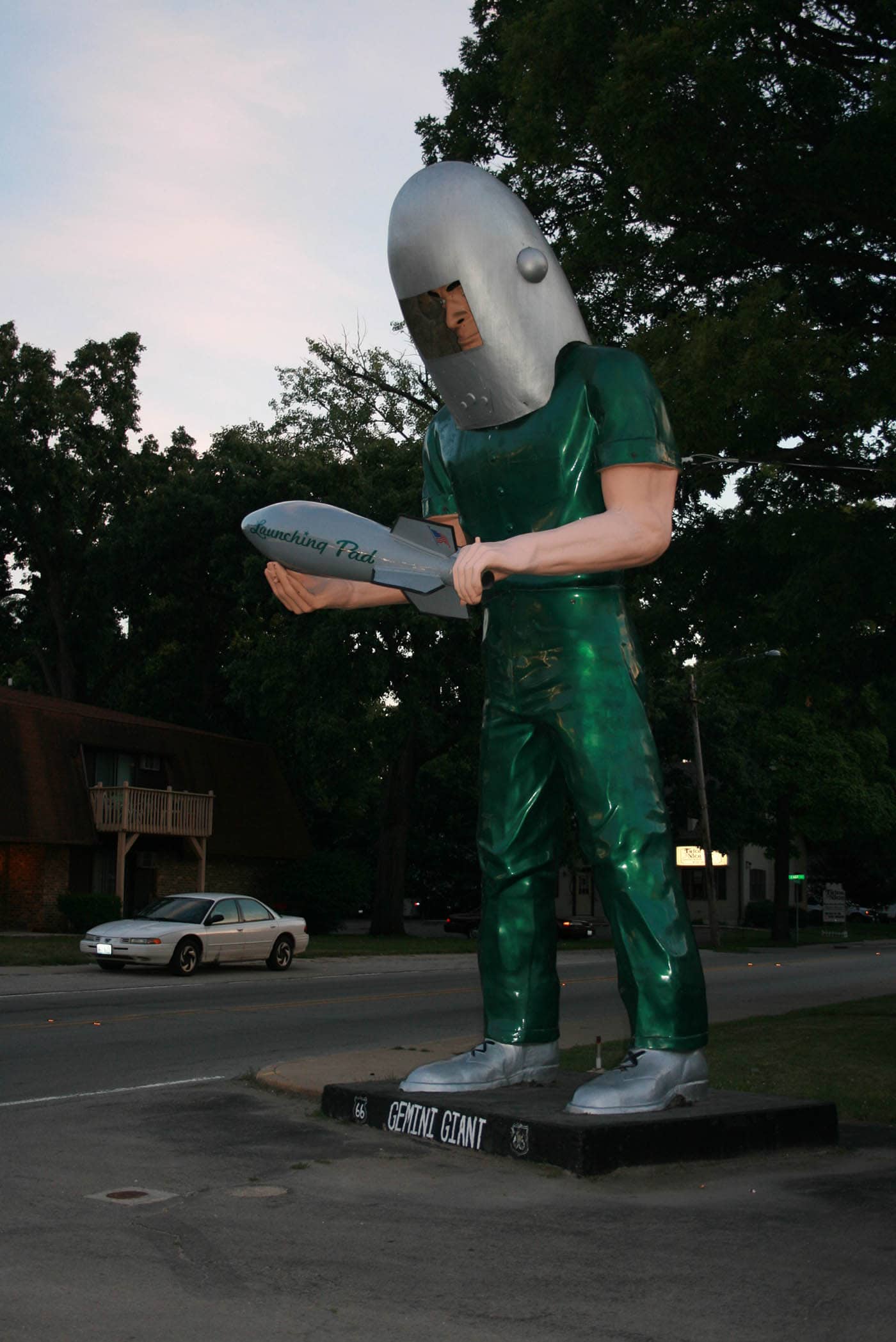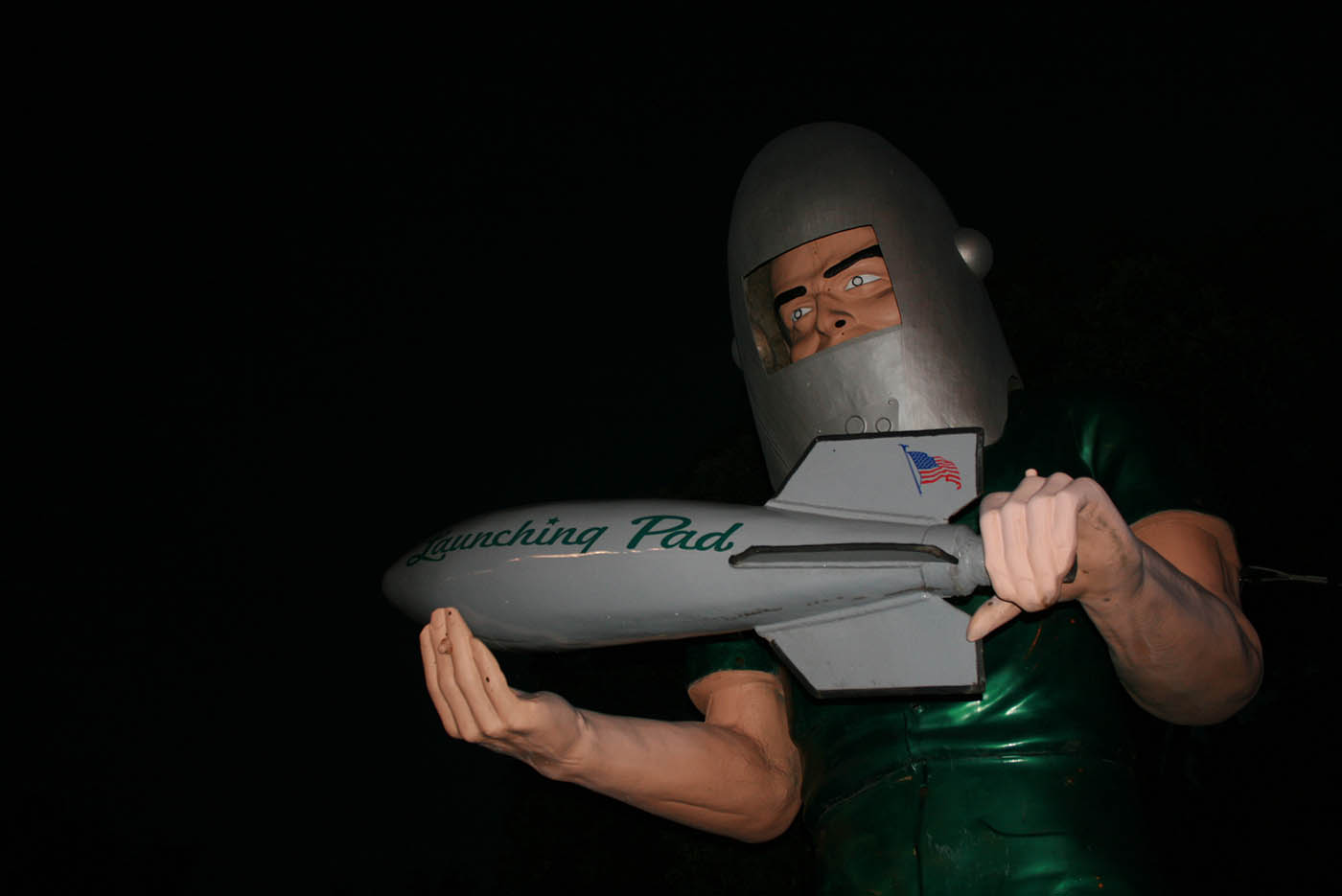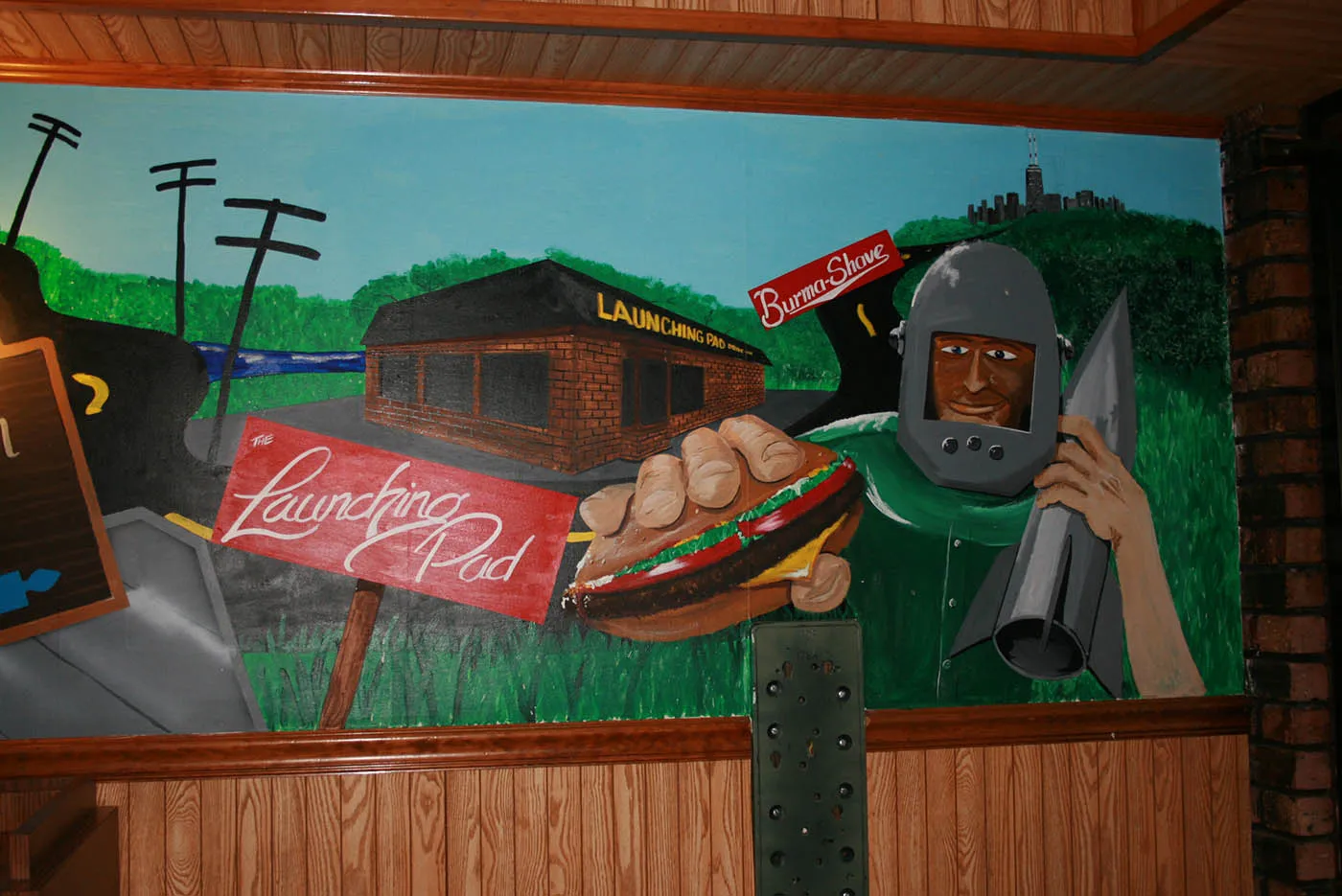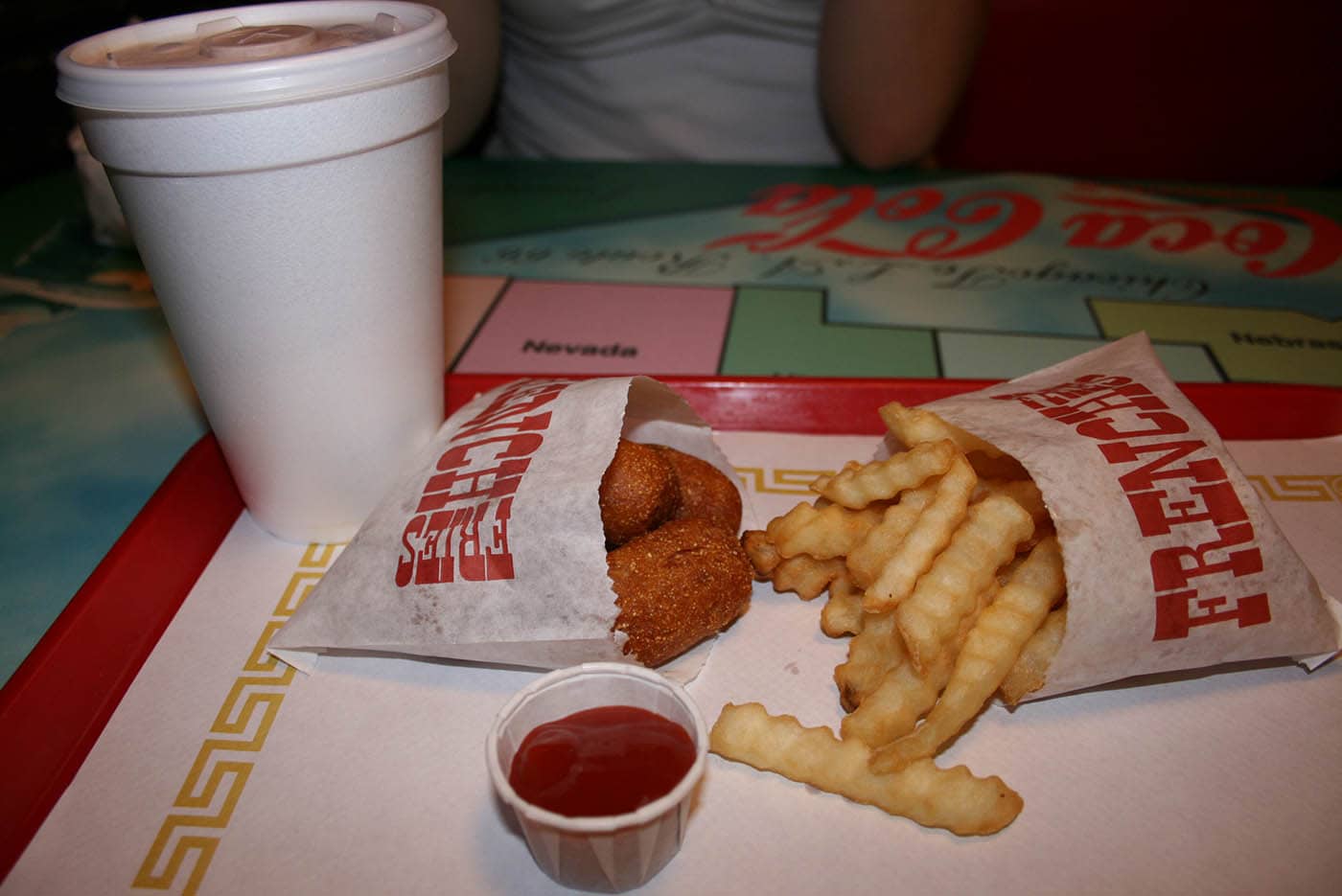 Interested in finding all the muffler men on Route 66? Also check out Carl's Ice Cream Muffler Man, Muffler Man Holding a Hot Dog, the Atlanta Muffler Man head, the Lauterbach Giant, the Harley Davidson Muffler Man, Mega Mayor Muffler Man in Uranus, Route 66 Food Truck Park Chef Muffler Man, Buck Atom Space Cowboy, the 2nd Amendment Cowboy, and the Muffler Men Mural.
---
Gemini Giant Muffler Man at the Launching Pad Restaurant
Location: 810 E Baltimore St, Wilmington, IL
Cost: Free to see. Lunch/dinner extra.
Hours: Always visible.
Pin this Illinois Route 66 Roadside Attraction: