One of the most popular roadside attractions in America is the Muffler Man: a broad, tall, fiberglass man who was originally created as a roadside advertising icon. But exactly what is a muffler man? How can you distinguish between one of these and any other roadside attraction? And what types of these giant men exist? Read on to find out more about these fiberglass giants that you'll find on Route 66 and across the country.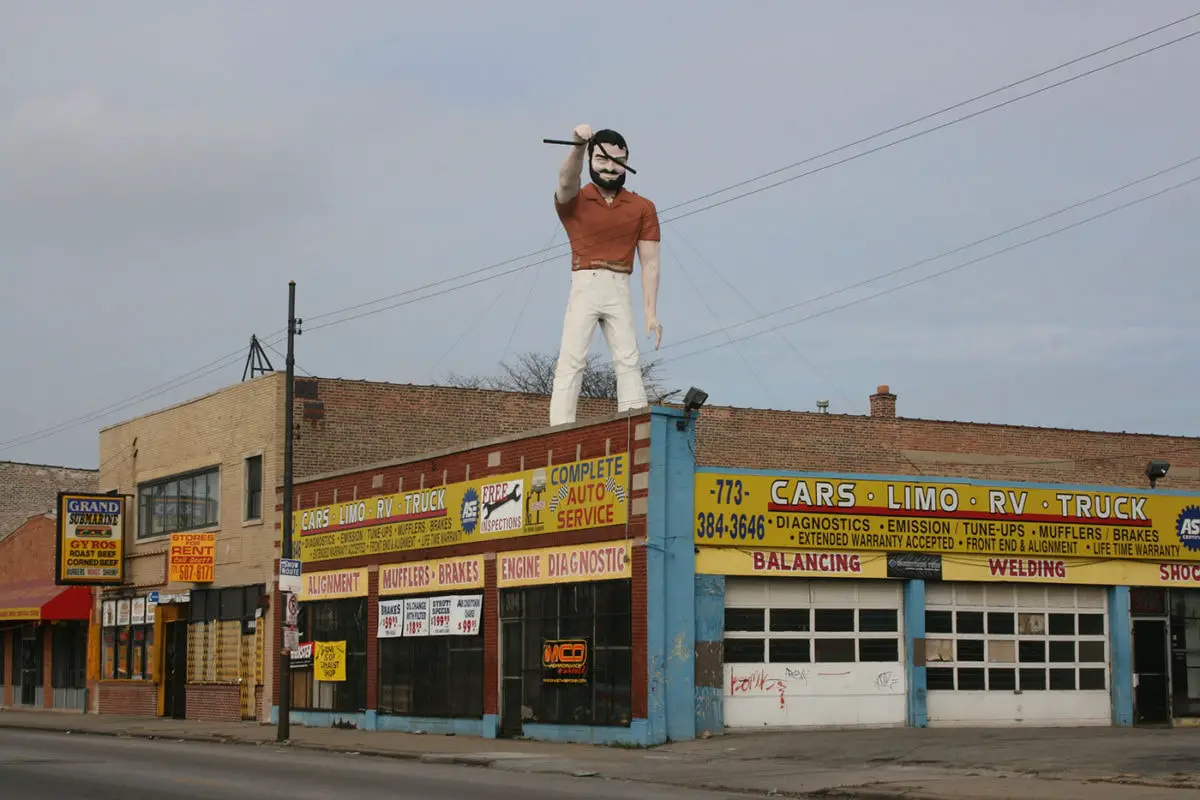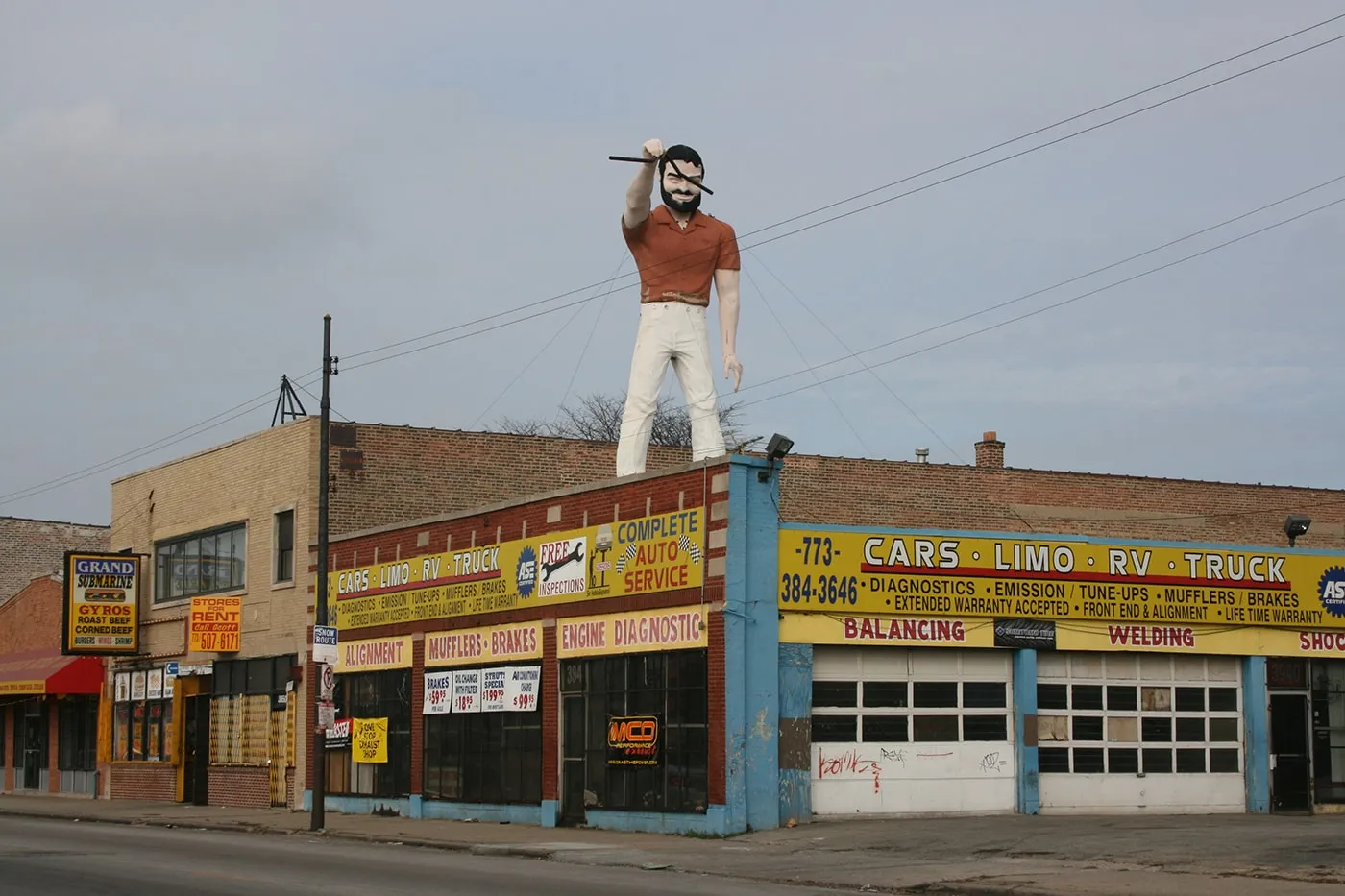 What is a Muffler Man roadside attraction?
The hollow fiberglass roadside attractions stand anywhere from 14 to 25 feet tall. Each has a similar design and was built between 1963 and 1972 by International Fiberglass in Venice, California.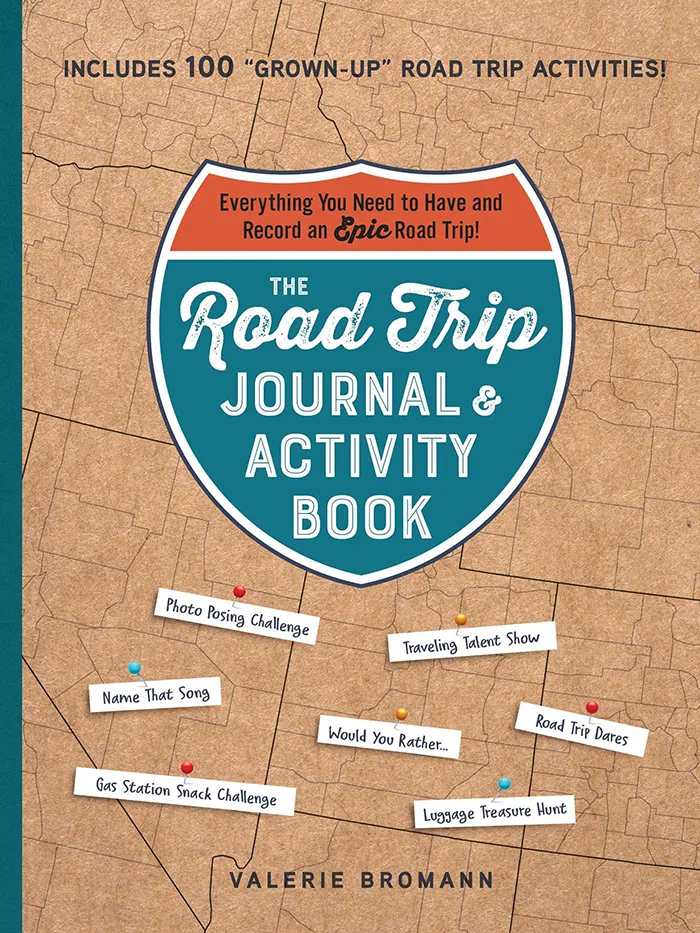 The Road Trip Journal & Activity Book
Everything You Need to Have and Record an Epic Road Trip!
Enjoy fun games and challenges to pass the time on your next road trip and have a keepsake to look back on for years to come with this entertaining must-have for your next vacation.
Originally called "Giant Men," the term "Muffler Man" was actually coined in the 1990s by the founders of RoadsideAmerica.com after the accessory of choice by many of these, well, giant men: a muffler.
But not all muffler men hold mufflers. You can find examples of these roadside attractions wearing a variety of outfits and carrying everything from American flags to tires to a carpet to a giant hot dog…and often nothing at all.
International Fiberglass shut down in the early-mid 1970s, but their legacy had been cemented on the American roadside. Hundreds of these large men were in place across the country (and beyond) and today around 180-200 still exist in the US, Mexico, Canada, and Puerto Rico. And these retro giants are even seeing a resurgence with some of the originals being refurbished and restored and new ones being reproduced using molds.
They come dressed as everything from a garage worker to a spaceman to a pirate!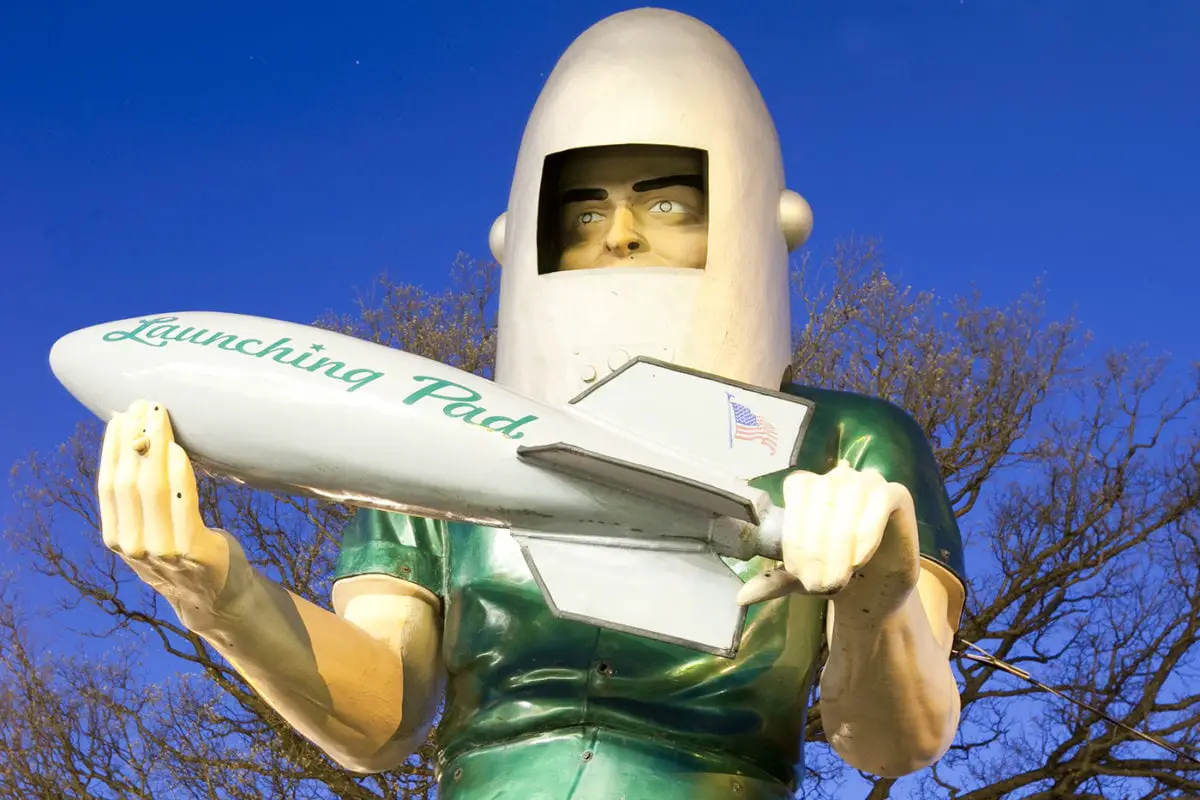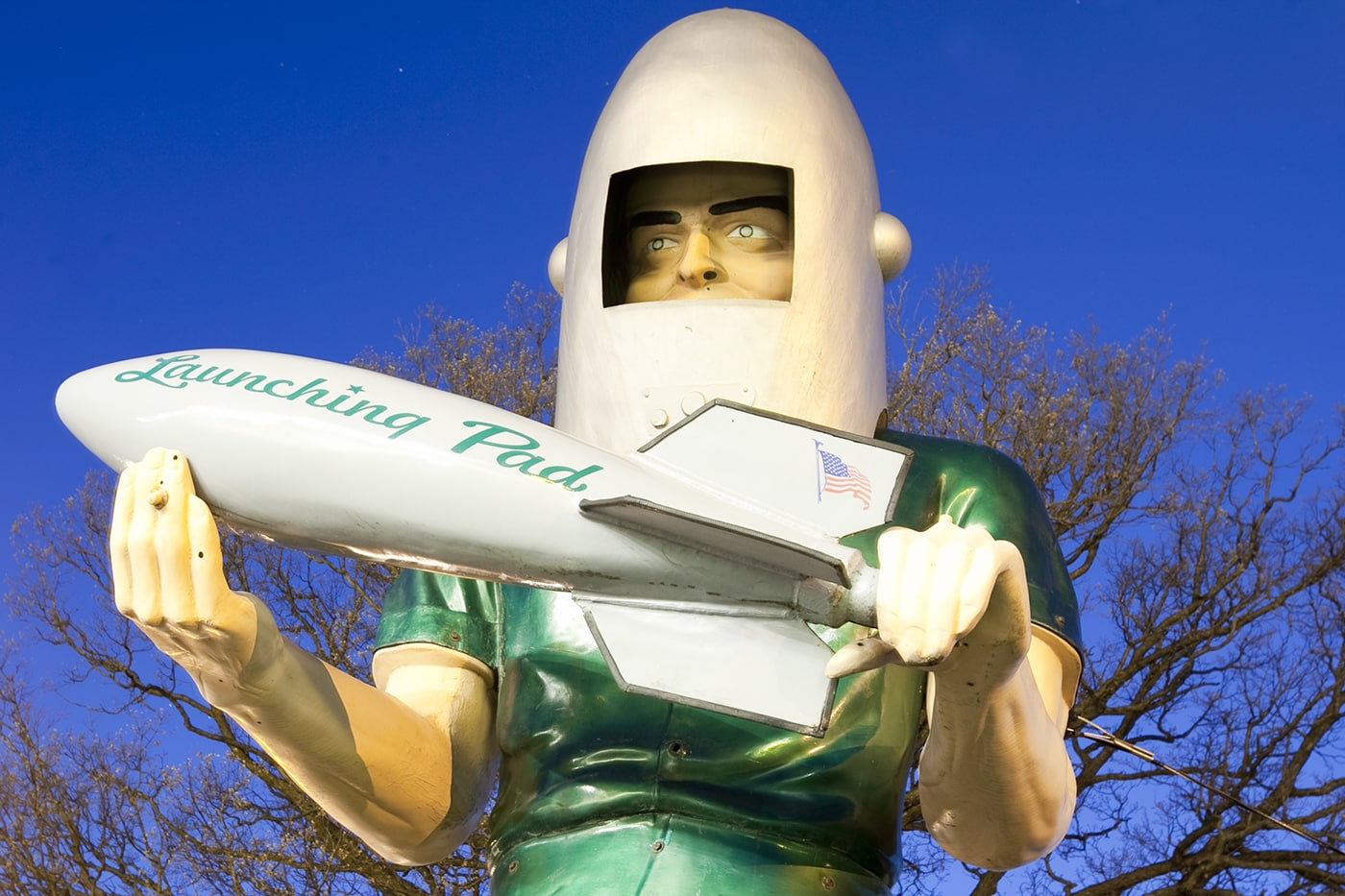 How can you identify a muffler man?
What separates the muffler man from any of the number of other giant men you'll find on the side of the road? There are a few defining characteristics to look for:
Of course, there are some outliers. Most notably Indians and Halfwits have different shaped heads and the Mr. Bendo variety has different arm positioning.
What types of Muffler Men are there?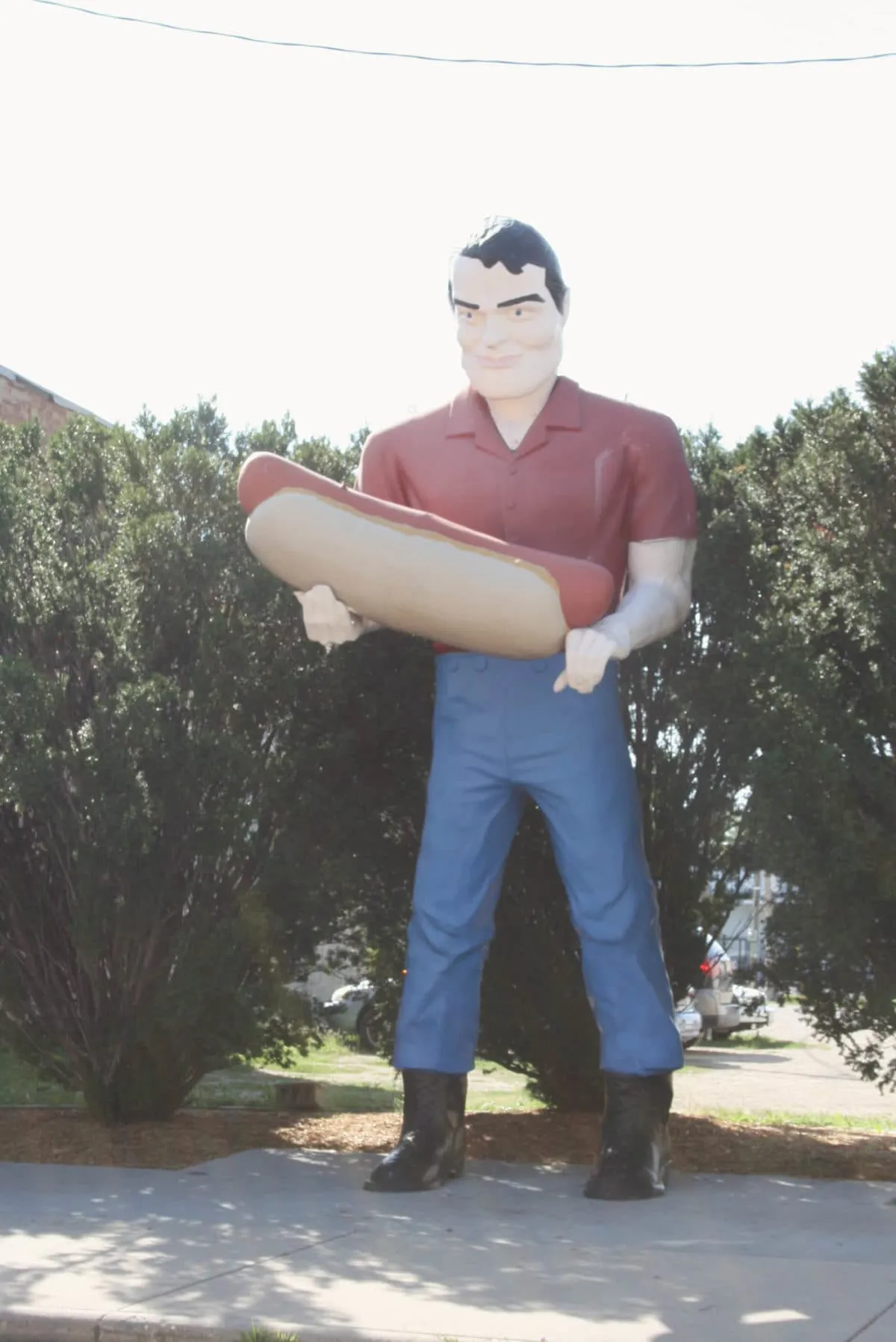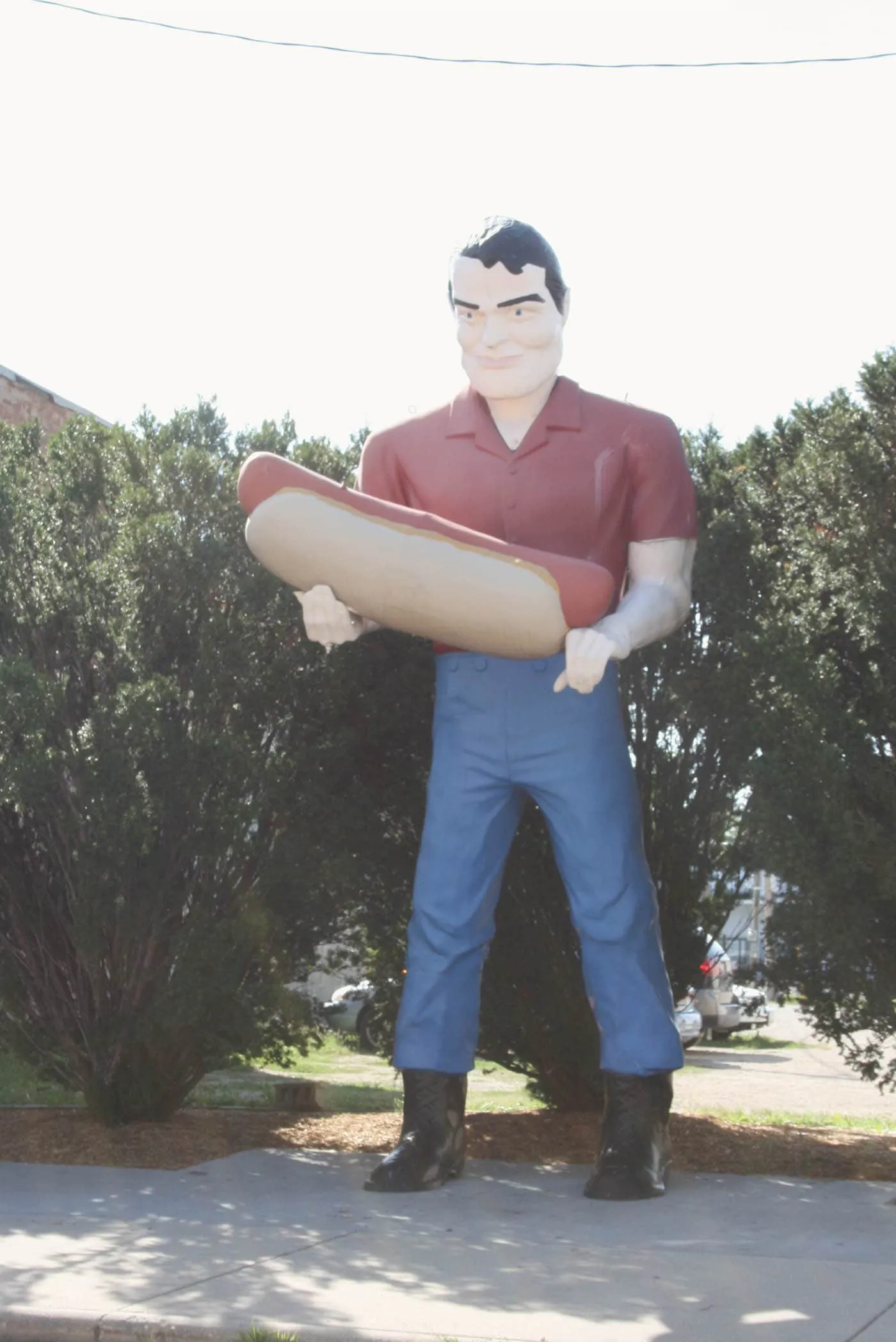 Classic Muffler Man
A clean-shaven giant with all the typical characteristics you'd expect.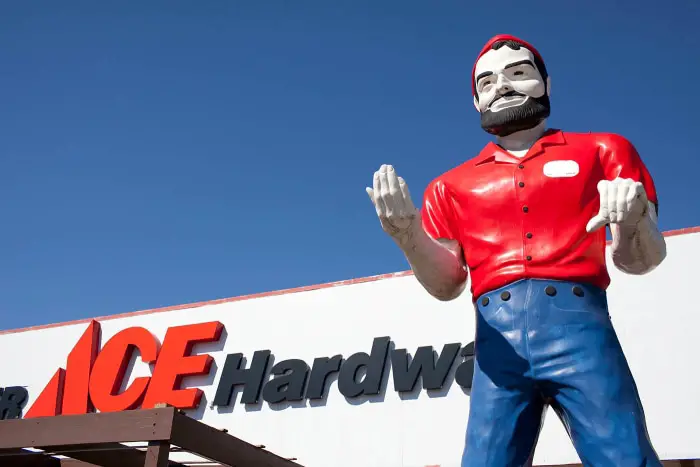 Bunyan Muffler Man
Similar to the plain classic style, these Paul Bunyan lookalikes wear "wool" caps and a full beard. They are often found sporting axes and plaid.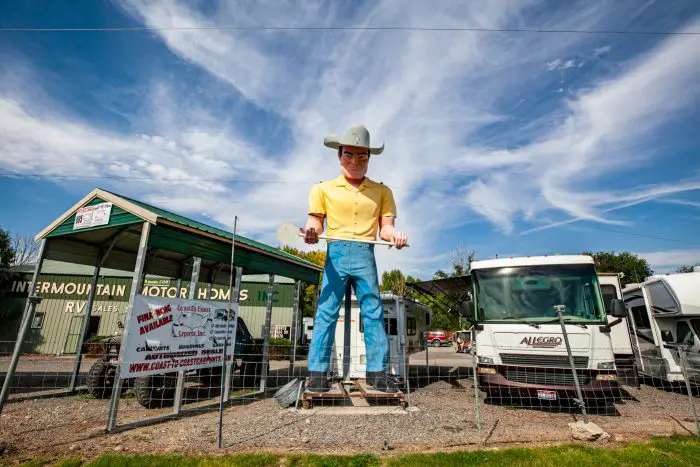 Cowboy Muffler Man
Pretty much a classic style but always wearing a larger-than-life stetson hat.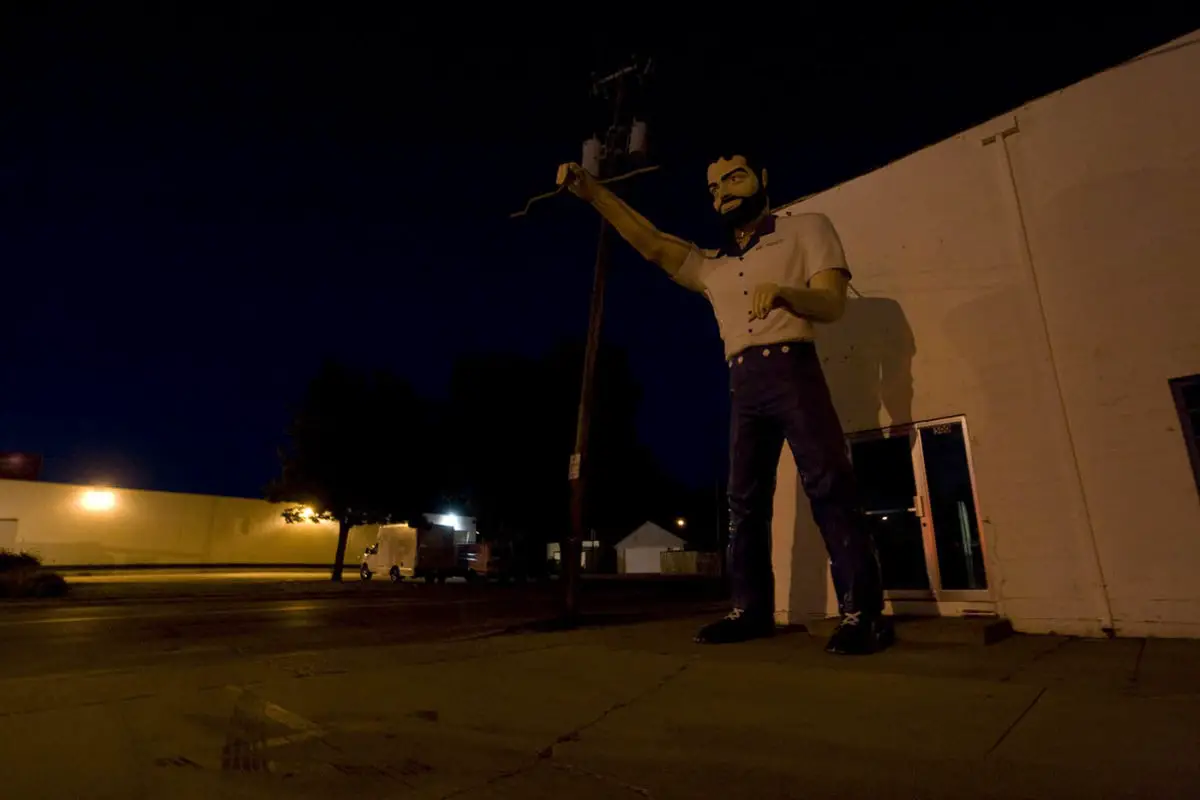 Mr. Bendo
Mr. Bendos have a very similar look to the classic and Paul Bunyan styles, but the arms are positioned a bit differently, instead of the typical style with the right palm facing up, instead the right arm is outreached in front, often holding a bent tube that gives this version its name.
Pirate Muffler Man
These giant pirates have something most others of the genre don't have: bling. Pirates are often decked out with accessories galore, including hats or head scarves, eye patches, gold hoop earrings, swords, and even a hook for a hand.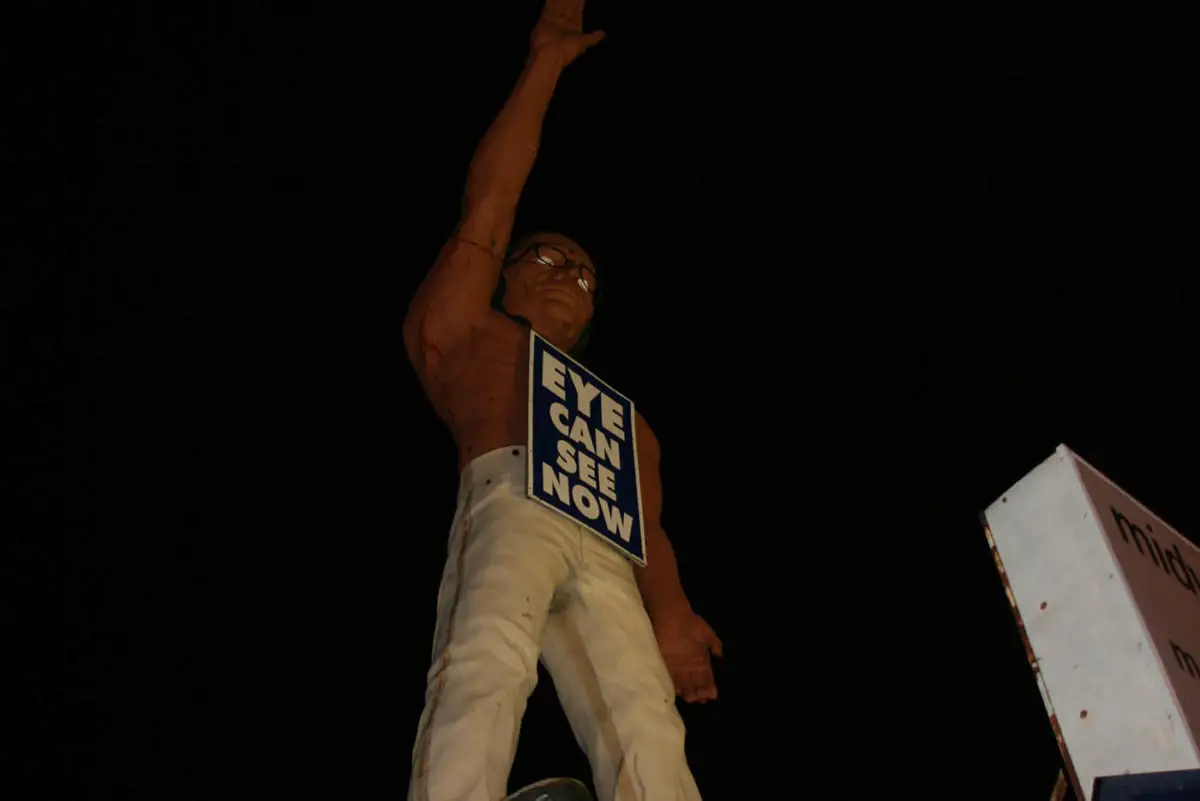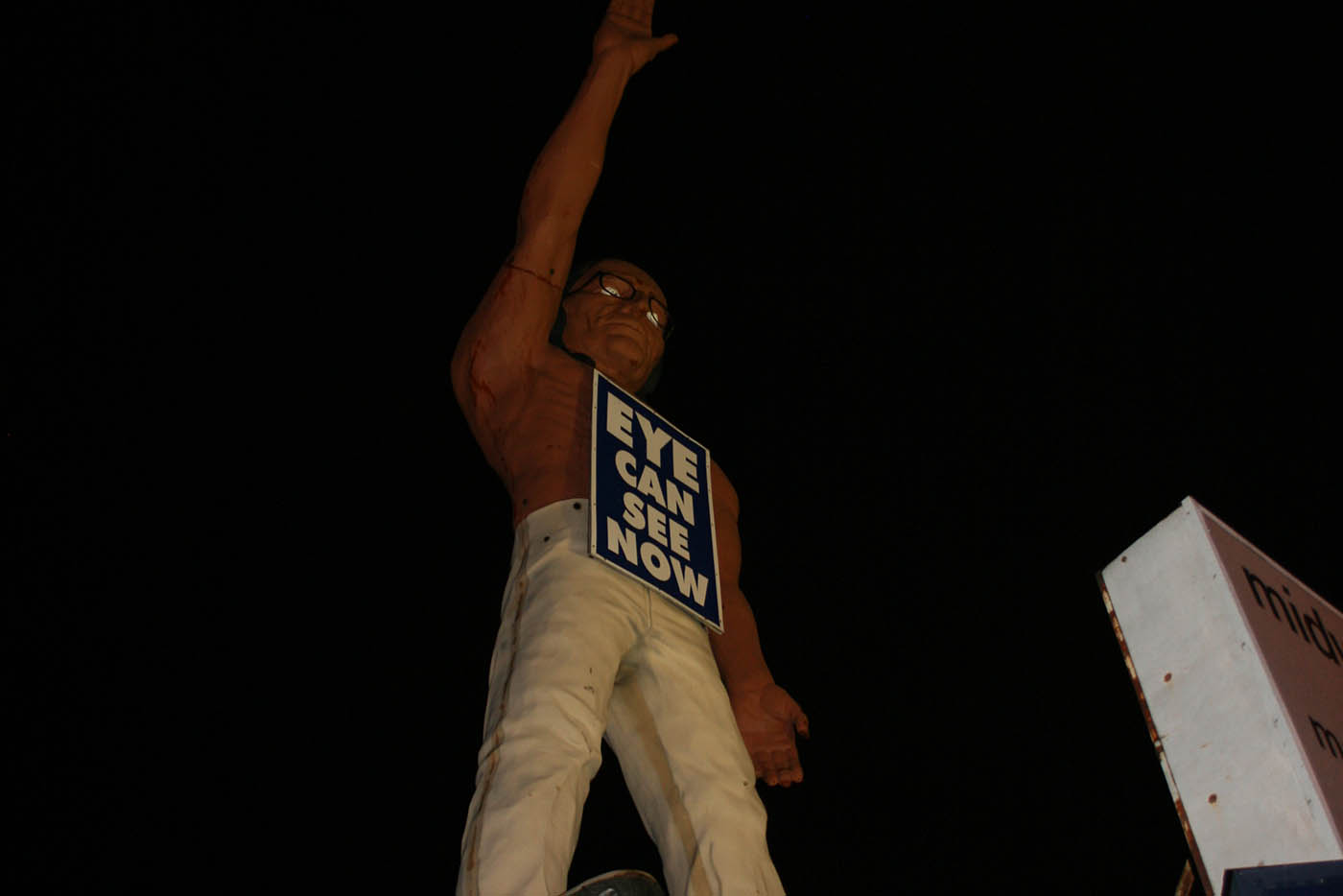 Indian Muffler Man
From the waist-down this category looks just like every other muffler man. But that's where the similarities end. The Native American statues have a different arm configuration, different facial features, and are bare chested.
Happy Halfwit
The Happy Halfwit has a similar body and arm positioning to his familiar counterparts, but with a large, goofy, cartoon-like head reminiscent of Mad Magazine's Alfred E. Neuman.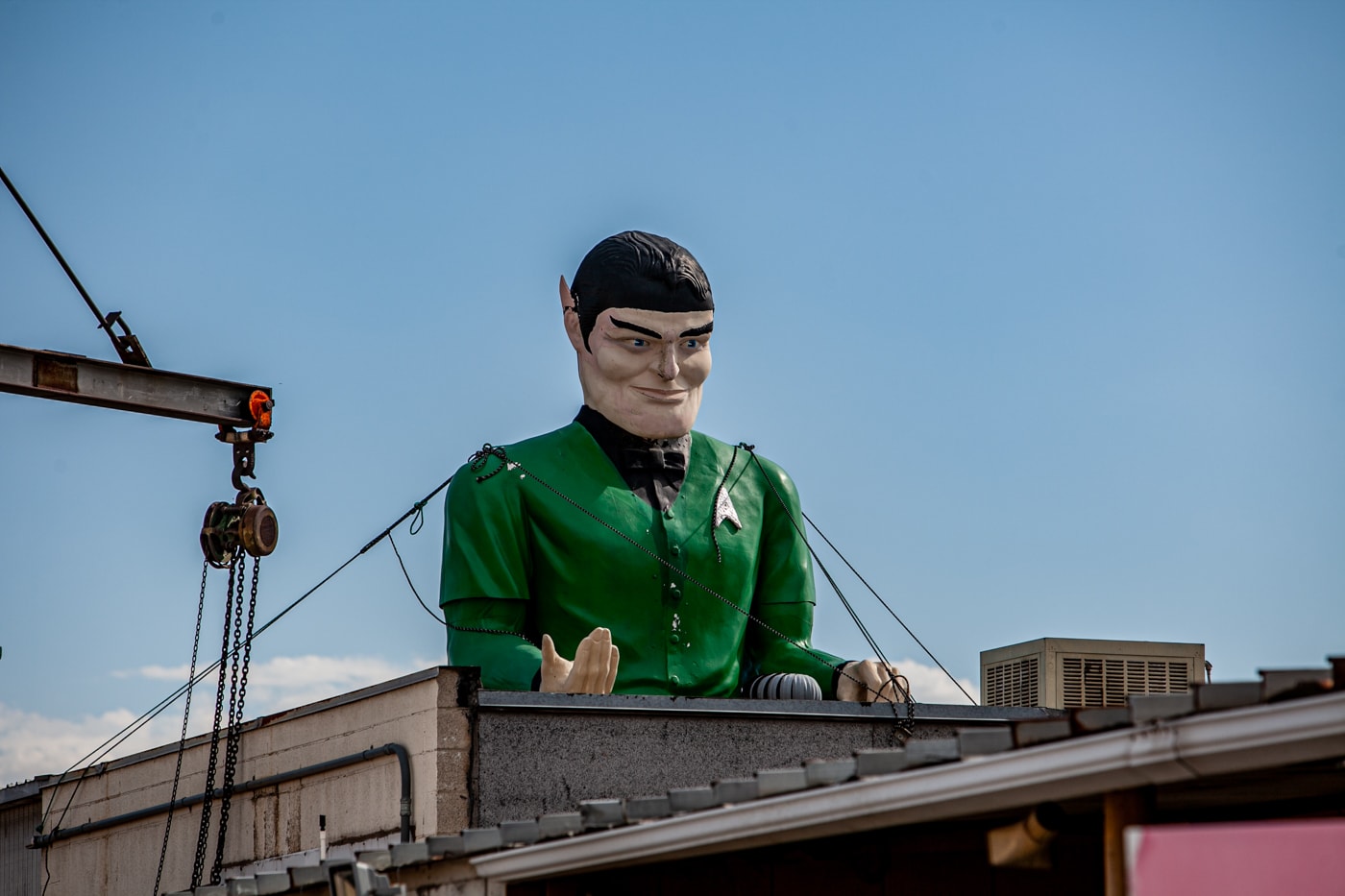 Modified Muffler Men
Modifications about when it comes to these roadside attractions. Some were modified from the start and others were reconfigured or repainted later in their life. Modified version include Chicken Boy in California, Frankenstein at Haunted Trails in Illinois, and even a recently-modified Spock head in Utah.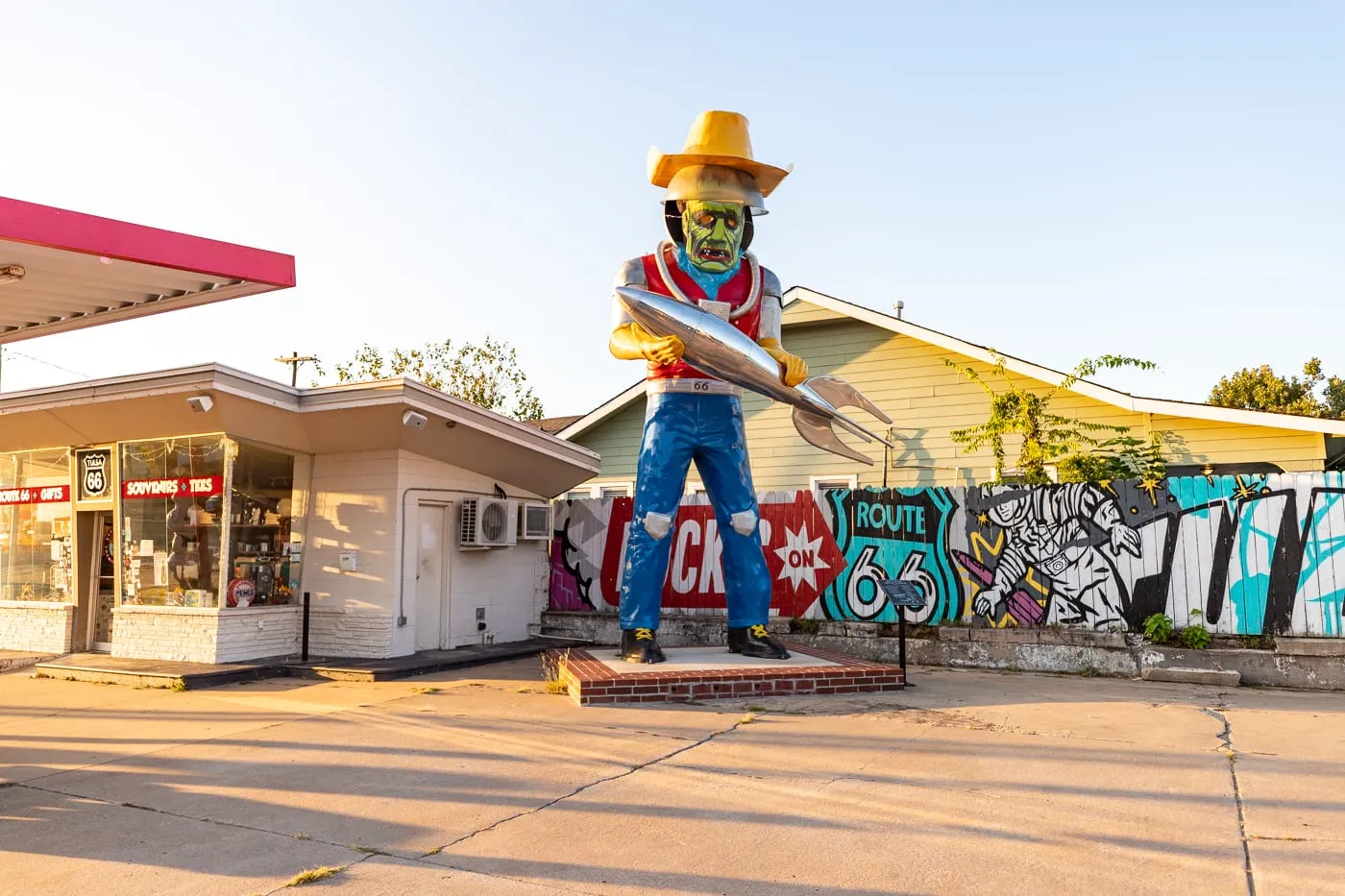 A New Era of Muffler Men
Muffler men are seeing a resurgence in popularity and businesses across the country are eager to get their hands on one of these iconic roadside attractions.
Some businesses are choosing to buy discarded originals but others are opting to have a new muffler man made to their specifications. Yes, brand new muffler men are being created today!
Most of these new creations are coming from the workshop and mind of American artist Mark Cline of Enchanted Castle Studio. He's makes updated versions from molds made from originals. Many of his creations are modeled after the smaller, 14-foot lumberjacks that were manufactured for a few years in the 1960s. These include a Soda Jerk in Normal, Illinois and a cowboy with an ice cream cone in Berlin, Maryland.
One of his biggest and newest creations is the Buck Atom Space Cowboy Muffler Man at Buck Atom's Cosmic Curios on Route 66. Cline used a mold of an original muffler man to create a brand new creation for a new generation of Route 66 road trippers and enthusiasts to enjoy.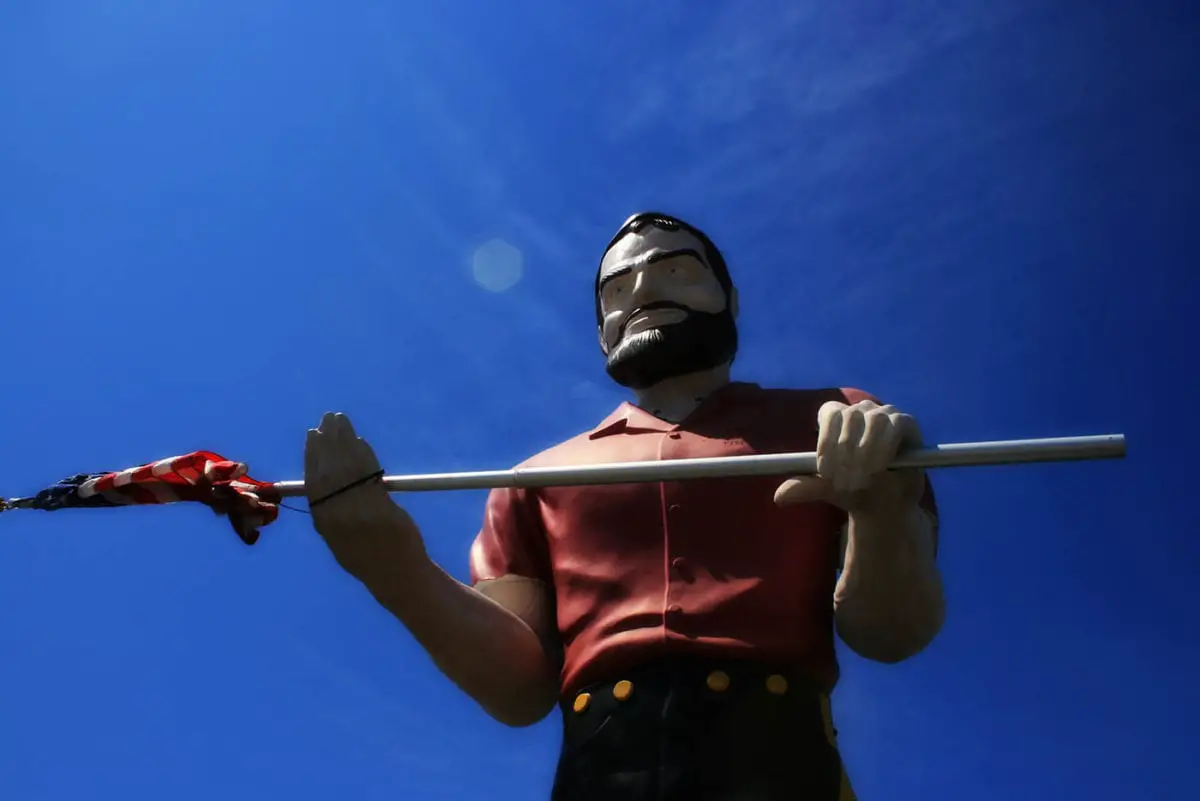 Learn more about muffler men
Check out these websites and webpages to learn more about these fiberglass titans.
Roadside America
Check out the website that coined the name. They have more information on the history of these statues as well as comprehensive listings and a detailed map of where to find them all!
American Giants
American Giants not only have a wealth of information about these curious goliaths, they also restore, buy and sell the roadside attractions.
Wikipedia
Find the official Wikipedia listing for these roadside attractions to learn more.
Pin this post to save for later: