The 2nd Amendment Cowboy muffler man is a roadside attraction in Amarillo, Texas. It's hard to miss this giant man with a controversial message, located just down the road from the famed Cadillac Ranch on Route 66.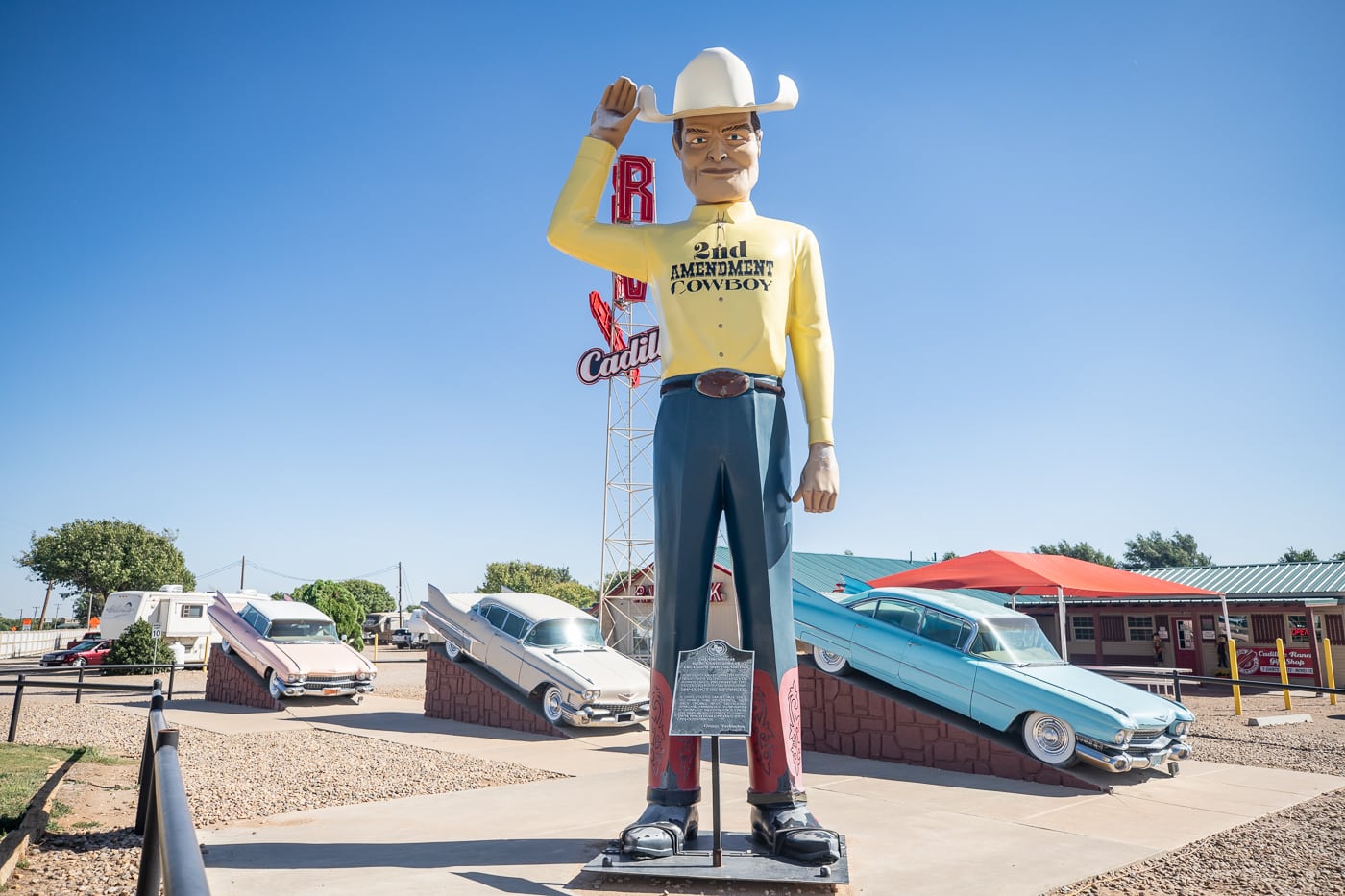 Muffler men roadside attractions are fiberglass giants who stand anywhere from 14 to 25 feet tall. Each has a similar design and was built between 1963 and 1972 by International Fiberglass in Venice, California. With signature stances, these big men stood outside of muffler shops and other businesses to call attention from the road.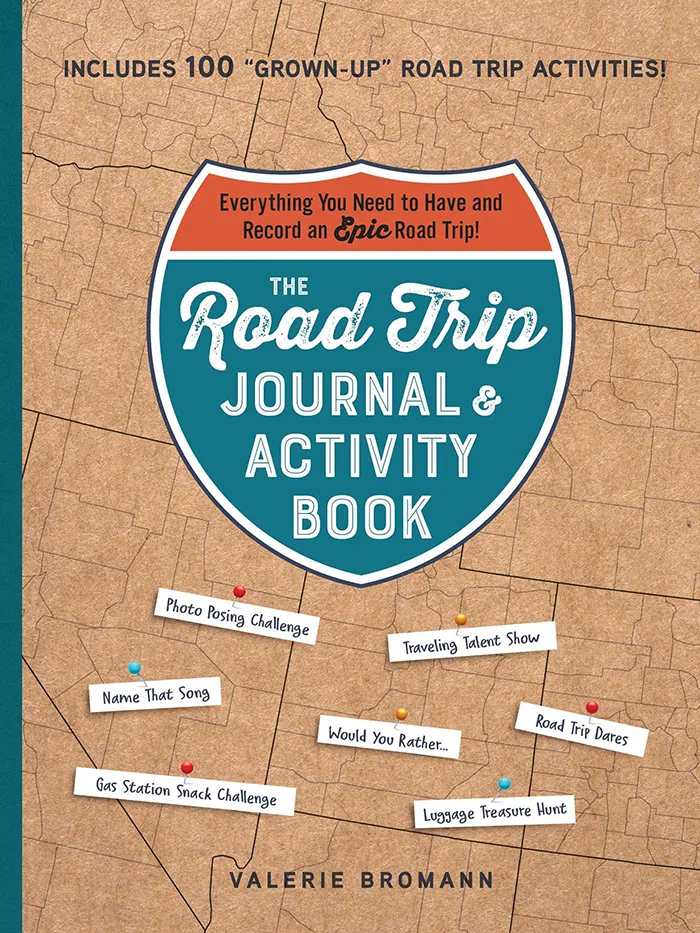 The Road Trip Journal & Activity Book
Everything You Need to Have and Record an Epic Road Trip!
Enjoy fun games and challenges to pass the time on your next road trip and have a keepsake to look back on for years to come with this entertaining must-have for your next vacation.
This fiberglass giant sports that typical chiseled jaw, but much of his figure and his hand and arm positioning is different than the standard muffler man roadside attraction.
We wears blue jeans, red cowboy boots, a cowboy hat, and a yellow button-up shirt stamped with the name "2nd Amendment Cowboy" front and back. Luckily for everyone who passes by, he is not carrying a a world's largest firearm.
For many years this big man wore a plain yellow shirt while standing outside a neighborhood barbecue steakhouse. Prior to that he was located in Sanger, Texas, covered in bullet holes, and possibly was a hybrid of parts among Glenn Goode's collection. After the roadside attraction was auctioned off in 2014, he moved to the RV Park and souvenir shop he stands at today.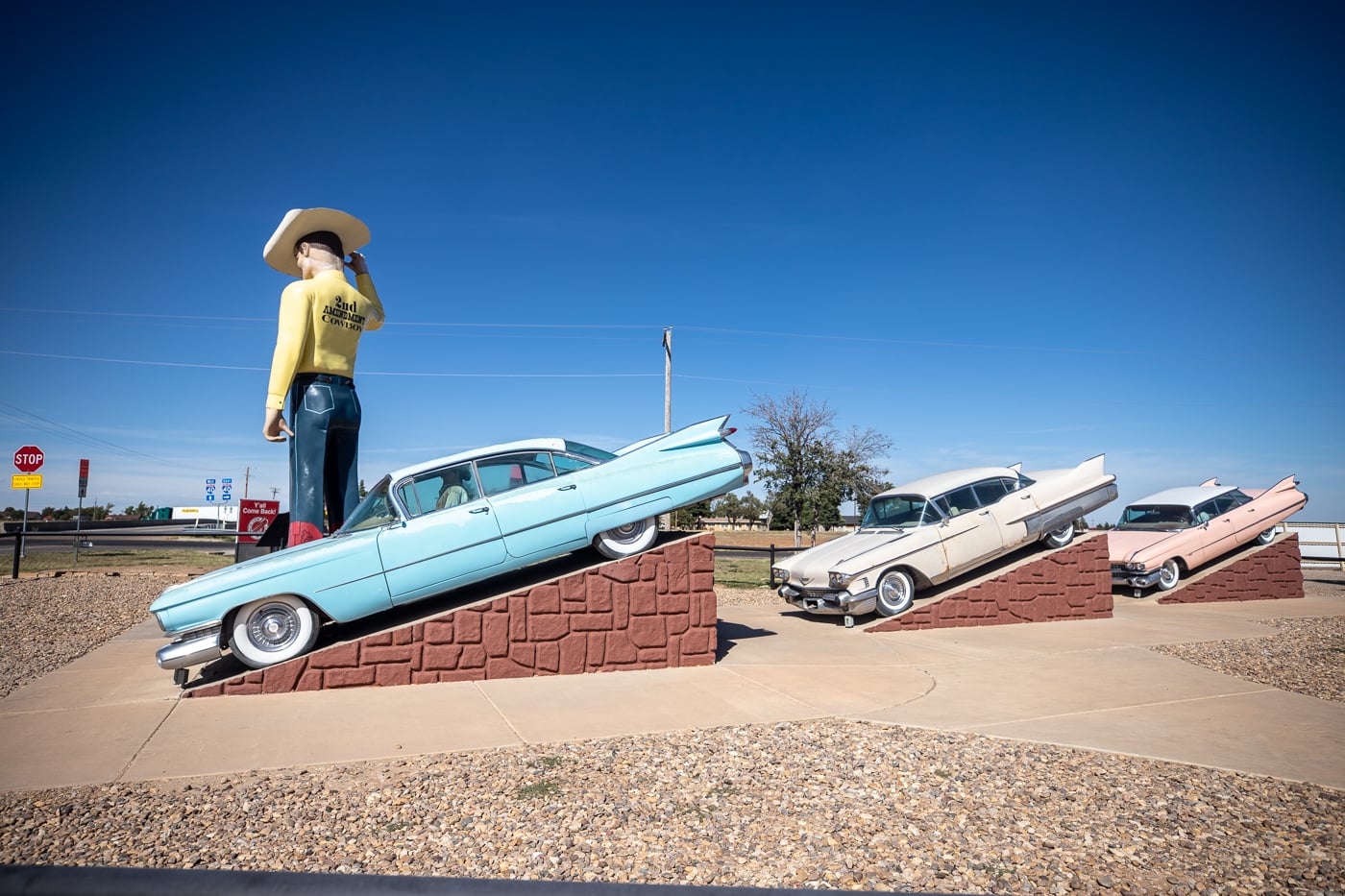 In front of the 2nd Amendment Cowboy is a plaque that recites the 2nd amendment and behind him is a row of pastel Cadillacs (non-spray painted, non-buried, but still angled Cadillacs) with mannequins of Elvis Presley, Willie Nelson, and John Wayne at the wheel.
While stopping in Amarillo, be sure to check out these other Texas roadside attractions: Cadillac Ranch, Ozymandias on the Plains, and The Big Texan Steak Ranch.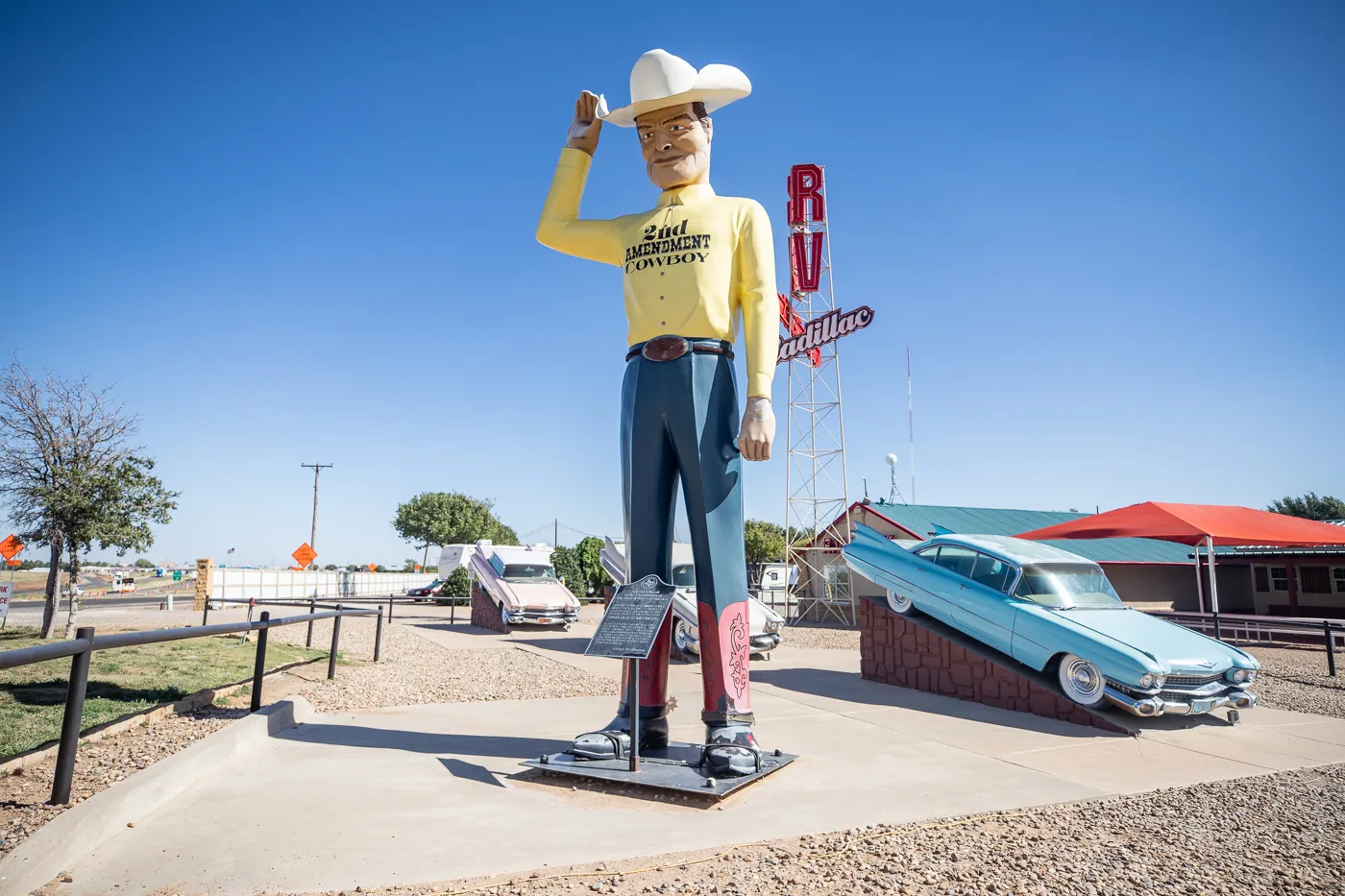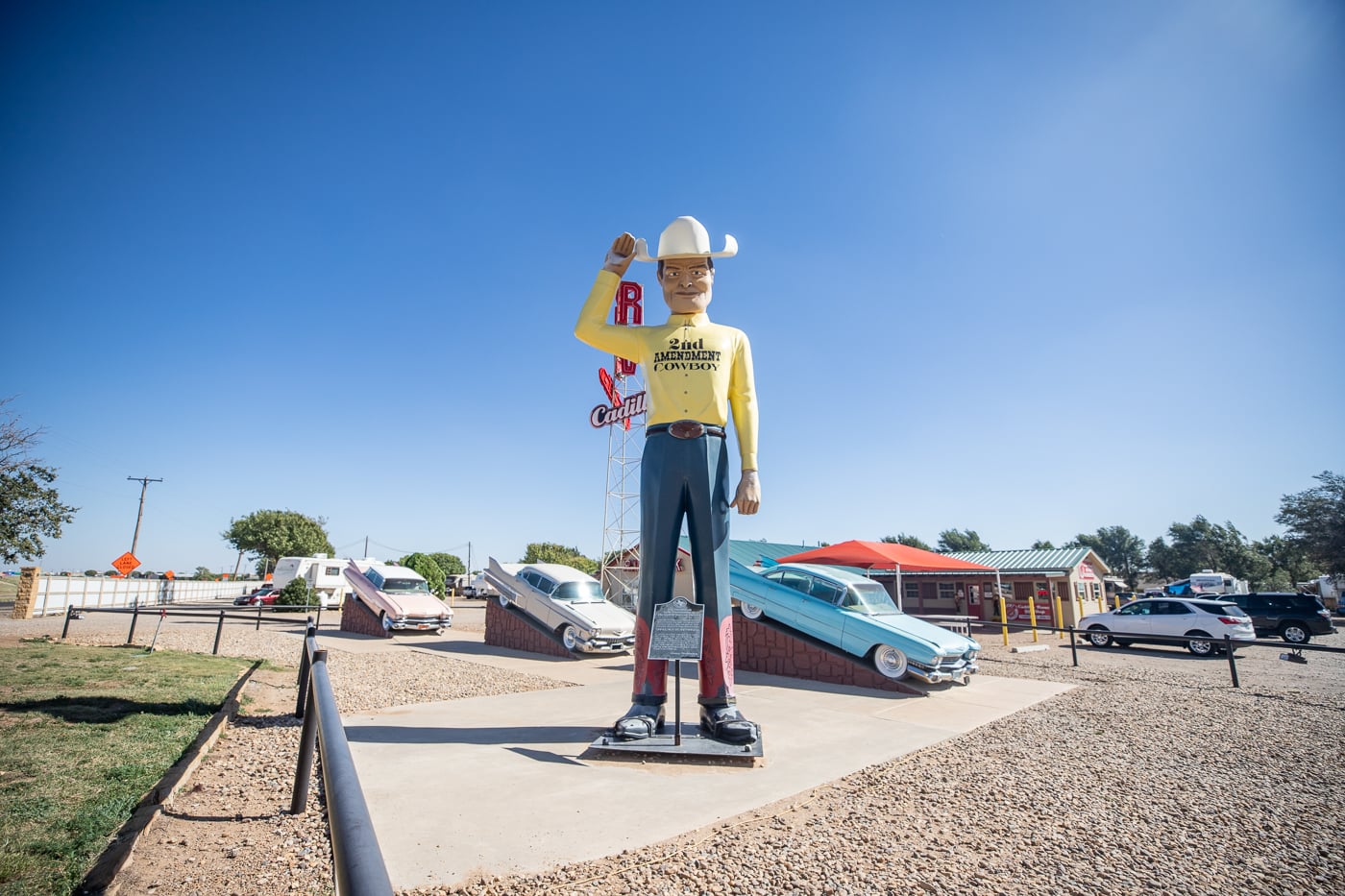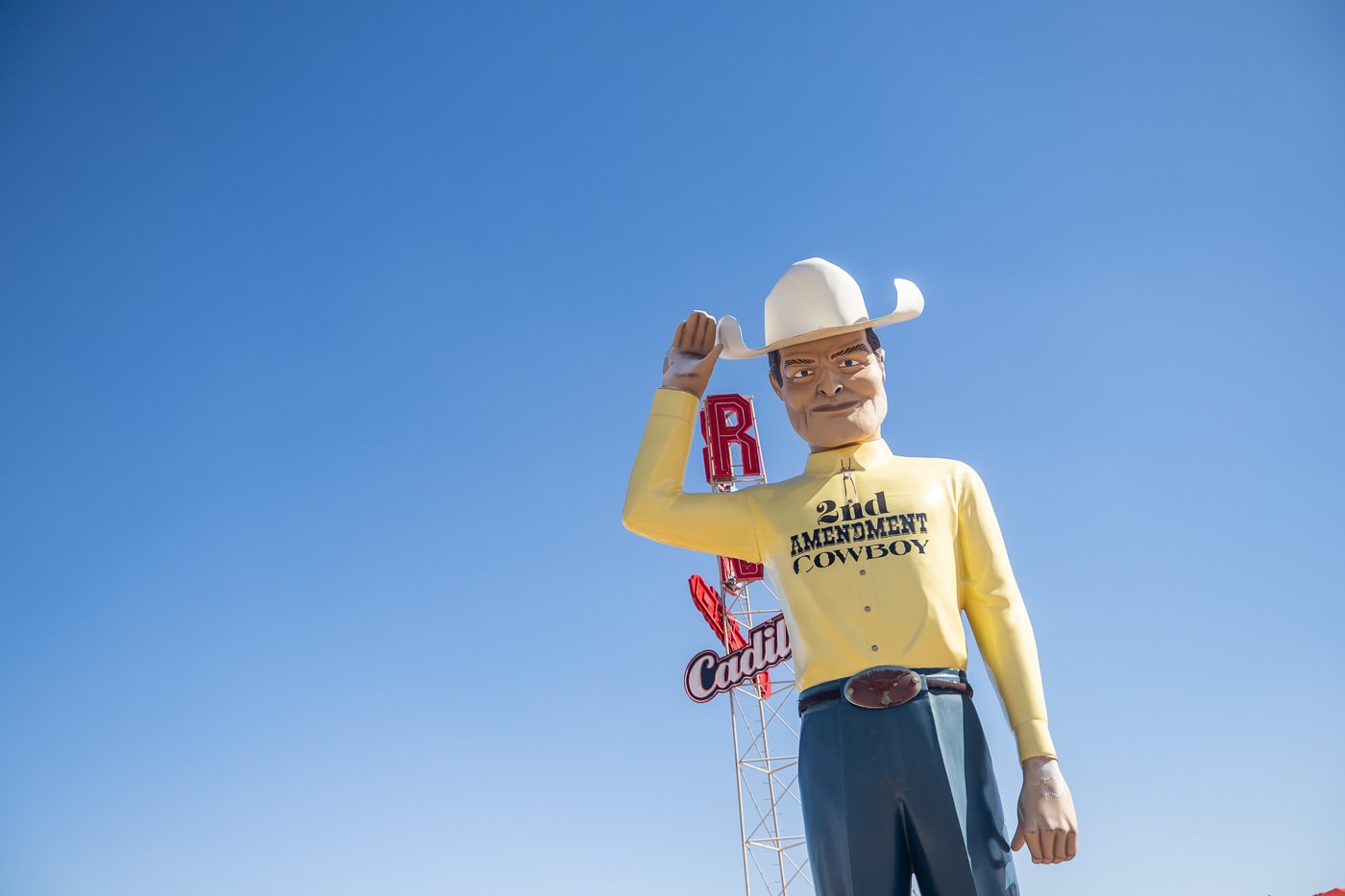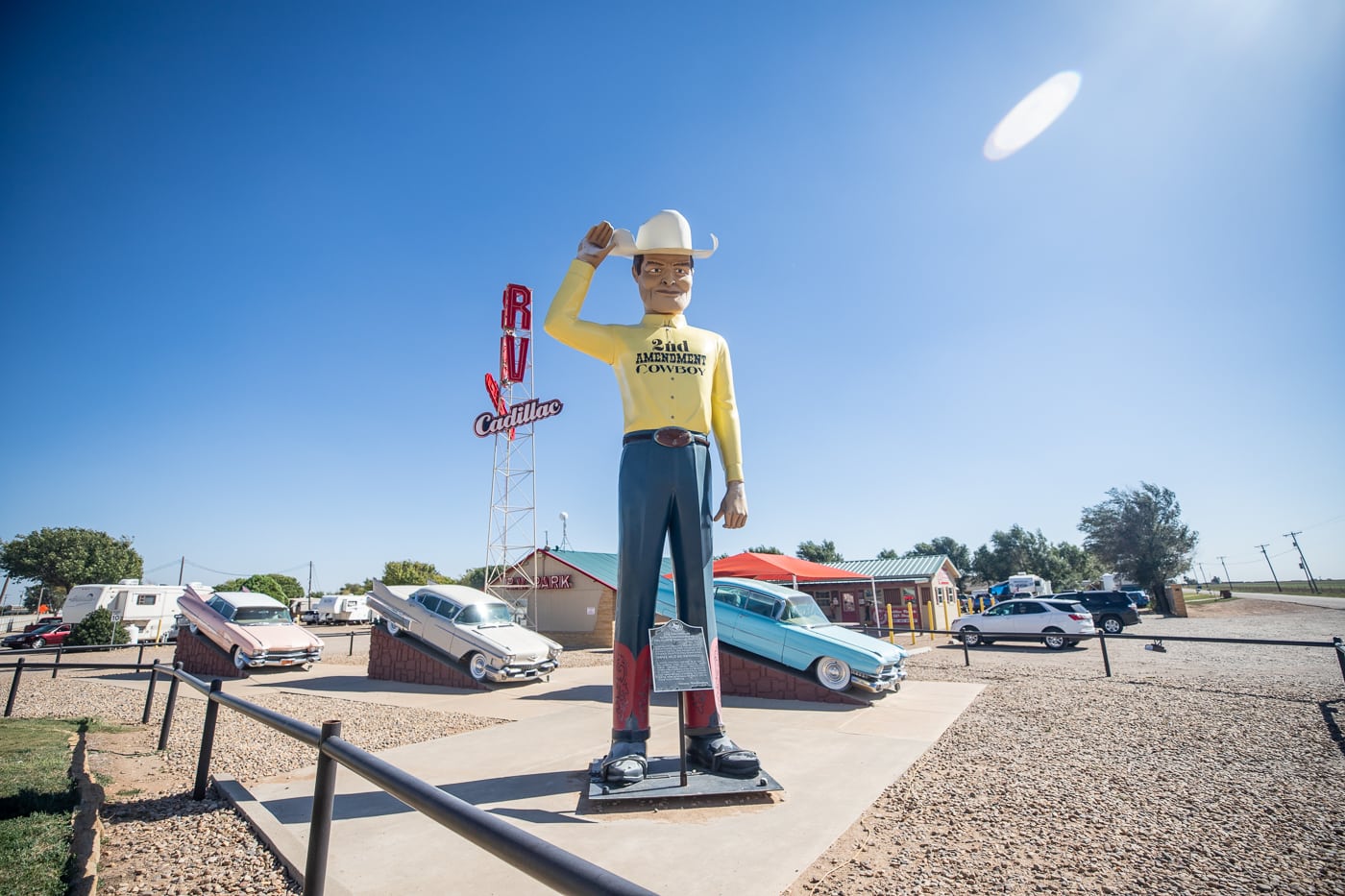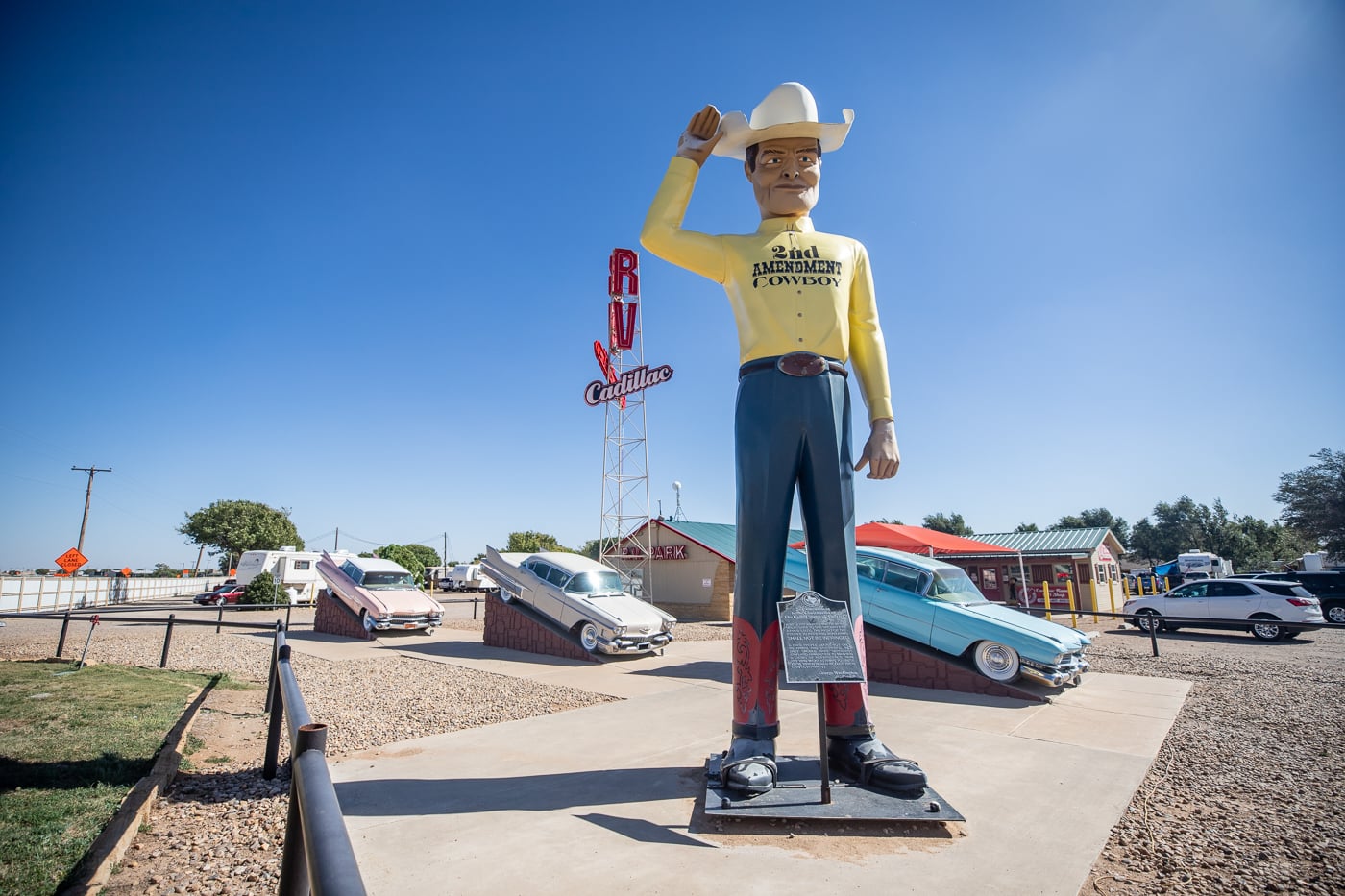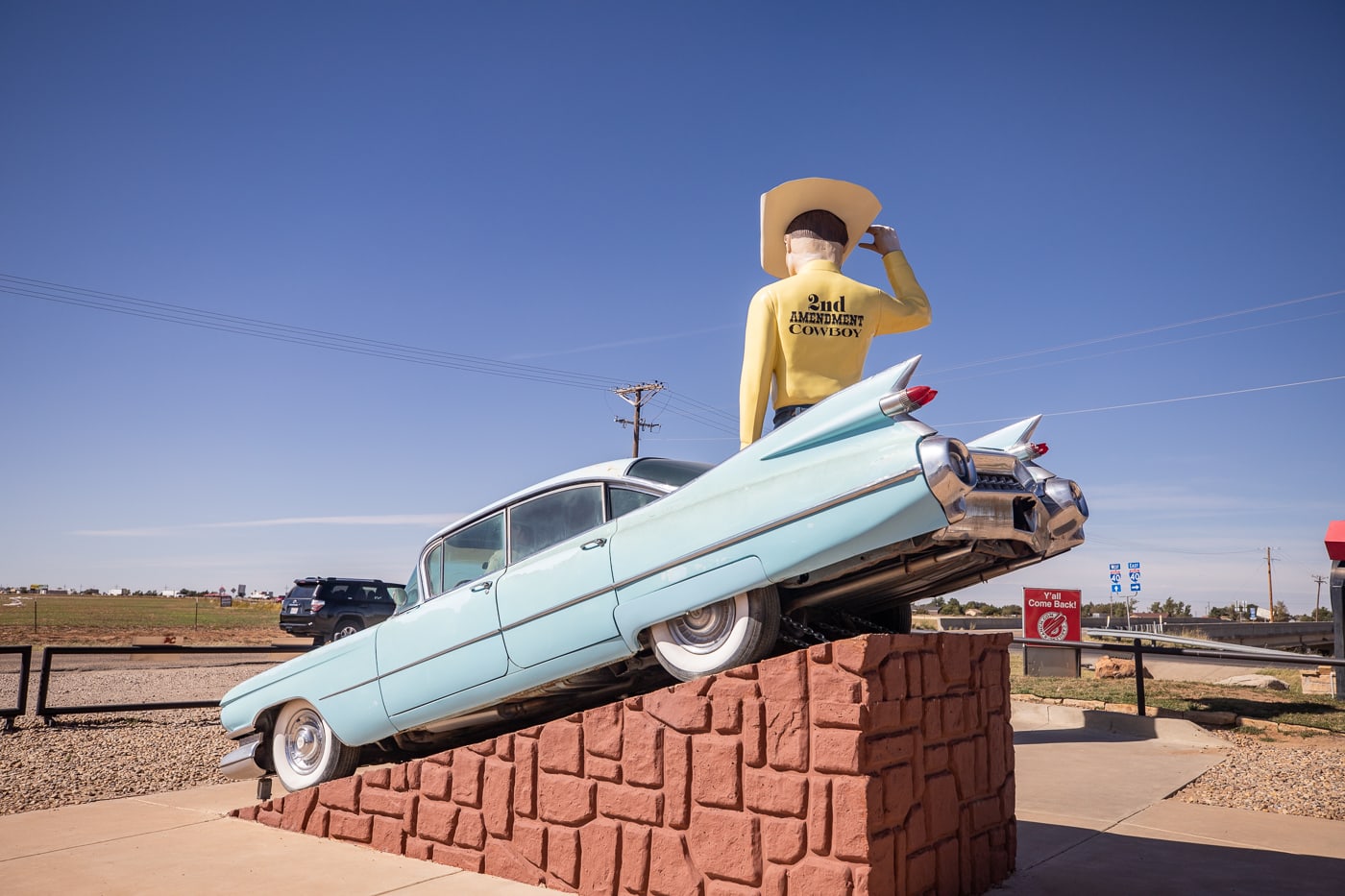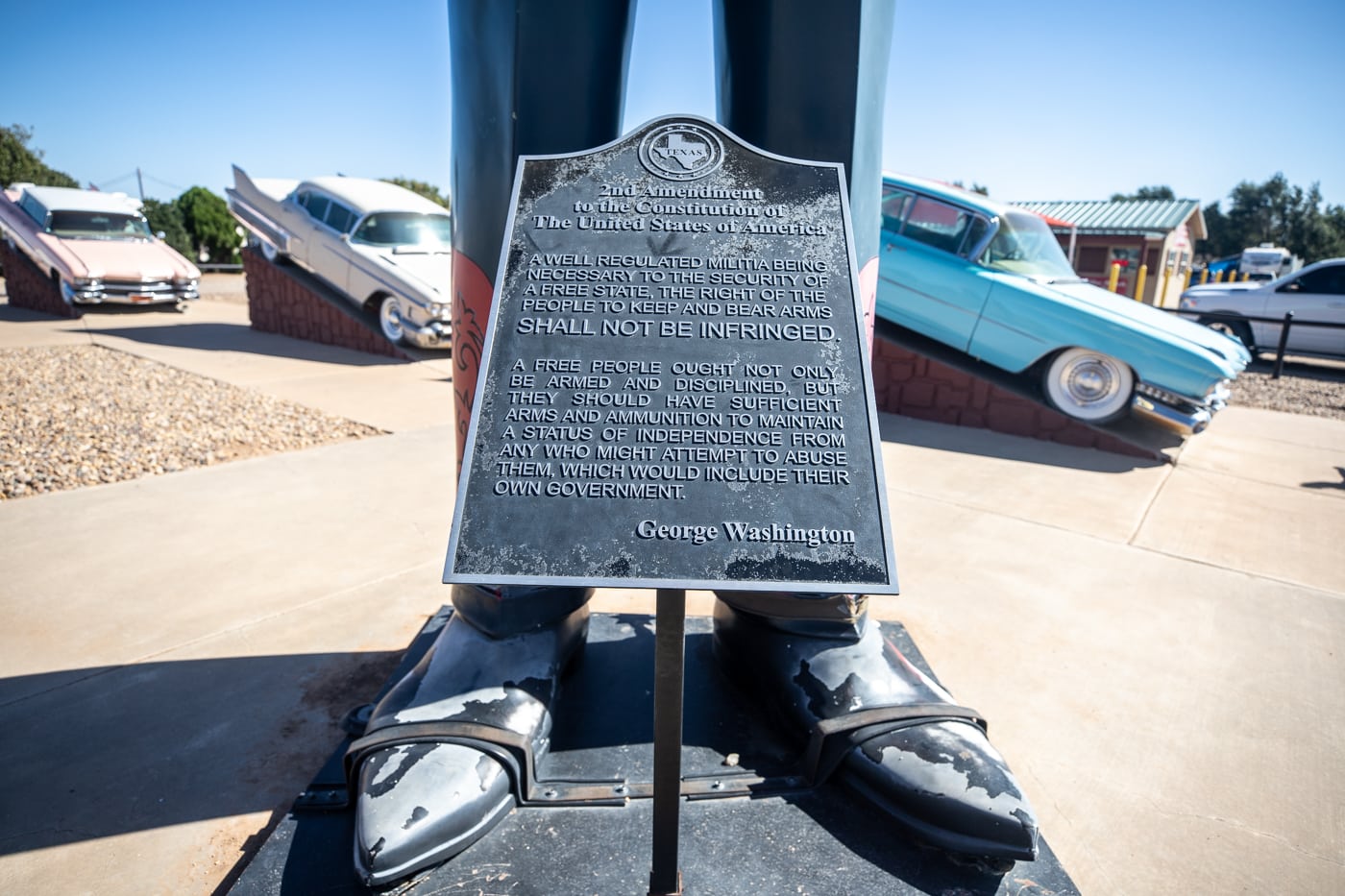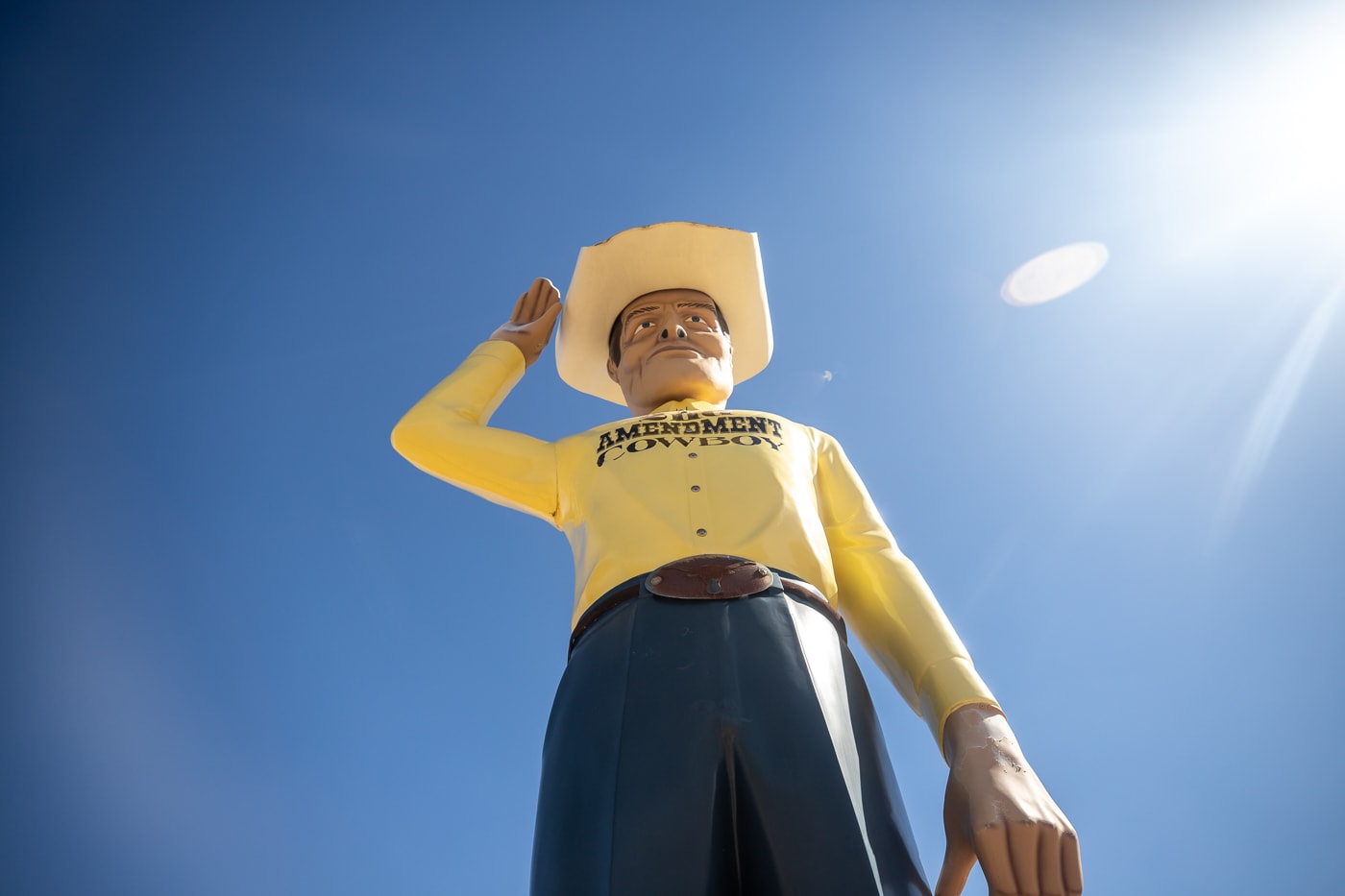 2nd Amendment Cowboy Muffler Man
Address: 2600 Hope Rd, Amarillo, TX 79124
Hours: Always Visible
Cost: Free to See
Pin this Texas Route 66 roadside attraction: