This roadside attraction is a muffler man turned motorcycle man. The giant biker can be found at the Pink Elephant Antique Mall in Livingston, Illinois: the Harley Davidson Muffler Man.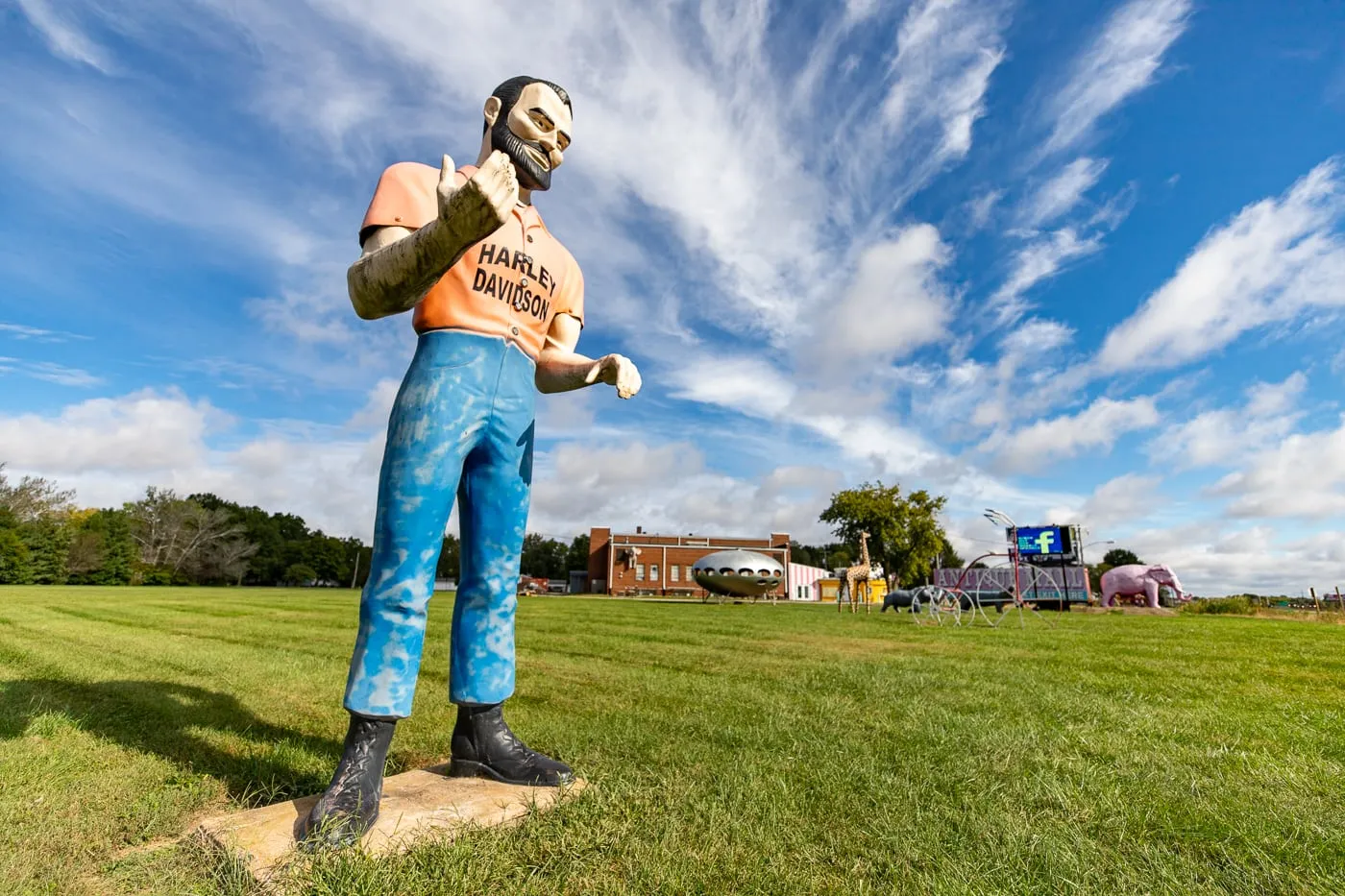 Muffler men roadside attractions are fiberglass giants who stand anywhere from 14 to 25 feet tall. Each has a similar design and was built between 1963 and 1972 by International Fiberglass in Venice, California. With signature stances, these big men stood outside of muffler shops and other businesses to call attention from the road.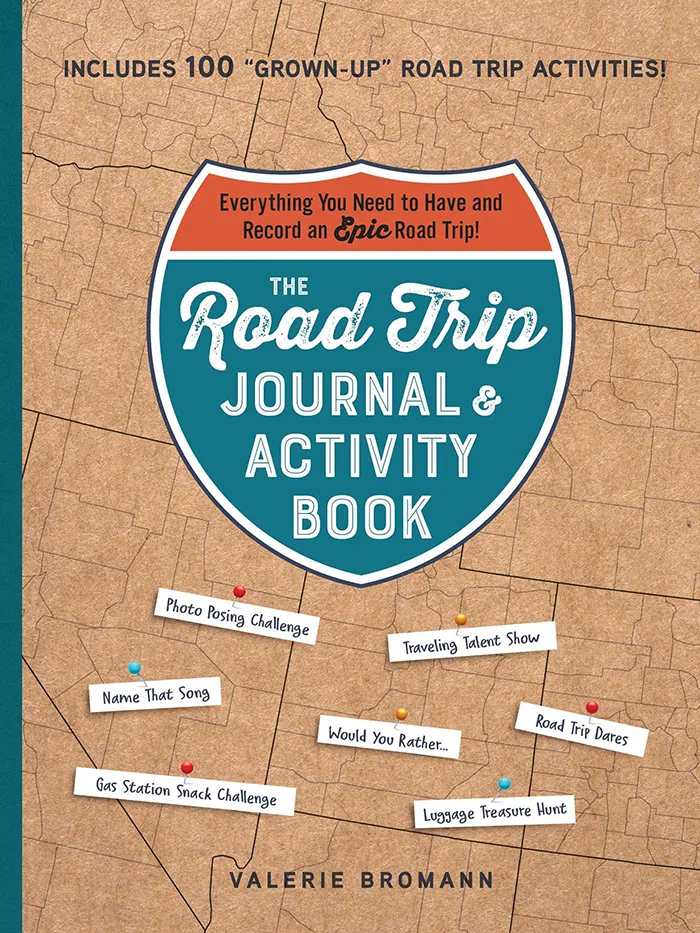 The Road Trip Journal & Activity Book
Everything You Need to Have and Record an Epic Road Trip!
Enjoy fun games and challenges to pass the time on your next road trip and have a keepsake to look back on for years to come with this entertaining must-have for your next vacation.
The Livingston Muffler Man is one of the smaller scale versions of this roadside attraction type at 15-feet tall. The bearded man is currently painted with blue pants and a bright orange shirt that reads "Harley Davidson" across the chest.
The Illinois Route 66 muffler man can be found far out on the lawn of the Pink Elephant Antique Mall, where you will also find a giant pink elephant, a Uniroyal Gal, a Twistee Treat Diner, and more giant fiberglass objects. Originally the giant fiberglass man came from Kentucky then was displayed inside the Livingston antique mall. But around 2010 he was moved outside so Route 66 road trippers and travelers on I-55 could admire him from the road.
All this Route 66 roadside attraction needs is the world's largest motorcycle. (He does stand near a giant bicycle…but I don't think that's quite the ride he has in mind…)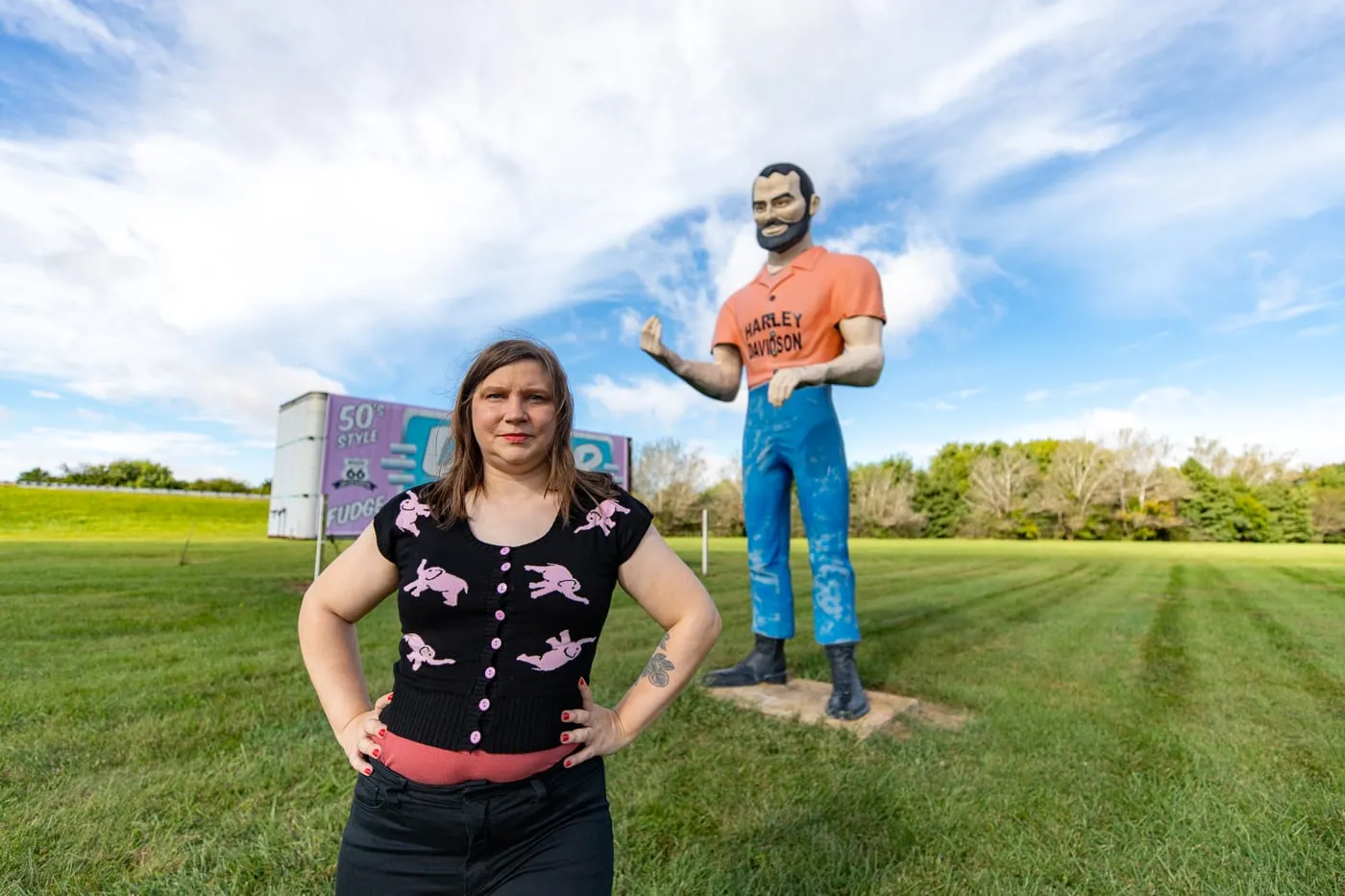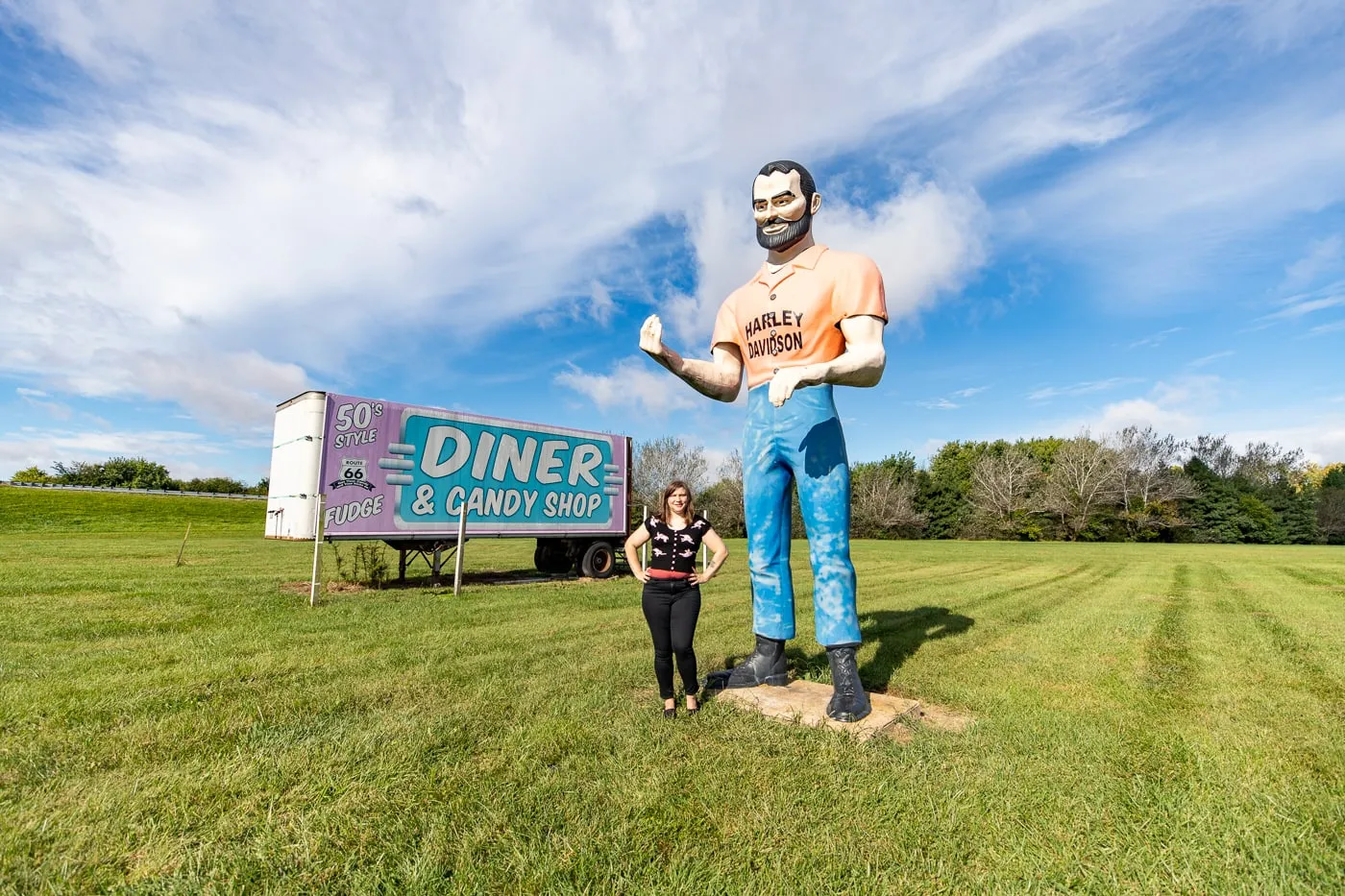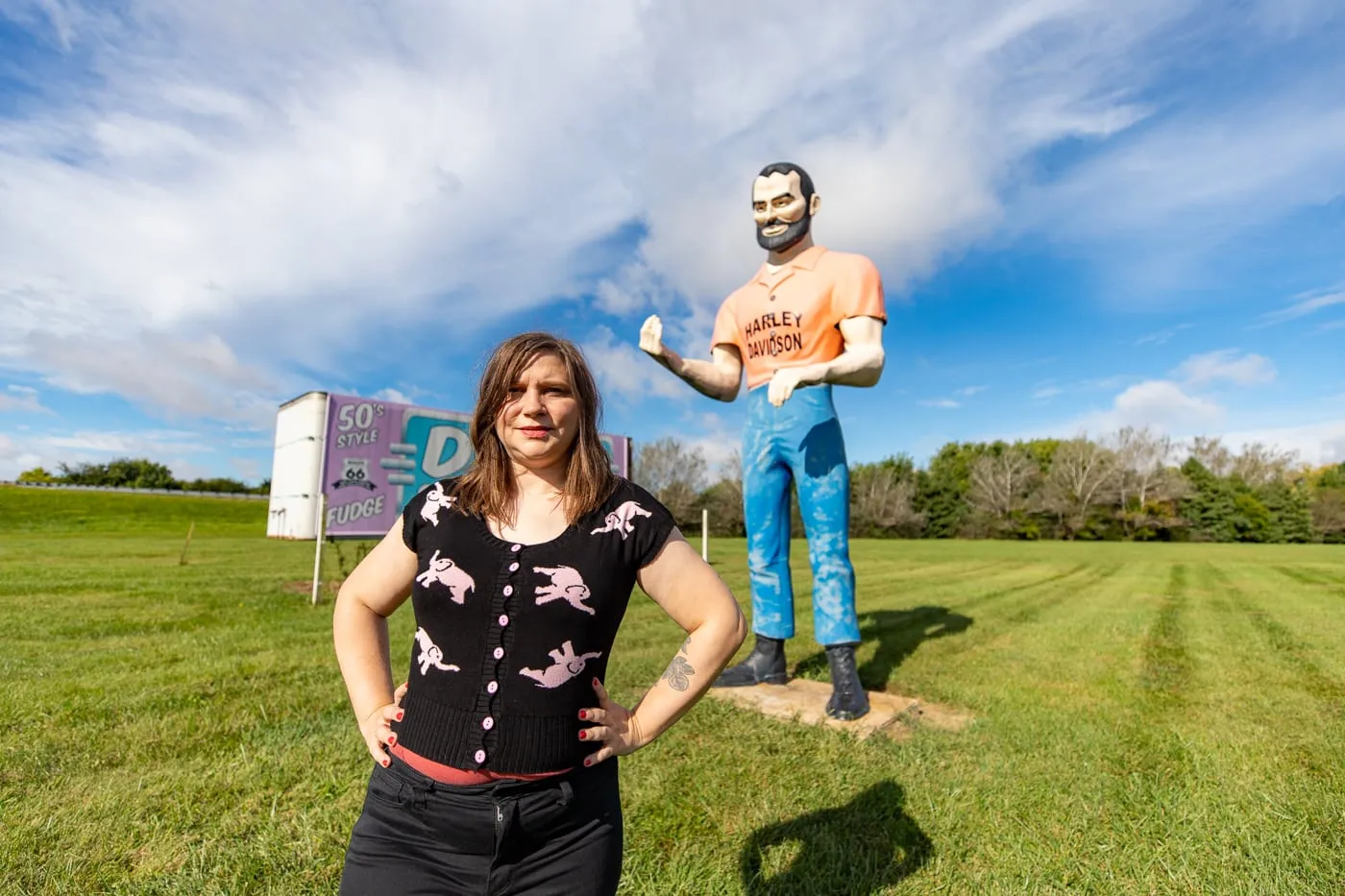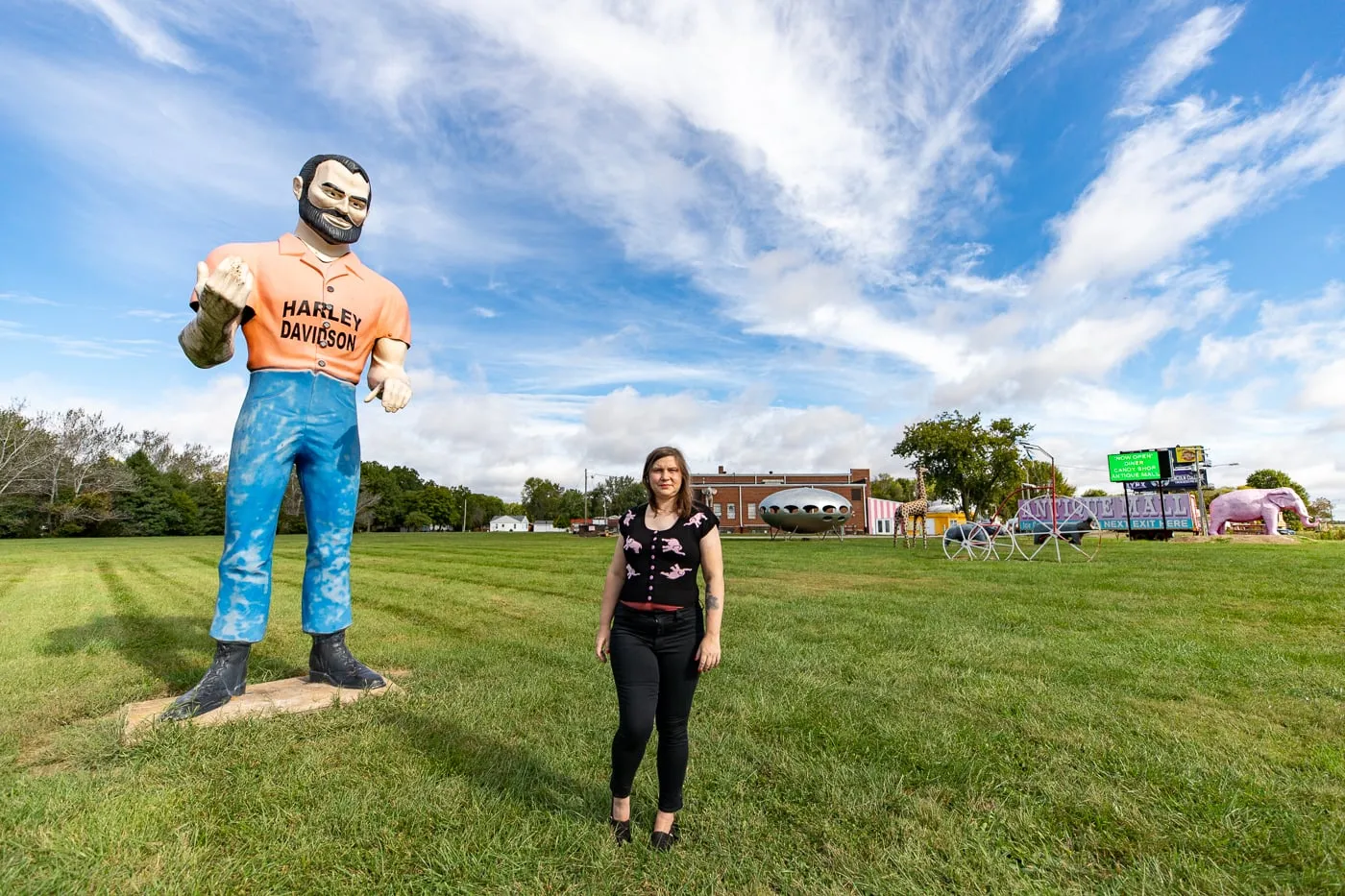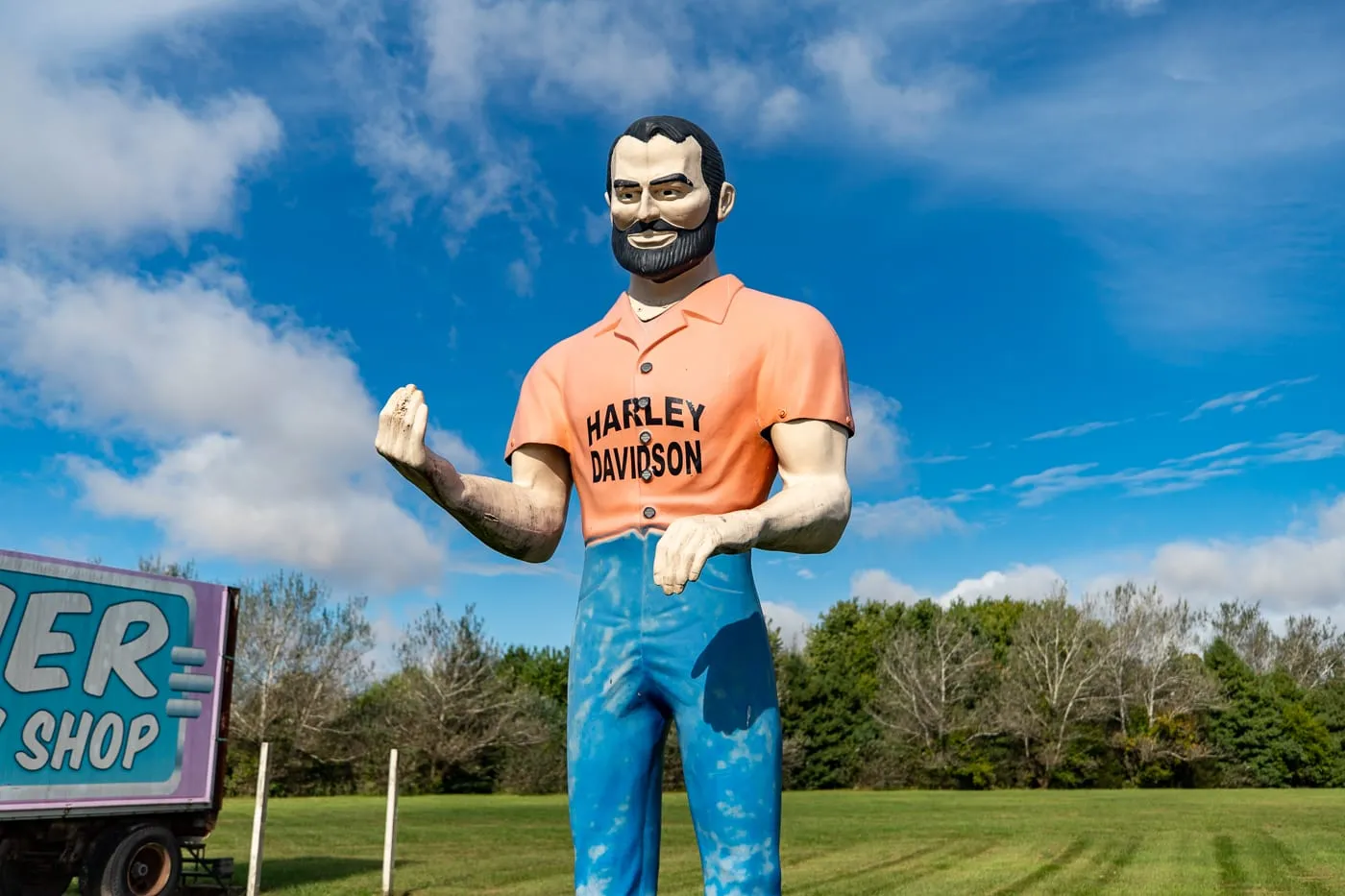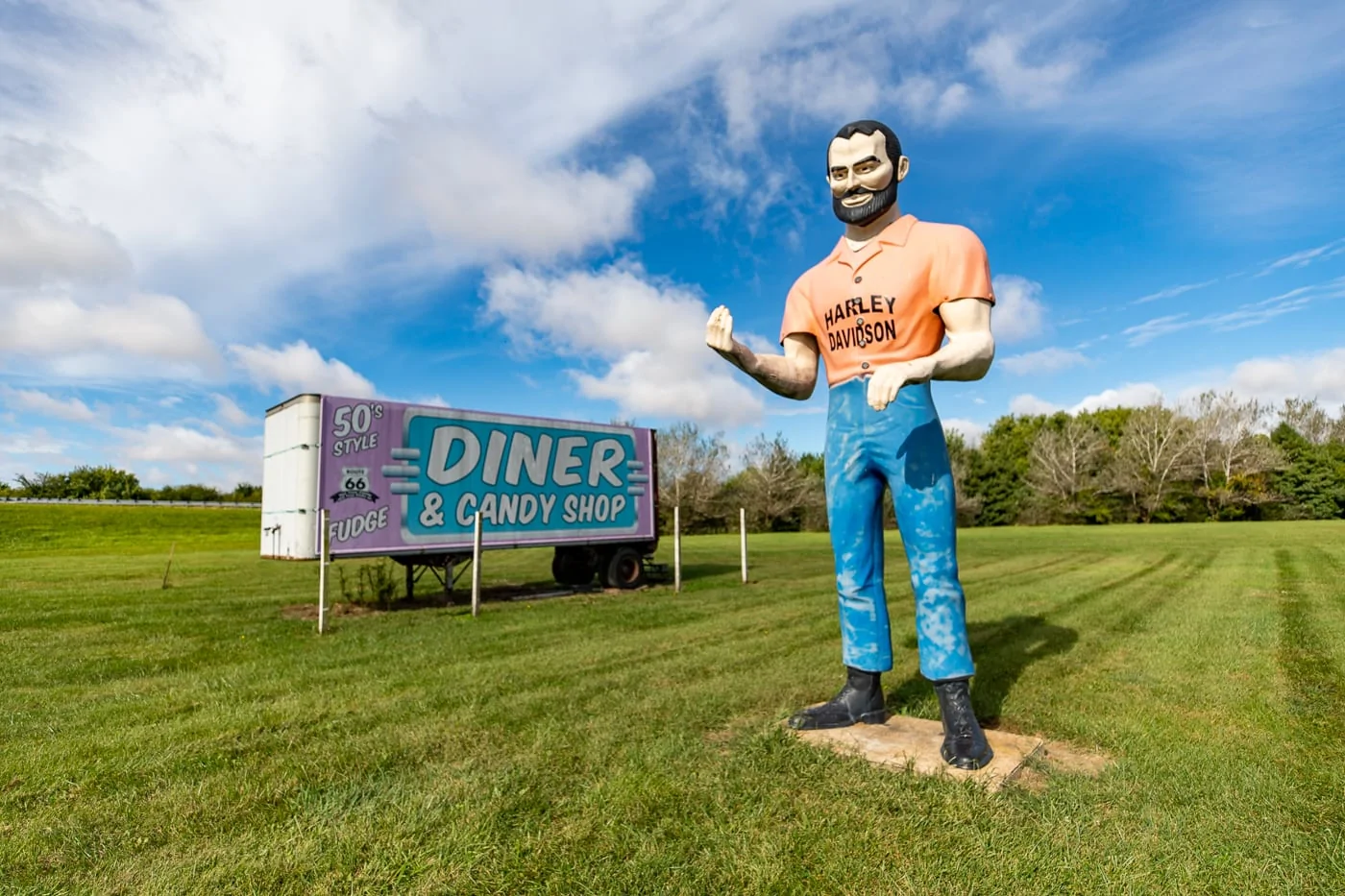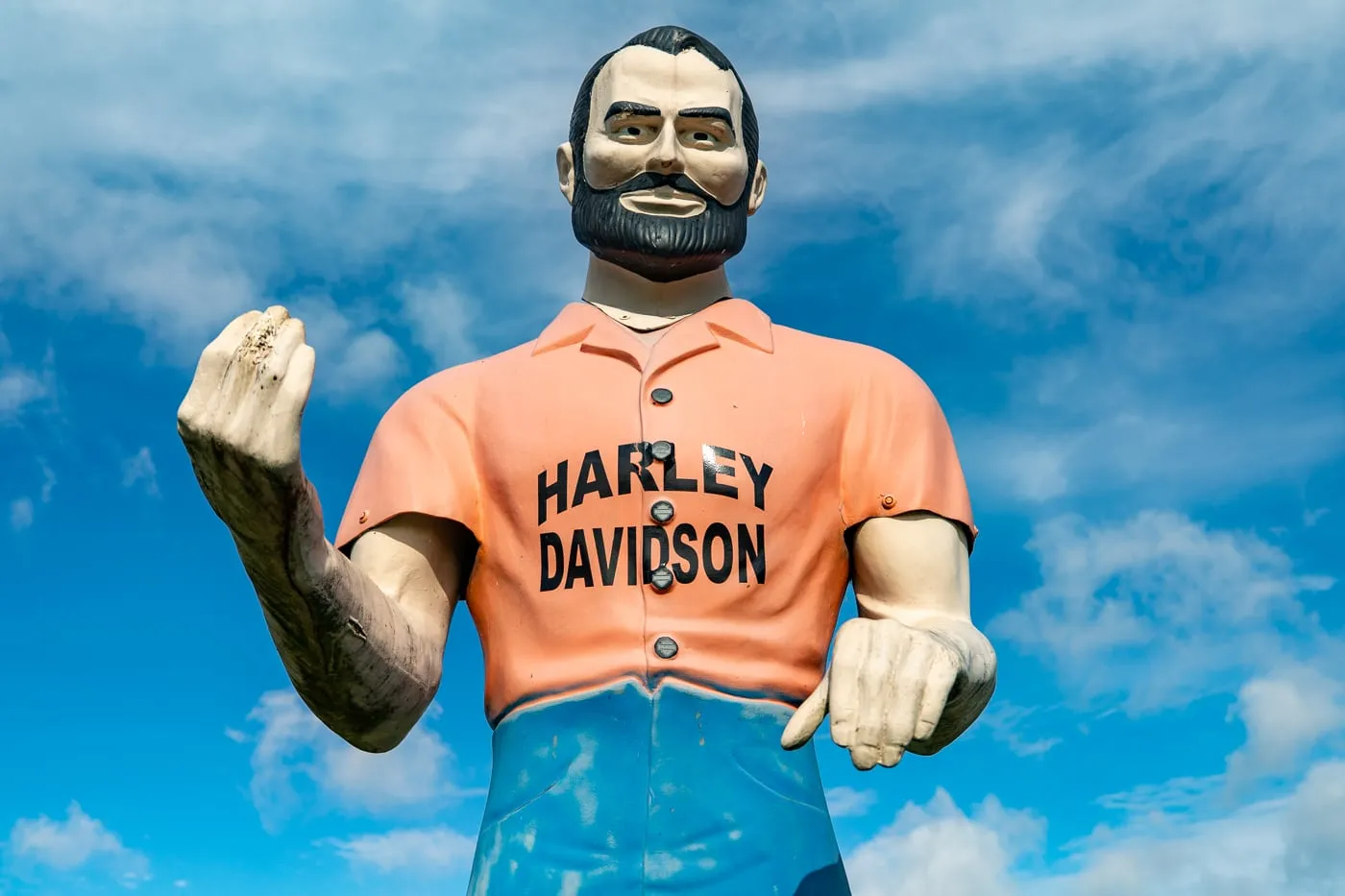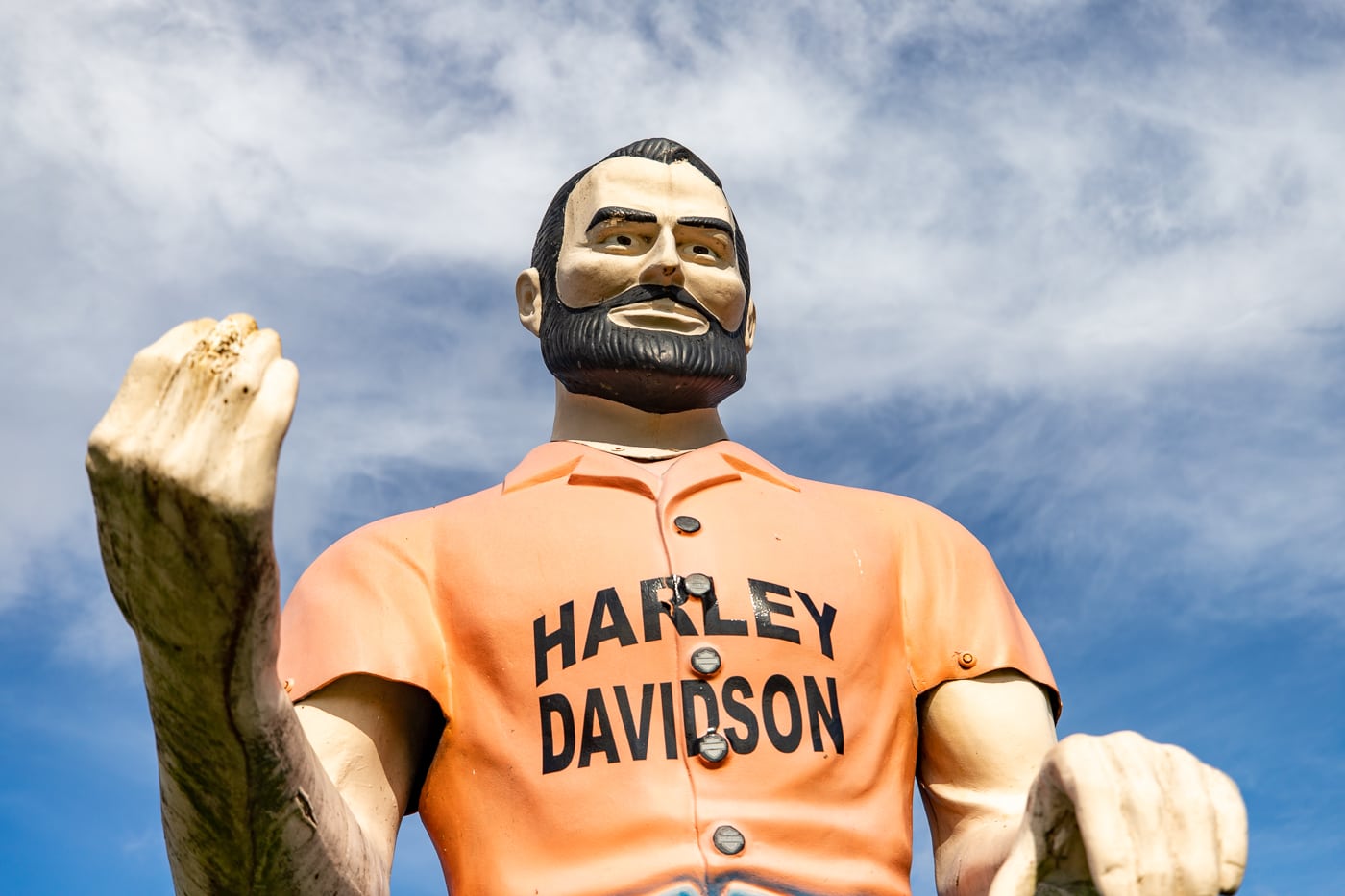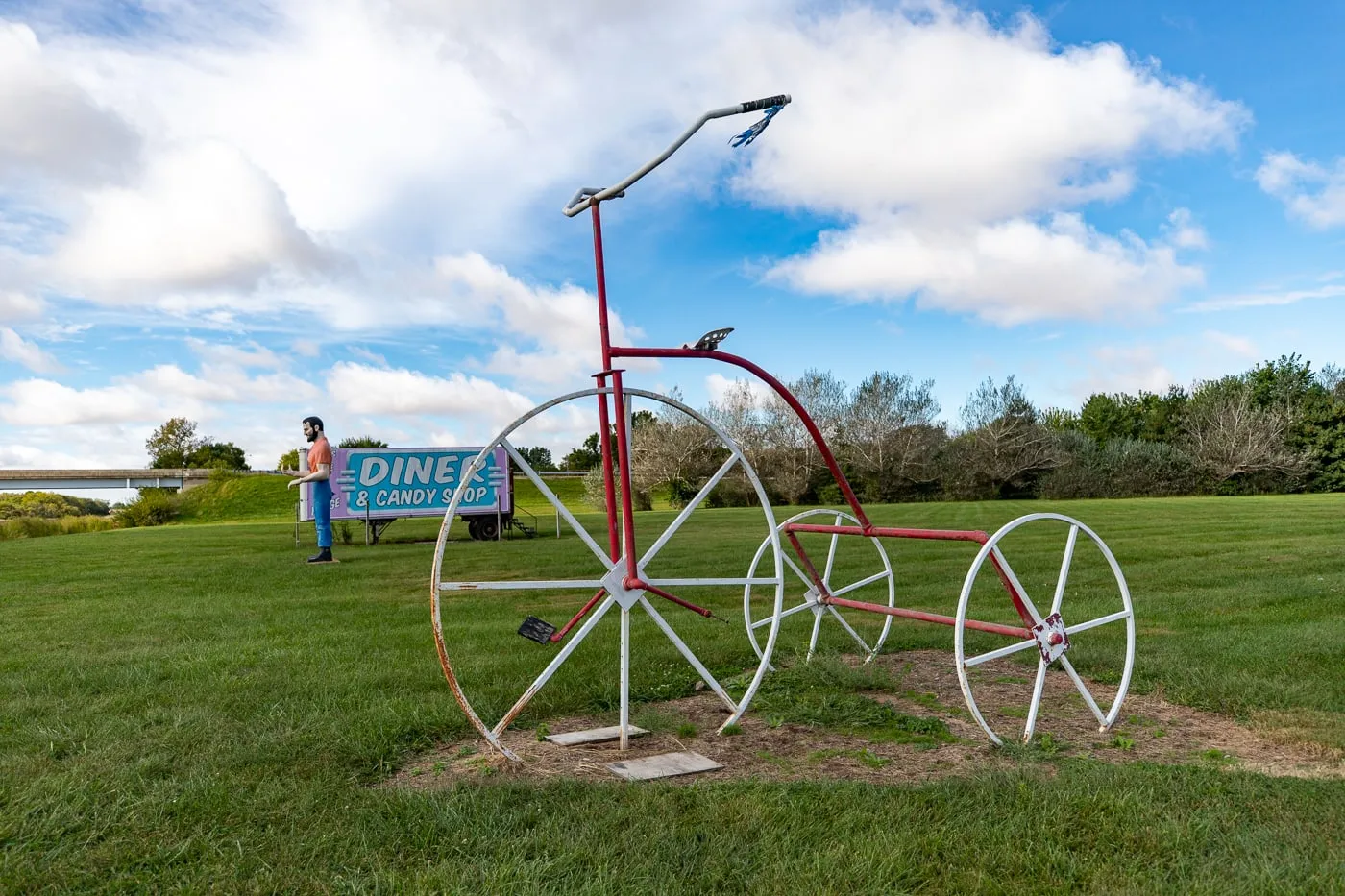 Interested in finding all the muffler men on Route 66? Also check out the Gemini Giant, Carl's Ice Cream Muffler Man, Muffler Man Holding a Hot Dog, the Atlanta Muffler Man head, the Lauterbach Giant, Mega Mayor Muffler Man in Uranus, Route 66 Food Truck Park Chef Muffler Man, Buck Atom Space Cowboy, the 2nd Amendment Cowboy, and the Muffler Men Mural.
Harley Davidson Muffler Man
Address: Pink Elephant Antique Mall, 908 Veterans Memorial Dr, Livingston, IL 62058
Cost: Free to See
Hours: 9:30am-5pm Daily
Pin this Illinois roadside attraction: