While thousands of fans visit the J. Lawrence Walkup Skydome each year to cheer on the Northern Arizona Lumberjacks, I was there to see just one Lumberjack in particular. Louie the Lumberjack, the Skydome Lumberjack Muffler Man, historic Route 66 icon, and NAU mascot in Flagstaff, Arizona.
Muffler men roadside attractions are fiberglass giants who stand anywhere from 14 to 25 feet tall. Each has a similar design and was built between 1963 and 1972 by International Fiberglass in Venice, California. With signature stances, these big men stood outside of muffler shops and other businesses to call attention from the road.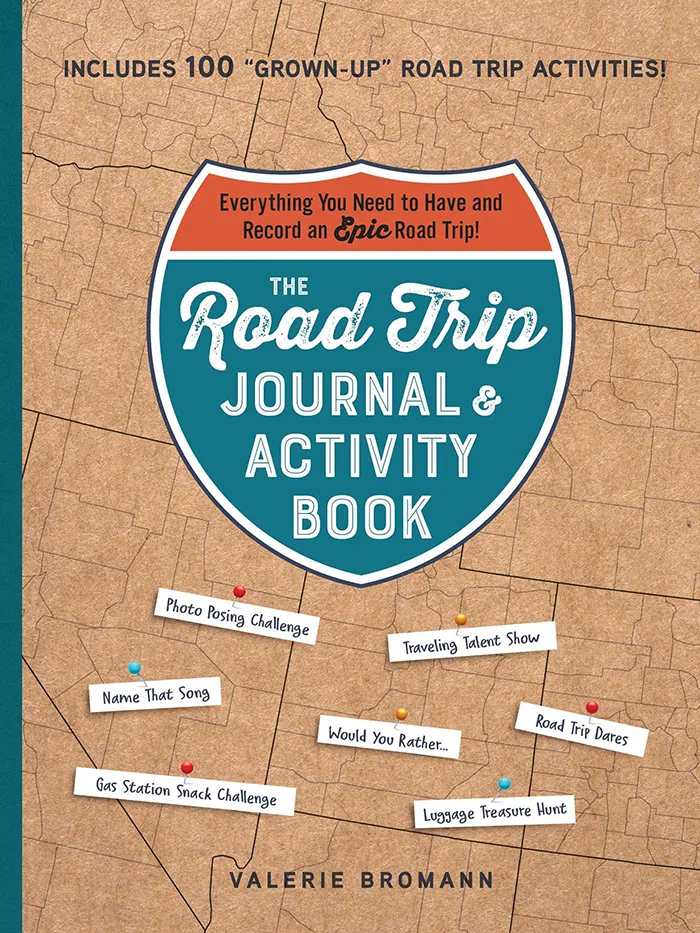 The Road Trip Journal & Activity Book
Everything You Need to Have and Record an Epic Road Trip!
Enjoy fun games and challenges to pass the time on your next road trip and have a keepsake to look back on for years to come with this entertaining must-have for your next vacation.
The lumberjack muffler man in Flagstaff, Arizona stands at 20 feet tall, wearing blue pants, a yellow button down shirt, a red cap, and black boots and carrying a double-sided ax. He serves as one form of Louie the Lumberjack, the beloved mascot of Northern Arizona University (NAU) who got his name in 1988 from the The Kingmen song "Louie Louie."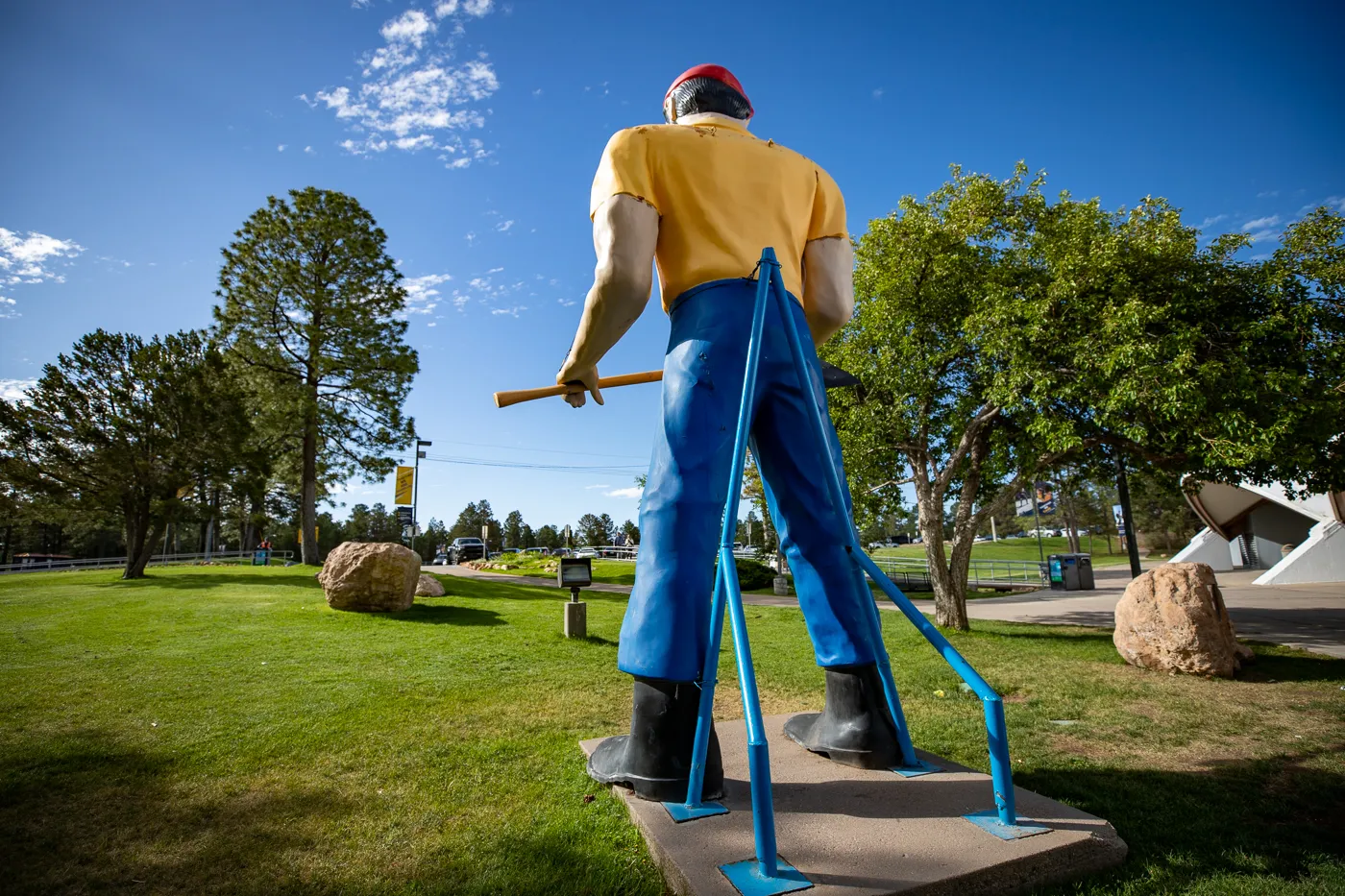 Built in 1962, it is thought to be the very first of the many muffler men that once graced the roadside of America and Route 66.
But this lumberjack muffler man wasn't always found on the NAU campus. Produced by  Bob Prewitt and Prewitt Fiberglass Animals in 1962, the giant, along with its twin, was a fixture at Lumberjack Café (nee Paul Bunyan Café) on Milton Road throughout the 1960s and 70s. The restaurant and roadside attractions were even visible in the 1969 movie Easy Rider.
When the Zanzucchi family purchased the café and renamed it Granny's Closet in 1973, the Flagstaff muffler men didn't quite fit their new theme. So they donated both to the nearby Northern Arizona University. (Though, you can still find another Louie the Lumberjack Statue there!)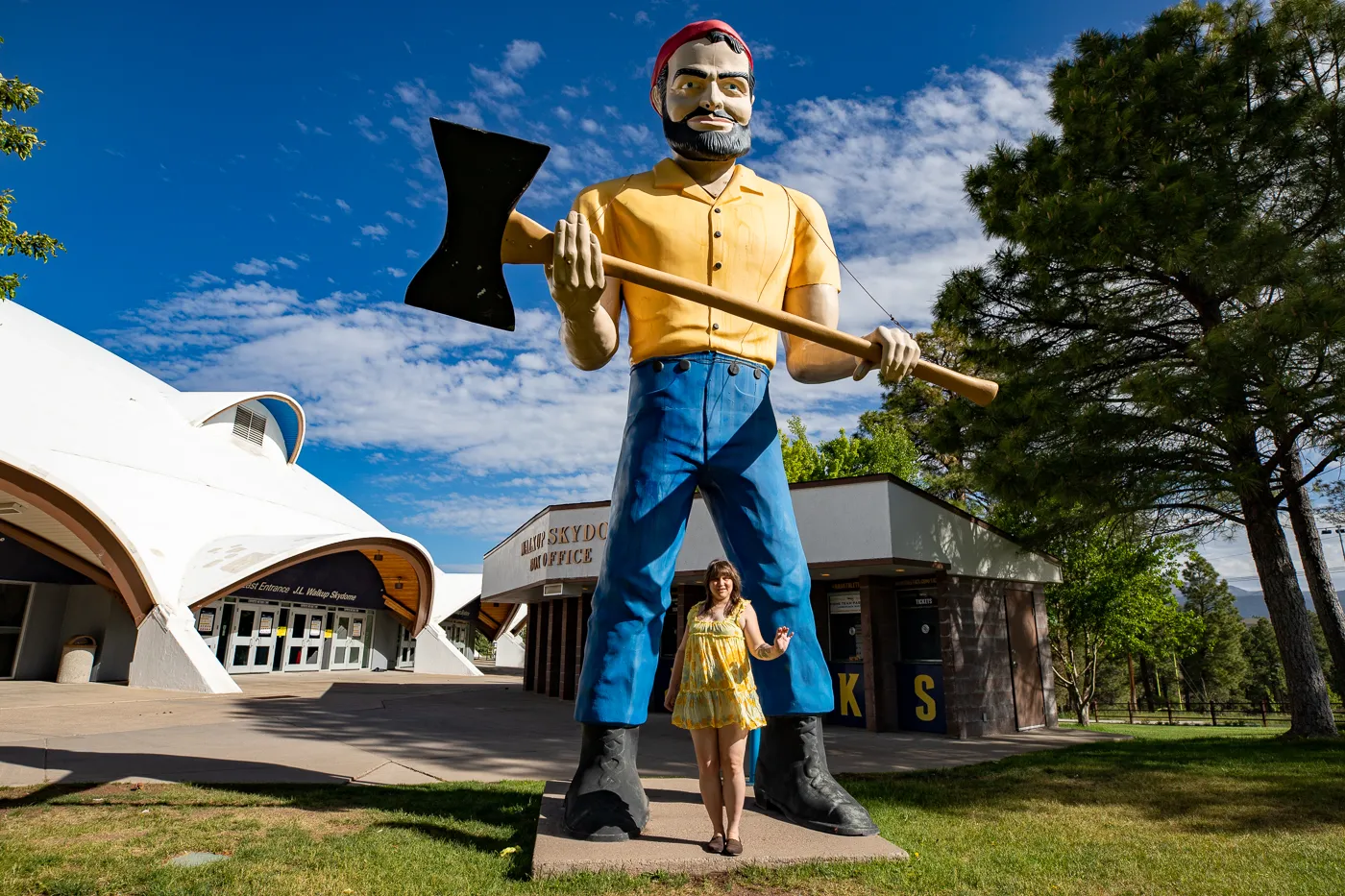 The two Bunyan Muffler Men were relocated to campus where they stood at Lumberjack Stadium until 1979 when they moved to their current location at J. Lawrence Walkup Skydome.
This famed lumberjack muffler man stands outside of the stadium, greeting all visitors to basketball games and graduations, while the other watched over the court and dodged stray basketballs inside.
So what happened to the second Skydome Muffler Man? In September 2018 renovations were being performed inside the stadium. As those were underway the giant was moved to what was assumed to be a safe and secure outdoor location. But that assumption was wrong. The muffler man was vandalized and beheaded in what was thought to be a graduation prank.
Whether you're cheering on the home team at a basketball game or driving Route 66 through Arizona, be sure to stop here in Flagstaff to say hello to this giant lumberjack and cheer, cheer, cheer for NAU!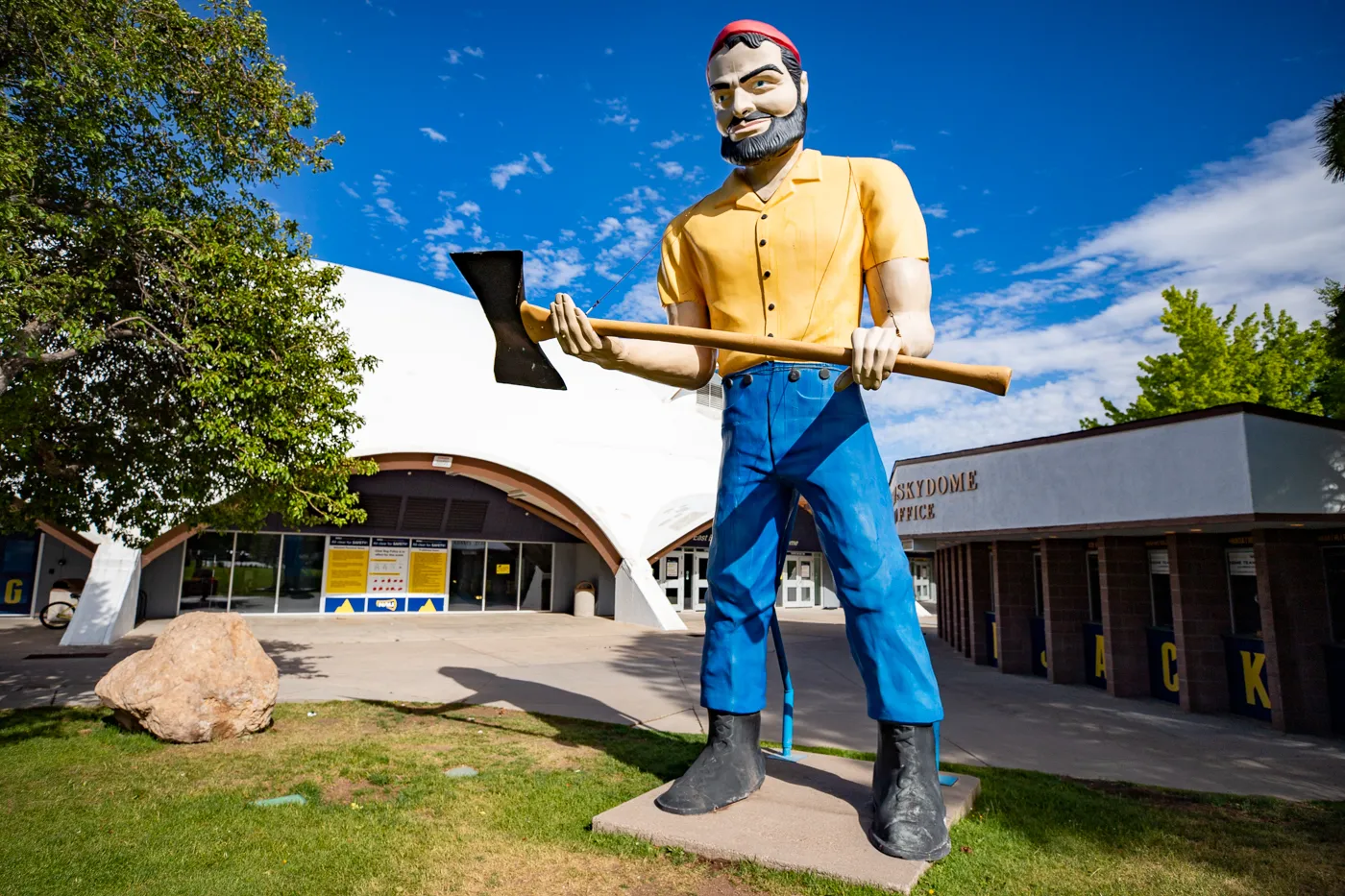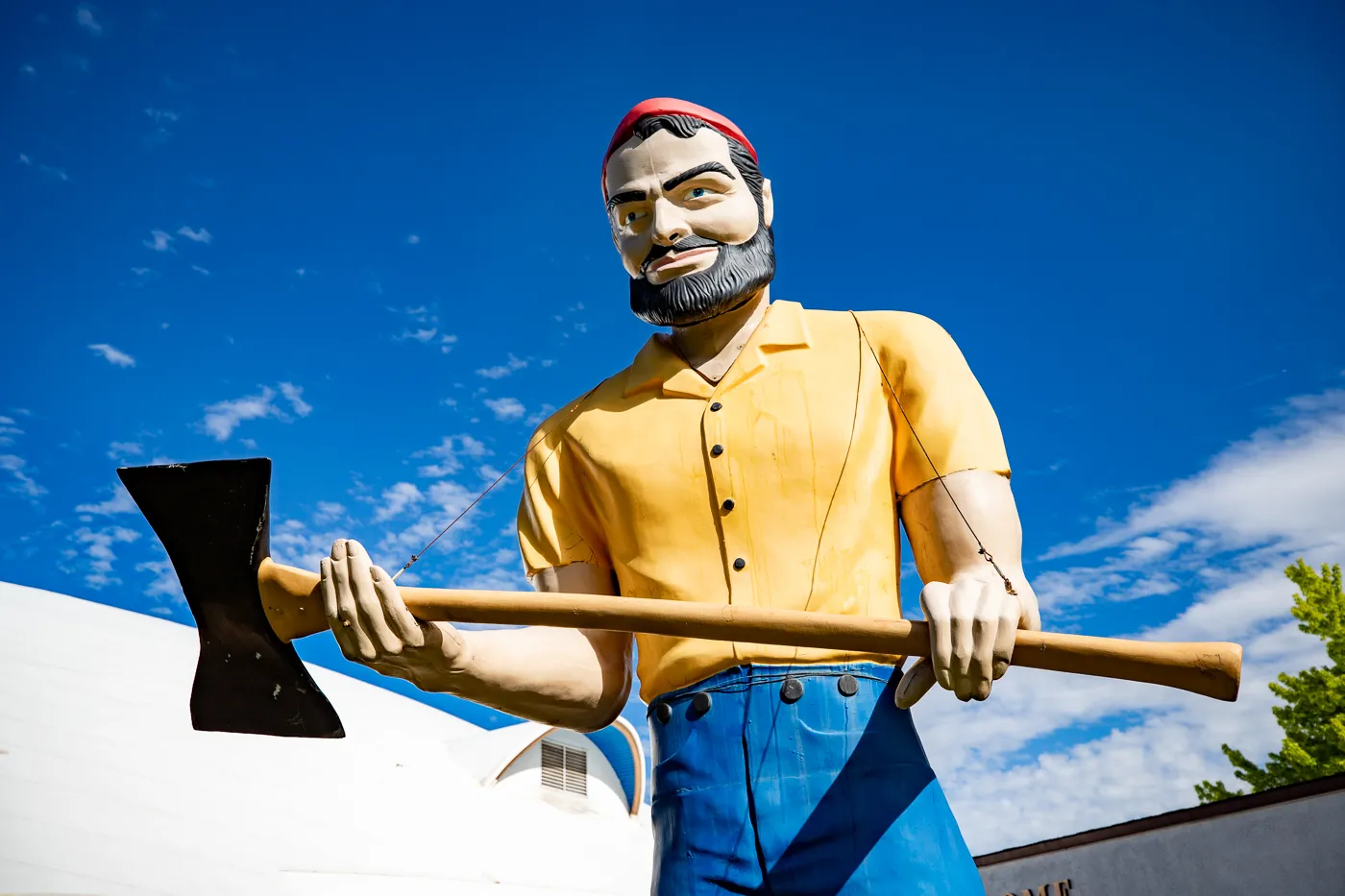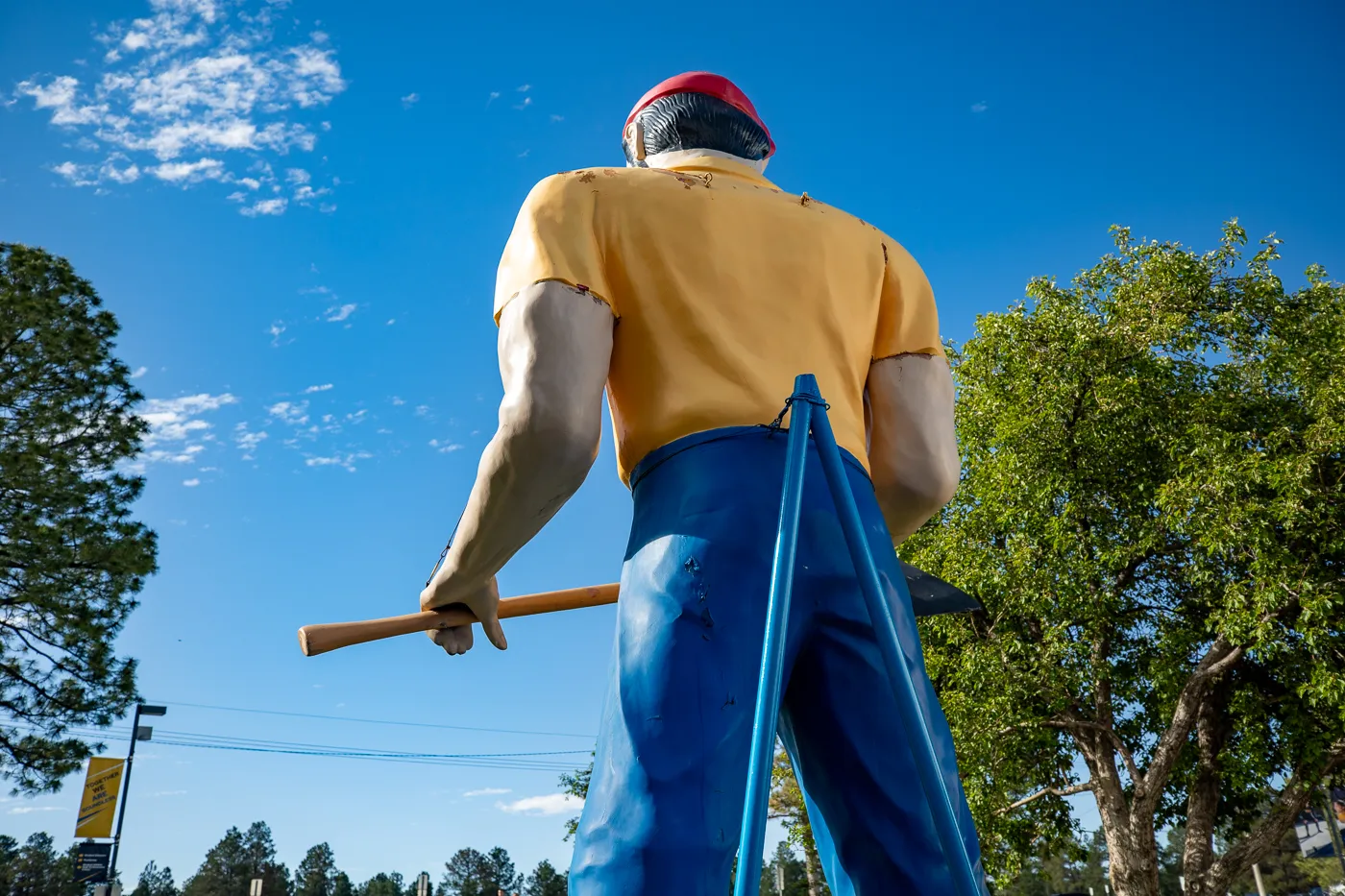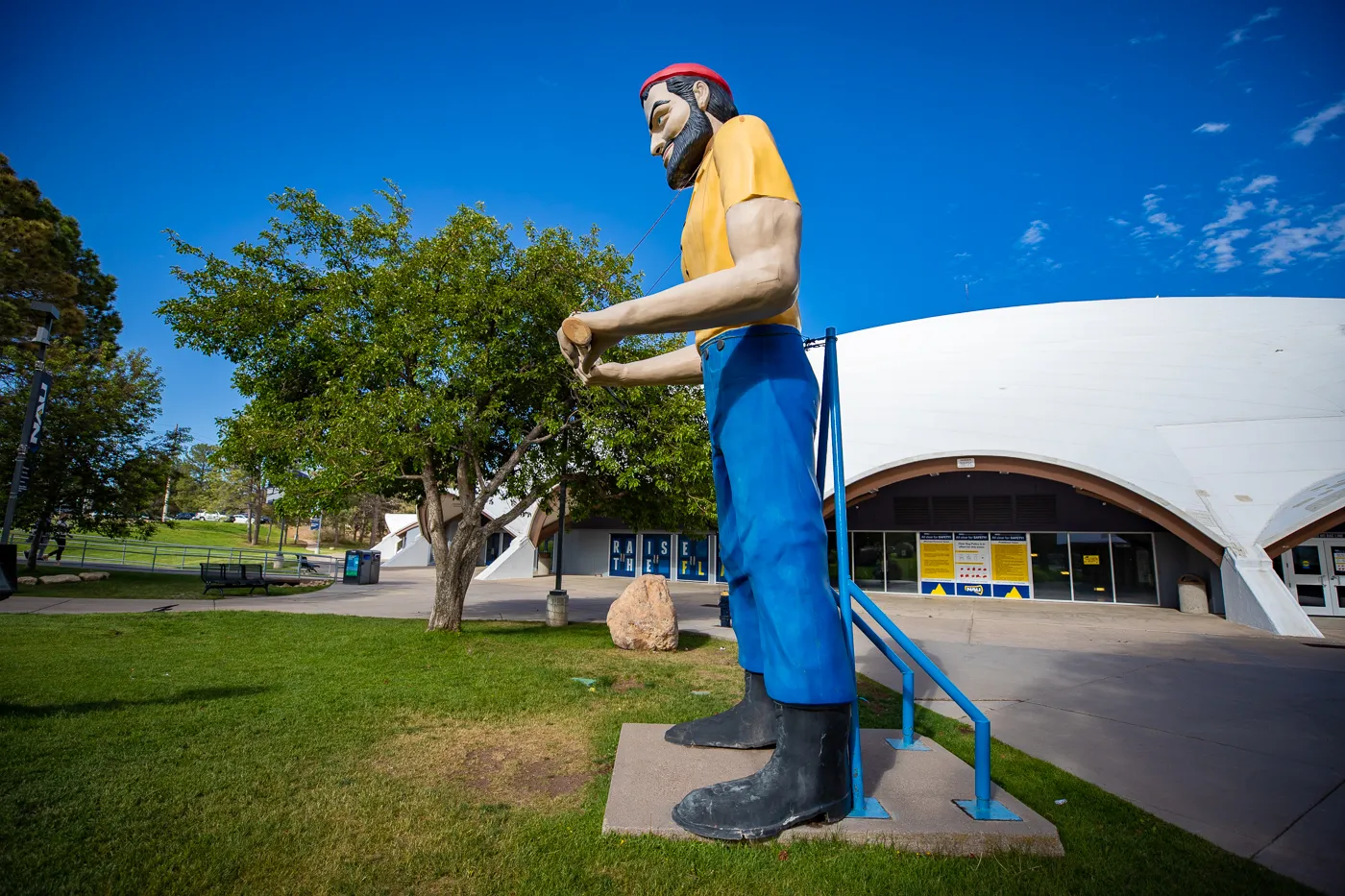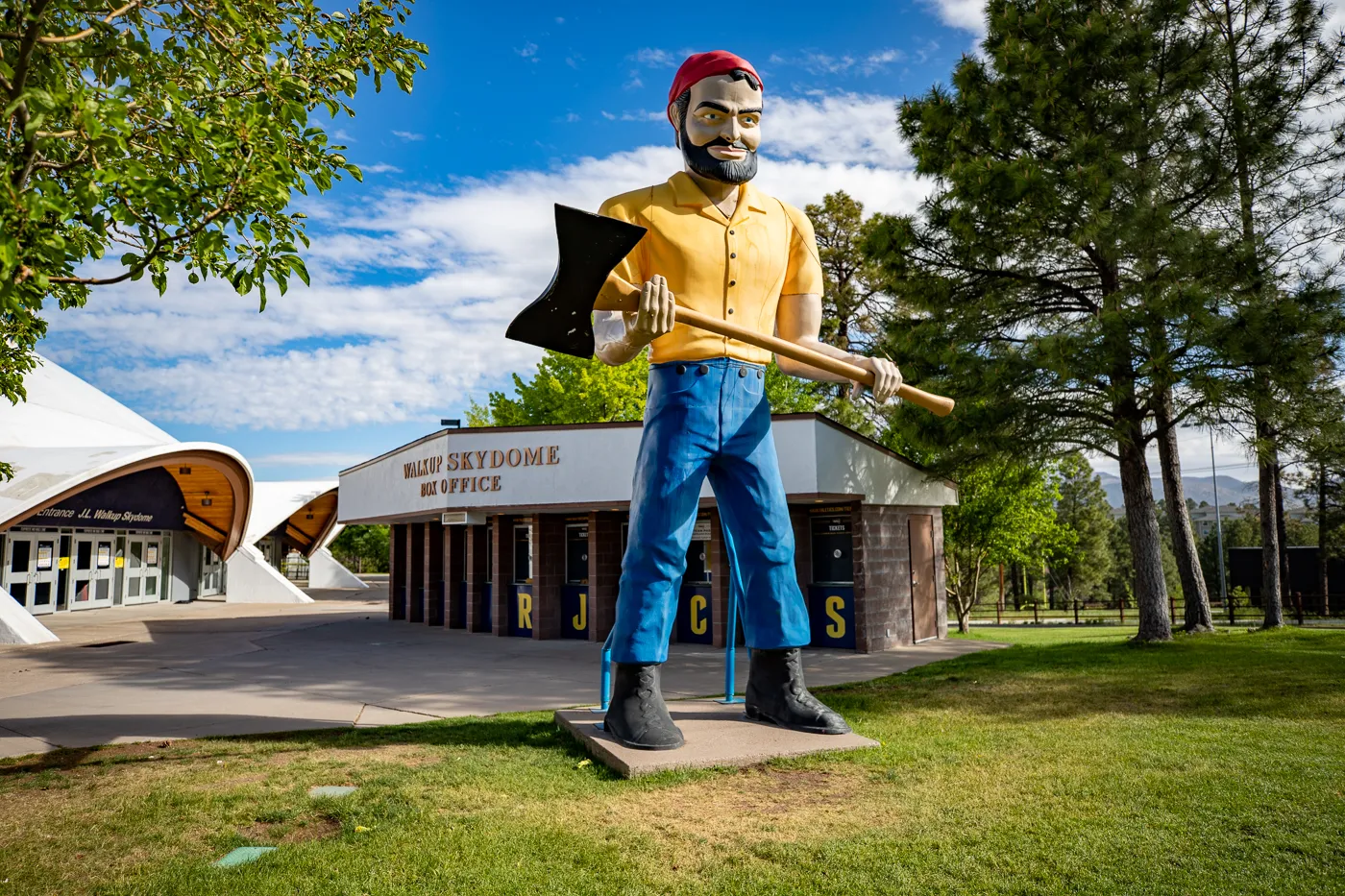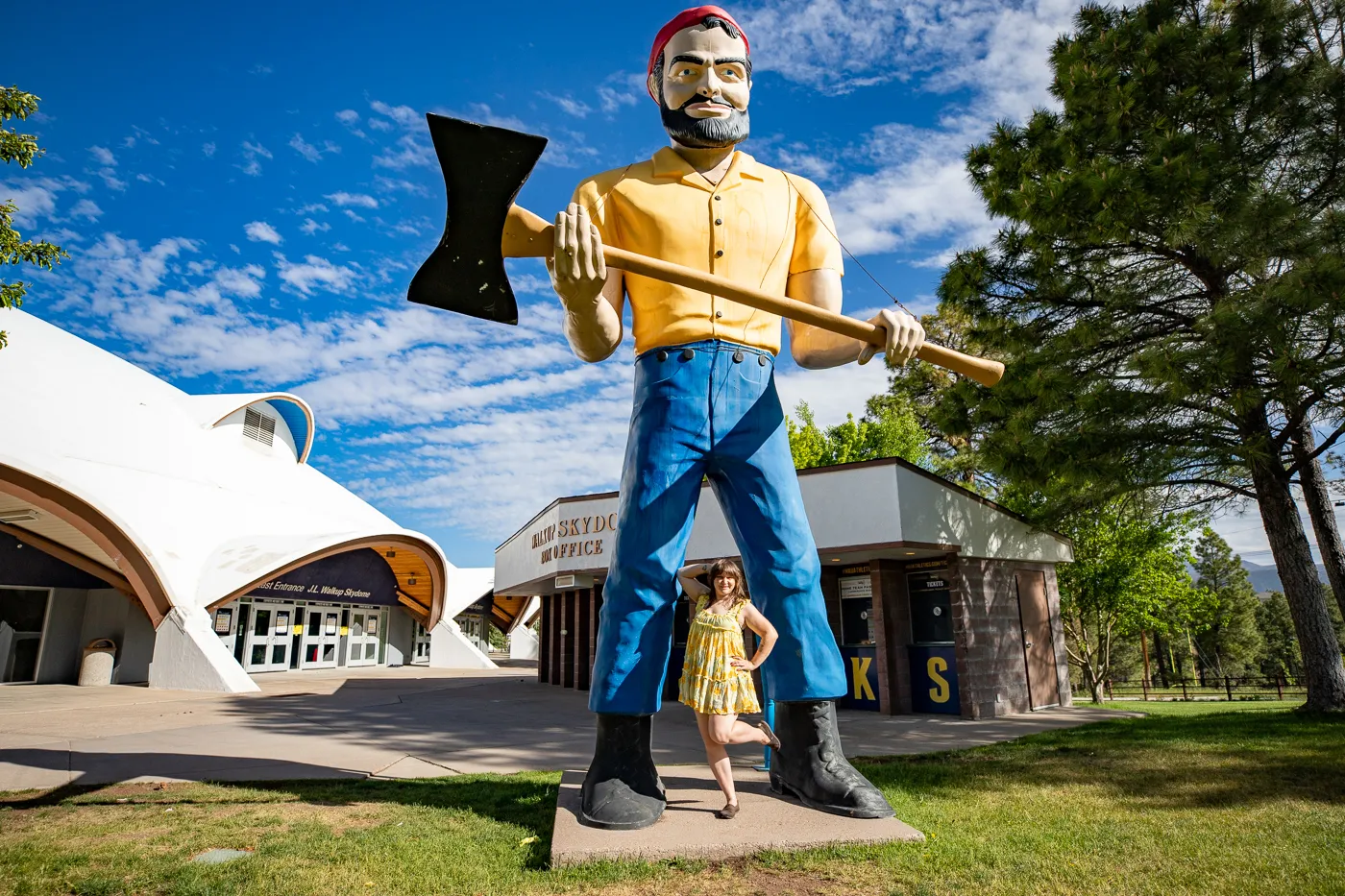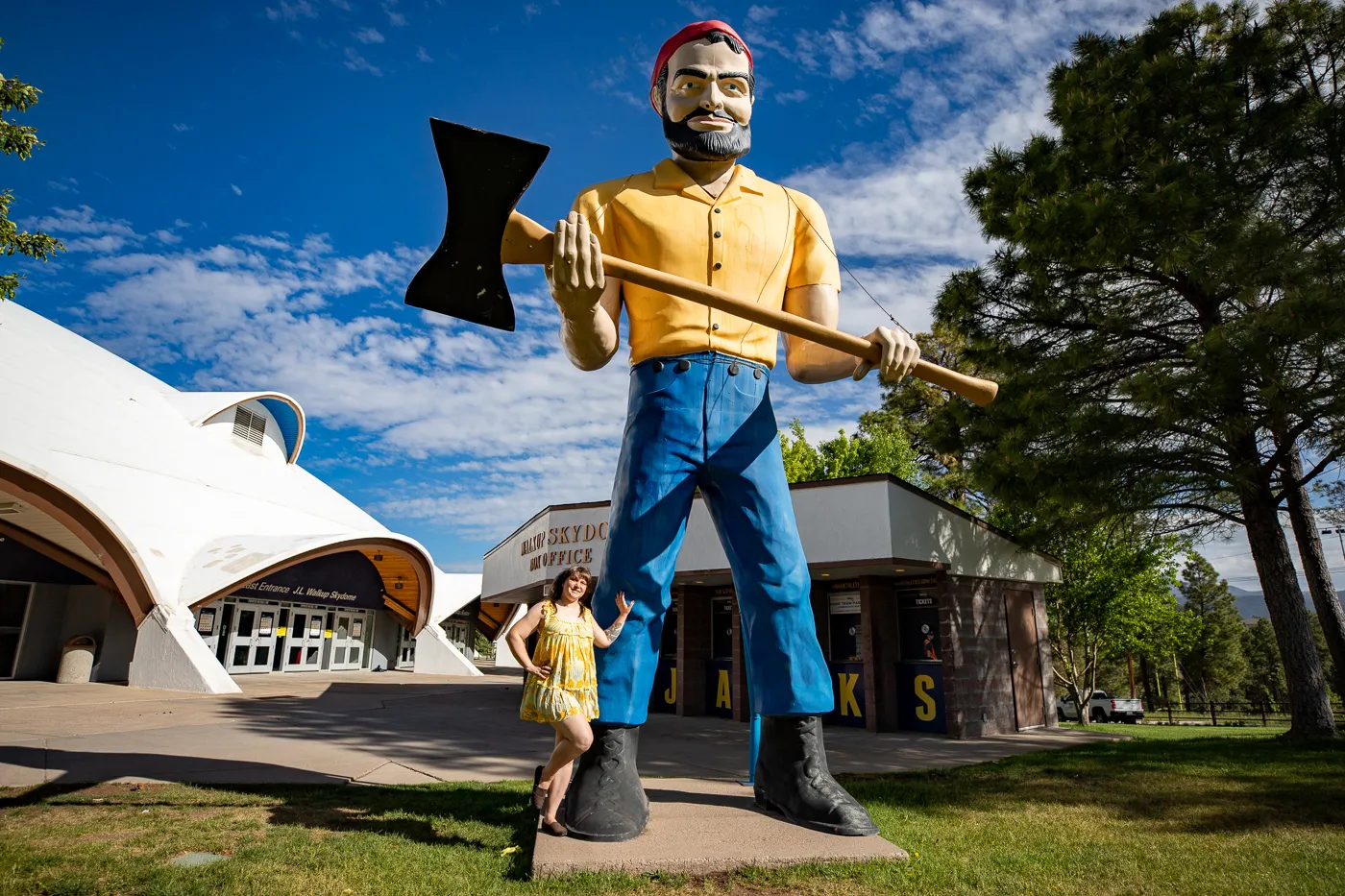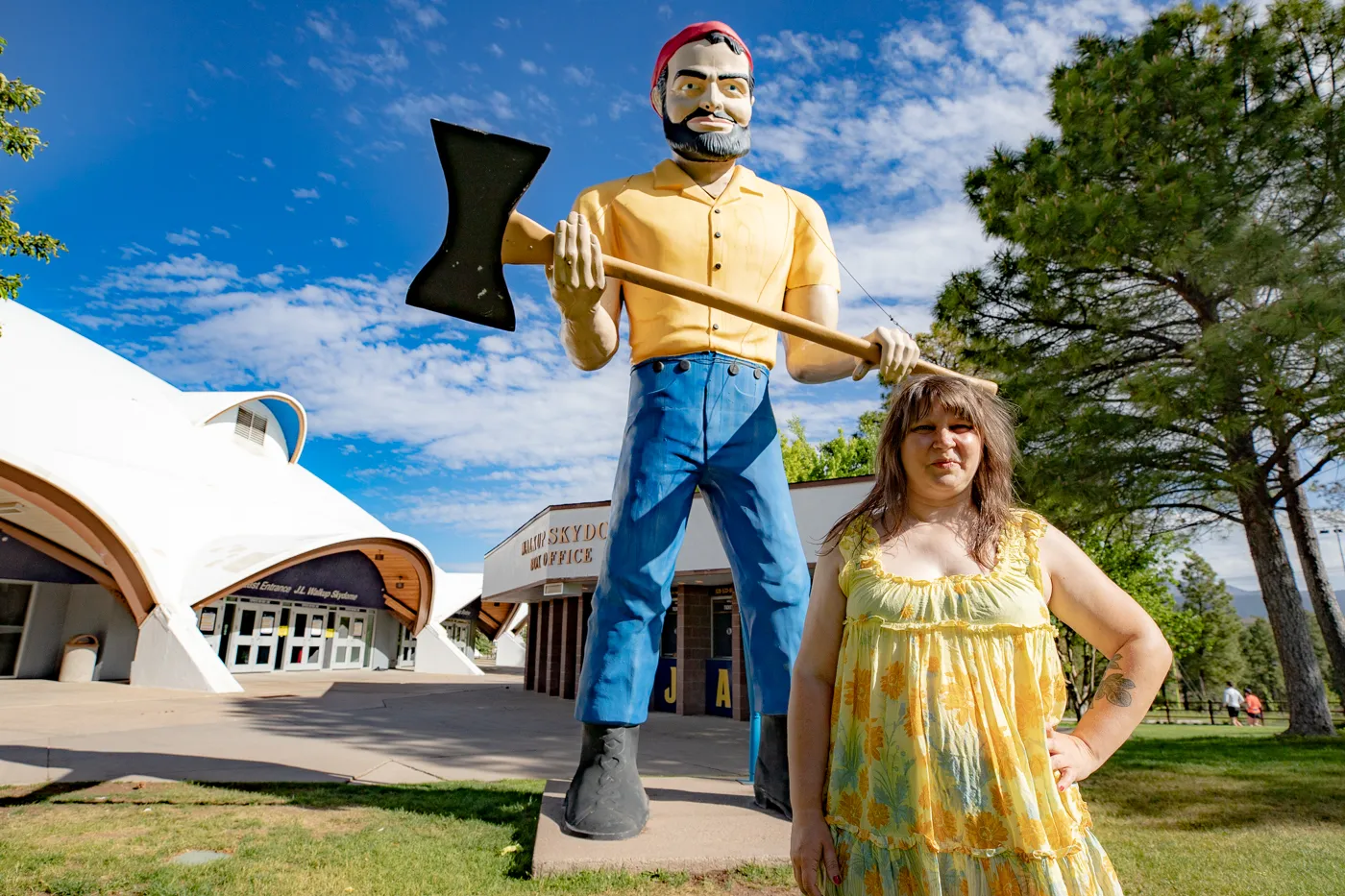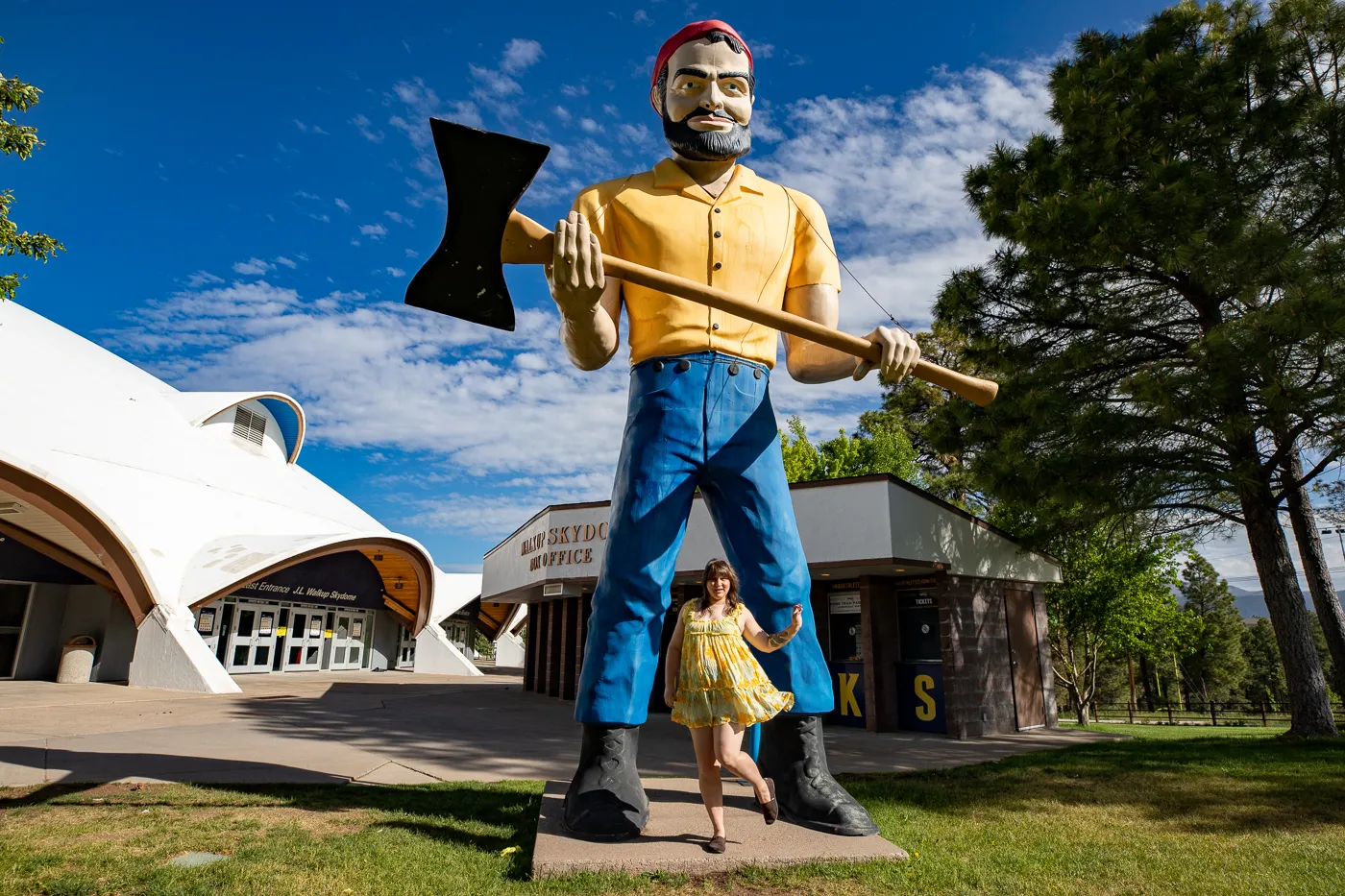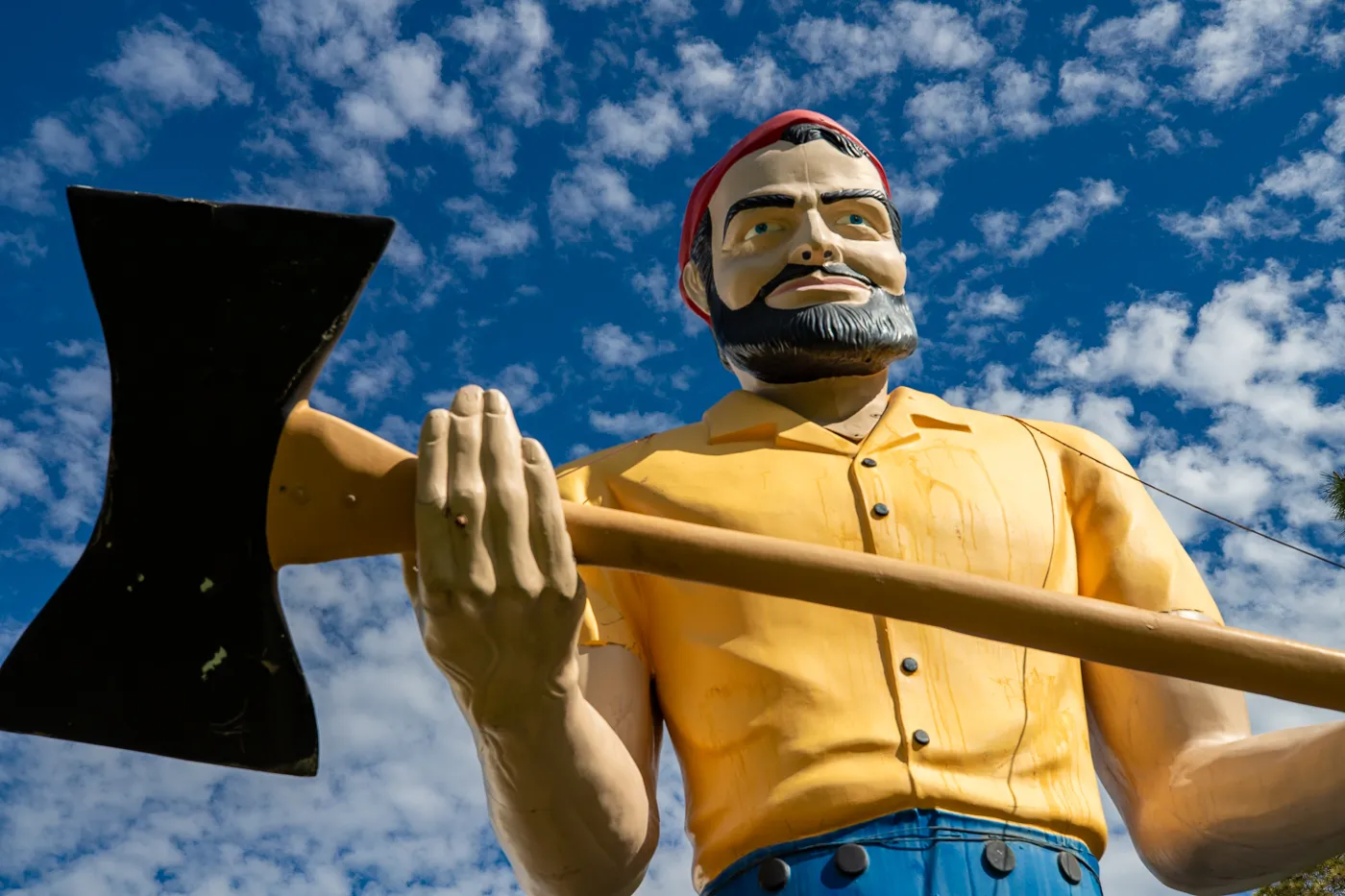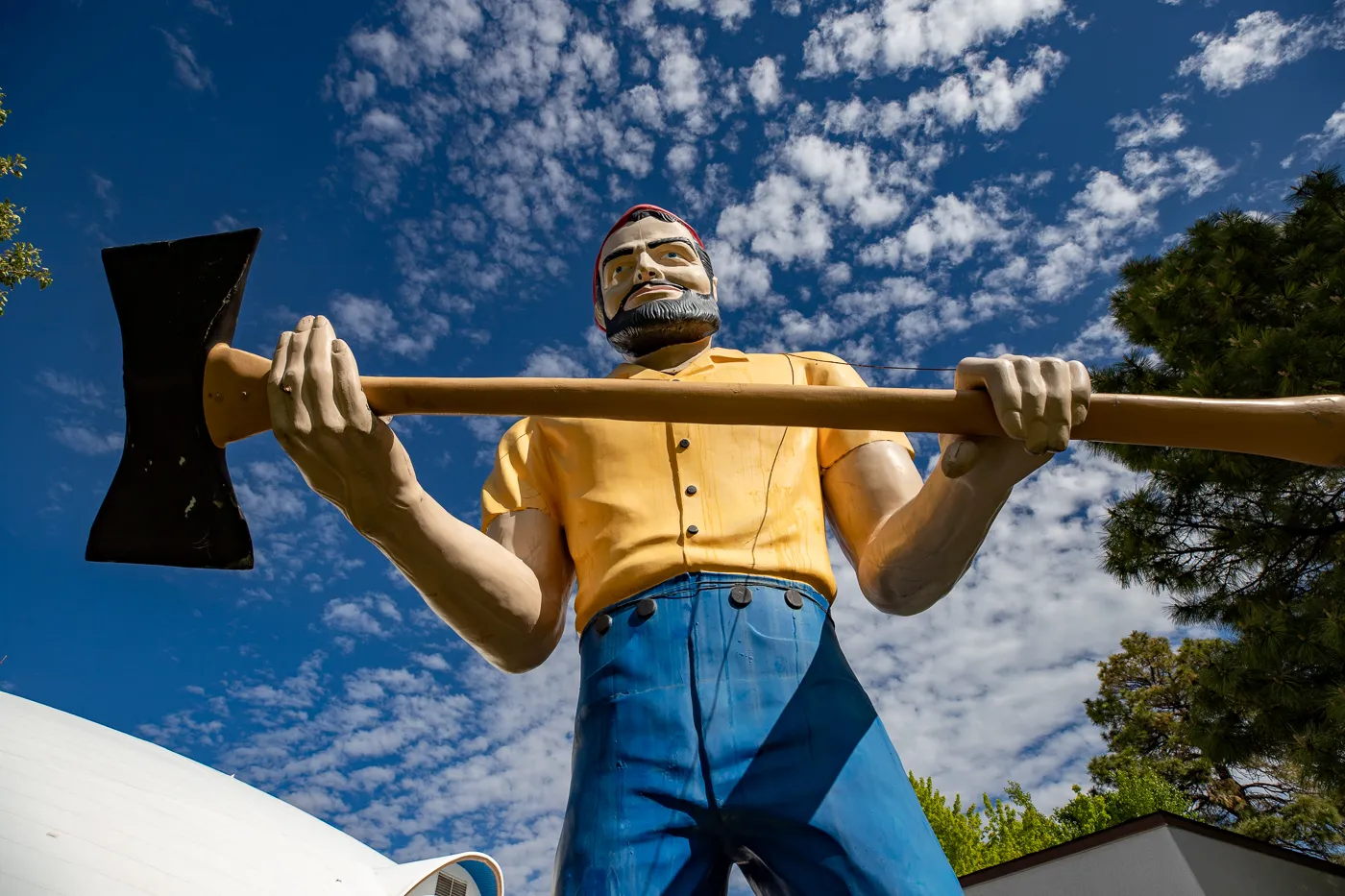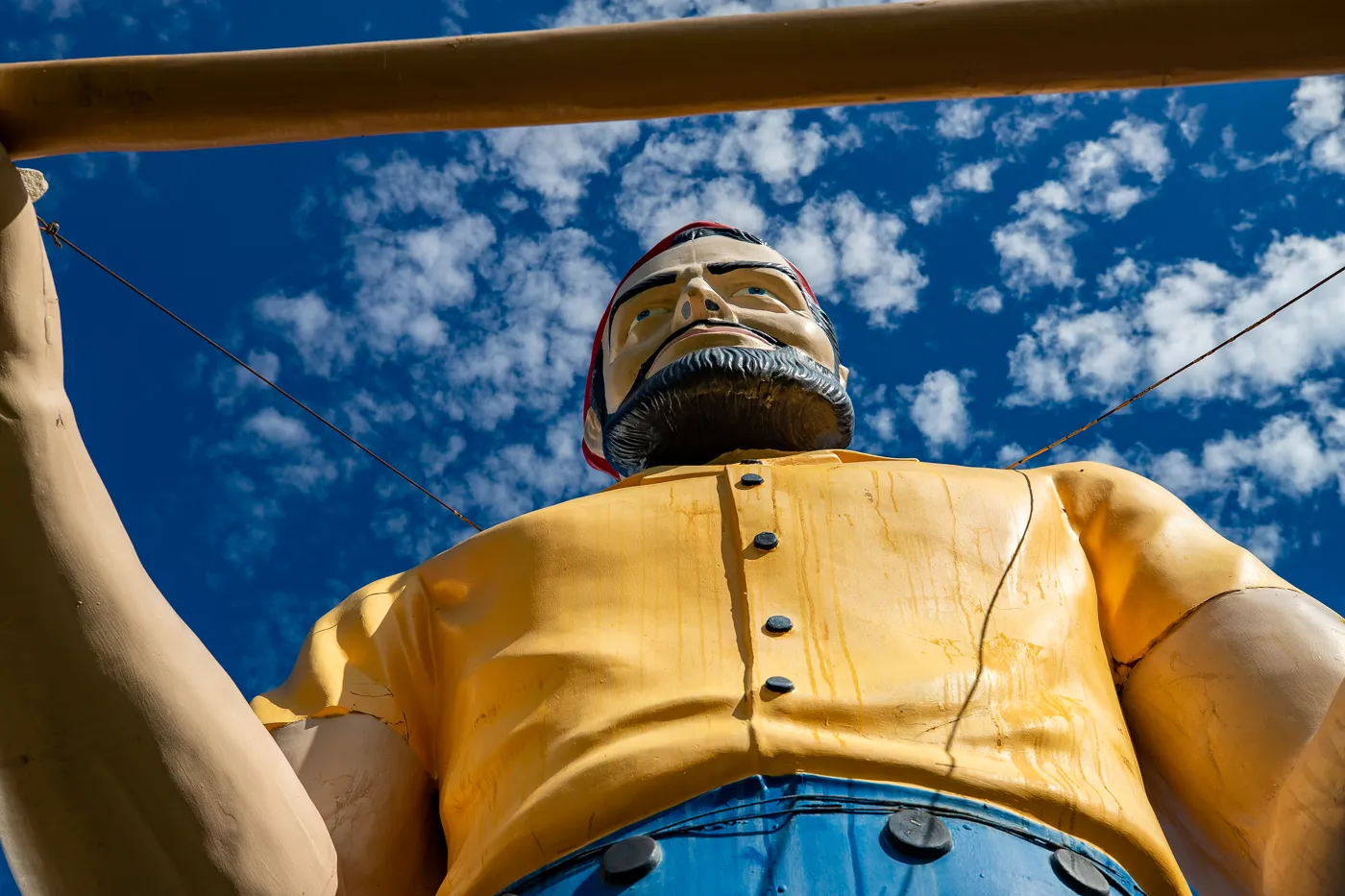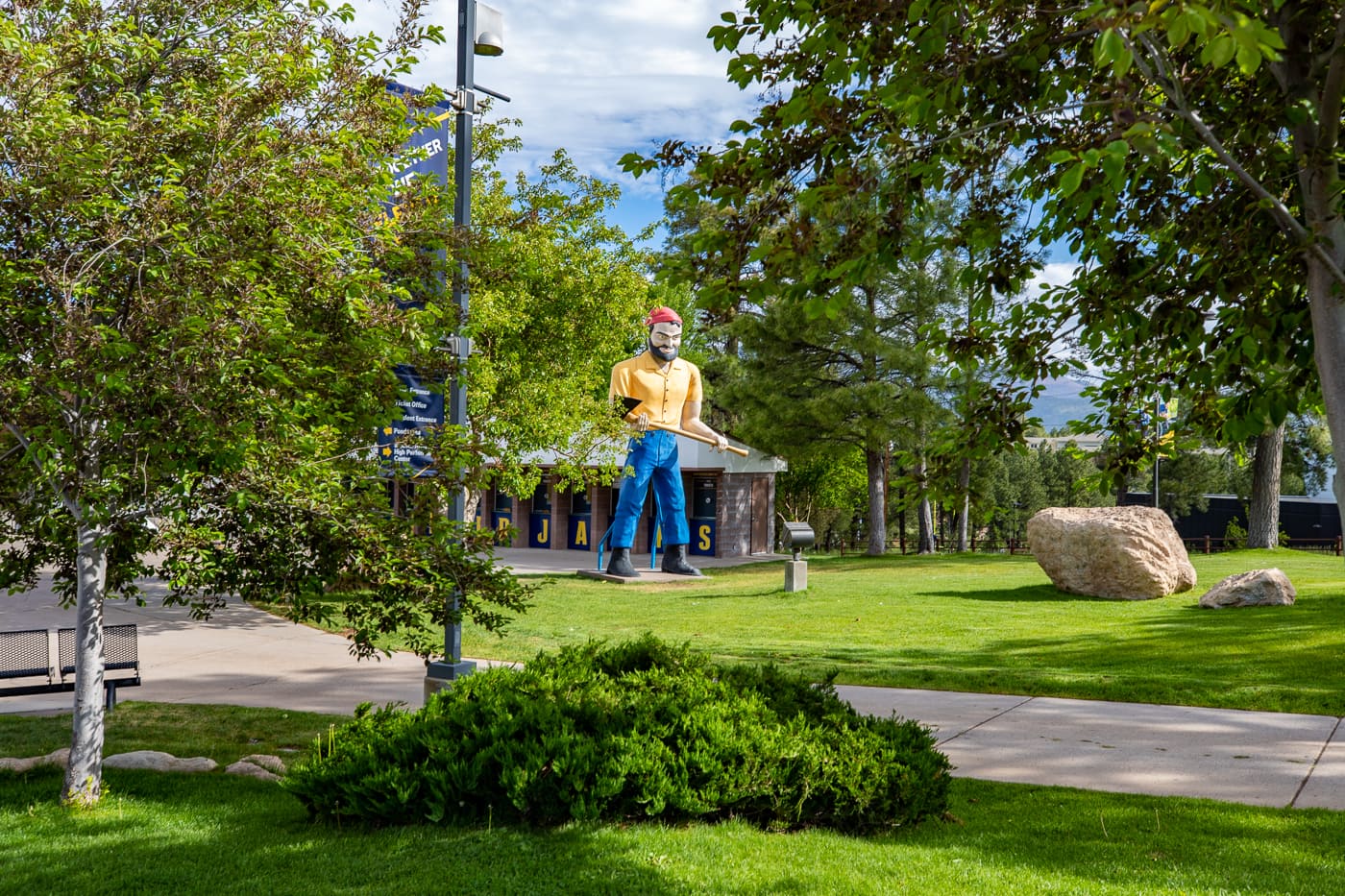 If you love this Arizona Route 66 roadside attraction, be sure to also visit these other iconic sites: Western Hills Motel, Hotel Monte Vista, and Miz Zips while in Flagstaff!
Lumberjack Muffler Man at the Northern Arizona University Skydome
Address: 1701 S San Francisco St, Flagstaff, AZ 86001
Hours: Always visible, campus access and parking may vary
Cost: Free to See
Pin this Arizona roadside attraction to save for your road trip itinerary.