This muffler man is a head above the rest. Or, at least, is a head. Find this gas station muffler man head in Atlanta, Illinois on Route 66.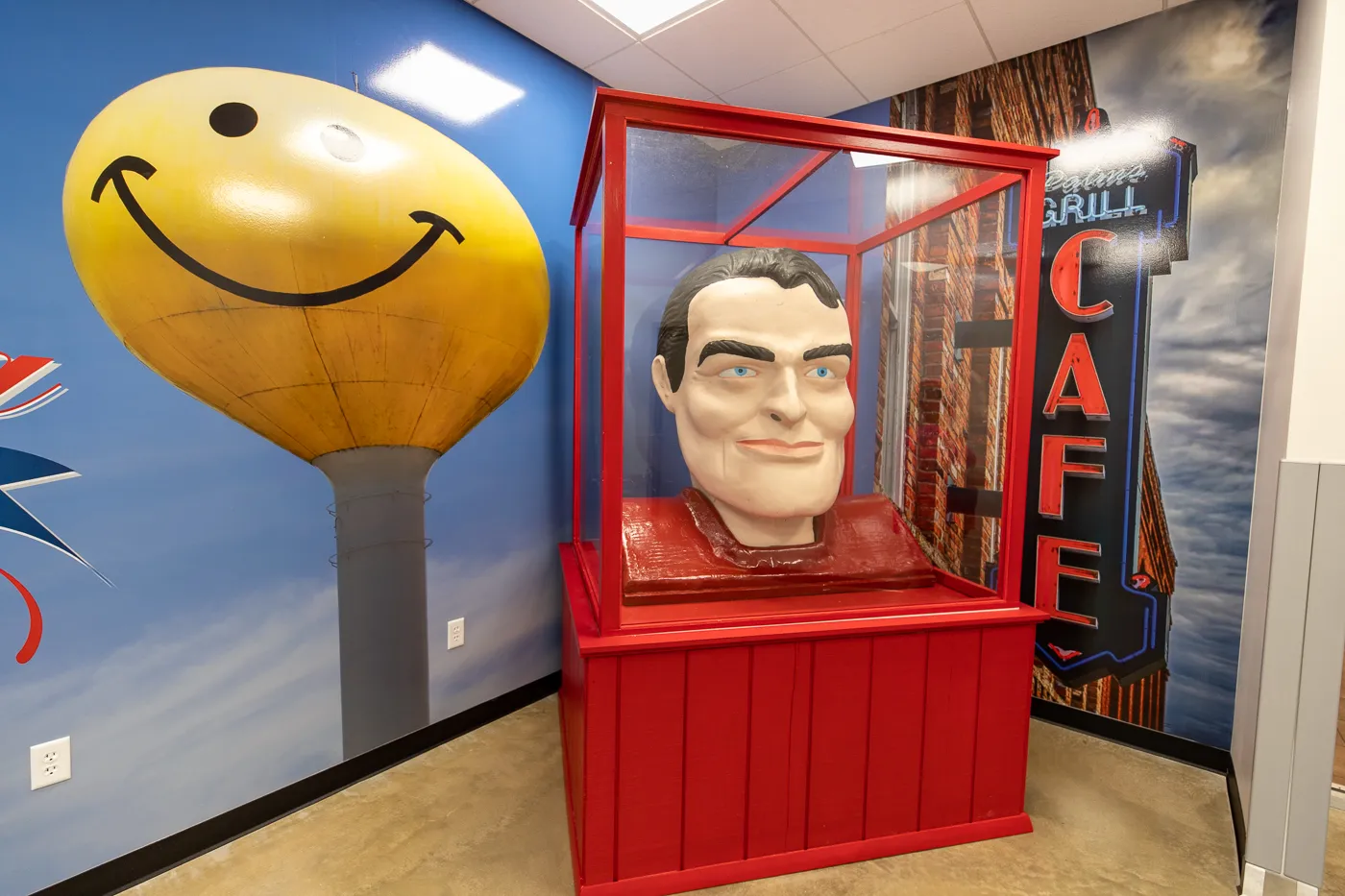 Atlanta, Illinois has always been a popular stop for roadside attraction lovers traveling Route 66. With popular stops like the Paul Bunyon muffler man holding a hot dog, The Palms Grill Cafe, and the smiley face water tower, it is a highlight of anyone's itinerary.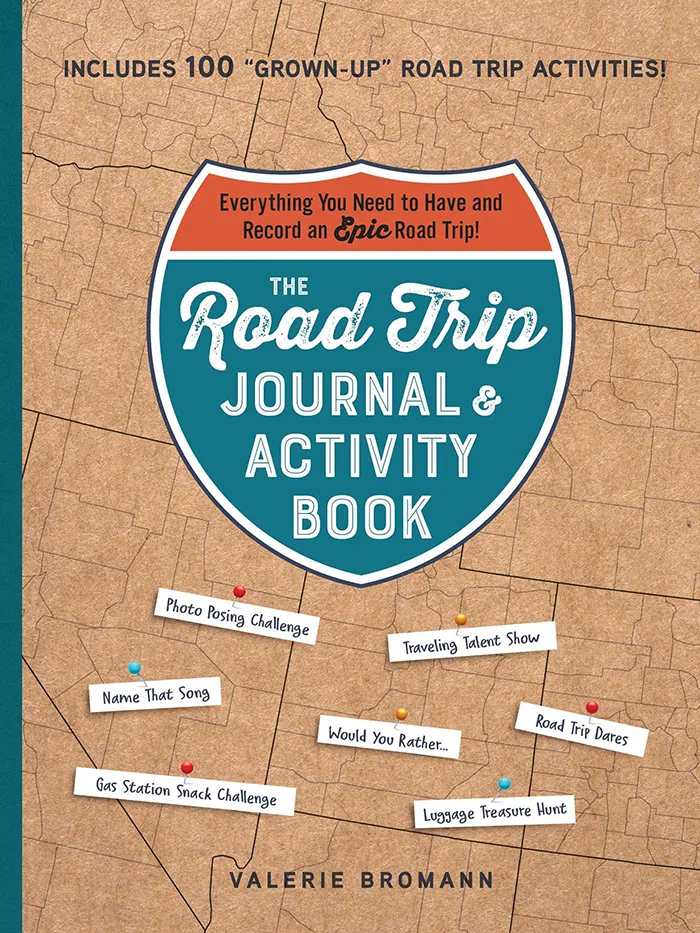 The Road Trip Journal & Activity Book
Everything You Need to Have and Record an Epic Road Trip!
Enjoy fun games and challenges to pass the time on your next road trip and have a keepsake to look back on for years to come with this entertaining must-have for your next vacation.
A new display in town celebrates their famed attractions and has become an attraction in itself. Tucked inside a Shell truck station in a hallway that offers rest rooms and an entrance to the Dairy Queen Grill & Chill, is a mural that depicts the Palms Grill, the smiley water tower, a Route 66 shield emblem, and the phrase, "Welcoming the World with a Smile!"
A bright red display case in front of the artwork brings the mural to life with an authentic, full-sized, muffler man head.
Muffler men roadside attractions are fiberglass giants who stand anywhere from 14 to 25 feet tall. Each has a similar design and was built between 1963 and 1972 by International Fiberglass in Venice, California. With signature stances, these big men stood outside of muffler shops and other businesses to call attention from the road.
The fiberglass head originally belonged to a full bodied roadside attraction in Southern California, eventually made its way to an artist from San Diego in the 1980s, found its way to burning man in the 2000s, and finally ended up with American Giants in 2018. In 2021 it traveled to Atlanta and has taken its place here.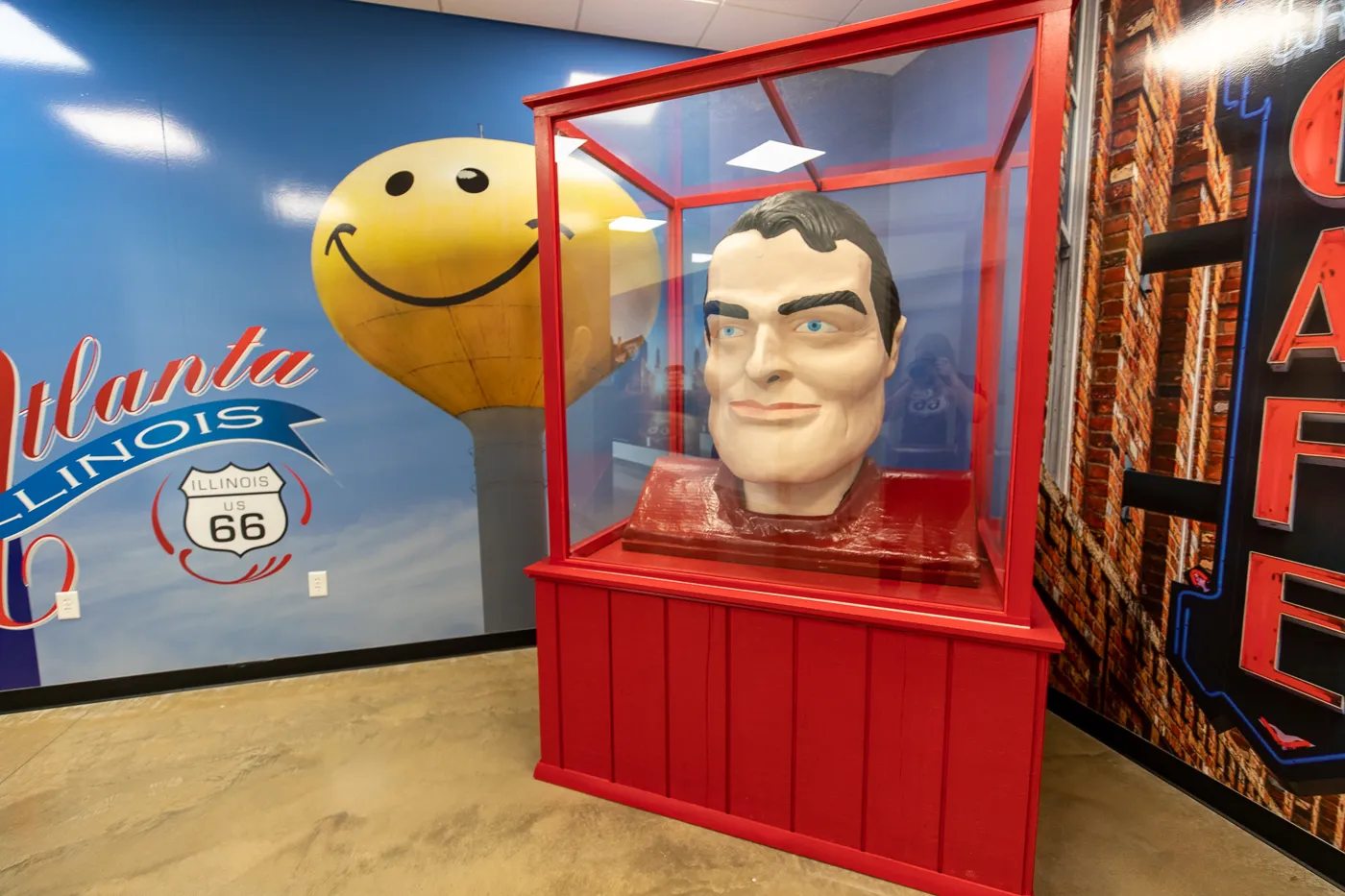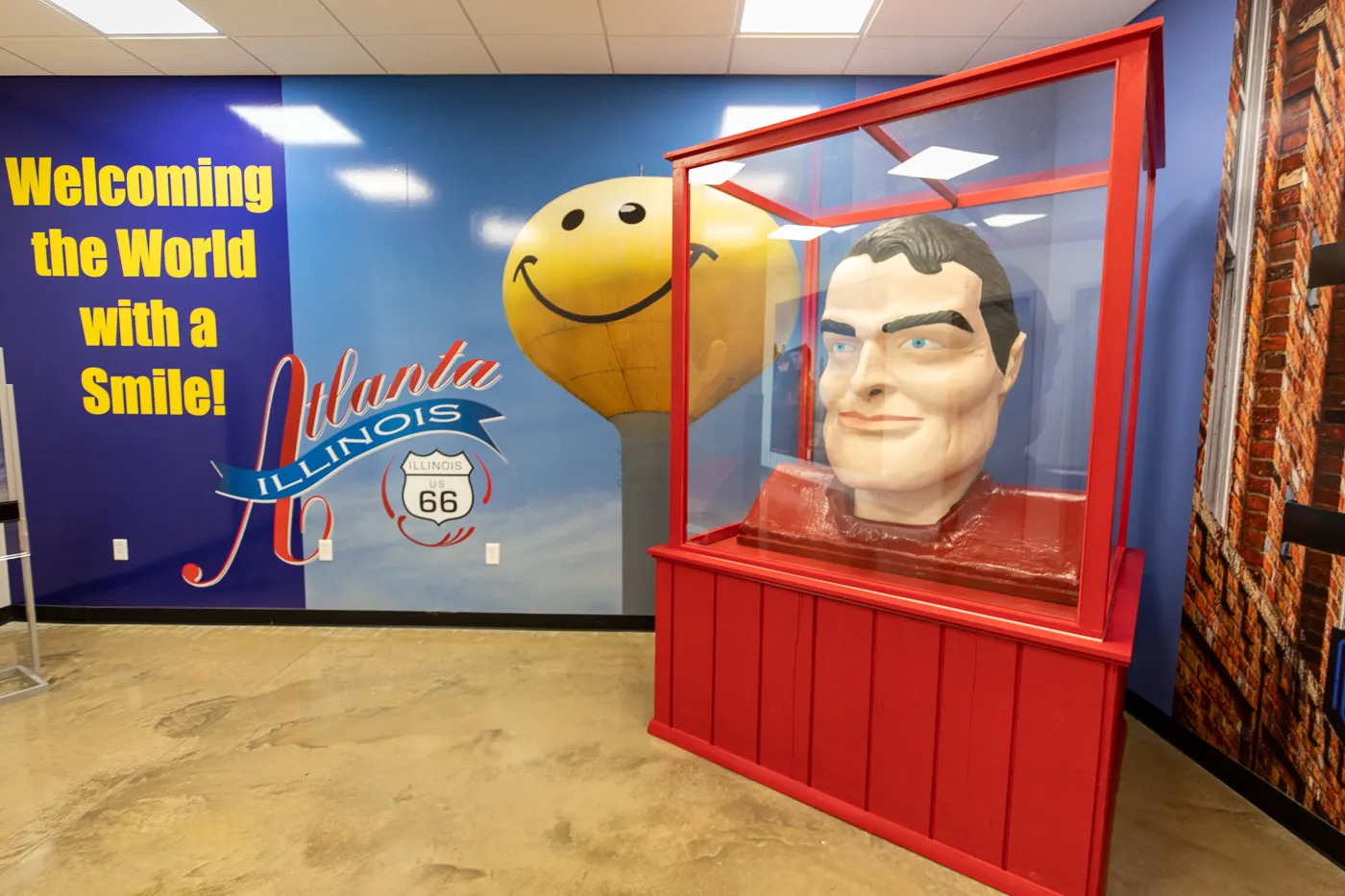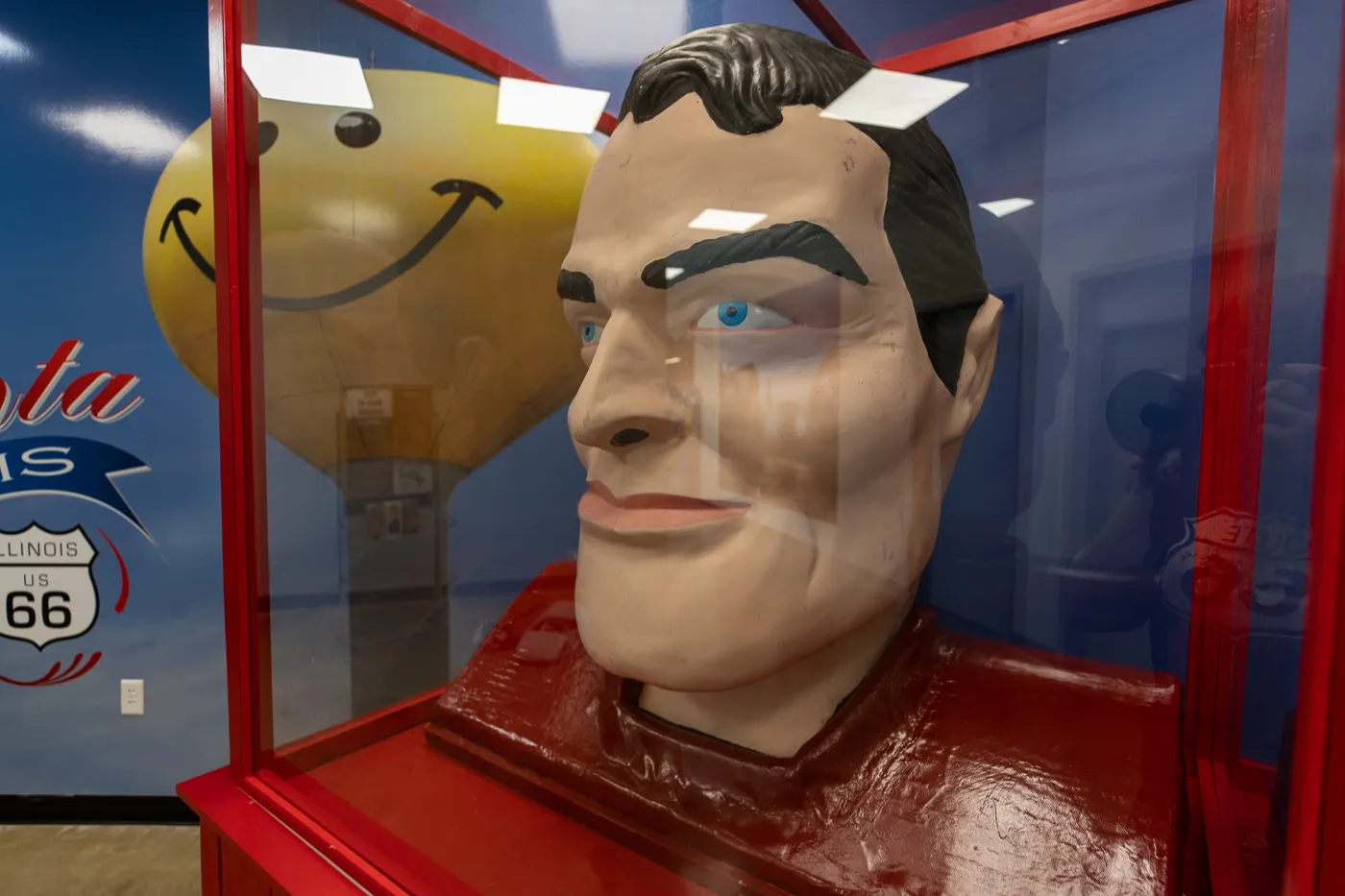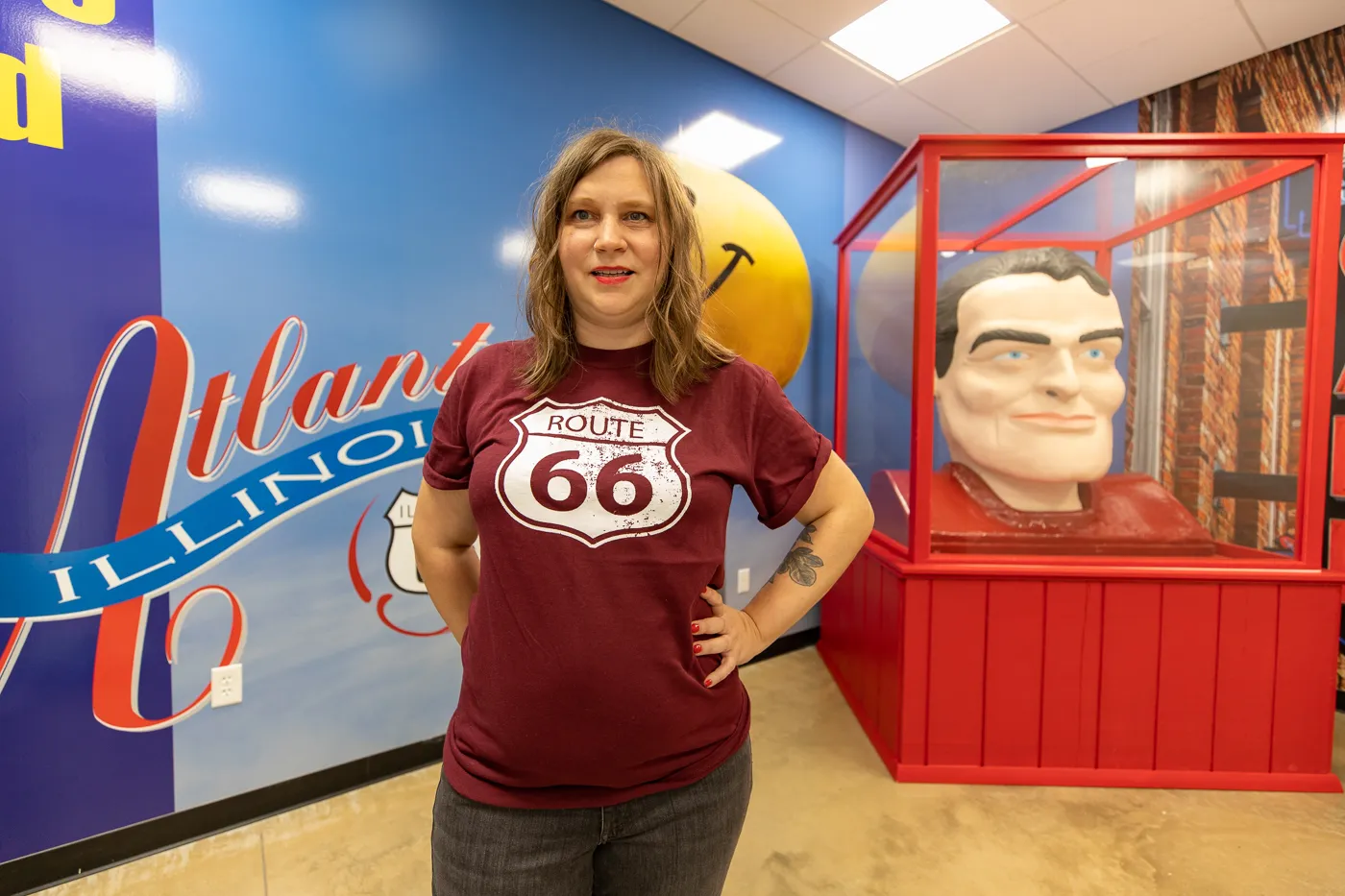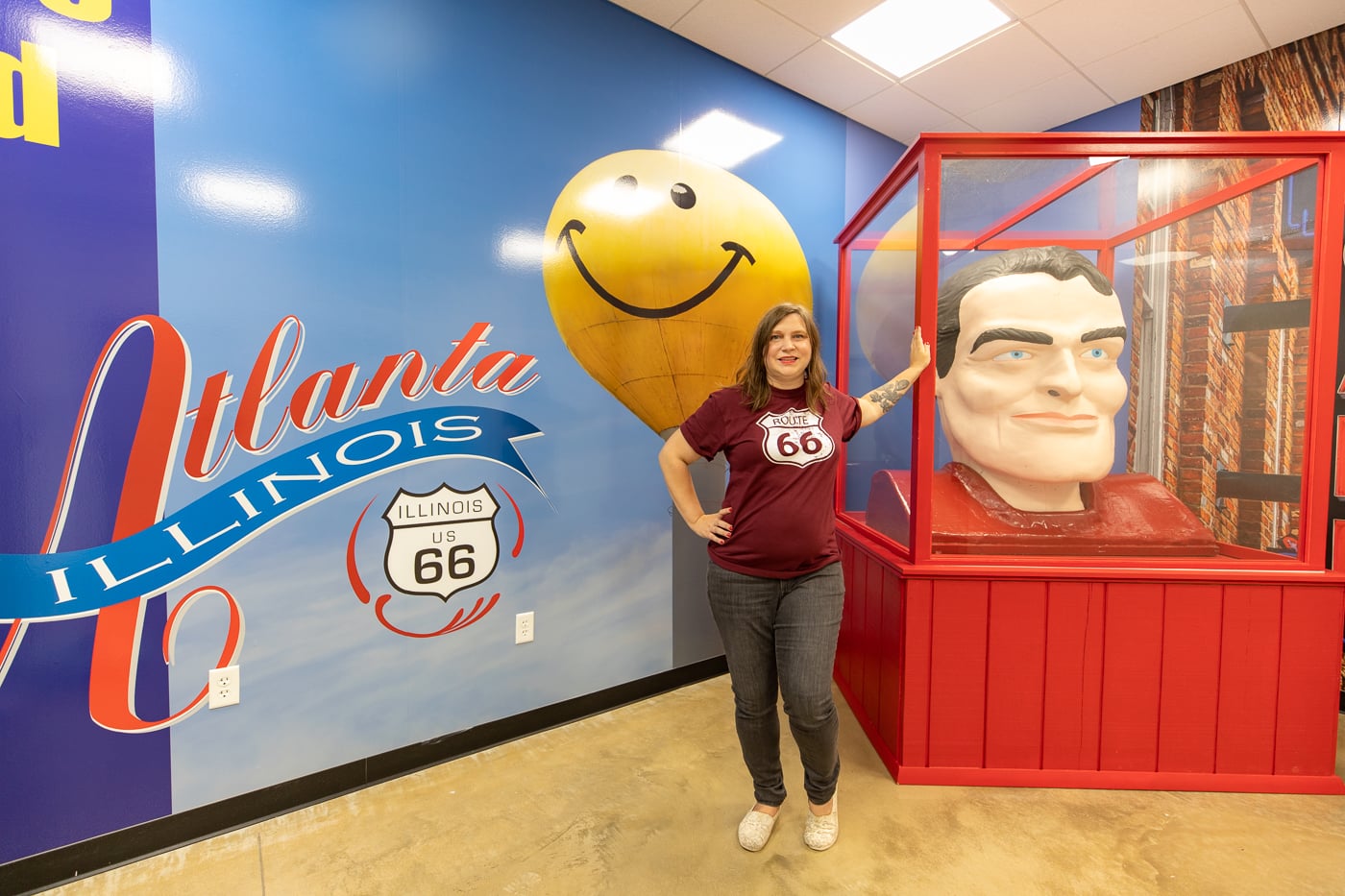 Interested in finding all the Illinois Route 66 muffler men? Also look for the Gemini Giant, Carl's Ice Cream Muffler Man, Muffler Man Holding a Hot Dog, the Lauterbach Giant, and the Harley Davidson Muffler Man.
Gas station muffler man head
Address: Shell Gas Station and Dairy Queen Grill & Chill, 102 Empire St, Atlanta, IL 61723
Cost: Free to See
Pin this Illinois Route 66 roadside attraction: