If you're traveling on Route 66 you'll find roadside attractions of every sort. There are museums, murals, world's largest things, and historical sites at every turn. On the Illinois stretch there's one roadside attraction that particularly stands out: the muffler man. Known for their "three gentle giants of Illinois" you can find three famous Route 66 Muffler Men in Illinois and a few more of their friends too.
Muffler men roadside attractions are fiberglass giants who stand anywhere from 14 to 25 feet tall. Each has a similar design and was built between 1963 and 1972 by International Fiberglass in Venice, California. With signature stances, these big men stood outside of muffler shops and other businesses to call attention from the road.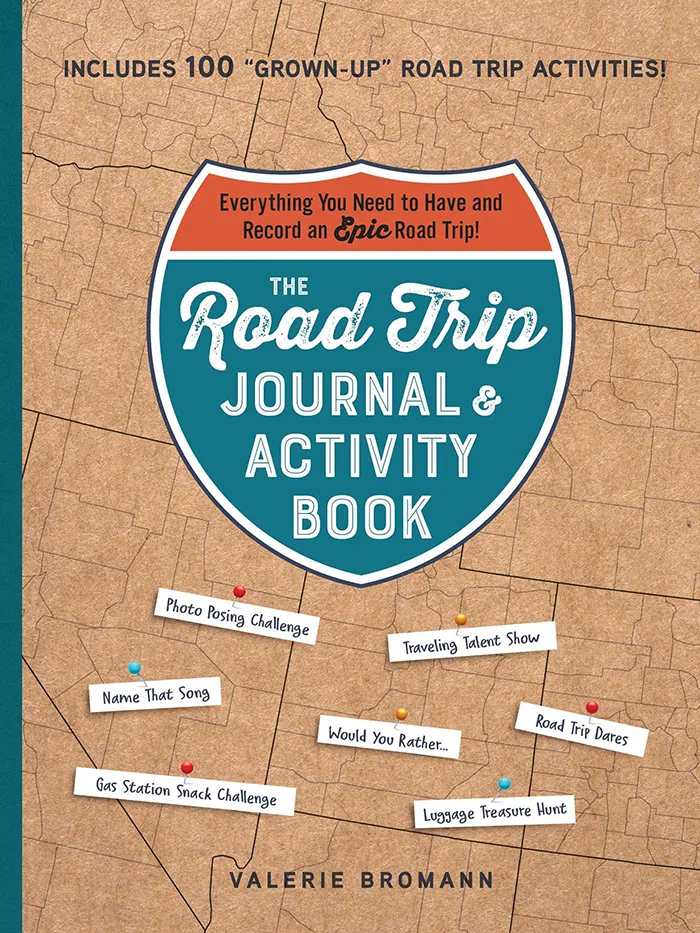 The Road Trip Journal & Activity Book
Everything You Need to Have and Record an Epic Road Trip!
Enjoy fun games and challenges to pass the time on your next road trip and have a keepsake to look back on for years to come with this entertaining must-have for your next vacation.
The"three gentle giants of Illinois" are the three most famous of the Illinois Route 66 Muffler Men (and perhaps the most famous muffler men on all of the Mother Road): the Gemini Giant spaceman, thePaul Bunyon Muffler Man Holding a Hot Dog, and the American flag waving Lauterbach Giant. But there are even more to see across the state's portion of the road!
Let's check out the Illinois Route 66 muffler men you'll find on your road trip on the Mother Road.
Route 66 Muffler Men in Illinois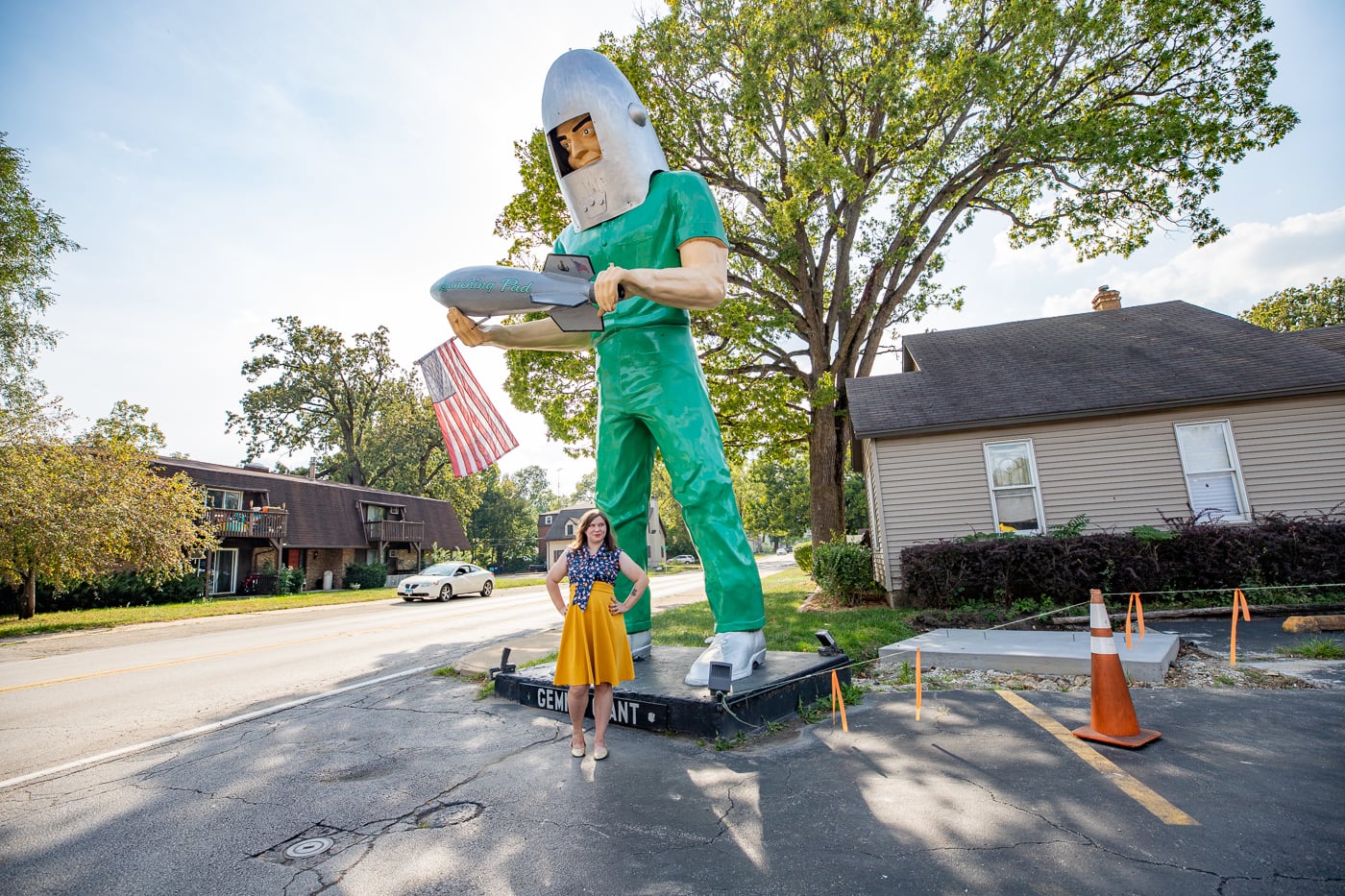 Gemini Giant at the Launching Pad Drive In
810 E Baltimore St, Wilmington, IL
The Gemini Giant is a 28-foot tall muffler man who stands outside the Launching Pad restaurant in Wilmington, Illinois. He weighs in at a whopping 438 pounds: not counting his base of the giant 8-foot rocket he holds in his hands! This giant spaceman has been greeting earthlings at this location since the 1960s.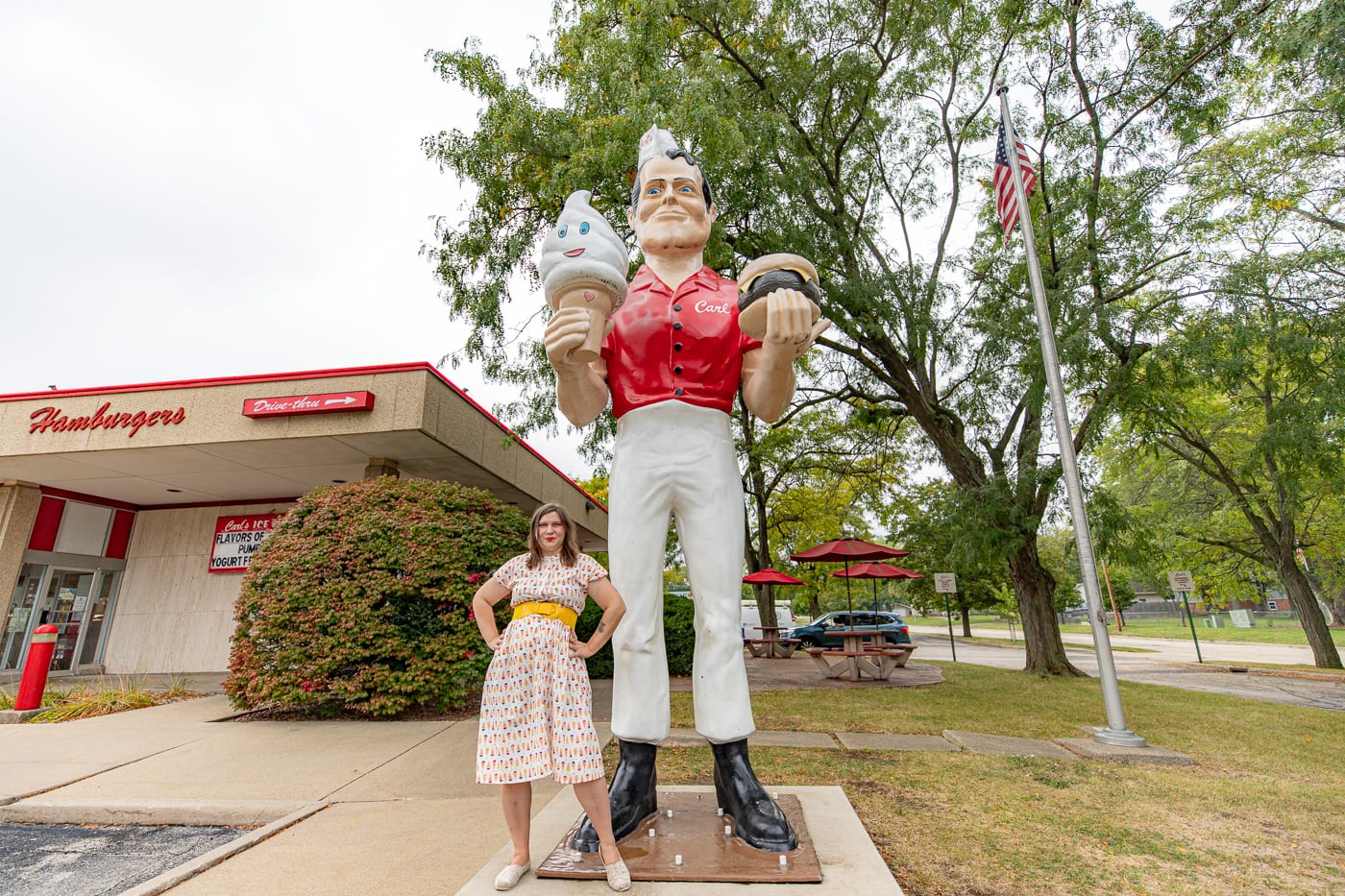 Carl's Ice Cream Muffler Man
1700 W College Ave, Normal, IL
The Carl's Ice Cream Muffler Man in Normal, Illinois, is a 15-foot tall modern version of the classic muffler man roadside attraction made by International Fiberglass. But this soda jerk wasn't made by International Fiberglass in the 60s. It was made more recently by Virginia fiberglass artist Mark Cline, of Enchanted Castle Studios.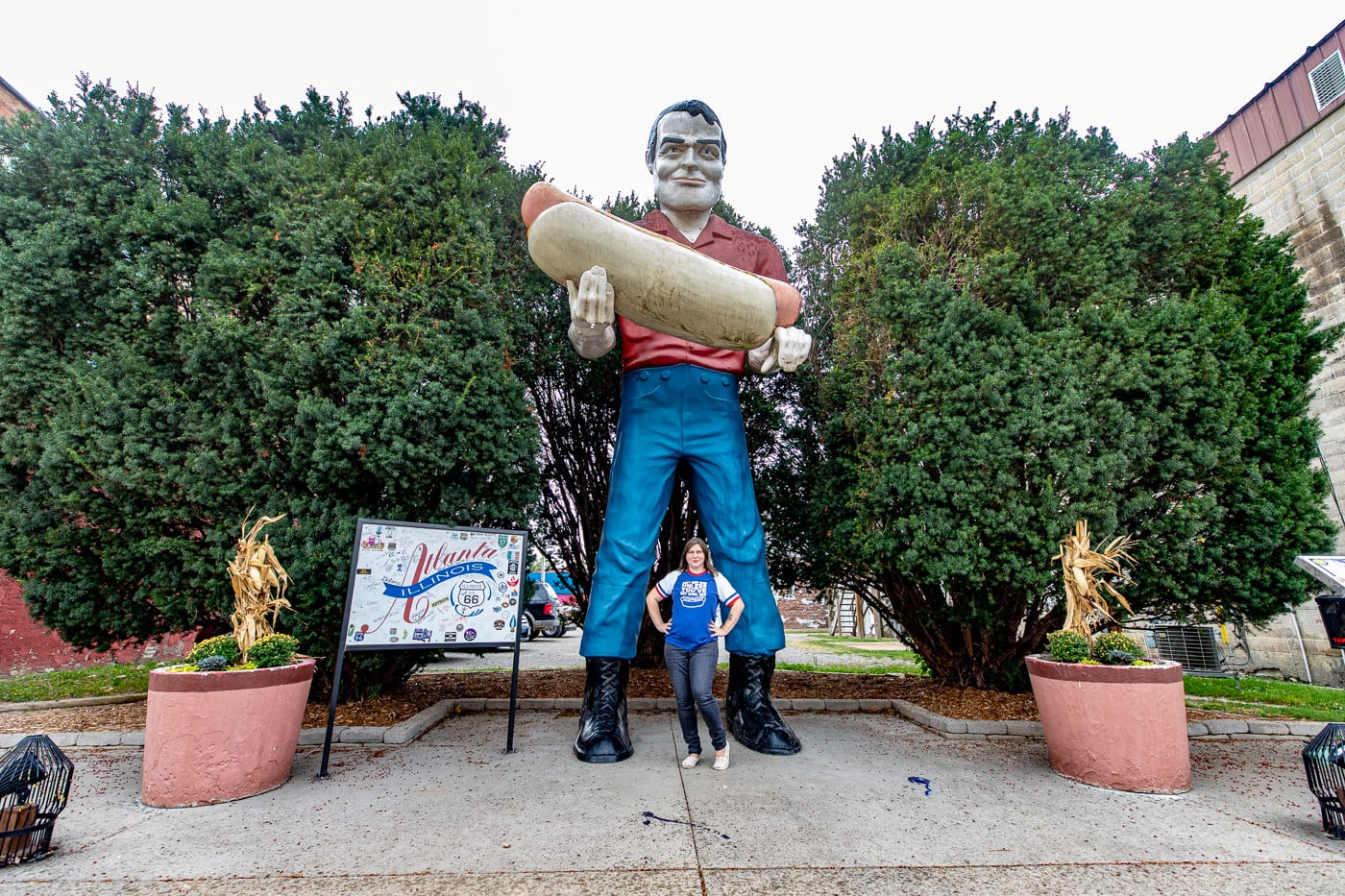 Paul Bunyon Muffler Man Holding a Hot Dog
103 SW Arch St, Atlanta, IL
Originally erected at a Cicero hot dog stand in 1966, the Bunyon Giant moved to Atlanta in 2002. He was originally designed to hold an axe, but instead carries a giant hot dog.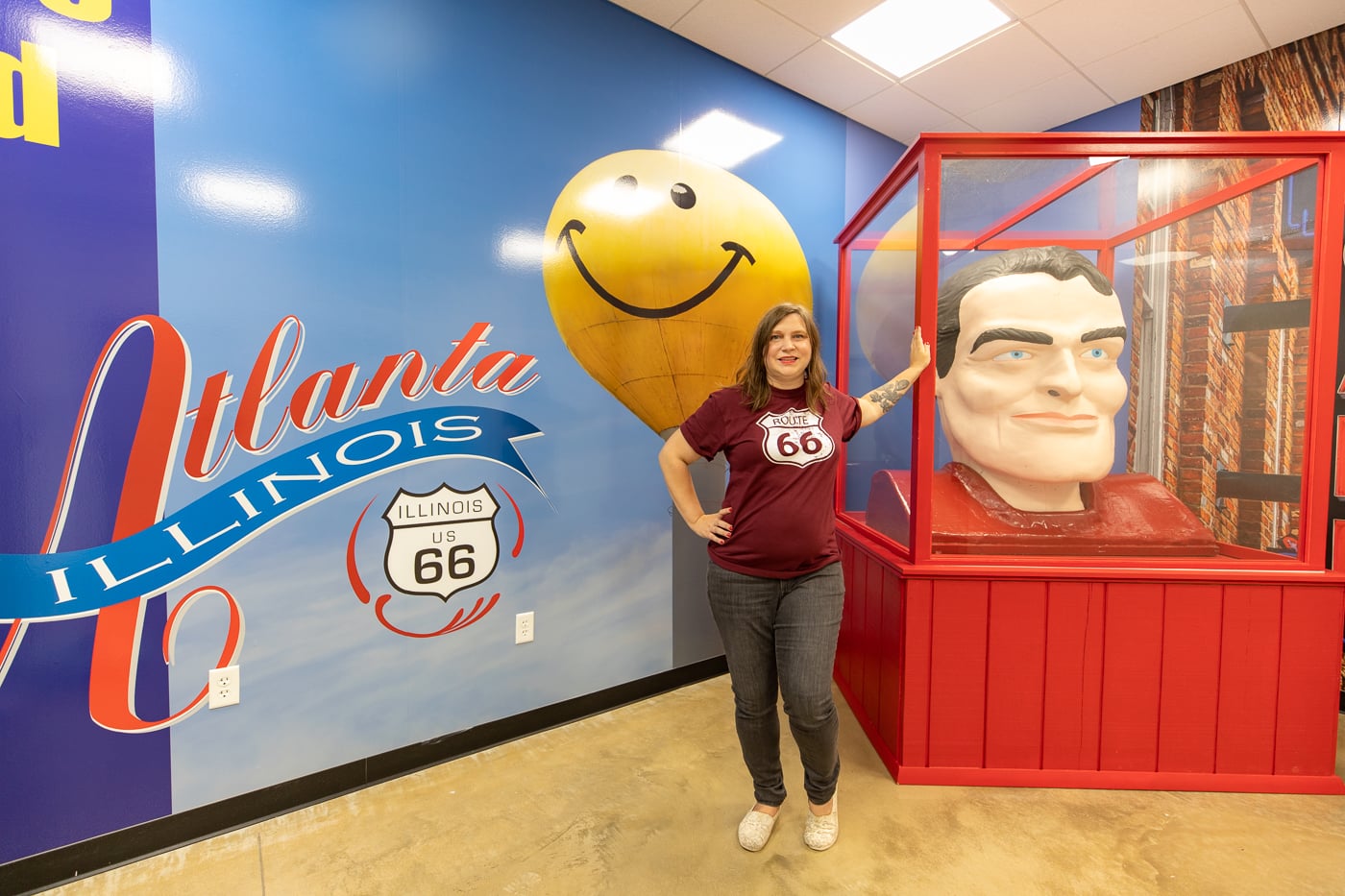 Shell Gas Station Muffler Man Head
102 Empire St, Atlanta, IL
Atlanta, Illinois has always been a popular stop for roadside attraction lovers traveling Route 66. To celebrate this fact, a restored muffler man head was installed in a display inside a Shell Gas Station/Dairy Queen.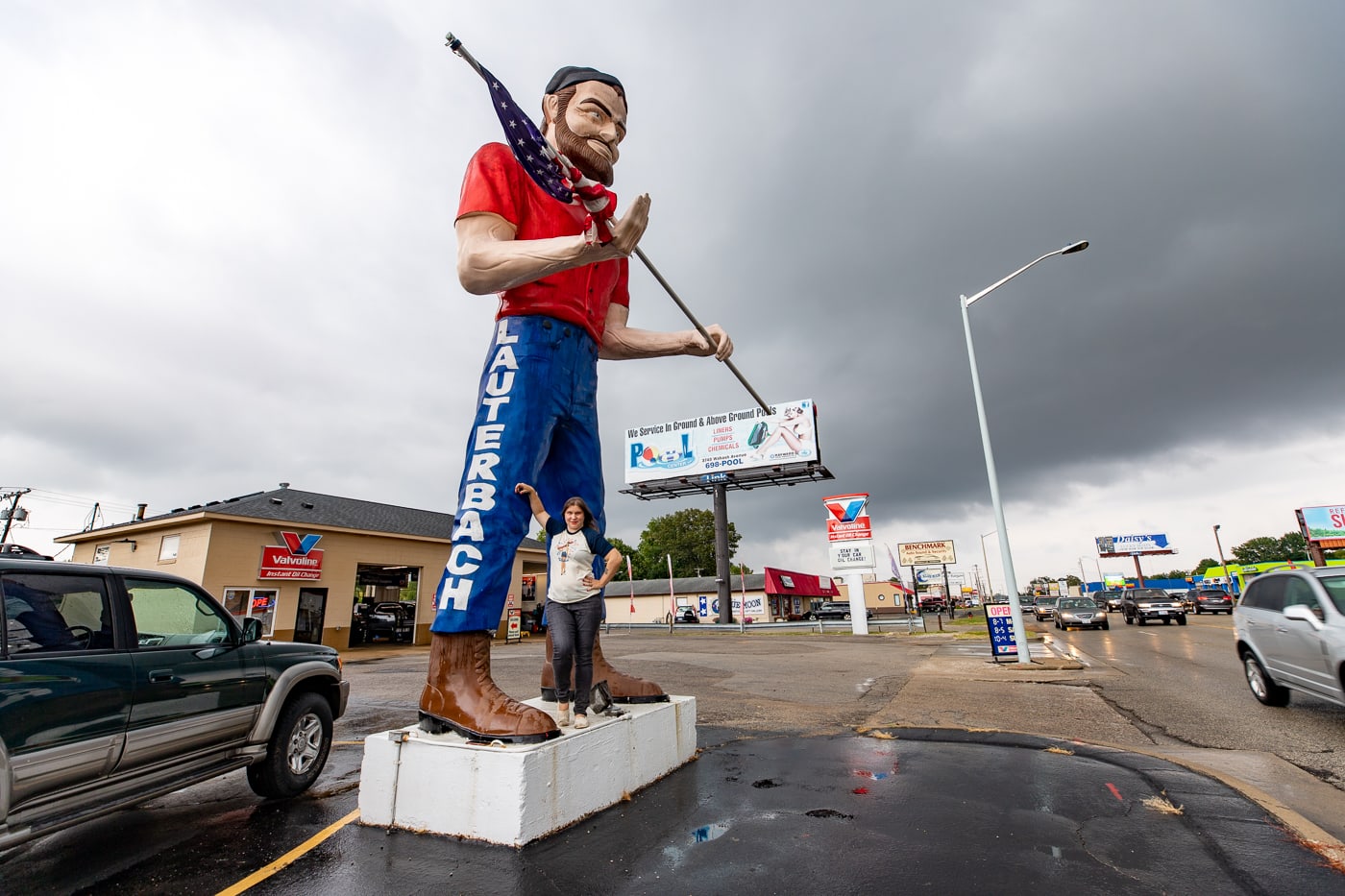 Lauterbach Giant
1569 Wabash Ave. Springfield, IL
This fiberglass giant has stood in the parking lot outside Lauterbach Tire & Auto Service in Springfield, Illinois since 1978. While the Lauterbach Giant now looks perfectly fine, he had earlier undergone some tragedy: he lost his head when a tornado flew through town in 2006.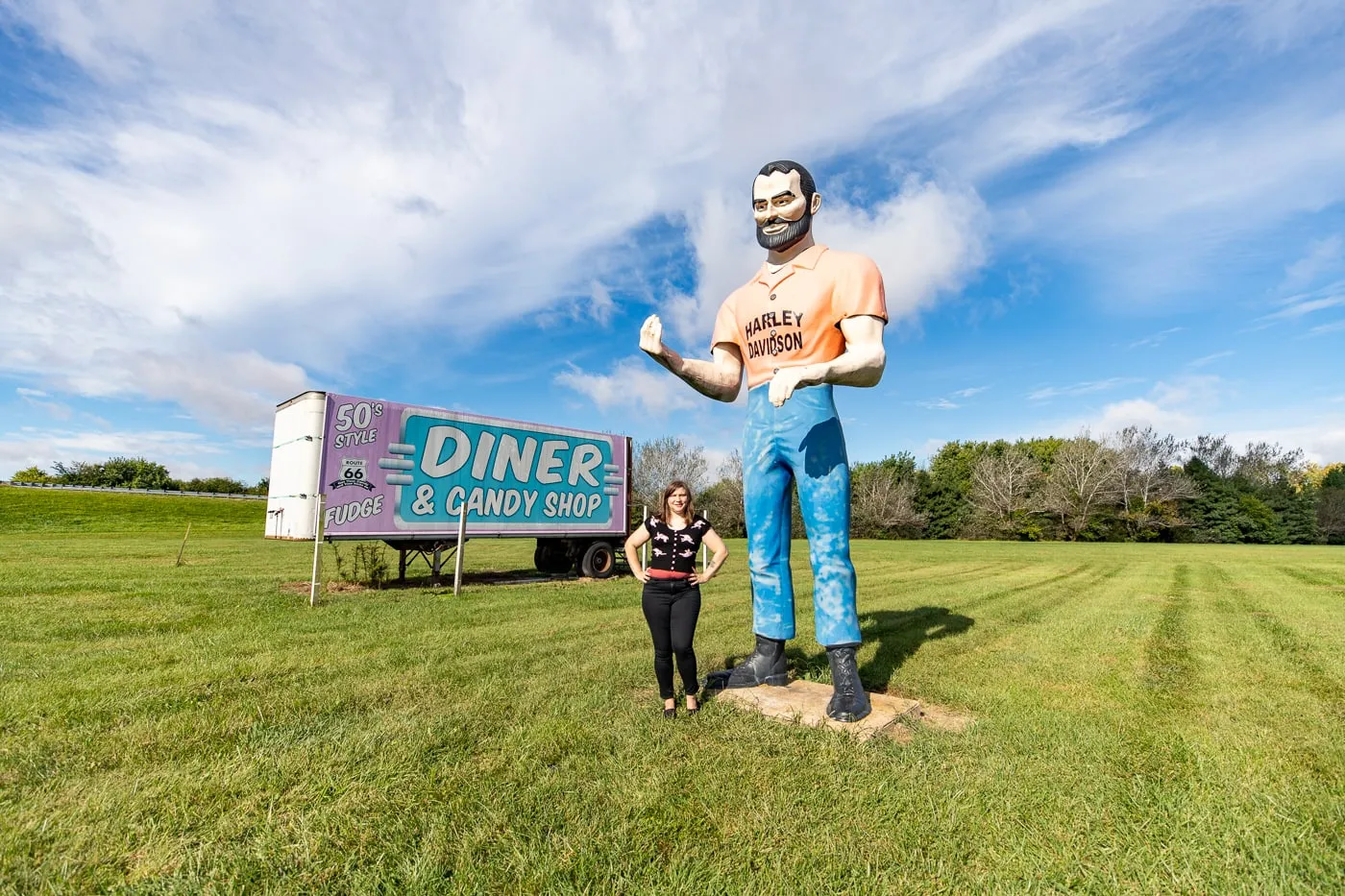 Harley-Davidson Muffler Man
908 Veterans Memorial Dr, Livingston, IL
This roadside attraction is a small-scale muffler man turned big motorcycle man. The giant biker can be found at the Pink Elephant Antique Mall in Livingston, Illinois: the Harley Davidson Muffler Man.
Pin these Route 66 Illinois Muffler Men: