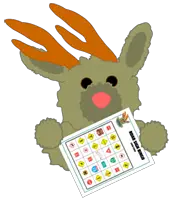 When taking a road trip, car games are always a fun way to help pass the time! Flopsy the Jackalope, our Silly America mascot, just loves to play games, so he put together some of his favorites just for you! Download and print these tried and true travel games to play on your next trip! Today I'm featuring my all time favorite road trip game: Hey cow! Read on if you've never heard of it… or maybe I should say HERD of it!
HEY COW GAME!
The hey cow car game one may be a new one to you, but it is tons of fun! It's the best game to play involving bovines (and a lot less painful to play than cow tipping).
Here's the premise: Each time you see a pack of cows while driving down a country road, take turns. One person will roll down the the window and yell "Heeeeey Co-ow!" as loud as possible. Preferably loud enough so the cows can hear.
For every cow that turns around, you get one point! Whoever has the most points at the end of the road trip wins!
OK, so my cow game may sound a little ridiculous. nd there is guaranteed to be some debate as you count up your points ("Did that cow really turn his head?" "You were driving too fast for me to add them all up!"). But it's definitely a fun game to play! Try it on your next road trip through farmland and tell me how it goes!
Check out the instructions below and click the image to download the Hey Cow! instruction sheet. It will open in a separate window as a PDF.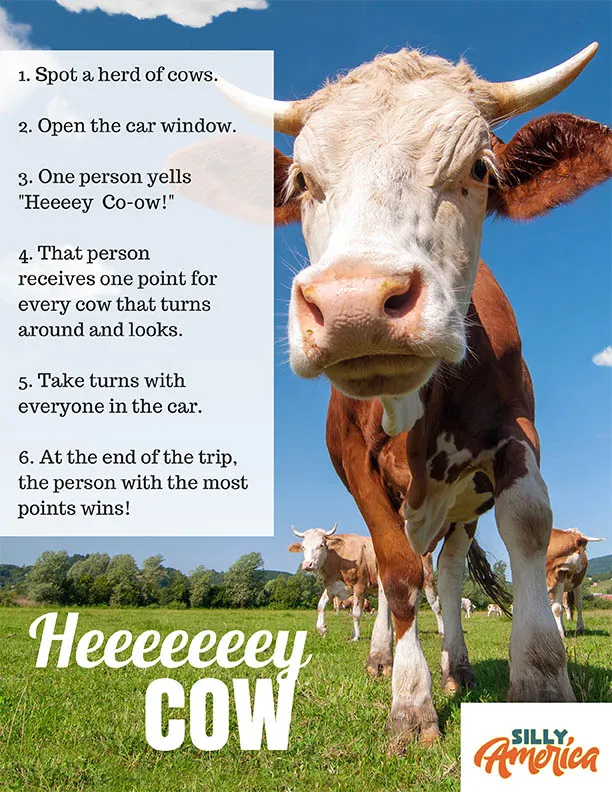 Looking for more silly car games to play on your next road trip? Check out my free downloads for the License Plate Game, Road Trip Scavenger Hunt, Road Trip Questions, and Road Sign Bingo!
Pin this post: