Road trip games are always a fun way for passengers of any age to pass time in the car. Fun car games include Road Sign Bingo, the License Plate Game, Questions and Answers, and, of course, a road trip scavenger hunt!
Road trip scavenger hunts are a fun way to keep everyone in the car engaged! Just print off a list of things to see on a road trip, have everyone keep a copy and keep their eyes peeled, and then award points for who sees the most and who sees what first.
Ready to play?
How to Play a Road Trip Scavenger Hunt
Make a list. Make a list of things you think you'll see on your car trip. It can be as easy (a stop sign, a hotel bed, a VW Bug), as hard (a pressed penny machine, a Sinclair dinosaur), or as specific (the Wall Drug Dinosaur, a billboard for 75cent ice cream) as you'd like! Tailor your items to your own trip (including details of destinations that are on your road trip itinerary) or use the free printable PDFs below!
Set up a point system. Set points for each item. It can be the same 10 point award for every item or you can mix it up giving different totals to different items, depending on how hard they might be to find. You can even use a scaled-point system where the first person to see something gets 10 points, the next 9, and so on.
Play! Whenever a passenger sees something on the list they have to announce it and then can cross it off the list. Some items everyone can get credit for (there's only one world's largest cow after all) but other more common items (like a yield sign, a red car, a bridge) go to the first person to see it.
Add it up. At the end of the road trip add up everyone's points. Whoever has the most points wins! What they win is up to you. It can be anything from a physical prize, the biggest hotel bed on the last night, or choice of where to stop for lunch.
Bonus Ideas:
Use cell phone cameras and a vacation hashtag (#SmithFamilyRoadTripScavengerHunt) to keep track of everyone's finds.
Use instant cameras to document your items and keep them in a photo album or a road trip scrapbook.
Miix it up and coming up with riddles and clues that will lead you to something new!
Want to continue the fun at the end of the day? Try a hotel scavenger hunt and look for all the things you can find in a hotel!
Free Road Trip Scavenger Hunt Printables
Download these free printables to play this fun find and seek game. Look for all the items you'll see from your car and see who can get them all first!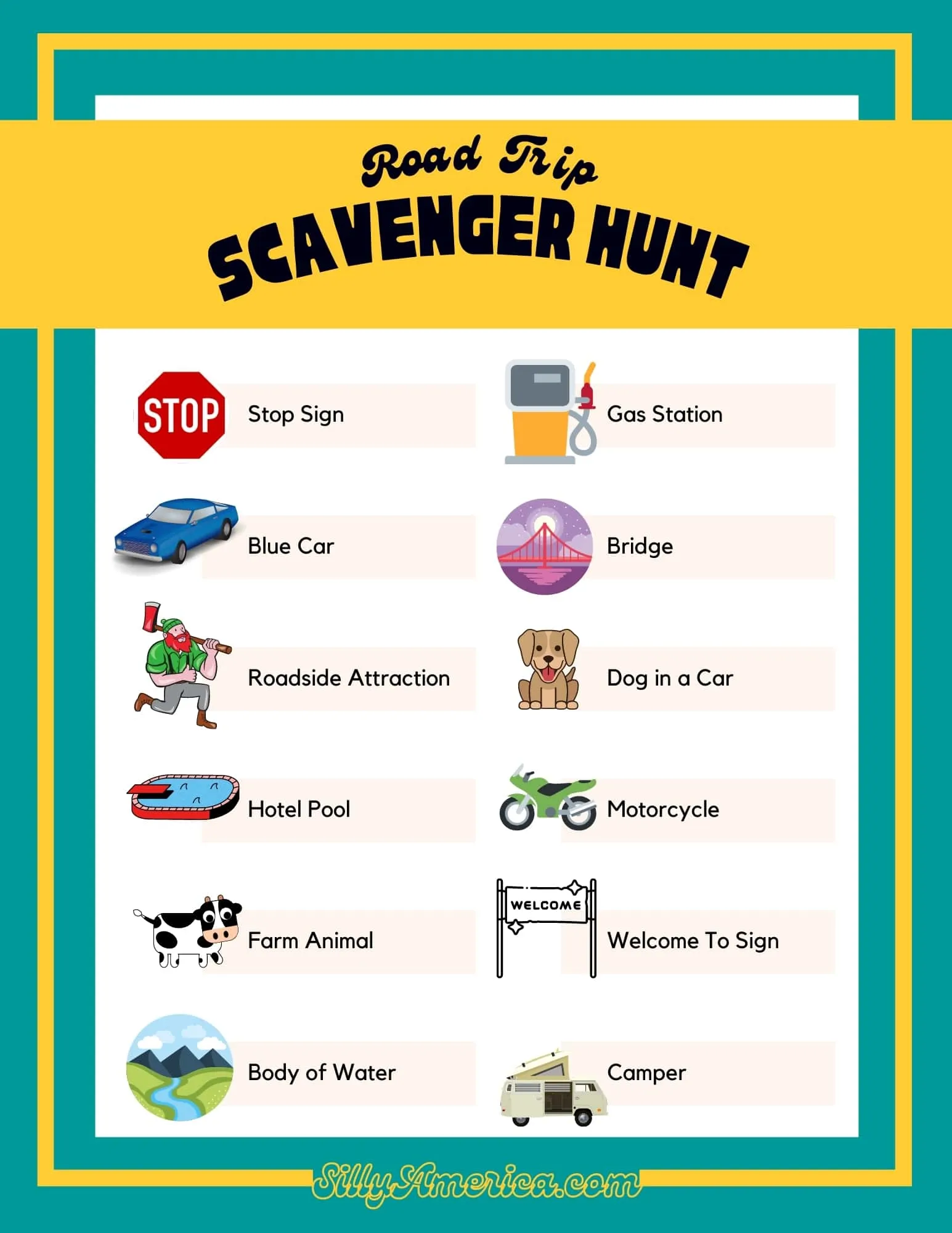 Free Road Trip Scavenger Hunt Printable Game Sheet
Print a copy of this sheet for everyone in the car to play a Road Trip Scavenger Hunt. Which of these commonly found items can you find?
Photo Scrap Book Sheet
Create a photo scrap book of your finds by printing out photo sheets to use with an instant camera. Tape or glue your instant photos to these pages and mark them with the finder's name, the item, and the day and time the spotted the item!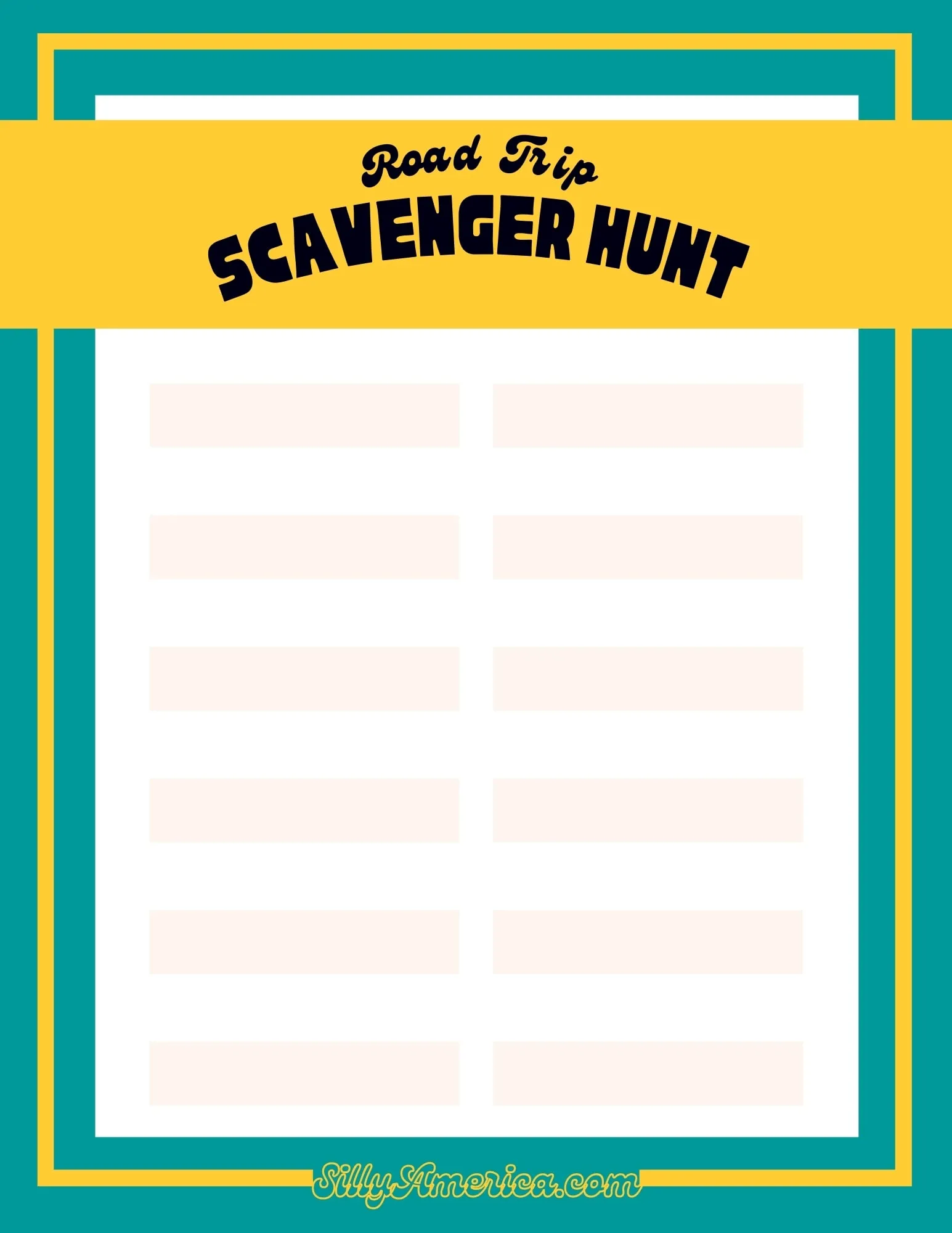 Blank Road Trip Scavenger Hunt Printable
Download this blank road trip game sheet to customize your own car scavenger hunt. What do you think you'll see on your road trip?
Road Trip Scavenger Hunt for Adults
If you need road trip scavenger hunt ideas for adults, think of some harder to find things or things that wouldn't be as fun for kids. Treat the game more like a selfie challenge and see who can get the best photos in all the best places on the list.
Buy a Road Trip Scavenger Hunt Set
Don't have a printer or want something reusable and sturdy that will last for many road trips to come? Buy a pre-made set online and keep it in your car for road trip fun!
Road Trip Scavenger Hunt – Search for 100 Objects
Use these card to search for and identify 100 objects. With two different decks you can hunt for things whether you're on the highway or exploring a city or suburb.
Briarpatch Travel Scavenger Hunt Card Game for Kids
54 playing cards let kids have fun searching for objects like a red car, a license plate with the letter "Z," or a stop sign.
Road Trip Scavenger Hunt List Ideas
Whether you're road tripping through Wyoming or visiting Disneyland, road trip games will entertain everyone in the car while you go. Make your own game by taking inspiration from any of the road trip scavenger hunt list ideas below, or anything else you think you might see on the way to your destination!
A Hotel (Hyatt, Holiday Inn, Best Western, Marriott, Hilton, Days Inn, Travelodge)
A Fast Food Restaurant (McDonald's, Burger King, Subway, Popeyes, Dunkin' Donuts)
A Car (Red, Blue, Pink, Jeep, SUV, Honda Accord, Volkswagen)
A Gas Station (BP, Sinclair, Love's, Buc-ee's)
A Natural Landform (a volcano, a canyon, a cave, a mountain, a lake, an ocean)
A Landmark (Statue of Liberty, Mount Rushmore, the Golden Gate Bridge)
A National Park (Yellowstone, Acadia, Zion, Yosemite)
An Animal in a Car
Roadside Attraction
Scenic Overlook
Vanity License Plate
A Personalized Souvenir
Neon Motel Sign
Giant Mural
Weird Museum
"Welcome to" State Sign
Local Diner
Road Work Sign
Convertible with its Top Down
Road Signs
Add any of these road signs to your road trip scavenger hunt game card!
Crossbuck Sign
Dead End Sign
Deer Crossing Sign
Dip Sign
Divided Highway Sign
Do Not Enter Sign
Do Not Pass Sign
Guide Sign
Interstate Sign
Keep Right Sign
Men at Work Sign
Merge Sign
Narrow Bridge Sign
No Left Turn Sign
No Passing Zone Sign
No U-Turn Sign
One Way Sign
Pedestrian Crossing Sign
Railroad Crossing Sign
Road Narrows Sign
School Crossing Sign
Side Road Sign
Slippery Road Sign
Slow Moving Vehicle Sign
Speed Limit Sign
Stop Sign
Two Way Traffic Sign
Winding Road Sign
Yield Sign
Pin this road trip game to save for your next car trip!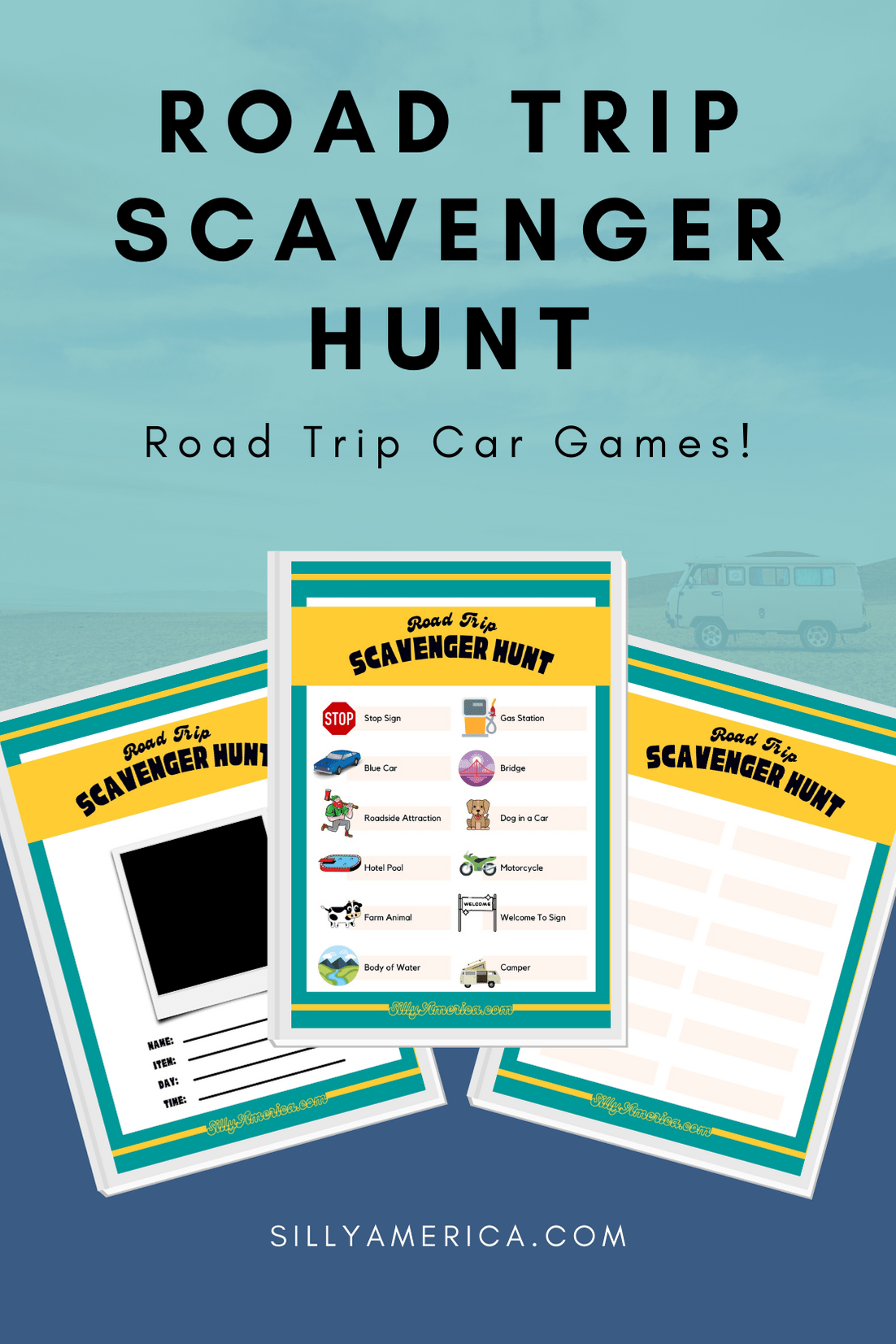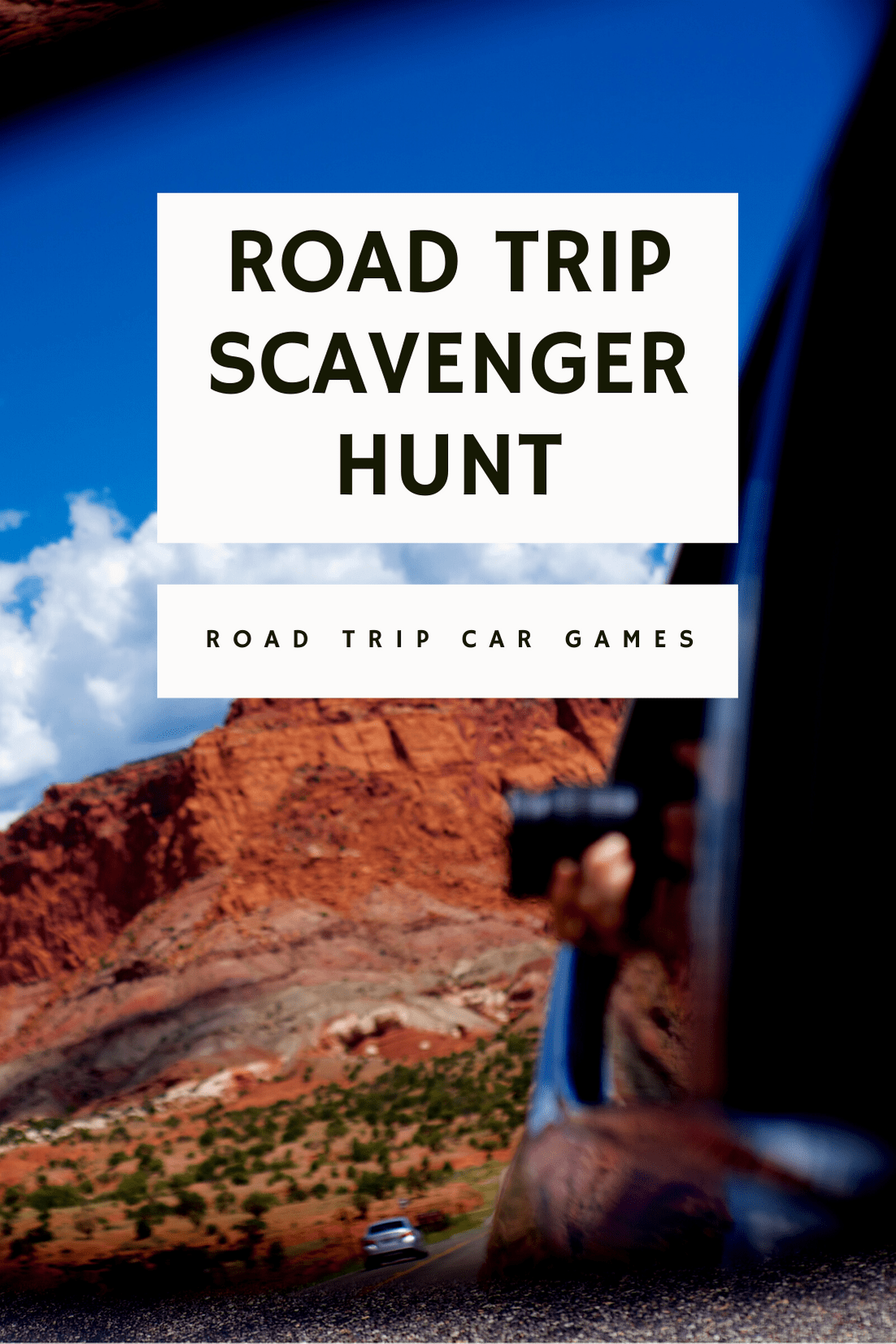 Photo by Reinhart Julian on Unsplash