Road trip games are always a fun way to help pass the time in the car on a long drive! And one of the most classic road trip games in Road Sign Bingo.
This car activity is a popular and fun road trip game for adults, teens, kids, families, or couples. It's easy to play, can last the whole trip long, and doesn't require much else than a piece of paper, a pen or pencil, and your eyes.
How do you play the road sign bingo? All you have to do is print out (or buy) a set of bingo cards, keep a look out of your window for all the road signs you see, match them to your board, and be the first to fill an entire row.
Road Sign Bingo
Read on to find out how to play, how to download our free printables, find some pre-made options, and some game play variations!
How to Play Road Sign Bingo
Street Sign Bingo is a true road trip classic! Here's how you play:
Print up these four different road bingo playing cards and bring them along on your next road trip.
Have each passenger pick a card and keep a look out for different road signs: No Turn, Exit, Yield, route signs, interstate signs, they're all here! The center space is free!
When someone sees a sign out the window that matches a sign on their paper, they can mark it off by circling the icon. (Tip: bring along some crayons or markers to do the marking!)
Once someone gets five in a row (horizontally, vertically, or diagonally) they yell "BINGO!" and are declared the winner.
Road Sign Bingo Printable PDFs
Ready to play? Click on the thumbnails or button below to download the free printable road sign bingo game cards for yourself. They will open in a separate window as a PDF that you can save to your desktop computer or phone and print.
Road Sign Bingo Printable Checklist
This printable road sign checklist lists some of the most common road signs you'll see on your road trip. Print out copies for everyone in the car and keep an eye out to see who can spot the most!
Buy Road Sign Bingo Cards and Games
Don't have a printer or want something reusable and sturdy that will last for many road trips to come? Buy a pre-made set online and keep it in your car for road trip fun!
Interstate Highway Travel Bingo Set
This set of four reusable cards have shutter slides so you can click them closed whenever you see one of the road signs or other popular things to see on a road a trip!
Road Trip Bingo Boards
This travel-friendly board set offers different patterns so everyone in the car has a chance to win!
Mudpuppy Road Trip Bingo!
These bright cards offer fun illustrations of different things you might see out the car window. The set includes three bingo game cards and three dry erase markers so you can reuse the games for many road trips to come.
Magnetic Travel Road Trip Bingo Game
A magnetic version of the classic road trip. Made for two passengers, the first to complete one column or 2 rows of this game board wins!
100 PICS US Road Signs Travel Game
An alternative to the classic road sign bingo, this flashcard-based game keeps kids entertained by teaching them about all the different road signs.
List of Common US Road Signs
Want to create your own game or printable? Use this list of common US road signs to check off on your own.
Crossbuck Sign
Dead End Sign
Deer Crossing Sign
Dip Sign
Divided Highway Sign
Do Not Enter Sign
Do Not Pass Sign
Guide Sign
Interstate Sign
Keep Right Sign
Men at Work Sign
Merge Sign
Narrow Bridge Sign
No Left Turn Sign
No Passing Zone Sign
No U-Turn Sign
One Way Sign
Pedestrian Crossing Sign
Railroad Crossing Sign
Road Narrows Sign
School Crossing Sign
Side Road Sign
Slippery Road Sign
Slow Moving Vehicle Sign
Speed Limit Sign
Stop Sign
Two Way Traffic Sign
Winding Road Sign
Yield Sign
Road Trip Game Variations
Road Sign Game Variation
On longer drives you can use these free downloadable road sign bingo cards to see who can spot ALL signs the quickest. The winner is either the first passenger to fill up his or her card or who has the most when you reach the destination!
Road Trip Bingo
Similar to Road Sign Bingo, Road Trip Bingo cards feature more than just road signs, including other things you might see from the car.
Road Trip Restaurant Bingo
This variation fill the card with different chain restaurants and fast food establishments that you might see on your road trip
Hotel Bingo
For when you get to your hotel at the end of the day, Hotel Bingo cards feature things you might see at your nightly accommodation.
More Road Trip Games
Looking for more fun road trip games to play in the car? Check out all of our free printable PDF downloads and instructions for road trip games you can play in the car.
Pin this road trip game to save for your next road trip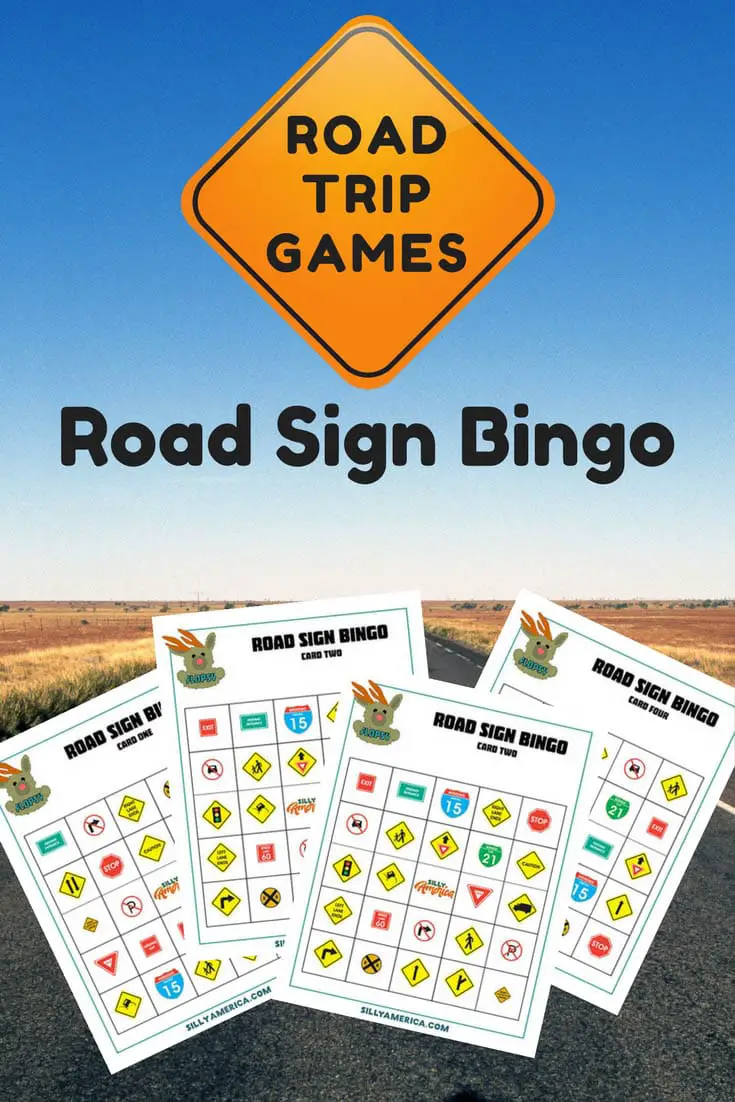 Photo by Michael Yuan on Unsplash