Road trip snack boxes are a fun way to get some nourishment throughout the day on long car rides. By bringing along your own snacks you'll save money from stopping at gas stations and by divvying them up among passengers you'll save the worry of fights over the last goldfish cracker in the bag. So how do you make a road trip snack box? And what snacks should you use (and avoid)? Read on to find out!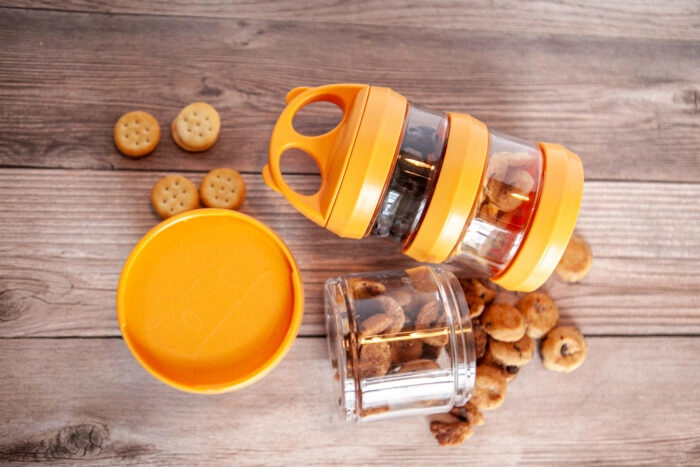 How to make a road trip snack box
Snack boxes are easy to make and require very little time or skill. All you need are two things: snacks and a box to put them in!
Pick up a box for each person in the car. You can use multi-compartmental Tupperware, a bento box, or, my favorite, a stacking snack container. Look for any food-grade plastic container that has lots of slots for edible goodies. Then it is time to fill them up with snacks! If your container has four slots for snacks, pick out four snacks, if it has twenty…get twenty! Use one snack per compartment, close it up, and you are good to go!
Snacks to add to road trip snack boxes
The best road trip snack boxes have a variety of treats to choose from. Savory and sweet, fresh and dried, soft and crunchy. You want to satisfy all your senses and tastebuds! Be sure to think about the trip you're taking when choosing snacks. Foods like pretzels and raisins last longer for longer trips and items like cheese, lunch meat, and fresh fruit should be reserved for shorter distances. You can even make your own snack mixes to bring along! Some of my favorite recipes are a caramel apple snack mix, S'mores snack mix, and Illinois road trip snack mix.
Here are some of my suggestions for the best car snacks to include!
Veggies
Vegetables are a great (and healthy) addition to any road trip snack box. Include hardy veggies that won't wilt, taste great on their own, and are delicious when eaten raw. Think about what you'd find on a veggie tray at a party. For an extra treat, fill a compartment with hummus for dipping. Be sure to chop up the vegetables into easy to eat strips, slices, or chunks.
cucumbers
cherry tomatoes
mini carrot sticks
bell pepper strips
radishes
broccoli florets
snap peas
celery sticks
Fresh Fruits
Fresh fruit is another great road trip snack. Be sure to choose fruits that won't brown when cut up (like apples). Whole berries and balled melons work well!
sliced strawberries
raspberries
blueberries
grapes
watermelon
cantaloupe
pineapple
Dried Fruits
A great alternative to fresh fruit is dried fruit. Think raisins, banana chips, and dried apricots. Almost any fruit can be dried and the best part of including dried fruits in your road trip snack boxes is that you don't have to worry about them spoiling in the way a hunk of apple or banana would.
raisins
craisins
dried pineapple
banana chips
dried apricots
apple chips
Crackers
Crackers are great car snacks on their own, but also complement other treats like meats and cheeses. Get a mix of flavored or sandwiched crackers and plain ones for a balanced box.
mini Ritz crackers
mini cheese sandwich crackers
mini peanut butter sandwich crackers
goldfish crackers
cheese crackers
Meats
Adding a little meat to your snack box will add some much-needed protein to the mix. Just like you'd choose vegetables for your road trip snack boxes based on a veggie tray, choose meats based on what you'd find on a meat tray. Look for cured meats that will hold up or lunch meats that do not need to be cooked.
hard salami
pepperoni
summer sausage
lunch meats
Cheese
Cheeses go great with crackers and meat and provide a savory, salty bite. Avoid creamy cheeses and stinky cheeses (you'll be confined in a car after all) and go for hard cheeses that you can slice into cubes for easy eating.
cheddar
colby jack
swiss
monterey jack
string cheese
Chips
You'll probably want to steer clear of traditional and flavored potato chips that can be greasy and easily crumble. But "chip-adjacent" snacks like cheese balls, mini pretzels, and popcorn make great car snacks that easily will fit in your snack box.
mini pretzels
cheese balls
popcorn
Fritos
mini tortilla chips
Nuts and Seeds
For some extra crunch, nuts and seeds are the way to go. Pick your favorite nut, go for a variety mix, or choose a trail mix that combines these crunchy treats with dried fruits, chocolate, and more.
peanuts
cashews
walnuts
almonds
sunflower seeds
trail mix
Sweet Snacks
Every road trip snack box needs something sweet. Mini cookies like chocolate chip or Oreos are great choices, as are fruit snacks and candies. Avoid melty chocolates (even if your sweet tooth is as big as mine) but if you cant to include some, go with a candy-coated chocolate that will be less likely to melt all over the box.
mini chocolate chip cookies
animal crackers
mini Oreos
fruit snacks
Swedish fish
candy-coated chocolates
Pin this post to save it for later: