Road trip games are always a fun way to help pass the time in the car on a long drive! And there is no more classic road trip game than the License Plate Game.
This car activity is a popular and fun road trip game for adults, teens, kids, families, or couples. It's easy to play, can last the whole trip long, and doesn't require much else than a piece of paper, a pen or pencil, and your eyes.
How do you play the license plate game? All you have to do is keep a look out your windows and keep track of all the different license plates you see. To win: try to be the first to spot one from every state!
The License Plate Game
Read on to find out how to play, how to download our free printables, find some pre-made options, and some game play variations!
How to Play the License Plate Game
Everyone knows how to play the License Plate Travel Game! The rules are easy: while on the road, watch other cars to see what state their license plate is from. Then see who can spot them all (or at least the most) first! Extra bonus points is you find Hawaii or Alaska!
Each individual vehicle can only be claimed by one person, so think fast! For example, if Jane sees a blue Jetta with an Idaho plate, she can claim that car. John will have to wait for another Idaho plate to go by.
Want to make it easy to keep track of every plate you see? Download a free printable license plate game pdf that lists of all 50 US states and check them off or circle them as you see them. Or, buy a pre-made version online (our favorites are linked below!).
This is a fun car game for kids and adults alike, so be sure to buy or print as many copies as you need so everyone in the car has something to play on. As always, if the driver wants to play along make sure she or he keeps their eyes on the road and enlists whoever is in shotgun to help!
State License Plate Game Printable PDFs
Click on the thumbnail below to download the road trip license plate game printable game card for yourself. It will open in a separate window as a PDF that you can save to your desktop computer or phone and print.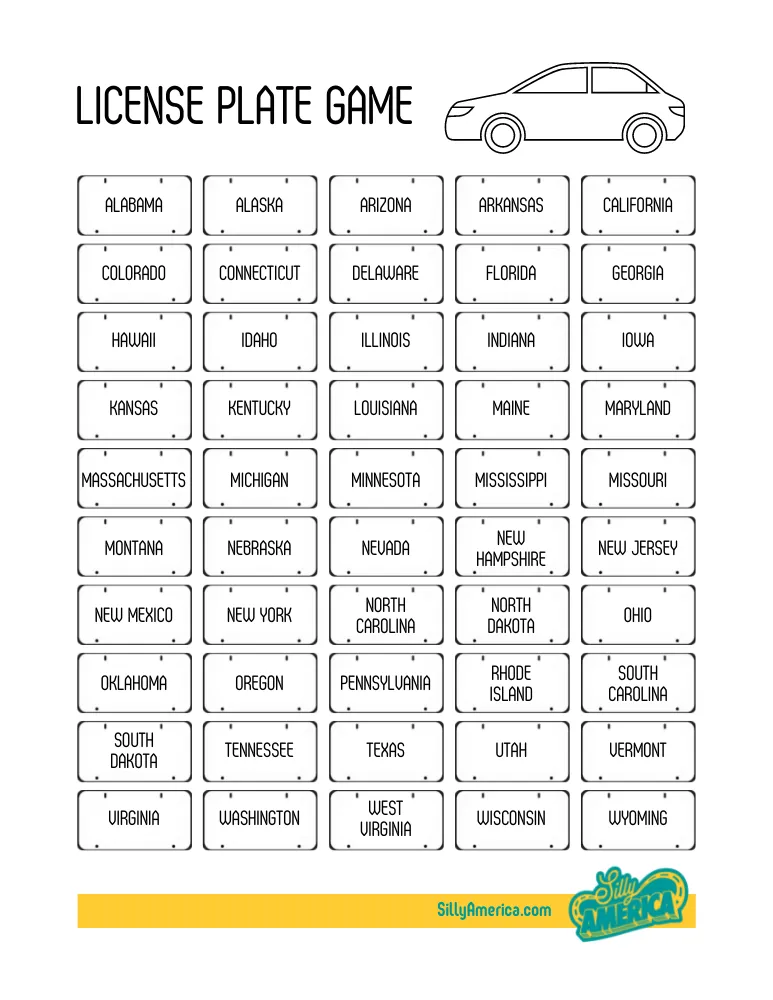 License Plate Road Trip Game
Download this free state license plate game printable PDF. This visual road trip design features labeled state license plates to circle as you see them.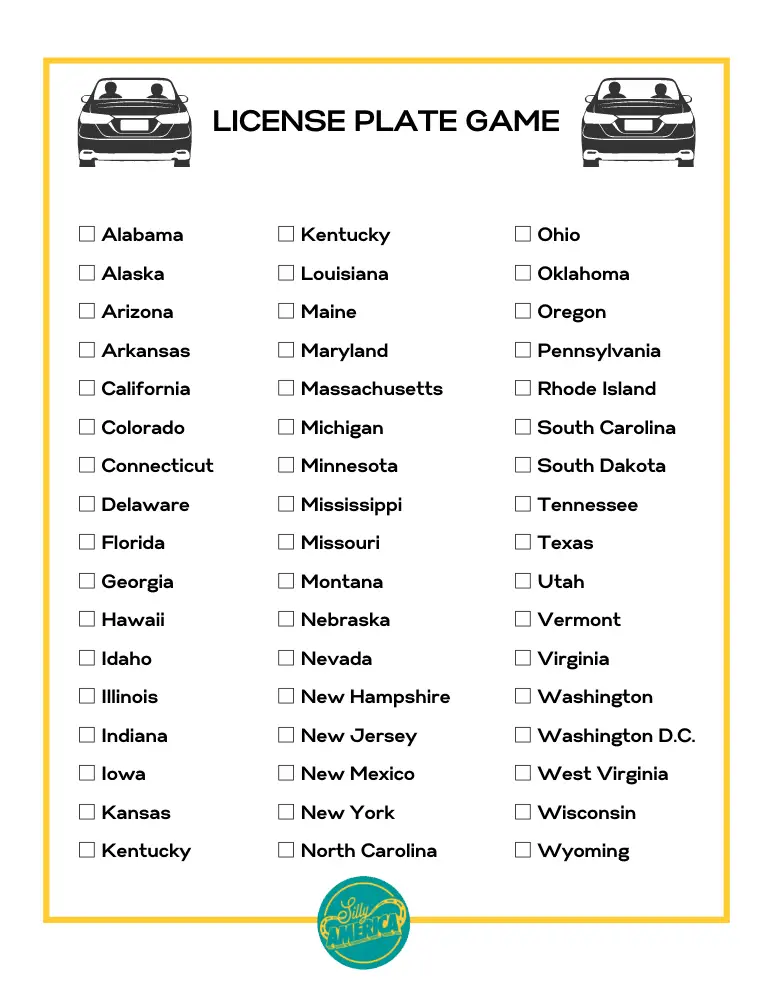 State License Plate Checklist
This 50 state license plate checklist has checkboxes so you can check off each state. Be sure to download one copy for everyone in the car!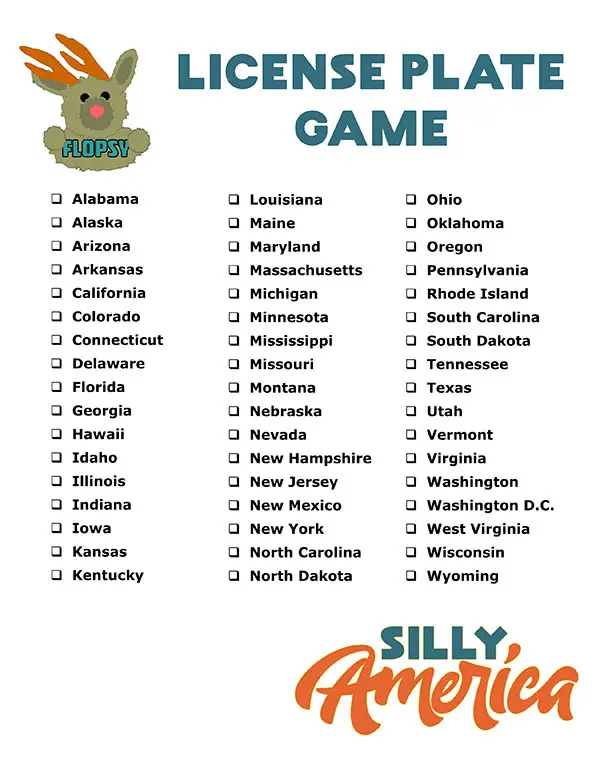 Original Version
Here's another option for you to print and take on your road trip. This original version has an old design (and old Silly America logo), but I'm keeping it up for posterity. And, in case you just love the drawing of Flopsy the Jackalope, our jackalope mascot.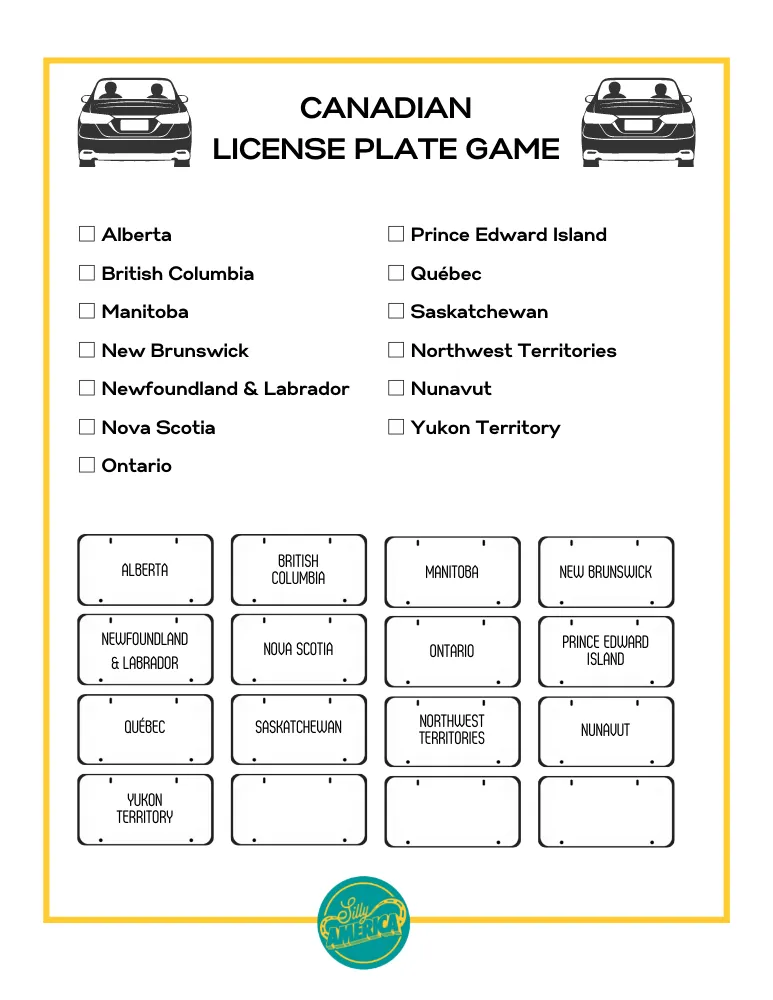 Canadian License Plate Game
This Canadian printable of the popular road trip game allows you to track Canadian license plates from the provinces and territories. Download this for your road trip to Canada!
Buy a License Plate Game
Don't have a printer or want something reusable and sturdy that will last for many road trips to come? Buy a pre-made set online and keep it in your car for road trip fun!
License Plate Travel Bingo Set
Turn this game into a game of bingo! This set of four reusable cards have shutter slides so you can click them closed whenever you see one of the states listed.
License Plate Travel Bingo
Hold the card in your lap and slide the window closed when you spot one of the states. Comes with two cards featuring different states — so it is anyone's game!
License Plate Journal
Keep tabs on all the license plates you see across every road trip you take. This license plate journal has records for fifty trips, so you'll never miss a plate.
Flip to Win Travel License Plate Game
This wooden travel game is easy and durable. Made for two players the pieces feature color-coded edges so you can tell who spotted hich plate.
Magnetic Activity Tin
This magnetic game comes with 3-D license plates for you to pin to the state their from.
License Plate Travel Sticker Book Game
This fun road trip sticker book lets kids and family record all the license plates they see from the car and complete activities while they go.
Road Trippin
A different type of license plate game, this version isn't meant for the car, more for a party (or your hotel room). The word game pits you against each other to create and solve vanity license plates.
List of States for License Plate Game
Want to create your own game or printable? Use this list of all the US States to check off on your own.
Alabama
Alaska
Arizona
Arkansas
California
Colorado
Connecticut
Delaware
Florida
Georgia
Hawaii
Idaho
Illinois
Indiana
Iowa
Kansas
Kentucky
Louisiana
Maine
Maryland
Massachusetts
Michigan
Minnesota
Mississippi
Missouri
Montana
Nebraska
Nevada
New Hampshire
New Jersey
New Mexico
New York
North Carolina
North Dakota
Ohio
Oklahoma
Oregon
Pennsylvania
Rhode Island
South Carolina
South Dakota
Tennessee
Texas
Utah
Vermont
Virginia
Washington
West Virginia
Wisconsin
Wyoming
Is There an App to Play the License Plate Game?
Is there an app to play the license plate game online or on your phone? Yes! There are several phone apps you can use to play a digital version of this game. Here are some options.
PlateSpot
Plate Spot is a digital version of the game that features plates from all 50 US states, Canadian provinces, and Mexican States. You can also learn about the states you claim with pictures, background information, and more.
States And Plates
This road trip game app lets you track the plates you find, calculate distances, challenge friends, and keep score.
Plates
Keeps track of the vehicle license plates and car logos you see while traveling and check them off your list. Features plates from the Unites States, Canada, Australia, and Mexico.
Road Trip Game Variations
Casual Plate Tracker
Use the list of 50 US states or one of the printable PDFs above to play a more casual round of the classic road trip game. Instead of playing against each other, play together to look for as many different types of plates as you can.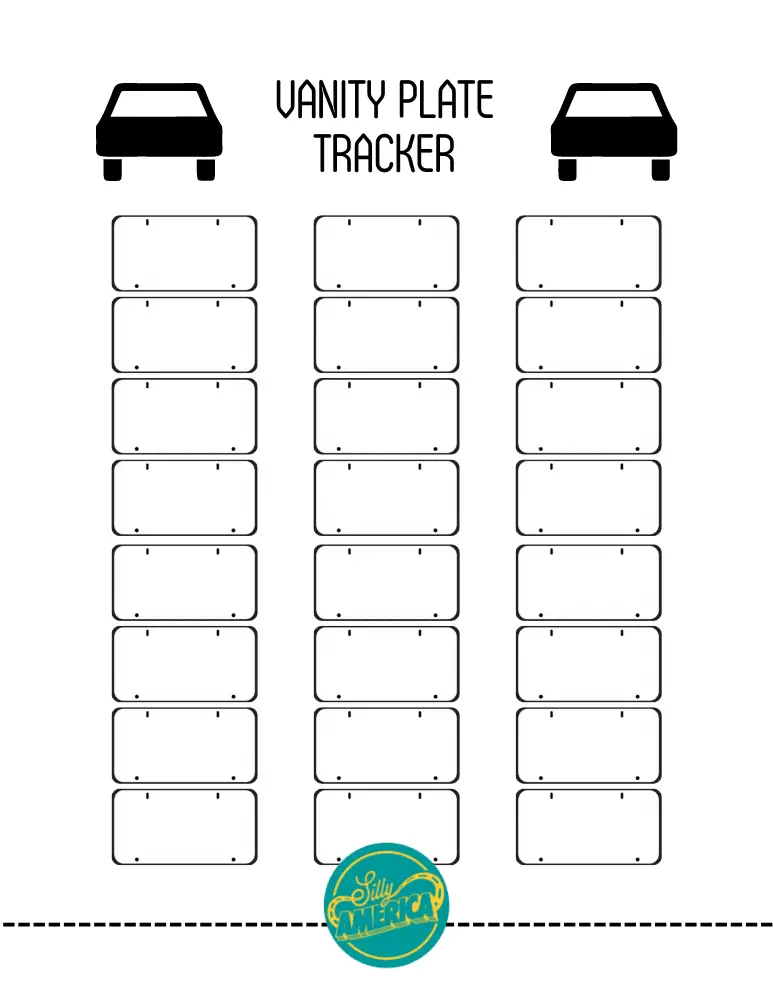 Vanity Plate Tracker
Instead of hunting for license plates by states, keep an eye out for the best vanity plates you can find! Look for ones that are funny or clever and write them down for posterity! Download this PDF printable to keep your list going!
Vanity Plate Game
Instead of watching for vanity plates on your road trip, make up your own! Take the numbers and letters from random license plates and try to make up words or phrases that they could possibly stand for.
More Road Trip Games
Looking for more fun road trip games to play in the car? Check out all of our free printable PDF downloads and instructions for road trip games you can play in the car.
Pin this road trip game to save for later: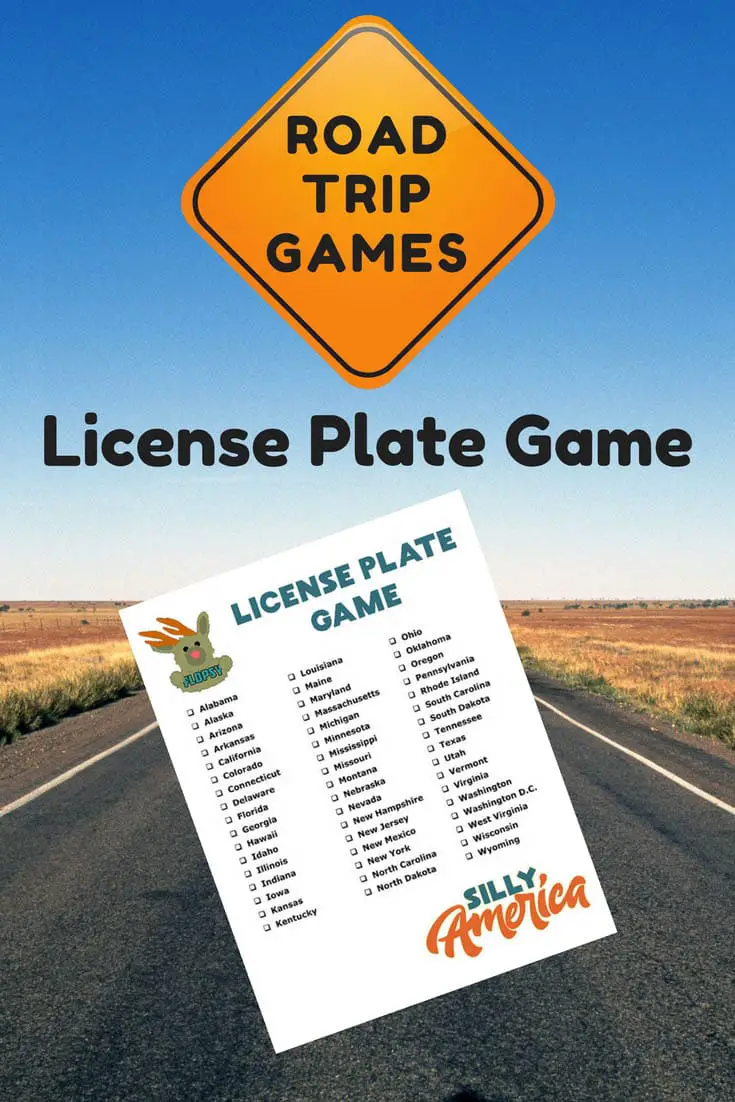 Photo by Semyon Borisov on Unsplash