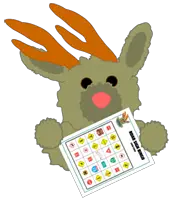 While taking a road trip, games are always a fun way to help pass the time! Flopsy the Jackalope, our Silly America mascot, just loves to play games, so he put together some of his favorite road trip games and car travel games just for you! He'll be sharing a new game a day for the rest of this week. Download and print these tried and true travel games to play on your next trip! Today we bring you an all-time favorite road trip car games: the road trip license plate game!
How do you play the license plate game?
Everyone knows how to play the License Plate Travel Game! The rules are easy: while on the road, watch other cars to see what state their license plate is from. Then see who can spot them all (or at least the most) first! Extra bonus points is you find Hawaii or Alaska!
Print this free printable license plate game pdf that lists of all 50 states (plus Washington D.C.) and check them off as you see them. Remember, only one person can claim each state plate, so think fast!
It's a fun car game for kids and adults alike, so be sure to print as many copies as you need so everyone in the car has a copy. As always, if the driver wants to play along make sure he or she keeps their eyes on the road and enlist whoever is in shotgun to keep track!
Download the State License Plate Game Printable PDF
Click on the thumbnail below to download the road trip license plate game printable game card for yourself. It will open in a separate window as a PDF.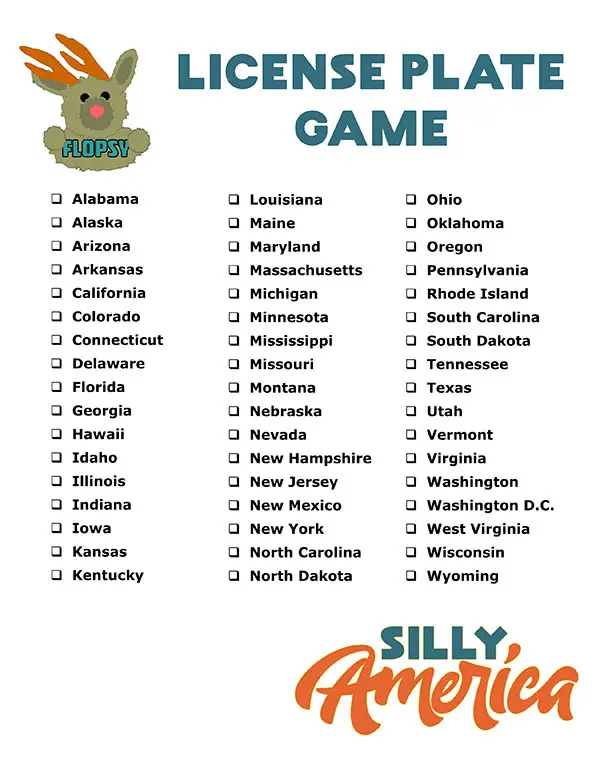 Looking for more silly car games to play on your next road trip? Check out my free downloads for Hey Cow!, Road Sign Bingo, Road Trip Scavenger Hunt, and Road Trip Questions!
Pin this post: