One of the most iconic roadside attractions you'll find when road tripping across North America is the world's largest thing. These are the biggest of the big things: roadside icons that are often modeled after every day objects, food items, local legacies and more scaled up so massively that they tower above the original item, tourists, cars, and buildings.
You can find a menagerie of world's largest objects across the United States of America and Canada. Below is a list of some of the biggest world's largest things you can see on your cross country road trips.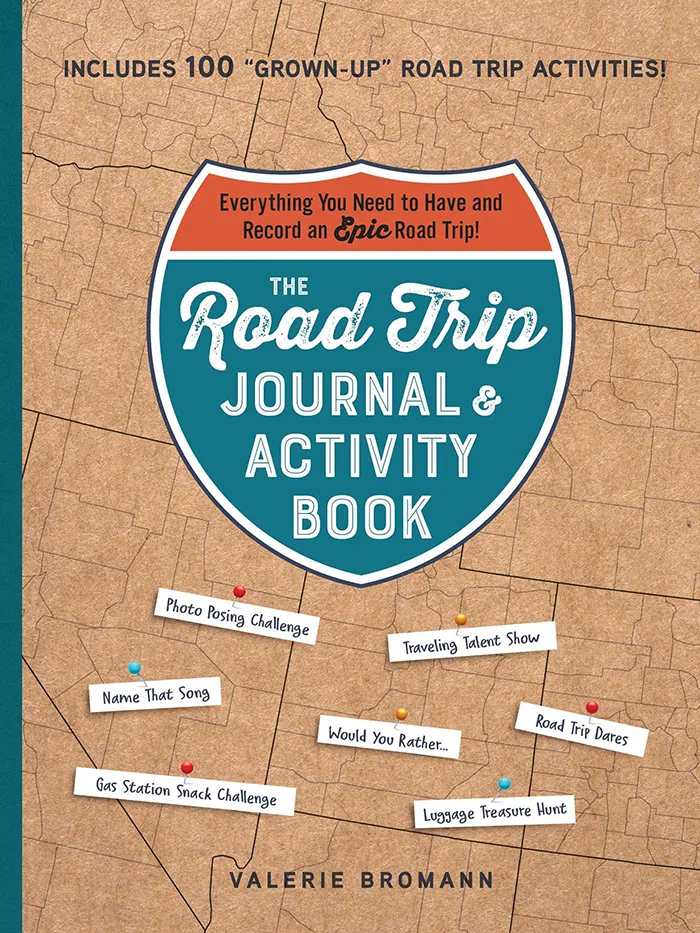 The Road Trip Journal & Activity Book
Everything You Need to Have and Record an Epic Road Trip!
Enjoy fun games and challenges to pass the time on your next road trip and have a keepsake to look back on for years to come with this entertaining must-have for your next vacation.
World's Largest Things in America
Alabama World's Largest Things
World's Largest Office Chair in Anniston, Alabama
World's Largest Purple Octopus in Gulf Shores, Alabama
World's Largest Brick Made of Bricks in Montgomery, Alabama
Alaska World's Largest Things
World's Largest Gold Nugget in Ketchikan, Alaska
World's Largest Gold Pan in Nome, Alaska
Arizona World's Largest Things
Poki, the World's Largest Desert Tortoise in Bullhead City, Arizona
World's Largest Kokopelli in Camp Verde, Arizona
World's Tallest Kachina Doll in Carefree, Arizona
World's Largest Petrified Tree in Holbrook, Arizona
World's Largest Belt Buckle in Quartzsite, Arizona
World's Largest Rose Bush in Tombstone, Arizona
Arkansas World's Largest Things
World's Largest BB Gun in Rogers, Arkansas
California World's Largest Things
World's Tallest Thermometer in Baker, California
World's Largest It's It in Burlingame, California
World's Tallest Flag Pole in Calipatria, California
World's Largest Torrey Pine in Carpinteria, California
World's Largest Yo-Yo in Chico, California
World's Largest Box of Mandarin Oranges in Delano, California
World's Largest Fiddle in Fiddletown, California
World's Largest Surfboard in Huntington Beach, California
World's Largest Box of Raisins in Kingsburg, California
World's Largest Lemon in Lemon Grove, California
World's Largest Olive in Lindsay, California
World's Largest Totem Pole in McKinleyville, California
World's Largest Gold Nugget in Murphys, California
World's Largest Handmade Candy Cane in Ontario, California
World's Largest Half-Santa in Oxnard, California
World's Largest Blue Gum Eucalyptus in Petrolia, California
World's Largest Paper Cup in Riverside, California
World's Largest Dutch Windmill in San Francisco, California
World's Largest Permanent Outdoor Monopoly Board in San Jose, California
World's Largest Redwood Tree Service Station in Ukiah, California
World's Largest Jack O' Lantern in Wilmington, California
Colorado World's Largest Things
Herkimer the World's Largest Beetle in Colorado Springs, Colorado
World's Largest Sticker Ball in Longmont, Colorado
Connecticut World's Largest Things
World's Tallest Uncle Sam in Danbury, Connecticut
Delaware World's Largest Things
World's Largest Frying Pan in Georgetown, Delaware
World's Largest Neuron Model in Lewes, Delaware
Florida World's Largest Things
World's Largest Nativity Scene in Altamonte Springs, Florida
Swampy the World's Largest Alligator in Christmas, Florida
World's Largest Bat House in Gainesville, Florida
World's Largest Mosquito in Lehigh Acres, Florida
World's Largest Chicken Wing in Madeira Beach, Florida
World's Largest Queen Angel Fish in Marathon, Florida
Georgia World's Largest Things
World's Largest Amish Chair in Blairsville, Georgia
World's Largest Indoor Cuckoo Clock in Douglasville, Georgia
World's Longest Courthouse Bench in Fayetteville, Georgia
World's Largest Chicken in Fitzgerald, Georgia (Under Construction)
World's Largest Tiger Statue in Gainesville, Georgia
Hawaii World's Largest Things
World's Largest Hedge Maze in Wahiawa, Oahu, Hawaii
Idaho World's Largest Things
World's Largest Potato in Boise, Idaho
World's Largest Beagle in Cottonwood, Idaho
Big Don the World's Largest Janitor in Pocatello, Idaho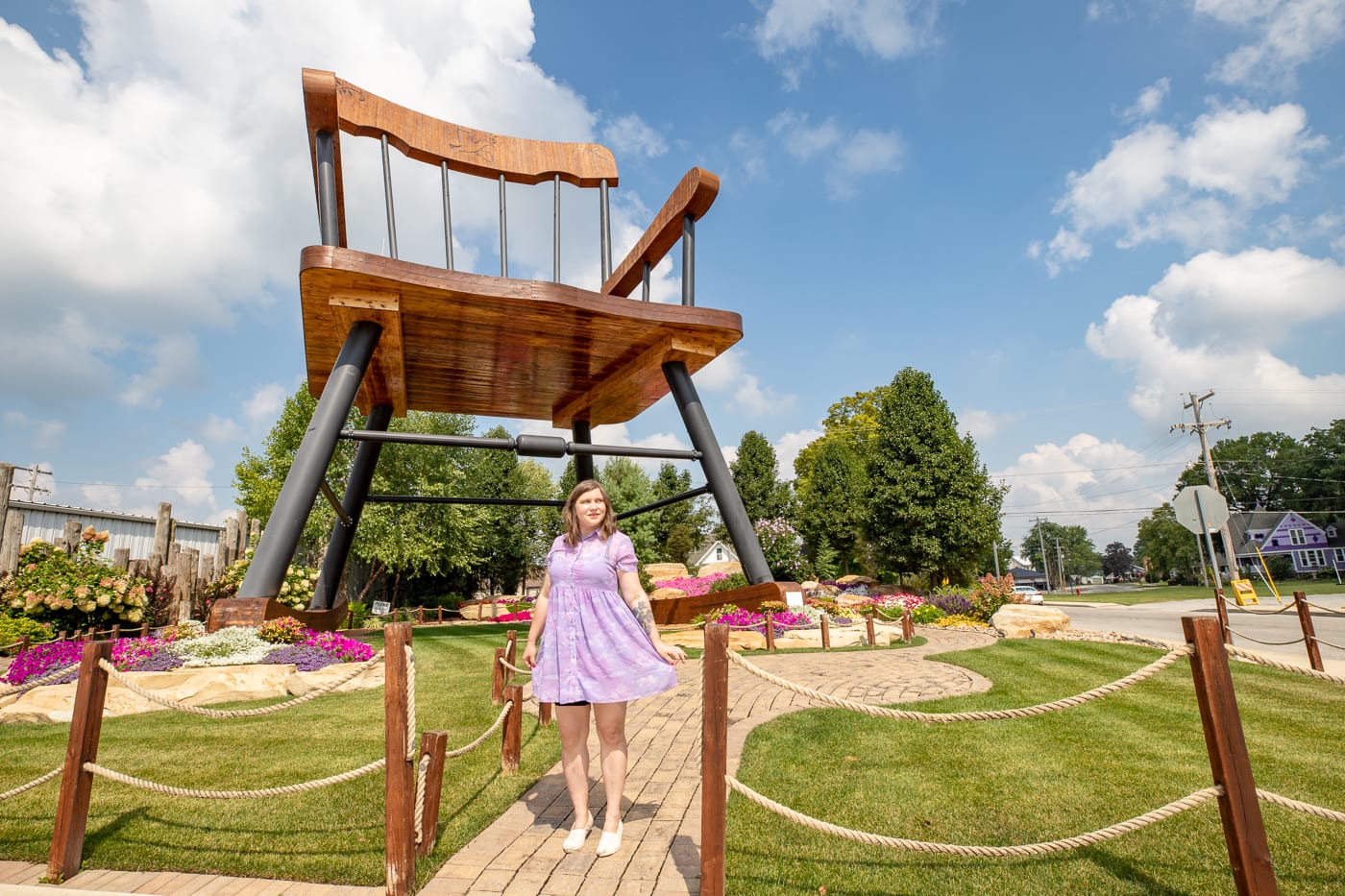 Illinois World's Largest Things
World's Largest Rhubarb in Aledo, Illinois
Robert Wadlow the World's Tallest Man Statue in Alton, Illinois
World's Largest Lincoln in Ashmore, Illinois
World's Largest Bronze Gorilla in Brookfield, Illinois
World's Largest Barbershop Pole in Casey, Illinois
World's Largest Gavel in Casey, Illinois
World's Largest Golf Club in Casey, Illinois
World's Largest Golf Tee in Casey, Illinois
World's Largest Mailbox in Casey, Illinois
World's Largest Pitchfork in Casey, Illinois
World's Largest Rocking Chair in Casey, Illinois
World's Largest Swizzle Spoon in Casey, Illinois
World's Largest Teeter Totter in Casey, Illinois
World's Largest Truck Key in Casey, Illinois
World's Largest Wind Chime in Casey, Illinois
World's Largest Wooden Shoes in Casey, Illinois
World's Largest Catsup Bottle in Collinsville, Illinois
World's Largest Square Knot in Hudson, Illinois
World's Largest Stained Glass Window in Justice, Illinois
World's Largest Covered Wagon and Big Lincoln in Lincoln, Illinois
Big Chief the World's Largest Cigar Store Indian in Oak Lawn, Illinois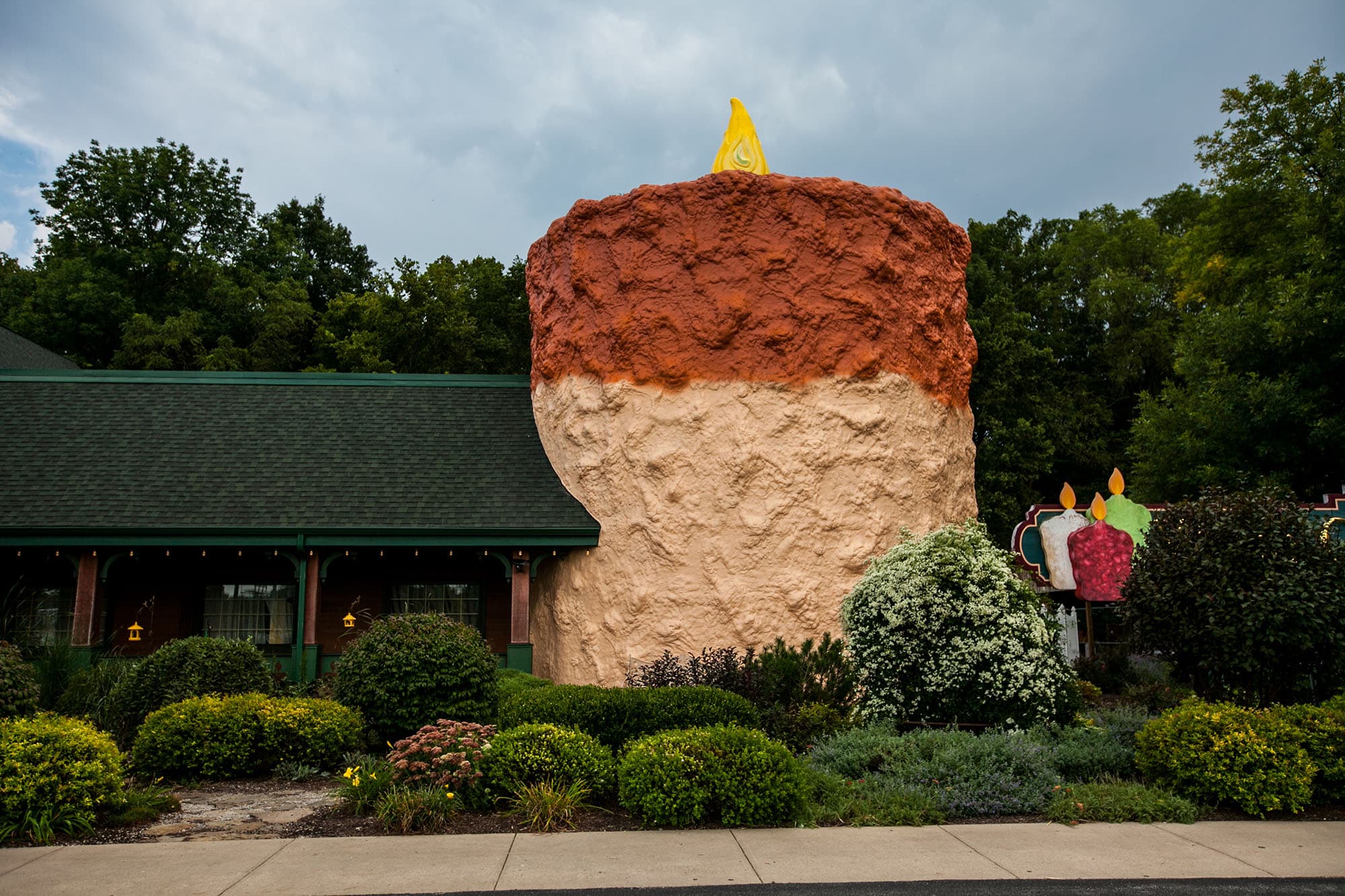 Indiana World's Largest Things
World's Largest Ball of Paint in Alexandria, Indiana
World's Largest Tire Jack in Bloomfield, Indiana
World's Largest Candle in Centerville, Indiana
World's Largest Toilet in Columbus, Indiana
Old Ben the World's Largest Steer in Kokomo, Indiana
World's Largest Boilermaker Statue in West Lafayette, Indiana
Iowa World's Largest Things
World's Largest Concrete Gnome in Ames, Iowa
Albert the Bull – the World's Largest Bull in Audubon, Iowa
World's Largest Bullhead Fish in Crystal Lake, Iowa
World's Largest Wooden Nickel in Iowa City, Iowa
World's Largest Popcorn Ball in Sac City, Iowa
World's Largest Strawberry in Strawberry Point, Iowa
Iowa 80: The World's Largest Truckstop in Walcott, Iowa
Kansas World's Largest Things
World's Largest Spur in Abilene, Kansas
World's Largest Ball of Twine in Cawker City, Kansas
World's Largest Easel in Goodland, Kansas
World's Largest Collection of World's Smallest Versions of World's Largest Things in Lucas, Kansas
World's Largest Souvenir Travel Plate in Lucas, Kansas
World's Largest Baseball in Muscotah, Kansas
World's Largest Hand-Painted Czech Egg in Wilson, Kansas
Kentucky World's Largest Things
World's Largest Bourbon Barrel in Bardstown, Kentucky
World's Largest Crucifix in Bardstown, Kentucky
World's Largest Butter Knife in Franklin, Kentucky
World's Largest Bat in Louisville, Kentucky
World's Largest Vampire Bat in Louisville, Kentucky
World's Largest Bottle of Booze in Louisville, Kentucky
World's Largest Horseshoe in Louisville, Kentucky
World's Largest Pocketknife in Radcliff, Kentucky
World's Largest Roll of Sausage in Simpsonville, Kentucky
Louisiana World's Largest Things
World's Largest Ronald Reagan Statue in Covington, Louisiana
Maine World's Largest Things
World's Largest Telephone in Bryant Pond, Maine
World's Largest Blueberry in Columbia Falls, Maine
World's Largest Non-Stick Frying Pan in Pittsfield, Maine
World's Tallest Indian in Skowhegan, Maine
Eartha the World's Largest Rotating Globe in Yarmouth, Maine
Maryland World's Largest Things
World's Largest Engagement Ring in Lutherville-Timonium, Maryland
Massachusetts World's Largest Things
World's Largest Candle in South Deerfield, Massachusetts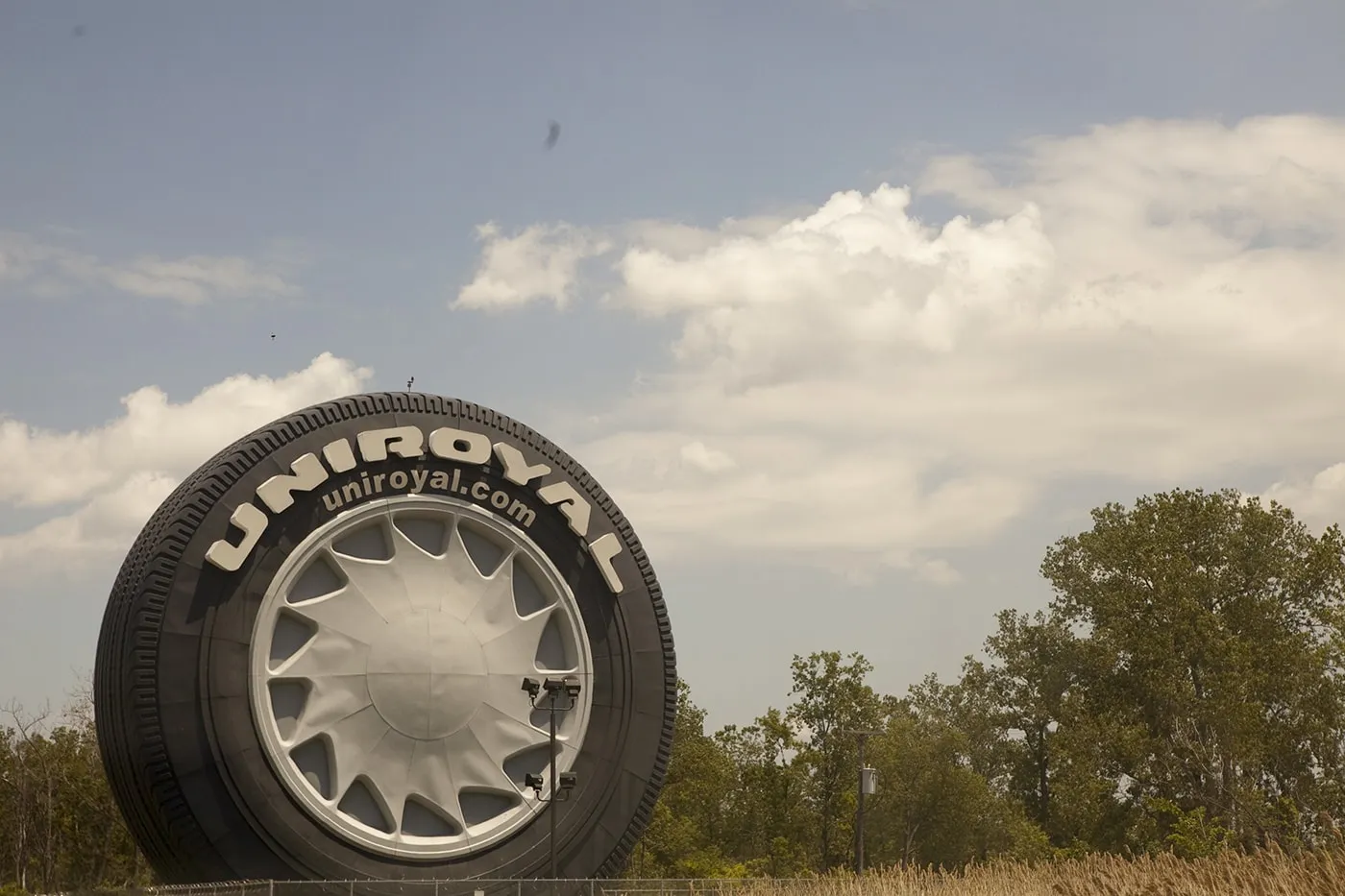 Michigan World's Largest Things
World's Largest Tire in Allen Park, Michigan
World's Largest Brown Trout in Baldwin, Michigan
World's Largest Bronze Wildlife Sculpture in Dundee, Michigan
Sparty the Spartan the World's Largest Free-Standing Ceramic Figure in East Lansing, Michigan
Hiawatha the World's Largest Indian in Ironwood, Michigan
World's Longest Porch in Mackinac Island, Michigan
Worlds Largest Hot Dog in Mackinaw City, Michigan
World's Largest Weather Vane in Montague, Michigan
World's Tallest Uncle Sam in Ottawa Lake, Michigan
World's Largest Cherry Pie Pan in Traverse City, Michigan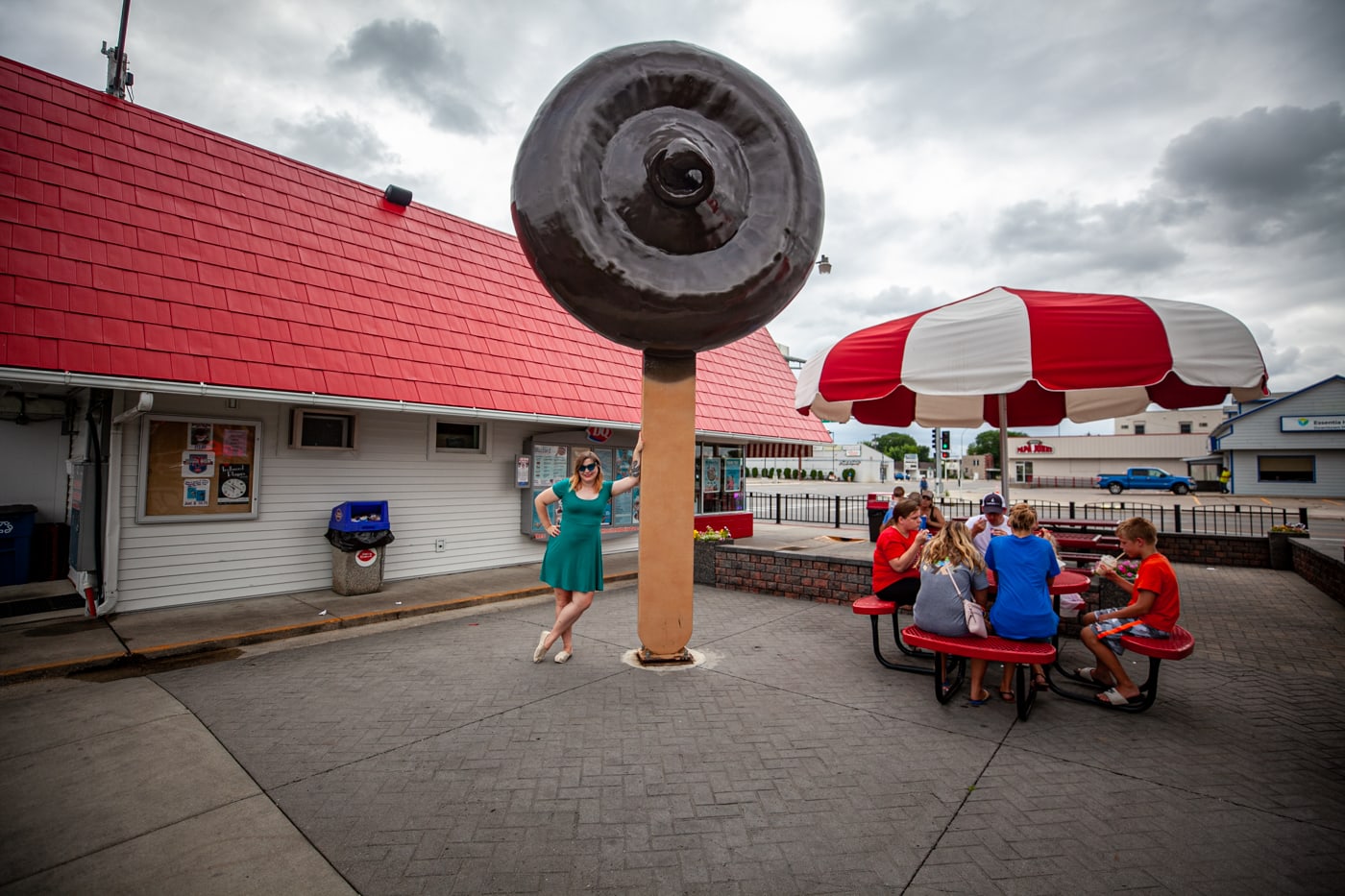 Minnesota World's Largest Things
World's Largest Paul Bunyan in Akeley, Minnesota
World's Largest Crow in Belgrade, Minnesota
World's Largest Black Duck Statue in Blackduck, Minnesota
World's Largest Ox Cart in Crookston, Minnesota
World's Largest Northern Fish in Erskine, Minnesota
World's Largest Free-Standing Hockey Stick in Eveleth, Minnesota
World's Largest Turkey in Frazee, Minnesota
World's Largest Sugar Beet in Halstad, Minnesota
World's Largest Raspberry in Hopkins, Minnesota
World's Largest Lutefisk in Madison, Minnesota
World's Largest Dilly Bar in Moorhead, Minnesota
World's Largest Tiger Muskie in Nevis, Minnesota
World's Largest Stucco Snowman in North St. Paul, Minnesota
World's Largest Pelican in Pelican Rapids, Minnesota
World's Largest Boot in Red Wing, Minnesota
World's Largest "Booming" Prairie Chicken in Rothsay, Minnesota
World's Largest Walleye in Rush City, Minnesota
World's Largest Loon in Vergas, Minnesota
World's Largest Floating Loon in Virginia, Minnesota
Mississippi World's Largest Things
World's Largest Cedar Bucket in Oxford, Mississippi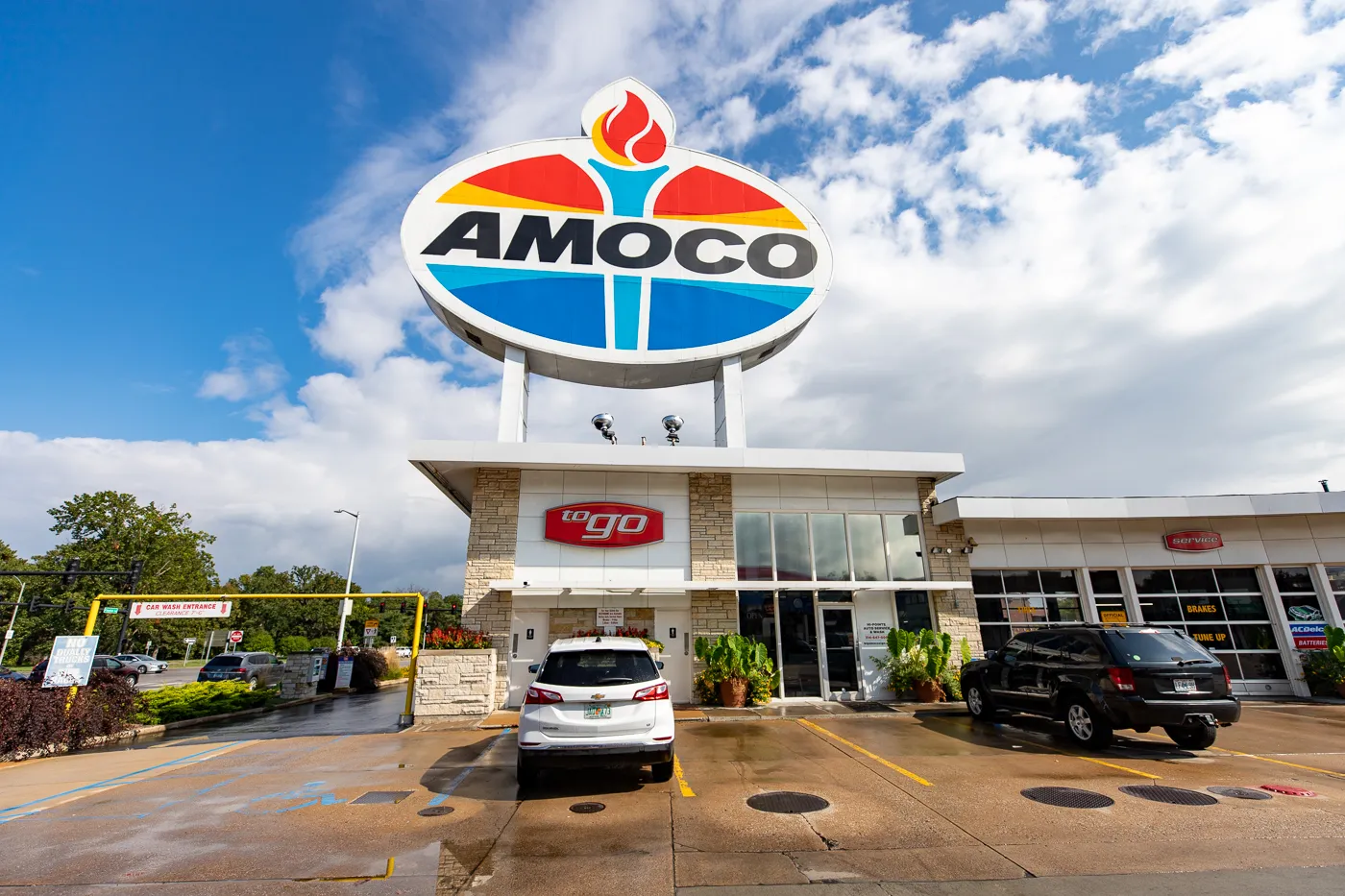 Missouri World's Largest Things
World's Largest Ball of Twine in Branson, Missouri
World's Largest Roll of Toilet Paper in Branson, Missouri
World's Largest Rooster in Branson, Missouri
World's Largest Fountain Drink Cup in Cape Girardeau, Missouri
World's Largest Cap Gun in Kansas City, Missouri
World's Largest Concrete Soccer Ball in Kansas City, Missouri
World's Largest Shuttlecocks in Kansas City, Missouri
World's Largest U.S. Constitution in Mountain Grove, Missouri
World's Largest Flowerbox in Neosho, Missouri
World's Largest Coal Shovel in Rich Hill, Missouri
World's Largest Amoco Sign in St. Louis, Missouri
World's Largest Chess Piece in St. Louis, Missouri
World's Largest Man-Made Moon in St. Louis, Missouri
Maxie the World's Largest Goose in Sumner, Missouri
Montana World's Largest Things
World's Largest Purple Spoon in East Glacier Park, Montana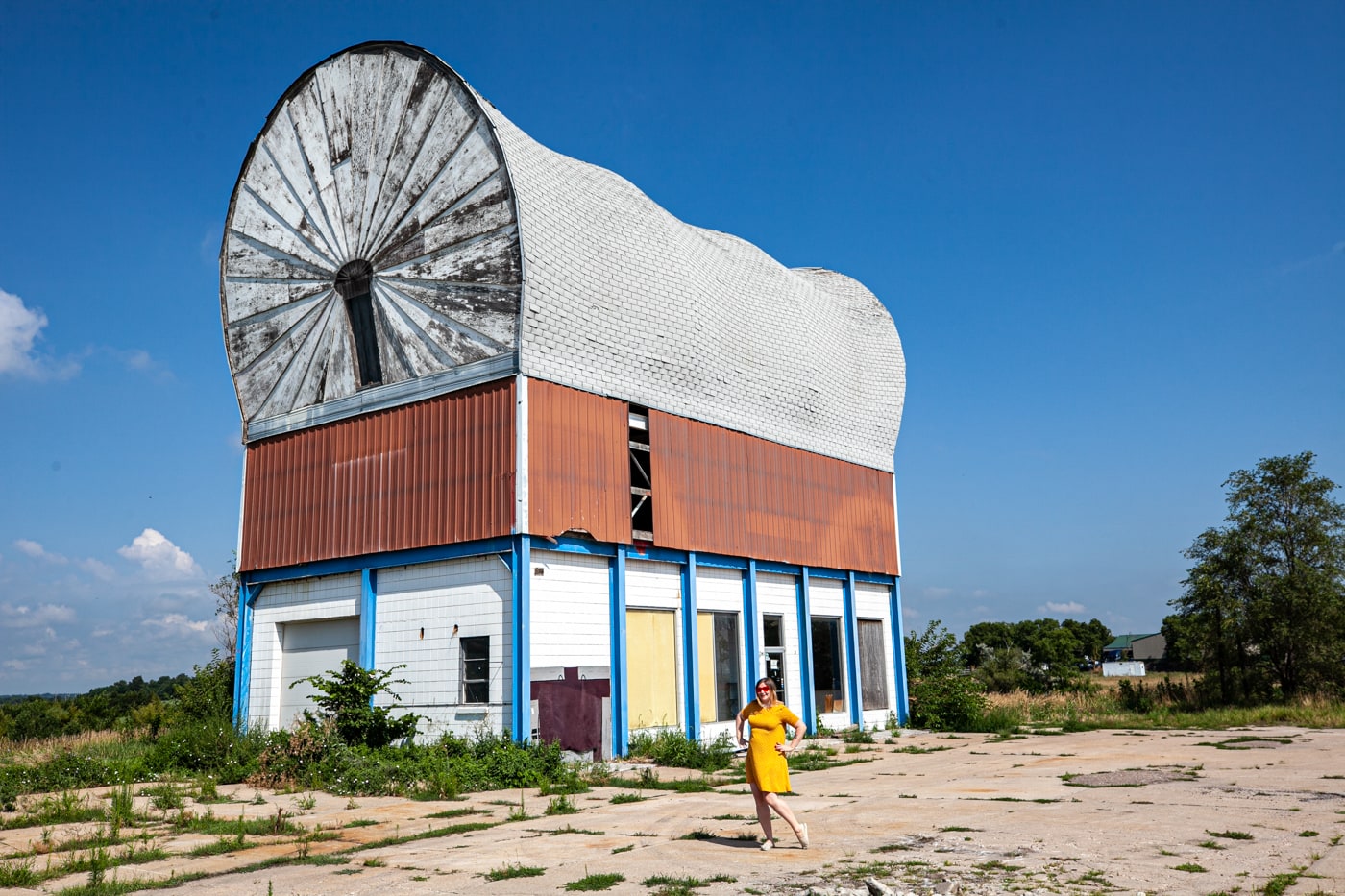 Nebraska World's Largest Things
World's Largest Ball of Stamps in Boys Town, Nebraska
World's Largest Pair of Overalls in Grand Island, Nebraska
World's Largest Covered Porch Swing in Hebron, Nebraska
World's Largest Covered Wagon in Milford, Nebraska
World's Largest Shamrock in O'Neill, Nebraska
World's Largest Time Capsule in Seward, Nebraska
Nevada World's Largest Things
World's Largest Firecracker in Amargosa Valley, Nevada
World's Largest Coke Bottle in Las Vegas, Nevada
World's Largest Stripper in Las Vegas, Nevada
World's Largest Gold Nugget in Las Vegas, Nevada
World's Tallest Chocolate Fountain in Las Vegas, Nevada
New Hampshire World's Largest Things
World's Longest Candy Counter in Littleton, New Hampshire
New Jersey World's Largest Things
World's Largest Elephant in Margate City, New Jersey
World's Tallest Watersphere in Union, New Jersey
New Mexico World's Largest Things
World's Largest Pistachio in Alamogordo, New Mexico
World's Largest Firecracker, Chaparral, New Mexico
World's Largest Chile Pepper in Las Cruces, New Mexico
World's Largest Rattlesnake Rattle in Rodeo, New Mexico
New York World's Largest Things
World's Largest Kaleidoscope in Mount Tremper, New York
World's Largest Pancake Griddle in Penn Yan, New York
World's Largest Hummel in Staten Island, New York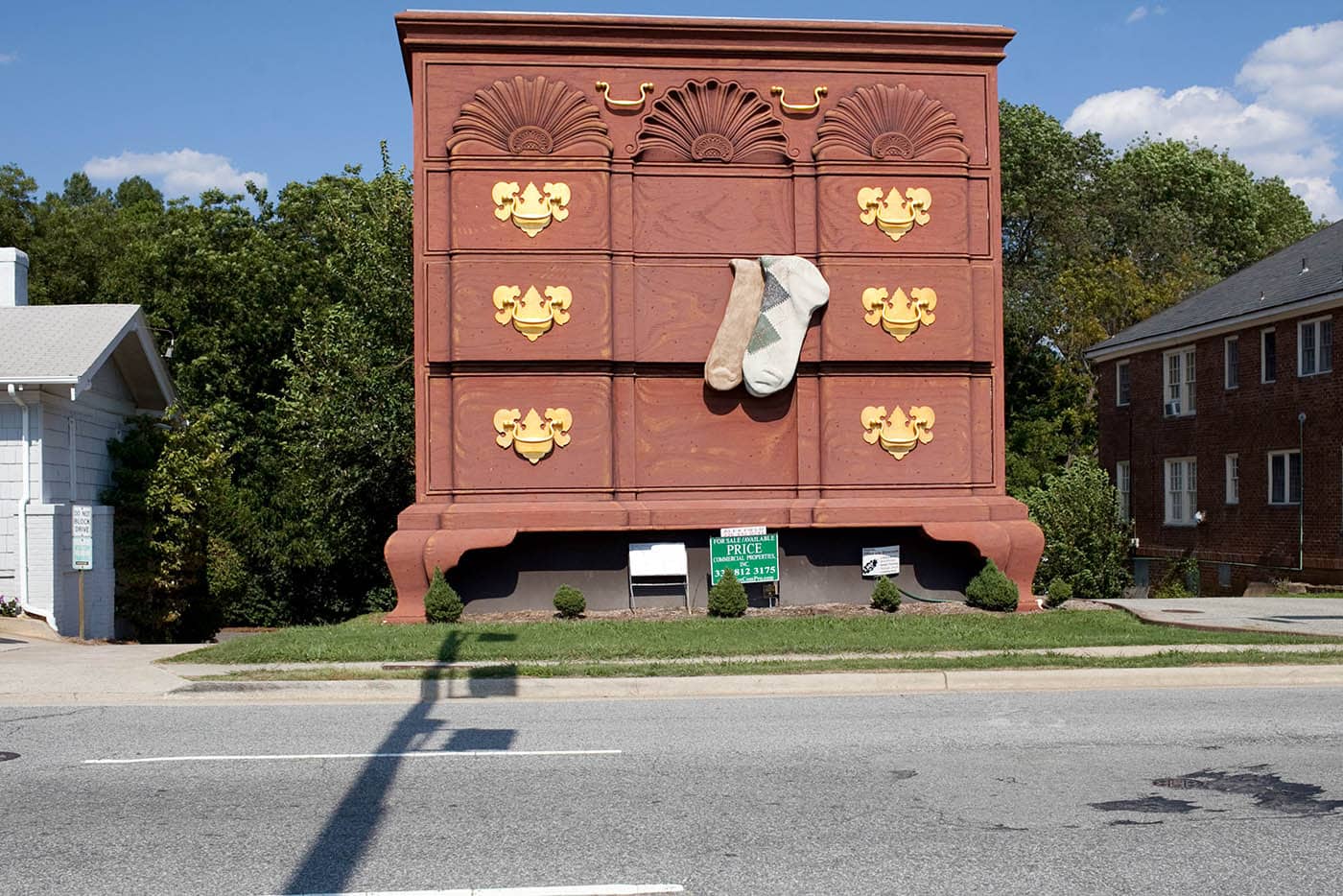 North Carolina World's Largest Things
Biltmore: World's Largest House in Asheville, North Carolina
World's Largest Strawberry in Ellerbe, North Carolina
World's Largest Chest of Drawers in High Point, North Carolina
World's Largest Highboy in Jamestown, North Carolina
World's Largest Ten Commandments in Murphy, North Carolina
World's Largest Frying Pan in Rose Hill, North Carolina
World's Largest Duncan Phyfe Chair in Thomasville, North Carolina
World's Largest Seahawk in Wilmington, North Carolina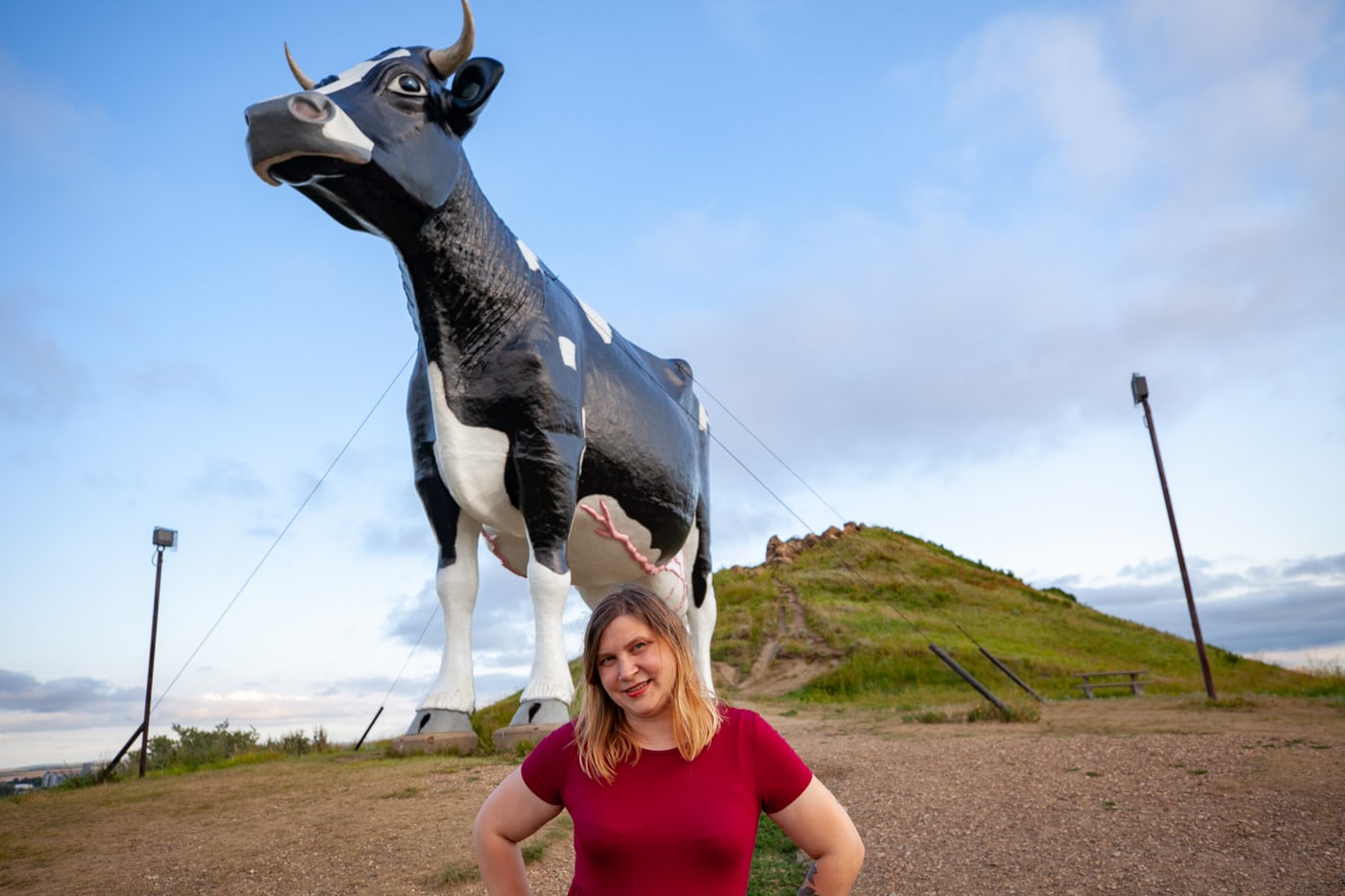 North Dakota World's Largest Things
World's Largest Buffalo Monument in Jamestown, North Dakota
Salem Sue the World's Largest Holstein Cow in New Salem, North Dakota
World's Largest Sandhill Crane in Steele, North Dakota
World's Largest Catfish in Wahpeton, North Dakota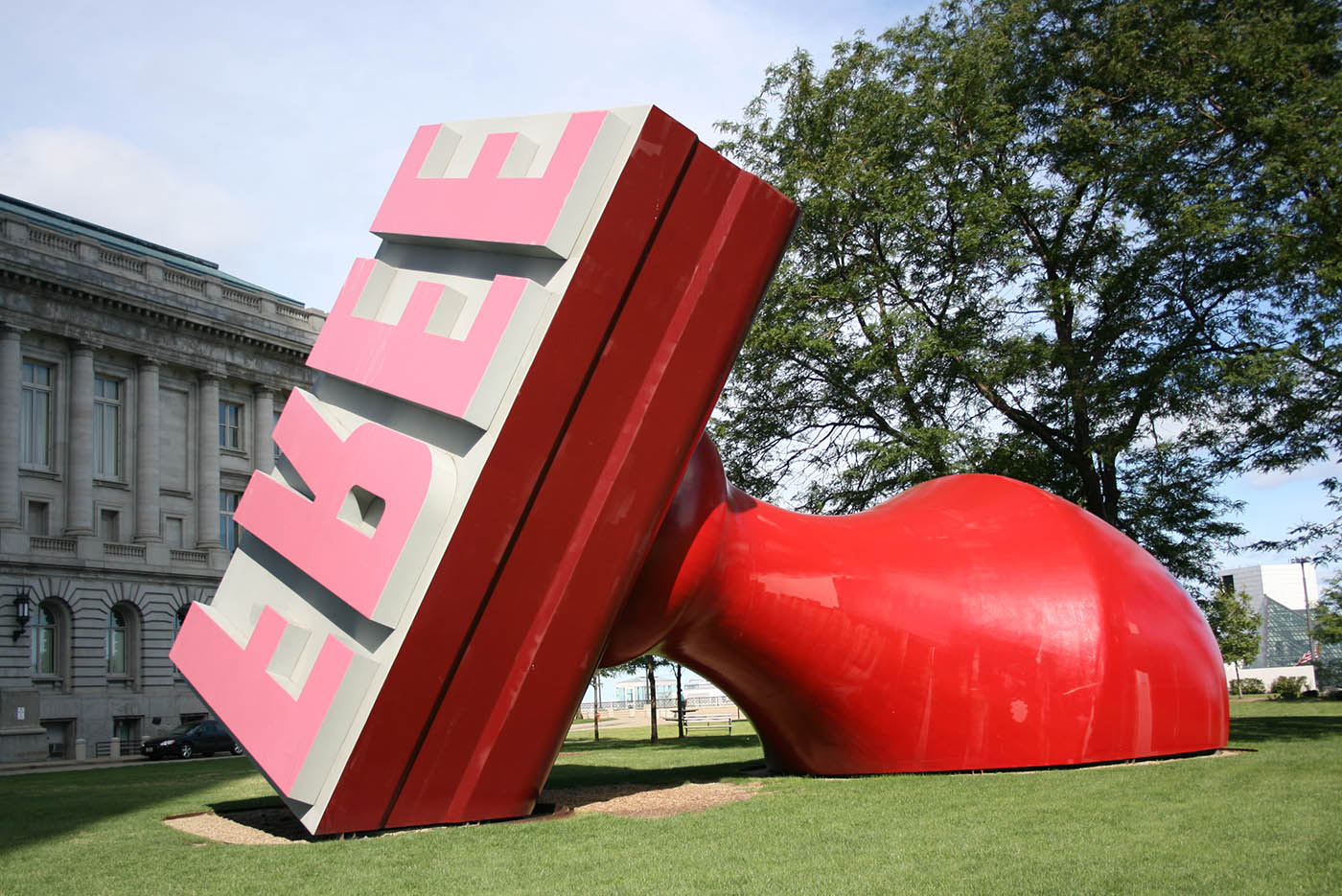 Ohio World's Largest Things
World's Largest Amish Buggy in Berlin, Ohio
World's Largest Tattoo Needle in Bidwell, Ohio
World's Largest Outdoor Chandelier in Cleveland, Ohio
World's Largest Rubber Stamp in Cleveland, Ohio
World's Largest Gavel in Columbus, Ohio
World's Largest Ping Pong Paddle in Columbus, Ohio
World's Largest Horseshoe Crab in Hillsboro, Ohio
World's Largest Washboard in Logan, Ohio
World's Largest Basket in Newark, Ohio
World's Largest Cuckoo Clock in Sugarcreek, Ohio
World's Largest Matchstick in Wadsworth, Ohio
David Grohl Alley's World's Largest Drumsticks in Warren, Ohio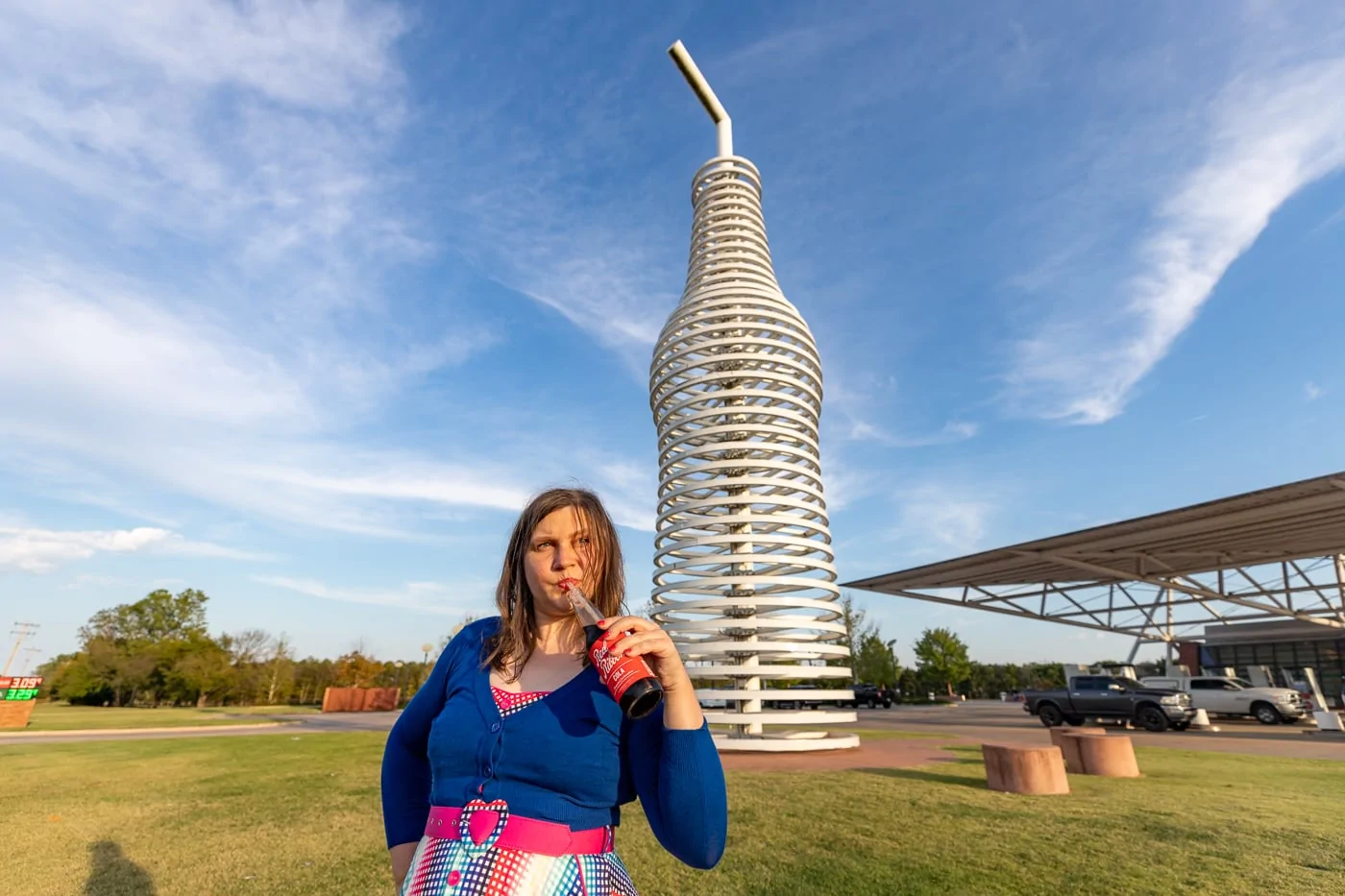 Oklahoma World's Largest Things
World's Largest Soda Bottle in Arcadia, Oklahoma
World's Largest Blue Whale in Catoosa, Oklahoma
World's Largest Peanut in Durant, Oklahoma
World's Tallest Gas Pump in Sapulpa, Oklahoma
World's Largest Praying Hands in Tulsa, Oklahoma
Oregon World's Largest Things
World's Tallest Barber Shop Pole in Forest Grove, Oregon
World's Largest Nutcracker in Roseburg, Oregon
Pennsylvania World's Largest Things
World's Largest Baseball Bat in Elysburg, Pennsylvania
World's Largest Clothespin in Philadelphia, Pennsylvania
World's Largest Ouija Board in Windber, Pennsylvania
Rhode Island World's Largest Things
World's Largest Bug in Providence, Rhode Island
South Carolina World's Largest Things
World's Largest Boiled Peanut in Bluffton, South Carolina
World's Largest Fire Hydrant in Columbia, South Carolina
World's Largest Crab in Myrtle Beach, South Carolina
World's Largest Sweet Tea in Summerville, South Carolina
South Dakota World's Largest Things
World's Largest Log Chair in Deadwood, South Dakota
World's Largest Pheasant in Huron, South Dakota
World's Largest Quarter-Pounder in Rapid City, South Dakota
Tennessee World's Largest Things
World's Largest Rubik's Cube in Knoxville, Tennessee
World's Largest Cedar Bucket in Murfreesboro, Tennessee
Texas World's Largest Things
World's Largest Buffalo Skull in Abilene, Texas
World's Largest Working Fire Hydrant in Beaumont, Texas
World's Largest Bowie Knife in Bowie, Texas
World's Largest Wheelbarrow in Caddo, Texas
World's Largest Shovel in Creedmoor, Texas
World's Largest Rattlesnake in Freer, Texas
World's Largest Caterpillar in Italy, Texas
World's Largest Spur in Lampasas, Texas
World's Largest Teapot in Navasota, Texas
World's Largest Peanut in Pearsall, Texas
World's Largest Jackrabbit in Ralls, Texas
World's Largest Blue Crab in Rockport, Texas
World's Largest Cowboy Boots in San Antonio, Texas
World's Largest Virgin Mary Mosaic in San Antonio, Texas
World's Largest Pecan in Seguin, Texas
World's Largest Gingerbread Man in Smithville, Texas
Utah World's Largest Things
World's Largest Fishing Fly in Dutch John, Utah
World's Largest Watermelon Slice in Green River, Utah
World's Largest Blender in Orem, Utah
Vermont World's Largest Things
World's Tallest Ladderback Chair in Bennington, Vermont
World's Tallest File Cabinet in Burlington, Vermont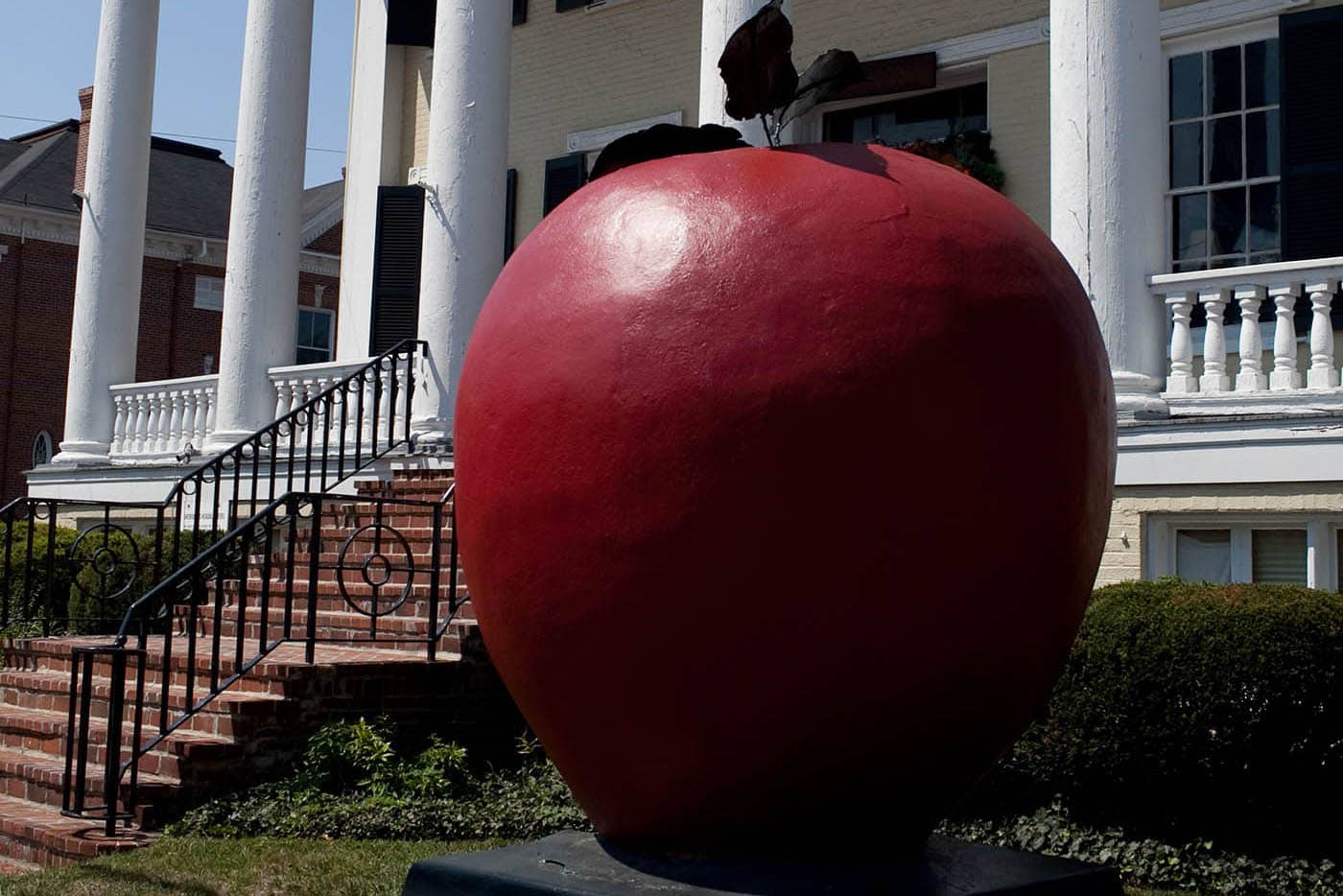 Virginia World's Largest Things
World's Largest Apple in Winchester, Virginia
Washington World's Largest Things
World's Largest Chopsticks in Long Beach, Washington
World's Largest Frying Pan in Long Beach, Washington
World's Largest Spitting Clam in Long Beach, Washington
World's Largest Oyster in South Bend, Washington
World's Largest Egg in Winlock, Washington
West Virginia World's Largest Things
World's Largest Teapot in Chester, West Virginia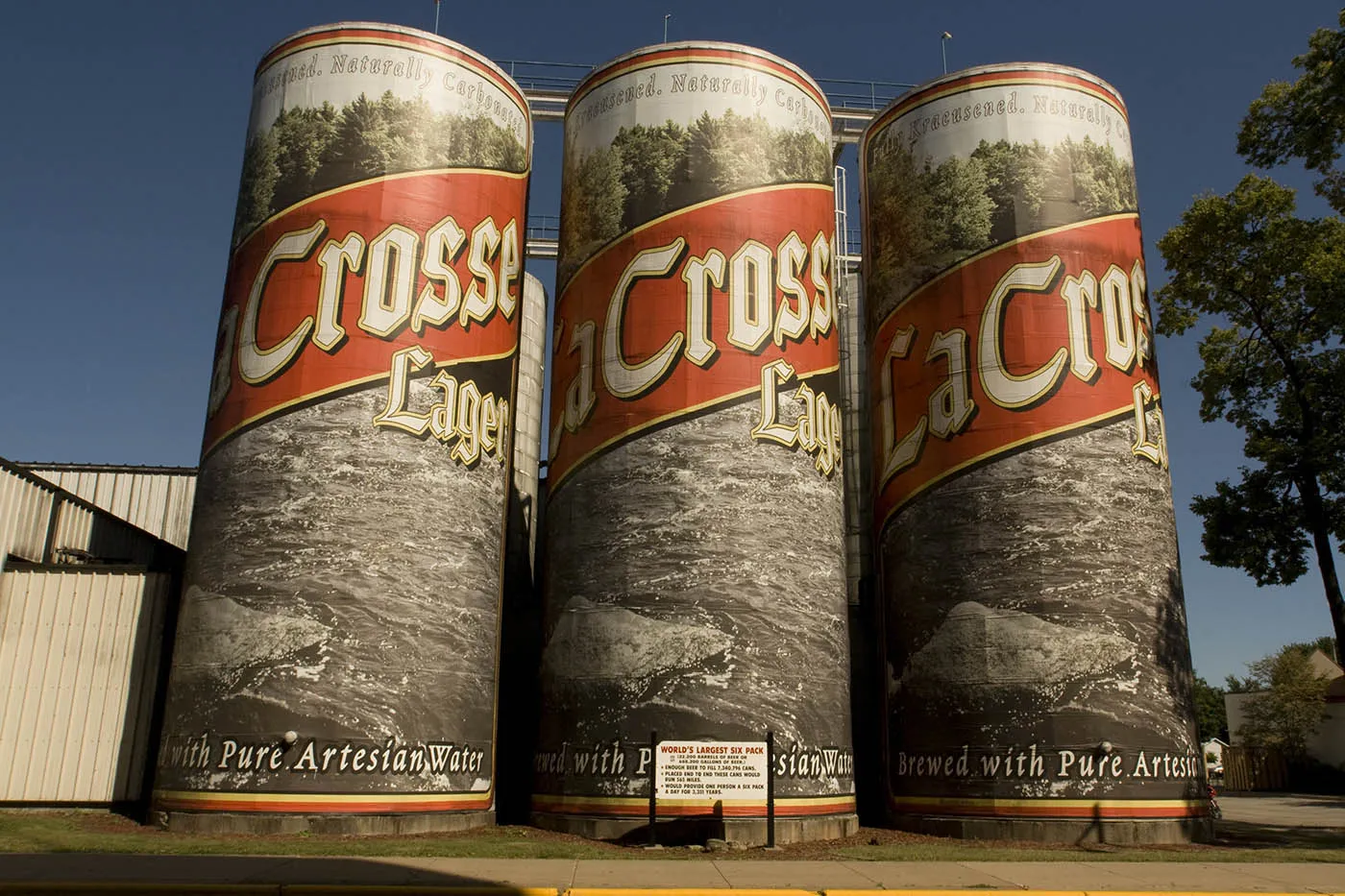 Wisconsin World's Largest Things
World's Largest Badger in Birnamwood, Wisconsin
World's Largest Barber Pole in Elkhart Lake, WIsconsin
World's Largest Corkscrew in Hurley, Wisconsin
World's Tallest Grandfather Clock in Kewaunee, Wisconsin
World's Largest Six Pack in La Crosse, Wisconsin
World's Largest Speared Sturgeon in Lac du Flambeau, Wisconsin
World's Largest Soup Kettle in Laona, Wisconsin
World's Largest Talking Loon in Mercer, Wisconsin
World's Largest Bicyclist in Sparta, Wisconsin
World's Largest Flamingo in Wisconsin Dells, Wisconsin
World's Largest Penny in Woodruff, Wisconsin
Wyoming World's Largest Things
World's Largest Elkhorn Arch in Afton, Wyoming
World's Largest Jackalope in Douglas, Wyoming
Washington DC World's Largest Things
World's Largest Duncan Phyfe Chair in Washington: DC
World's Largest Things in Canada
Alberta World's Largest Things
World's Largest Mallard Duck in Andrew, Alberta
World's Largest Beaver in Beaverlodge, Alberta
World's Largest Softball in Chauvin, Alberta
World's Largest Chuckwagon in Dewberry, Alberta
World's Largest Oil Lamp in Donalda, Alberta
World's Largest Dinosaur in Drumheller, Alberta
World's Largest Western Boot in Edmonton, Alberta
World's Largest Honey Bee in Falher, Alberta
World's Largest Wagon Wheel and Pick Axe in Fort Assiniboine, Alberta
World's Largest Pyrogy in Glendon, Alberta
World's Largest Railroad Spike in Hines Creek, Alberta
World's Largest Fishing Lure in Lacombe, Alberta
World's Largest Wind Gauge in Lethbridge, Alberta
World's Largest Chess Board in Medicine Hat, Alberta
World's Largest Tee Pee in Medicine Hat, Alberta
World's Largest Sausage in Mundare, Alberta
World's Largest Badminton Racket, St. Albert, Alberta
World's Largest Easter Egg in Vegreville, Alberta
World's Largest Mushrooms in Vilna, Alberta
World's Largest Tractor Weather Vane in Westlock, Alberta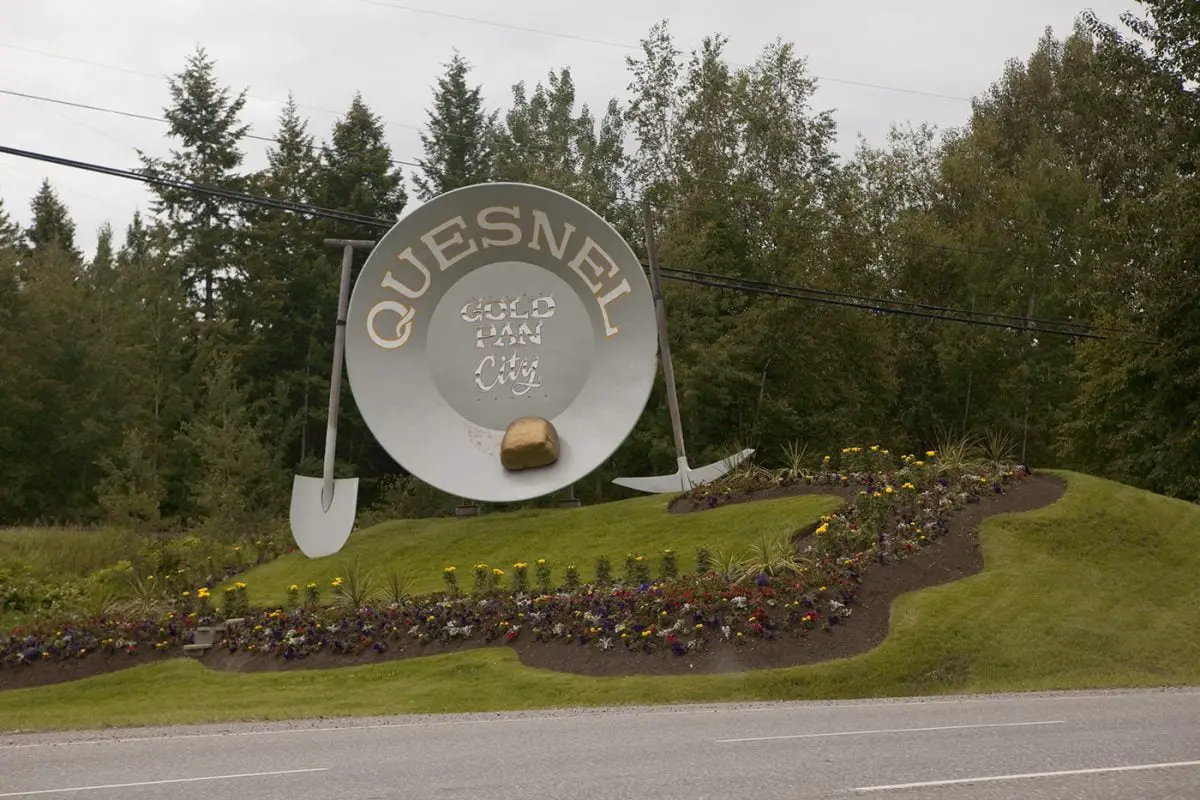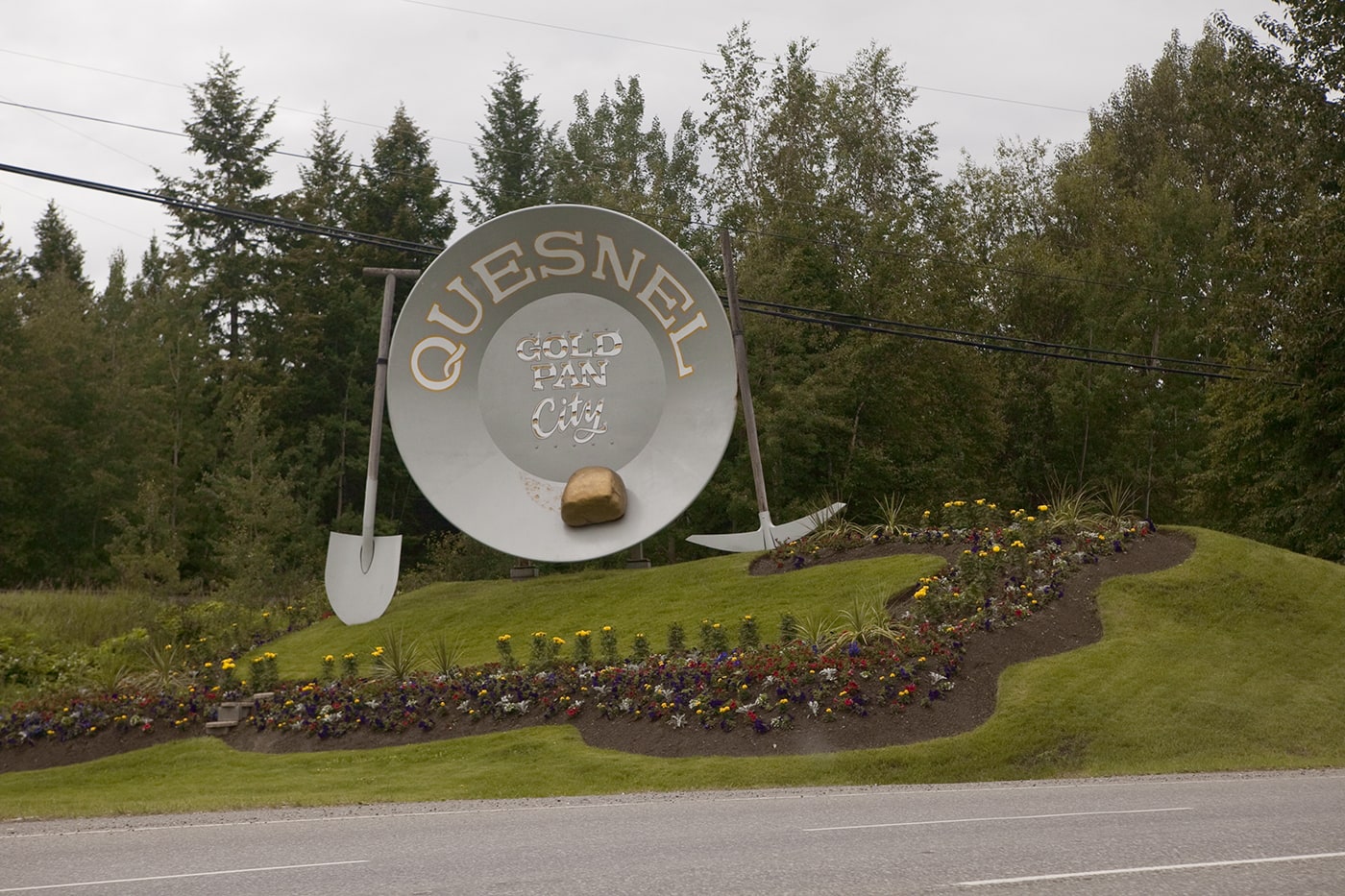 British Columbia World's Largest Things
World's Largest Cross Country Skis in 100 Mile House, British Columbia
World's Largest Hockey Stick and Puck in Duncan, British Columbia
World's Largest Non-Motorized Lawnmower in Enderby, British Columbia
World's Largest Fly Rod in Houston, British Columbia
World's Largest Standing Cuckoo Clock in Kimberley, British Columbia
World's Largest Chain Saw in Lillooet, British Columbia
World's Largest Tin Soldier in New Westminster, British ColumbiaWorld's Largest Wooden Paddle in Parson, British Columbia
World's Largest Burl in Port Mcneil, British Columbia
World's Largest Gold Pan in Quesnel, British Columbia
World's Tallest Gnome in Saanich, British Columbia
Manitoba World's Largest Things
World's Tallest Painting on an Easel in Altona, Manitoba
World's Largest Curling Stone in Arborg, Manitoba
World's Largest Sturgeon in Dominion City, Manitoba
World's Largest Mosquito in Komarno, Manitoba
World's Largest Mosasaur Statue in Morden, Manitoba
World's Largest Coke Can in Portage La Prairie, Manitoba
World's Largest Pumpkin in Roland, Manitoba
World's Largest Tobacco Pipe in St. Claude, Manitoba
New Brunswick World's Largest Things
World's Largest Atlantic Salmon in Campbellton, New Brunswick
World's Largest Conch in Caraquet, New Brunswick
World's Largest Maple Leaf in Millville, New Brunswick
World's Largest Axe in Nackawic, New Brunswick
World's Largest Fiddleheads in Plaster Rock, New Brunswick
World's Largest Lobster in Shediac, New Brunswick
Nova Scotia World's Largest Things
World's Largest Blueberry in Oxford, Nova Scotia
World's Largest Illuminated Fiddle in Sydney, Nova Scotia
Ontario World's Largest Things
World's Largest Golf Bag in Amaranth, Ontario
World's Largest Snowman in Beardmore, Ontario
World's Largest Claim Post in Cobalt, Ontario
World's Largest Apple in Colborne, Ontario
World's Largest Muskoka Chair in Gravenhurst, Ontario
World's Largest Porch Swing in Meaford, Ontario
World's Largest Baseball in Sault Ste. Marie, Ontario
World's Largest Inukshuk in Schomberg, Ontario
World's Largest Adirondack Chair in Varney, Ontario
Prince Edward Island World's Largest Things
World's Largest Hand Held Eggbeater in Lauretta, Prince Edward Island
Saskatchewan World's Largest Things
World's Largest Tomahawk in Cutknife, Saskatchewan
World's Largest Paper Clip in Kipling, Saskatchewan
The World's Highest Swing in Langenburg, Saskatchewan
World's Biggest Bunnock in Macklin, Saskatchewan
Mac the World's Tallest Moose in Moose Jaw, Saskatchewan
World's Largest Lily in Parkside, Saskatchewan
World's Largest Oil Can in Rocanville, Saskatchewan
World's Largest Honey Bee in Tisdale, Saskatchewan
Yukon Territory World's Largest Things
World's Largest Gold Pan in Burwash Landing, Yukon Territory
World's Largest Weather Vane in Whitehorse, Yukon Territory
Pin this post to save for later: