Traveling the great Mother Road is an adventure of a lifetime. The journey takes you 2,500 miles from the midwest to the West coast, traveling through eight states — Illinois, Missouri, Kansas, Oklahoma, Texas, New Mexico, Arizona, and California. You can make the drive in a few days if you put the pedal to the metal and speed through. But, more likely, you'll want to take your time to explore all the must-see stops: the historical sites, the roadside attractions, the restaurants, and the iconic Route 66 hotels and motels.
Whether your Route 66 road trip takes you a few days, a few weeks, or even a few months, you're definitely going to need to find a few hotels along Route 66 to rest up in. There are plenty of options for chain hotels along Route 66: your Best Westerns, your Marriotts, your Holiday Inns, your La Quinta Inns. I've definitely stayed at a few of those. But, if you want to experience the real magic of the Mother Road you should look for some of the most iconic and historic Route 66 motels and hotels that are still operating today.
Many of these Route 66 lodging options have deep histories, many have iconic neon signs that will make for the perfect Instagram selfie spot, and all of them offer comfortable beds and amenities to make sure you're well rested for the drive ahead.
If you're looking to book accommodation on Route 66, look no further than these historic hotels, iconic motels, modern AirBNBs, and convenient Inns.
Historic Route 66 Hotels and Motels by State
Route 66 Hotels in Illinois
Congress Plaza Hotel
520 S Michigan Ave, Chicago, IL
Located near the start of Route 66 this iconic hotel has been in operation since 1893 and is a welcoming stay for the beginning of your journey on the Mother Road.
Braidwood Motel
120 N Washington St, Braidwood, IL
This budget-friendly Route 66 motel is located in Braindwood, convenient to the Polk-a-Dot Drive In and Braidwood Zoo.
Route 66 Hotel & Conference Center
625 E St Joseph St, Springfield, IL
The Route 66 Hotel in Springfield, Illinois was originally the first Holiday Inn located on Route 66. Now the locally owned accommodation serves as a hotel, conference center, and gaming center with a Route 66 theme.
Carlin Villa Motel
18891 State Rte 4, Carlinville, IL
This Carlinville spot is an old style motel in a historic town. It is located near several different alignments of the route.
Route 66 Hotels in Missouri
Wagon Wheel Motel
901 E Washington Blvd, Cuba, MO
The Wagon Wheel Motel in Cuba, Missouri is the oldest continually operated motel on Route 66. It has offered lodging to travelers since 1938 and is now fully restored.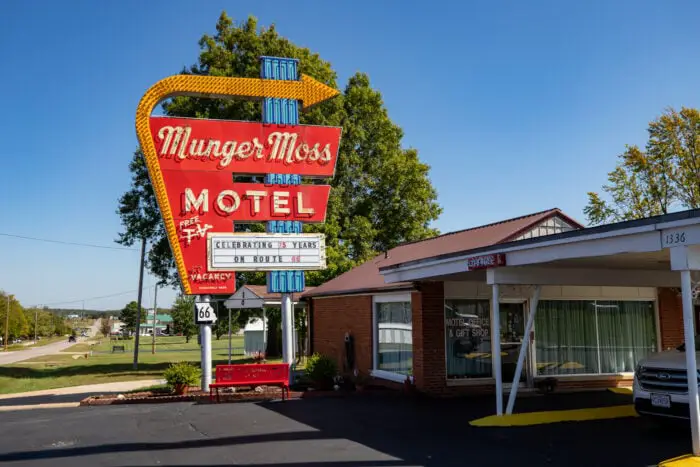 Munger Moss Motel
1336 U.S. Rte 66, Lebanon, MO
The Munger Moss Motel in Lebanon, Missouri was built in 1946 and you can still stay at this classic Route 66 motel on your Route 66 road trip. The site originally operated as a filling station and restaurant (Munger-Moss Sandwich Shop) and the motel was added on after the business relocated, though it is the only part of the business that has survived today.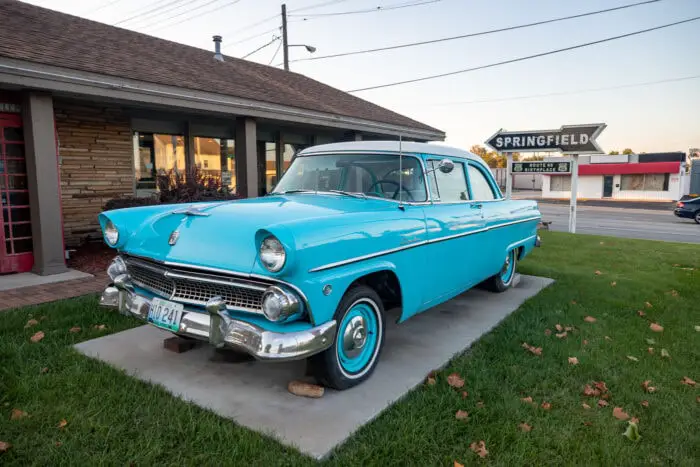 Best Western Route 66 Rail Haven
203 S Glenstone Ave, Springfield, MO
After a day behind the wheel, stopping at all of the Mother Road's iconic roadside attractions, museums, restaurants, and more, a good shower and a comfy bed is always a welcome sight. Take that and add modern amenities, vintage charm, and a touch of Elvis, and you have the Best Western Route 66 Rail Haven motel in Springfield, Missouri. Book a stay in the iconic Elvis Suite for a unique night!
Boots Court Motel
107 S Garrison Ave, Carthage, MO
The Boots Motel opened in 1939. It is a historic Route 66 motor hotel that hosted actor Clark Gable numerous times.
Best Budget Inn
13008 State Hwy 96, Carthage, MO
This independently owned property is located right off of Route 66 in Carthage, Missouri. It has a pool and of Kellogg Lake.
Kansas Route 66 Hotels
Rose Cottage
221 E 9th St, Baxter Springs, KS
If you want to spend the night in the state with the smallest section of the route, consider a night at Rose Cottage in Baxter Springs. This accommodation offers several amenities, a romantic setting, and convenience to all the Kansas Route 66 attractions, like Baxter Springs Independent Oil and Gas Service Station and the Rainbow Bridge.
The Old Riverton Post B&B
7378 SE 70th St, Riverton, KS
This eclectic two-bedroom bed and breakfast is a unique place to stay on Route 66 in Kansas. It was even named one of the Top 3 places to stay on your next Route 66 road trip by USA Today.
Oklahoma Route 66 Hotels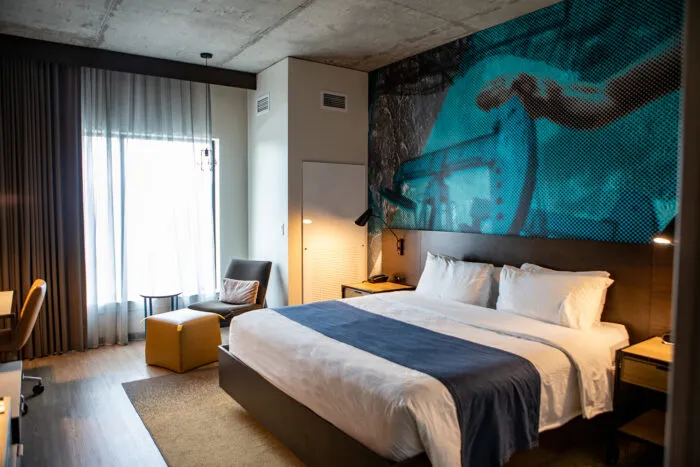 Hotel Indigo
121 S Elgin Ave, Tulsa, OK
Spend the night at Hotel Indigo. This unique boutique hotel has an industrial design inspired and murals inspired by the Tulsa neighborhood. You might even get a room with a special surprise: a headboard mural of a famous Tulsa and Route 66 attraction: the Golden Driller. Before bed head up to the top floor to get a drink at the rooftop bar: Roof 66.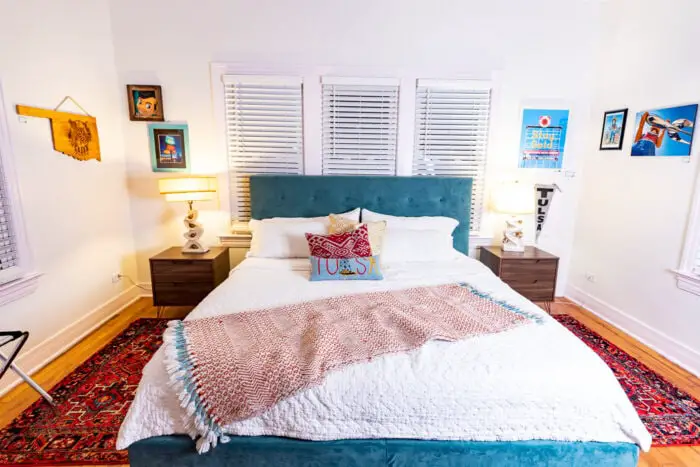 Desert Hills Motel
5220 E 11th St #4323, Tulsa, OK
This classic 1953 motor court has been recently remodeled offering a range of amenities and comfortable beds at a budget price. The iconic neon sign out front makes this a must-see Route 66 hotel.
The Campbell Hotel
2636 E 11th St, Tulsa, OK
This hotel's building was originally built in 1927. Now listed on the National Register of Historic Places, it has been completely transformed to offer modern luxury with a nod to the past. 26 uniquely decorated rooms, a bar and lounge, and a full-service spa and salon await in a historic hotel that is convenient to downtown Tulsa and Route 66.
The Mayo
115 W 5th St, Tulsa, OK
The Mayo Hotel opened in 1925 and became a popular social hub for high society, attracting presidents and celebrities to stay. The Sullivanesque Art Deco building was added to the National Register of Historic Places in 1980 but closed soon after and fell into disrepair. It was eventually rescued and renovated, and reopened in 2009.
Skyliner Motel
717 W Main St, Stroud, OK
This vintage motor court motel is marked by a cool neon sign. It's also close to a delicious meal at the nearby Rock Cafe.
Lincoln Motel
740 E 1st St, Chandler, OK
The Lincoln Motel is a retro cottage-style motorcourt that was built in 1939 with a neon sign from the 1950s.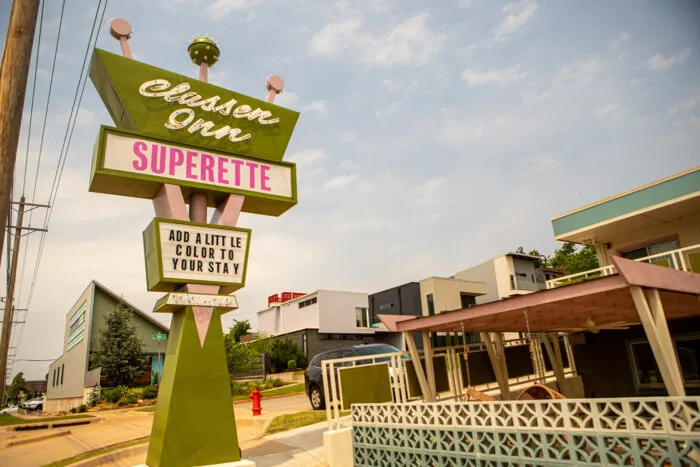 Classen Inn Motel
820 N Classen Blvd, Oklahoma City, OK
Classen Inn was originally built in 1963 and is a classic example of Googie architecture inspired by geometry and space. The motel has recently been renovated and brought back to life with cheeky vintage-inspired decor, modern amenities, and fun murals. The motel offers a comfy night's sleep after a long day on Route 66 and plenty of fun photo ops.
Flamingo Inn
2000 W 3rd St, Elk City, OK
The Flamingo Motel & Restaurant opened in 1961. Operating today as the the Flamingo Inn it offers flat screen TVs and free wi-fi.
Texas Route 66 Hotels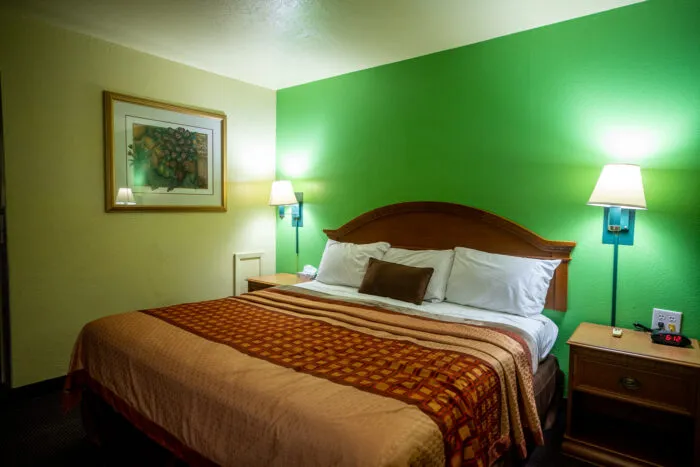 Shamrock Country Inn Motel
711 E 12th St, Shamrock, TX
The Shamrock Country Inn motel is a classic roadside motel in a classic Route 66 town. The hotel opened in September 1959 as the Shamrock Ranger Motel. The U-shaped courtyard offers plenty of free parking and rooms with little frills but comfy beds, Wi-Fi, TVs, private bathrooms, coffee machines, and a 24-hour front desk. Before heading off in the morning, stop by the breakfast room for a complimentary breakfast. Be sure to get a Texas-sized Texas-shaped waffle.
Blarney Inn
402 E 12th St, Shamrock, TX
Formerly the Rambler Motel from the 1950s, the Blarney Inn promises a "a wee bit of Ireland here in Shamrock." The Shamrock motel provides air-conditioned rooms, a 24-hour front desk, free WiFi, and family rooms.
Route 66 Inn
800 E 12th St, Shamrock, TX
The Route 66 Inn is a retro-themed hotel with comfortable air-conditioned rooms, high-speed WiFi, flat-screen TVs with satellite channels, and a 24-hour front desk. Pet-friendly rooms are also available. The U-shaped courtyard motel originally opened as the Sun 'n Sand Motel in 1953.
Western Motel
104 E 12th St, Shamrock, TX
The Western Motel is located on Route 66, directly across from the Conoco Tower Station and U-Drop Inn Café. With a convenient location, spacious rooms, and a 24-hour front desk, you can't go wrong with this classic motel. They even have pet-friendly rooms for your furry travel companions.
Cactus Inn
101 Pine St, McLean, TX
The Cactus Inn Motel opened in the 1950s as West Wind Motel. It has operated as the Cactus Inn since the mid-1960s.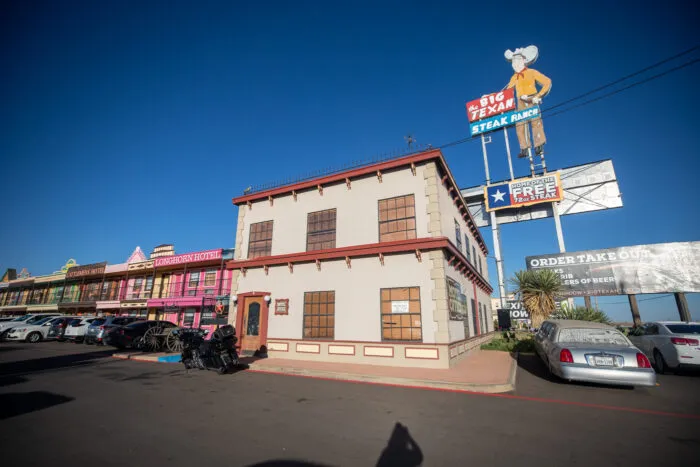 Big Texan Motel
7701 Interstate 40 Access Rd, Amarillo, TX
Whether you indulge in the 72-ounce steak or get a more modest cut for dinner at the Big Texan Steakhouse, mosey on over across the parking lot to extend your big visit at the Big Texan Motel. A sister to the world famous restaurant the Big Texan Motel in Amarillo, Texas features 54 units and a Western theme.
Bonanza Motel
607 Vega Blvd, Vega, TX
A budget-friendly Route 66 hotel in Vega.
New Mexico Route 66 Hotels
Blue Swallow Motel
815 E Rte 66 Blvd, Tucumcari, NM
With one of the most recognizable neon signs on Route 66, the Blue Swallow Motel has been operating since 1939.
Motel Safari
722 E Rte 66 Blvd, Tucumcari, NM
Motel Safari is a classic 1959 Route 66 motor inn. Look for its historic camel sign, mid-century modern decor, custom furniture, memorabilia, murals, and vintage billboard ads. The hotel also features modern amenities like flat screen TVs, free wi-fi, and "the best beds on the Mother Road."
Historic Route 66 Motel
1620 E Rte 66 Blvd, Tucumcari, NM
This mid-century modern hotel opened in 1963 and provide comfortable overnight accommodations at a reasonable rate.
Roadrunner Lodge
1023 E Rte 66 Blvd, Tucumcari, NM
A restored 1960s Route 66 hotel with mid-century style and modern conveniences.
Palomino Motel
1215 E Rte 66 Blvd, Tucumcari, NM
Palomino Motel is marked by a distinctive neon sign. Stay the night in this Route 66 hotel, have a satisfying meal, and enjoy the ample parking out front.
La Fonda on the Plaza
100 E San Francisco St, Santa Fe, NM
This 100 year old luxury hotel features historic elements and modern amenities. The only hotel in Santa Fe's famed Santa Fe Plaza, the Route 66 hotel provides an elegant stay with vibrant decor and one-of-a-kind atmosphere.
El Rey Court
1862 Cerrillos Rd, Santa Fe, NM
El Rey Court is an adobe roadside motor court originally built in 1936. It's been reimagined and renovated as a "modern travelers oasis." The 86-room property features comfortable beds, an onsite bar, green spaces, and original art.
Silver Saddle Motel
2810 Cerrillos Rd, Santa Fe, NM
Silver Saddle Motel has welcomed Route 66 travelers for over 60 years. The hotel's decor combines a western style with a bit of kitsch and an "artsy cowboy flair." While the hotel boast a vintage look, it has all the modern amenities you need as well as a buffet breakfast.
Sunset Motel
East, 501 U.S. Rt. 66, Moriarty, NM
Since 1959 this classic American motel has served Route 66 travelers with clean and comfortable rooms and friendly service.
Hiway House Motel
3200 Central Ave SE, Albuquerque, NM
Hiway House Motel offers value, comfort and convenience in a budget friendly setting.
Casas de Suenos Old Town Historic Inn
310 Rio Grande Blvd SW, Albuquerque, NM
Casas de Suenos was built in 1938. The bed and breakfast features spacious casitas, hot tub suites, fireplaces, soft adobe walls, hidden courtyards, patios and beautiful gardens. It is convenient to Albuquerque Old Town Plaza shopping district and all the best places in Albuquerque. Your stay includes a bountiful breakfast served in overlooking the gardens in the property's sun room.
Monterey Motel
2402 Central Ave SW, Albuquerque, NM
The Monterey Motel opened on Route 66 in 1946. Today it promises "vintage desert vibes with a modern touch for an unforgettable journey." Just two blocks from Old Town Albuquerque this Route 66 hotel features a heated outdoor pool, cable TV, free wi-fi, and an on-site laundromat.
El Vado Motel
2500 Central Ave SW, Albuquerque, NM
El Vado Motel opened in 1937 and was one of the first Route 66 hotels in New Mexico. The hotel features historic character and charm combined with modern comforts and amenities.
Tewa Lodge
5715 Central Ave NE, Albuquerque, NM
Tewa Motor Lodge opened in 1946 and was listed in the National Register of Historic Places in 1998.
Enchanted Trails RV Park & Trading Post
14305 Central Ave NW, Albuquerque, NM 87121
For those traveling Route 66 in an RV, Enchanted Trails RV Park and Trading Post is a full service RV Park with pull thru sites and 50 or 30amp full hook ups. You can also check out the vintage travel trailers that can be rented by the night.
Sands Motel
112 McArthur St, Grants, NM
Sands Motel opened on Route 66 in 1950. The vintage motel has welcomed many famous singers, including Elvis Presley. Guests can stay in Room 123, known as the "Elvis Presley Room."
Southwest Motel
1000 E Santa Fe Ave, Grants, NM
Southwest Motel in Grants features a a 24-hour front desk and a casino.
Historic El Rancho Hotel
1000 E Hwy 66, Gallup, NM 87301
The El Rancho Hotel in Gallup, New Mexico was once known as the "Home of the Movie Stars." Many Hollywood celebrities, such as John Wayne, Humphrey Bogart, and Lucille Ball once stayed here while filming Westerns. Sleep in the same rooms they did and check out the restaurant where you can sample a Ronald Reagan Burger with a side of Jelly Beans.
Arizona Route 66 Hotels
Wigwam Motel
811 W Hopi Dr, Holbrook, AZ
Seven Wigwam Motels were built in the 1930s and 1940s. Today, only three remain, including two Wigwam Motels on Route 66. Each motel room is in an individual building shaped like a teepee. Spend the night in this motel, which is listed on the National Register of Historic Places and was the inspiration for Sally's Cozy Cone Motel in the Pixar movie Cars.

Brad's Desert Inn
301 W Hopi Dr, Holbrook, AZ
Brad's Desert Inn was originally built in 1967 and was recently renovated to appease the current traveler. The hotel boasts a rustic Southwestern charm that makes in a desert oasis for the weary traveler. Located close the the Petrified National Forest you're sure to have a memorable stay.
La Posada Hotel
303 E 2nd St, Winslow, AZ
La Posada offers a four-star experience that can't be beat. The 1930 hotel was created by architect Mary Colter, hotelier Fred Harvey and the Santa Fe Railway. It was the last great railway hotel built in America and the finest historic hotel on Route 66. Over the years it has served an impressive roster of celebrity guests, from James Cagney to Franklin D. Roosevelt to Amelia Earhart to John Wayne. Book a room and a reservation at The Turquoise Room, one of the finest restaurants in the southwest.
Western Hills Motel
1580 E Rte 66, Flagstaff, AZ
An historic motel with a Western theme located on Route 66. The motel offers clean rooms and friendly service.
Weatherford Hotel
23 N Leroux St, Flagstaff, AZ
Located in the heart of Flagstaff's historic downtown district, this hotel and entertainment complex provides a vibrant place to stay. Operating since 1897, this historic hotel has welcomed many celebrity guests.
Hotel Monte Vista
100 N San Francisco St, Flagstaff, AZ
This hotel opened on January 1st 1927 and has seen a variety of celebrity guests throughout the years.
Motel Du Beau
19 W Phoenix Ave, Flagstaff, AZ
Opened as Du Beau's Motel Inn in 1929, this was one of the first motels in America. It makes the perfect base for exploring nearby eateries, brew pubs, art galleries, and shops as well as the Grand Canyon, Arizona Snowbowl, Wupatki, and Walnut Canyon.
The Canyon Motel & RV Park
1900 Rodeo Rd, Williams, AZ
The Canyon Motel & RV Park opened in the 1940s among the Kaibab National Forest. The property features eighteen Flagstone Cottage type rooms, two 1929 Train Car Caboose Suites, three 1950 Pullman railcar rooms, forty seven full service RV spaces, seven tent sites, a seasonal indoor heated pool, coin laundry, and a general store.
The Lodge on Route 66
200 E Rte 66, Williams, AZ
An upscale luxury accommodation on Route 66. Walking distance to the historic district and Old West main attractions and convenient to the Grand Canyon. Offers a gift shop, free wi-fi, free parking, and a free breakfast.
The Red Garter Inn
137 W Railroad Ave, Williams, AZ
Located south of the Grand Canyon, this hotel is a restored 1897 saloon and bordello. The two-story Victorian Romanesque brick building has 12-foot ceilings, skylights, and antique furniture.
Grand Canyon Hotel
145 W Historic Rte 66, Williams, AZ
Opened since 1891, the Grand Canyon Hotel is known as the oldest hotel in Arizona. Stay in one of their themed rooms for a unique experience.
Grand Canyon Railway & Hotel
235 N Grand Canyon Blvd, Williams, AZ
Grand Canyon Railway Hotel is designed to resemble the century-old train depot that housed the original Fray Marcos Hotel. Situated right next door to the train depot it's a luxurious and convenient stay for your Grand Canyon side trip.
Stagecoach 66 Motel
21455 W Interstate 40 Business Loop Exit 123, Seligman, AZ
The largest motel in Seligman, Stagecoach 66 Motel features themed rooms (look for the Marilyn Monroe room), a bar, and an on-site pizza restaurant.
Deluxe Inn Motel
22295 AZ-66, Seligman, AZ
Deluxe Inn Motel offers free wifi, flat screen TVs, air conditioning, a 24 hour front desk, baggage storage, and barbecue facilities.
Supai Motel
22450 AZ-66, Seligman, AZ
This Route 66 motel offers value, comfort and convenience in a quaint setting with an array of amenities. The motel offers free wifi, flat screen TVs, air conditioning, free parking, and a free breakfast.
Grand Canyon Caverns Inn
AZ-66, Peach Springs, AZ
If you're visiting the Grand Canyon Caverns in Peach Springs, stay at their convenient hotel with a restaurant, swimming pool, playground, garden, and free Wi-Fi. Adventurous guests can book a pricey but fun suite in the cavern itself!
El Trovatore Motel
1440 E Andy Devine Ave, Kingman, AZ
El Trovatore Motel is located in downtown Kingman and offers themed rooms dedicated to Marilyn Monroe, Elvis Presley, John Wayne, and more. Outside the property boasts many fun murals, including the world's longest map of Route 66.
California Route 66 Hotels
Ludlow Motel
68315 Ludlow Rd, Ludlow, CA 
A budget-friendly option for visiting Barstow this motel offers comfort and convenience.
Route 66 Motel
195 Main St, Barstow, CA
This retro hotel features a vintage cars, Route 66 memorabilia, antique cars for fun photos, and murals. Some rooms come with round beds.
Palm Tropics Motel
619 W Rte 66, Glendora, CA
Palm Tropics Motel is "your tropical oasis on Historic Route 66." The budget-friendly motel features an original cottage-style design with a tropical decor. It is located just 20 minutes outside of downtown Los Angeles.
Saga Motor Hotel
1633 E Colorado Blvd, Pasadena, CA
The Saga Motor Hotel has been operating since 1957. With 70 guest rooms, a heated pool, a sun deck, free wi-fi and cable, and personalized service, this Route 66 hotel is a must stay. It is even located right on the Tournament of Roses Parade route.
Wigwam Motel
2728 Foothill Blvd, San Bernardino, CA
The Wigwam Motel franchises were constructed in the 1930s and 40s. Wigwam Village Motel No. 7, the last one ever built, started as a Route 66 destination and still beckons Mother Road travelers today. While the tee-pee-shaped motel went through a transitional period where it was outfitted with waterbeds, rented by the hour, and advertised "Do it in a Wigwam," these days, it's been restored to its former glory and is a family friendly Route 66 attraction.
Rest Haven Motel
815 Grant St, Santa Monica, CA
A simple motel located just one mile from Santa Monica Pier. The hotel was built in 1938 and features a large courtyard.
Santa Monica Motel
2102 Lincoln Blvd, Santa Monica, CA
A simple motel located one mile from Santa Monica Pier.
The Georgian
1415 Ocean Ave, Santa Monica, CA
This 1933 art deco hotel is just a 9-minute walk from Santa Monica Pier. The hotel features dark wood and rich colors, a chic restaurant, and a gym.
Fairmont Miramar Hotel & Bungalows
101 Wilshire Blvd, Santa Monica, CA
Treat yourself and end you Route 66 road trip in the height of luxury. The Fairmont Miramar is an ideal urban resort and beach retreat overlooking the Pacific. 
Planning a Route 66 road trip? Pin this list of historic Route 66 Hotels and Motels to save it for later: