Modern day Route 66 embraces its vintage roots. On the Mother Road you'll find so many examples of restored and fondly remembered roadside attractions, service stations, motels, and more. But you'll also find a new breed of Route 66 attraction. Ones that pay homage to the past with a definite modern twist. You'll find just that at one of Route 66's newest attractions: Buck Atom's Cosmic Curios on 66 and the Buck Atom Space Cowboy muffler man.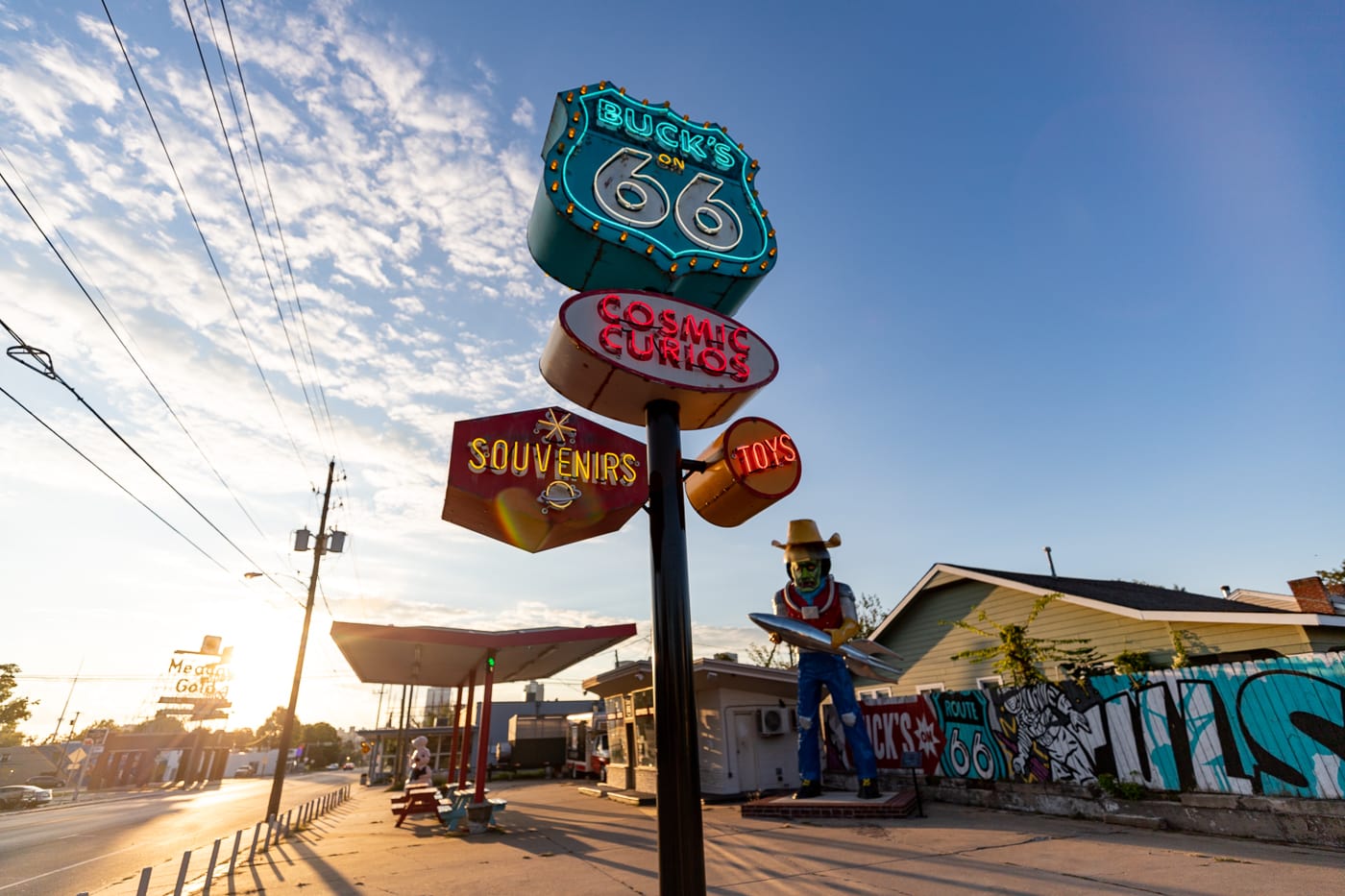 Buck Atom's Cosmic Curios on 66 was opened by Mary Beth Babcock in 2018. The quirky shop is located in Tulsa, Oklahoma in a repurposed classic 1950's PEMCO gas station. Stop in for souvenirs, home decor, apparel, and memorabilia that celebrate Route 66, Tulsa, and even Bigfoot.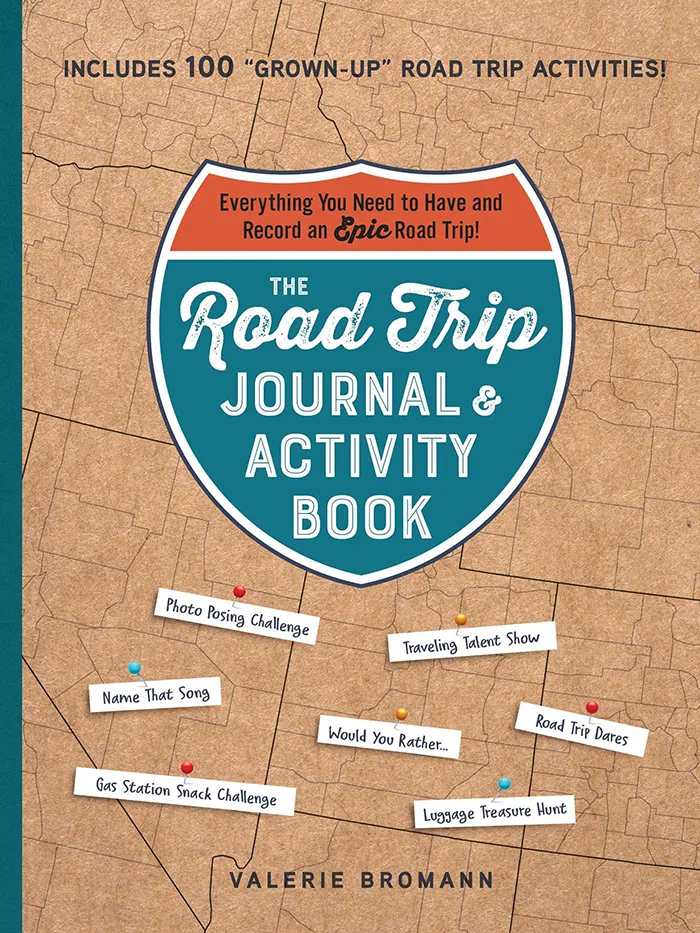 The Road Trip Journal & Activity Book
Everything You Need to Have and Record an Epic Road Trip!
Enjoy fun games and challenges to pass the time on your next road trip and have a keepsake to look back on for years to come with this entertaining must-have for your next vacation.
But that's not all to see here. Outside of the gift shop you'll also find a space cowboy muffler man, a big neon sign, a Route 66 robot, a fiberglass chef pig named Piggy Stardust, a BBQ food truck, a Route 66 mural, and even a themed AirBNB.
Here's everything to look out for when you visit Buck Atom's Cosmic Curios on 66 in Tulsa, Oklahoma.
Buck Atom's Cosmic Curios on 66
Tulsa Route 66 Souvenir Shop
Visit the Route 66 souvenir shop to take home a memento of your trip. Find here t-shirts, mugs, magnets, original artwork, and plushies and bobbleheads modeled after the shop's muffler man.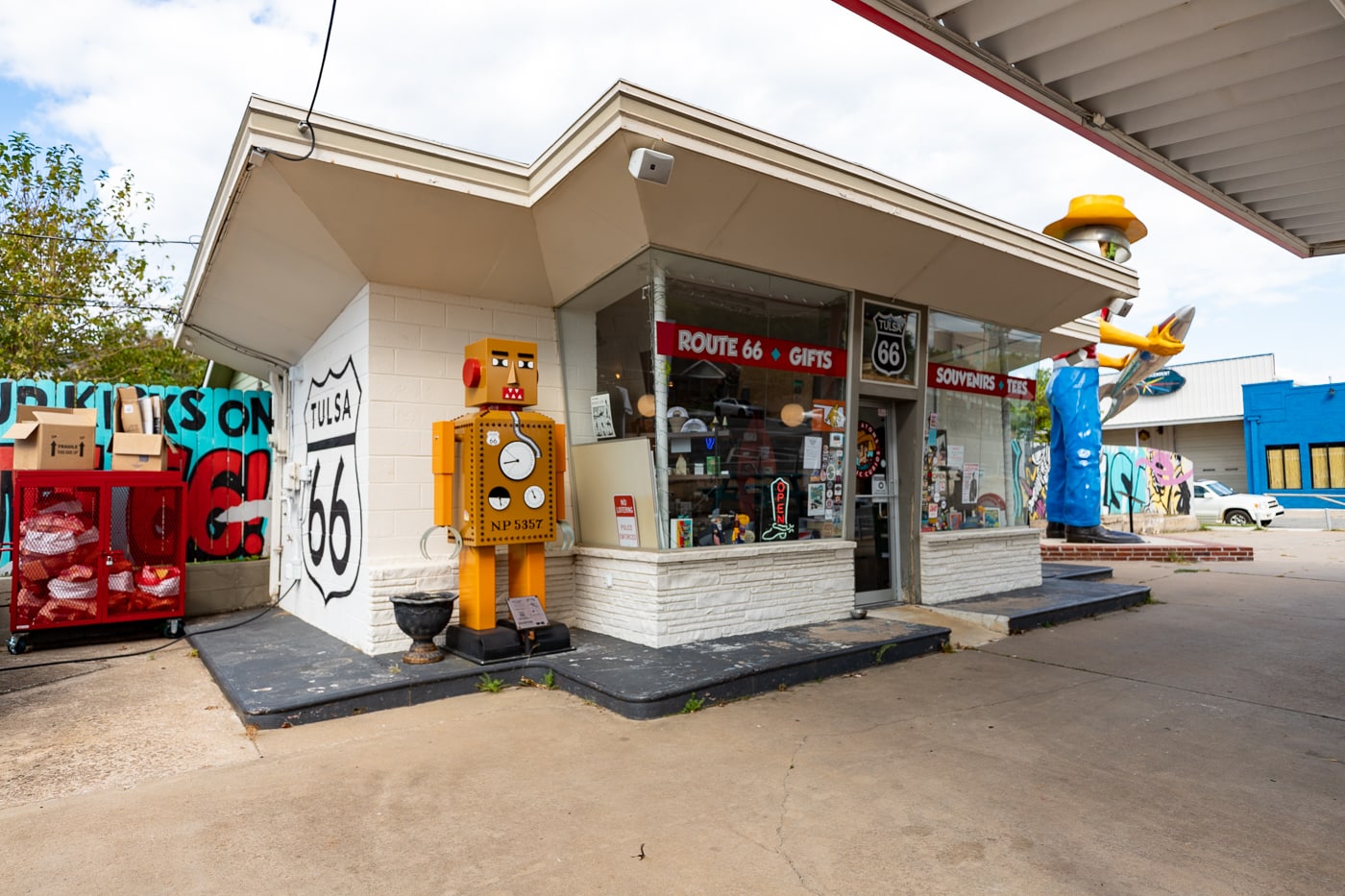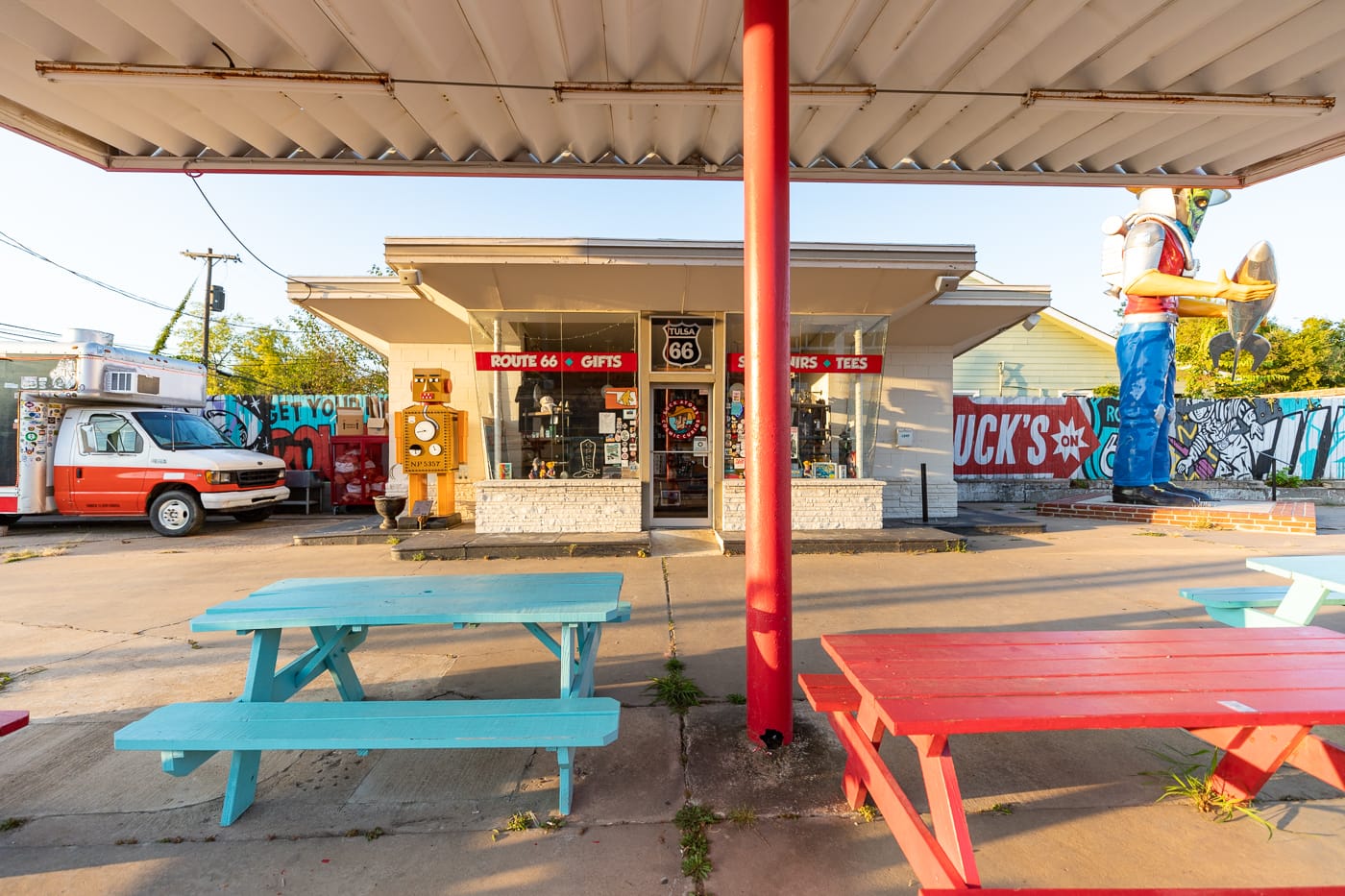 Buck Atom Space Cowboy Muffler Man
One of the star attractions at Buck Atom's is the 21-foot tall space cowboy muffler man. Muffler men roadside attractions are fiberglass giants who stand anywhere from 14 to 25 feet tall. Each has a similar design and was built between 1963 and 1972 by International Fiberglass in Venice, California. With signature stances, these big men stood outside of muffler shops and other businesses to call attention from the road. But this one isn't an original. This one was a brand new, custom-made, space cowboy that bridges the vintage charm of an original with a modern twist.
Nicknamed "Buck Atom" the roadside attraction was created by fiberglass artist Mark Cline. He used a mold made from a 1960s cowboy muffler man that had previously been seen in Calgary, Alberta. Buck stands tall, wearing red, blue, and silver along with a yellow cowboy hat. In his hands he holds a silver rocketship, designed by local artist Chris Wollard. Dedicated on May 11, 2019, Buck quickly became a must-see Route 66 roadside attraction.
Buck isn't always dressed up in a monster mask as seen here, but if you visit in October look for him dressed up for Halloween!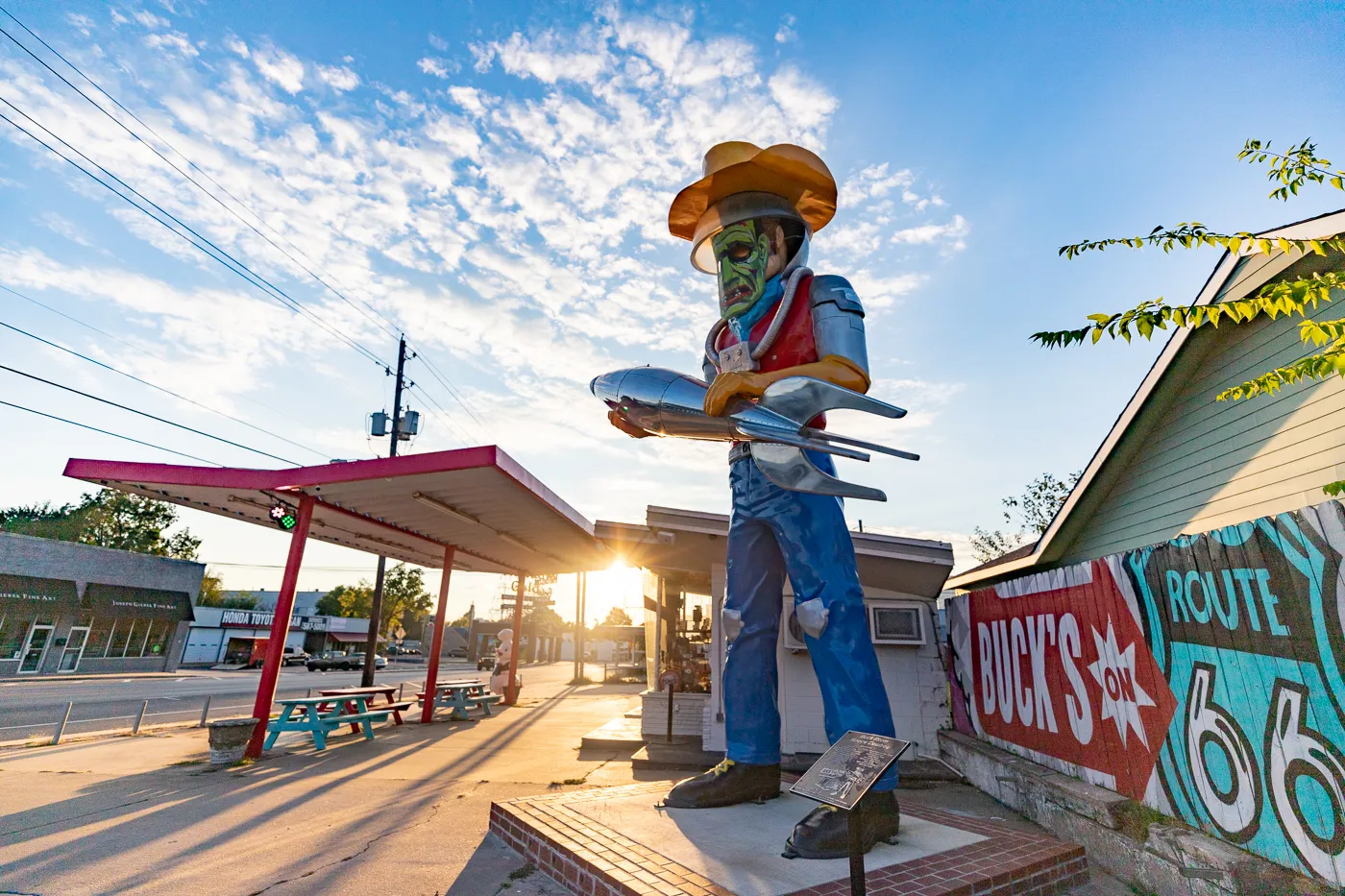 Neon Sign
Neon signs are synonymous with Route 66 businesses, so it was only fitting for Bucks to install one shortly after opening. The light-up sign is topped with a 6-foot shield, was built by Encinos Signs, designed by Todd Danders of Roadhouse Relics and dedicated on April 29, 2020.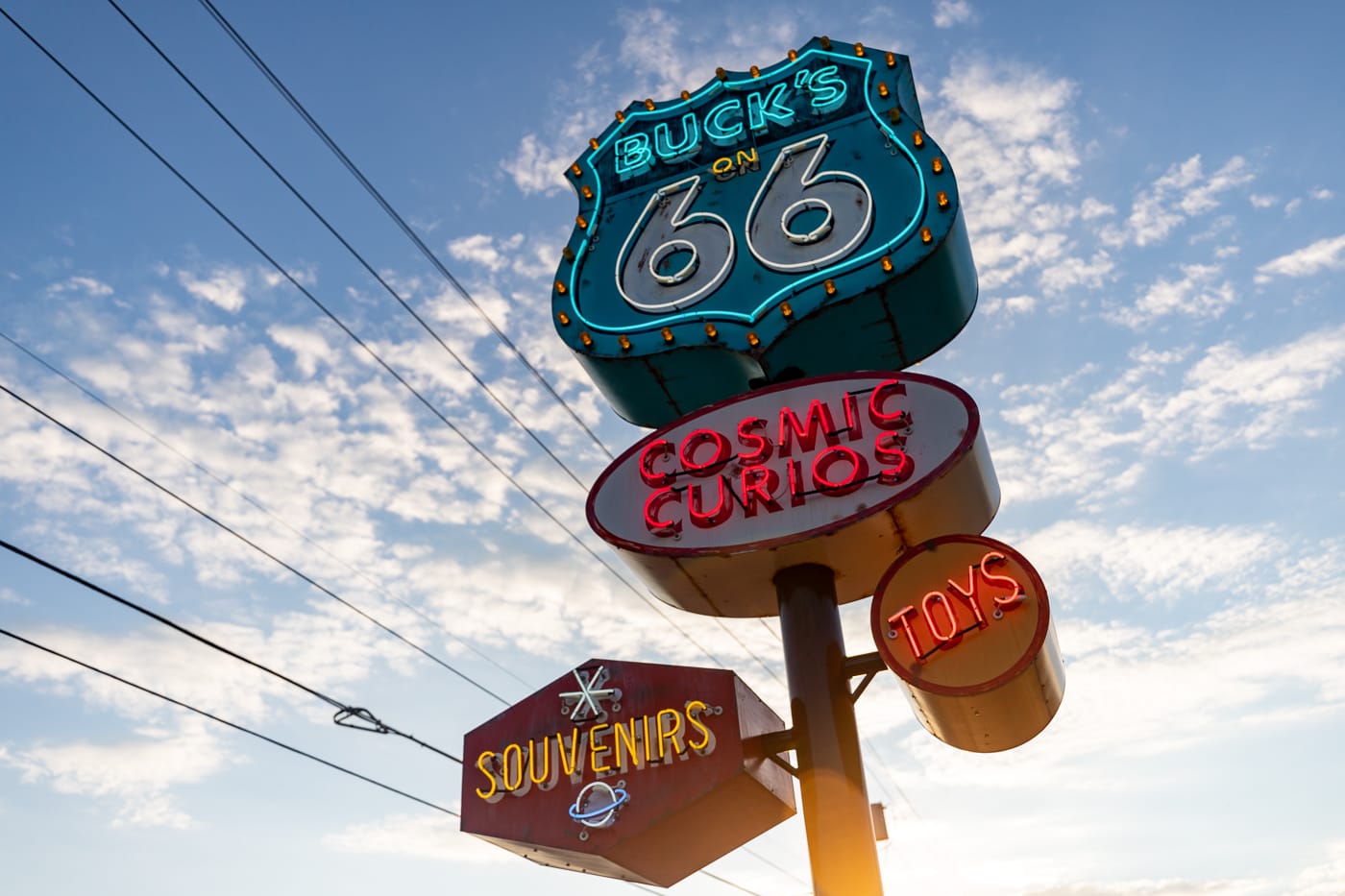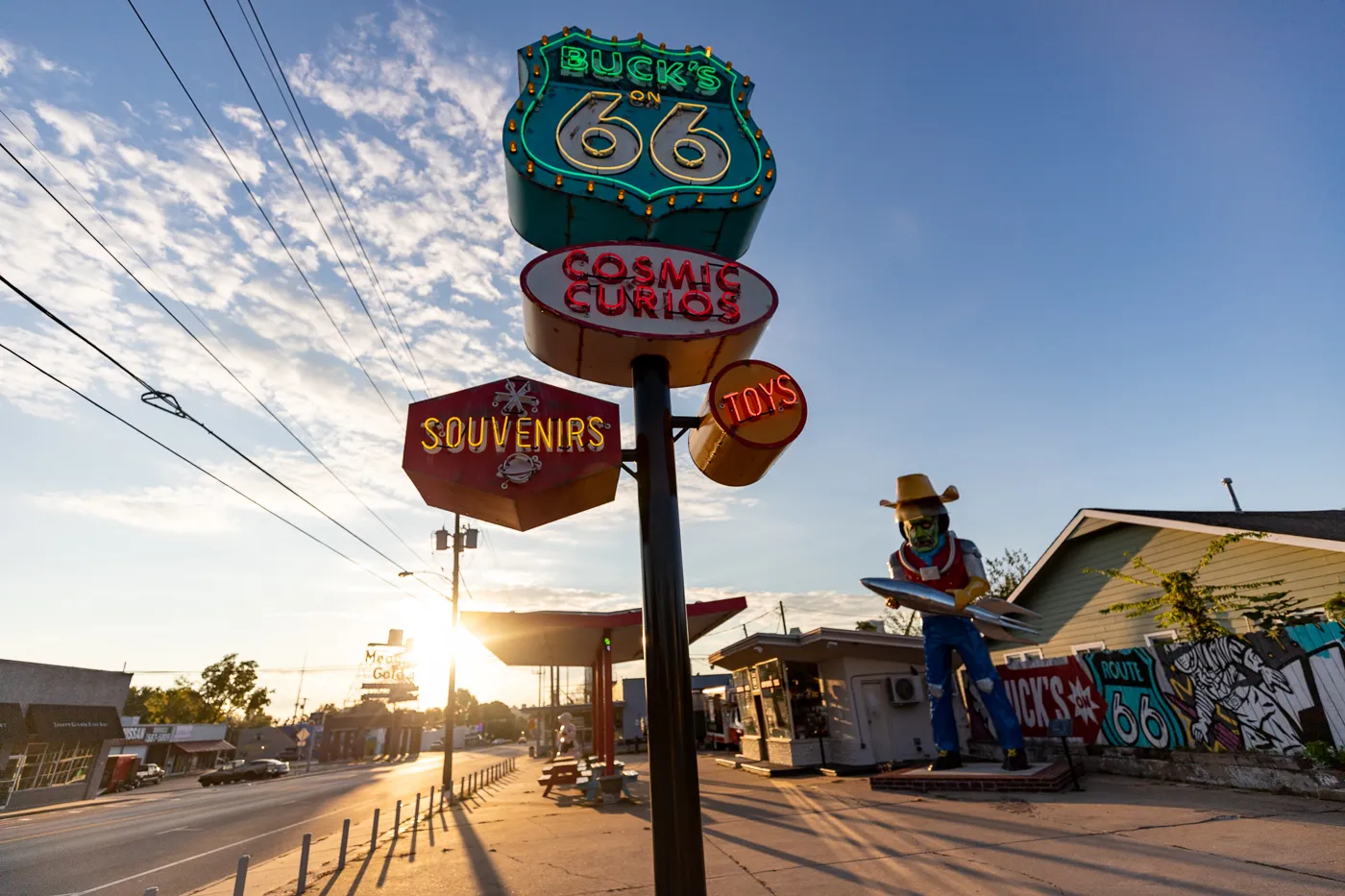 Piggy Stardust fiberglass chef pig
"Piggy Stardust," a big, pink, fiberglass pig in a chef's hat, came to Buck Atom's in 2021. It previously lived atMagic Forest, a storybook amusement park located in Lake George, New York that opened in 1963 but is now closed.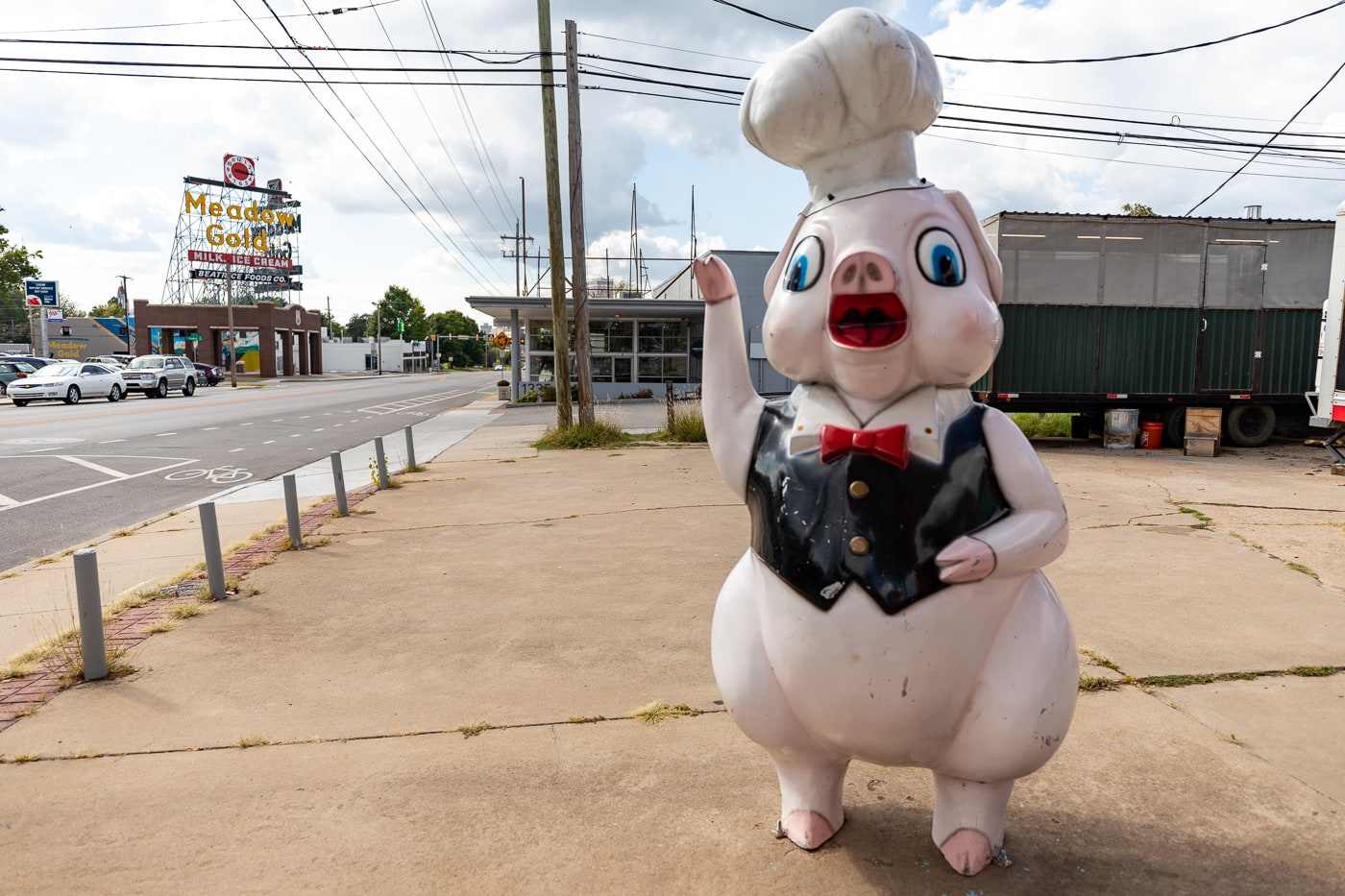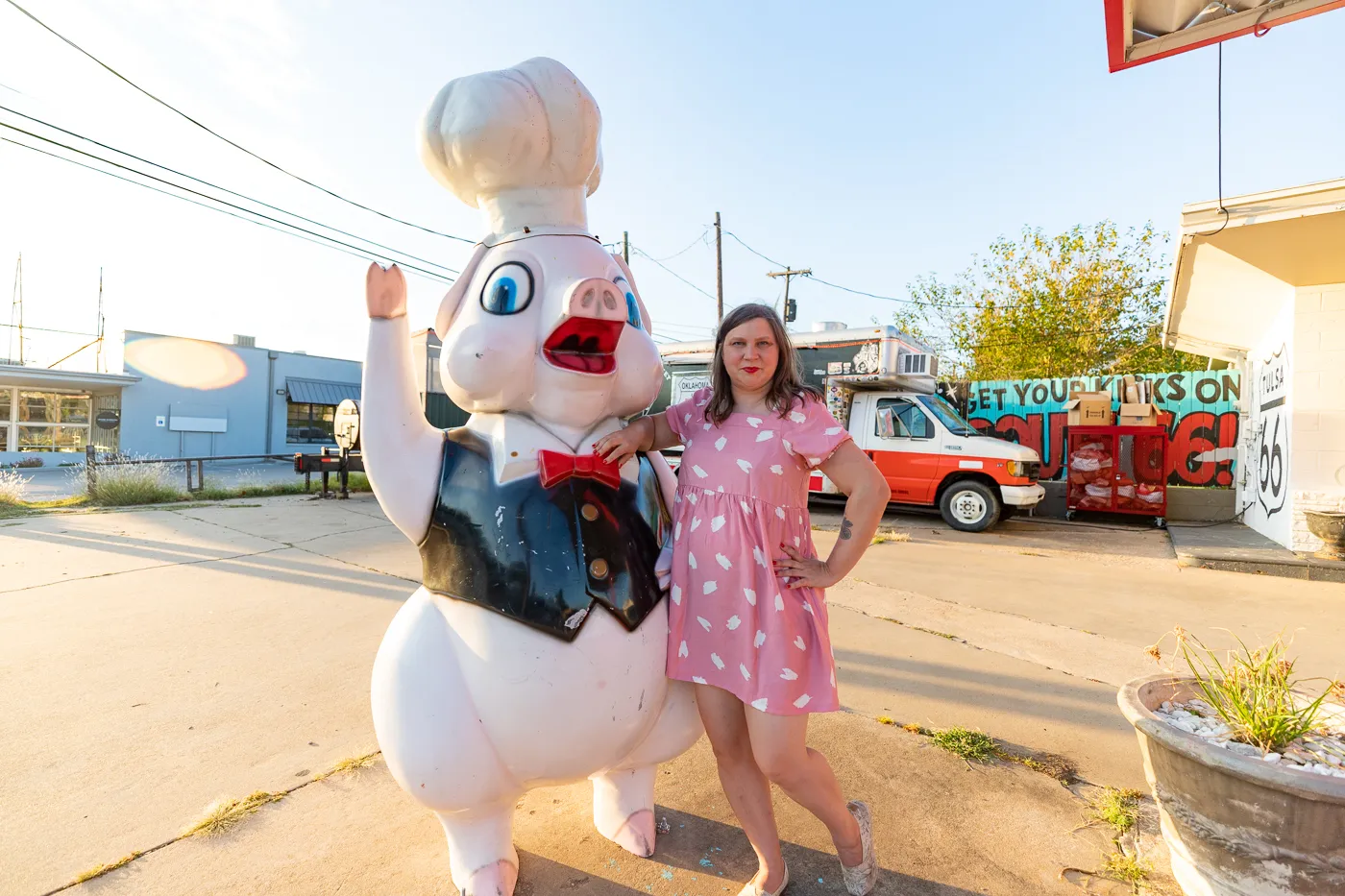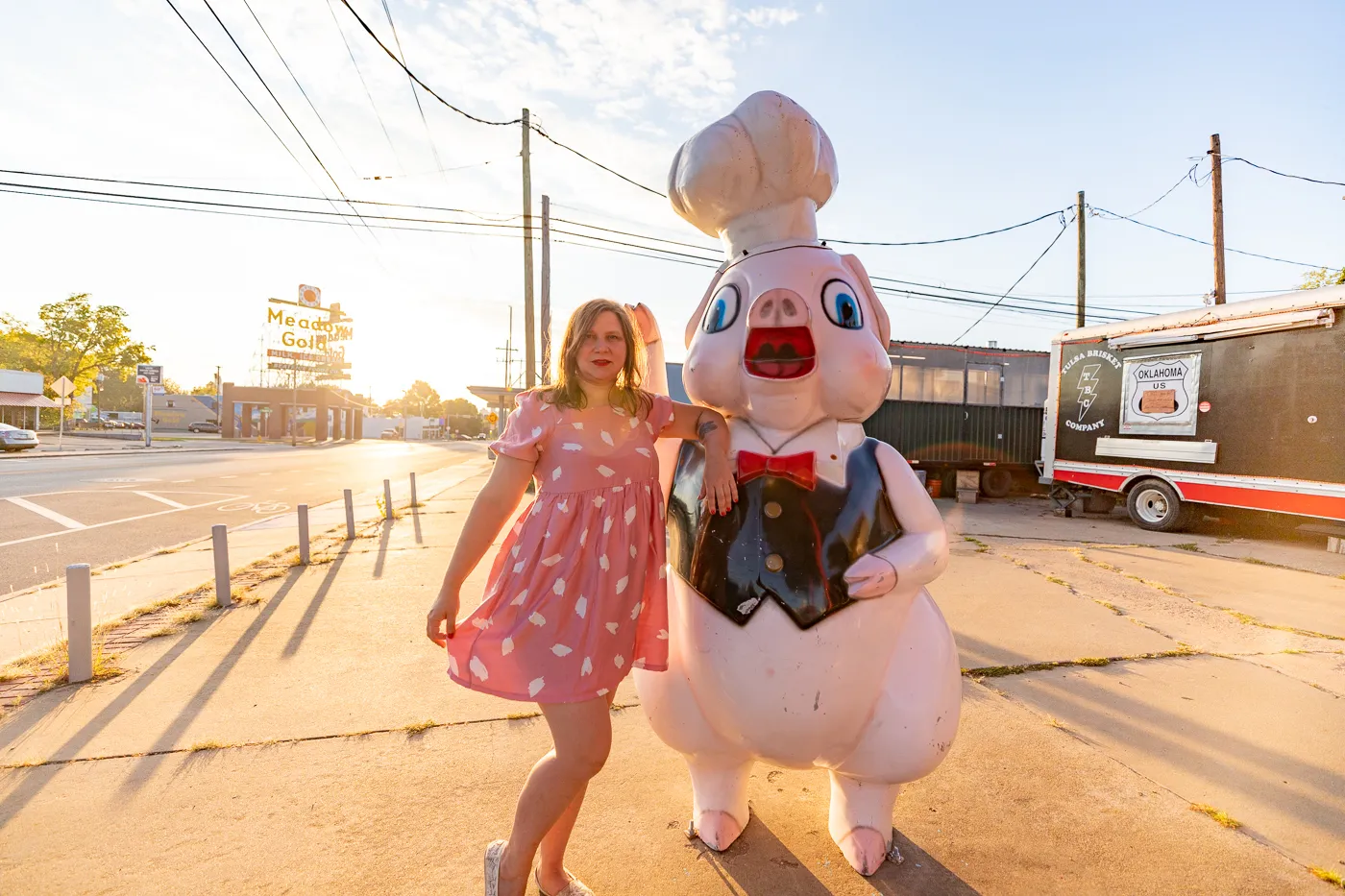 Lilliput Robots on 66
Robots on 66 is a new initiative aimed at adding fun robot statues to popular Oklahoma Route 66 attractions as a leadup to the Route 66 centennial in 2026. Liliput was the first Route 66 robot created. The yellow and orange creation was fabricated by Sawyer Manufacturing & Fabrication. Find another robot in Oklahoma City.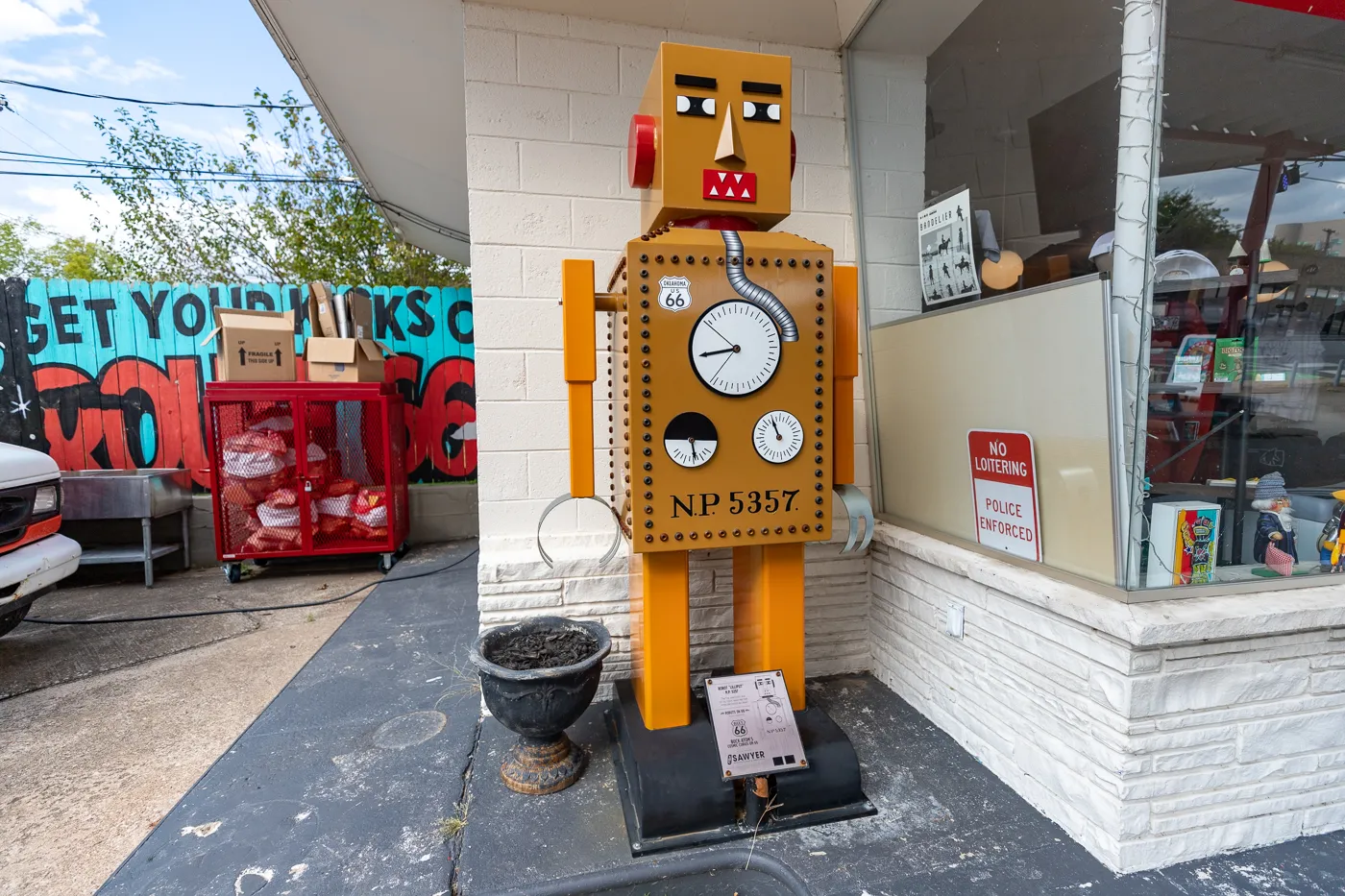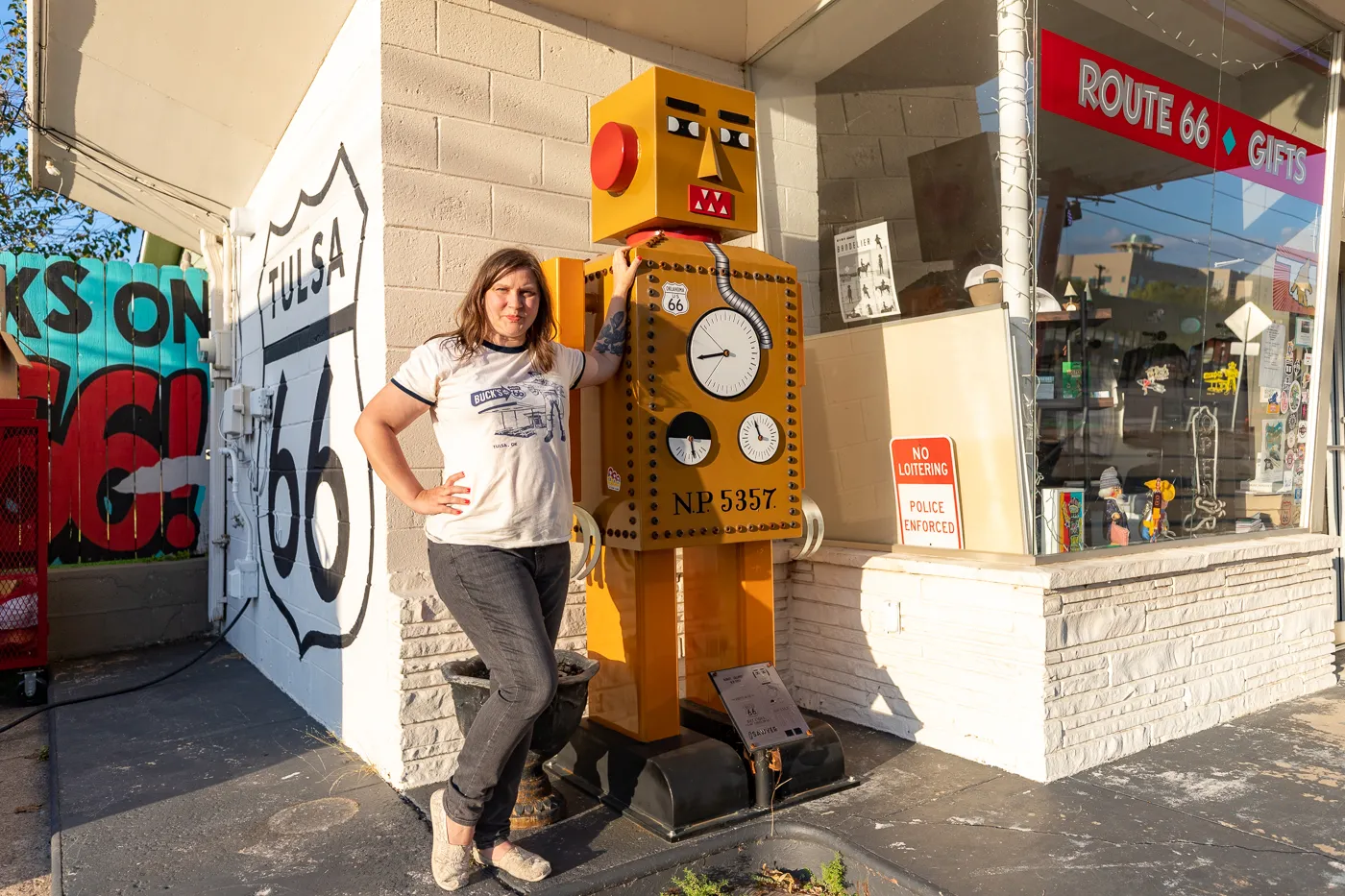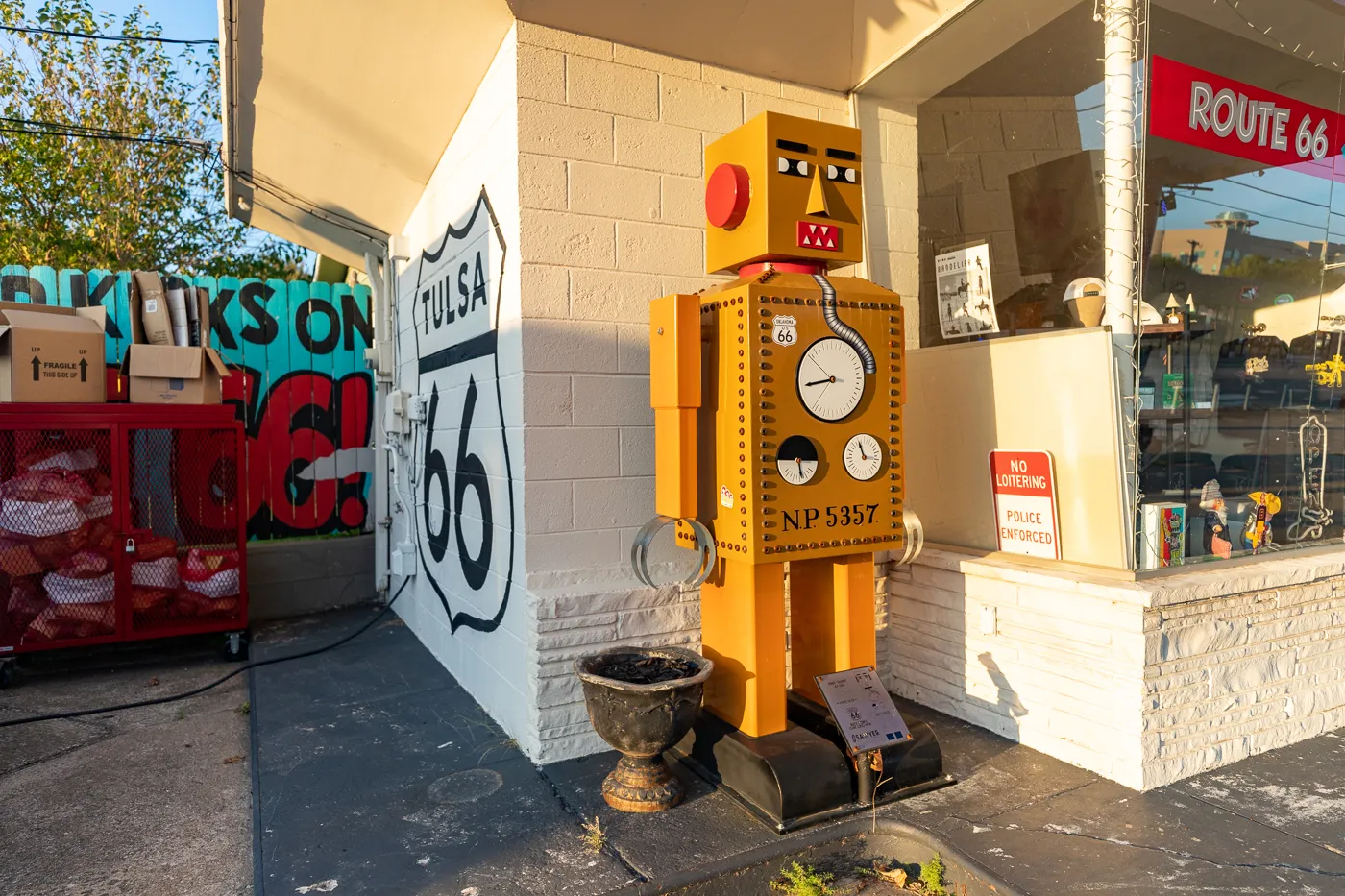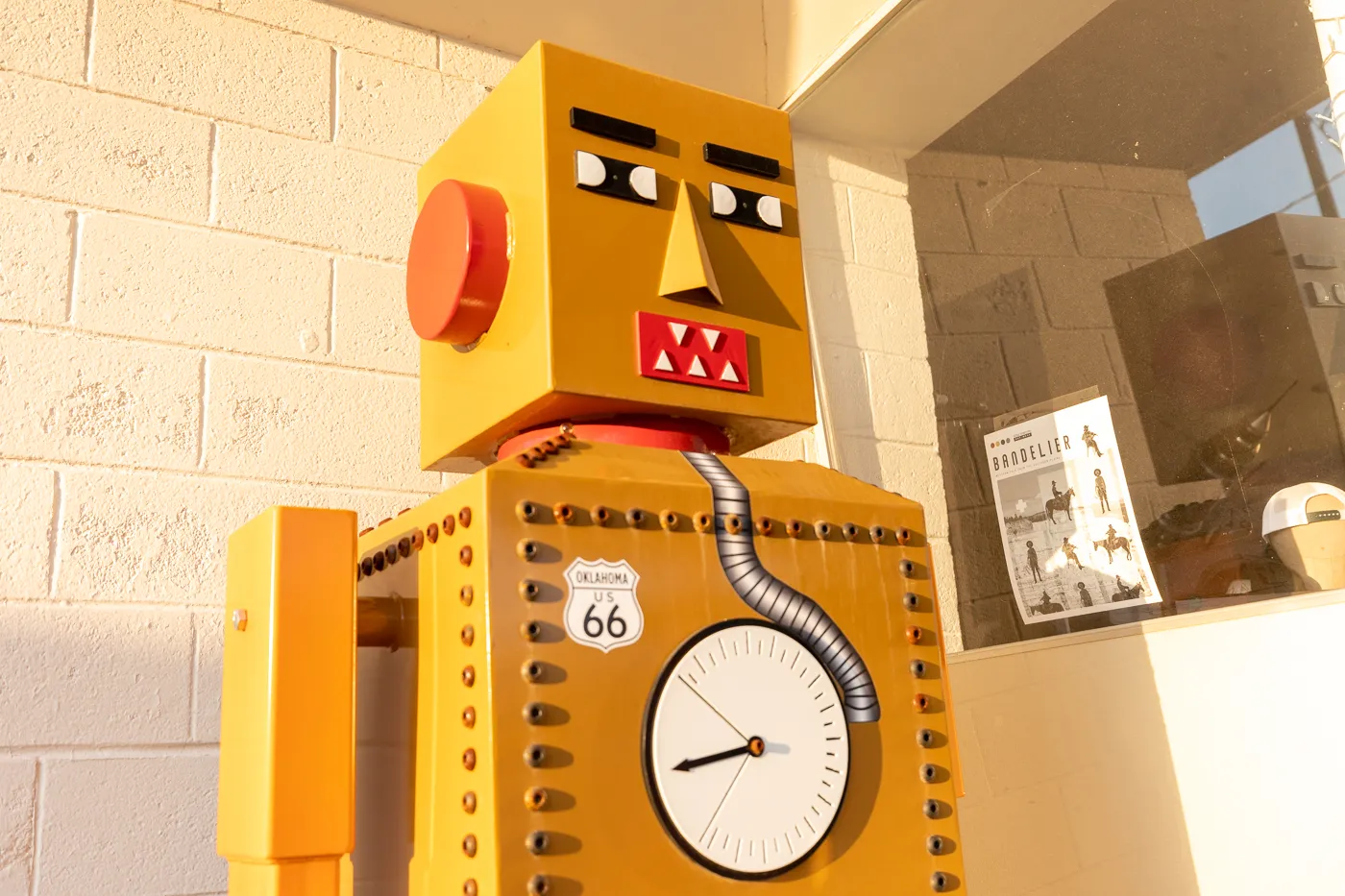 Route 66 Murals
On the surrounding fences and building look for some fun Route 66 murals created by Clean Hands Army.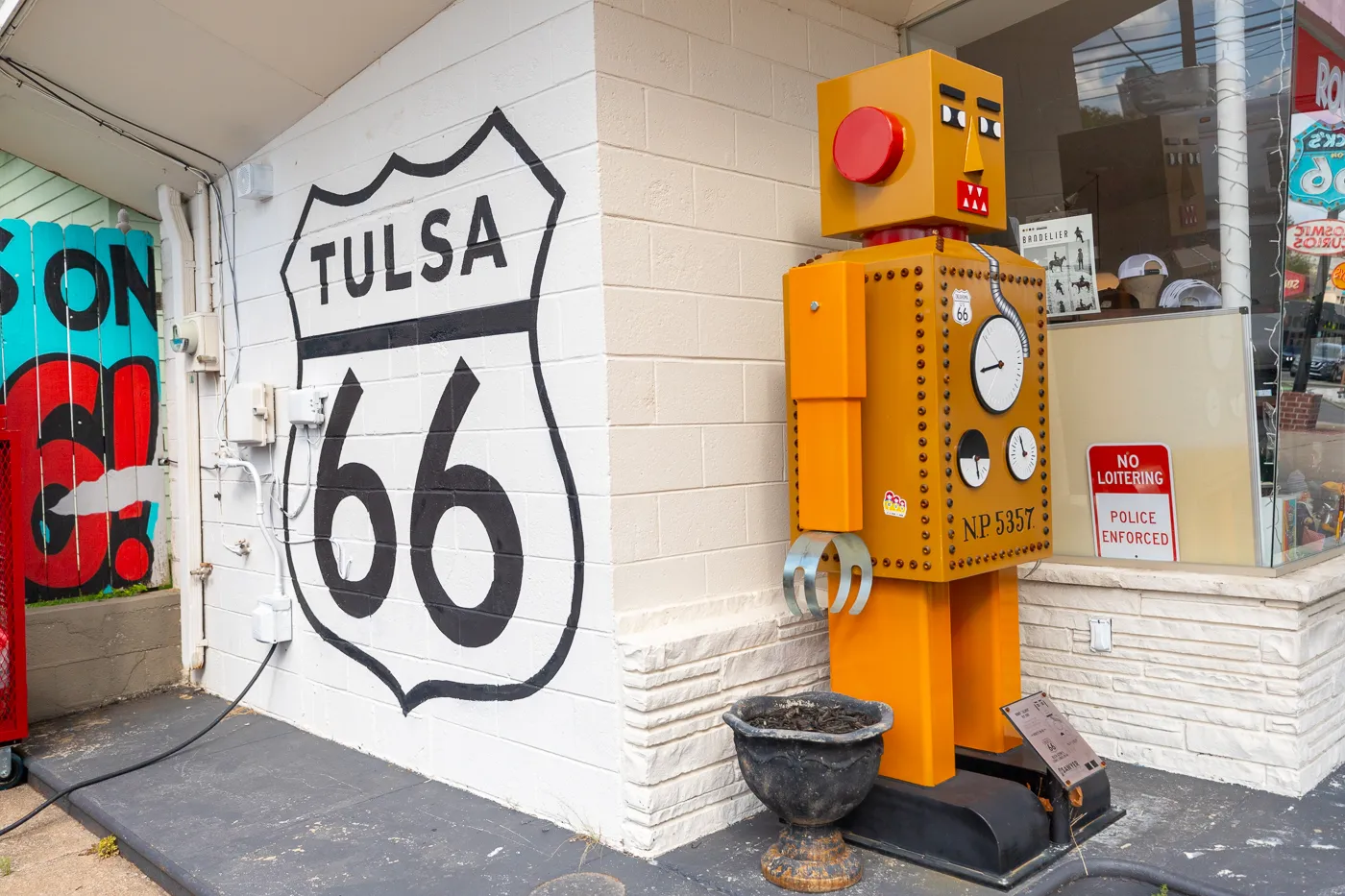 Buck's Cosmic Crash Pad on Route 66
If you love visiting Buck Atom's Cosmic Curios and checking out the space cowboy muffler man, book a stay in the adjoining AirBnb! Opened in 2020,this unique Tulsa AirBNB features quirky decor, a convenient location, and Bucks/Tulsa/Route 66 knickknacks and artwork that's available for sale.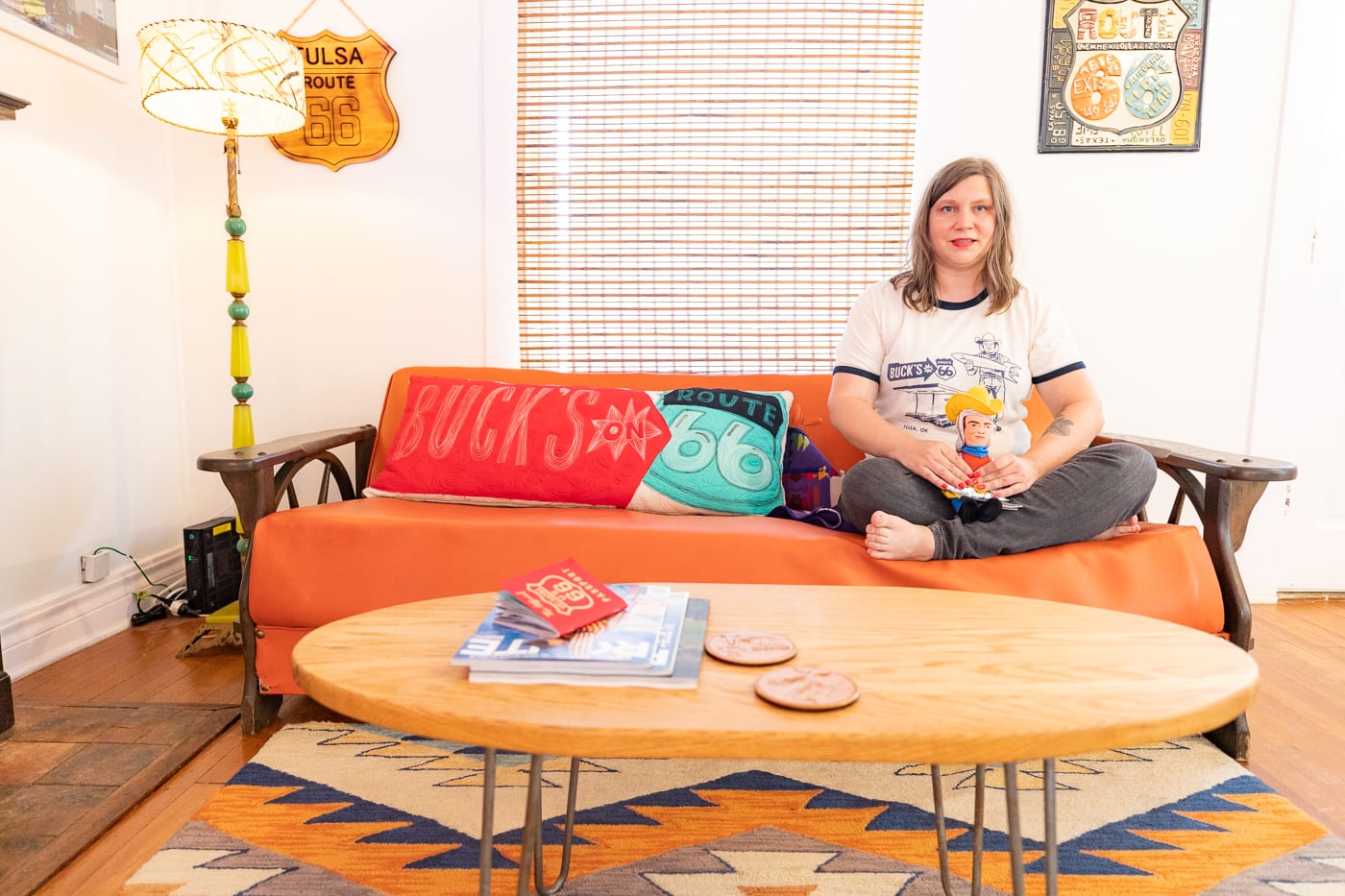 Take a time machine and blast between the past and present here at Buck Atom's Cosmic Curios on 66. And be sure to say hello to Buck while you're here.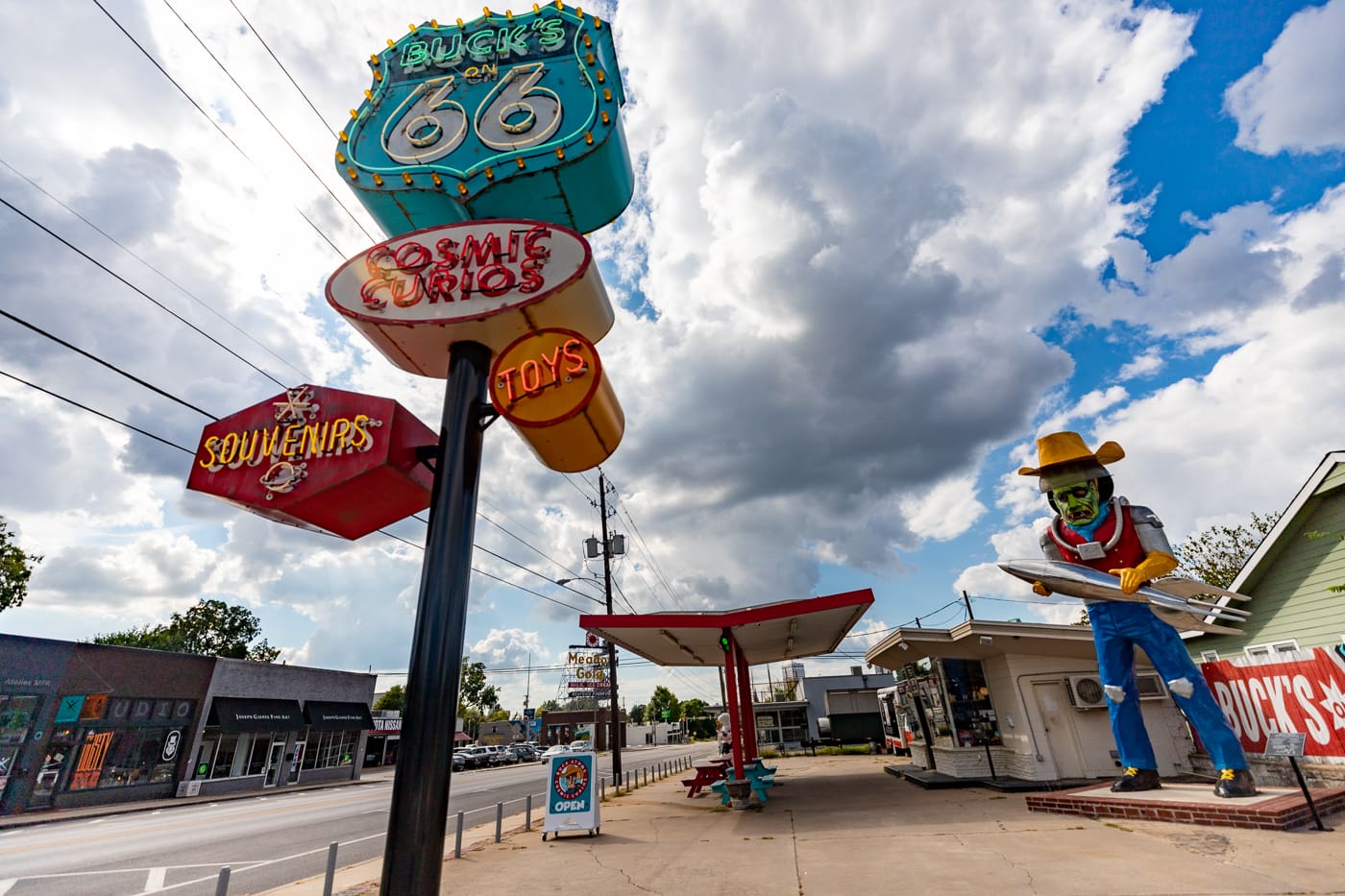 While visiting this top Oklahoma Route 66 attraction, be sure to cross the street to find the Meadow Gold Sign, and drive down the road for a meal at the Mother Road Market.
---
Buck Atom's Cosmic Curios on 66
Address: 1347 E 11th St, Tulsa, OK 74120
Hours: Tuesday-Saturday 9:30am-5:30pm; Sunday 10am-4pm; Closed Monday
Cost: Free to see, souvenir costs vary
---
Pin this Oklahoma roadside attraction: