You have plenty of options for stops on a Route 66 road trip. There are plenty of weird roadside attractions. Delicious diners. Neon signs. Vintage service stations. Retro hotels. But if you want to dig deeper and learn more about the Mother Road or a local town, you'll definitely want to add a few Route 66 museums and visitors centers to your travel itinerary.
Every state on Route 66 has its very own Route 66 museum that explores its ties to the famed road. You'll also find museums devoted to the small towns of Route 66, vintage automobiles, motorcycles, dinosaurs…and even McDonald's. And Visitors Centers abound where you can stop in to see some memorabilia and get more information for your travels ahead.
Be sure to add these Route 66 Museums and Visitors Centers to your travel itinerary!
Illinois Route 66 Museums
Joliet Area Historical Museum and Route 66 Welcome Center
204 N Ottawa St, Joliet, IL 60432
Located at the historic intersection of Route 66 and Lincoln Highway, the Joliet Area Historical Museum has kiosks, displays, Blues Brothers statues, and even a selfie station.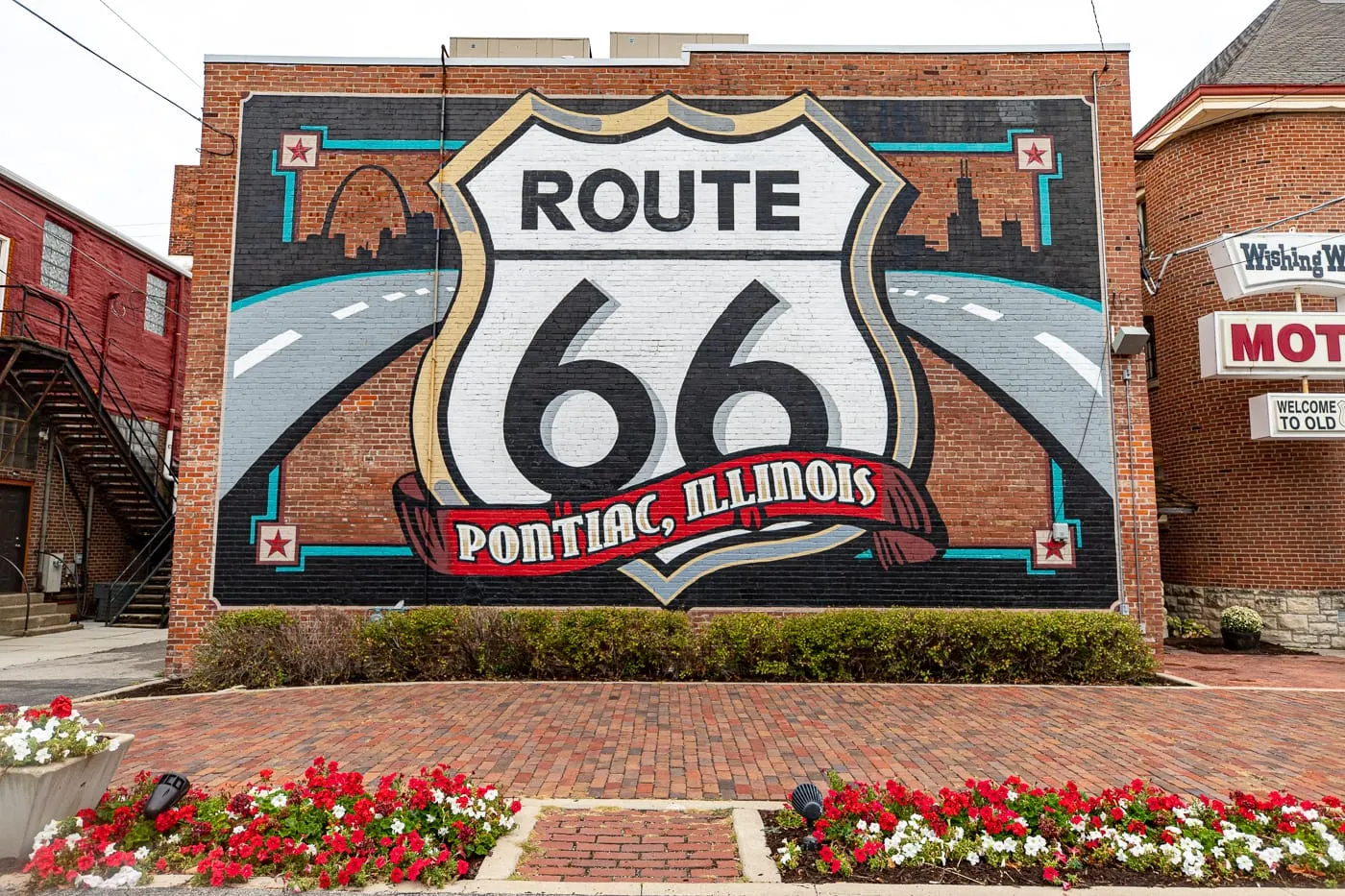 Illinois Route 66 Hall of Fame and Museum
110 W Howard St, Pontiac, IL 61764
The Illinois Route 66 Hall of Fame & Museum in Pontiac, Illinois tells the story of the Mother Road from inception to present day with thousands of artifacts, memorabilia, articles, and more. Stop in to learn about all of the famed stops, places, and people who have been inducted into the Illinois Route 66 Hall of Fame. Be sure to look for the giant Route 66 shield mural outside!
Pontiac-Oakland Automobile Museum
205 N Mill St, Pontiac, IL
A museum featuring antique and classic cars, automotive artifacts, old highway maps and sales brochures, and other Pontiac and Oakland related items.
Cruisin' with Lincoln on 66 Visitors Center
200 N Main St, Bloomington, IL
Cruisin' With Lincoln on 66 is a Route 66 and Abraham Lincoln themed visitors center and gift shop. Stop in to learn more about Bloomington-Normal's historical connection to both Route 66 and Abraham Lincoln through an interpretive exhibit.
J.H. Hawes Grain Elevator Museum
199-293 SW 2nd St, Atlanta, IL
The J. H. Hawes Elevator is a historic grain elevator that was built in 1903 along the Illinois Midland Railroad. It is the only fully restored wooden grain elevator in Illinois.
Litchfield Museum & Route 66 Welcome Center
334 Old Rte 66 N, Litchfield, IL
A local Route 66 museum on the site of the former Vic Suhling gas station. It displays historical artifacts of Litchfield and showcases the town's relationship with Route 66. Outside the original neon Suhling sign has been restored.
Missouri Route 66 Museums
National Museum of Transportation
2933 Barrett Station Rd, St. Louis, MO
Since 1944 the National Museum of Transportation has devoted to protecting and interpreting North America's transportation heritage. Explore the more than 190 exhibits of transportation vehicles and rail and transit collections.
Route 66 State Park Visitors Center
1628, 97 N Outer Rd, Eureka, MO
This small day-use park encompasses 419 acres on the the Meramec River. There's a visitor center with Route 66 and Times Beach exhibits, picnic areas, shelters, and even a small section of original Route 66 road.
Route 66 Museum
915 S Jefferson Ave, Lebanon, MO
The Route 66 Museum in Lebanon, Missouri is made to look like a vintage service station, with a classic car, gas pumps, and Route 66 exhibits.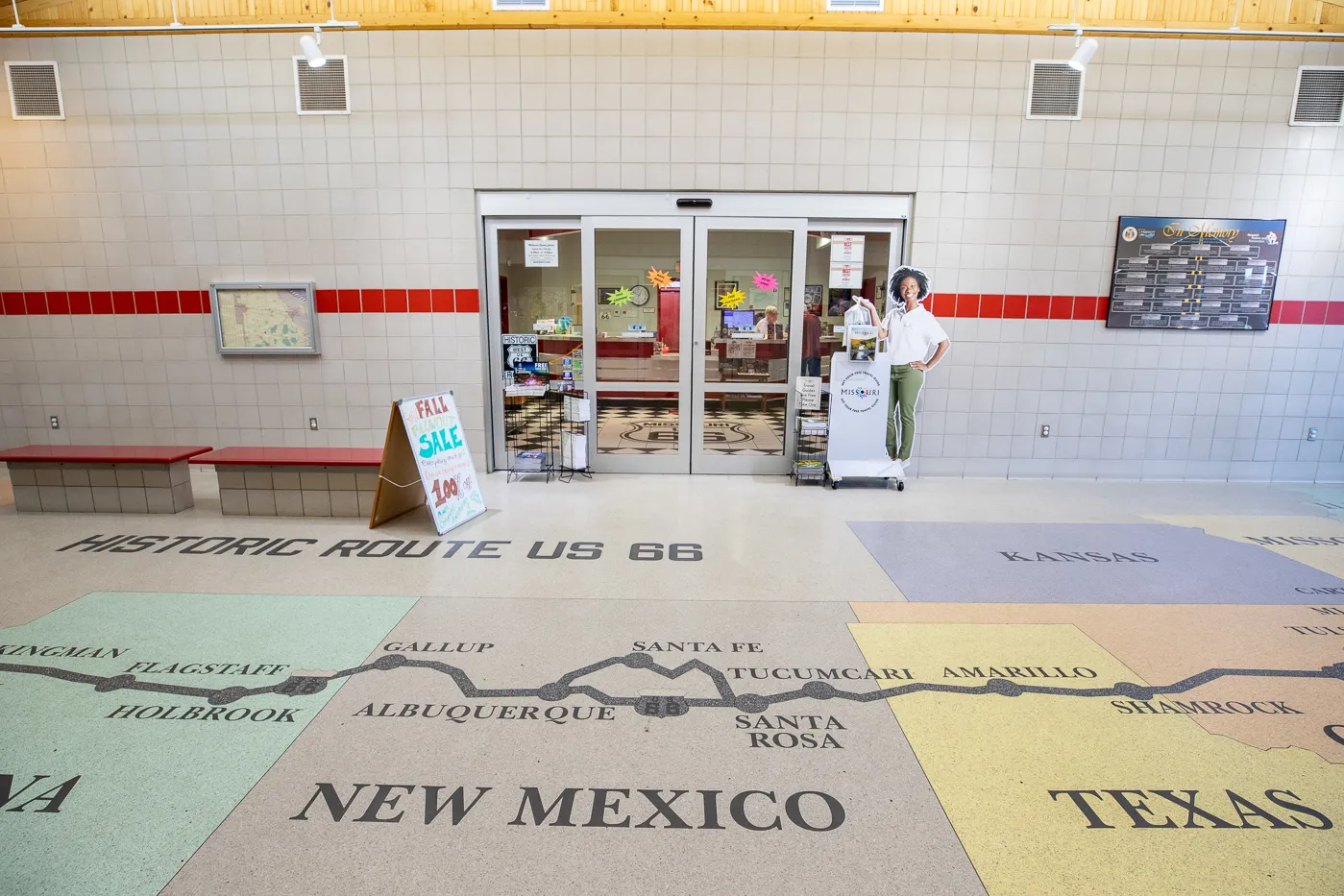 Missouri Route 66 Welcome Center Rest Area
110619 I-44, Conway, MO
Exit your car at the Missouri Route 66 Welcome Center Rest Area, a Route 66 themed rest stop, and you'll first be greeted with a light up sign modeled after the Munger Moss Motel sign and enclosed picnic areas that come with facades reminiscent of classic Route 66 businesses: Pete's Garage, Larry's Motel, Floyd's Barber Shop, Meramec Caverns, a Phillips filling station, and more. 
Route 66 Visitor Center
815 E St Louis St, Springfield, MO
The Springfield Route 66 Visitor Center provides all the information and inspiration you need for your journey through Route 66 in Missouri. Find maps, guides, directions, and even souvenirs.
Route 66 Car Museum
1634 W College St, Springfield, MO
Peruse a selection of classic and unique cars from America and Europe at the Route 66 Car Museum in Springfield.
Kansas Route 66 Museums
Galena Mining and Historical Museum
319 W 7th St, Galena, KS 66739
The Galena Mining and Historical Museum is housed in the old Missouri-Kansas-Texas train depot and showcases tools, equipment, specimens, photographs, and other artifacts and items from the town's history in lead and zinc mining.
Baxter Springs Heritage Center and Museum
740 East Ave, Baxter Springs, KS 66713
The Baxter Springs Heritage Center & Museum is "dedicated to preserving and interpreting the rich regional history of Baxter Springs, Kansas." Explore exhibits dedicated to various stages in the town's history, including the days of the Osage Indians, the Civil War, and the zinc mining era.
Oklahoma Route 66 Museums
D.W. Correll Museum
19934 E Pine St, Catoosa, OK
Stop by to see a rare collection of rocks, gems, fossils, sea shells, jewelry, and vintage cars.
Waite Phillips Filling Station Museum
26 E Lee Ave, Sapulpa, OK
The built Waite Phillips Filling Station Museum was built in 1923 and has since been restored by the Sapulpa Historical Society. Admire the building and 1920s automobiles.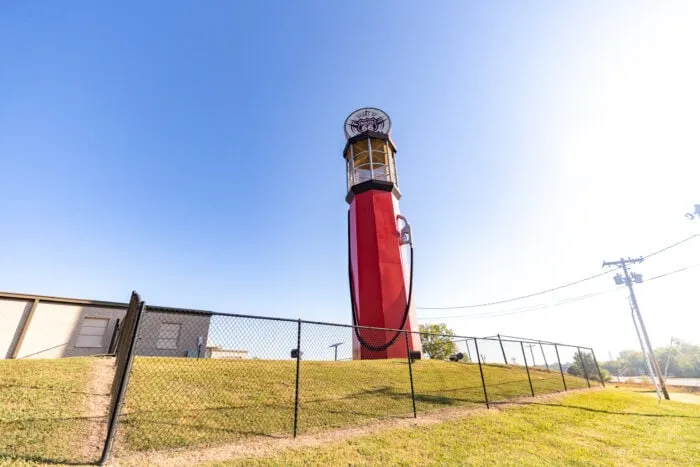 Heart of Route 66 Auto Museum
13 Sahoma Lake Rd, Sapulpa, OK
The Heart of Route 66 Auto Museum features vintage vehicles. It is also home to the world's tallest gas pump.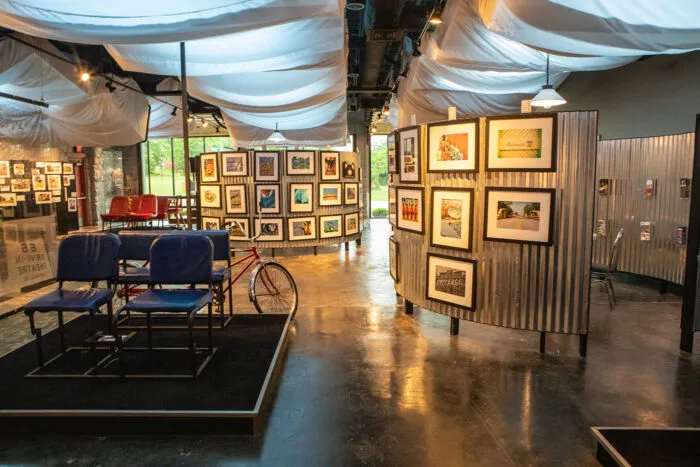 Route 66 Interpretive Center
400 E 1st St, Chandler, OK
The Chandler Armory, an Art-Deco military building, is now home to a Route 66 Interpretive Center. Step inside this interactive museum to explore displays and watch videos and learn more about the history of Route 66 and the part Oklahoma played in forming the Mother Road. The Chandler Route 66 Interpretive Center is also home to an 8,000 square foot event space and the Oklahoma Route 66 Association.
Seaba Station Motorcycle Museum
336992 East, OK-66, Warwick, OK
Browse more than 65 vintage motorcycles on display in a former Seaba Filling Station.
National Cowboy & Western Heritage Museum
1700 NE 63rd St, Oklahoma City, OK
Explore Western history, art and culture at the National Cowboy & Western Heritage Museum. The museum is home to more than 28,000 Western and American Indian art works and artifacts as well as an extensive collection of American rodeo photographs, barbed wire, saddlery, and rodeo trophies.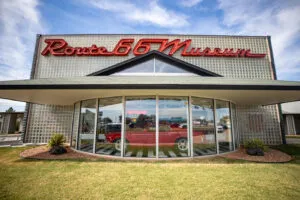 Oklahoma Route 66 Museum
2229 W Gary Blvd, Clinton, OK 73601
The Oklahoma Route 66 Museum takes travelers for a journey across the Mother Road and through history. Each room of the museum is built on a different theme and has accompanying music that immerses you in the experience. Informative displays teach visitors about the different eras of road travel; themes like diners and drive-ins, roadside motels, and roadside attractions; and important historical events that shaped Route 66's impact on the country.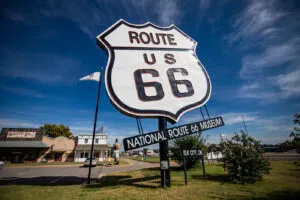 National Route 66 Museum
2717 W 3rd St, Elk City, OK 73644
The National Route 66 Museum in Elk City, Oklahoma celebrates the Mother Road in both Oklahoma and beyond. Focused on the people who lived and work on the Mother Road along with the automobiles and places that defined it, the museum campus offers an interactive tour through history. Reserve a couple of hours of your road trip time to explore all of the buildings and exhibits.
Texas Route 66 Museums
Pioneer West Museum
204 N Madden St, Shamrock, TX 79079
The Pioneer West Museum explores local history with artifacts, a space room with items on loan from the Houston Space Center, a Wheeler County Military-War Room, and more. Find it housed in the 1928 Reynolds hotel.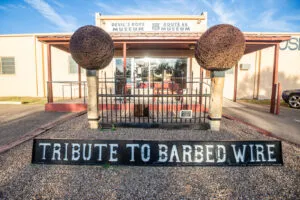 Devil's Rope Museum
100 Kingsley St, McLean, TX 79057
The Devil's Rope Museum celebrates all things barbed wire. Check out the giant balls of barbed wire that flank the name plaques outside, then come inside to explore a huge expanse dedicated to the fencing. There's also a small Route 66 museum
New Mexico Route 66 Museums
Route 66 Auto Museum
2436 U.S. Rte 66, Santa Rosa, NM 88435
This fun museum features over 30 classic cars and Route 66 memorabilia. It is the privately owned collection of Bozo Cordova, who owns the garage next door and does restorations.
New Mexico Route 66 Museum
Tucumcari, NM 
Explore the "Land of Enchantment:" the New Mexico Route 66 Museum pays homage to New Mexico's Route 66 heritage. Relics on display include autos, photos & gas pumps.
Mesalands Dinosaur Museum and Natural Sciences Laboratory
222 E Laughlin Ave, Tucumcari, NM
A paleontology and geology museum dedicated to the The Age of Dinosaurs. Features dinosaur skeletons, replicated and original fossils, minerals, and a gift shop.
Arizona Route 66 Museums
Old Trails Museum
212 N Kinsley Ave, Winslow, AZ
Explore exhibits and programs pertinent to the history and cultures of Winslow, Arizona. Collections include local artifacts and memorabilia from the area's earliest inhabitants to present.
Mohave Museum of History and Arts
400 W Beale St, Kingman, AZ
The Mohave Museum of History and Arts focuses on the preservation of the heritage of Northwestern Arizona and its history and arts. Exhibits presidential portraits, dioramas, turquoise, and Andy Devine memorabilia.
Arizona Route 66 Museum
Powerhouse Visitor Center, 120 W Andy Devine Ave, Kingman, AZ
The Arizona Route 66 Museum depicts the historical evolution of travel along what became Route 66. Murals, photos, and dioramas explore the Native American trade routes, Army led expeditions, dust bowl migrations, and more.
Pete's Route 66 Gas Station Museum
101 E Rte 66, Williams, AZ
A restored gas station serves as a Route 66 museum and showcase of vintage vehicles.
Navajo County Museum
100 E Arizona St, Holbrook, AZ
The Navajo County Museum represents the early lives of different cultures, settlers, ranchers, homemakers, teachers, government officials, bankers, mercantile proprietors, and other businessmen and women who have called Holbrook and the surrounding area home.
Navajo Code Talker Museum
Tuba City, AZ
The Navajo Code Talkers Museum and Veterans' Center honors World War II Navajo Code Talkers.
California Route 66 Museums
Route 66 Mother Road Museum
681 N 1st Ave, Barstow, CA
This California Route 66 museum displays artifacts, memorabilia, and historic photographs related to the Mother Road and the Mojave Desert Communities.
California Route 66 Museum
16825 D St, Victorville, CA
The California Route 66 Museum is located in historic Old Town Victorville and is devoted to both the historic and contemporary aspects of the Mother Road in the state. The 4,500 square foot museum features interactive exhibits, rotating displays, and fun photo ops.
Original McDonald's Museum
1398 N E St, San Bernardino, CA
The first McDonald's opened here in the 1940s. Today you can visit the original location to see a museum dedicated to McDonald's past.
Pin this list of Route 66 museums and visitors centers to save for later: