Clean underwear. An extra set of car keys. Your drivers license. There is an endless list of things you should pack for a road trip. But the key word there is should. Sure, you should always pack a car emergency kit, but what are some fun things to pack on a road trip? Things that make the drive easier, your photos more interesting, and your vacation more relaxing?
With the plentiful trunk space road trips allow, there's often some leeway in what you can pack. So sure, bring a bathing suit and a spare tire, but leave room for some of these.
What are fun things to pack on a road trip?
Shotgun! The Road Trip Game
Want to keep yourself and your passengers entertained in the car? Shotgun! is a fun card game and car game. Designate a reader and then take turns answering road trip related questions and doing activities.
Inflatable Lounger
Pack an inflatable lounger for comfort on the go. These fun designs inflate with ease by just shaking them through the air and they provide a comfy place to relax whether you're hitting a beach, attending a festival, going camping, or just hanging out at your hotel pool on your road trip.
Retro Cooler
If you're going to pack up your trunk with cold sodas and road trip sandwiches, you might as well do it in style. The Igloo Picnic cooler comes in fun colors with a retro style that will keep your drinks cool while looking hot in your Instagrams from the beach or the side of the road.
Wireless Car Karaoke Microphone
Allow your passengers to have even more fun singing along in the car! A karaoke microphone connects to Bluetooth or with AUX cables and provides endless opportunities for do-it-yourself tunes.
Tripod and Selfie Stick with LED Light
We've all been there: you've trying to take a selfie in front of the world's largest cow and all you can get in frame if half your face and half her udder.
As much as selfie sticks get a bad rap, they can be life savers when trying to take photos of yourself at road trip pit stops. Selfie Sticks like this one, that doubles as a tripod and includes a light, are always a fun thing to take on a road trip because it will insure that you get that perfect road trip selfie.
Nintendo Switch Portable Gaming System
Play all your favorite games on the go. Keep your family entertained and never hear, "are we there yet?" again. The portable design of the Nintendo Switch makes it the perfect gaming system for road trips and back seat play and the perfect road trip entertainment children and adult passengers alike.
Dual Screen DVD Player
A duel car DVD player that clips to a car's headrests can provide hours of entertainment for road trip passengers. This one plays DVDs or digital files stored on a USB or card reader.
Fujifilm Instax Mini 11 Instant Camera
Take your road trip selfies to a new level with an instant camera. For quirky road trip photos that make great souvenirs, an instant camera is definitely a fun thing to bring on a road trip!
The Fujifilm Instax Mini is a cute camera that is compact enough to fit in the glove box to make memories on the go.
Cute Travel Journal
A cute travel journal is always fun to pack in your road trip bag! Use it to keep a travel diary, as a planner for your stops, to take notes on the things you see, or to play games like tic tac toe.
Photo Booth Props
Up your travel photo game by bringing along some travel-themed photo booth props. On a road trip the whole world is your photo booth so pick up some signs, masks, disguises, or costumes that fit the theme of your trip and bust them out for funny photos with your friends.
Fun Sunglasses
Sunglasses are must-have road trip accessories for keeping the sun out of your eyes while you're driving. Want to make them more fun? Go for a pair of sunglasses in interesting shapes (like hearts, stars, clouds, or butterfly wings) or in bright colors!
Fun Gummy Candies
If you're looking to pack some fun snacks for your road trip, carrot sticks aren't going to do. Look for fun candies like gummy burgers and gummy cupcakes to keep the whole car sugared up and happy.
Cute Duffel Bag
If you're looking to pack fun things for a road trip you should also look for something fun to pack everything in. A cute duffel bag in your favorite color or pattern is a great option for road trip luggage. It's both stylish and soft-sided to allow ample flexibility in a packed trunk.
Pin this list of fun things to pack for a road trip: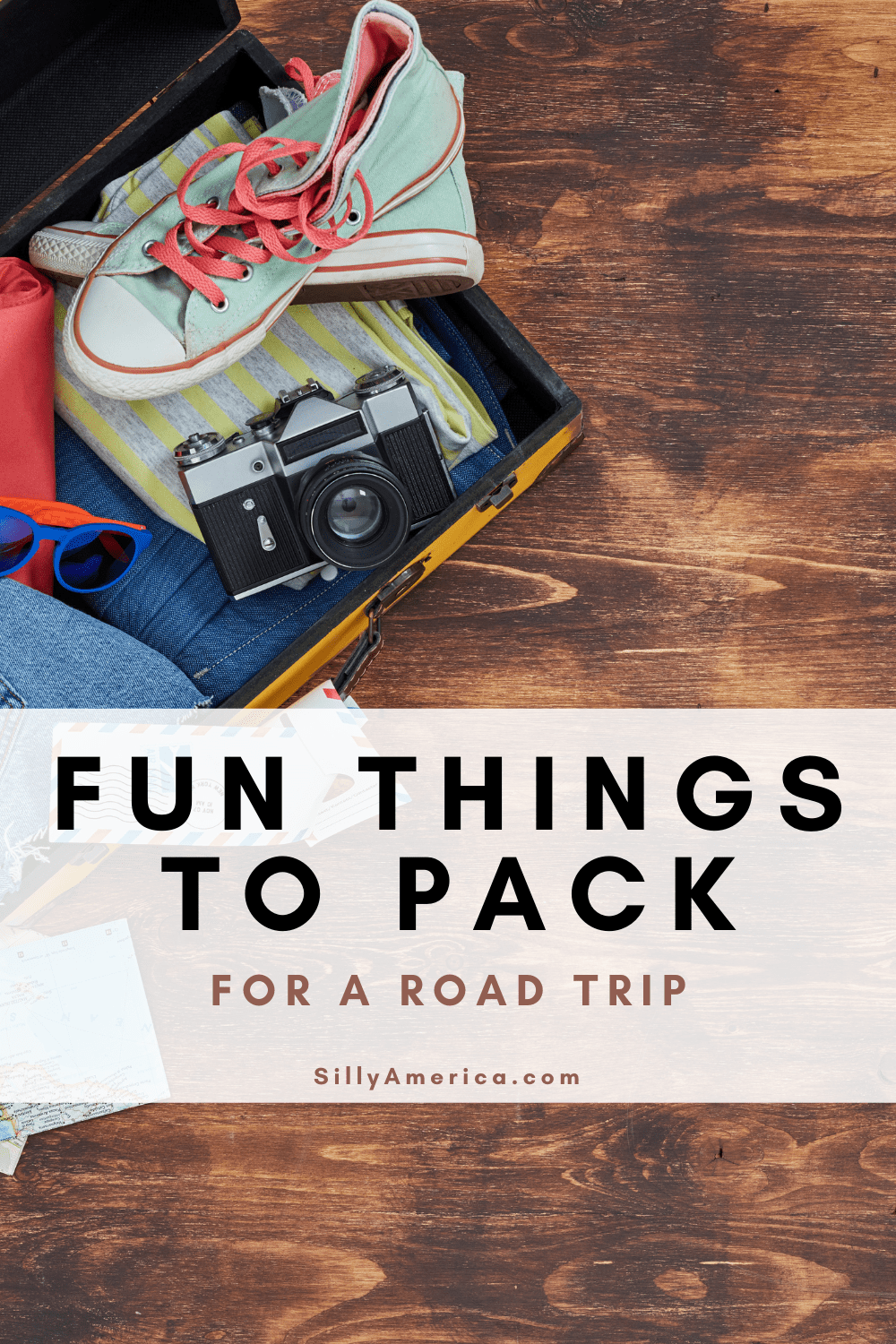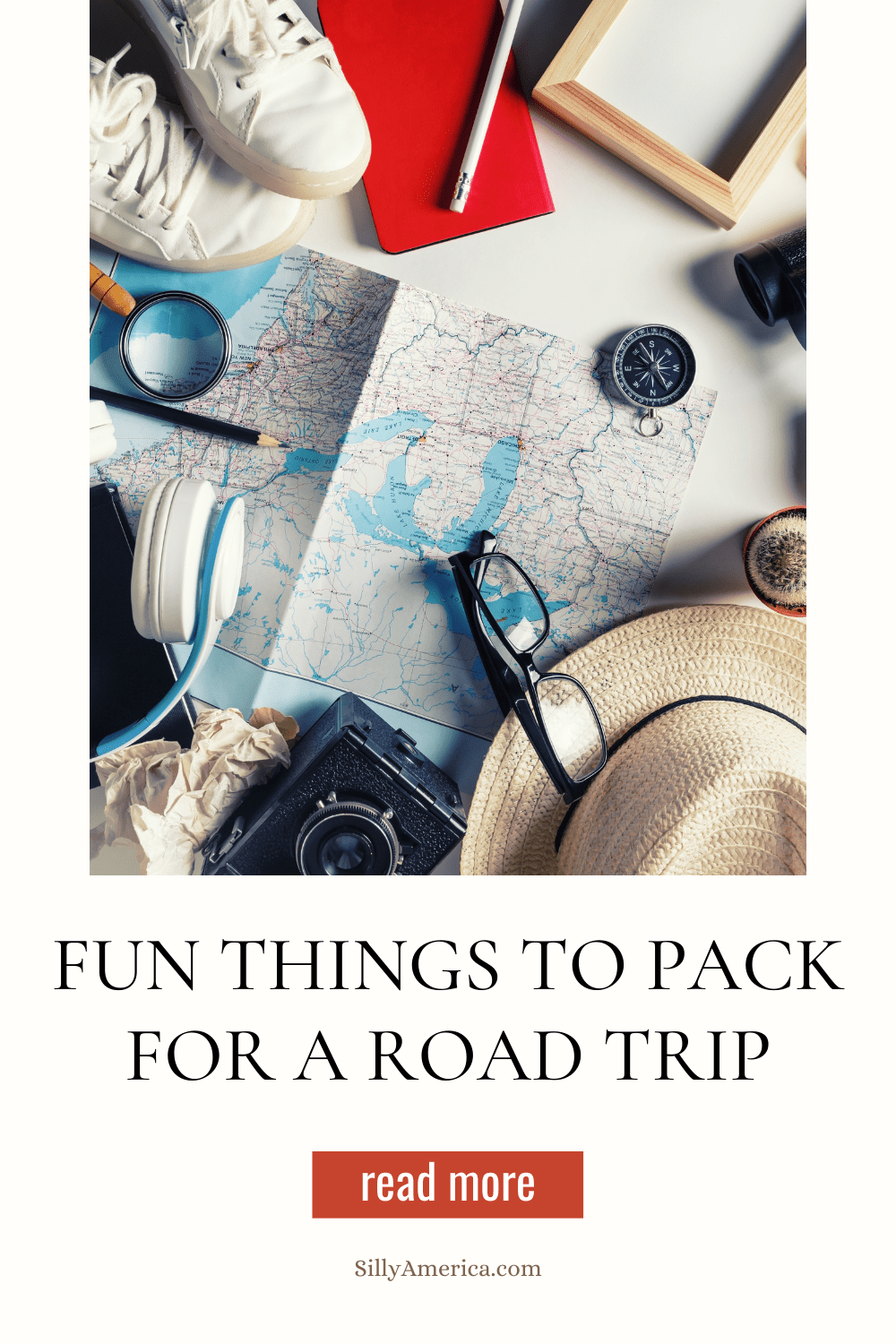 Photo by averie woodard on Unsplash