Windows down. Music blasting. Sunglasses on. It's time to take a road trip with friends.
Sometimes when people picture cross country road trips they might think of a tired family packed into a station wagon sporadically chanting, "are we there yet?" while driving endlessly from home to their destination. But road trips are anything but that.
Road trips are an amazing way to see the country, even if you're just seeing a small part of it. There is no better vacation freedom than packing up your car and going where you want and stopping where you want. And, if you're bringing along friends: even better.
Taking a road trip with friends makes for a fun vacation and epic adventure. It allows you to spend more time with the person or people who mean the world to you, create a lasting memory, and get plenty of Instagram photos along the way.
Before your bestie calls shotgun, here are some helpful tips for taking a road trip with friends, fun things to do on a road trip with friends, and some suggestions for routes and destinations to take together. Ready to hit the road?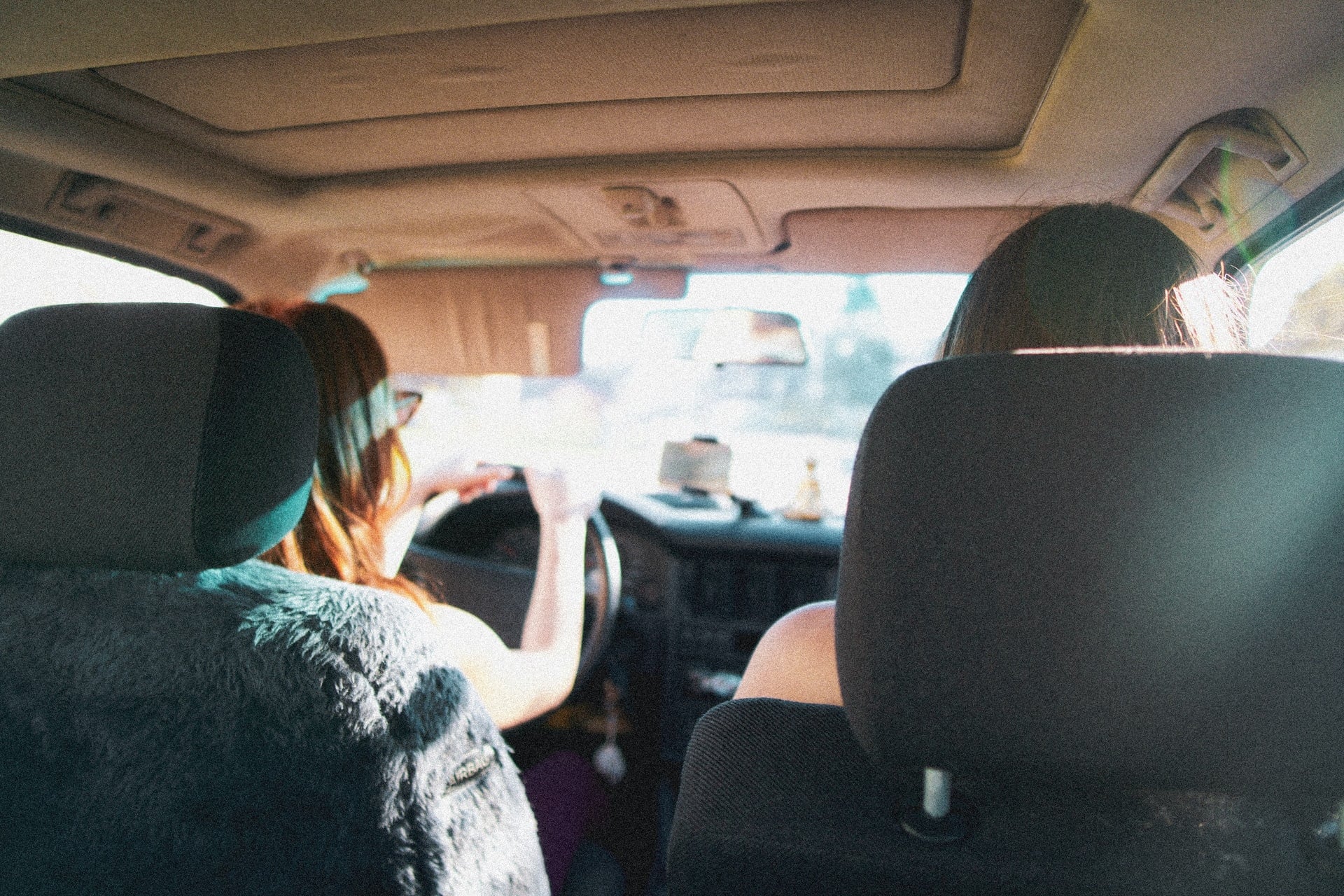 Tips for Taking a Road Trip with Friends
You love your best friends to pieces, so of course you should take a road trip with them! Right? Well… maybe. And maybe not. Just because you get along with your best friend in daily life doesn't mean you'll still feel so chummy after being cooped up in a car together with no breaks for days on end. No matter how much you and your friends get along, be prepared for a fight or two and some hurt feelings along the way. I'm not saying here don't take a road with friends. Actually, quite the opposite. Traveling with friends can be an amazing, fun, memorable adventure. But only if you're prepared. Here are our tips to make sure your best friends road trip is the best it can be.
Make Sure You're on the Same Page
When taking a road trip with friends it is vital to have a conversation beforehand and make sure everyone is on the same page before you decide to journey together. Even best friends might have different travel styles. One person might be a strict planner while the other a more go-with-the-flow type. One person might might be a night owl and the other an early bird. One person might love camping while the other might only stay in five-star hotels. Before making any concrete decisions make sure you are road trip compatible. There should always be room for everyone to compromise a little, but if your ideas on how to travel are wildly different it might be a better idea to travel apart. Here are some things to make sure you discuss beforehand:
Who is coming on the road trip?
How early or late do you want to start your day?
Whose car are you taking?
Who will be driving? Will you take turns? How often will you switch?
What is your budget?
What level of accommodation are you comfortable with?
Are you OK sharing a bed/room?
Do you prefer air conditioner or open windows?
What types of stops do you want to make?
How often will you stop?
Make a Road Trip Route, Itinerary, and Plan
When traveling with other people it is always a good idea to have a plan. It doesn't have to be an iron-fisted itinerary no one is allowed to stray from. In fact, you should definitely plan to be at least a little flexible. But, with multiple opinions, tastes, and travel styles, figuring out your road trip route and itinerary before leaving will allow you to plan a trip with input from everyone in the car and agree on stops beforehand.
Need a little extra help in planning your road trip? Join our challenge! Sign up below and in just five days you can have your entire route planned!
Decide How You're Going to Pay and Make a Spending Spreadsheet
With road trips come lots of expenses: hotel bookings, gas, national park admissions, snacks. When traveling with friends it's important to determine how you're going to be paying for everything you need to pay for. You want to be fair to everyone and make sure everyone is paying equally. Sometimes one person will put everything on her credit card and others will Venmo that person their share. Sometimes everyone will pay for a different things until it balances out. There is no right or wrong answer, you just want to make sure that everyone on your road trip agrees to a method. No matter what you decide it's a good idea to start a spending spreadsheet to track those expenses so you can make sure everyone paid their fair share.
Assign Roles
It isn't necessary for everyone to take on roles, but sometimes it just makes sense. If one person is driving, another should be in charge of music. If one person is the impeccably organized planner in charge of keeping the itinerary on track, another should be in charge of sandwiches and snacks. Not everyone has to have a specific role, but you want to make sure one person isn't booking all the hotels, driving, making the route, AND bringing the Cheez-Its.
Set Boundaries
While traveling with friends will often come with a lot of compromise, it is also OK to set boundaries. If you haven't driven since 2010 and aren't comfortable driving someone else's car, say no. If you're in introvert like me and need some alone time at the end of a long day in the car, tell your friends you need to go hang out by yourself. If everyone else has a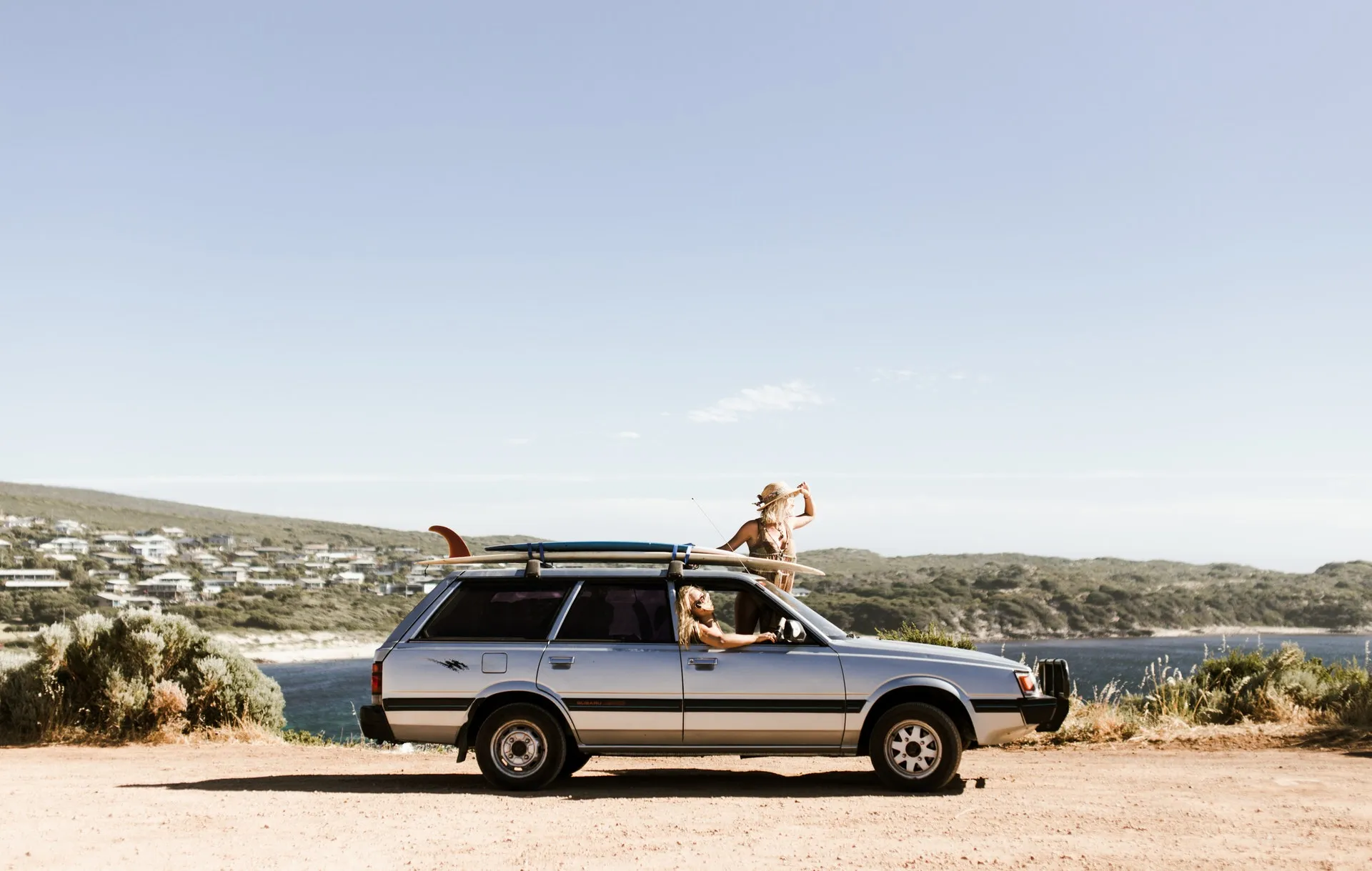 Fun Things To Do On A Road Trip With Friends
Who says car rides are boring? Especially when you're traveling with friends. You're sure to have an amazing adventure that is fun on its own. But, just in case you need a few ideas on how to occupy your time in the car and in the hotel room, here are 25 fun things to do on a road trip with friends.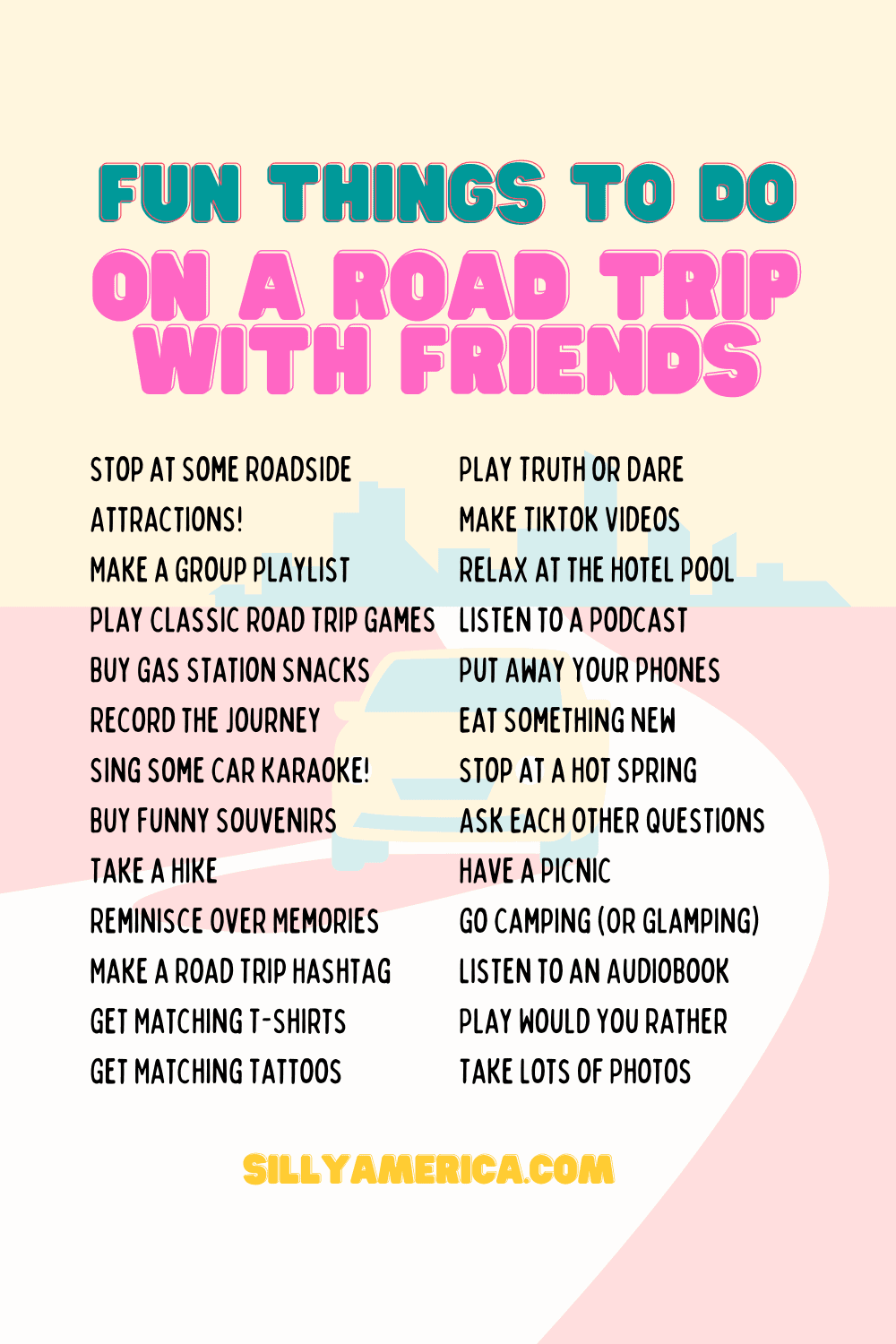 Stop at Some Roadside Attractions!
Whether you're near the world's largest strawberry, a fun muffler man, or a giant pink elephant, pull over at one of America's best roadside attractions! Roadside attractions are fun stops for everyone and make great Instagram selfies. Use a website like ours here at Silly America or an app like the Roadside America App or Roadtrippers Plus to find fun road trip stops!
Make a Group Playlist
Before leaving on your road trip, start a group playlist with your friends. This will give everyone a chance to contribute their favorite songs. Shuffle the playlist and enjoy fun music your whole trip long.
Play a Classic Road Trip Game
Road trip games are classic for a reason: they are easy, fun, and keep you entertained while stuck in a car. There are many road trip games to choose from so gather a few and pack them in your car. Here are some of the best classic road trip games to play in the car:
Buy Gas Station Snacks for the Car
For a fun twist on gas station snacks, have everyone go into the gas station one by one and get snacks for the whole car. Either go in with a no rules except buy one for everyone approach or assign everyone a different category: salty, sweet, breakfast, drinks, hot, cold, etc.
Record the Journey
Roadtripping with your friends will be an experience you will never want to forget. So be sure to record the journey. Take plenty of iPhone photos and post lots of Instagram stories, but if you want lasting memories, go one step further. Consider buying a road trip journal for everyone to contribute to. Or get an instant camera for instant souvenirs.
Sing some Car Karaoke!
Move a step beyond just blasting music in the car to becoming a highway superstar. Sing along to the car stereo at the top of your lungs! Or, better yet, get a wireless car karaoke microphone and take runs passing it around (to anyone who isn't driving, of course).
Buy Funny Souvenirs
Funny souvenirs abound at gas stations and roadside stands across the country. There are magnets, mugs, t-shirts, hats, keychains, and so many other options to choose from. Make it a game to always find souvenirs printed with your names or a contest to find the weirdest souvenirs you can find on your road trip.
Take a Hike
Make time to get out of the car and stretch your legs. Taking hikes (whether multiple miles or easy strolls) is a great way to get some exercise in in the middle of a long drive.
Reminisce Over Memories
If you're taking a road trip with friends, you're probably pretty close. And if you're pretty close, you probably have a lot of memories together. Spend some time in the car reminiscing over some of your best shared memories. You might even remember something special that you've forgotten!
Make a Road Trip Hashtag
#BestiesOnTheRoad Commemorate your road trip with your own hashtag Use it across social media when posting online about your road trip to organize your pics and to reminisce about the trip later.
Get Matching T-Shirts
Show the world you're on a road trip together! Get matching road trip t-shirts! Matching t-shirts is a great way for a big group of friends to show the world they are traveling together. And they make for fun group photos!
Get Matching Tattoos
Want a more permanent reminder of your road trip with your friends? How about getting matching road trip tattoos! Stop somewhere along your route and get something to remember each other and your epic trip together.
Play Truth or Dare
Truth or Dare is a fun game for friends to play on a road trip. Have everyone take turns either answering a personal question or doing a small dare that can easily be done from the car. Something like, text your ex or blast classical music for the next ten miles. Just be safe: no daring the driver to swerve into oncoming traffic or anything that could get you hurt or a traffic ticket.
Make TikTok Videos
A fun way to pass the time on a road trip with friends is to make TikTok videos! Find the perfect trending sound to film in the car or your destination. Or start a trend of your own!
Relax at the Hotel Pool
After a long day of driving and stopping at roadside attractions and other fun road trip stops, you deserve a little time to relax! Grab your bathing suits and go hang out by the hotel pool.
Listen to a Podcast
If you want to take a break from blasting tunes, try listening to a podcast in the car. If you all are addicted to the same true crime podcast, play the latest episodes. Or, have everyone in the car pick their favorite and take turns sharing.
Put Away Your Phones
For at least part of your road trip, have everyone put away their phones. It is easy to get distracted by social media or start texting with friends who are back at home. But spend some time with your full attention on each other, the amazing stops you're making, and the road.
Eat Something New
Have you ever tried Rocky Mountain Oysters? Here's a hint: they aint oysters. Make a pact to taste test local delicacies wherever you go. Sure, some might be weird (or seemingly gross) but you might just find your new favorite cuisine!
Stop at a Hot Spring
Hot Springs are often an overlooked road trip stop. But they are a super fun road trip stop, especially for a group of friends. Relax in a scalding hot pool while, often, overlooking nature, and give your weary muscles a break after being cooped up in a car.
Ask Each Other Questions
You'll be stuck in the car for hours with your friends on a road trip, so use that time wisely. Ask each other questions and get to know each other even more! Ask things you've always wanted to know, silly scenarios, or a list of road trip questions.
Have a Picnic
Instead of stopping at yet anther fast food drive through, pack up a cooler with sandwiches, snacks, and drinks and have a picnic. Find a park, rest area, or even dine under a world's largest thing.
Go Camping (Or Glamping)
If you're the type of friends who feel more comfortable in nature over a four star hotel, go camping! Spend at least one night of your trip sleeping under the stars, starting a roaring fire, toasting hot dogs and marshmallows for s'mores, and telling ghost stories. If your style is a little more refined or you're not quite into roughing it, give glamping a try!
Listen to an Audiobook
For another alternative to music, listen to an audiobook in the car. Pick a favorite amongst your friends, a current New York Times Best Seller, a steamy romance novel, a cheesy YA novel, or anything you all want to hear read! Try Audible Premium Plus and Get Up to Two Free Audiobooks.
Play Would You Rather
Would You Rather is another fun road trip game to play with friends! Give each other hypothetical scenarios where you have to choose if you world rather do one or the other.
Take Lots of Photos
Don't forget to take lots of photos! If you're taking a road trip with your friends it's most likely because you love them, want to spend more time with them, and enjoy being together. Commemorate your epic travel adventure by taking lots of photos of your surroundings, stops, food, and, of course, each other.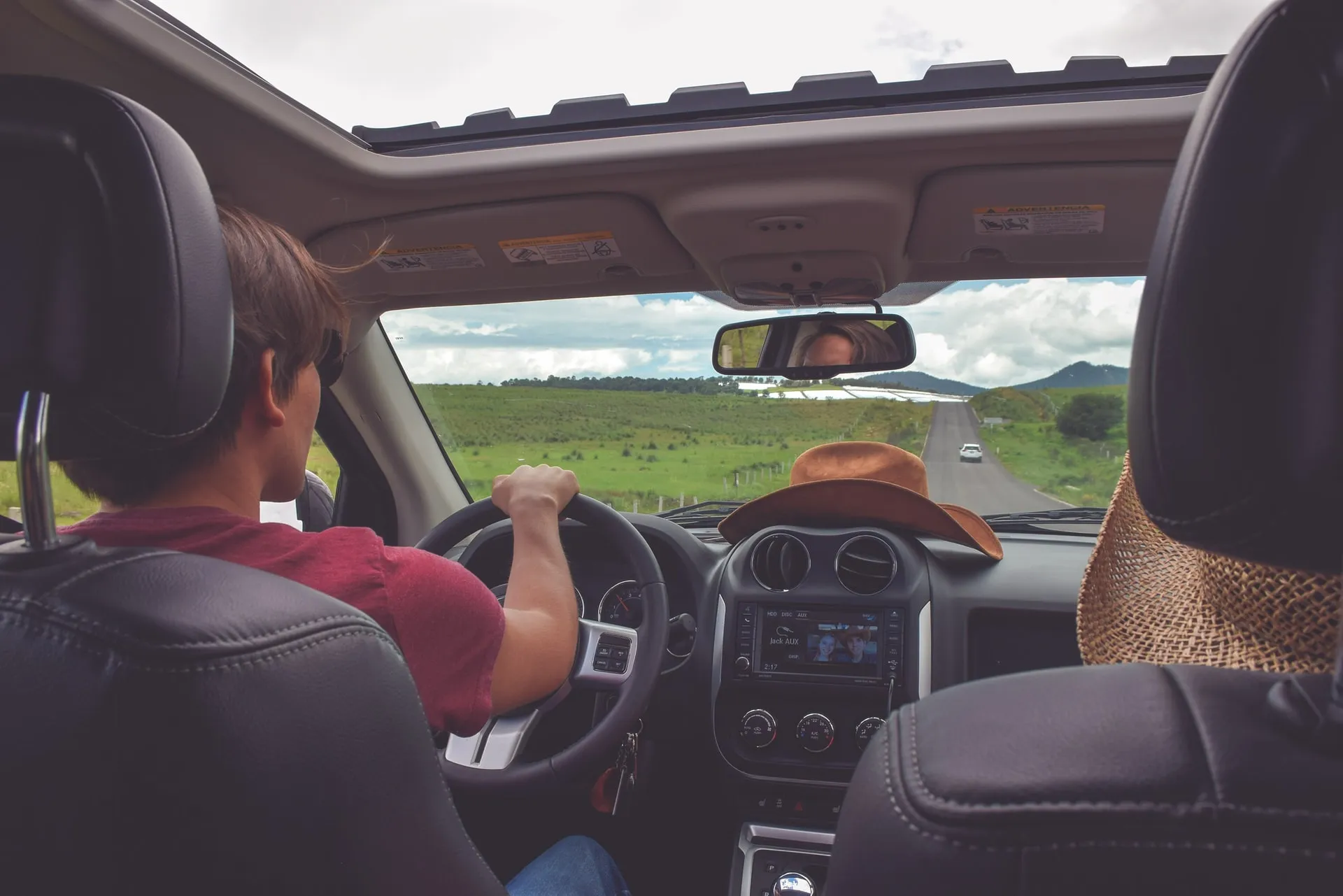 Where to Go on a Road Trip with Friends
If you're taking a road trip with your friends, you can go anywhere you want! Travel as far or stay as close as you want. See the things you want to see. Eat where you want to eat. And do what you want to do. The sky is the limit when it comes to choosing a road trip route (or, OK, maybe the ocean). Need some inspiration? Here are some ideas for road trips you can take with friends.
Route 66
Route 66 is a classic road trip route and the perfect road trip to take with friends. The iconic road spans 2,400 miles from Chicago, Illinois to Los Angeles, California. Though the official road was decommissioned in 1985, road trip loves from around the world still flock to the Mother Road for a sense of nostalgia and the thrill of the open road. At every turn of the journey that takes you through Illinois, Missouri, Kansas, Oklahoma, Texas, New Mexico, Arizona, and California you'll find plenty of fun things. There are weird roadside attractions, muffler men, national parks and monuments, classic diners, historic motels, museums, souvenir shops, and more. Ready to hit the Mother Road? Check out our list of the top must-see attractions on Route 66.
Pacific Coast Highway: Highway 101 & Highway 1
The Pacific Coast Highway is the ultimate road trip for friends. Drive Highway 1 from San Francisco to San Diego or take the entire stretch from San Diego to Seattle. This West Coast Road Trip is full of breathtaking sites, beaches, forests, mountains, delicious food, and plenty of sun. You're guaranteed to have an amazing adventure with your friends.
Themed Road Trip
Not every road trip has to follow a particular route. Sometimes it is most fun to chase a theme. I LOVE roadside attractions so I will often pick a state and find all the roadside attractions in it I can, no matter where it takes me. Here are some ideas for road trip themes you can take:
Roadside Attractions
Wineries
Amusement Parks
National Parks
Looking for fun places to go on a road trip with friends? Consider building a trip around National Parks. Experience beautiful nature, natural formations, and scenic trails while bonding with the people you love most.
Disney World
A lot of times road trips are more about the stops along the way than the actual destination. But, sometimes, they are more about the destination. Disney World (Or Disney Land) is a fun destination for a girls trip. If you all love Disney spend the trip blasting your favorite soundtracks, pack some ears, and end up at the happiest place on Earth.
Pin this post to save it for later: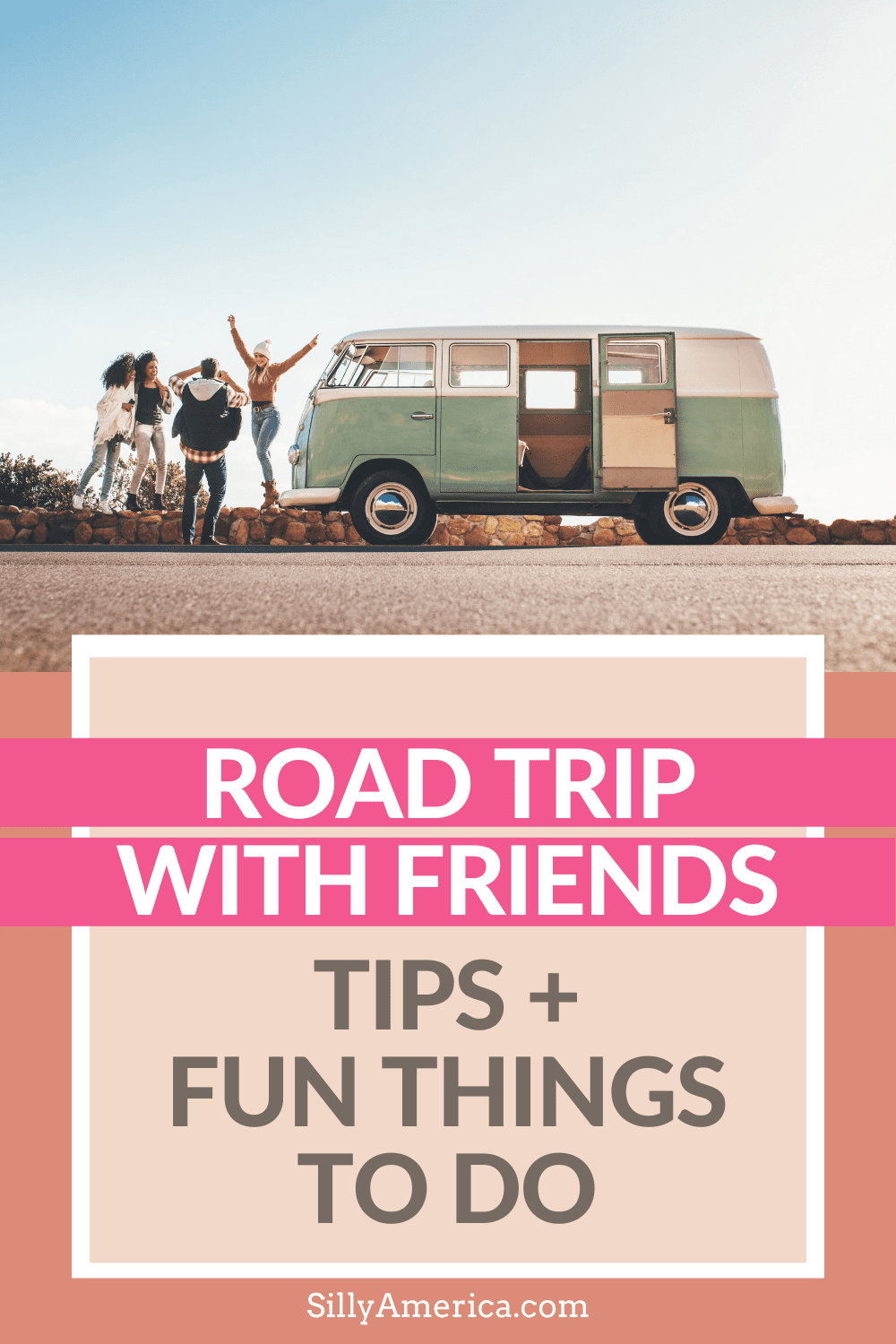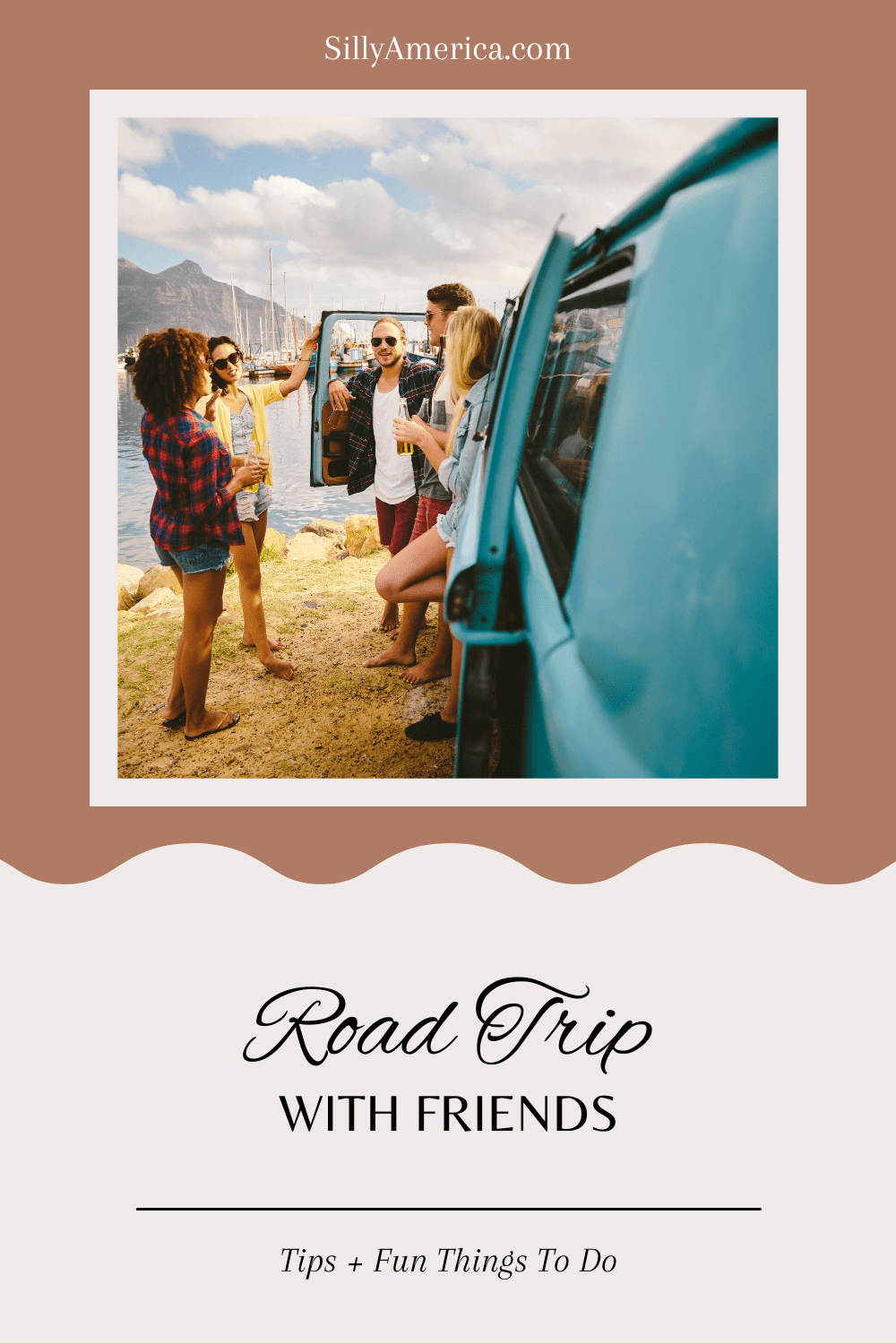 Photo by Annie Theby on Unsplash
Photo by Christian Lue on Unsplash
Photo by Rachel Claire from Pexels
Photo by Alex Jumper on Unsplash